Dirt-cheap earbuds under $10 that are actually worth buying.
Comparison – The Best Earbuds under $10
Badge
Rating
Price

i

Price on Amazon.com, last updated date at the bottom.

Mic &
Remote
3.5mm
Shape

Panasonic
RP-HJE120
best overall
4.2
Under $10
L-shaped
More info
Monoprice
Hi-Fi Earphones
best balanced
3.6


I-shaped
More info
KZ ATE
best bass
3.8


L-shaped
More info
JVC
HA-FX5 Gumy Plus
3.8


I-shaped
More info
Monoprice 110153
bass
runner-up
3.9


I-shaped
More info
JVC HAF160
best classic
earphone
3.9


I-shaped
More info
Do you want to get decent earbuds for almost no money? You've found the right guide.
Here you'll find the best earphones under 10 dollars you can get today.
Sure, cheap is very often connected to bad quality, but that's not always the case. Sometimes, if you're lucky, you get a quality product for very little money. This is one of those cases.
All of the recommendations made here are proven and tested over a long time. There's only one problem…
Disclaimer: Because $10 is so little money, some earbuds can sometimes go over the 10 dollar mark (but not by much).
Technically, a more accurate title would be, "The best earbuds around $10". Nonetheless, if earbuds in this guide go over the price range of $10 for more than just a couple dollars, we'll remove them from the guide.
Want to spend a bit more money?
The best cheap earbuds from $10 – $50
Best earphones under $50
Best buds under $30
The guide on best earbuds under $20
The Best Earbuds under 10 Dollars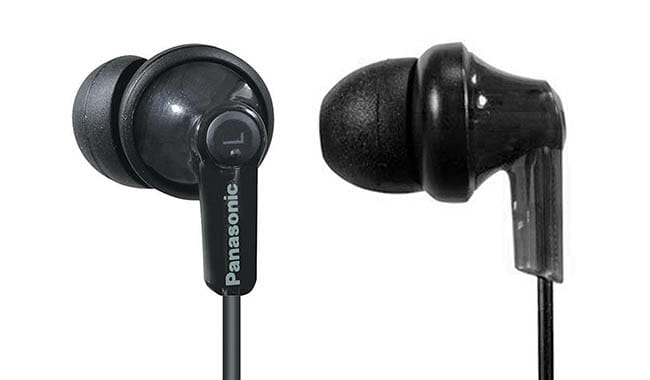 Panasonic RP-HJE120 are one of the most popular budget earbuds of all times (on Amazon).
Price: Under $10
Should You Buy These?
These in-ear headphones are for everyone that want comfort, good sound, and overall fantastic value for under $10.
The Good
These IEMs can be your long-time companion because their durability is surprisingly robust. Due to their lightweight design and ultra-soft ear tips you'll forget you're wearing them. You can listen to your music for a long time, without ear pain.
Also, they provide good noise isolation. You can even use the Panasonics for running or gym because they tend to stay in their place.
The Bad
Because of substantial plastics covering the L-shaped 3.5 mm jack, you might find it hard to plug them into a phone with a thick protective case. Though, a thinner, silicone smartphone case is fine.
They are durable, but only if you treat them right – so no sitting, while having them in your back pocket or pulling the cord too hard.
The Sound
Their performance is better than most of under $10 earbuds. They produce a V-curved sound signature, with bass being slightly more emphasized. These earbuds are ideal for listening to modern pop, hip-hop, and house music.
The Verdict
Cheap price should not scare you because there is a lot you can get from Panasonic RP-HJE120. They are insanely comfortable, produce superb sound and will last you a long time if you treat them right. Best-in-class value for your money.
---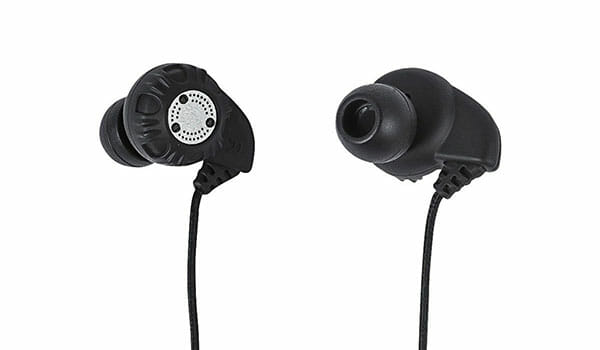 Monoprice Hi-Fi are not the most durable earbuds but have amazing sound (price-wise).
Price:
Should You Buy These?
If you care for sound quality more than comfort and looks, you should check these out.
The Good
If you change the earplugs, you will be more than happy with their noise isolation and their fit in general. You can easily pair Monoprice Hi-Fi earphones with many portable devices, even with iPods. They produce a great sound that can be compared to the sound of headphones over $50.
The Bad
Unfortunately, these are not the comfiest earbuds you can find. Wearing them for an extended period of time can get a little annoying. Also, they are not made to last long, especially if you're not careful. But because they are soo cheap, you can always get yourself a new pair.
The Sound
Great balanced sound, bass tones are tidy, so are mids and highs. Bass can get punchy if you turn the volume up so you can listen to more hard-core music genres, but mostly they will perform well with any kind of music.
The Verdict
What makes these in-ear monitors worth buying is having a beautiful sound, that's the best among all cheap earbuds.
---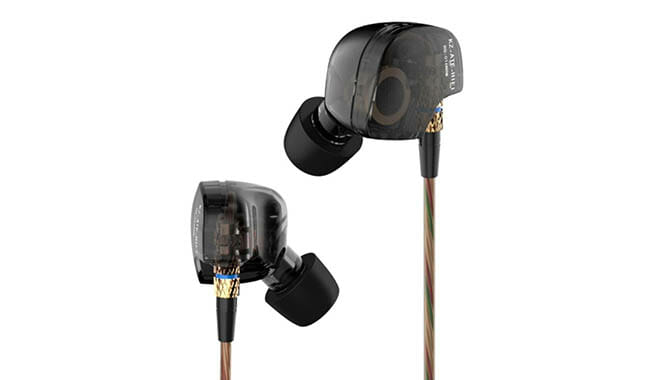 The best bass earbuds under $10.
Price:
Should You Buy These?
KZ ATE in-ear headphones are one of the cheapest IEMs on the market. But the bass they produce is anything but cheap. Do you want to get yourself an extra pair of earbuds with boosted bass? Than these are perfect for you.
The Good
The buds are lightweight, and they stick into your ears well. Already attached foam ear tips create a good seal that will block most ambient noise around you and boost the bass.
The comfort is solid once you figure out the proper fit.
The Bad
You will probably spend some time trying to fit them comfortably because they are quite weird to figure out. In addition, there is some cable noise at lower volumes.
The Sound
Their best feature is sound. It is a typical bass-emphasized, but you can still clearly hear the mids and highs. Bass is not muddy, rather detailed and pleasant to listen to. That will come handy if you're a bit of an audiophile and want clear, but strong punchy lows.
The Verdict
KZ ATE are one of the best earbuds for $10 at the moment. They have a powerful bass-emphasized audio quality that won't disappoint you, in a comfy design. Read the full ATE review.
---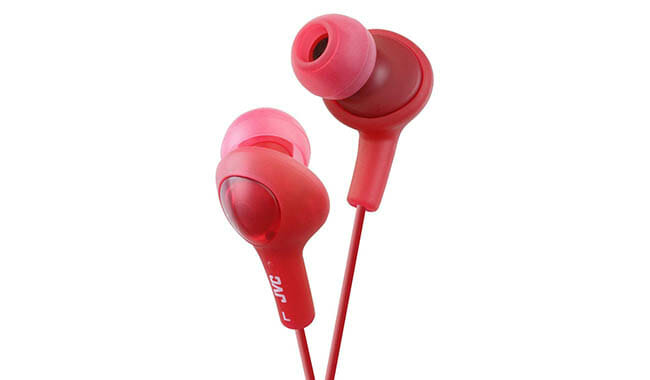 JVD HA-FX5 Gumy Plus offer many great features, like comfort and decent sound quality, all for a nominal price.
Price:
Should You Buy These?
These in-ear headphones are made for people that like to be on the move while listening to their favorite music in pleasing sound quality.
The Good
JVC HAFX5 Gumy Plus are ergonomically shaped and will fit most people well. Because they're light, they stay in your ears, even while doing the most intensive workouts or running. They are extremely comfortable. The cable is protected in thicker plastic so they can last you a long time (but aren't sweatproof).
The Bad
If you're using them for sports activities, be careful, because, as said before, they are not sweat (or water) resistant. Cable noise can be noticeable at low volumes. Their cable is not tangle-free, but after all, they are earbuds for less than $10.
The Sound
Enhanced lows and highs will make you even more motivated. The V-shaped sound signature makes music lively and alive. It's suitable for all modern music.
The Verdict
JVC HA-FX5 Gumy Plus are popular, because of their better quality of sound and comfort for a low price. Compared to most budget earbuds, these are pretty awesome, and you should try them out.
---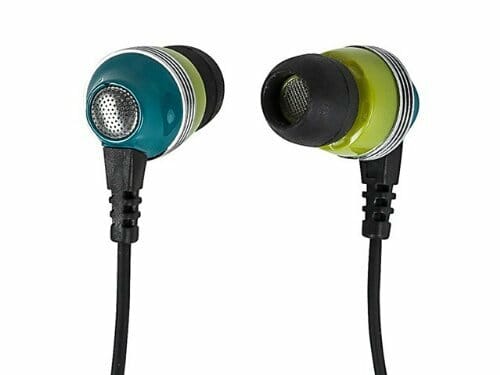 Monoprice Enhanced Bass headphones cost surprisingly little money but give solid bass.
Price:
Should You Buy These?
If you are a bass lover and are looking for solid earbuds under $10, you should definitely check these out.
The Good
These earbuds have good comfort, because of their low weight. Though the fit is mediocre, it's geared towards everyday casual listening. The sound is their main advantage. Monoprice is known for providing fantastic value, and these are no different.
The Bad
Their durability isn't the best. In fact, they are plastic and rather poorly built. Also, the design isn't ergonomic, and the fit isn't suitable for active users.
The Sound
Clear mids and highs with a small emphasis on bass make for pleasant music experience. It's hard to find audio quality like this for less than 10 dollars.
The bass is slightly emphasized and creates a nice punch. Get them if you like to listen to more bass oriented genres, such as popular electronic music.
The Verdict
What makes them stand out in this category is mostly, their ability to give you solid bass. They are worth checking out if you're a bass lover.
---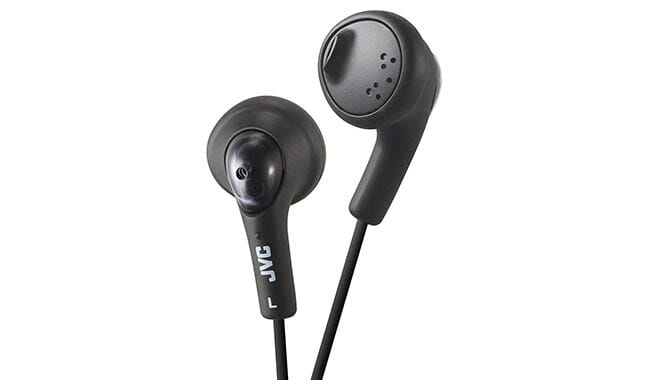 JVCHAF160 are classic earbuds with high comfort and reliable audio performance.
Price:
Should You Buy These?
If you always preferred classic earbuds over in-ear headphones, and if you want to feel comfortable wearing them, then check these out.
The Good
Because of their soft rubberized shell, these earbuds give you a comfy feeling wearing them. They are even great for running or going to the gym.
Despite not being waterproof, they will probably survive most of the sweaty workouts. Their design and structure are made to last.
The Bad
People with smaller ear canal will find them irritating or won't be able to fit them in their ears at all. These are listening-only headphones, so no in-line microphone present.
The Sound
They give a rather average sound. JVC HAF160's design is made to enhance the bass, and it does its job, with bass being warm. Because of muddy mids, these headphones are probably not the best for rock music.
They produce enough volume to be used in louder environments. They are OK for listening to different music genres but are the best for listening to podcasts and audiobooks.
The Verdict
The JVC HAF160 are durable and comfortable classic earphones with average but satisfying sound quality. And the dirt-cheap price makes it enough reason to try them.
---
Frequently Asked Questions (FAQ)
Here are the often asked questions about earbuds and their functionality. You can always ask us in the comments below.
What to Expect from $10 Earbuds?
Granted, $10 is not a lot of money even for small in-ear headphones, so you can't expect too much. At this price, if you get solidly built earbuds that last a while, and pleasant sound quality is the best you can hope for.
A microphone and remote control are bonuses and not requirements. They're something you shouldn't expect.
Thankfully, comfort is cheap to get because ergonomics is basically free. The top pick here is very comfortable, and you should feel no irritation at all.
Moreover, you can't expect noise cancellation as that technology is way too expensive to produce. 10 bucks don't cut it. The same goes for wireless Bluetooth connection which you don't get.
Earbuds with ANC and Bluetooth cost a lot more money.
You can find the best noise-cancelling earphones here.
Why No Wireless Earbuds under $10?
Wireless technology requires a battery and a chip which increase the cost of production. You won't find decent wireless earbuds under 10 dollars because that's just too little money.
Many times even more expensive wireless earbuds have problems with unreliable battery life and stable Bluetooth connection. It requires a higher price range to get a quality wireless product.
How to Ensure Longer Durability of your sub-$10 earbuds?
Buds under 10 dollars are made from plastics to cut costs. It often results in lousy build quality. And even though we picked the best and highest quality models in this guide, they, are of mediocre durability overall.
To keep them safe you should:
Store them in a dry place
Never expose them to water
Carry them around in a carrying case
Never pull or tug on the wires
Generally, treat them like cheap earbuds that they are and you'll see significant return on your money.
Related guides about earbuds:
The most durable earbuds
The top Bluetooth earbuds
The best waterproof wireless earbuds
Thank you for checking out our independent guide. Hopefully it's been helpful, if not you're invited to let us know what's missing in the comments below.
Comments