Best Guides
The 8 Best Wireless Bluetooth Earbuds under $50
Introducing the best Bluetooth earbuds under 50 dollars, you can buy today.
Comparison – Best Wireless Earbuds under $50
When it comes to wireless in-ear headphones, $50 isn't a lot of money. It's kind of a low price, but since the technology has been getting cheaper, you can still get decent Bluetooth earbuds.
It's true that most major headphone brands don't offer wireless Bluetooth earbuds under $50, but there are plenty less known brands that do.
Keep in mind that you can't expect sonic fidelity and ultimate durability since these are budget and Bluetooth headphones (Bluetooth diminishes sound quality).
Though, you can expect to get great value for money regarding functionality, decent battery life, and pleasant audio quality.
We did our best to find top-rated models that have wireless Bluetooth technology and a pleasant sound for less than 50 bucks. There are a couple of really good ones here, check them out below.
Looking for other earbuds?
The best budget earbuds
The best Bluetooth earbuds in general
Most effective noise cancelling earbuds
The best wired earbuds under 50
Best Bluetooth Earbuds under 50 Dollars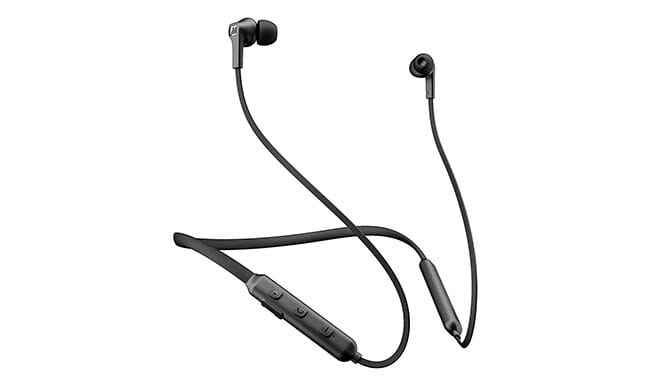 The MEE Audio N1 delivers unprecedented convenience and sound quality for every occasion.
Price:
Should You Buy These?
These headphones are perfect for active daily users that are looking for high quality, durability, and comfort.
The Good
The MEE Audio N1's wearable design and lightweight neckband provide the ultimate comfort. The excellent sound isolation and slightly enhanced bass bring life to your music while the rechargeable battery allows up to 8 hours of usage.
They also have advanced 4.0 Bluetooth technology that lets you manage calls and media from two Bluetooth devices simultaneously.
The Bad
It's a neckband design which makes them move around when working out. It stays on the neck, but it can be a bit annoying.
The Sound
These headphones deliver excellent sound quality for its price. Advanced 10mm drivers produce slightly boosted bass and clear treble, which makes your music more exciting and therefore pleasant for your ears.
The Verdict
With superb sound, comfort and respectful durability, the MEE Audio N1 headphones are one of the best in the price range under 50$. You just can't go wrong with these.
---

The Soundcore Spirit Pro headphones unite exclusive SweatGuard technology with a slim body and stunning sound.
Price:
Should You Buy These?
The lightweight and robust build combined with waterproof design and excellent sound quality makes them ideal for mobile individuals that have a high interest in sports.
The Good
SweatGuard and IPX8 (IP68) certification will make sure that you can use them in any condition. The Li-ion battery enables up to 10 hours listening while the ergonomic eartips and ear hooks hold Spirit Pro firmly in place.
The elegant sound boosted with BassUp technology will enable a complete listening experience.
The Bad
Even though the Spirit's are comfortable, it may take some time until you find the perfect combination of plugs for your ears. Also, the battery lasts a few hours less if you play them on max volume (which is the same with all Bluetooth earphones).
The Sound
The drivers are engineered to deliver clear sound with softly enhanced bass and soaring treble. Passive noise isolation reduces ambient noise and allows you to focus entirely on music.
The Verdict
Anker once again proved that they can build great products that offer excellent value for money. Soundcore Spirit Pro are one of the best workout wireless earbuds today.
---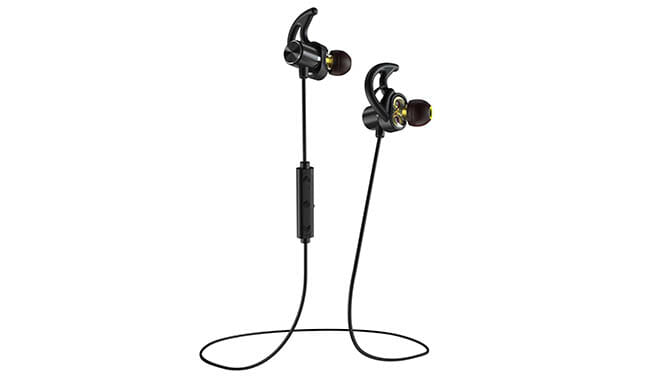 Phaiser BHS-790 headphones bring exciting sounds and attractive looks.
Price:
Should You Buy These?
It's the ideal headset for those who like intense soundtracks to go along with their workouts.
The Good
The dual 8mm speakers combined with AptX technology produce superb sound quality while the Comply T-400 M memory foam tips provide the ultimate sound isolation.
The Bluetooth 4.1 lets users switch between music and calls with the push of a button while the technology in microphone reduces background noises.
The Bad
The battery endurance could be a bit longer since they last for about 5 hours. The listening time can be longer if you use them on lower volume though.
The Sound
The sound quality of these headphones is excellent. The dual graphene speakers deliver HD sound for listening crisp and clear music. Keep in mind these don't have as much bass as other Phaiser earphones.
The Verdict
There aren't many headphones under 50$ that deliver excellent sound and comfort. Did we also mention that they offer lifetime sweatproof warranty? With all these features in mind, Phaiser BHS-790 is surely a no-brainer.
---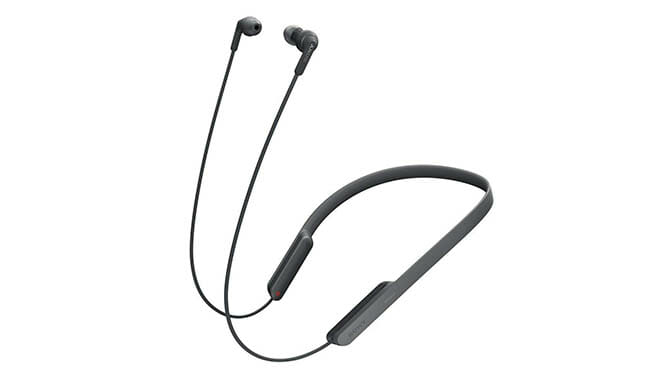 Sony MDR-XB70BT in-ear headphones bring exhilarating music experiences into your daily life.
P.S. The price may go over $50 at times, but you can get them for less.
Price:
Should You Buy These?
The Sony XB70BT earbuds are lightweight, easy to carry and offer a magnificent sound which makes them perfect for daily use.
The Good
Sony has always been superb when it comes to sound quality, and these headphones are no exception. The extra bass feature will make the listening experience even better while the battery lasts 9 hours, which will surely satisfy even the most demanding users.
Wireless streaming with Bluetooth and NFC technology, combined with lightweight design will help you listen to beats comfortably anywhere.
The Bad
The plastic around the earbuds may eventually decay, so you should pay attention and make sure to use them with care.
The Sound
Sony once again did a great job when it comes to sound. It has a really clear sound that gets even better with Extra Bass feature which adds depth and punchiness to the low end.
The Verdict
Sony MDR-XB70BT headphones continue the company's legacy of delivering quality products at a solid price. The attractive, lightweight design and under $50 price tag make them even more desirable.
---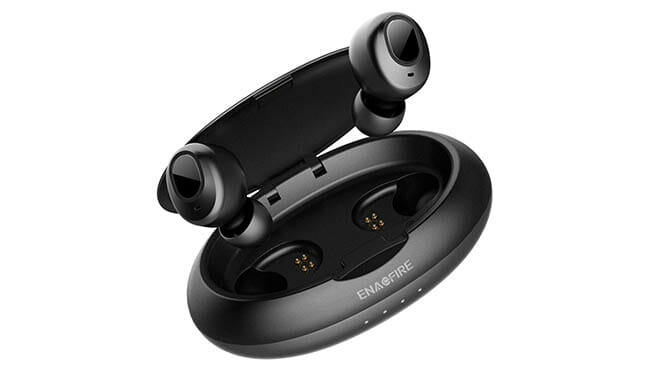 The Enacfire E19 truly wireless headphones provide pleasant sound quality, comfort and solid listening experience at a budget price.
Price:
Should You Buy These?
E19 are truly wireless earbuds that fit active users on a budget. If you want affordable true wireless headphones, get these.
The Good
The small, inconspicuous and comfortable earbuds are equipped with Bluetooth 5.0 technology that enables better connectivity and improved sound. The 6mm speakers deliver 3D stereo output while the battery can last up to stunning 15 hours through charging case.
Also, the super easy pairing process makes them simple to use.
The Bad
If you want to use them for 15 hours or so, you always have to bring your charging case with you. It isn't big, but it's still a bit of a nuisance.
The Sound
The 6mm speakers produce quite a good sound with the smooth high end, solid treble, and thumpy bass. Furthermore, the built-in microphone lets you use them for phone conversations as well.
The Verdict
The E19's are one of the best truly wireless headphones at this price range. If you're looking for truly wireless earbuds with nice sound quality, quick connectivity and fair price, you should definitely check these out.
---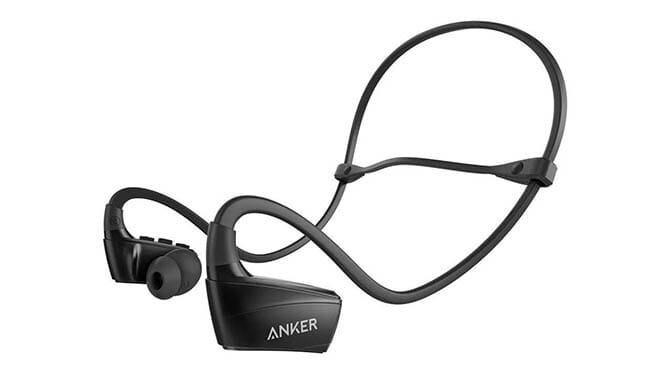 Anker SoundBuds NB10 waterproof earbuds are great for sports activities.
Price:
Should You Buy These?
The SoundBuds NB10 Bluetooth headphones are a water-resistant headset with solid noise isolation which will be highly appreciated by sports enthusiasts.
The Good
The oversized 12mm speakers produce decent excellent audio quality while the Bluetooth 4.1 technology makes sure your connection with the device stays untouched. Their light structure and IPX waterproof certificate make them usable in every condition.
The battery will last roughly 6 hours which is pretty decent especially if you only plan to use them for sports.
The Bad
Since they're oversized headphones, it takes some time to get used to them. You might get the feeling that they will fall out of your ear, but they rarely do.
The Sound
The 12mm speakers deliver a rather solid sound quality with a pretty flat image. The lows could have a bit more power. But this makes them great for calmer music like classical and jazz.
The Verdict
Considering their price and the fact that these are wireless and waterproof, SoundBuds NB10's are undoubtedly one of the best workout earbuds under $50.
---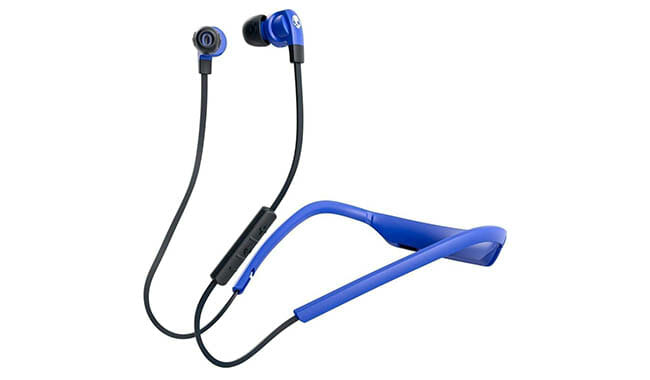 The Skullcandy Smokin' Buds 2 wireless earbuds offer lots of volume for an affordable price.
Price:
Should You Buy These?
The Smokin' Buds 2 Wireless deliver Bluetooth functionality in a lightweight around-the-neck collar that is adjustable and even fully removable for your preferred fit, therefore, making it perfect for users who like flexibility.
The Good
The earbuds collar is made of moldable plastic which is quite pleasant to your neck and can even be removed entirely if you prefer that. The lightweight design makes them comfortable to wear while the Bluetooth technology will pair them with your device. Moreover, the battery will last roughly 6 hours which is pretty decent for its price range.
You also get a remote, which is placed under the left earbud, lets you take calls and easily navigate through playlists.
The Bad
While the design of the collar is pretty attractive, it may not be the most practical since it can shift easily from side to side on your neck, especially if you plan to use them during workouts.
The Sound
Like other Skullcandy headphones, Smokin' Buds 2 have a slightly boosted bass which produces deep and punchy low-end. Also, the mids aren't clearest out there but far from bad while the hats might sound too harsh on some tracks.
The Verdict
If you're a fan of Skullcandy or if you're looking for budget wireless earbuds that will be easy to wear and decent in sound, then the Smokin' Buds 2 headphones are definitely something you should consider.
---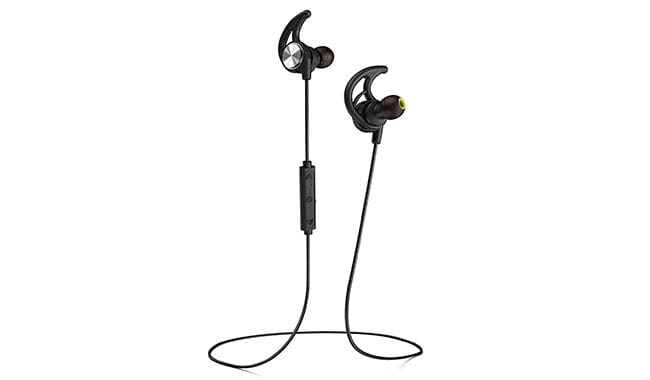 A favorite of endurance athletes and anyone looking to get in shape, the BHS-750s are one of Phaiser's most comfortable, secure buds yet.
Price:
Should You Buy These?
This headset will satisfy any users that are looking for quality, endurance, and simplicity. With waterproof technology, they're an excellent fit for the sports community.
The Good
BHS-750s are almost identical to Phaiser's 760s and therefore share the same 8mm audio speaker while the Comply T-400 M memory-foam tips provide superb isolation from external noise. These are also sweat-resistant, and the company gives a lifetime sweatproof warranty.
Also, the magnetic buds let you easily stow your pair of earbuds around your neck when not in use.
The Bad
The battery performance should be a bit longer since they last for about 5 hours. Even so, the listening time can be longer if you use them on lower volume though.
The Sound
One thing that makes Phaiser a product of choice is their sound quality. The 8mm speakers produce relatively balanced sound with crisp and clear highs while the bass is nicely smooth and warm.
The Verdict
The Phaiser BHS-750 are one of the most popular wireless earbuds for less than $50 and for good reasons.
---
Frequently Asked Questions (FAQ)
Why Must You Get a Good Seal? (and How to Get it)
There are many reasons why it's critical you get a tight seal:
Better bass response. For strong lows you need an airtight fit otherwise all that sound goes out of the ear, and you don't hear it.
More accurate audio experience. To hear all the sounds in clarity and detail, you need the least amount of audio pollutants. Pollutants like the noises created near you that don't come from the earphones. You want a direct connection from the driver to your eardrums.
Better noise isolation. This one is self-explanatory. A good seal blocks more ambient noise and leaks less sound which makes for a more private experience. You don't bother others, and others don't bother you.
When you don't get a proper fit, you will complain about the lack of bass, of volume, and of noise isolation which are all necessary for a pleasant audio experience.
How to get an airtight seal?
The goal is to find the right eartips for your ear canals. There are many different designs and materials. Silicone ear tips are most common and are usually come together with all in-ear headphones.
Better and more expensive are the memory foam tips which provide better comfort and passive noise isolation. Unfortunately, they cost more money and only come inside the package of selected (usually more premium) earphones.
What's Important for Safety
To use any headphones safely, you need to use the right volume. Listening to high volume damages your hearing over time. The injury comes gradually and is almost impossible to detect.
To avoid hearing damage, you should strive to listen at around 50% volume. If you go over, try to keep it short. You can read more on how to avoid hearing damage here.
What Devices Support My Bluetooth Earbuds?
All Bluetooth enabled devices should work with your wireless earbuds. This includes:
All iOS and Android smartphones and tablets. Like iPhones, Samsung, LG, HTC, Google Pixel, etc.
Most laptops of later generations (that come with Bluetooth support, check your own to be sure)
Bluetooth MP3 players (MP4)
Unfortunately, stationary PCs usually don't support it. But you can get a Bluetooth adapter and install it.
Of course, the music will only be played if your BT device actually gives out an audio output.
Does a Battery Lose Capacity Over Time?
Yes, unfortunately, the technology inside the batteries isn't built to work forever. The capacity and thus playtime on a single charge diminish over time.
The older your wireless earbuds, more likely the battery has lost original capacity and will hold a shorter charge.
However, there's not much you can do about it. Enjoy your Bluetooth headphones while they last and when they die, just accept the fact you'll have to buy new ones.
Related:
Best earbuds under 100 dollars
Top Bluetooth headphones
Best cheap headphones
Thank you for using our guide. Hope it helped you, if not you can let us know what's missing in the comments below.
---
Disclosure: We might receive affiliate compensation if you purchase products via links on this page. This is how we purchase headphones for new reviews and keep the site adds-free. In spite of that we do our best to tell the truth about every product and don't favor any one brand or model.
Comments