Budget
15 Best Earbuds for The Money (Best Cheap Earbuds)
Listen to great sound for little money with the best cheap earbuds (in-ear monitors).
Comparison: 15 Best Cheap Earbuds
Keep in mind prices change all the time, so you might get a higher-priced model for less temporarily. It's worth checking.

Here you'll find 15 top earbuds (in-ear) that will rock your ears for little money.

All models picked are great value for money, ….

… in fact, we are confident enough to say these are the best budget earbuds money can buy right now.

All of them are a great combination of build quality, durability, comfort and most of all excellent sound quality that can compare with 2 or 3 times more expensive IEMs (in-ear monitors).
---
Related guides:
---
Best Earbuds Under $50
The best earbuds/in-ear headphones in the price range of $30 – $50.
---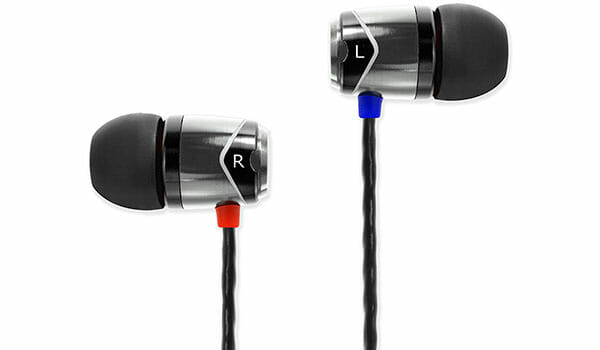 The overall best earbuds under $50.
The balance of quality build, comfortable wear, nice design and very balanced high sound quality with the right amount of bass, makes this #1 choice for best cheap earbuds.

At the moment there is no other budget model of earbuds on the market that you could say is superior to the SoundMAGIC E10.

Sure, we all have our preferences in sound tones, bass levels, design, and brands, but the significant majority of reviewers and experts can't all be wrong.

This is a very popular budget model for a reason.

PROS
Great balanced sound, audiophile standard
"Clean mid bass expert"
Durable and stylish metal casing with premium feel
Awesome value for money
CONS
Not suitable for bass heads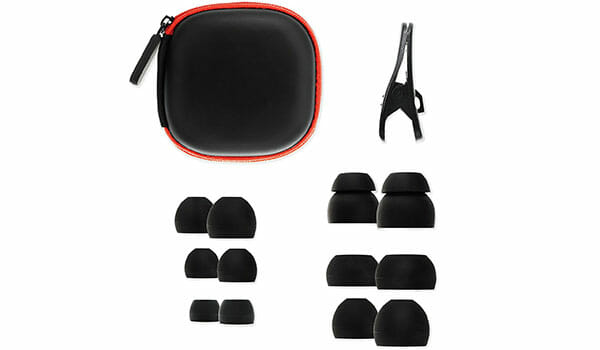 Fit (Isolation)

Getting a proper fit is the same as with any other in-ear monitors, you have to find the right ear tips and position that suits you. SoundMAGIC E10 are easy to fit.

Sound isolation is pretty good as well. You can enjoy listening to music without outside noise while still hearing what is going on around you. This is important if you plan to use them on the street.

Comfort

These are very comfortable, and if you have small ears, you can replace the original ear tips with smaller softer ones for maximum comfort.

Because the casing is so light wearing them for hours is not a problem, get the right fit, and you're good to go.

Durability

Immediately you can spot the metal casing which makes these in-ear earphones look premium and durable at the same time. This is not some cheap, low-quality metal either.

It feels and looks premium, like if you'd pay $100 for it.

Controls

There are no in-line controls of any kind, just the regular wires.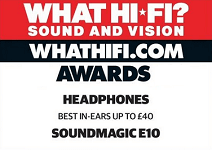 Did we mention the SoundMAGIC E10 were chosen as best budget earbuds on the market by What Hi-Fi magazine?
Sound

The thing these earphones really excel at is sound quality.

The perfect balance of clean high pitched, medium and low bass sounds make these one of the best sounding cheap earbuds ever made.

Don't expect emphasized deep bass, as these really focus on balanced sound.

The bass tones are prominent and clear, but not throbbing as some people like it. (bass-heads)

These IEMs are perfect for listening to all types of music, but especially the genres in which clean, balanced sound comes alive.

The perfect balance of sound with great pitch and midbass packed inside the durable and stylish metal casing for a budget price. If this sounds good to you, get them while they're still available (at the price tag from $30 to $40 for the mic & remote model).
---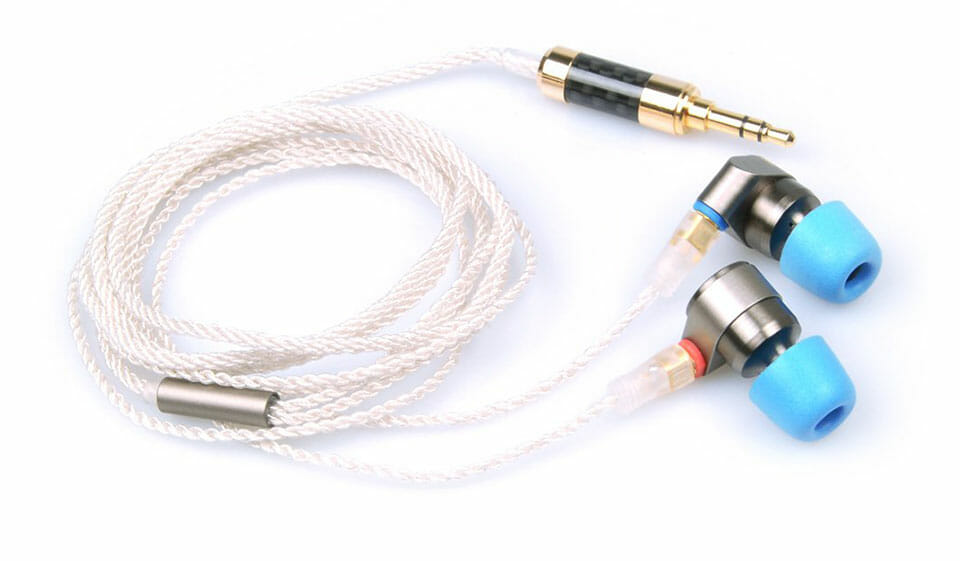 Tin Audio T2 are a great pair of double dynamic driver earbuds you can get under $50.
Type: In-ear
Noise-cancelling: No
Connection: Wired, 3.5mm
Microphone: No

Why Should You Buy These?

If you're looking for earbuds with high comfort, good durability, and lovely sound, read on.

The first thing you notice is their interesting cable. It looks like fabric, and it's detachable, so you can always replace it.

They are lightweight, comfortable and will last a long time because they are well-built from metal.

Also, you get a pair of memory foam ear tips that provide stability (enough even for running) and excellent noise isolation.

The Bad

No in-line control or microphone.

The Sound

The sound is somewhat balanced. The double dynamic drivers produce consistent bass that goes well with slightly emphasized mids and treble. The bass isn't overpowering, so this makes them great for critical listening. Overall, the audio is much better than you'd expect from 50 bucks. They're perfect for every music genre.

Tin Audio T2 are a great choice if you want to maximize your money (under $50) featuring detachable cables, sturdy design, comfortable fit, and audiophile-like sound (for the price).
---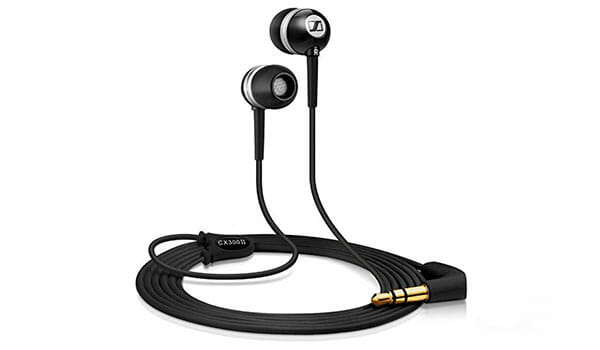 If you like thumping bass, you're going to like the Sennheiser CX300 II.

Sennheiser CX300 II are great value-for-money earbuds with powerful, bass-driven sound which makes them one of the best budget IEMs for bass oriented users. The price tag is further reduced right now due to discontinuation. Get them while you can.

Made by Sennheiser, a known German brand that provides great quality headphones in all price ranges.

PROS
Quality, punchy bass
Suitable for bassheads
Sennheiser (high quality, German brand)
Good price
Durable design that lasts
CONS
Lacks balance and detail in sound (because of overpowering, deep bass)
Fit (Isolation)

They fit nicely and stay in ears in most situations. Some use these for sports as well.

A standard selection of different sizes of ear tips allows you to customize the fit to your liking.

Noise isolation is pretty average and depends on the ear tips that you use. For best isolation get some triple flange tips as they tend to offer the best results.

How is it different from noise cancellation?

Comfort

Earbuds are made out of plastics, so they are lightweight and once you put them on you'll soon get used to their low weight. They are nothing special, just like other standard in-ear monitors, good but not great.

Durability

The build quality is really high. The small, compact build makes these earbuds very durable.

The wires are very easy to untangle and can survive quite a lot of punishment.

Controls

No controls or microphone, just regular wires.

But you do get a cute little pouch to offer a little bit of protection when you're carrying them around in your backpack.

Looking for best bass earbuds? Click here.

Sound

The sound is very bass heavy.

People looking for a balanced sound will say this is a bad thing, but if you like more bass in your music, these should be your pick.

The CX 300 II Precision Enhanced Bass are producing almost too strong bass, it is noticeably enhanced and overpowers other ranges.

This means it is tough to hear the details of the music, and generally, these don't have the clearest or the most precise highs and mids as the bass is so strong.

The CX 300 II is one of the cheaper Sennheiser models, but are still a glowing example of high-quality audio, good noise isolation, comfortable fit and durability all packed in one affordable package.

Overall, these are by our opinion best budget earbuds for bassheads right now.
---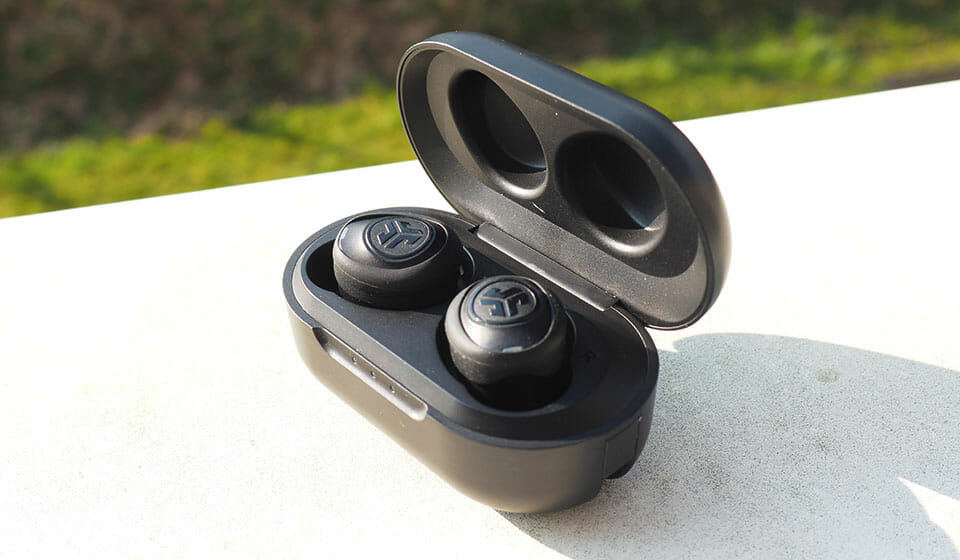 Jlab Audio Jbuds Air are the best wireless earbuds under $50.
Find more Bluetooth earbuds under $50.

Type: In-ear
Noise-cancelling: No
Connection: True wireless, Bluetooth 5.0
Microphone: Yes, in-line

Why Should You Buy These?

When it comes to cheap true wireless earbuds, Jbuds Air come to the top in many categories.

These are predominantly workout earbuds but work fine for any other use as well.

You get an excellent fit that sticks in the ears, the noise isolation is above average thanks to in-ear fit, and the water protection keeps them safe from damage (IPX5).

Plus, the built-in microphone is quite decent for talking over the phone or using voice commands for Siri or Google Assistant.

Also, the battery life of 5.5 hours is more than enough for most users, especially considering you have 15 hours more in the charging box.

The Bad

The only thing that might be a concern is discomfort for smaller ears and somewhat annoying controls.

The Sound

It doesn't disappoint, but considering the price, you get what you pay for. It can't compare to more expensive headphones as it lacks sparkle and details.

But you get 3 different sound signatures you can choose from. Signature, balanced, and bass boost. There's no support for aptX, just SBC & AAC.

For the price of $50, the Jlab Jbuds Air offer amazing value for money with reliable wireless performance in true wireless design.

Check the Jlab Audio Jbuds Air review.
---
More related: Find other top earbuds under $50.
---
Best Earbuds under $30
The top earphones in the price range of $20 – $30.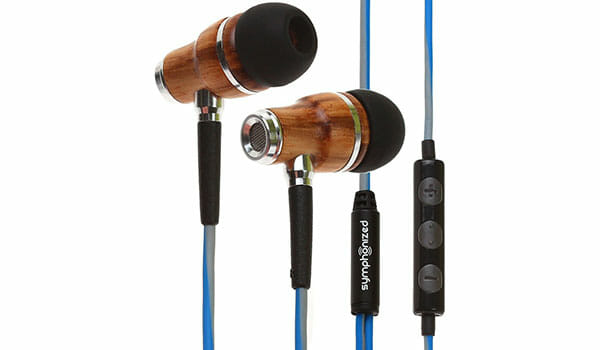 In our opinion, these are the #1 choice and the best cheap earbuds under $30 right now.

Made by a company called Symphonized which is relatively unknown, but has gotten a lot of attention with this IEM (in-ear monitor) model.

These are made out of real wood which makes them really stand out in its design.

Wood also has excellent acoustics, since they are used for speakers, why not earbuds? If you want to stand out with this vintage design while saving money, these are your best choice.

PROS
Great sound quality, balanced, detailed, slightly warmer
Made out of real wood
Durable and comfortable to wear
Gold plated jack (usually a sign of more expensive headphones)
Innovative design for affordable earbuds
CONS
Some people don't like the way wood changes the sound
Fit (Isolation)

You get 6 different pairs of ear tips which should be enough to pick one that suits your needs. The tighter the fit, the better the noise isolation which is slightly above average if you choose the right tips.

Comfort

These are very comfortable. Wood is a light material and combined with quality ear tips you get very comfortable earbuds. In a couple of days after first using them, your ears will get accustomed, and you'll forget you're wearing them.

Durability

Durability doesn't suffer because of wood. In fact, it's quite sturdy and makes for durable earbuds that you can't break just like that. Well just like with any earbuds, if you sit on them they're likely to break, also make sure to keep them away from water.

Controls

The Symphonized NRG 3.0 earbuds have an in-line microphone which works for making calls, but also for using to control the device with Voice Control. Voice controls works well in environments without much background noise.

The carrying pouch is formed to fit with the wooden design but doesn't offer the best physical protection.

Sound

At under $30 sound quality doesn't disappoint.

Detail-rich and slightly warmer tones will make you fall in love with your music. These earbuds with mic especially excel at mid-range tones.

The wooden structure noticeably adds to the quality of bass and produces a rich and slightly warmer sound.

The audio can compare to some of the more expensive headphones, and you wouldn't know you're listening to below $30 earbuds.

With gold plated audio jack and silicone ear tips these earbuds produce good passive noise isolation to enjoy these everywhere you go.
Interested in top gaming headsets?
If you are looking at that extra feature that allows you to walk and talk, then this one is for you.

One small issue is microphonics; if you rub against the wires you'll hear the sound in your earbuds, this happens with all nylon/cloth type wires.

With its built-in microphone, compatibility with all smartphones, an affordable price, great looks, and sound quality too good for this price, Symphonized NRG is a terrific bargain.
---
best wireless under $30: Aukey EP-T21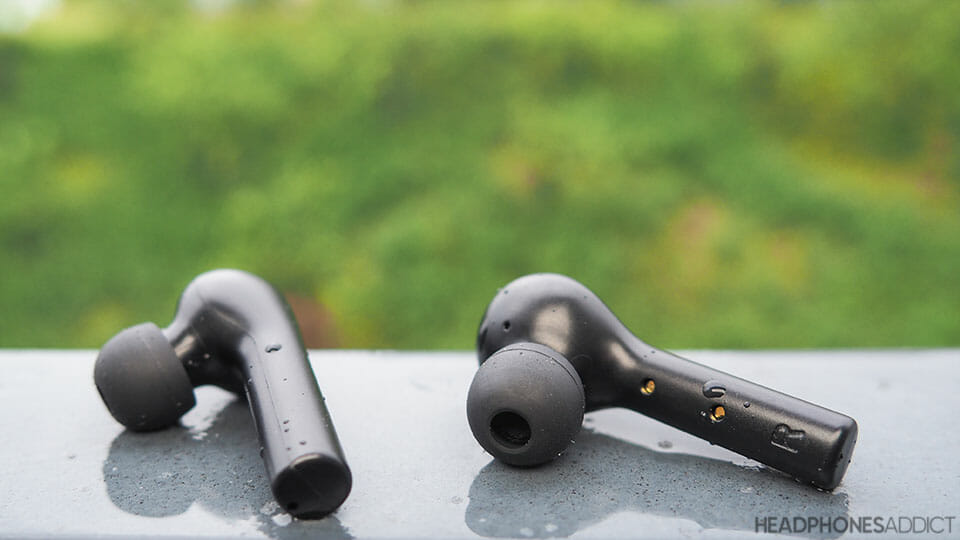 Aukey EP-T21 are the best wireless earbuds under $30.
Check top wireless earbuds under $30.

Type: In-ear, true wireless
Noise-cancelling: No
Connection: Wireless, Bluetooth 5.0
Microphone: Built-in

Why Should You Buy These?

A pair of Aukey true wireless earbuds for a dirt-cheap price under $30 that doesn't disappoint.

True, $30 isn't a lot of money, but you the latest features for it.

You get Bluetooth 5.0 with built-in touch controls to manage your music, and the microphone to make phone calls on the go.

Their battery lasts up to 4.5 hours, with 20 hours more in the case.

And, they are sweatproof with an IPX4 rating (suitable for working out). You can use them as daily earbuds or for activity.

The Bad

No volume controls and only the basic SBC Bluetooth codec support. It makes sense they had to cut costs somewhere.

The Sound

Their sound signature is balanced, which works for most music. You don't get Hi-Fi, but better sound quality than most $30 would offer.

They're also suitable for watching videos. Get more info in the review.

The Aukey EP-T21 are the best wireless earbuds under $30 thanks to their modern design, latest technology, and dependable functionality. These are an excellent choice among the budget earbuds.

Read the full Aukey EP-T21 review.
---

Best cheap bass earbuds, bar none (priced under $30).
Price: MSRP: $49.99

If you like bass and want one of the best cheap earphones you need to get Sony MDR-XB50AP (full review here).

Type: In-ear
Noise-cancelling: No
Connection: Wired, 3.5mm
Microphone: Yes, in-line

These widely popular IEMs (in-ear monitors) are offering insane value (used to cost $50). You can easily compare them with earbuds for $50 or even $100.

Good for: everybody who likes good bass.

Not for: those who prefer balanced/flat sound.

Why Should You Buy These?

The ergonomic design makes them very comfortable and easy to fit any ears. The earphones aren't big or bulky and fit in the ear canal with ease.

Noise isolation is above average as well, helping you focus on your music. Just make sure to pick the right size of eartips.

Since these are still Sony, they are well-built. Good materials, strain relief, and flat Y-type cable with a slider are all part of the package.

In-line remote with multi-function button and microphone perform well. Not the greatest but since this is just cherry on top you can't complain.

The Bad

Overpowering bass is not for critical listening. Only 1 button on the remote control.

The Sound

Sound quality is where Sony MDR-XB50AP really shine. The bass is very strong and still retains a lot of detail with a nice punch. For bassheads, this is a must-have. Treble and mids don't disappoint either. Sibilance is not an issue, and there's no cable noise.

Without a doubt, MDR-XB50AP are the best bass earbuds under $30 right now.

The Sony MDR-XB50AP full review.
---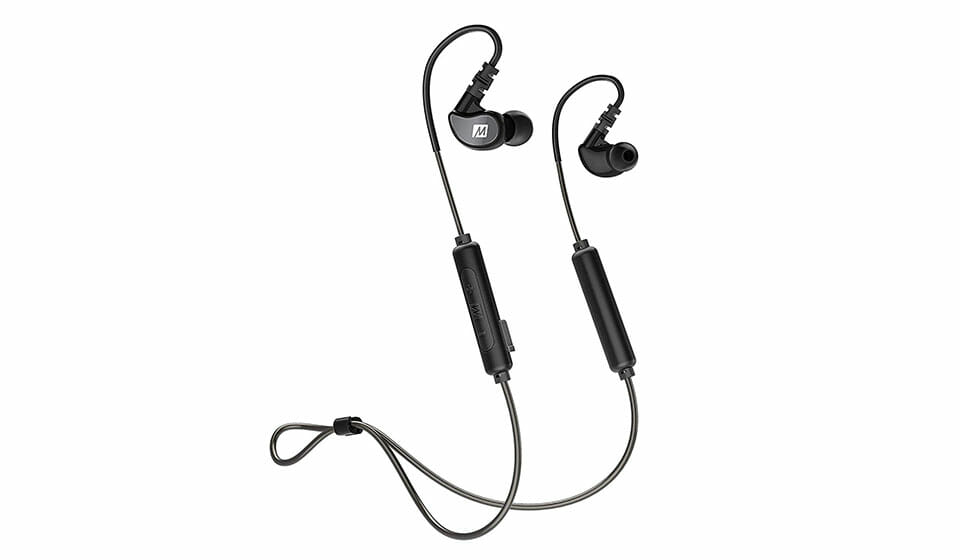 MEE Audio M6B are a great alternative for budget wireless in-ears under $30.
Type: In-ear
Noise-cancelling: No
Connection: Wireless, Bluetooth 4.2
Microphone: Yes, in-line

Why Should You Buy These?

If you want a good pair of wireless earbuds for the absolute lowest price, then you should take a look at these.

Behind-the-ear fit and flexible wires provide a comfy and stable fit. You can run, jump or do any other sports activity.

The lightweight design makes them comfortable to wear for hours. And, the addition of sweat-resistance prepares them for heavy workouts.

An in-line remote control and microphone help manage your music and calls. Also, you get up to 7 hours of playback time via Bluetooth. You might expect less considering the price.

More: Looking at Bluetooth headphones?

The Bad

While they're sweatproof, their durability isn't the best. It's probably related to their price.

The Sound

Even though you're only paying 30 bucks, they sound decent. If you are not an audiophile, you'll probably be satisfied with their sound. Most cheap wireless earbuds sound worse but keep in mind these aren't mean for critical listening either.

MEE Audio M6B are suitable for everyday use or workouts. These are the Bluetooth earbuds that work but aren't fantastic at anything but their cheap price.
---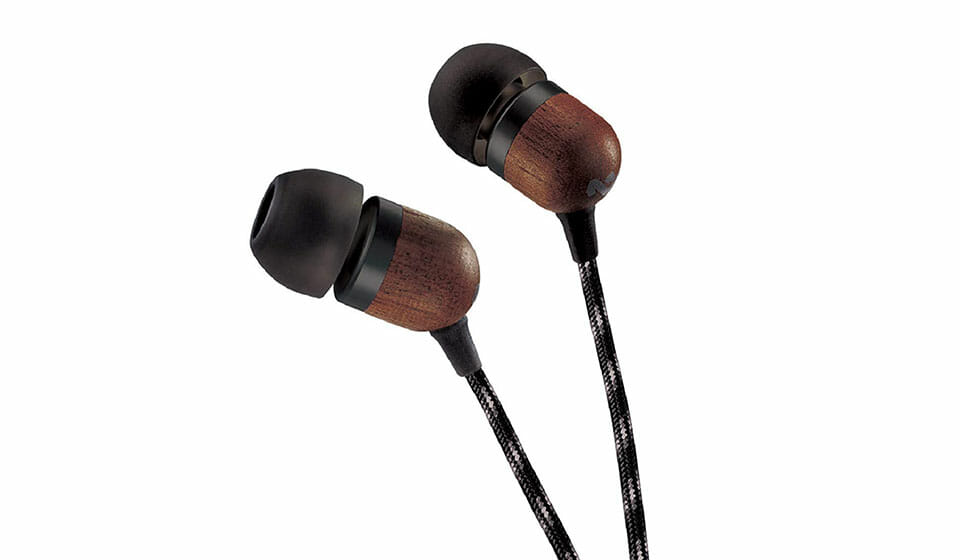 House of Marley Smile Jamaica are cool-looking budget in-ears made of wood.
Type: In-ear
Noise-cancelling: No
Connection: Wired, 3.5mm
Microphone: Yes, in-line

Why Should You Buy These?

Do you want cool, sustainable and cheap earbuds that sound good? Then the House of Marley Smile Jamaica are the best choice for you.

Although they are cheap, their design isn't. Wooden structure makes them look premium and feel lightweight. You can wear them for hours and almost forget you're wearing earphones.

Also, they provide fantastic noise isolation with in-line remote control and microphone.

The Bad

Their durability isn't the best. Wood looks beautiful but can break easily if you don't treat them right.

The Sound

The sound has slightly enhanced bass that's common for House of Marley. It's perfect for all bass-intensive music. But if you don't expect impeccable balance, you'll be happy with the audio.

House of Marley Smile Jamaica are cheap earbuds with a premium wooden design that offers fantastic comfort and enjoyable "bassy" audio quality. One of the coolest cheap buds.
---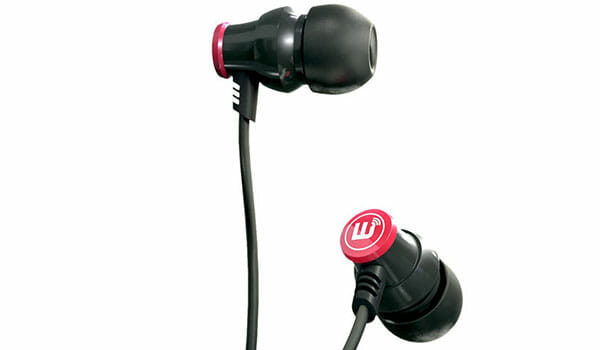 Brainwavz Delta almost fit in the category of under $20 as they are priced slightly above $20. If you're lucky, you might find them below that price in a special offer or at certain holidays where discount prices are common.

You will be surprised how much value you get from under $30 IEMs (in-ear monitors).

PROS
Clean, balanced sound comparable with $50+ models
Durable design that's going to last
Perfect "throw away" earbuds
CONS
For this price you can't expect more value
Fit (Isolation)

They fit very well for most people, and the quality selection of ear tips helps with that.

In the package, you receive 4 sets of silicone ear tips of different sizes and a set of Comply foam S400 tips which is a nice addition to the whole package. You don't need to buy any other ear tips to get the most out of Delta's. We recommend using Comply tips for best performance.

Noise isolation is about an average of what you can expect from IEMs, for better isolation get a pair of triple flange premium tips.

Comfort

Once you find the right ear tips for your ears, Delta become very comfortable IEMs to wear anywhere you go. The good thing is they don't have any problems with microphonics which means you can wear them any way you like without affecting the sound quality.

These earbuds with mic might not be the lightest you'll ever wear, but comfort doesn't suffer because of it.

Durability

The build quality is better than expected if you didn't know they were under $30 you'd think they were priced somewhere between $75 and $100.

The quality aluminum casing makes them look and feel sturdy while maintaining that "premium" metal look.

The cord is very durable as well, thick and rubberized with additional reinforcement of the plug in the adapter; this is something most earbuds lack at this price range.
Looking for best noise cancelling earbuds?
Controls

There are 2 different models. One for iOS device and one for Android devices. Make sure to pick the right model according to the type of devices you're using. You get in-line remote and microphone by which you can control the play/pause, volume, songs and make hands-free calls. That's a nice feature for such affordable earbuds.

Sound

The most significant advantage of Brainwavz Delta's is sound quality.

In this range, no other in-ears get close to the clean, balanced sound of Delta's you'd expect from earbuds 3 times the price.

Highs and mids are slightly emphasized while still being able to reproduce clean bass. The bass is not very prominent, but at least it's not the low quality "boomy" bass so prevalent at this price.

Soundstage is also amazingly good for this price, creating an open, spacious sound.

Being so cheap you can carry them around with you without fear of losing or damaging them, making them perfect budget earbuds that can also be enjoyed for quality sound.

All in all, you're getting very balanced, clean sound quality that will even satisfy an audiophile, packaged in stylish aluminum casing with a durable cord for slightly over $20. This is a sure fit for one of the best value for money earbuds today.
---
Best Earbuds under $20
Going even cheaper… The top in-ear monitors you can get in the price range of $10-$20.
---
best under $20: KZ ZST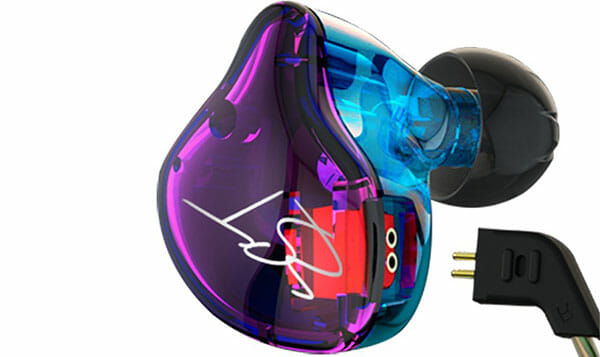 Top pick under $20. The best sound quality in earbuds under $20.
KZ ZST are easily the best earbuds under $20 because the sound quality is out of this world (for the price).

If you tried a lot of different cheap earbuds yourself, you'd still be surprised how good these are.

Good for: those who appreciate good sound quality

Not for: people who want perfectly flat sound or overpowering bass

While the fit and comfort aren't amazing out of the box (because of the silicone eartips) if you get Comply foam tips you'll vastly improve the comfort. With changing to foam eartips, you'll improve the sound quality and noise isolation too. You don't have to get Comply tips, but it does help.

Noise isolation is above average out of the box. Ambient noise is well isolated so you can enjoy your music in peace.

Build quality is good. KZ ZST aren't made like a tank but feel decently made. The fact that cables are detachable is a big plus. Though the ear buds themselves aren't super sturdy, be a bit careful, and you'll get a lot of value out of them.

The version with the microphone and remote has one multi-function button that's very easy to use once you remember how it works. Voice quality is fine, not great but not bad either.

There is also a version without the mic and remote for a little less money if you can find it.

By far the biggest advantage is their audio quality. These sound amazing for the price of under $20 and can easily compete with in-ear earphones in the $50-$100 range.

The sound signature is slightly V-shaped with a slight emphasis on bass and treble. KZ ZST are very accurate and detailed, so you have to use them with high-quality music recordings otherwise you'll hear the distortion and lack of quality.

To get the most out of them, get an amplifier or good MP3 player to hear all the details. Smartphones are fine but don't extract the best sound quality possible. There's no sibilance or distortion which is quite amazing for under $20 earbuds.

The best earbuds under $20 are hands down, KZ ZST right now. Don't miss out on them.
---

Best cheap earbuds for working out (under $20).
MEE Audio M6 are great sports in-ear headphones for little money.

Real bang for the buck.

There is a model with in-line microphone and controls for a couple dollars more. It's the same earbuds but they're called X1 instead of M6. Both are under $20.


PROS
High sound quality with slightly warmer touch and prominent bass
Noise isolation helps the clear sound to come alive
Durable, comfortable "ear hook" design
Water-resistant, great for sports
Great value for money which makes them very popular
CONS
"Ear hook" design might be a problem for some
Fit (Isolation)

Their memory wire makes them very secure in your ears while still being comfortable, this is ideal for any sports activity where it's important they stay in position.

Additionally, you get 6 different ear tips to fit your ear lobe perfectly. Their in-ear design provides good noise isolation, so you're able to enjoy a rich sound and enhanced bass wherever you go.

Keep in mind that you need to test a few ear tips before you find a stable, snug fit.

Comfort

Picking the right ear tips also plays a significant role in comfort. If you don't have the proper ear tips on, they might feel "weird" to you, at least until you get used to them.

In general, with right ear tips and proper position, these are comfortable enough to workout with. The memory wires tend to rub against the skin behind your ears, but you get used it. For workouts, you'll have a hard time finding stable earbuds with perfect comfort.

Durability

The wires are super durable because of their "memory" design with metal protection. Once you position them the right way, you'll hear a big difference in sound quality.

They are also sweat-proof and water-resistant for cases when you get caught by rain in the middle of your run. For best underwater headphones, click here.

Overall, they are very durable and able to withstand a lot of punishment.

Controls

There are 2 models available, The M6 model without remote/mic and the X1 model with in-line remote and microphone. If you make calls during your workouts get the X1, they only cost a couple dollars more.

The carrying bag is nice and sturdy, perfect for frequent gym goers. This way you'll keep your earbuds safe for a long time.

Sound

When it comes to sound, it's very smooth, warm and detailed with prominent bass response.

Low bass tones are probably the strongest point of these IEMs, prominent, punchy bass that won't leave you feeling cold. Mids are also very clean and rich while high pitched sounds are slightly lacking in detail and clearness.

In the end, you get warm, fun earbuds that sound great for the money.

These same earbuds are also recommended as one of the best earbuds for working out.

Their overall ability to withstand moisture, fit securely in your ears and provide good noise isolation and audio quality that's fun to listen to for less than $20 makes them the best value sports earbuds right now.
---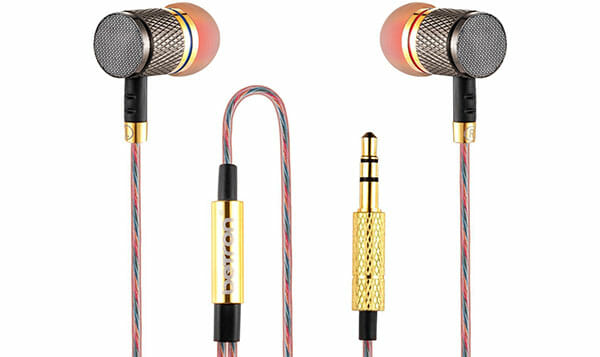 Best bass earbuds under $20 are the Betron YSM1000.
The Betron YSM1000 full review.

If you're looking for some bass-heavy earbuds on the budget, you have to check out the Betron YMS1000.

Good for: bassheads and bass lovers

Not for: audiophiles or those who prefer balanced sound

The fit and comfort are good even though the metal earphones aren't the smallest or lightest. They stick out of the ears a bit. Passive noise isolation is above average with the right eartips, and you'll easily remove the ambient sound around you.

Moreover, for the cheap price you pay, these are built rather well. The earbuds themselves don't seem to have any weak points. Rubbery wires seem durable, and all the strain relief is solid.

Betron YMS1000 also come with an in-line remote and microphone. But the sound makes everything better.

They have powerful bass, overpowering on many occasions which is great for bassheads and all other bass lovers. Of course, this overwhelms other ranges, so mids and treble aren't so detailed. There's also some sibilance at higher volumes, but if you're a basshead, you won't mind.

Read the Betron YSM1000 review.

In the end, Betron YMS1000 are one of the best cheap earbuds for bassheads.

Note: Check the best earbuds under $20 guide.
---
Best Earbuds Under $10
Last but not least, dirt-cheap earbuds under $10 for absolute cheapskates.
---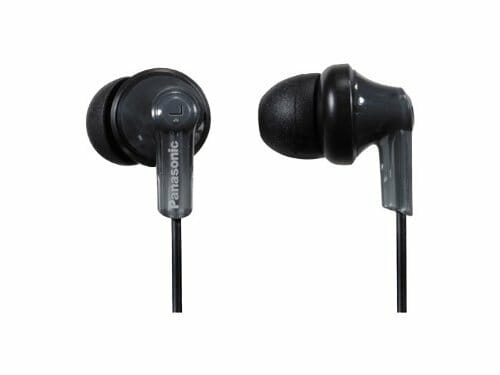 The top pick for in-ear headphones under $10 is the popular Panasonic RPHJE120K.
Check the review after 4 years of ownership.

You won't believe the price of these beauties. At below $10, you can't ask for a better deal.

It is the ideal balance of audio quality, built quality and durability for little money.

No wonder they are so popular, as of currently, these earbuds are number #1 sellers on Amazon.

This alone tells a lot about the value you're getting.

PROS
Best dirt cheap "I don't care if they break" earbuds
Good comfort, stay in ears
Good bass with balanced mid tones
A little bit of everything
CONS
For this money, you can't ask for more
Fit (Isolation)

Because they are so light they don't pull down when in the ears, find proper ear tips and you won't notice them for the most time.

Noise isolation is about average, nothing special, but still much better than with many over-ear headphones.

Comfort

They are very comfortable and rather good at staying in position.

The comfort is quite good, feels light and doesn't bother the ears. You can easily wear them for hours without any discomfort. 3 soft ear tip pairs make your choices for best comfort even easier.

Durability

When it comes to build quality, it shows they are cheap. The plastic casing and some rather flimsy wires don't promise much in terms of durability.

The materials are really basic, but this is what you get for the low price.

Controls

You are paying below $10 for a pair of earbuds, don't expect any special features like a remote or microphone because you won't find them.

Sound

Sound-wise these have quite a good bass. Probably the only strength of these is better than average bass at the price. The mid tones are clean and balanced, while highs aren't particularly good.

Overall you're still getting superb sound quality for the price that is somewhat balanced and doesn't have any significant flaws.

While these are not sports earbuds, you can still use them like ones.

These Panasonic earbuds are nothing special compared to many others on the market, but when considering the price, these are the optimal balance of everything a pair of earbuds is supposed to be.

If you're looking for dirt cheap yet good earbuds, these are the best under $10 IEMs on the market right now.

Check the review of Panasonic ErgoFit.
---
bass under $10: KZ ATE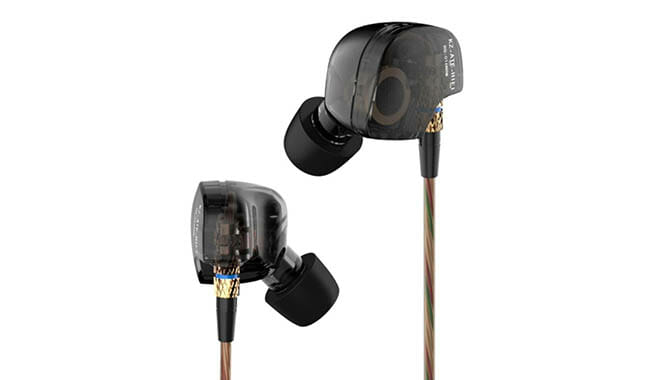 Best bass earbuds under $10 (around 10 bucks).
Should You Buy These?

If you want to listen to quality and strong bass, while doing your everyday tasks, read on.

The Good

Their main advantage is their punchy bass that will make you happy. For a low-end price, you're getting a lot of "thump" per dollar. Foam tips create the best seal as they emphasize lows and remove the noise around you.

You can get a model with an in-line microphone and remote control that work both on iPhones and Androids. It costs a couple of dollars above 10 but pretty close on the money.

The microphone is quite good to use in any calmer environments. These are made entirely out of plastic. But they still have better durability than most budget headphones. If you want more durable earbuds, check these.

The Bad

The first thing that can bother you is their unusual over the ear fit. Also, these are not the most comfortable to wear. Their cables can produce a little noise while hitting against your clothes. If you use them in the gym, be careful. They are not sweat- or waterproof.

The Sound

Audiophiles love these headphones. Their sound is unquestionably bass-emphasized. But even though the bass is loud and punchy, other ranges still come out clear and detailed. Because of their big bass signature, they are suitable for heavier music genres, like heavy metal or rap. Listening to more calm music is enjoyable too, because of their overall rich sound. Other top-rated bass earbuds.

The Verdict

For the best bang for your buck (literally) get the KZ ATE, which produce massive bass for the price of slightly above 10 dollars.

Note: Looking for more dirt-cheap buds? All under $10 here.
---
How to Find Good Inexpensive Earbuds?
There are many cheap in-ear headphones to choose from looking just at prices.

But when it comes to sound quality, the differences are significant.

Yes, earbuds at $5 a pop are dirt cheap. But don't get too excited just yet, you need to understand what you get at this low price.

Many times it's wise to spend $10 or $20 more and get a pair of earbuds that will last you longer while play high-quality audio comparable with much more expensive models.

It pays to do a little research a get a cheap pair of earbuds that are recommended by experts. You're sure to get more value out of it.

Audio Quality

Most of the cheaper varieties don't produce the kind of bass and audio quality that you are looking for, but some do.

You can get a great pair of earbuds with high-quality audio for very little money if you pick the right model.

Getting balanced, clean sound with the right amount of bass in affordable earbuds is uncommon, but not impossible.

All of the models shown here are known for better than expected sound quality, so you can be sure you won't be disappointed.

Single Driver or Multiple Drivers

A single driver earbud can give you the range you are looking for, which is a normal range of 20 hertz to 20k hertz. Single driver earbuds do have their limitations, but even multiple driver earbuds don't automatically guarantee a perfect listening experience.

Poorly designed earbuds with multiple drivers have been known to give you a jarring performance due to irregularities in frequency response. So a pair of cheaper single driver earbuds can in many cases be better than some multiple driver earbuds.

Comfort

When it comes to the comfort of IEMs the most critical thing are eartips, ear pads or ear plugs as they are also called.

Fortunately, you can get different sized ear tips that fit all models. This way you can adjust the comfort level for your ear shape.

Additional ear tips are cheap but can make all the difference in comfort and noise isolation. If you're half serious about in-ear headphones, get new ear plugs as well. You can make great noise-isolating earphones out of any average earbuds by changing ear tips.

Durability

They have to be robust enough to withstand your everyday routine. Cheap price doesn't have to mean low-quality materials.

You can get durable earbuds for little money too. If you are looking for earbuds for a specific purpose, like headphones for running, you'll have to shelve out more money.

Generally, cheap earbuds are made generically. Not necessarily fragile, but you naturally cannot expect them to be as durable as an expensive pair of headphones.

Keep in mind, with proper care any earbuds should last you years.

Noise Isolation

The cheapest headphones don't have active noise isolation, but passive noise isolation can do a pretty good job as well.

Just like with wireless technology, active noise isolation costs money. This way, if you're looking for top inexpensive earbuds don't look for active noise cancellation.
For best noise isolation on a budget, look for various sized rubber tips available on the market that can greatly improve the comfort and isolation of your earbuds. There are many different sizes to choose from and don't cost a lot of money. (+improve the comfort)

Value for Money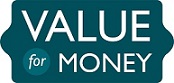 There is a vast array of brands competing for your attention in the price range of $10 to $50. With a bit of research you can find a great pair of in-ear headphones that will serve you well for a very long time.

Usually, less known brands and models tend to provide the biggest value. Because small companies want to get their brand out, they offer their products for less money to gain market share.

This is a great plus for you, the consumer.

For a broader range of bass earbuds, click here or check top workout headphones.
Should You Buy Wired or Wireless Earbuds?
If you're looking for cheap wireless earbuds, you should expect to pay quite a bit more than for wired models (with 3.5mm headphone jack).

Wireless technology is still more expensive than wires, and that adds to the price.
For $50 or less you're choosing from the cheapest of the cheap Bluetooth earbuds.
Thankfully, the prices of wireless earphones are dropping, but you still need to pay around $30 and don't expect decent wireless buds under $10 (because you won't find them).

Also, you'll have a hard time finding true wireless earbuds for $20 or $30; they tend to cost substantially more.

In this guide, we've focused mostly on cheap wired earbuds under $50 or less. This ensures you get the best sound quality without having to pay for wireless technology.

But if you want Bluetooth earbuds check the guides below:
What You Need to Know About the Prices
Many times the manufacturers (and stores) change the prices. They can fluctuate from day to day or sometimes even in one day.

Because of this, some of the earbud's prices might not fit exactly in "Under $20" or Under "$10" categories, but we do our best to keep it updated regularly. So don't hold us accountable if we miss the price mark for a couple of dollars.

Thank you for checking our guide. Hopefully, it was useful.

We'd like to improve it further, please let us know what we can do better.

Tell us what you think or what we forgot to mention in the comments below.

Don't forget to share and like the site for future updates.
Comments