Sports
10 Best Waterproof Bluetooth Headphones (IPX rated)
Enjoy music even in the most "watery" places with the best waterproof wireless headphones.
Note: These are not suitable for swimming, but you can use them near water; kayaking, boating, etc. For swimming headphones click here.
Comparison: The Best Waterproof Bluetooth Headphones
BADGE
RATING
PRICE
(approx.)
WATER
PROTECTION
BATTERY

CONTROLS
& MIC

Jabra Elite Active 75t


best overall
more info
4.0
$200
IPX7
(IP57)
7h+
(+20h in case)
Jaybird X4
runner-up
more info
3.3
$100
IPX7
8h
Aukey Key Series T10
best around $100
more info
4.2
$110
IPX5
6h+
(24h in case)
AfterShokz Aeropex
best bone conduction
more info
4.5
$160
IPX7
(IP67)
8h
Aukey Key Series B80
more info
3.9
$60
IPX6
8h
Plantronics
BackBeat Fit 350
more info

3.7
$80
IPX5
6h
Plantronics
BackBeat Fit 500
best on-ear
more info
3.7
$100
IPX2
splashproof
18h
Jlab Audio Jbuds Air
best under $50
more info
4.0
$50
IPX5
5.5h
(+15h in case)
Treblab xFit
more info
4.2
$50
IPX6
5h
SoundPEATS True
best under $30
more info
4.3
$30
IPX4
5h
Below you'll find top Bluetooth headphones that are perfect for any near water activity.
All of the waterproof wireless headphones on this list have some level of waterproof IPX rating.
IPX tells you exactly how wet they can get, for more info check below.
Use the table of waterproof headphones to compare them quickly or read the in-depth reviews for details.
Related guides:
Get the best waterproof MP3 for swimming
The Best Waterproof Bluetooth Headphones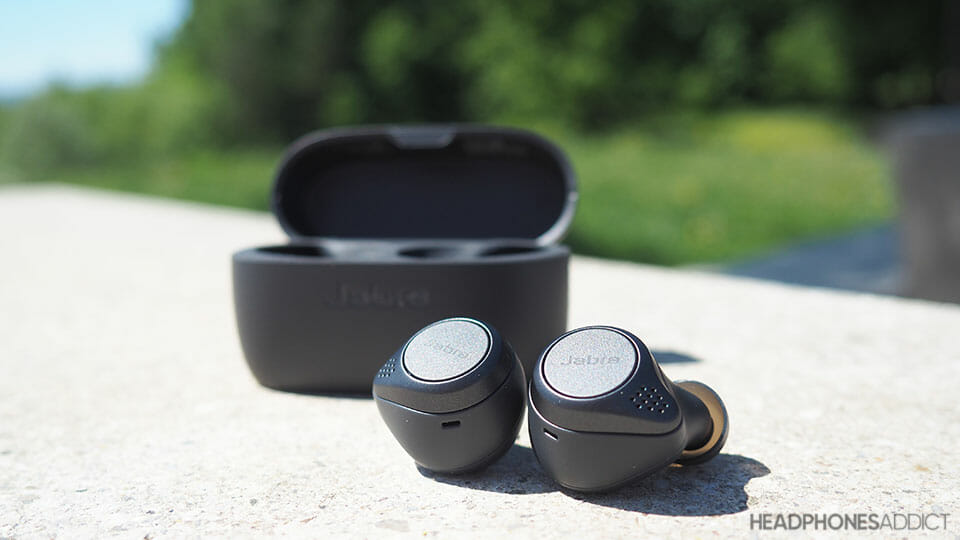 The best waterproof Bluetooth headphones overall.
Water protection: IP57 (IPX7)
Battery life: 7.5 hours (28h with charging case)
Bluetooth version: 5.0
Type: True wireless
Key Features
The Elite Active 75t headphones are an updated version of the excellent Jabra Elite Active 65t. They are great for people who need quality sports earbuds that are good for general use as well.
IP57 water protection (IPX7 equivalent) makes them fully waterproof and suitable for use in harsh outside conditions. And you are protected by a 2-year warranty.
The battery is stronger than the previous version. You can use these for 7.5 hours and charge in the case for 28 hours in total. Reliable 5.0 Bluetooth keeps the connection strong.
These earbuds come with an accompanying app. You can customize EQ and other settings. Also, HearThrough technology can mute music when you need to hear ambient noise.
You will find the price tag relatively high but still cheaper than the Beats PowerBeats Pro. Still, they don't have active noise cancelling function.
The Sound
The Jabra Elite 75+ buds have a very clear sound. Good passive noise isolation helps with that.
Generally, the bass is boosted significantly and can be overpowering, but you can adjust it with the app.
When it comes to waterproof headphones and great true wireless sound, the Jabra Elite Active 75t are the top option.
Check the Jabra Elite Active 75t review.
---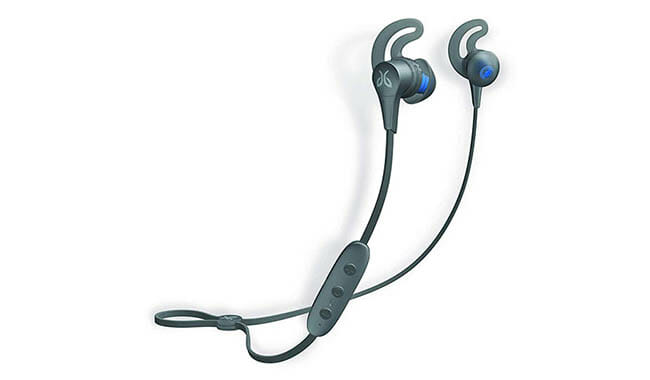 Jaybird X4 are one of the best waterproof Bluetooth headphones with high IPX7 protection (Jaybird X4 review).
Type: In-ear
Water-protection: IPX7
Battery: Up to 8 hours
Bluetooth codecs: SBC, AAC
Key Features

If you're looking for amazing stability, high comfort, decent battery, and great sound, then you should check the Jaybird X4.
First of all, the sporty design looks appealing and fun. And, it's also lightweight.
The earbuds don't enter the ear canal as deep as others. That's why they are extremely comfortable. And, these are one of the best headphones for running.
Also, the noise isolation is pretty amazing, especially with Comply memory foam eartips.
While the overall build quality is just okay, since they're fully plastic, they have an IPX7 certification. This means you can wash the buds under water and easily run in the rain. Their stability is solid as a rock.
You also get an in-line remote. It helps you set the volume, skip/play/pause tracks and manage calls. Plus a rechargeable battery that lasts up to 8 hours provides enough time for a daily workout.
Charging is possible only with the proprietary cable and that's annoying.
The Sound
Their sound signature is rather balanced (in flat mode). Bass is consistent and deep. If you like to listen to many different music genres, these waterproof earbuds are just perfect.
What makes them sound great is the app. It allows you to change the sound exactly the way you want it. If you want more bass or more of a V-shaped sound, you can get it right away. Or check other bass earbuds.
Jaybird X4 are dedicated sports wireless earbuds with proper water-resistance. Being waterproof (IPX7), super comfy and having great sound, these workout earbuds compete with the best.
Read the Jaybird X4 full review.
---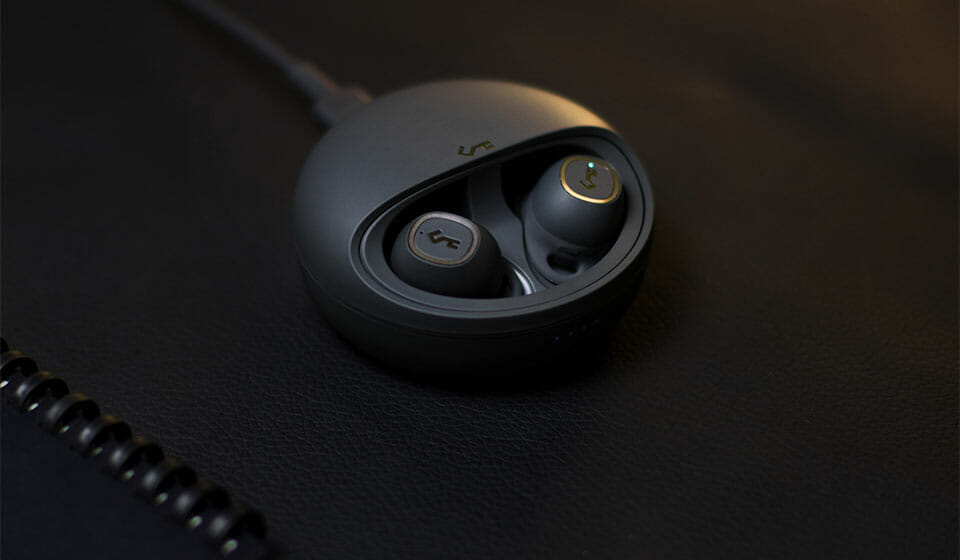 Aukey T10 are fantastic true wireless earbuds with IPX5 and the price around $100 (Aukey T10 review).
Type: In-ear
Water-protection: IPX5
Battery: Up to 6, 7h (in case up to 24h)
Bluetooth codecs: SBC, AAC
Key Features

If you're not too eager on spending lots of money on premium true wireless earbuds, like PowerBeats Pro at around $250, but still want great TWS earbuds, check these out.
Aukey T10s look more expensive than they are and can compare to higher-priced headphones.
The latest Bluetooth 5.0, USB-C quick charging, over 6-hour battery life are all features you can find in the higher-end earbuds.
So, the fact you get all of the latest tech for a reasonable price of around $100 is a big reason why these are popular.
Also, the fit is suitable for all types of activity and doesn't irritate ears even after hours of use.
It's true IPX5 isn't the best water protection you can get, but you'll have a hard time finding better true wireless buds with same features and price.
You can use them for water sports but make sure not to submerge them in water (at least not for too long).
Touch controls require slower and deliberate touching, you need to get used to it. Water protection isn't suitable for submerging or heavy use in wet conditions.
The Sound
Audio quality is great for true wireless earbuds but you can't equalize it. The buds come with a balanced sound signature that works for all music genres but might be a bit bass-light for bassheads.
On the other hand, if you aren't a bass lover you'll like their balance of highs, vocals, and lows that come together in a detailed and precise manner.
For quality true wireless earbuds that are waterproof and don't cost an arm and a leg, you should check out the Aukey Key Series T10.
---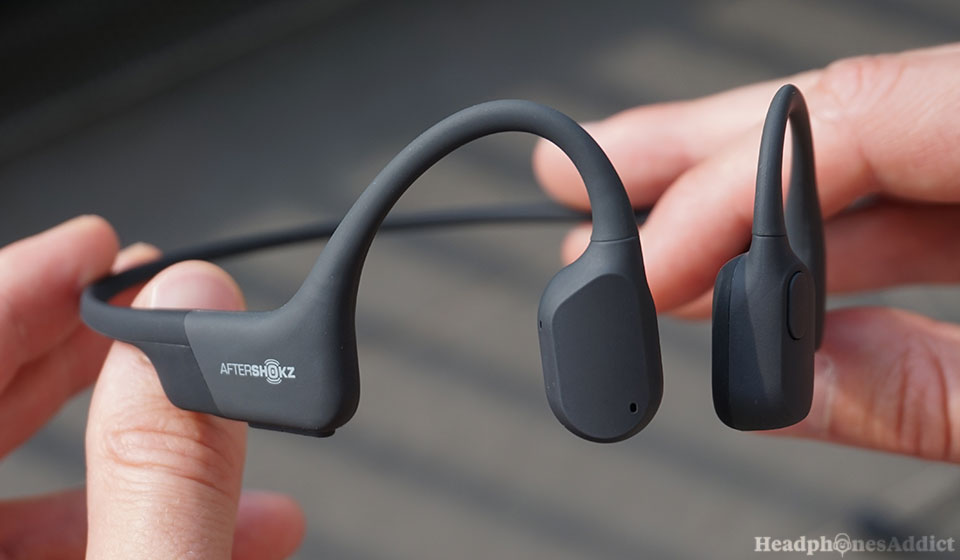 A lot of people are turning to bone conduction technology. You can experience music differently with the AfterShokz Aeropex bone conducting headphones. They are the best model to date with a high IPX rating (Aeropex review).
Water protection: IP67 (IPX7)
Battery life: 8 hours
Bluetooth version: 5.0
Type: Wireless bone conduction
Key Features
Bone conduction technology is relatively new, but the AfterShokz Aeropex is the latest model of Bluetooth headphones.
The battery capacity is 8 hours, and a strong IP67 water protection rating makes these fantastic headphones to use in wet situations.
These are great for being open design. It means your ears are open to the environment, so you get perfect awareness. You can go for a run, hearing ambient noise and music.
These headphones are lightweight too, which means they're comfortable for long periods of time.
The 5.0 Bluetooth is reliable, and the latest generation is optimized for 50% less noise leakage.
Though, bone conducting can take a little while to adjust to. It isn't for everyone, and the vibrations feel different.
The Sound
The sound is impressive for conduction headphones. PremiumPitch 2 0+ gives a great level of audio fidelity. They are the best model to date and a significant improvement compared to previous models.
Though they don't sound the same as regular Hi-Fi headphones. The lighter bass is usually the main complaint.
If you're looking for perfect awareness and waterproof headphones, the Aftershokz Aeropex are a superb choice.
Read the Aftershokz Aeropex review.
---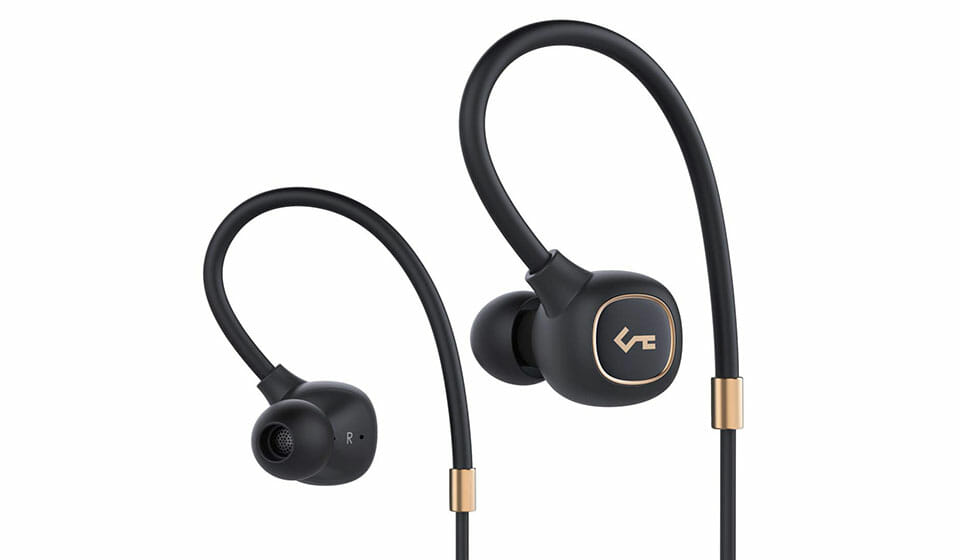 A great value option that still provides plenty of power and clarity to go with the waterproof functionality (Aukey B80 review).
Water protection: IPX6
Battery life: 8 hours
Bluetooth version: 5.0
Type: Wireless
Key Features
These waterproof headphones are great value for money. You get IPX6 protection, suitable for use in rain or sweating it out in the gym. You can even wash them under the tap.
8 hours of battery is okay, but the 10-minute quick-charge is a nice bonus. You can get 80 minutes from one quick charge, plenty of time for the gym.
The comfort and stability are great too. Thanks to memory foam eartips and an ear-hook design that keeps them secure during exercise.
One downside for working out is the in-line control section. You might find that it moves around and hits you on the neck while running. This can be annoying.
The Sound
The fidelity of the sound is probably higher than you would expect for the price. The powerful drivers give a nice clear bass, and the frequency response is good enough for most peoples' needs. Read more in the review.
For an affordable, yet high fidelity set of wireless earbuds, the Aukey Key Series B80 headphones are a good choice.
Read the Aukey Key Series B80 review.
---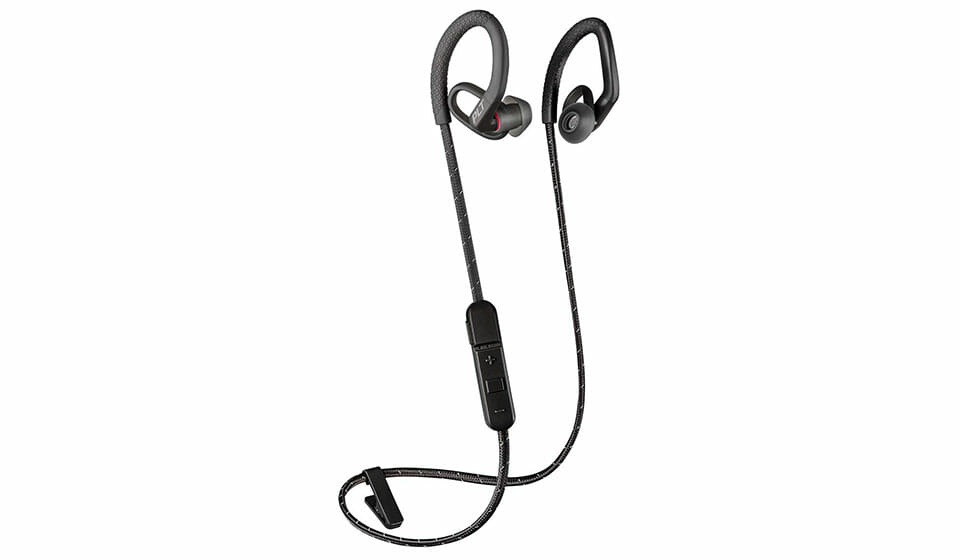 Plantronics BackBeat Fit are one of the most popular sports headphones (BackBeat Fit 350 review).
Though not totally submersible, these headphones have IPX5 protection meaning they can withstand some water. They're also good value with some respectable features.
Type: In-ear
Water-protection: IPX5
Battery: Up to 6 hours
Bluetooth codecs: SBC
Key Features

The IPX5 protection offered by the Plantronics BackBeat FIT 350 mean they can put up with sweat and rainfall. But you can't submerge them.
Ear hooks help them stay in place, so they're suitable for exercise. Plus, they isolate a decent amount of noise.
The Plantronics have a respectable 6 hours of battery life. There's also a quick charge option (15 minutes give you 1 hour of listening).
Some cable noise can crop up. This often happens when the wire connecting the earbuds touches your skin.
Bluetooth can also be a little bit patchy and unreliable.
The Sound
A small bass boost means you can hear low frequencies with more kick. Lots of sports and exercise users enjoy emphasized bass.
The frequency response is great, especially at the price range.
They may not be suitable for submerging underwater. However, for decent water resistance and a lot of stability, the Plantronics BackBeat FIT 350 are great.
Read the full Plantronics BackBeat FIT 350 review.
---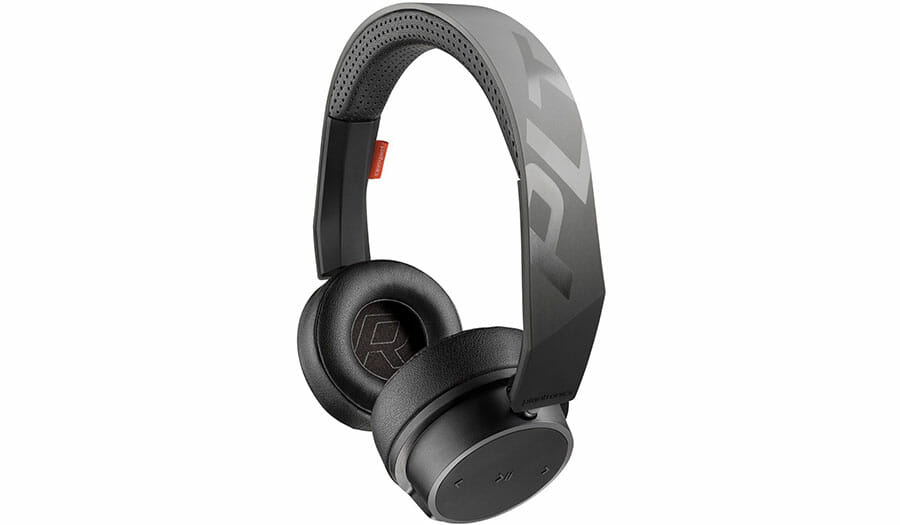 Plantronics BackBeat FIT 500 are the best waterproof Bluetooth on-ear headphones.
Type: On-ear
Water-protection: IPX2 – only sweatproof
Battery: Up to 18 hours
Bluetooth codecs: SBC
Key Features

If you're looking for on-ear headphones with a waterproof rating and Bluetooth technology, check these.
Although their design might look cheap at first sight, they are quite durable. Being extremely lightweight for on-ear headphones is a nice surprise (and needed to stay on during a workout). Note, these are on-ear and not over-ear headphones. The difference is in size, on-ears are smaller.
Their battery can get you through 18 hours of listening. If you're using them for sports, that means you get up to a whole week of workouts. Plus, you can plug the cable and enjoy them wired.
Moreover, the easy-to-use buttons on the ear cup give you the ability to skip/play songs and make calls. Their on-ear design may not provide the best noise isolation. But that can come in handy when you want to be aware of the surroundings.
Now IPX2 is the lowest rating here, but for on-ear headphones, that's the best you can find. They're protected against sweat and rain, but don't wash them under water.
The on-ear design might put too much pressure on the head. If you're looking for water resistant headphones you can use for running or other heavy cardio workouts; you might want to reconsider your choice. After all, their design is not as stable as earbuds.
The Sound
Even though the ranges are quite balanced, bass still stands out. That is great for music genres like electronic or hip hop. And, listening to other music genres is satisfying as well. The overall sound is excellent for their price range.
Plantronics BackBeat FIT 500 are simple, yet efficient on-ear sports headphones. By efficient we mean that they give you all you need—extra good sound, great durability, and long battery life.
---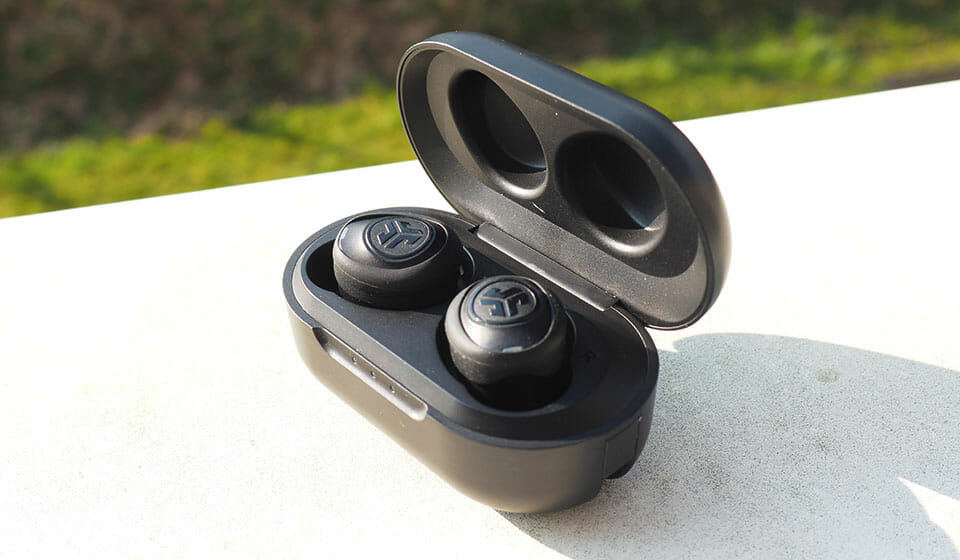 The price of true wireless headphones is coming down, and the Jlab Audio Jbuds Air give a good level of clarity and power on a budget (Jbuds Air review).
Water protection: IPX5
Battery life: 5.5 hours (+15 hours in the charging case)
Bluetooth version: 5.0
Type: True wireless
Key Features
These earbuds aren't just affordable, they have some impressive features. They are voice assistant compatible, have an auto-connect setting to connect with your device, and a charging case to expand the battery life.
You can change the EQ settings on the earbuds with the (3x) touch of a button. No need for apps to quickly customize change music.
The IPX5 water resistance is a bit lower compared to other models, but fine for outdoor use even when it is raining. They should survive a wash under tap water as well.
Plus, they stick in the ears really well and come with a decent microphone for phone calls.
The Sound
For the price tag, the sound is really good. Especially considering you get to choose from 3 EQ presets. It's not ultra-high fidelity, but powerful and fun enough for a budget earbud.
The option to adjust the EQ settings so easily, good wireless features, and the price tag make the Jlab Audio Jbuds Air great value for your money.
Read the Jlab Jbuds Air review.
---
Check more wireless earbuds under $50.
---

Another affordable true wireless option, but the Treblab xFit has a slightly higher waterproof rating and a big battery boost from the charging case (Treblab xFit review).
Water protection: IPX6
Battery life: 5 hours (30 hours with charging case)
Bluetooth version: 5.0
Type: True wireless
Key Features
These are ultra-light earbuds and are very portable. Even the charging case is compact and light, great for taking to the gym.
With IPX6 water resistance, they're a bit more waterproof than the Jlab Audio Jbuds Air. This means an extra level of safety using in the rain.
3 sets of silicone ear tips ensure a suitable fit for most. Also, they're very comfortable for long term use.
The battery life in the charging case is good, giving five extra charges, and the 5-hour battery per charge is decent for under $50 wireless earbuds.
Nonetheless, the noise isolation of the earbuds is also not as good as some competing options. And, they tend to lose the fit if you smile.
The Sound
The sound is a little better than you would expect for the price. The fidelity is pretty good, but they could do with a bit more power.
They're cheap earbuds, and they sound like it, which isn't a bad thing. More about sound in the full review.
The Treblab xFit TWS earbuds might not be elite but provide a solid budget option for wireless earphones.
---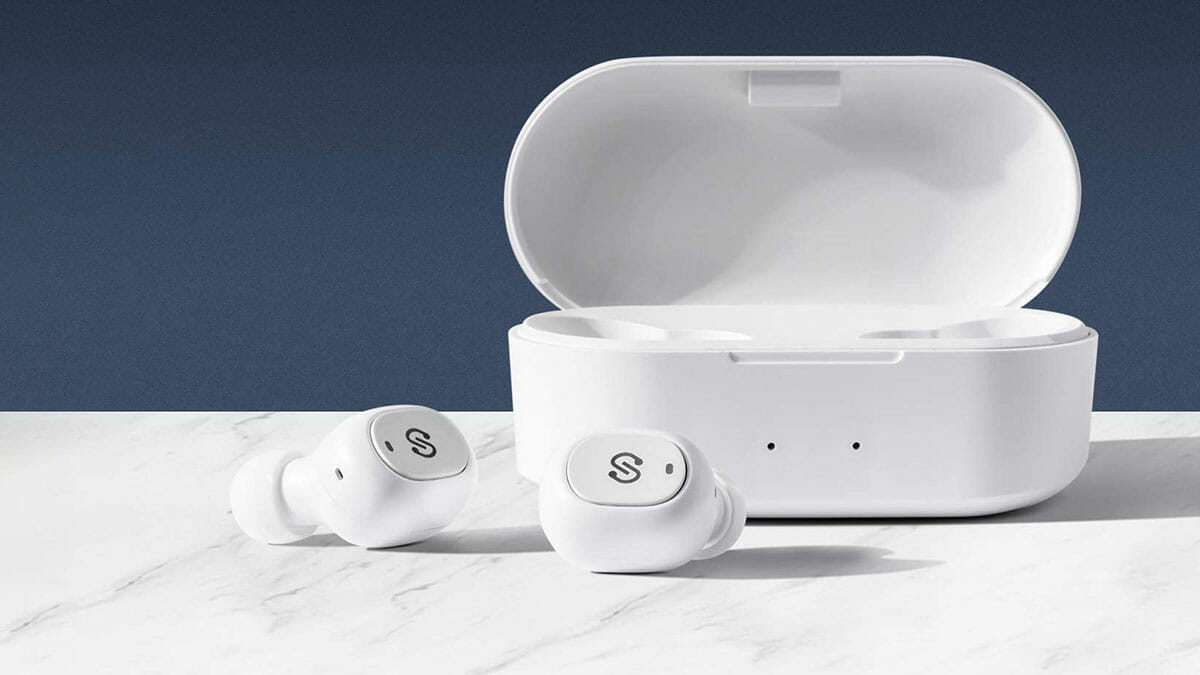 If you're looking for the best Bluetooth earphones for a dirt-cheap price, then you have to check the SoundPEATS True wireless earbuds.
Water protection: IPX4
Battery life: 5 hours (15 hours with charging case)
Bluetooth version: 5.0
Type: True wireless
Key Features
These are incredibly small, lightweight, and pretty comfortable too.
A 5-hour battery is good, but a great feature is that you can use one at a time in mono mode. You can charge one while the other is in use. It's very useful for making phone calls.
The driver has a fair amount of power despite the small size. It's 7.2mm and manages to give a decent level of volume for such tiny, lightweight earphones.
A Qualcomm QCC3020 chip gives reliable Bluetooth connectivity. Music can be controlled with built-in controls with ease.
Now, since you're paying the lowest price possible, you can't expect to find the same water protection as with pricier alternatives.
The IPX4 protection is a little bit of a let-down. Light rain and sweat should be fine, but you don't get the same peace of mind as with other waterproof earbuds that have higher ratings.
These are more splashproof than anything else, so don't dip them in water.
The Sound
For the size and price, the sound is pretty good. It's not ultra-high fidelity, nor is it likely to win a lot of awards at audio conventions.
But for casual listening to music or holding phone calls, these are great.
That said, for a simple $30 set of true wireless earbuds, the SoundPEATS True are a good option.
If you're looking for budget earbuds with waterproof sports design and reliable Bluetooth performance, get these.
---
Note: Check best earbuds under $30 or wired cheap earphones
---
What's an IP Rating? Water Protection IPX Rating Explained
What exactly do IP66, IP67, IPX7 actually mean?
These are water protection ratings which consist of IP (ingress protection) following by two numbers. The first one represents the level of protection from dust from 0-6 and the second one represents protection from water on a 0-8 scale.
If IPX is used, this means the device is protected from water only and doesn't feature dust protection. X replaces the dust protection rating. The same combination can be made for dust only protection, like IP6X.
In short,
IPX0 means no protection
IPX1 means protection from dripping water
IPX2 means protection from vertically dripping water
IPX3 means protection from sprayed water
IPX4 means protection from splashed water
IPX5 means protection from water projected from a nozzle
IPX6 means protection from strong jet of water
IPX7 means protection from immersion in water up to 3ft (1m) for 30 minutes
IPX8 means better than IPX7, but there are no exact requirements (IPX8 is usually claimed by the manufacturer)
It's important to know there are no IPX8 Bluetooth headphones on the market since the wireless connection probably wouldn't work properly under water.
To get the best possible protection from water, look for IPX7 Bluetooth headphones that you can accidentally drop in the water up to 3ft in-depth without damage. This is the best protection currently available in waterproof Bluetooth headphones.
For example, Plantronics BackBeat Fit have an IPX7 rating. If you get headphones with anything less than that and you drop them in water, it's very likely they'll get damaged.
If you plan on using headphones near water, it's a good idea to get ones with the best water protection you can get.
Best Use of Waterproof Bluetooth Headphones
The intended way of using waterproof Bluetooth earbuds and headphones is somewhere they can get wet or fall in the water.
Whether you're kayaking, paddle boarding or you like to drive around in a jet-ski but are afraid to use your regular sports headphones, this is the perfect opportunity to use waterproof Bluetooth earbuds.
Basically, you can use waterproof headphones for any activity near the water where it is possible they will get wet, while still above the water level. For Bluetooth to function properly, the headphones have to be above water.
Put your smartphone in a dry bag, connect via Bluetooth and paddle away. If the headphones get wet, just wipe them after use.
Keep in mind that the average Bluetooth range is about 30ft, so keep your music device close enough to hold the connection.
How to Use Your Phone with Waterproof Headphones?
Make sure to get a good waterproof phone bag. Mpow waterproof case is very popular and protects the phone from water up to 100ft in depth. It's suitable for iPhones and Android phones.
Once you have your phone protected, put on your waterproof headphones and go on your way without fear of damaging any of your electronics.
Underwater Bluetooth Headphones for Swimming
A lot of swimmers are looking for wireless Bluetooth headphones for swimming.
But there's an issue.
Now, there is no problem creating water-resistant and waterproof headphones, but as of right now we have no wireless technology that would transmit the signal underwater with high enough proficiency.
Swimming headphones cannot use Bluetooth technology.
The water is simply too "dense" and soaks up all the signal, making Bluetooth useless underwater.
This wireless technology doesn't work properly underwater, and so far no manufacturer has been able to produce a decent pair of wireless underwater headphones.
For real underwater purposes, you'll have to use wired swimming headphones together with an underwater music player.
How Not to Use Wireless Headphones Even if They are Waterproof
Don't use them for swimming or intentionally submerge them in water. While most of these are designed to survive lots of water, some even underwater, it's never a good idea to push the limits, especially with headphones rated below IPX7.
These are perfect for using above water while being protected enough to survive an accidental drop in the water or heavy splashing. Anything more than that is likely to damage them. (dropping them deep underwater…)
---
More popular guides:
Looking for a good gaming headset?
The best noise cancelling earbuds
Share Your Favorite Waterproof Bluetooth Headphones
If you have your own model of wireless, waterproof headphones that you think are better than those on this list, please share it with us.
We'd like to know what you're successfully using in real life, so we can review and put it on our list.
Comments