Earbuds/IEMs
8 Best Waterproof Bluetooth Headphones (IPX rated)
Enjoy music even in the most "watery" places with the best waterproof wireless headphones.
Below you'll find top Bluetooth headphones that are perfect for any near water activity like paddle boarding.
All of the waterproof wireless headphones on this list have some level of waterproof IPX rating.
IPX tells you exactly how wet they can get, for more info check below.
Jump to:
Check the table of waterproof headphones to compare them quickly or read the in-depth reviews for details.
Comparison Table: Best Waterproof Bluetooth Headphones
Rating

i

Rating on Amazon.com x/5

Price
Waterproof
Battery
Controls
Mic
aptX

i

Supports codec for high-quality Bluetooth sound transmission.





Plantronics BackBeat Fit
(best overall)
3.8
$$$
($80-$120)
IPX7 (IP57)
8h
Built-in
Review

Leophile EEL
(best value)
4.0
$$ ($30-$80)
IPX7
10h
Built-in
Review
SoundWhiz
4.3
$ (<$30)
IPX7
8h+
Built-in
Review
Sony SBH70BK
(runner-up)
3.7
$$ ($30-$80)
IPX7 (IP57)
8.5h
Built-in
Review

BlueAnt Pump
(best budget)
3.6
$$ ($30-$80)
IPX7 (IP67)
8h
Built-in
Review
VAVA Moov 28
4.3
$$ ($30-$80)
IPX6
9h
Built-in
Review
Hussar Magicbuds
3.8
$ (<$30)
IPX7
12h
Built-in
Review
Anker SoundBuds Slim+
4.2
$ (<$30)
IPX5
7h
Built-in
Review
Model

Plantronics BackBeat Fit

Leophile EEL
SoundWhiz
Sony SBH70BK

BlueAnt Pump
Hussar Magicbuds 2
VAVA Moov 28
Anker SoundBuds Slim+
Picture
Rating

i

Rating on Amazon.com x/5

3.8
4.0
4.0
3.7
3.6
3.8
4.3
4.2
Price
$$$ ($80-$120)
$$ ($30-$80)
$$ ($30-$80)
$$ ($30-$80)
$ (<$30)
$ (<$30)
$$ ($30-$80)
$ (<$30)
Waterproof
IPX7 (IP57)
IPX7
IPX7
IPX7 (IP57)
IPX7 (IP67)
IPX7
IPX6
IPX5
Battery
8h
10h
8h
8.5h
8h
12h
9h
7h
Controls
Built-in
Built-in
Built-in
Built-in
Built-in
Built-in
Built-in
Built-in
Mic
aptX

i

Supports codec for high-quality Bluetooth sound transmission.

Review
Review
Review
Review
Review
Review
Review
Review
Best Waterproof Bluetooth Headphones Reviewed
best overall: Plantronics BackBeat Fit
Waterproof up to 3ft (1m) submerged
Flexible, ergonomic design
Flexible, comfortable fit that stays in ears
8 hours of battery life
Great value for money sports headband
Good sound with emphasized bass
Sound quality is not up to audiophile standards
Summary
The most versatile waterproof Bluetooth headphones for all type of sports, period.
Plantronics BackBeat Fit are one of the most popular sports headphones.
These are suitable for all sports and not just near water activity.
Running, working out, cycling… are all activities these are perfect for.
Durability & Water Resistance
Thanks to their IP57 (IPX7) rating, they are also well protected from water. This rating means you can submerge them in 3ft deep water for 30 minutes without damage. This comes very handy if you drop in water.
Because they are lightweight they don't submerge quickly so you have more time to quickly get them out of the water.
They also have high dust protection of rating 5 as a bonus.
They are made out of flexible, rubbery plastics that can endure quite a lot of physical strain that would happen during sports activity.
Overall, they are well built and suitable for even the harshest sports activity.
Comfort
The fit is rather tight, which might be annoying in the begging, but very soon you'll get used to it. The benefit of this is that the headset stays in place even during fast movement like running.
If you've never before used over-ear hooks you'll need some time to get used to. In a few weeks, though, it will be the same as putting regular earbuds on.
The ear tips do a pretty good job of sealing the sound while maintaining comfort for hours. Wearing them for hours doesn't irritate your ears, but this also depends on the size of your head.
Bluetooth & Battery
Connecting via Bluetooth is fast and easy, especially once you get used to the control on the right headphone. Once connected it works like it's supposed to, no breaking of sound even up to 30ft (10m) of range.
Just keep your playing device somewhere close and it's going to work 99% of times.
Additionally, you can accept calls with it. The microphone has a clear, easy to understand, sound to easily call your friends and chat even when enjoying the boat ride for example.
Built-in controls are easy to use and very intuitive. You can control the volume, song selection and accept/hung up calls.
The battery is also quite good with 8 hours of playtime. This is more or less standard with Bluetooth headbands, but there are also many other wireless waterproof headphones that have less battery life than that.
In 8 hours you can enjoy a lot of activity.
Sound
When it comes to sound these are OK. They're not great, but for such comfortable, sports-oriented headband Plantronics BackBeat Fit do just fine.
With slightly bloated bass you may actually like the sound signature of these if you're not a hardcore audiophile. Mids and highs aren't the most precise and detailed, but then again, you'll probably focus more on paddleboarding than the lack of sound details.
To sum up, Plantronics BackBeat Fit are very comfortable, durable, waterproof, Bluetooth headphones most suitable for all kinds of sports with good, fun sound.
---
best budget: Blueant Pump
IPX7 waterproof, durable design
Stable fit
Nice bonus selection of ear tips
Great value for money earbuds, budget model
Bass emphasized sound signature (can be a con)
Bluetooth range shorter in real life than advertised
Summary
Best budget waterproof headphones little money can buy.
BlueAnt Pump 2 have been released but aren't as good. (basically same earbuds but more expensive) Get the 1st, Pump 1 HD model.
BlueAnt Pump are one of the best waterproof Bluetooth headphones and the only reason why they're not #1 is just that these are a budget model that can't really compare to higher-end.
These are more budget-friendly than Plantronics BackBeat Fit and are the top pick for under $30 watertight wireless headphones.
If the value for money is your thing, get these for sure.
Durability & Water Resistance
These are rated as IP67 (IPX7) which means the same water protection as the Plantronics. You can easily splash them with water and even submerge them up to 3ft deep.
Because of Bluetooth technology, these still aren't the best for swimming, you'll most likely experience frequent connectivity issues.
They are perfect for enjoying the Jacuzzi or visiting water parks.
The watertight build is achieved with Teflon and Kevlar water protection, together with durable rubber seals. You can really feel these are made for near water activity.
Built quality is good as well and the earbuds instill confidence for other sports activities too.
Additionally, you get 12 months warranty so if they stop working, get them replaced.
Comfort
The fit is stable thanks to behind the ear design. With flexible wires in between them, you can adjust the fit to your liking. Also, the wires are short enough not to flap behind your neck if you're running.
BlueAnt Pumps are comfortable enough to do sports in, but won't win any comfort awards. The problem can be the ear tips. Once they get too wet, they stay in, but the seal lets go and creates an annoying, tingling sensation. This, of course, doesn't happen to all people; it really depends on your head size.
A nice bonus is a variety of ear tips you get:
7 different types of ear tips (even one Comply pair)
2 sizes of stabilizers
Additional cable zip
Bluetooth & Battery
Bluetooth connectivity range is advertised to be up to 100ft which is much more than the competition. But the truth is, it's not much better in reality. The problem is the objects in between the headphones and your Bluetooth music device.
Walls can greatly diminish Bluetooth range and in the end, you're left with about 25ft+ of actual, usable range. This is more or less a comparable performance with alternative wireless headphones.
The controls for accepting calls, changing songs and volume need some getting used to, maybe we'd like to see better precision and simplicity.
Battery life is said to be about 8 hours (2h charge) which would be good, but in reality, you'll probably get 2-3 hours less. It seems it is hard for manufacturers to put a quality battery in an in-ear earbuds design that has a budget price. No matter what the claims are, a better battery would probably increase the price.
Nonetheless, at about 5 or 6 hours of playtime, this is plenty of fun to have on one charge.
Sound
Sound quality is actually pretty good for waterproof Bluetooth headphones on a budget. It has a strong, punchy bass that slightly overshadows other ranges.
This is not audiophile quality, but those who enjoy stronger bass will like these. In fact, for sports waterproof headphones that use Bluetooth, they sound better than most of the competition.
BlueAnt Pumps already have APT-X and AAC codec for better sound transmission. Keep in mind, you need a music device that supports this technology as well. (iPhone still doesn't have APT-X).
You get submersion-proof wireless headphones that stay in your ears and have a good Bluetooth connection with a punchy bass that is hard to beat.
In the end, if you're looking for the best budget waterproof Bluetooth headphones, pick BlueAnt Pumps.
---
IPX7 rated, can survive a dip in the water
Very stable and comfortable, good ergonomics
Stable Bluetooth connection
Great value for money
Clear, balanced sound, enjoyable for all genres
Sub-par microphone performance
Summary
Balanced sound signature with waterproof design and stable fit.
These are one of the better affordable Bluetooth earbuds which can survive water.
They aren't the cheapest on the market, but still cheaper than the high-end premium products.
Durability & Water Resistance
Water protection is very good as these are rated as IPX7. This means they can survive underwater for a while, though don't try to use for swimming as Bluetooth doesn't work over water.
You can easily wash them, use them in rain or accidentally drop them in water without fear of damaging them.
There is nothing to complain about when it comes to durability. Yes, they are plastic but built well enough to instill confidence.
The flat wires seem flexible and sturdy enough to last a long time. The ear hooks are rubbery and you aren't afraid of putting them on.
Durability isn't top-notch, but it's good enough for the price to last you at least a couple years.
Add a 1-year replacement warranty and you really can't worry about durability that much.
Comfort
Immediately once you put them on you know these are comfortable earbuds. The ergonomic design, similar to Powerbeats 2, sits nicely on your ears.
The fit is very stable suitable for any fast activity as the ear hooks do a good job at keeping stable.
With 6 pairs of ear tips, silicone and foam in 3 sizes, you can find a proper fit with good sound isolation and comfort.
Put them on, adjust the ear hooks and you're ready to go on an adventure, or just use them at home with your smartphone.
Bluetooth & Battery
They use Bluetooth 4.1 that isn't much different from previous versions. You get the usual 30ft+ of range, depending on how many obstacles are in between.
The connection is stable and disconnects very rarely, this is very important if you know how annoying it can be for earbuds to frequently disconnect on you.
It is compatible with all iOS (iPhones) and Android phones and tablets, as well as with other Bluetooth enabled music devices.
The battery holds a good 8 hours per charge, which isn't anything special but should be long enough for most users. Just keep it charged after use and you'll have enough juice to last you through any long trips in nature.
You can connect them to 2 devices at the same time which is nice if you have a smartphone and a tablet.
The built-in microphone is only average, the voice quality isn't the best so don't pick them if you want to make a lot of calls in high quality. You can still use them for calling but only in quieter areas. If you use them in the car, the mic will pick up a lot of background noise.
The built-in control buttons are big and intuitive enough to get used to them very quickly. You'll be soon changing songs and adjusting volume without having to think.
In the package, you also get a sturdy zipper case for protection and micro USB charging cable.
Sound
Sound doesn't disappoint either, they don't sound as good as Jlab Audio Epic 2 but are good enough to enjoy with any music genre.
The sound signature is rather balanced which means the bass is quite light and won't satisfy those looking for deeper lows.
The mids and highs are clear and precise. These aren't audiophile earbuds of course but compare well to alternative options in the same Bluetooth category.
They also feature CVC6 noise cancelling technology though it can't really compare to real ANC earbuds like Bose QuietComfort.
As long as you know you're listening to affordable, Bluetooth earbuds you can be happy with the sound you get.
If you're looking for waterproof Bluetooth earbuds that do almost everything right, with balanced sound and good price, get SoundWhiz earbuds.
---
IPX6 water resistant design
Durable, made to last
Cheap price, great value
Comfortable and stable fit for sports activity
Great battery with 9 hours of playtime
Rather balanced sound signature, good for sports
Sound quality isn't for audiophiles, sibilance and muddy bass
Summary
Great affordable waterproof earbuds for all sports
VAVA Moov 28 are a great cheap pair of wireless waterproof headphones. For the price under $30, you're getting small, ergonomic in-ear headphones with lots of features.
Having great build-quality with IPX6 water protection you can even wash these with water. With flat rubber wires and lightweight metal casing, they can withstand a lot of use.
Want to find out more durable IEMs?
The in-line microphone and remote control are well designed and easy to use.  With Bluetooth 4.2,  aptX and CVC 6.0 noise cancelling microphone, you get better sound quality for music and talks. The battery life is solid 8-9 hours which is surprisingly long for such small wireless earbuds.
The sound quality isn't bad either. They get loud enough and have a balanced sound signature with good bass. At times you might hear some sibilance and cable noise if you don't put them on properly. Otherwise, they sound very well and are a lot of fun for working out or enjoying the outside.
Read full review of VAVA Moov 28.
---
Looking for good gaming headset?
---
Water resistant to IP57 standards
Great talkback mic quality
Lightweight and comfortable fit
Quality sound for wireless earbuds
Vibrating neckband for call notification
Not the loudest audio output
Neckband not suitable for bench exercises
Small wires connect earbuds to neckband
No charging capacity/status indicator
Summary
Very comfortable, good sound quality but not the loudest.
Sony produces a quality wireless audio product with their SBH70BK water-resistant earbuds.
This set of earbuds is lightweight and is very comfortable. And the sound quality is great, both for music playback and for phone calls.

Durability & Water Resistance
The soft rubberized coating on these earbuds not only feels nice, but it also helps make them water-resistant to IP57 standards.
That means you can take your Sony SBH70BK earbuds out in the rain, workout in hot and humid environments, or even accidentally drop them in the sink without a problem.
These aren't to be used for swimming or intended to be fully submerged for long, but they are great for general use near water or in high moisture.
The device is well designed and is pretty sturdy, but there are a few minor weak points to consider.
Sony uses a very small wire to connect each earbud to the neckband. This wire is not retractable, and it can get caught on loose clothing.
The earbud case is made of plastic and there is a seam that could separate under enough pressure.
Everyday usage shouldn't be a problem with these headphones, but if you tend to be rough on headphones or don't use a case, these could be too fragile for you.
Comfort
These earbuds and neckband are surprisingly very lightweight and very comfortable.
The rubberized coating on the neckband helps it stay in place rather well, and it is easy to forget it is even there.
Since it is an open neckband design these might not be suitable for bench exercises where you lie on your back. The neckband could slide off and pull out the earbuds.
The controls built into the neckband are easy to use and provide good audio and haptic feedback. And the neckband vibrates gently for incoming call alerts.
Hard plastic earbuds can be uncomfortable for some, but these are very similar in feel and fit to the standard Apple Earpods.
Some users may benefit from a third party silicone earbud cover to help them stay in place or add even more comfort.
Bluetooth & Battery
Bluetooth connectivity is very simple and easy to pair with a variety of devices.
Wireless range is reasonable with 15-30' reception for most connected mobile devices.
The SBH70BK wireless earbud design won't win any awards for battery life. It is average, at best.
Battery power from the neckband will provide up to 6 hours of music playback and 8.5 hours of phone/talk time.
Sound
This might be the category that gives Sony a leg up on the competition. The sound quality of these earbuds is quite good for a Bluetooth audio device under $100.
Bass response of the SBH70BK is good. It's not for bassheads, but it is full bodied and complements a rich sound signature.
High frequencies are smooth and lively, providing a good balance with the solid mid tones.
The open earbud case and driver design do not require a super tight seal to get a reasonable frequency response, but some users may wish for a tighter fit.
Maximum volume output for the SBH70BK is not great, but it is perfectly adequate for most uses and applications.
The open design also means that noise isolation is not very high, but that can be a great thing when you need to pay attention to your surroundings.
Talkback mic quality is another feature that is often lacking in many wireless headsets. Not here. The microphone is very clear and works great for phone calls.
With an average price under $60, the Sony SBH70BK water-resistant Bluetooth earbuds are a great choice for the active listener that appreciates quality sound.
Sony's lightweight and comfortable design is attractive and functional. If you need wireless earbuds for outdoor activities near water, definitely check these out.
---
IPX7 rated, can wash them, dip them in water
Great ergonomics design, very comfortable & stable
Stable Bluetooth connection
Cheap price, great value for money
Amazing battery life (12h)
Good sound, slightly emphasized bass
Budget model, can't compare to higher-end in any category
Summary
Great Bluetooth sports earbuds, not the best waterproof protection.
Here are another great value for money Bluetooth earbuds with IPX rating.
Hussar Magicbuds 2 (next generation) offer a lot of features for a low price and this is probably one of the reasons why they are so popular. This next generation model comes with better water protection and battery life while the design stayed the same.
Durability & Water Resistance
When it comes to water protection these are only IPX7 rated which means you can drop them in the water, you can wash them and generally these will survive lots of water.
Of course, they're also sweat-proof and can easily survive heavy rain as well. As long as you keep them out of the deep water they should work fine.
The housing is completely plastic which probably helps with keeping water away better than metal. Nonetheless, built quality is solid.
The wires are flat and flexible, control buttons seem to be durable enough so you're not afraid to use them and ear hooks have a nice flex.
You can feel confident taking these outside.
Comfort
Because of similar design and ergonomics as Powerbeats 2, they are very comfortable and fit great.
Once you put them on they stay on no matter how fast you move. You don't need to constantly adjust the fit.
You get 3 sizes of silicone ear tips which also provide some noise isolation.
Because of their plastic and therefore lightweight design you'll soon forget you're wearing them. Isn't this the whole point of comfort?
Bluetooth & Battery
Bluetooth 4.1 connects to any iOS or Android device and stays connected up to around 30ft (10m) of range. Siri support was added and is supported now as well.
Once connected, it is not without faults, sometimes you will experience distortion and disconnects, but this is probably more due to Bluetooth than this specific model. Overall, Bluetooth problems are very rare and it works better than average.
The built-in controls are easy to remember and use. You can control song selection and volume together with the Bluetooth and power button.
The built-in microphone is very average. You will be able to make a call through but we wouldn't use them as our main device for making calls.
Battery life is great at up to 12 hours of playtime which is among the best in wireless earbuds category. That's plenty of juice for a lot of music.
The Bluetooth earbuds come in a carrying case with a zipper with a micro USB charging cable.
Sound
Sound quality is good too. You do have to keep in mind this is a budget model so we can't really compare them to premium alternatives.
For the price you pay, the sound is great. There is a slight emphasis on bass as is common with sports earbuds.
The mids and highs are clear and precise enough to enjoy, though don't have the richness or clarity of higher-end models.
CVC 6.0 noise cancellation technology does work for canceling out voice noise and it's a nice feature to have. Keep in mind, this is noise-cancelling for the microphone and making calls not for headphones.
If you're looking for cheap Bluetooth earbuds that are good at everything with above-average sound quality, get Hussar Magicbuds 2.
---
IPX5 rated, water splash-proof
Cheap price, high value for money
Stable fit during movement
7 hour battery life
Bluetooth wireless, aptX, mic & remote
Good sound with balanced signature
Sound quality not for audiophiles
Summary
Good budget option for waterproof wireless earbuds.
Anker SoundBuds Slim+ are the upgraded version of the first Slim earbuds. They offer a lot for their price.
Water protection is good with an IPX5 rating. This means you can wash these headphones with a wet cloth but dipping them under water is not advised. They could probably survive the accidental dip in the water but can't survive there for long.
With good build-quality, other features aren't neglected. Lightweight and comfortable for any sports activity. A good selection of ear tips and ear wings in a hard carrying case is common but always a plus.
Note: Best over-ear budget headphones list.
The Bluetooth connection is above average. The range is average at around 33ft (10m) but the connection strength is better than with most alternatives. The signal doesn't die out or disconnect even behind a wall.

The battery holds solid 7 hours of music on a full charge and even more of calling with the in-line microphone. Add to this aptX Bluetooth codec with good sound quality and you have a great pair of waterproof headphones.
With a rather balanced sound signature, all music genres will sound good and be fun to listen to. These are perfect for inside or outside sports activity like trekking, mountain biking, and any other outside sport.
---
Flexible & sturdy design
Comfortable & stable fit
Good sound quality
Waterproof (IPX7)
Not audiophile sound quality
Summary
Waterproof Bluetooth earbuds that do everything right.
Leophile EEL are Bluetooth earbuds with a slightly different design.
With an affordable price in the category, high built quality and fun and dynamic sound these are one of the best you can get right now.
What's in the box?
Leophile EEL waterproof Bluetooth earbuds
3 pairs of silicone ear tips (S, M, L)
2 wire clips for cable control
Micro-USB to USB charging cable
User manual
Durability & Water Resistance
These Bluetooth earbuds have an IP67 (IPX7) rating which means you can submerge them in shallow water up to 30 min. This is more of a guideline than the rule but you can be comfortable wearing them near water or in wet environment.
Have a shower while listening to music, with EEL that's not a problem.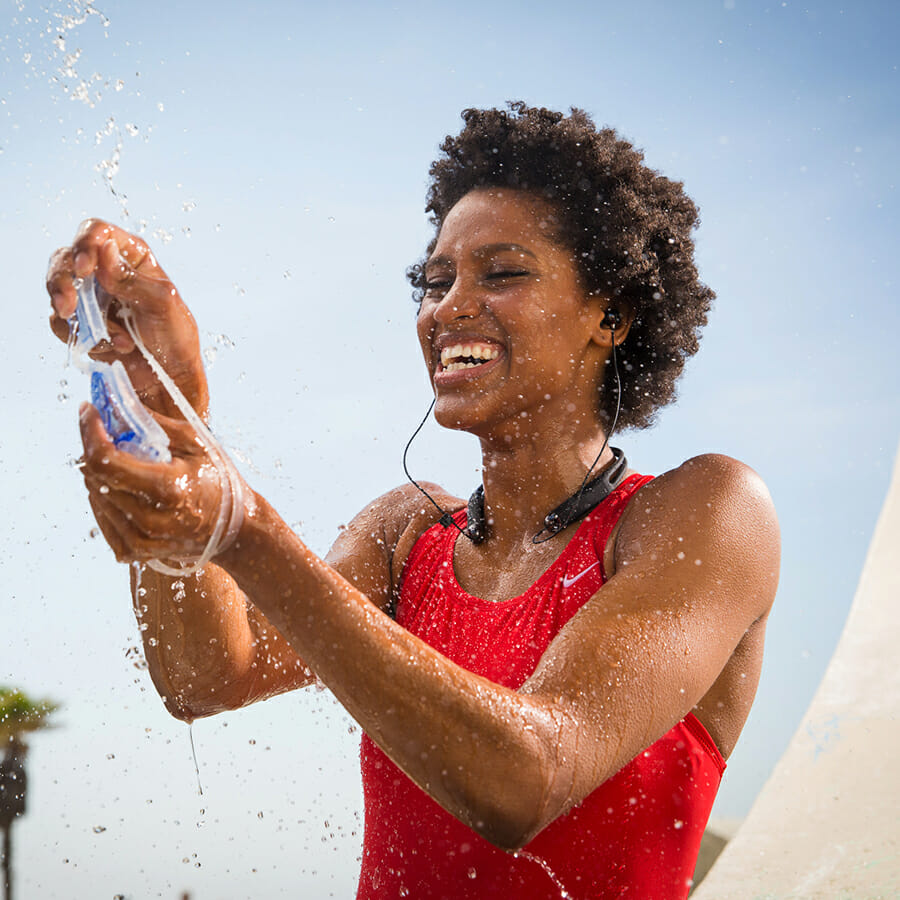 The materials used are durable plastics and rubber. They are well made without any major weak points.
They feel sturdy and well made so you are confident to wear them in even "earbud-hostile" situations.
If you need wireless earbuds that can get wet these are a great option.
Comfort
The design is well though through. Instead of wearing them behind the ears like most wireless earbuds these sit mostly on your neck.
It's surprisingly comfortable. The earbuds are light enough so you barely feel them yet heavy enough they don't fall of.
The rubbery neck-piece "sticks" to skin without making it sweat.
The fit is very stable and perfect for various sports activities. Just make sure you don't hang with your head down, this would probably be a problem.
The earbuds themselves are very light and fit in ears comfortably. You also don't have to readjust the fit very often, they're solid.
Bluetooth & Battery
The Bluetooth connectivity is easy and simple to make. The connection works for about 30ft (10m) without disruptions.
There's 3 built-in buttons to control the volume, songs, play/pause and pairing via Bluetooth. It's all very straightforward and simple.
The battery needs about 2 hours to charge and last for 10 hours give or take on how loud you listen. This is still plenty of time especially for how light the earbuds feel.
The microphone sound quality is good too. People will have no problem hearing you even in louder situations.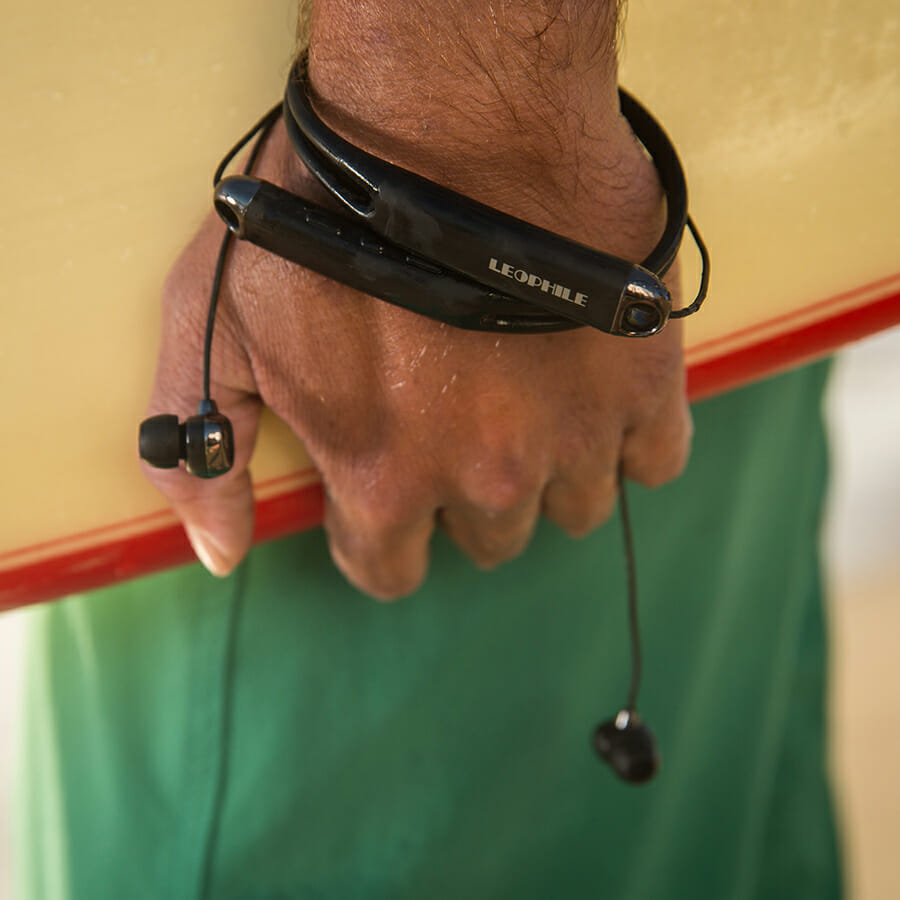 Sound
The sound quality doesn't disappoint either. Sound signature is rather balanced with slight emphasis on bass. (you need a good seal)
These are not basshead-friendly earbuds though. The bass just isn't super strong.
Overall the sound quality is good and non-audiophiles will be more than happy with it. As long as you don't compare them to audiophile standards you will be very happy.
The only thing that might be annoying is slightly muddy bass and harshness of treble at higher volume but you will only spot that if you're an audiophile yourself.
All in all they compare favorably with other waterproof Bluetooth earbuds and you can get these with confidence.
With a unique design perfect for sports, good sound quality, comfort and durability, Leophile EEL are without a doubt one of the best waterproof wireless earbuds.
---
What's an IP Rating? Water Protection IPX Rating Explained
What exactly do IP66, IP67, IPX7 actually mean?
These are water protection ratings which consist of IP (ingress protection) following by two numbers. The first one represents the level of protection from dust from 0-6 and the second one represents protection from water on a 0-8 scale.
If IPX is used, this means the device is protected from water only and doesn't feature dust protection. X replaces the dust protection rating. The same combination can be made for dust only protection, like IP6X.
In short,
IPX0 means no protection
IPX1 means protection from dripping water
IPX2 means protection from vertically dripping water
IPX3 means protection from sprayed water
IPX4 means protection from splashed water
IPX5 means protection from water projected from a nozzle
IPX6 means protection from strong jet of water
IPX7 means protection from immersion in water up to 3ft (1m) for 30 minutes
IPX8 means better than IPX7, but there are no exact requirements (IPX8 is usually claimed by the manufacturer)
It's important to know there are no IPX8 Bluetooth headphones on the market since the wireless connection probably wouldn't work properly under water.
To get the best possible protection from water, look for IPX7 Bluetooth headphones that you can accidentally drop in the water up to 3ft in-depth without damage. This is the best protection currently available in waterproof Bluetooth headphones.
For example, Plantronics BackBeat Fit have an IPX7 rating. If you get headphones with anything less than that and you drop them in water, it's very likely they'll get damaged.
If you plan on using headphones near water, it's a good idea to get ones with best water protection you can get.
Best Use of Waterproof Bluetooth Headphones
The intended way of using waterproof Bluetooth headphones is somewhere where they can get wet or fall in the water.
Whether you're kayaking, paddle boarding or you like to drive around in a jet-ski but are afraid to use your regular sports headphones, this is the perfect opportunity to use waterproof Bluetooth headphones.
Basically, you can use waterproof headphones for any activity near the water where it is possible they will get wet, while still above the water level. For Bluetooth to function properly the headphones have to be above water.
Put your smartphone in a dry bag, connect via Bluetooth and paddle away. If the headphones get wet just wipe them after use.
Keep in mind that the average Bluetooth range is about 30ft, so keep your music device close enough to hold the connection.
How to Use Your Phone with Waterproof Headphones?
Make sure to get a good waterproof phone bag. Kobert waterproof case is very popular and protects the phone from water up to 100ft in depth. It's suitable for iPhones and Android phones.
Once you have your phone protected, put on your waterproof headphones and go on your way without fear of damaging any of your electronics.
Why are There No Underwater Bluetooth Headphones?
There is no problem creating water-resistant and waterproof headphones, but as of right now we have no wireless technology that would transmit the signal underwater with high enough proficiency.
Headphones for swimming cannot use Bluetooth technology.
The water is simply too "dense" and just soaks up all the signal making Bluetooth useless underwater.
This wireless technology doesn't work properly underwater and so far no manufacturer has been able to produce a decent pair of wireless underwater headphones.
For real underwater purposes, you'll have to use wired waterproof headphones or headsets together with the underwater music player.
How Not to Use Wireless Headphones Even if They are Waterproof
Don't use them for swimming or intentionally submerge them in water. While most of these are designed to survive lots of water, some even underwater, it's never a good idea to push the limits, especially with headphones rated below IPX7.
These are perfect for using above water while being protected enough to survive an accidental drop in the water or heavy splashing. Anything more than that is likely to damage them. (dropping them deep underwater…)
You can also find the best workout headphones here.
If you have your own model of wireless, waterproof headphones that you think are better than those on this list, please share it with us.
We'd like to know what you're successfully using in real life so we can review and put it on our top headphones list.
To get future updates of the best waterproof Bluetooth headphones, subscribe or like the website on any of the social media.
Comments