Sports
10 Best Waterproof Bluetooth Headphones (IPX rated)
Enjoy music even in the most "watery" places with the best waterproof wireless headphones.
Note: These are not suitable for swimming, but you can use them near water; kayaking, boating, etc. For swimming headphones click here.
Comparison: The Best Waterproof Bluetooth Headphones
BADGE
RATING
PRICE
(approx.)
WATER
PROTECTION
BATTERY

CONTROLS
& MIC

Jabra Elite Active 75t
best overall
more info
4.0
$200
IPX7
(IP57)
7h+
(+20h in case)
Jaybird Vista
runner-up
more info
4.3
$180
IPX7
6h
(10h in case)
TaoTronics SoundLiberty 92
best water protection
more info
5.0
$40
IPX8
5h+
(25h in case)
Aukey Series T10
best under $100
more info
4.0
$90
IPX5
7h
(24h in case)
AfterShokz Aeropex
best bone conduction
more info
4.5
$160
IPX7
(IP67)
8h
Adidas RPT-01
best on-ear
more info

4.3
$170
IPX4
40h
TaoTronics SoundLiberty 77
best under $50
more info
4.4
$50
IPX7
5h
(15h in case)
Jlab Audio Jbuds Air
more info
4.0
$50
IPX5
5.5h
(+15h in case)
Treblab xFit
more info
4.2
$50
IPX6
5h
iTeknic BH001
best battery
more info
4.2
$30
IPX4
24h
Below you'll find top Bluetooth headphones that are perfect for any near water activity.
All of the waterproof wireless headphones on this list have some level of waterproof IPX rating.
IPX tells you exactly how wet they can get, for more info check below.
Use the table of waterproof headphones to compare them quickly or read the in-depth reviews for details.
Related guides:
Get the best waterproof MP3 for swimming
The Best Waterproof Bluetooth Headphones
1. Jabra Elite Active 75t – best overall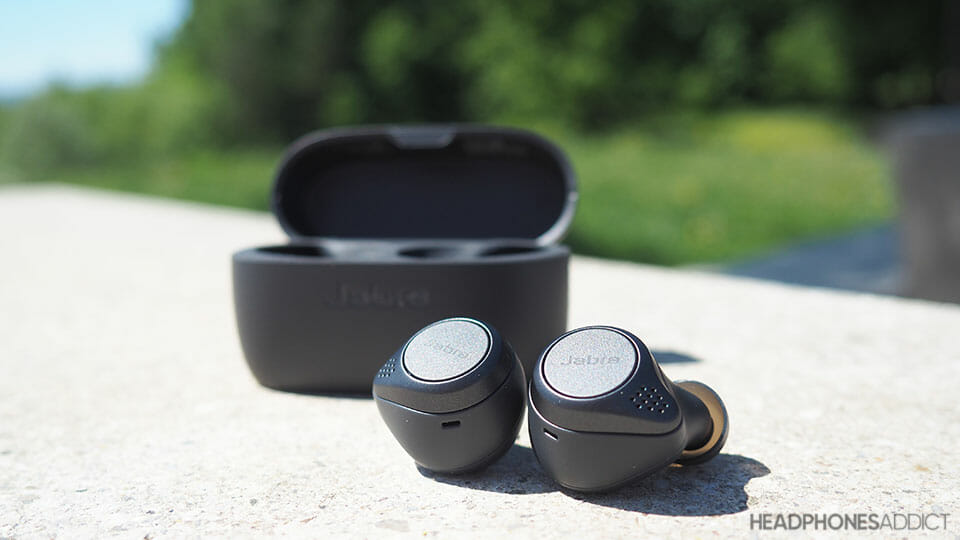 The best waterproof Bluetooth headphones overall.
Water protection: IP57 (IPX7)
Battery life: 7.5h (28h with case)
Bluetooth version: 5.0
Type: Truly wireless
Key Features
The Elite Active 75t headphones are an updated version of the excellent Jabra Elite Active 65t. They are great for people who need quality sports earbuds that are good for general use as well.
IP57 water protection (IPX7 equivalent) makes them fully waterproof and suitable for use in harsh outside conditions. And you are protected by a 2-year warranty.
The battery is stronger than the previous version. You can use these for 7.5 hours and charge in the case for 28 hours in total. Reliable 5.0 Bluetooth keeps the connection strong.
These in-ears come with an accompanying app. You can customize EQ and other settings. Also, HearThrough technology can mute music when you need to hear ambient noise.
You will find the price tag relatively high but still cheaper than the Beats PowerBeats Pro. Still, they don't have active noise cancelling function.
The Sound
The Jabra Elite 75+ buds have a very clear sound. Good passive noise isolation helps with that.
Generally, the bass is boosted significantly and can be overpowering, but you can adjust it with the app.
When it comes to water-resistant headphones and great true wireless sound, the Jabra Elite Active 75t are the top option.
Check the Jabra Elite Active 75t review.
---
2. Jaybird Vista – runner-up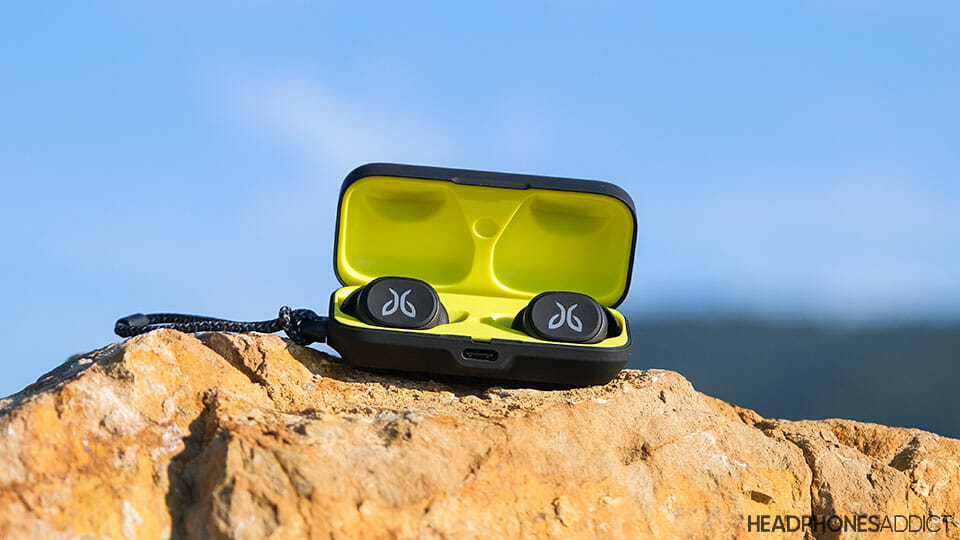 Excellent true wireless in-ears for a frequent runner, gym goes, or even an audiophile.
Water protection: IPX7
Battery life: 6h (+10 hours with case)
Bluetooth version: 5.0
Type: Truly wireless
Why Buy These?
Vista's are made from a plastic shell and soft rubber that feels nice in your ears. Despite their bulky size, you can wear these for hours and feel no discomfort. Fit is also very secure, thanks to the included ear fins.
Earbuds come with a mobile app, where you can tweak many things. There is a section to change commands when pressing the physical buttons. Of course, you can also pick your favorite EQ or make a new one.
These are incredibly rugged, sporting the IPX7 rating and MIL-STD-810G military standard. That means you don't have to worry if they fall on the floor or in the water.
The Bad
Right out of the box, the sound quality leaves much to be desired.
The Sound
As mentioned, first impressions aren't good. But after playing with EQ, you can bring a lot out of these. After doing so, you can hear lots of details, with very natural sounding vocals and instruments. Bass has a good punch and can be very agile, even for metal.
Jaybird Vista are a sublime choice for sportspeople who are also looking for fantastic sound quality.
---
3. TaoTronics SoundLiberty 92 – best water-protection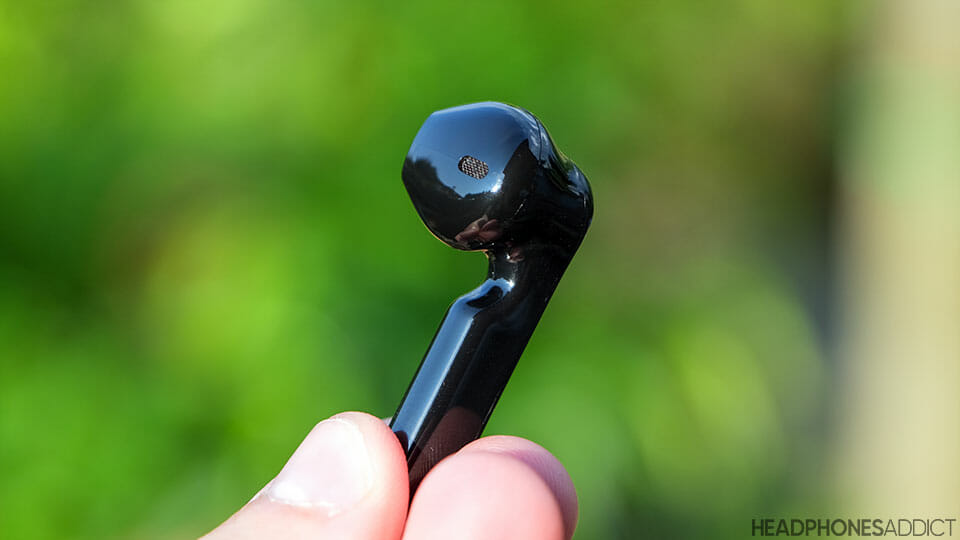 AirPods lookalike that are comfortable to wear, while offering an insane IPX8 rating.
Water protection: IPX7
Battery life: 5h (25h with case)
Bluetooth version: 5.0
Type: Truly wireless
Why Buy These?
While the fit differs from person to person, comfort stays amazing for hours of use. Housing is made of glossy plastic, with a small touch-sensitive area on the top of the stem.
There is a 5-hour battery on a single charge, which is quite good, especially for a wireless earbud in this category. Using the charging case, you get another 15 hours worth of juice.
You don't have to worry if they ever fall underwater. TaoTronics made an insane decision to equip these with IPX8 water-resistance, which is better than most headphones on the market.
The Bad
Because of their design, noise isolation is practically non-existent.
The Sound
They have an enjoyable sound for classic earbuds. It's relatively neutral, with a decent bass presence. The midrange has good detail, while the treble is smooth. That prevents them from sounding too harsh. Overall, a very inoffensive sound signature.
If you prefer the "open-air" designed earbuds with a neutral sound, TaoTronics SoundLiberty 92 are an excellent option. They're comfortable, durable, and much better than the earbuds that are included with your phone.
---
4. Aukey Key Series T10 – best under $100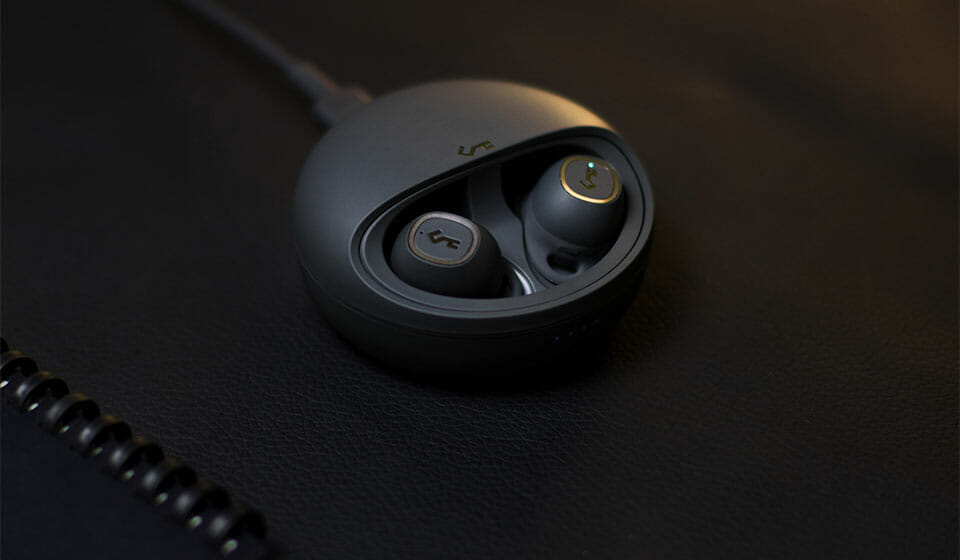 Aukey T10 are fantastic true wireless earbuds with IPX5 and the price around $100 (Aukey T10 review).
Type: In-ear
Water-protection: IPX5
Battery: Up to 6, 7h (in case up to 24h)
Bluetooth codecs: SBC, AAC
Key Features

If you're not too eager on spending lots of money on premium true wireless earbuds, like PowerBeats Pro at around $250, but still want great TWS earbuds, check these out.
Aukey T10s look more expensive than they are and can compare to higher-priced headphones.
The latest Bluetooth 5.0, USB-C quick charging, over 6-hour battery life are all features you can find in the higher-end earbuds.
So, the fact you get all of the latest tech for a reasonable price of around $100 is a big reason why these are popular.
Also, the fit is suitable for all types of activity and doesn't irritate ears even after hours of use.
It's true IPX5 isn't the best water protection you can get, but you'll have a hard time finding better true wireless buds with the same features and price.
You can use them for water sports but make sure not to submerge them in water (at least not for too long).
Touch controls require slower and deliberate touching, you need to get used to it. Water protection isn't suitable for submerging or heavy use in wet conditions.
The Sound
Audio quality is great for true wireless earbuds but you can't equalize it. The buds come with a balanced sound signature that works for all music genres but might be a bit bass-light for bassheads.
On the other hand, if you aren't a bass lover you'll like their balance of highs, vocals, and lows that come together in a detailed and precise manner.
For quality true wireless earbuds that are waterproof and don't cost an arm and a leg, you should check out the Aukey Key Series T10.
---
5. AfterShokz Aeropex – best bone conduction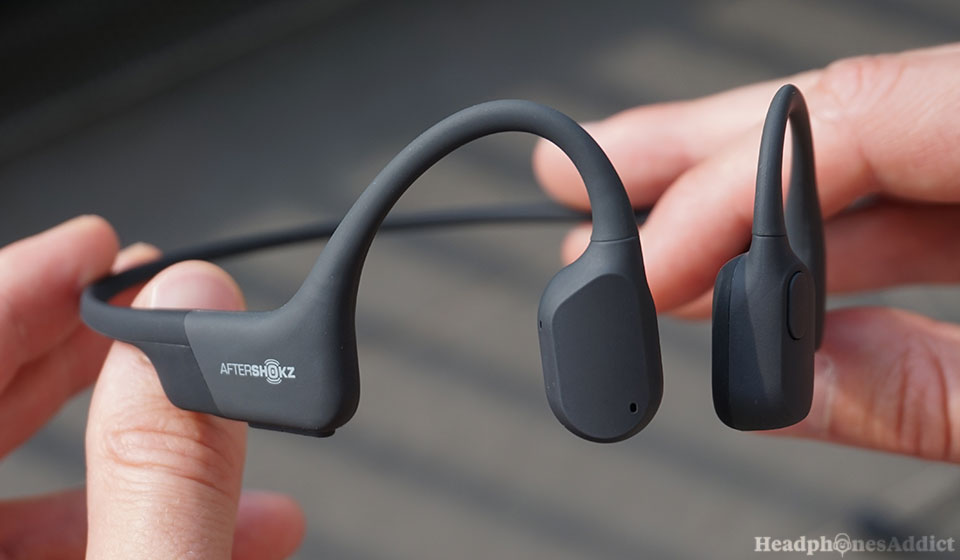 A lot of people are turning to bone conduction technology. You can experience music differently with the AfterShokz Aeropex bone conducting headphones. They are the best model to date with a high IPX rating (Aeropex review).
Water protection: IP67 (IPX7)
Battery life: 8h
Bluetooth version: 5.0
Type: Wireless bone conduction
Key Features
Bone conduction technology is relatively new, but the AfterShokz Aeropex is the latest model of wireless headphones.
The battery capacity of 8 hours, and a strong IP67 water protection rating makes these fantastic headphones to use in wet situations.
These are great for being open design. It means your ears are open to the environment, so you get perfect awareness. You can go for a run, hearing ambient noise and music.
These headphones are lightweight too, which means they're comfortable for long periods of time.
The 5.0 Bluetooth is reliable, and the latest generation is optimized for 50% less noise leakage.
Though, bone conducting can take a little while to adjust to. It isn't for everyone, and the vibrations feel different.
The Sound
The sound is impressive for conduction headphones. PremiumPitch 2 0+ gives a great level of audio fidelity. They are the best model to date and a significant improvement compared to previous models.
Though they don't sound the same as regular Hi-Fi headphones. The lighter bass is usually the main complaint.
If you're looking for perfect awareness and waterproof headphones, the Aftershokz Aeropex are a superb choice.
Read the Aftershokz Aeropex review.
---
6. Adidas RPT-01 – best on-ear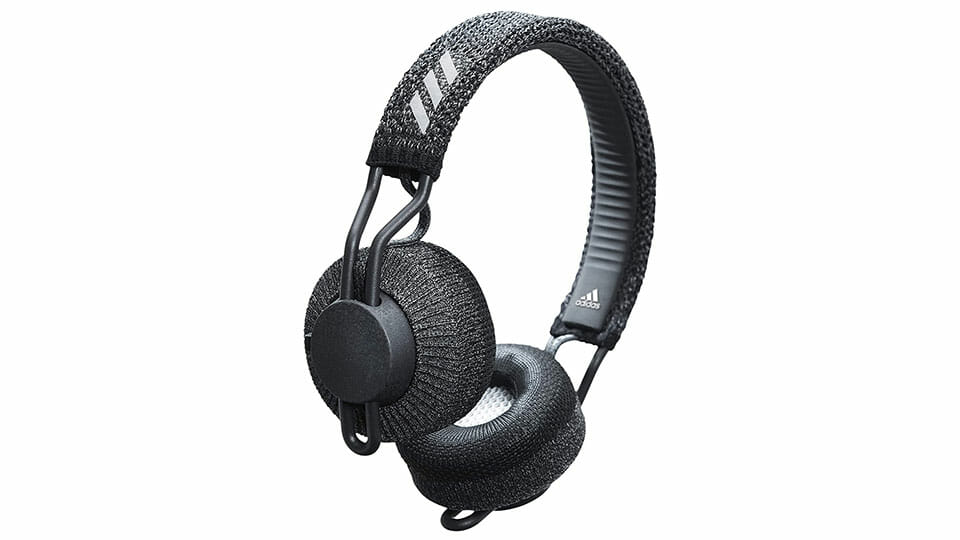 Full-sized headphones for gym lovers, with IPX4 water-protection, and ear cups dressed in washable fabric.
Water protection: IPX4
Battery life: 40h
Bluetooth version: 5.0
Type: Wireless on-ear
Why Buy These?
Adidas made these a perfect pick for fitness lovers. These are comfortable on-ears, with soft ear cushions with removable fabric. Both cushions and inner headband can be washed. That is how your headphones stay fresh after every workout.
The battery lasts up to 40 hours of use. That means that with moderate use, you can listen to them for almost a week before charging them up again. Thankfully, they come with an included USB-C cable.
These are very rugged, with IPX4 water-resistance, and a control knob for interaction.
The Bad
A unique design that might not appeal to everybody.
The Sound
Since they're meant for sportspeople, Adidas knew how to tune them. The result is a bass-heavy sound that packs a lot of energy when your workout gets difficult. But while the bassy music offers a lot of enjoyment, more relaxed genres suffer from the lack of treble refinement.
Adidas RPT-01 are a good attempt to win over fitness goes that don't like in-ear solutions. They're unique, can be washed (just the covers), and have a punchy, bass-forward sound.
---
7. TaoTronics SoundLiberty 77 – best under $50
Surprisingly great sounding true wireless in-ears under $50, which puts many other headphones in this price range to shame.
Water protection: IPX7
Battery life: 5h, 15h from the case
Bluetooth version: 5.0
Type: Truly Wireless
Why Buy These?
Despite the bulky design, comfort is fantastic. We have no problems wearing them for a few hours at the time. The fit is also great, offering a good level of security, even during a workout.
Battery life at 5 hours per charge is good enough for a day of use, while the case provides an additional 15 hours of playtime.
Plastic construction is quite durable. Some users are reporting the 77's were chewed by their dogs, and they still work. With the IPX7 rating, you can even wash them under running water.
The Bad
Ear tips are very shallow, so finding the right seal can be frustrating.
The Sound
It has a somewhat midrange forward sound, which brings out a lot of details in vocals and instruments. However, it does get slightly harsh on certain songs. The treble is reasonably clean, but not the star of the show. Bass is also very moderate in quantity, but it can be very controlled and punchy.
For the asking price, you can expect great-sounding in-ears with durable construction, touch controls, and a comfortable fit.
---
8. Jlab Audio Jbuds Air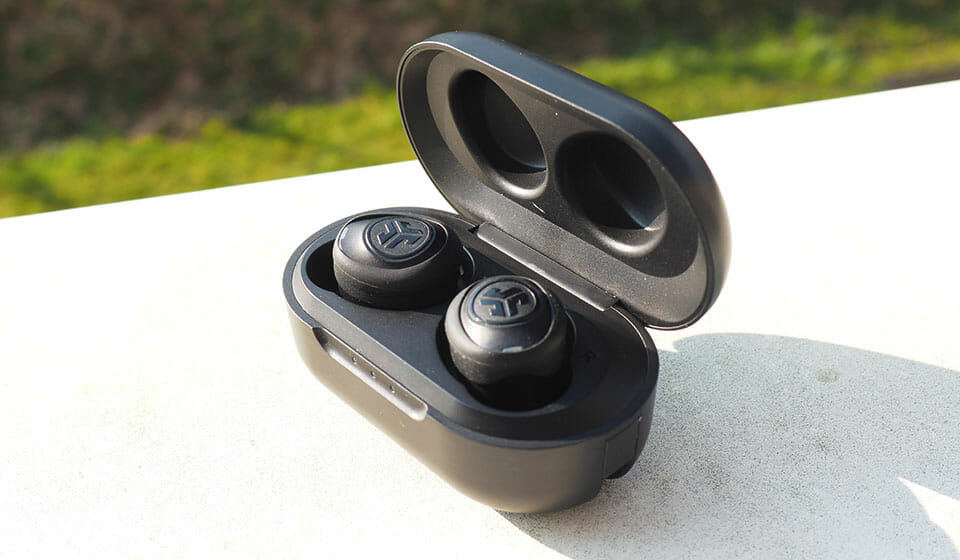 The price of true wireless headphones is coming down, and the Jlab Audio Jbuds Air give a good level of clarity and power on a budget (Jbuds Air review).
Water protection: IPX5
Battery life: 5.5h (+15h in the case)
Bluetooth version: 5.0
Type: Truly wireless
Key Features
These in-ears aren't just affordable, they have some impressive features. They are voice assistant compatible, have an auto-connect setting to connect with your device, and a charging case to expand the battery life.
You can change the EQ settings on the earbuds with the (3x) touch of a button. No need for apps to quickly customize change music.
The IPX5 water resistance is a bit lower compared to other models, but fine for outdoor use even when it is raining. They should survive a wash under tap water as well.
Plus, they stick in the ears really well and come with a decent microphone for phone calls.
The Sound
For the price tag, the sound is really good. Especially considering you get to choose from 3 EQ presets. It's not ultra-high fidelity, but powerful and fun enough for a budget earbud.
The option to adjust the EQ settings so easily, good wireless features, and the price tag make the Jlab Audio Jbuds Air great value for your money.
Read the Jlab Jbuds Air review.
---
Check more wireless earbuds under $50.
---
9. Treblab xFit

Another affordable wireless option, but the Treblab xFit has a slightly higher waterproof rating and a big battery boost from the charging case (Treblab xFit review).
Water protection: IPX6
Battery life: 5h (30h with case)
Bluetooth version: 5.0
Type: Truly wireless
Key Features
These are ultra-light in-ears and are very portable. Even the charging case is compact and light, great for taking to the gym.
With IPX6 water resistance, they're a bit more waterproof than the Jlab Audio Jbuds Air. This means an extra level of safety using in the rain.
3 sets of silicone ear tips ensure a suitable fit for most. Also, they're very comfortable for long term use.
The battery life in the charging case is good, giving five extra charges, and the 5-hour battery per charge is decent for under $50 wireless earbuds.
Nonetheless, the noise isolation of the earbuds is also not as good as some competing options. And, they tend to lose the fit if you smile.
The Sound
The sound is a little better than you would expect for the price. The fidelity is pretty good, but they could do with a bit more power.
They're cheap in-ears, and they sound like it, which isn't a bad thing. More about sound in the full review.
The Treblab xFit TWS earbuds might not be elite but provide a solid budget option for wireless earphones.
---
10. iTeknic BH001 – best battery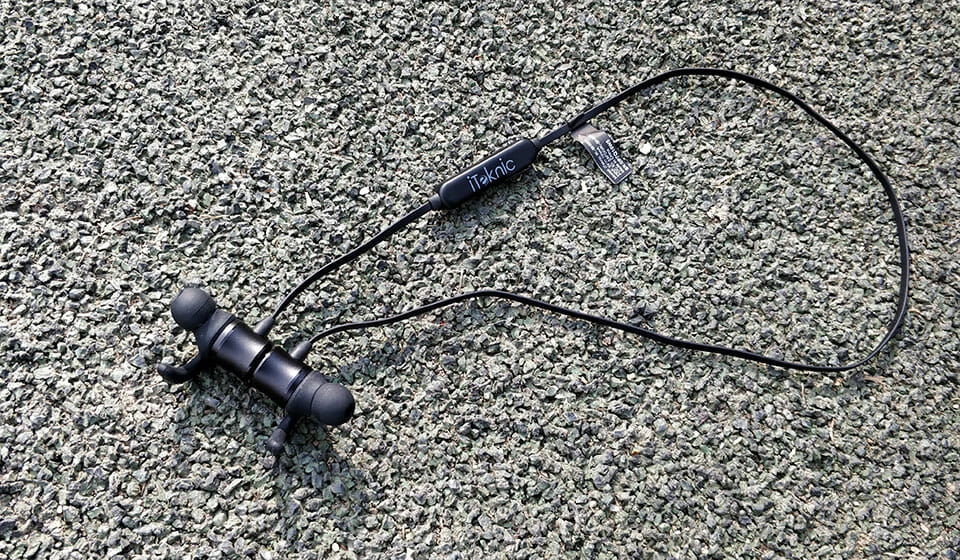 Not many wireless in-ears offer 1-day battery life on a single charge.
Water protection: IPX4
Battery life: 24h
Bluetooth version: 5.0
Type: True wireless
Why Buy These?
These are incredibly lightweight, despite its massive battery. They fit comfortably in your ear and can be listened to for more extended periods.
As mentioned, battery life is massive (for wireless in-ears). With 24-hours of playtime, you can use these for at least 2-3 days before needing to reach for a charger.
These are not impressive when it comes to repealing water, but the IPX4 rating should survive your everyday workout needs. The cable that connects the earbuds is flat and feels pleasant to the touch.
The Bad
Protruding design can generate wind noise when running.
The Sound
You can expect a balanced sound coming out from these. Bass is punchy, but it doesn't go very deep. The midrange is clean, making it suitable for more vocal-oriented music. Treble can be a bit sibilant, but only when raising the volume to the dangerous levels.
iTeknic BH001 are a sturdy pair of wireless in-ears. They provide a comfortable fit, lightweight design, and huge battery life. Let's not forget the balanced sound signature for those who prefer a more relaxed listening experience instead of booming bass.
---
Honorable Mentions
Bluetooth earbuds with amazing stability, high comfort, decent battery, and great sound. Since these are fully waterproof (IPX7), they're great for sports use. Read the full review.
---
Note: Check best earbuds under $30 or wired cheap earphones
---
What's an IP Rating? Water Protection IPX Rating Explained
What exactly do IP66, IP67, IPX7 actually mean?
These are water protection ratings which consist of IP (ingress protection) following by two numbers. The first one represents the level of protection from dust from 0-6 and the second one represents protection from water on a 0-8 scale.
If IPX is used, this means the device is protected from water only and doesn't feature dust protection. X replaces the dust protection rating. The same combination can be made for dust only protection, like IP6X.
In short,
IPX0 means no protection
IPX1 means protection from dripping water
IPX2 means protection from vertically dripping water
IPX3 means protection from sprayed water
IPX4 means protection from splashed water
IPX5 means protection from water projected from a nozzle
IPX6 means protection from strong jet of water
IPX7 means protection from immersion in water up to 3ft (1m) for 30 minutes
IPX8 means better than IPX7, but there are no exact requirements (IPX8 is usually claimed by the manufacturer)
It's important to know there are no IPX8 Bluetooth headphones on the market since the wireless connection probably wouldn't work properly under water.
To get the best possible protection from water, look for IPX7 Bluetooth headphones that you can accidentally drop in the water up to 3ft in-depth without damage. This is the best protection currently available in waterproof Bluetooth headphones.
For example, Plantronics BackBeat Fit have an IPX7 rating. If you get headphones with anything less than that and you drop them in water, it's very likely they'll get damaged.
If you plan on using headphones near water, it's a good idea to get ones with the best water protection you can get.
Best Use of Waterproof Bluetooth Headphones
The intended way of using waterproof earbuds and headphones is somewhere they can get wet or fall in the water.
Whether you're kayaking, paddle boarding or you like to drive around in a jet-ski but are afraid to use your regular sports headphones, this is the perfect opportunity to use waterproof Bluetooth earbuds.
Basically, you can use waterproof headphones for any activity near the water where it is possible they will get wet, while still above the water level. For Bluetooth to function properly, the headphones have to be above water.
Put your smartphone in a dry bag, connect via Bluetooth and paddle away. If the headphones get wet, just wipe them after use.
Keep in mind that the average Bluetooth range is about 30ft, so keep your music device close enough to hold the connection.
How to Use Your Phone with Waterproof Headphones?
Make sure to get a good waterproof phone bag. Mpow waterproof case is very popular and protects the phone from water up to 100ft in depth. It's suitable for iPhones and Android phones.
Once you have your phone protected, put on your waterproof headphones and go on your way without fear of damaging any of your electronics.
Underwater Bluetooth Headphones for Swimming
A lot of swimmers are looking for wireless Bluetooth headphones for swimming.
But there's an issue.
Now, there is no problem creating water-resistant and waterproof headphones, but as of right now we have no wireless technology that would transmit the signal underwater with high enough proficiency.
Swimming headphones cannot use Bluetooth technology.
The water is simply too "dense" and soaks up all the signal, making Bluetooth useless underwater.
This wireless technology doesn't work properly underwater, and so far no manufacturer has been able to produce a decent pair of wireless underwater headphones.
For real underwater purposes, you'll have to use wired swimming headphones together with an underwater music player.
How Not to Use Wireless Headphones Even if They are Waterproof
Don't use them for swimming or intentionally submerge them in water. While most of these are designed to survive lots of water, some even underwater, it's never a good idea to push the limits, especially with headphones rated below IPX7.
These are perfect for using above water while being protected enough to survive an accidental drop in the water or heavy splashing. Anything more than that is likely to damage them. (dropping them deep underwater…)
---
More popular guides:
Looking for a good gaming headset?
The best noise cancelling earbuds
Share Your Favorite Waterproof Bluetooth Headphones
If you have your own model of wireless, waterproof headphones that you think are better than those on this list, please share it with us.
We'd like to know what you're successfully using in real life, so we can review and put it on our list.
Comments