Budget
The 11 Best Cheap Headphones
Find the best budget headphones (of all types) you can get right now.
Comparison: The Best Cheap Headphones
Find the best cheap headphones under $50 for your needs and avoid bad ones.
We don't want you spending too much money on low-quality headphones. That's why we created this list.
And if $50 is still too much, you can find them for even less (under $30, under $20 and even under $10).
While the budget headphones can't really compare to higher-end models, some offer fantastic value for your money with good quality.
If you like bargains, these are the best cheap headphones for you (you can buy happiness if it fits your personality).
Related guides:
The best cheap earbuds (in-ear monitors)
Best budget noise-canceling headphones
The Best Headphones under $50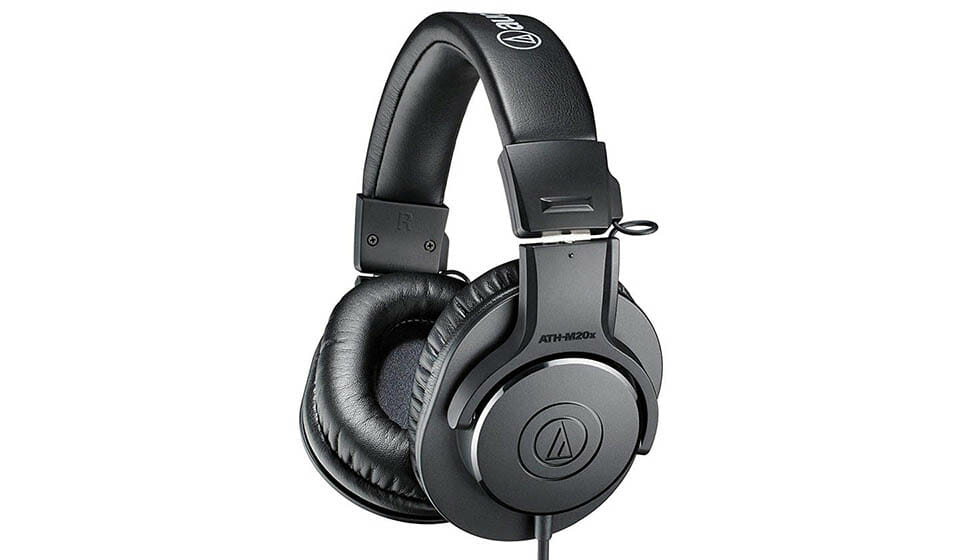 Audio-Technica ATH-M20x are the best over-ear headphones under 50$.
Type: Over-ear
Back design: Closed-back
Noise-cancelling: No
Connection: Wired, 3.5mm
Should You Buy These?
If you're looking for great-sounding cans for little money, these are a top choice.
The Good
The closed-back headphones are well built considering the price. They can survive most of the unfortunate drops.
Another great thing about them is simple, yet appealing design that never comes out of style (they look similar to Audio-Technica's higher-end models).
Also, they are quite comfortable. Large and well-padded over-ear ear cups provide comfort for hours so you can enjoy your favorite music without itching.
The Bad
The sad thing is, there is no remote control or microphone, so no calls can be made. But that's okay since these are made for home listening.
The Sound
The ATH-M20x have a somewhat balanced sound signature. The overall quality is much better than you'd expect for 50 dollars. You also get a robust bass response while keeping the details. They're good for every music genre.
Audio-Technica ATH-M20x are one of the best cheap headphones under $50 today. With a better than expected combination of audio quality, comfort fit, build quality, and overall reliability. They are the top choice for the budget.
---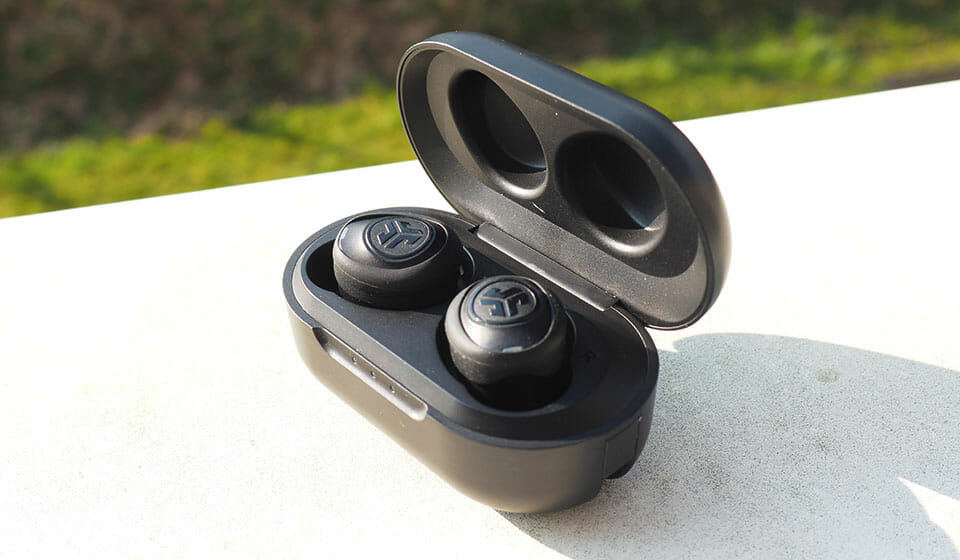 Jlab Audio Jbuds Air are the best true wireless headphones under $50.
Type: True wireless
Back design: Closed-back
Noise-cancelling: No
Connection: Bluetooth 5.0
Should You Buy These?
If you're looking for decent true wireless earbuds under $50, then the Jlab Audio Jbuds Air should be your top choice.
The Good
With a stable fit, IP55 water and dust protection, and decent 5.5-hour battery life, you get a lot for your money.
You can use them for sports, working out, or a daily commute. The fit is stable and generally comfortable.
Also, passive noise isolation is above average, so you can block most of the background noise.
The Bad
Using built-in controls is irritating. They might be uncomfortable for small ears.
The Sound
You get good sound quality for the price. With high volume and 3 presets, you get some customization.
While it can't compare to higher-end models, it's still fun to listen to with boosted bass. Read more about in the review.
Jlab Audio Jbuds Air make for great budget true wireless earbuds with a solid performance for active or casual users.
Read the Jlab Audio Jbuds Air review.
---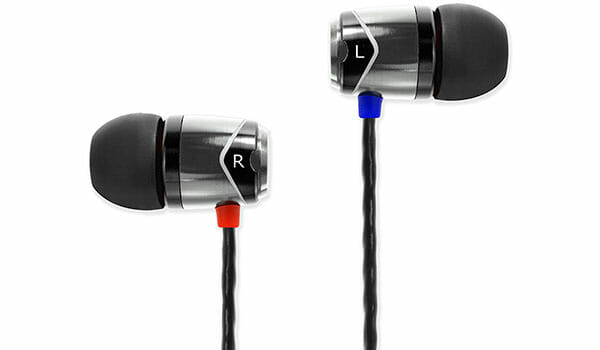 SoundMAGIC E10 are the older wired earbuds under $50 but still a great purchase.
Type: In-ear
Back design: Closed-back
Noise-cancelling: No
Connection: Wired, 3.5mm
Related: More earbuds under $50
Should You Buy These?
If you're looking for in-ear headphones with good built quality, comfort, and fantastic sound (for an affordable price) then check these out.
The Good
The first thing that will catch your eye is their stylish design. It looks pricier than it actually is.
Remember that using foam eartips can give you much-improved comfort. Using proper tips for your ear canal provides amazing passive noise isolation. Plus, they stay in their place so you can easily use them on the go.
The E10C model also comes with universal remote control and built-in microphone for phone calls (it costs slightly more but still under $50).
The Bad
Still, the buds aren't sweatproof or made for sports, so they tend to die if abused.
The Sound
They produce excellent, precise sound. The frequency response is balanced. Because of that, they're perfect for all music genres. From classical to rock, you'll be pleased. Just don't expect overpowering bass because they don't have it.
SoundMAGIC E10 earbuds are an exceptional choice for under $50. They sound much better than the price would warrant, and that's why they're so popular with audiophiles on a budget.
---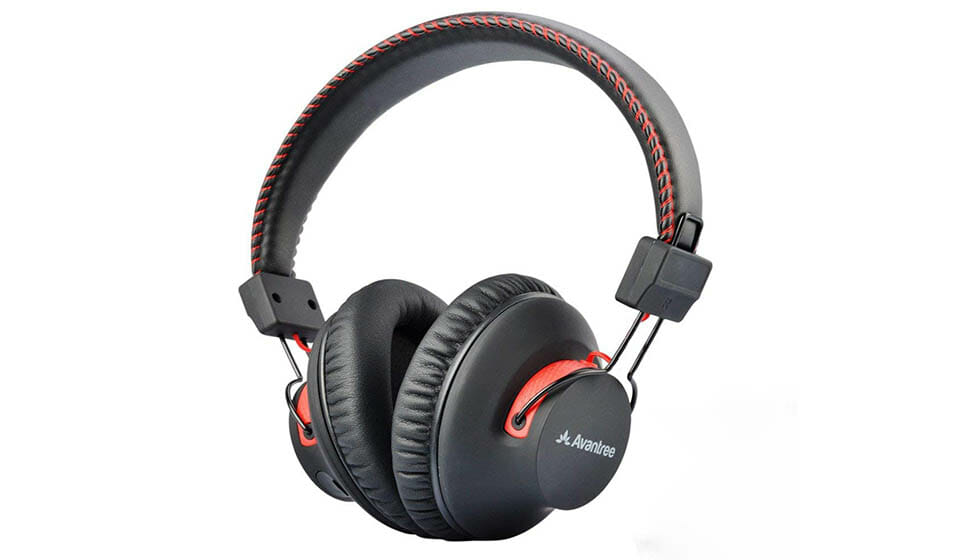 Avantree Audition are the best cheap wireless headphones (over-ear under $50).
Type: Over-ear
Back design: Closed-back
Noise-cancelling: No
Connection: Wireless: Bluetooth and NFC
Related: The top Bluetooth headphones under $50
Should You Buy These?
Do you want reliable wireless over-the-ear pair with solid battery life and low price? Then read on.
The Good
Their sturdy design is quite durable even though these are considered a budget product. Well-padded earcups provide excellent comfort, even if you're wearing them for a long time. They also offer decent sound isolation since they have a closed-back.
You can connect them with all kind of Bluetooth devices.
Furthermore, the battery life is impressive. It can last up to 40 hours. Also, you can plug in the cord and enjoy them in wired mode as well.
That's not all. You also get a built-in remote control for managing tracks and a built-in mic you can use for your phone calls.
The Bad
The microphone is just okay. You can't really use it for serious talking. Also, the mic and the remote buttons don't work in wired mode (as is usual).
The Sound
The audio consists of deep bass that colors other ranges into a warm sound. It's enjoyable with a decent amount of detail and clarity for casual listening, but can't compare to high-end headphones. They support aptX codec for better quality over Bluetooth and NFC for easier connection.
Avantree Audition are a fantastic pair of wireless headphones because of extended battery life, good build, and sound quality and an unbeatable price that's rare to find in the category.
---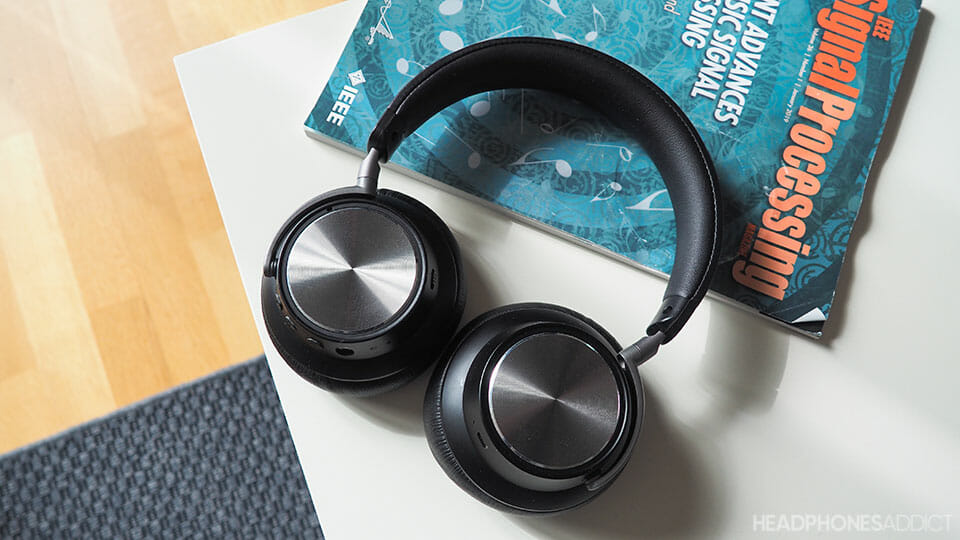 iTeknic IK-BH005 are the best noise-cancelling headphones on a budget.
Check the iTeknic IK-BH005 review.
Type: Over-ear
Back design: Closed-back
Noise-cancelling: Yes
Connection: Bluetooth 5.0
Should You Buy These?
If you're looking for decent active noise cancelling headphones with premium-like features for a lower price, the iTeknic IK-BH005 stand as the top dog.
The Good
The iTeknic IK-BH005 look like a more expensive pair. They come with a metal headband, pleather earpads, and big cups.
You can wear them for hours in comfort thanks to foam earpads and over-ear fit.
To keep the music playing, you get a long 30-hour battery life (500mAH). You can use noise cancellation alone as well. ANC is effective but lags behind the high-end models.
When you don't need them, you can fold them and pack them in the carrying case.
And when you want to accept phone calls, you can do that hands-free with built-in controls and microphone.
The Bad
Active noise cancelling is good but not great.
Find other cheap noise cancelling or premium noise canceling headphones.
The Sound
They have a balanced response that is enjoyable for most music genres. They sound better than other ANC models in this price range, but not as good as more expensive models.
iTeknic IK-BH005 provide a lot of technology and functionality for a really cheap price. If you want budget ANC headphones with all the features "big boys" have, they make for a great choice.
---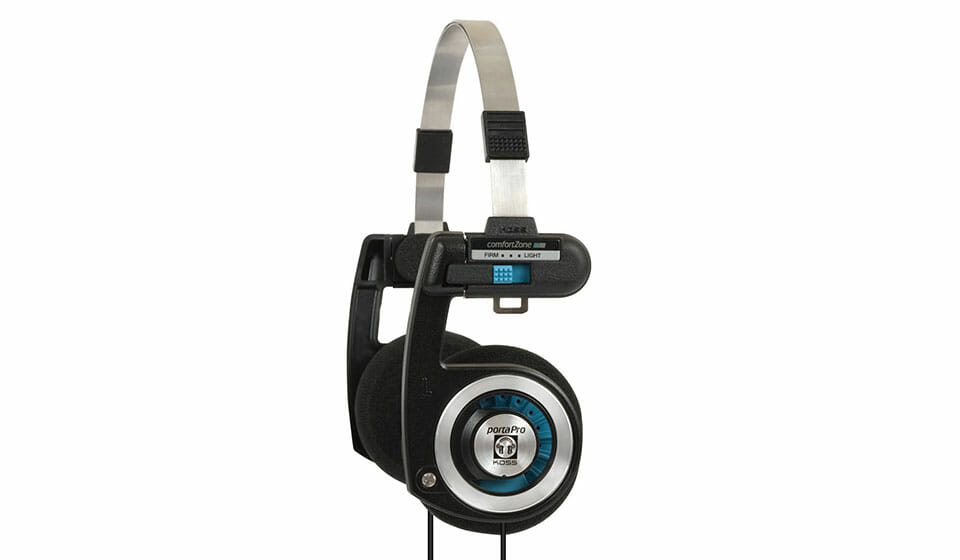 Available for well under $50, the Koss PortaPro headphones are a superb value for those needing big sound from a compact package.
Type: On-ear
Back design: Open-back
Noise-cancelling: No
Connection: Wired, 3.5mm
Should You Buy These?
These on-ear headphones are a classic with a retro design that hasn't changed since 1984. And the sound quality rivals many models that cost twice the cost.
The Good
The on-ear design of the semi-open-back headphones works great, given their lightweight construction and minimal structural elements.
With a dynamic semi-open headphone design, the Koss PortaPro earpads rest on the ears instead of over them. This makes them quite comfortable and very suitable for long listening sessions.
Now, the earpads are thin, but the pair is so light that it won't be a problem for most users.
The thin metal spring-steel headband is durable, and the hinged plastic attachment points with the earcups are robust enough to withstand persistent use.
As the last point, the retro design is instantly recognizable, and the audio is excellent.
The Bad
The PortaPro design does not provide any level of isolation, so they are not well suited for environments where noise needs to be blocked out or where noise leakage from the pair is a problem.
Also, as you can see from the picture above, the headband is very thin and light, but adjusting the headband on the head may grab hair and cause some initial discomfort.
The Sound
For a rather small dynamic driver with a paper diaphragm, these produce some exceptional audio.
The soundstage is open and reasonably detailed, and the open back design allows for pretty good imaging.
The bass response is not overbearing, but it does lack a bit of the controlled depth that some listeners might be used to with larger headphone drivers.
Considering the price and how compact these are, the Koss PortaPro are a classic worthy of their solid reputation even today.
---
The Best Headphones under $30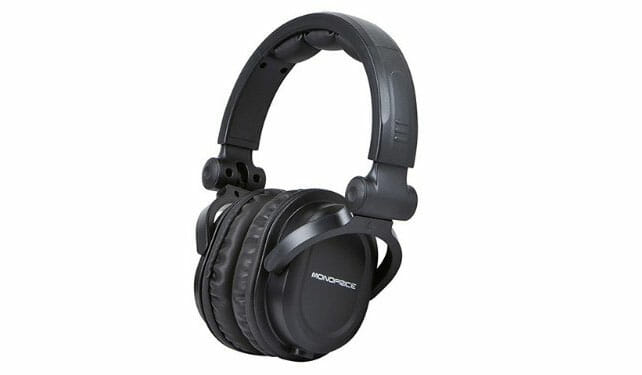 Closed-Back design gives these headphones excellent noise isolation, and the large drivers efficiently produce a loud, robust sound. Top pick for $30.
Related: The headphones to get under $30
Type: Over-ear
Back design: Closed-back
Noise-cancelling: No
Connection: Wired, 3.5mm
Should You Buy These?
DJ's will love the earcup swivel design and tight bass response that these cheap headphones deliver, and the additional detachable cables are handy for a variety of uses.
The Good
The large 50mm drivers are surrounded by large vinyl earpads that fit snug over and around the ear, fitting well for most ear sizes.
The closed-back design provides excellent noise isolation, making them great for noisy environments or private listening needs.
Few models at this price point provide as much isolation while delivering quality audio in a closed-back design. They perform remarkably well in both categories.
Furthermore, the style and build make them great for use by audio engineers and DJs. Studio engineers or musicians may find them to be larger and heavier than standard studio headphones.
Now, the plastic construction and swivel design of the Monoprice 108323 isn't the most durable, but it does hold up under repeated use and normal physical stress.
The Bad

Long-term wearing can generate a fair amount of heat and sweat with the vinyl earpads, and the headband can be a little tight for larger heads.
The Sound
Monoprice 108323 headphones deliver high volume levels from the large 50mm drivers.
The soundstage is clear and decently spacious for a closed-back headphone design, and the overall driver efficiency is good.
Low frequencies are produced with plenty of punch and depth. The mids are full and generally rich.
The only downside for this 108323 model is that the high frequencies can get lost in the mix depending on the style of music. Brilliance and sibilance are attenuated just enough to notice.
For great sounding circumaural headphones with strong bass for less than $30, Monoprice 108323 are the top choice.
---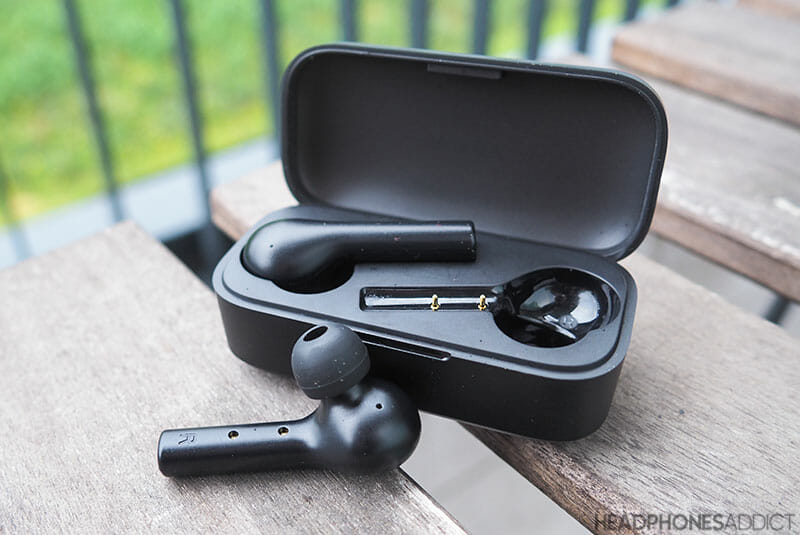 Aukey EP-T21 are similar to Apple Airpods but much cheaper.
Type: In-ear
Back design: Closed-back
Noise-cancelling: No
Connection: Bluetooth 5.0
Check the Aukey EP-T21 full review.
Should You Buy These?
If you're looking for a cheap Airpods alternative with a prolonged neck, the Aukeys fit the bill perfectly.
The Good
Thanks to almost the same design as Airpod's, the fit is excellent and doesn't bother one bit. You can even use them for working out. They're sweatproof (IPX4).
Now, these are budget earphones, so the battery life isn't the longest, but you still get around 4.5 hours per charge and more in the case.
The build quality is high, and nobody will know you paid so little for them. Unfortunately, you can only get them in black, no white color is available.
The Bad
The lid on the charging case feels cheap. Sound quality is just okay.
The Sound
They are really loud with overpowering volume. Now, the audio quality is about average, which is fine for casual users. It's an enjoyable sound that works for all music genres and videos with decent bass. See the review for more info.
Airpods are popular for a reason. They're convenient and offer great user experience. But they're expensive. Get the Aukey EP-T21 true wireless earbuds and enjoy the same features for a much lower price.
---
Related: Best Bluetooth earbuds under $50
---
The Best Headphones under $20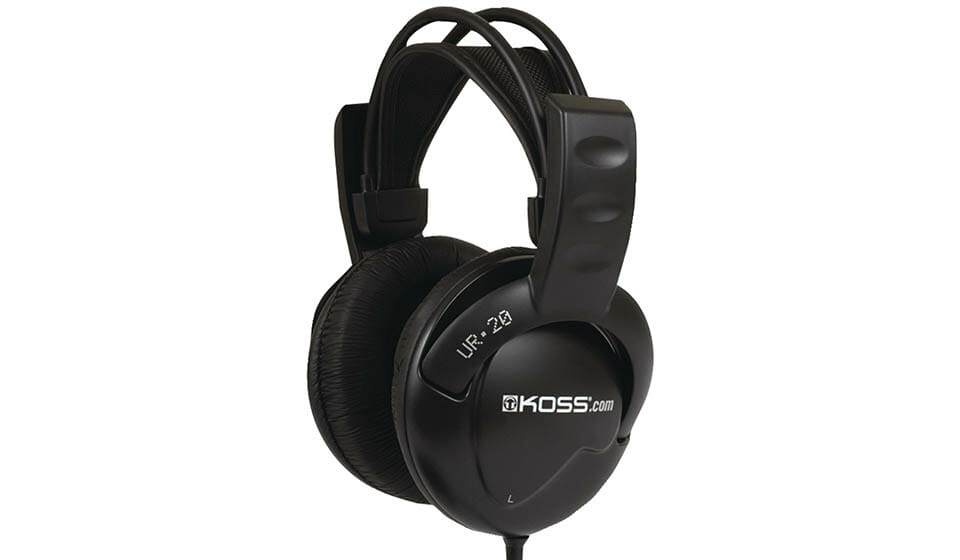 Koss UR-20 are the best headphones under 20$. Below are the reasons why.
Type: Over-ear
Back design: Closed-back
Noise-cancelling: No
Connection: Wired, 3.5mm
Related: Quality headphones under $20
Should You Buy These?
If you're looking for a dirt-cheap comfy over-ear pair, then get Koss UR-20.
The Good
Softly padded earcups make them quite comfortable. Their large cups also fit adult ears. Their design is extremely lightweight, and the suspension headband doesn't put too much pressure on top of your head.
You might expect they are poorly built since they are so cheap. And while these aren't built like a tank, they hold up fine to everyday use. The entirely plastic design doesn't have state of the art looks, but it performs well.
These are reliable and comfy over-ear headphones for under 20 dollars.
The Bad
There are no controls. Plus, they are made entirely of cheap plastic which looks cheap. They are not the most durable pair, but all of that is reasonable because of the low cost.
The Sound
Koss UR-20 have a somewhat balanced sound that's suitable for all music genres. Overall it's nothing special, but considering the price the averagely pleasant response is an achievement.
But keep in mind they don't have the most effective noise isolation, so listening to high volumes can bother people around you.
For the best over-ear headphones under $20, Koss UR-20 are the undisputable winner. For a dirt-cheap price, you get solid cans perfect as a second pair or casual listening.
---
best earbuds under $20: KZ ZST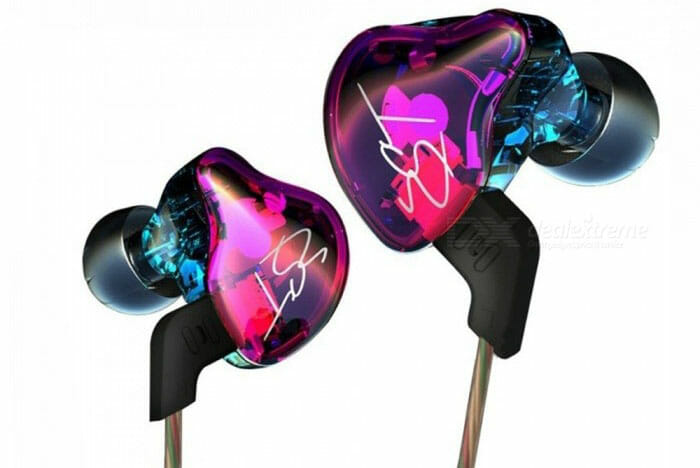 KZ ZST are the best earbuds under $20 at the moment (check review).
Type: In-ear
Back design: Closed-back
Noise-cancelling: No
Connection: Wired, 3.5mm
Related: Best earbuds (in-ear) under $20
Should You Buy These?
If you're looking for excellent earbuds with a marvelous audio quality for less than $20, get the KZ ZST.
The Good
The behind-the-ear fit is comfortable and stable, even for sports and memory wire provides a firm fit. But they aren't sweatproof, so you shouldn't use them for working out.
You only get silicone eartips but to get even better comfort and ambient noise isolation, get memory foam tips.
They are plastic and thus lightweight. That makes them great for long listening sessions. Plus, 1-button remote control and microphone enable you to make phone calls on the go.
The Bad
Because of their entirely plastic design, they don't have the highest durability (not sweatproof). But that's normal for this pricing range.
The Sound
They have a V-shaped sound signature that's fantastic for this price. It can easily compare to earbuds around $100. The bass is punchy and controlled, and highs have no problems with sibilance or harshness. Truly a budget audiophile in-ear monitors.
KZ ZST earphones offer the best value on the market for under $20 buds. They're extremely popular with new audiophiles and everyday users who want quality for their money. A clear top choice.
---
What are quality headphones under 10 dollars? You won't find a decent over-ear or on-ear pair, but you can get decent in-ear earbuds.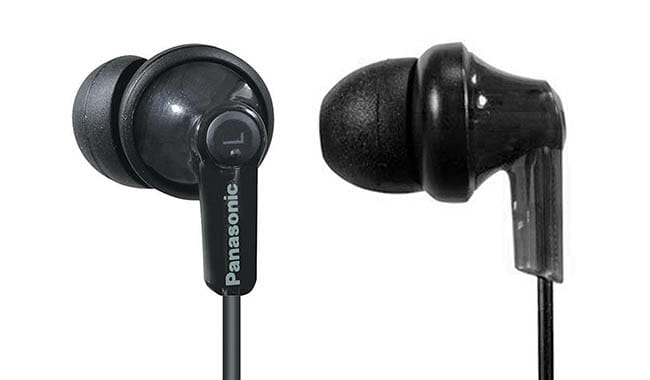 Panasonic RP-HJE120 are incredibly cheap and basic earbuds that just work.
Read the full review of Panasonic RP-HJE120.
Type: In-ear
Back design: Closed-back
Noise-cancelling: No
Connection: Wired, 3.5mm
Should You Buy These?
If you want the most popular and best-rated cheap earbuds on the planet, get these. You can find other earbuds under $10 here.
The Good
These earbuds have a lightweight and ergonomic design. It's really comfortable and fits in perfectly with a variety of ear shapes. And due to lightweight, you will barely feel them, they are really comfy.
Furthermore, while they are cheap, they last a decent amount of time. Its plastic built isn't top-notch but much better than most similar alternatives.
Passive noise isolation is excellent too. Even if you're listening to high volumes, they don't leak much sound. So no one around is bothered by your music.
The Bad
No in-line microphone and controls (quite reasonable for the price range). But you can get a model with mic and remote for more money, over $10.
The Sound
Their sound signature is somewhat balanced. The lows are well-heard, slightly enhanced but can be muddy for some songs. Overall sound quality is about average, but still satisfying for most everyday listeners.
Panasonic RP-HJE120 are the best bang-for-buck earbuds at the moment. Their unbeatable value won't be beaten for quite a while so get them before they stop making them.
Check the Panasonic ErgoFit RP-HJE120 review.
---
More budget guides:
Top earbuds under $100 (in-ear)
What are Cheap Headphones?
Cheap can mean a lot of different things for different people. But generally, budget-oriented headphones, even from big headphone brands start under $50.
For most people, inexpensive cans cost less than 50 bucks. If you think that is still too high, you can choose from under $30 and under $20 models.
You can still get solid quality for those prices. Just don't expect the most popular brands because you won't find them in this category.
What to Expect from Cheap Headphones?
Low-priced doesn't have to mean bad quality.
All of the pairs recommended here provide more value than what the price suggests. Though there are a couple of things, you have to consider.
When you are spending less money on a pair of headphones the first and most common thing manufacturers save on is durability.
Budget models usually have entirely plastic structures and don't use any fancy or expensive materials, so you have to treat them right.
Also, cheaper models don't have as many features and accessories as pricier models. Most come in an essential package with bare necessities.
Older Bluetooth versions and smaller battery capacity. While this isn't necessarily true every time, you shouldn't expect the latest updates and big batteries when you're spending less money.
Many times, older models get a nice discount which makes them affordable. There's nothing wrong with a previous model if it's still competitive. But that means you can't expect the coolest design or bragging rights with it.
Nonetheless, you don't have to spend more money to get a great sound. Since it's the most crucial feature, all the models in this guide offer excellent sound quality for their price.
What are the Best Budget Headphone Brands?
Many cheap brands use generic products and plaster their logo on them, but some actually have their own development which adds more value.
While most companies are probably a combination of both here are some of the best budget headphone brands. These tend to be pretty good and affordable.
In random order…
Monoprice is probably the most known audiophile budget brand, offering over-ear and in-ear bargains.
Koss is an old company with fantastic recognition among audiophiles; their retro on-ear headphones have cult status.
TaoTronics specialize in all types of affordable products that offer a lot of value.
KZ are a newer Chinese brand that made a following with their great sounding but cheap earbuds.
MEE Audio offer competitive workout products for less money, you can choose wired and wireless.
Mpow is one of the more successfully generic brands offering all types of cans.
Anker makes great-value and affordable consumer electronics.
Aukey also makes some mid-tier headphones, but their cheapest models offer the latest tech and plenty of features.
Shortcomings of Cheap Wireless Headphones
When it comes to wireless Bluetooth headphones, it pays to know a couple of things.
The battery won't last forever.
Since you're paying little money, you're not getting the latest tech. And with batteries, this is painfully obvious.
A conservative expectation would be that the battery will last (have satisfactory capacity) for about 2 to 3 years. If you get more that's great, but not a rule.
Audio quality might be lacking.
Bluetooth diminishes sound quality by converting it to digital format, and lots of development is put in fixing this problem (it's close but audiophile can still hear the difference).
Generally, you can expect decent audio but don't compare them to audiophile headphones.
Comments