Wireless
The 10 Best Wireless Earbuds under $100
The best wireless earbuds under 100 dollars you should get today.
Comparison: Best 10 Wireless Earbuds under $100
Find the best true wireless earbuds that work well, have a long battery life, and amazing quality audio for less than a hundred dollars.
Sounds too good to be true? It usually is. A lot of truly wireless headphones under 100 dollars don't offer the latest technology or good sound quality. They're rather average.
But we've found the good ones (in our opinion). Here are top-rated Bluetooth earbuds under $100 you should consider right now. We've included some with a connecting cable too if truly wireless earbuds aren't your thing.
You can enjoy high-quality sound with the latest tech at affordable price tags.
Have less money? Check the bargain true wireless earbuds under $50.
The Best Bluetooth Earbuds under $100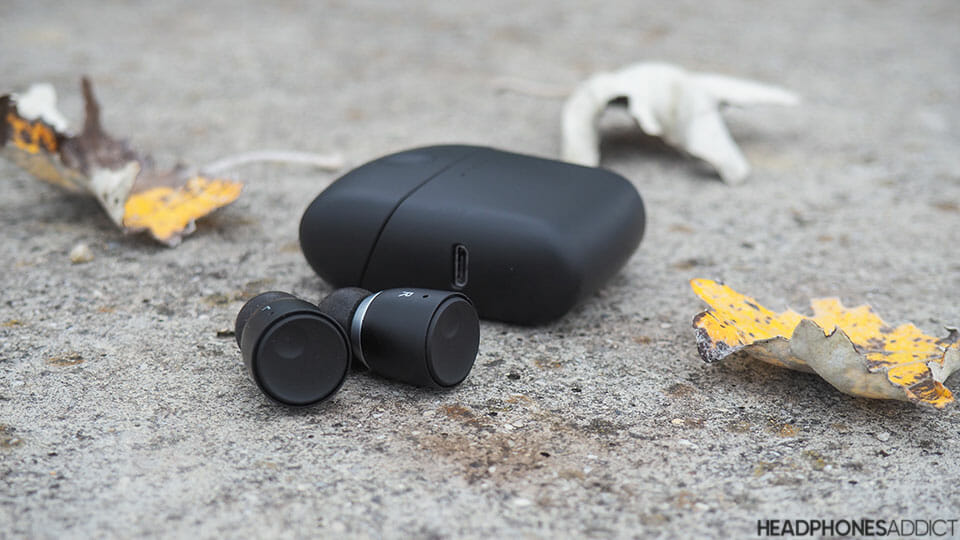 Cambridge Audio Melomania 1 are the best wireless earbuds under $100.
Type: True wireless
Connection: Bluetooth 5.0
Battery life: Up to 9h, the box adds 36h
Protection: IPX5
Should You Buy These?
If the main thing you want is great sound quality, then these are perfect for you.
The Good
Despite their earplug designed housing Melomania 1's are actually very comfortable and lightweight. Provided with the memory-foam ear tips they stay firmly in your ears.
With 9 hours of battery life, they're exceptional. You get an additional 36 hours of playtime from the case. Earbuds can get from 0 to full in just 30 minutes, so charging is also pretty quick.
They work with all kinds of smart assistants and have an IPX5 rating that protects against liquids.
The Bad
Physical controls mean you're constantly tapping the earbuds into your ears, which can get annoying.
No companion app.
The Sound
This is where the Melomania 1 truly shines. For the price they offer an outstanding sound signature, providing great clarity in the highs and mids, with a good amount of bass. They also support aptX for a CD-quality music experience.
The Verdict
When it comes to sound quality, these are hard to beat. They don't have noise reduction, but they do offer great battery capacity, comfort, and stability. This easily makes them one of the best true wireless earbuds under $100.
Read the Cambridge Audio Melomania 1 review
---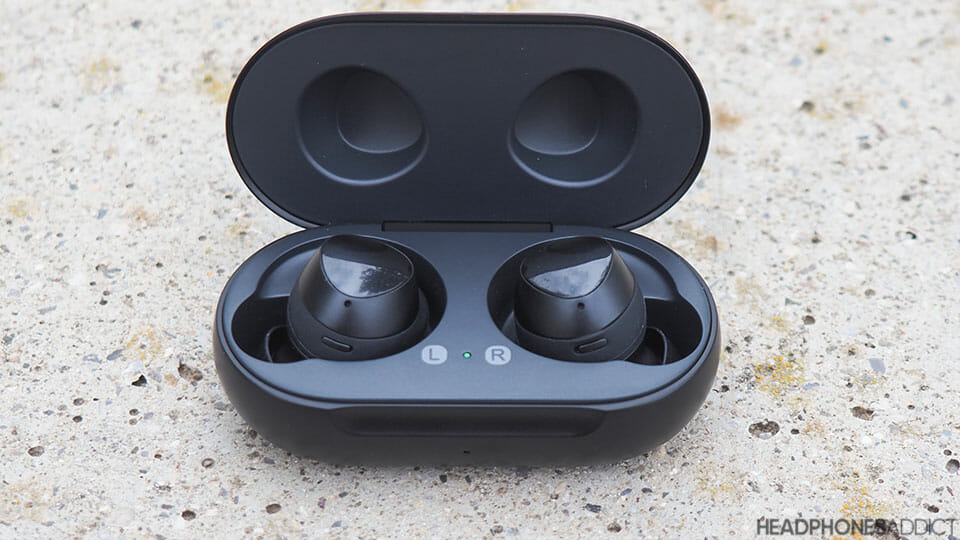 Samsung's first-gen true wireless earbuds are still a fantastic buy if you want something that is good looking and easy to use.
Type: True wireless
Connection: Bluetooth 5.0
Battery life: Up to 7.5h, the box adds 10h
Protection: IPX2
Why Buy These?
The biggest reason for buying these is their comfort. Earbud's housing fits beautifully inside your ears, and with the help of small ear fins, they stay firmly in their place. Regardless of what you do with them, they should remain comfortable for long periods.
Galaxy Buds are also suitable for working out, albeit they only offer an IPX2 rating, which only covers light sweating. As mentioned, you get 3 pairs of ear fins and tips, all in different sizes.
Battery duration with 7.5 hours on a single charge is above average, although you only get around 10 extra hours in the small charging case. The latter supports USB-C, fast-charge, and Qi wireless charging.
The Bad
No active noise cancellation.
No manual EQ settings.
The Sound
Their sound signature leans towards balanced, but it doesn't get very exciting. Galaxy Buds are still suitable for all genres and offer an easy, non-fatiguing listening experience.
The Verdict
Samsung's first true wireless earbuds offer the basics for a reasonable price. For more features and engaging sound, check the Plus model.
Read the full Samsung Galaxy Buds review
---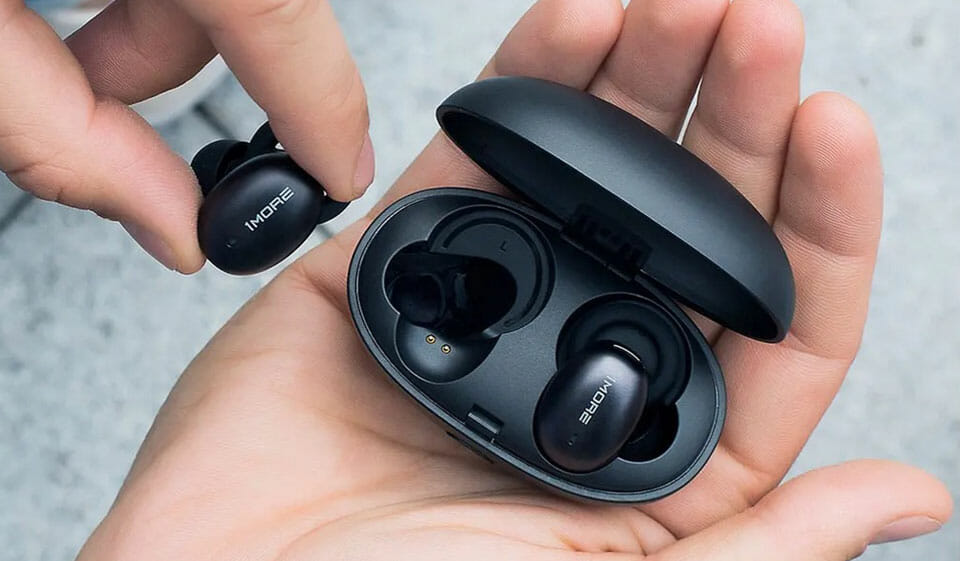 1MORE Stylish are one of the best true wireless earbuds under $100 with good sound quality and unique design.
Type: True wireless
Connection: Bluetooth 5.0
Battery life: Up to 6h, the box adds 24h
Protection: No official IP rating.
Should You Buy These?
If you're looking mostly for great sound and great comfort, these should fulfill all of your needs.
The Good
These are seriously comfortable. With the included rubber flaps they also provide good stability and while there is no official IP rating, 1MORE assures that these Bluetooth wireless earbuds are sweat-proof.
You get 6 hours of listening per charge and another 24 hours from the charging case. The latter is very compact and can easily fit in your pocket.
They're providing aptX support for better audio quality signal and no-lag experience while watching videos from your smartphone.
The Bad
There is no active noise cancelling.
The all-plastic build makes for slightly cheap-feeling true wireless earbuds.
The Sound
These were tuned by Grammy-winning engineer Luca Bignardi and they really are good performers. They're clean from the top to bottom, giving you a fun, dynamic sound that packs a lot of energy.
The Verdict
1MORE Stylish's are not only great sounding but also very comfortable true wireless earbuds. With the addition to the long battery, these are worthy of your consideration.
---
4. Aukey EP-N5 – best noise cancelling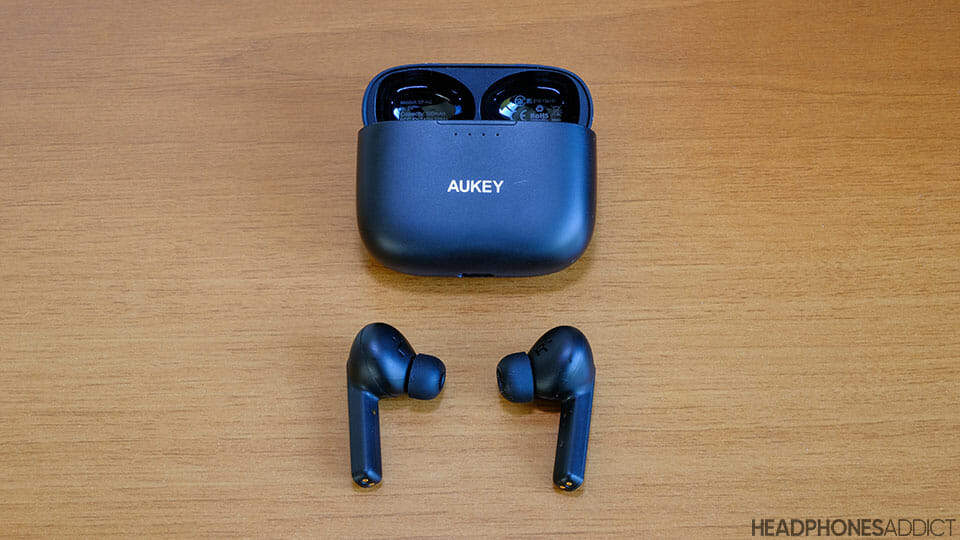 A surprisingly comfortable and good sounding alternative for users who find Apple AirPods Pro too expensive.
Type: True wireless
Connection: Bluetooth 5.0
Battery life: Up to 7.5h, the box adds 28h
Protection: IPX5
Why Buy These?
These are Aukey's answer to Apple's best true wireless earbuds. EP-N5's come with proprietary ear tips that sit very flush in your ears. That eliminates unnecessary pressure that makes these earbuds comfortable for hours of listening.
They can actively block outside sounds with active noise cancellation. While it's not as effective as on some higher-end models, it should provide you some quietness in a noisy office or apartment.
With a 7.5-hour battery life, you shouldn't worry about ending your longer walks sooner. Also, with an IPX5 rating, you can take them to a gym. That doesn't make these wireless earbuds fully waterproof, but they can repel sweat with ease.
The Bad
Call quality is subpar.
They don't support AAC Bluetooth codec, which isn't important for Android, yet crucial for iOS devices.
The Sound
Very punchy and controlled, despite the bass quantity. With deep, rumbling bass, these could even satisfy some bassheads. Thankfully, the rest of the frequency response remains clean and nicely detailed. Overall, the warmness and smoothness of the sound make them very laid-back.
The Verdict
Aukey EP-N5 are one of the best true wireless pair of earbuds that don't break the bank.
---
Top 3 not exactly what you're looking for? See these:

Best over-ear & on-ear headphones under $100
Best earbuds under $100
Find cheap true wireless earbuds under $50 here
---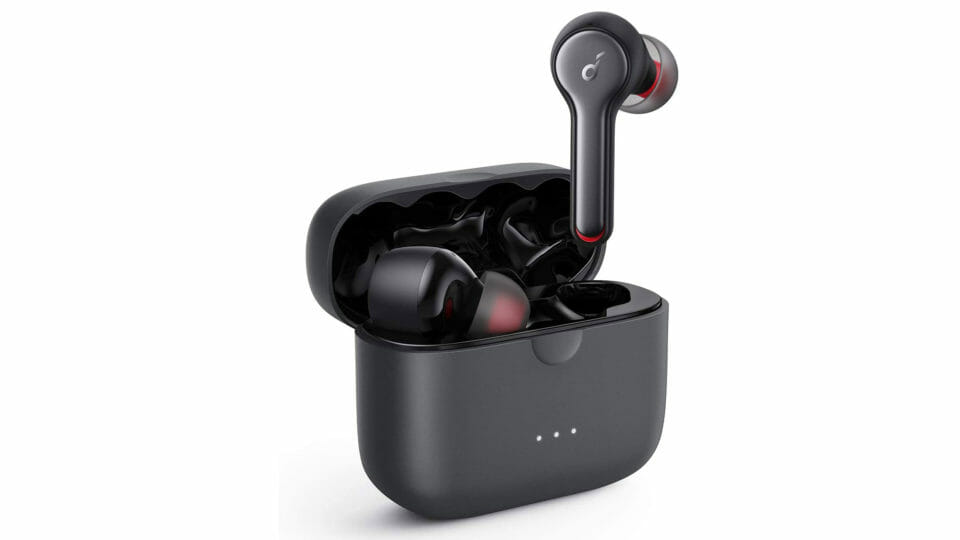 Anker Soundcore Liberty Air 2 have the best microphone quality for calls under $100.
Type: True wireless
Connection: Bluetooth 5.0
Battery life: Up to 7h, the box adds 21h
Protection: IPX5
Should You Buy These?
If you need the best true wireless earbuds for calls. With up to 4 microphones these do an amazing job at isolating the caller's voice.
The Good
These come packed with tons of features, that come in handy and you don't even know you need them. Like auto-ear detection that pauses music after you take one earbud out. Or the customizable touch controls and 4 microphones for better voice quality.
You can map your ear canal with the HearID feature inside the app, which customizes the earbuds to your hearing. You can also choose from 22 different EQ presets. Slightly amplified bass frequencies are great for exercising, and these also come with an IPX5 rating for sweat protection.
The battery on Anker Soundcore Liberty Air 2 is very good at 7 hours per charge and another 21 from the charging case.
The Bad
People who use public transport a lot will find background noise isolation very mediocre.
The Sound
Not very accurate, but still pleasing audio performance for the majority of users. Out of the box, Liberty Air 2 might sound a bit off, but a little bit of playing with the HearID feature should bring the sound of these to an enjoyable level.
The Verdict
Anker Soundcore Liberty Air 2's are enjoyable sounding wireless headphones with great microphone capabilities.
---

One of the best true wireless earbuds under $100 from Sony, with long battery and bassy sound.
Type: True wireless
Connection: Bluetooth version 5.0
Battery life: Up to 9h, the box adds 9h
Protection: IPX4
Why Buy These?
These are a perfect pick for sportspeople that don't want to spend more than a hundred bucks. Earbuds have a Tri-Hold design that ensures that the housing rests in your ears in at least 3 places. That should provide a more comfortable fit.
Since these earbuds are meant for running and gym use, they come with an IPX4 rating that fully protects them from sweat. The housing appears durable enough to withstand long-term abuse.
With a 9-hour battery per charge, you don't have to compromise on workout length. Another 9 hours is waiting inside the case. While WF-XB700 offer physical instead of touch commands, the button is placed on top, which prevents an unpleasant sensation when you press it.
The Bad
No companion app.
No EQ or different sound profile.
The Sound
As the name suggests, there is indeed a lot of "extra bass." If you enjoy genres like hip hop and want your skull rattled, these should do the trick. Sound quality isn't great for critical listening but perfect for working out.
The Verdict
Fun sounding true wireless earbuds from Sony that should keep any sportsperson or basshead happy.
---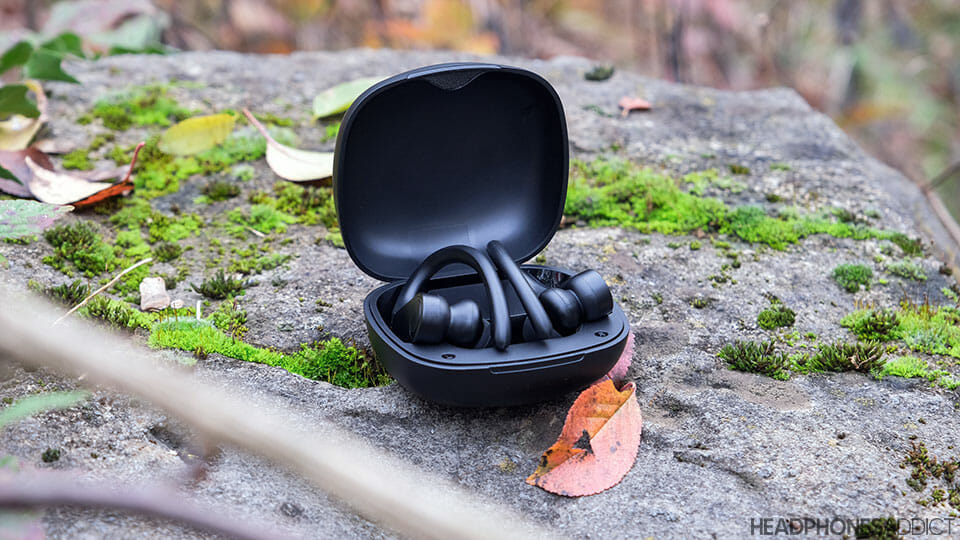 Another well-rounded addition to the Treblab family.
Type: True wireless
Connection: Bluetooth version 5.0
Battery life: Up to 9h, the box adds 36h (USB-C)
Protection: IPX7
Why Buy These?
X3 Pro mimic a design from Beats PowerBeats Pro, with big, protruding housing and ear hooks that grab around your ears. The latter ensures stability like nothing else can. Original eartips sit quite flush and don't go too deep, which is why the comfort is off the charts.
However, this approach might not work for everyone. Fortunately, you can replace the original eartips with some third-party ones and achieve much better results. By doing that, you also get much better isolation, without any sound leakage.
Earbuds are fully waterproof (IPX7), support mono mode on each bud, have both AAC and aptX for Android, and have 2 physical buttons on each side. The battery is quite beefy, too, offering you 9 hours of playtime and another 36h in the case.
The Bad
They need some tweaks for optimal results.
Pressing the center button is annoying.
The Sound
If you get them to fit, the sound is warm and punchy, with good control in the low-end. The mids and treble are slightly pushed behind but still clean and reasonably natural.
The Verdict
The best true wireless earbuds under $100 from Treblab with ear hook design and excellent specs for the price range.
---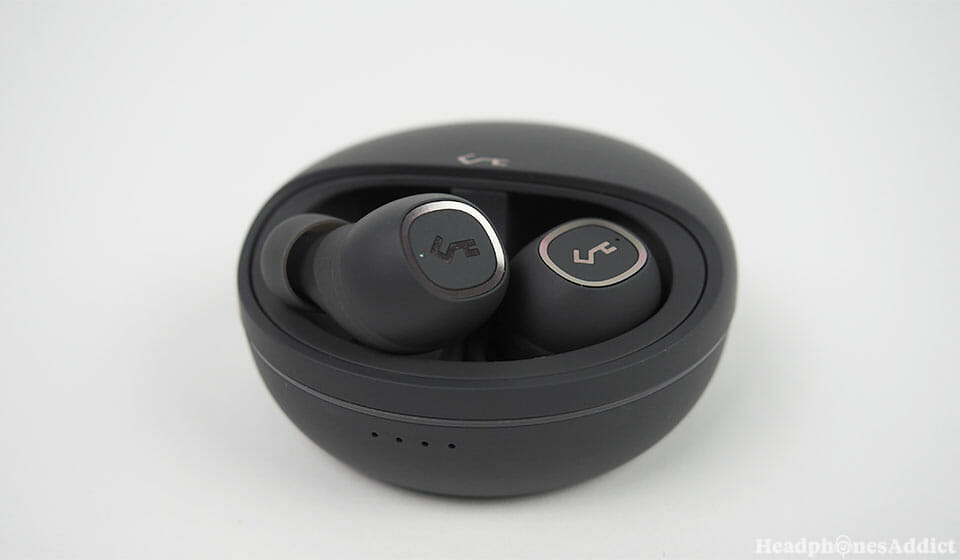 Aukey T10 feel and look like more expensive headphones. They're one of the best true wireless earbuds for under 100 dollars.
Type: True wireless
Connection: Bluetooth 5 0
Battery life: Up to 6h, the box adds 24h
Protection: IPX5
Should You Buy These?
Don't let the price fool you because these offer many things that can be found on more expensive wireless headphones. And have an award-winning design.
The Good
These have an awesome looking charging case with a twistable lid. It is also Qi Wireless Charging compatible. When it comes to battery, earbuds themself hold up to 6 hours, with an additional 24h from the case.
Sleek designed housing with ear wings offers a near-perfect comfort and fit. You don't have to worry about them falling off your head. They offer an IPX5 water-resistance rating, which is good enough for working out.
Bluetooth 5.0 provides an excellent connection with these.
The Bad
Controls on the earbuds can sometimes register the wrong command.
The Sound
T10's are nicely balanced and therefore suitable for all music genres. Overall clarity is good and there is also a nice sense of stage. In our test, we haven't experienced any overpowering bass or treble harshness.
The Verdict
If you need wireless headphones for everyday use and you're looking for something affordable, then Aukey T10 just might be for you. Price has gone down since our test, so now they represent even better value.
---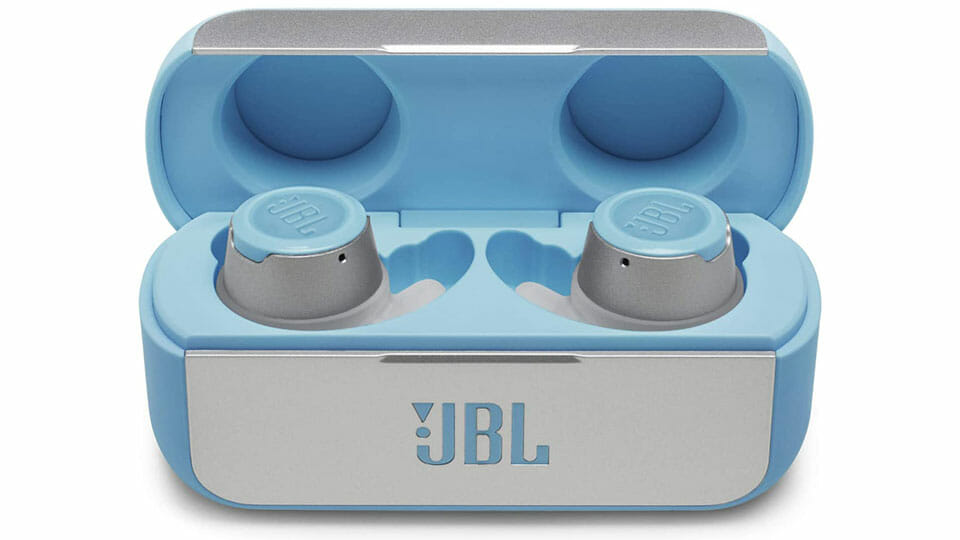 JBL Reflect Flow are the best true wireless earbuds for youngsters.
Type: True wireless
Connection: Bluetooth 5.0
Battery life: Up to 10h, the box adds 20h
Protection: IPX7
Should You Buy These?
If you like an overall fun, bassy sound signature and want to bring some color into your life, these are an ideal pick.
The Good
Let's start with a pretty impressive battery duration. On a single charge, they last up to 10 hours. The charging case packs another 20h of playtime.
Thanks to the ergonomic silicone eartips and patented Freebit wings these earbuds are not falling off your ears that easily. You can choose from 3 different sizes of the wing to find the best fit.
They have an IPX7 water-resistance rating and are equipped with a feature called TalkThru. The latter provides a normal-sounding conversation with a person next to you, without taking out the earbuds.
The Bad
Physical controls mean you have to repeatedly push the earbud deeper into your ear to activate them. This can become irritating.
The Sound
For earbuds that are intended for sport, their sound quality is good with a surprising amount of detail. They are still relatively bass-heavy, but overall they offer an enjoyable listening experience.
The Verdict
In a world full of black or white earbuds, these colorful JBL Reflect Flow's are truly a head-turner. They are comfortable to wear and ready to take them for a run.
Note: While colors like Blue, Teal, and Green are a hundred dollars, the Black color option is $150 MSRP.
---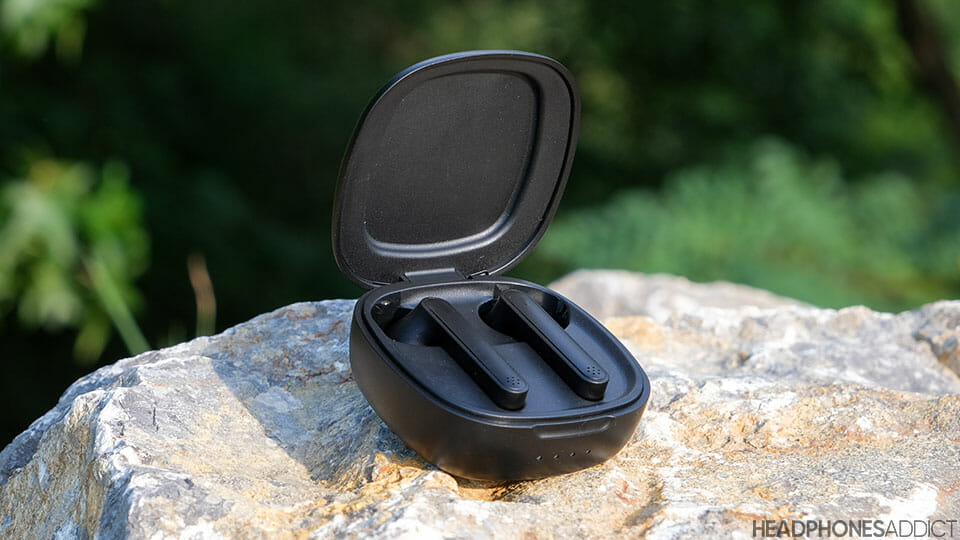 One of better cheap true wireless earphones for fans of classic Apple AirPods who want a completely water-resistant design and excellent microphones for phone calls.
Type: True wireless
Connection: Bluetooth 5.0
Battery life: Up to 5h, the box adds 20h (USB-C)
Protection: IPX8
Why Buy These?
SoundLiberty 88 have a classic earphone design that only rests on the edge of your ears. While the fit and stability aren't outstanding, comfort is excellent. You can wear them for a whole day without experiencing wearing fatigue.
These cheap true wireless earphones are fully water-resistant and appear fairly rigid. That comes in handy if you plan to wear earbuds outside and caught yourself in heavy rain.
The battery life extends up to 5 hours, while the charging case provides extra 20h. There is also a quick-charge feature, with 1-hour of playback in 5-minute time. Surprisingly, microphones are of high-quality, with superb background noise reduction technology.
The Bad
Poor passive isolation due to design.
The Sound
The sound is enjoyable and transparent, albeit there is a minimal amount of bass response. You hear a little bit of punch, but the extension can't reach very low. The midrange and treble are clean and a bit forward, making the vocals sound natural and detailed.
The Verdict
TaoTronics SoundLiberty 88 are the best pair of earbuds for frequent phone callers that have to wear their earpiece all day long.
Read full TaoTronics SoundLiberty 88 review
---
Honorable Mentions
Anker Soundcore Life P2 – Great true wireless earbuds with pretty good battery life, and ergonomic design for everyday use. (Check price)
Creative Outlier Gold – Great sound, rigid charging case, and comfort is something everybody wants and these earbuds deliver exactly that. With Creative Outlier Gold you also get a Super X-Fi companion app with some extra options, even for surround sound. (Check price)
Jlab Jbuds Air Sport – earbuds with ear hook design and 3 built-in sound profile options. As the name suggests, Jbuds Air Sport are a fantastic workout companion. (Check price)
Jlab Audio Jbuds Air – Regular cheap true wireless earbuds and our pick for the best earbuds under $50 list. (Check review)(Check price)
Treblab X5 – Unique earbuds that have a good battery life, are great for workouts and everyday listening sessions. They come with many items inside the box, such as different ear tip sizes and stability fins. (Check price)
---
Are Wireless Earbuds under $100 Any Good?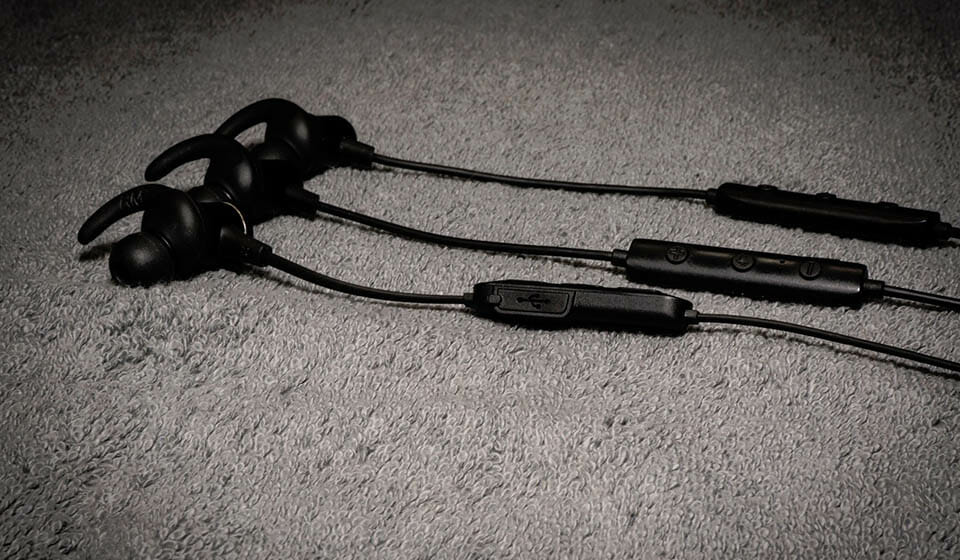 While $100 is quite a bit of money, you won't be able to get flagship earbuds from a reputable brand. Nonetheless, you can expect a couple of things:
Decent battery life. For truly wireless earbuds, anything from 5 hours up to over 10 hours per charge is decent. Many feature quick charging, which gives 1 hour of music for a short couple-minute charge (on average).
Reliable Bluetooth connection. It's essential for a good user experience. Signal cutouts are annoying. You should look for a minimum Bluetooth 4.0+, preferably Bluetooth 5.0 for the best connection strength.
Good to great sound quality. You can get great-sounding earphones for less than $100. Many come with support for popular Bluetooth codecs (like aptX and AAC). Though, it has a negligible effect on perceived sound quality. You can check if you can spot the difference here.
High-end durability. Earbuds at this price point often use high-quality materials and don't skimp on build quality. You can expect your new wireless headphones to last at least a couple of years. For water-resistance, look for IPX (or IP) certification.
Reasonable comfort. These aren't custom-molded in-ear monitors, so the comfort largely depends on the ear tips you'll use. Get memory foam ear tips, we recommend Comply, to get the most comfortable fit (and noise isolation) from any Bluetooth in-ear headphones.
In-line microphone. A microphone for making phone calls is standard. It's not for professional applications but talking with your friends shouldn't be a problem.
Good value for money. In the end, around $100 is right in the middle between low-end, cheap wireless earbuds and high-end, flagship models that can go up hundreds of dollars. It's a great middle point where you can expect most of the latest technology and features with high sound quality without paying a premium.
No premium features. Most don't come with EQ settings or active noise reduction. Usually, you have to pay more for that.
For noise cancelling earbuds you have to pay a bit more, see here.
Comments