Create your peace & quiet with the best ANC earbuds on the market.
Comparison: Top Noise Cancelling Earbuds
Rating
Battery
Price
(approx.)

i

Very effective, Good, Above Average, Decent.


Noise Cancelling
Connection
Sound Signature
Sony
WF-1000XM3
best true wireless




3.6
6h (ANC on)
8h (ANC off)
$230
Very effective
Wireless
Bluetooth 5.0
Balanced
(equalizer)
More info
Apple AirPods Pro
best for iPhone




4.6
4.5h (ANC on)
24h in case
$250
Very effective
Wireless
Bluetooth 5.0
Slight
mid-emphasis
More info
Bose
QuietComfort 20
best wired




4.1
16h
$250
Best-in-class

Wired
3.5mm
Slight bass
emphasis
More info
Sony
WI-1000X
best neckband




3.7
10h (ANC on)
$300
Very effective
Bluetooth
&
3.5mm
Balanced
More info
B&O
Beoplay E4
wired alternative




3.9
20h
$160
Very effective
Wired
3.5mm
Balanced
More info
Phiaton
BT 120 NC
best
under $100




4.6
5h NC on
8.5h NC off
$80

Up to 95%
Wireless
Bluetooth
Balanced
More info
1MORE
E1004
best for
lightning




3.0
No battery
$100
Above average

Wired (Apple Lightning Connection)
Balanced
More info

Edifier TWS NB
affordable true wireless




3.9
5h (ANC on)
11h (ANC off)
20h+ in case
$120
Above average
Wireless
Bluetooth 5.0
Balanced
More info
Cowin
HE8D
wireless alternative




3.5
9h

$50 (basic)
$100+ (upgraded)
Above average
Wireless
Bluetooth
Bass-emphasized
More info
TaoTronics
ANC Earbuds
best budget




4.3
15h
$50
Good
Wired
3.5mm
Slight bass
emphasis
More info
The top 10 ANC (active noise-cancelling) in-ear models that have the most effective technology.
Use them for traveling or just enjoying your music in peace. These small and versatile NC earbuds are a great choice for all loud situations.
Compare earphones with the most effective noise cancelling technology and choose the most fitting for your needs.
After considering all the best ANC earphones on the market (30+) here are the top choices for 2020.
---
Related:
Here are top passive noise isolation headphones
Leading noise cancelling headphones
Worthy budget noise cancelling headphones
---
Best Noise Cancelling Earbuds Reviewed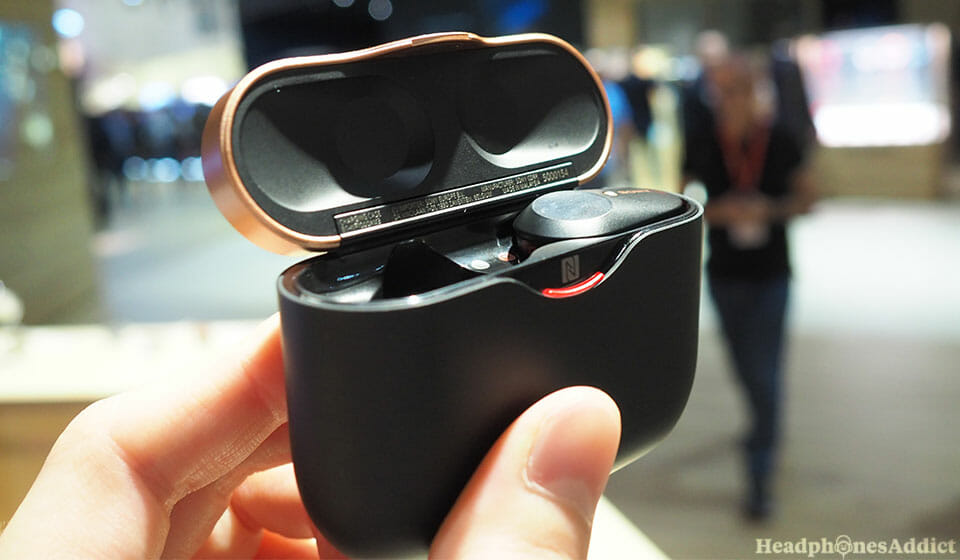 The best true wireless earbuds with active noise cancelling.
Read the Sony WF-1000XM3 review.
Active noise-cancelling: Yes
Battery life: Up to 6h ANC on (8h ANC off) + 3 charges in the case
Design: True wireless
Connection: Bluetooth 5.0
Why Buy These?
The WF-1000XM3 have the same HD noise cancelling processor QN1e that you can find in the superb WH-1000XM3 over-ear headphones. Though the "settings" make it slightly less effective, it's the best noise cancellation you can find in true wireless earbuds.
Plus, you get a ton of features and the latest Bluetooth technology. The touch controls are easy to use, and with in-app settings you can control almost everything.
Change ANC power, turn on the adaptive mode that changes noise reduction automatically based on environment, change sound signature, and more.
A quick charging battery lasts for a solid 6 hours, and a 10-minute charge gives you 1.5 hours of music.
The WF-1000XM3 are the perfect companion for a demanding user who wants all the latest tech in small in-ear headphones.
The Bad
No sweat protection, so not suitable for sports. Also, no built-in volume controls, no support for multipoint, and you need to install the app for full functionality. Plus a bit pricey.
The Sound
They sound great because you can adjust the sound to your liking. With the app equalizer, you can boost the bass, keep it balanced, or pop out vocals.
You have full controls over the frequencies, which will satisfy many different tastes in music. It's easy to use, besides the sound is enjoyable out of the box without any changes.
For the latest true wireless earbuds with noise cancelling, Sony WF-1000XM3 are the top choice today.
---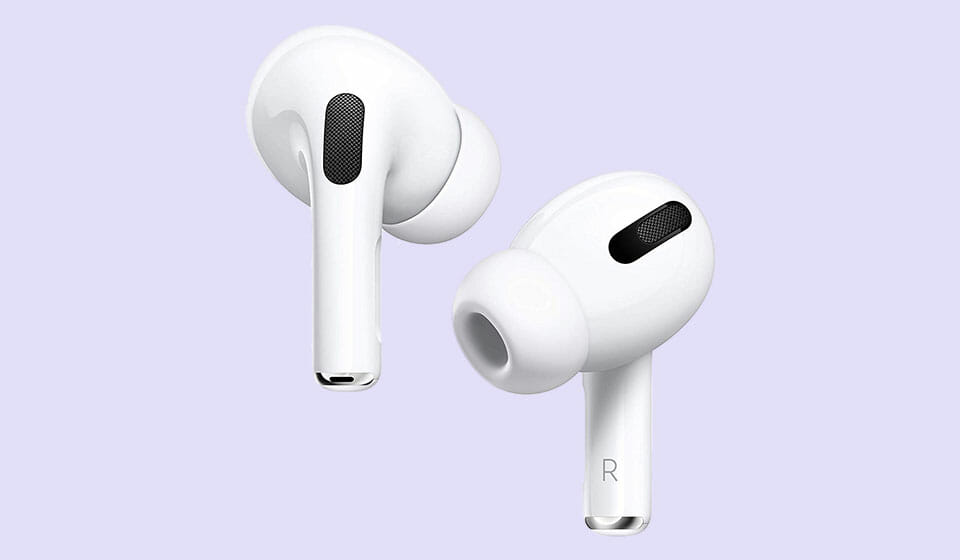 Active noise-cancelling: Yes
Battery life: Up to 4.5h (ANC on) & 24h with the case
Design: True wireless
Connection: Bluetooth 5.0
Why Buy These?
If you're a proud iPhone owner, then the Apple AirPods Pro make perfect sense for you. This time, they resemble in-ear headphones better with nozzles and ear tips, which improve the fit and sound quality.
You get to take advantage of the H1 chip for quick pairing and auto-connect function, which only works for iOS.
The battery life is solid, at around 5 hours with active noise cancellation activated, and you can charge them wirelessly with Qi. Plus, you can take them to the gym as they are IPX4 sweatproof.
Also, you get the same hands-free Siri voice control and programmable touch controls on the buds.
To make phone calls, you get to use the superb built-in mic that is clear and great at reducing background noise.
On top of that, these are noise cancelling and do an above-average job at reducing sounds though some alternatives (Sony Wf-1000XM3) still have the edge over them.
The Bad
Quite pricey even compared to other high-end ANC earbuds. Somewhat questionable design that might not fit all people.
The Sound
It's exactly what you'd expect. It isn't balanced or neutral but has a slight emphasis on the midrange, which might make some instruments pop out more than usual.
But considering that, the audio quality is considerably better than with the Apple AirPods due in-ear fit.
For an avid iPhone user, Apple's AirPods Pro (review) are the absolute best noise cancelling earbuds right now.
---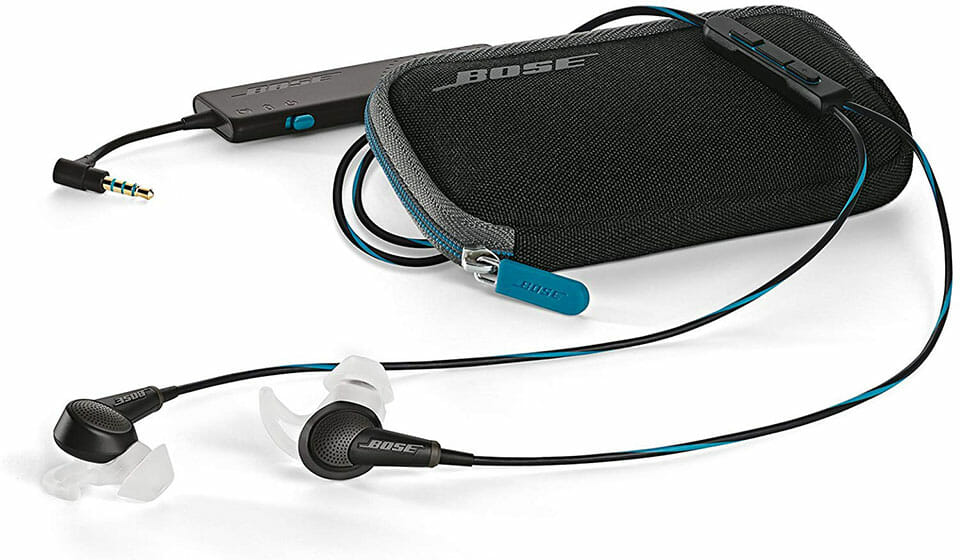 Bose QuietComfort 20 are the best wired noise cancelling earbuds.

Active noise-cancelling: Yes
Battery life: Up to 16h (only powers ANC)
Design: In-ear headphones
Connection: Wired, 3.5mm
Quick review
PROS
Best-in-class noise cancelling technology
Very comfortable with stable fit
Good build quality that's going to last
Perfect earbuds for travelers
Sound quality comparable with the top ANC headphones
CONS
Pricey
Wired
With ANC off, audio quality takes a dive
Some might not like Bose products, but when it comes to ANC, they are the best in business.
It's a fact Amar Bose and his company first offered noise-cancelling headphones to the public.
With QC 20 not only do you get highly effective active noise cancellation, but also very comfortable, durable and good sounding buds, all in one package.
Noise Cancellation
If you want to magically delete the background sound and just enjoy the music while still hearing higher pitched sound, Bose QuietComfort 20 are the best audio equipment for this job.
"With the combination of good passive noise isolation and superb active noise cancelling, you'll have a hard time finding better earbuds."
It seems ANC works better even for higher frequencies than with competitive ANC (active noise cancelling) headphones. They are so good, these in-ear headphones won't just remove the humming sound of plane engines, but also parts of street traffic and human conversation.
They don't completely cancel these sounds, but do it like the best out there.
Additionally, these have a special feature called, Aware mode, which lowers the level of noise reduction for cases when you need to hear the people around you. It works nicely and it's as simple as pressing a button.
The battery needed for noise cancellation is unfortunately not replaceable, but has about 16 hours of battery life (USB charging), which is quite good. Since it's a lithium-ion battery it is good for about 500 full charges, after which the capacity will start to diminish.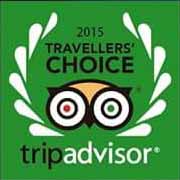 If you're a heavy user, like 10 hours per day on average, you can expect a good year and a half of use out of them.
"Bose QuietComfort 20 got the Travelers' Choice Award 2015 for being the best noise-canceling earbuds."
Durability
Build quality is good, even if earphones are made of plastics.
The silicone ear tips are well made and provide a tight fit. Cables are protected by a nice amount of rubber and there seem to be no major weak points in the design.
Comfort
Because of their lightweight design and quality silicone ear tips, Bose QuietComfort 20 are very comfortable.
In the package you get 3 different sizes of eartips, small, medium and large that will fit in most people's ears. The tips seem shorter and from the looks of it, don't promise a lot in terms of passive noise isolation and stability of the fit…
…but they do a very nice job. With the combination of "wings" that you attach to your ears, the fit is very stable and comfortable at the same time. They aren't the most comfortable earbuds in the world, but pretty close.
Passive noise isolation is quite good as well, especially once you find the proper size of ear tips.
Features
The microphone is positioned on the cable and works like intended, you can comfortably make calls without interruptions.
The controls are conveniently placed and you'll get used to them very quickly. You can control; play/pause, next/previous song and ANC on/off, plus the button for Aware mode (just make sure to buy the right OS model – iOS or Android).
There are also older, cheaper Bose models that have equally good noise isolation if you don't want to pay the full price.
Sound
Sound quality is very good for headphones with noise cancelling, but obviously, can't compare to regular, audiophile models.
It seems the audio is better when noise cancelling is on, compared to when it's offline. The mids are usually more recessed in the latter case so it makes sense to always use ANC mode if possible.
Generally, the sound is still very "Bose-like". With emphasized bass and treble slightly overshadowing mids. Yet the sound seems more balanced than with previous models, these have better mid-range than any noise cancelling Bose earbuds before.
There isn't much soundstage, like with most earphones, and there is also that slightly hearable hiss that noise-canceling technology produces. In the end, sound reduction more than makes up for it, so it's not really such a big deal.
If you value awesome noise cancellation before audio quality (awesome for frequent travelers), you'll love these, even if the price is a bit steep. You get what you pay for.
In the end, if you want great noise cancelling technology packed in a small, comfortable wired earbuds that produces good sound quality, Bose QuietComfort 20 are the earbuds for you.
---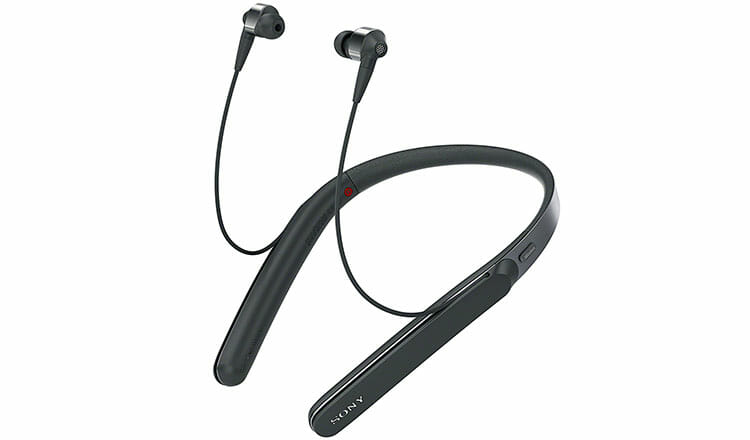 Sony WI-1000X are one of the best wireless neckband ANC earbuds you can get today.
Active noise-cancelling: Yes
Battery life: Up to 10 hours
Design: Neckband in-ear headphones
Connection: Wireless, Bluetooth 4.1
Why Buy These?
Because of their premium neckband design, you will look good no matter where you go. They sit nicely around your neck and pack a solid 10-hour built-in battery (with ANC on). It's plenty of power for small earphones but obviously can't compare to over-ear headphones.
Nonetheless, these Sony buds are the closest thing to premium Bluetooth ear buds you can get today.
The active noise cancellation can compare to the cream of the crop in the category and has extra features like "ambient mode" and Sony's Headphones Connect app for additional settings.
This makes them perfect for office use or work commute. Plus, they're super portable for flying when space saved in the baggage counts.
Anyway, you can connect them to any Bluetooth device or use them as wired (with the added cable). Add full Google Assistant and Alexa support, and you can understand why these are considered a great wireless choice by many.
The Bad
While the buds are ergonomically shaped, they aren't as comfortable as alternatives (like Bose QC30). You might feel a bit of an itch after a couple hours. And, due to neckband, they aren't suitable for sports (as they move around a lot).
The Sound
The sound these Sony buds produce is excellent considering they are wireless and active noise cancelling. They support Bluetooth codecs like LDAC and aptX for better wireless sound quality.
You get a balanced sound signature but can play with the app to change the audio to your liking.
All in all, the Sony WI-1000X are the best wireless earbuds with noise cancelling you can get today with plenty of latest technology and features.
---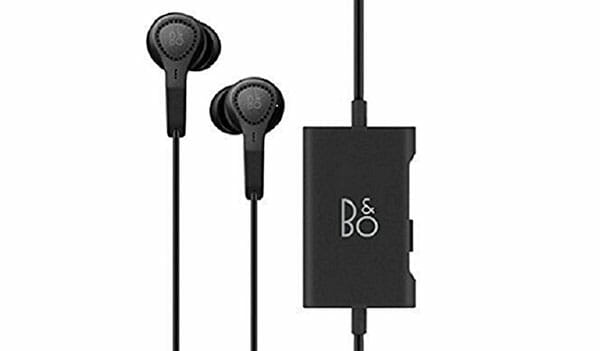 One of the best wired noise cancelling earbuds.
Active noise-cancelling: Yes
Battery life: Up to 20h
Design: In-ear headphones
Connection: Wired, 3.5mm
Why Buy These?
If you're looking for high-quality in-ear earphones with noise-cancelling and great sound quality B & O Beoplay E4 are one of the prime choices you can make. Though these cost more money than most and still don't offer wireless Bluetooth connectivity, everything else is top notch.
The small ergonomic, aluminum earbuds offer a good and comfortable fit. The 4 sizes of silicone ear tips are combined with 1 pair of Comply foam ear tips which really improve the comfort. Just keep in mind foam tips needs more frequent replacement.
Active noise cancelation is comparable to Bose's. It's even slightly better at canceling out human conversation but not as good at lower sounds like the hum of the airplane. Nonetheless, it's very effective and justifies the premium price. The battery holds for about 20 hours of noise canceling on a full charge. The connection is wired via a 3.5mm AUX jack.
The "transparency mode" is a type of aware mode which leaks in sound so you can talk to people when needed. It needs some time getting used to but does the job.
In addition, the design looks and feels premium. Build-quality is great and you can expect many years of service from these. Among the accessories, you also get a flight adapter and a carrying pouch.
The microphone works well for calls except in extremely windy situations. In-line buttons are straightforward to use and easy to learn. It will become your second nature in no time.
The Bad
They aren't as comfortable as Bose and might be uncomfortable for people with shallow ear canals. And, the ANC module is rather wide which might be harder to carry around.
The Sound
In the end, the sound quality is their biggest advantage. The sound signature is more balanced than with Bose and offers a quality reproduction of all ranges. There might be a bit of an emphasis on mid-bass but you won't notice unless you're a hardcore audiophile.
Furthermore, the soundstage is very good. The instrument separation is noticeably better than with other noise-cancelling earphones. Treble offers high details and clarity. Another good point is that ANC doesn't change the audio quality when turned on, so you get an enjoyable listening experience.
In conclusion, Beoplay E4 are definitely one of the best ANC in-ear headphones right now as long as you're willing to pay a premium price and are looking for a wired connection.
---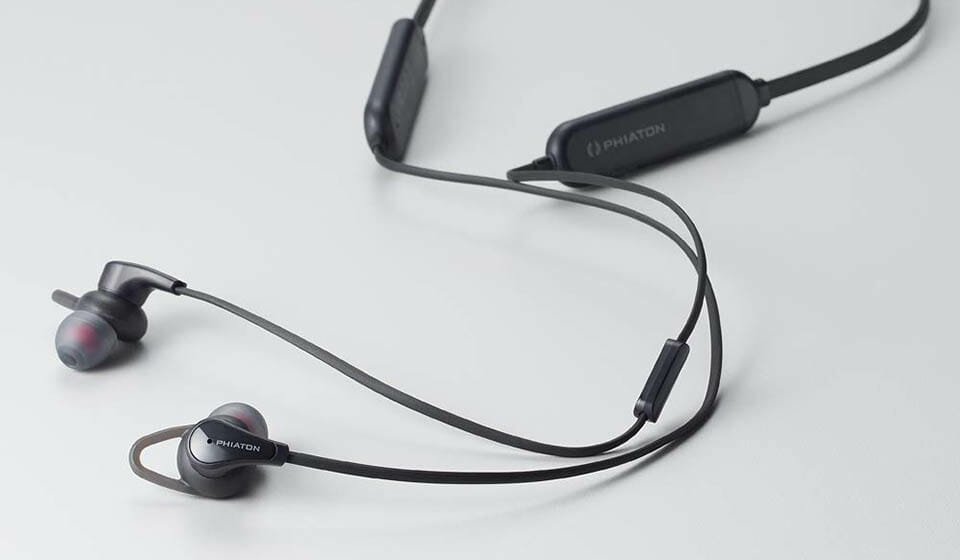 Phiaton Curve BT 120 NC are the best noise cancelling earbuds under $100.
Read the full Phiaton Curve BT 120 NC review.
Active noise-cancelling: Yes
Battery life: Up to 8.5 hours
Design: Neckband in-ear headphones
Connection: Wireless, Bluetooth 4.2
Why Buy These?
If you're looking for affordable noise canceling earbuds under 100 dollars and you travel daily, check these in-ears.
The first thing that catches your eye is their simple yet sleek design. They are light and comfy. The Bluetooth earbuds allow you to enjoy them for a long time. And, there is an in-line remote to control your music. They are IPX4 sweat resistant, so you can use them for workouts and wear them in the rain.
The battery can last up to 8.5 hours (4.5h with ANC on). The active noise cancellation is average. It removes most of the background noise but isn't as effective as more expensive earphones.
Nonetheless, for the price, these Bluetooth buds are pretty good and come from a reputable brand (Phiaton).
The Bad
Control buttons are harder to distinguish, making awkward control common. Especially if you're running and need to change the song or volume quickly. Battery could be better, and ANC can't compare to Bose.
The Sound
Overall, their sound signature is balanced. Bass is punchy, and it gives you the right amount of motivation if you're using them in the gym, but don't expect sonic fidelity. Audio quality almost stays the same with noise cancellation turned on, it's less of a difference compared to alternatives.
In the end, Phiaton BT 120 NC are the best noise cancelling earbuds under 100 dollars you can get today. They provide satisfactory ANC, great comfort, and enjoyable sound.
---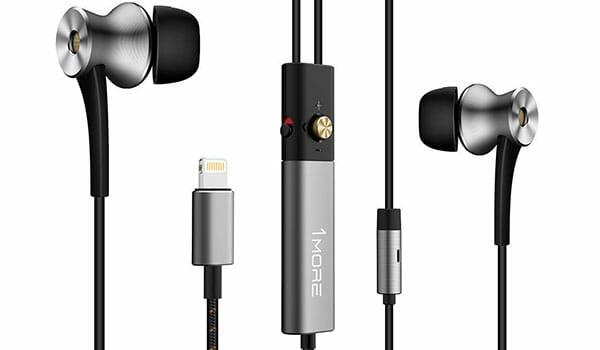 The best noise cancelling earbuds for Apple Lightning devices.
Active noise-cancelling: Yes
Battery life: Powered by iPhone battery
Design: In-ear headphones
Connection: Wired, Lightning connector
Why Buy These?
The first thing you'll notice about 1MORE E1004 is premium packaging. It looks and feels better than with most premium products. But the reason you should get these is their audio quality. More on this below.
For iPhone users, these are the go-to noise cancelling in-ear headphones with wires you can get. The connector works with all Apple devices supporting LightningTM connector. No need for adapters.
The active noise cancellation is good. It can't really compare to Bose but it's above average nonetheless. The battery is not required because ANC circuitry is run on the phone or tablet.
Note: What are the most durable headphones for kids?
Build-quality stays true to the premium look. The beautiful metal casing and quality materials make a good impression. Unless you ear your earbuds for breakfast these will last a long time. The fit and comfort are good too. While they aren't best suited for sports you could use them for that as well.
With the in-line remote and microphone, you can make calls and control your music without accessing your phone.
The Bad
These make your iPhone lose power faster. The cable is prone to tangling and you have to be careful not to break the in-line module.
The Sound
The audio quality is their biggest advantage. With great balanced sound signature, you're getting detailed and rich highs that really come out. The mids and bass aren't bad either though bassheads will want more.
If you have one of the iPhones and want high-quality noise-cancelling earbuds with a lightning connector, a great pick are 1MORE E1004 earphones.
---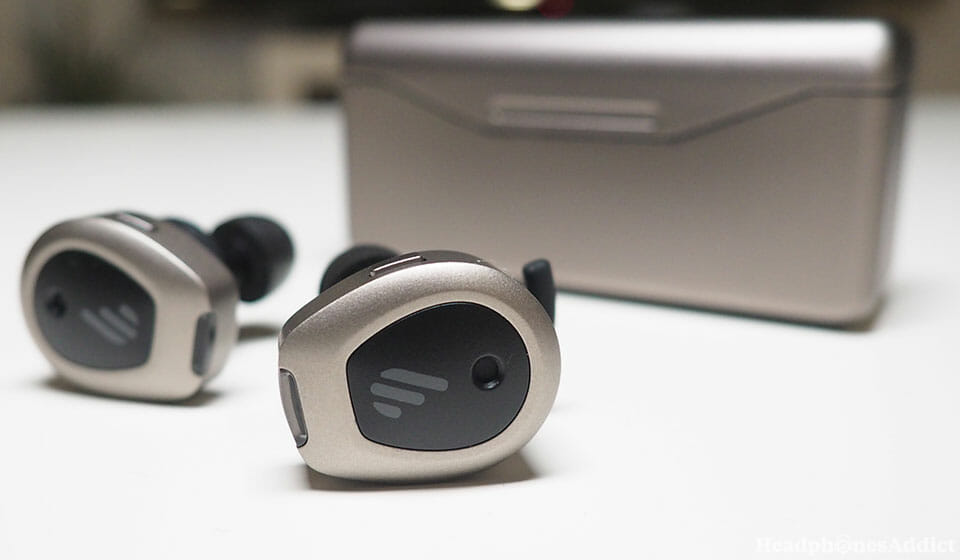 Affordable true wireless noise cancelling earbuds under $150.
Read the full Edifier TWS NB review.
Active noise-cancelling: Yes
Battery life: 5 hours+ per charge, 20h more in the case
Design: True wireless headphones
Connection: Bluetooth 5.0 (aptX support)
Why Buy These?
Many noise cancelling true wireless earbuds cost a lot of money, but not all. Edifier TWS NB are one of the more affordable true wireless earbuds with ANC and the latest technology.
These offer a lot of value in all categories. You get Bluetooth 5.0 with aptX support for better sound quality and faster transmission.
The ambient sound mode, built-in controls, and effective noise isolation.
On top of that, active noise cancellation is quite powerful though still lags behind the premium models (you pay half the price anyways). It works well enough for you to focus on music and forget about the environment.
All in all, they're solid noise cancelling earbuds that work well even though they don't reach the top.
The Bad
No volume controls and bulky design that can be irritating.
The Sound
They have a balanced signature that fits most music genres and sounds good for the price you pay.
If you're looking for quality ANC true wireless headphones with the latest tech that don't cost a small fortune, check these out.
Read more in the Edifier TWS NB review.
---
wireless alternative: Cowin HE8D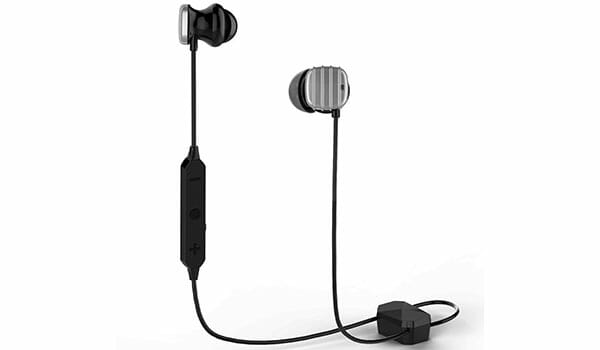 Great pair of noise-cancelling earphones under $100.
Active noise-cancelling: Yes
Battery life: Up to 9 hours
Design: In-ear headphones
Connection: Wireless, Bluetooth
Why Buy These?
Cowinn HE8D are another great value noise-cancelling earphones. With the price under $80 you get a lot of features and technology.
The package includes a nice, hard carrying case which makes taking these with you much easier.
The ear buds themselves are light and fit into the ear canal rather nicely. They aren't as comfortable to wear as Bose but close.
The 3 pairs of silicone ear tips provide good noise isolation and with the added active noise cancellation you'll barely hear any ambient noise. ANC supposedly cancels up to 28dB of noise though this varies depending on circumstances. This rating is valid in "an optimal scenario" and does not apply in every case. Nonetheless, noise-cancellation is noticeably effective but not as good as our Bose's top pick.
Furthermore, the build quality is good. IPX4 rating makes them sweat-proof and can even survive a good splash. They feel solid in hands and don't seem to have any major weak points.
Bluetooth has the standard 33ft (10m) range without interruptions. The in-line microphone has good voice quality for making calls. The in-line remote buttons aren't the most user-friendly but do their job well.
The Bad
The only concern with all unknown brands is the quality of their battery life. It holds the power for about 9 to 10 hours but since batteries deteriorate with time it's hard to say how well this one is. The battery charges with some fancy magnetic technology which is always nice for some bragging rights.
The Sound
The overall sound signature is slightly bass emphasized. This is geared towards the general audience who prefers slightly more bass. The treble and mids are pretty good as well. Sibilance only comes out at unhealthy high volumes and there's almost no cable noise.
Overall, Cowin HE8D NC earbuds offer one of the best affordable and functional Bluetooth headphones with ANC.
---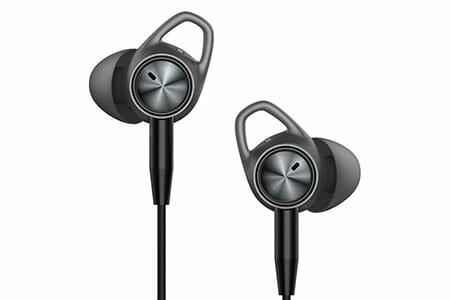 The best cheap noise cancelling earbuds.
Read the full TaoTronics TT-EP002 review.
Active noise-cancelling: Yes
Battery life: Up to 15 hours
Design: In-ear headphones
Connection: Wired, 3.5mm
Quick review
For a budget option of active noise cancelling earbuds these are the best. Now keep in mind these are very cheap compared to other ANC models so don't compare them. You won't get the same ANC technology.
PROS
Very cheap price
Quite comfortable and durable design
Effective noise cancellation for the price
Great value for money overall
CONS
Can't compare to higher-end models
What's in the box?
TaoTronics noise cancelling wired earphones (model:TT-EP002)
3 pairs of silicone eartips
2 pairs of ear hooks
Short Micro-USB charging cable
Airline adapter
Soft carrying pouch
User manual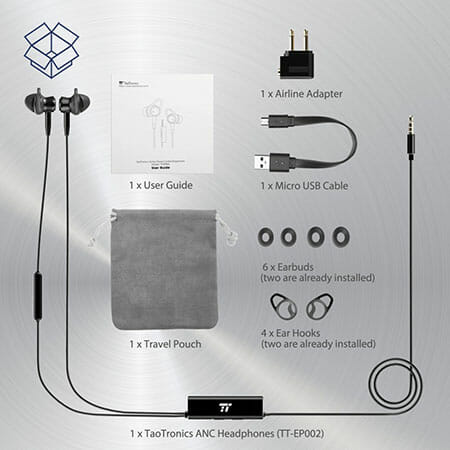 Noise Cancellation
The noise cancellation circuitry is installed in a small box which your earbuds connect to. On the box are all the switches which control ANC.
How effective is it?
Well for the price it's quite good, but don't expect to compare them to higher-end models. Bose is still much better and the difference is paid in price.
Nonetheless for such a cheap price these canceling earbuds perform rather well. You will get a noticeable reduction in outside noise, especially the lower ranges.
TaoTronics reports up to 25dB noise reduction but we all know this greatly depends at what frequencies this is measured. For the price, it does what it promises.
Since noise cancellation is very useful for airplane travel you also get an airplane adapter as an accessory.
The battery holds about 15 hours of playtime per full charge. This depends on the mode used and volume you listen to but most users will get about 15h out of it.
With "monitoring mode" you can control how much external noise gets let through which might be useful for hearing a flight attendant or other people around when needed.
Durability
Build-quality isn't bad either. The casing is made out of aluminum and quality plastics. The weak points have some strain relief but the cable is rather average. Plain rubbery cables with an I 3.5mm plug at the end.
These noise cancelling TaoTronics earphones aren't made for sports, they're not sweat-proof so don't use them for sports.
For runners, here are leading earbuds for running in case you want more sports-oriented IEMs.
Comfort
Comfort is pretty good as well. While these are a bit heavier in-ear earbuds since they have ANC you'll get used to them quickly. The NC box isn't too heavy and you'll soon forget it's there.
The silicone eartips offer average comfort which means you can wear them for hours on end without irritation.  But Bose earbuds still have an advantage over them.
For improved comfort replace the original eartips with foam premium ones.
Features
Together with noise cancelling these earbuds offer making and accepting calls as well. There's an inline microphone and remote control for volume, song selection, play/pause and accepting/rejecting calls.
The noise cancelling buttons are all on the NC box and not on the remote.
Carrying pouch is very soft so it doesn't offer a lot of protection but it's better than nothing.
The in-line microphone also has noise cancelling so your calls are slightly clearer though you won't notice a big difference.
Sound
When it comes to music quality it's what you'd expect from a cheap NC model.
It's nothing special but more than good enough to justify the price.
Since noise reduction is the main feature of these buds, sound was less focused on.
The general public might like the slightly bass emphasized sound. You can find great basshead earbuds here.
For an audiophile though, these aren't really comparable since none of the ranges come close to the audiophile standard. The highs aren't clear and detailed enough, mids are hidden and bass is muddy would be a short summary of an expert.
Nonetheless, these are much better than your standard airplane buds you get for free. As long as you don't expect sonic fidelity, (and you shouldn't since these are so cheap) you will be more than satisfied with the audio as well.
Understand these are cheap and you'll be very happy with them.
Overall, if you're looking for a cheap way to get rid of noise with ANC in a small package, these TaoTronics earbuds are the best budget pick right now.
---
Honorable Mentions
Bose QuietControl 30 (check price): An older model from Bose, still solid but outdated.
---
More headphone guides:

Noise Cancelling vs Noise Isolation – Is Noise Cancelling Better?
There is a lot of misconception about noise cancelling and noise isolation. Here we'll explain the difference.
Noise Cancelling
Noise cancelling also known as active noise cancellation is a powered system that requires a microphone and a battery to function.
The microphone picks up the surrounding noise and sends the opposite frequency to the drivers to negate the unwanted noise.
This works nicely for constant, low frequency sounds like the constant engine noise.
When active noise cancelation is on it feels like you're in a quieter place, but it does not cancel out all ambient noise.
The sound of human voices, loud music, and every other, non-constant frequencies aren't cancelled out and you'll still hear them.
Usually, the combination of active noise cancellation and passive noise isolation offers the most effective results.
Noise Isolation
Passive noise isolation is a more basic concept, but very effective nonetheless. It uses no batteries or microphone, just simple noise blocking by isolation.
For over-ear headphones the use of tight-fitting ear pads plays a crucial role in blocking out all external noise. For in-ear monitors, using double or triple-flanged eartips usually gives the best results.
You can find great noise isolating earbuds here.
Good noise isolating headphones will block up to 37 dB of noise which means, complete isolation from normal conversation volume, especially once you play some music.
Passive noise isolation blocks all outside sounds, from neighbors to loud kids. This makes them very useful when you just want to have some peace and quiet and not be bothered by the outside world.
On the other hand, complete sound isolation can be dangerous in public places, like walking on the street when it's good to know what is going on around you.
What are the Benefits of Noise Cancelling Headphones?
ANC headphones will get rid of most background noise with their special electronics. It's most effective against lower sounds (like airplane noise, traffic, etc.) and less effective against higher frequency sounds (like human voices and birds chirping).
Once you press the button to activate ANC, part of the background sounds will just disappear, making the illusion of a quieter environment. It's really surprising the first time you experience it.
Noise-canceling headphones are the best for traveling since travelling is often loud.
Can Noise Cancelling Headphones Hurt Your Ears?
Because noise cancellation technology doesn't emit any kind of radiation or any other kind of harmful effects, it's perfectly safe to use ANC headphones. The technology is quite basic once you understand it. It cancels out ambient noise in a perfectly harmless way.
Can You Sleep with Noise Cancelling Headphones?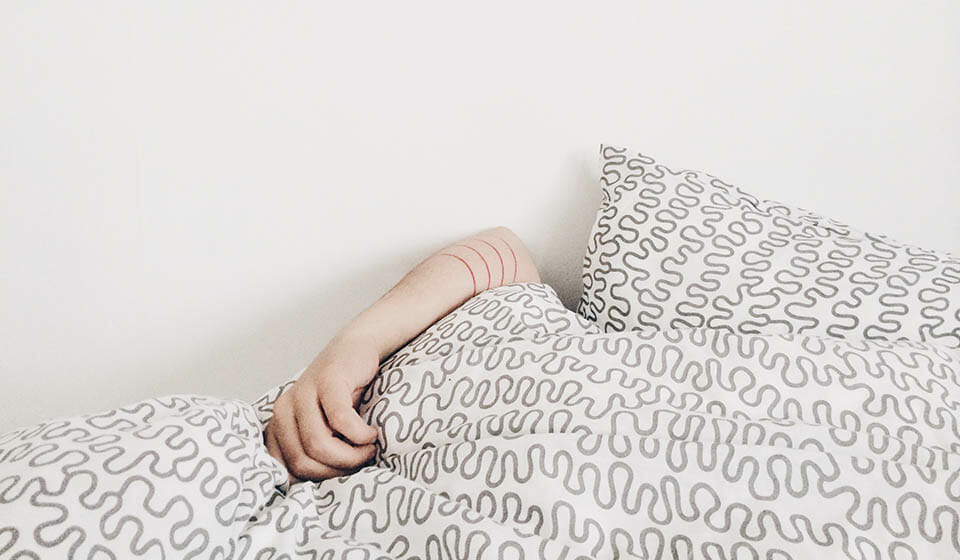 Yes, you can but only if they are comfortable for you.
Smaller noise cancellation earbuds are better for sleeping since they're more comfortable but that's not always the case. Additionally, if you move around a lot during sleep you might damage your headphones. For some people just getting regular ear plugs works equally well.
What Does Active Noise Cancelling Up to 95% Actually Mean? (or up to 28dB)
Here's an interesting fact.
All ANC ratings represent a measurement in perfect possible conditions.
Usually, the effectiveness of noise cancelling is measured at specific, low frequency and lower volume conditions, since this is where ANC is most effective.
It doesn't mean active noise cancelling headphones with 95% rated effectiveness will cancel out 95% of background noise. They will cancel various frequencies at different levels.
Take the ANC ratings with a grain of salt as these don't represent the exact behavior and effectiveness of the noise cancelling technology.
Are AirPods Noise Cancelling?
Basic AirPods aren't. They do have some passive noise isolation, but don't have active noise-canceling (ANC). ANC is a unique technology that requires more processing power which increases costs and power consumption, and AirPods are the basic Apple true wireless earphones.
AirPods Pro are. These are the most expensive, premium model which comes with adaptive ANC.
---
Disclosure: We might receive affiliate compensation if you purchase products via links on this page.

Comments