Create your peace & quiet with the best ANC earbuds on the market.
Are you looking for passive noise isolation headphones?

Take a look at best noise cancelling headphones (over-ear, on-ear).
Here are top 10 ANC in-ear models that have the most effective noise cancelling technology.
Use them for traveling or just enjoying your music in peace.
Compare earbuds with the most effective noise cancelling technology and choose the best for your needs.
Comparison Table: Top Noise Cancelling Earbuds
Model
Rating
Battery
Price

i

Best in class, Good, Above Average, Decent.


Noise Cancelling
Connection

i

Balanced-All sound ranges represented equally.


Sound Signature
BEST OVERALL





Bose QuietComfort 20
4.4
16h
$$$$$ ($200-$300)
Best in class

Wires
Slight bass
emphasis
Review
BEST WIRELESS



Bose Quietcontrol 30 Wireless
3.4
10h
$$$$$ ($200-$300)
Good
Bluetooth
Balanced
Review
BEST VALUE
WIRELESS




Phiaton BT 220
NC Bluetooth
3.9
NC on 10h
NC off 16h
$$$$ ($120-$200)
Up to 95%
Bluetooth
Balanced
Review
BEST NC
UNDER $100




Huawei 185 (ANC)
3.5
7h
$$$ ($80-$120)
Above average
Wires
Balanced
Review
BEST BASS




Linner NC50
4.1
9h (ANC on)
13h (ANC off)
$$ ($30-$80)
Up to 97%
Bluetooth
Bass-emphasized
Review
BEST VALUE





Audio-Technica
ATH-ANC23 QuietPoint
3.7
60h
(AAA battery)
$$ ($30-$80)
Up to 90%
Wires
Balanced
Review
VALUE
RUNNER-UP




Audio-Technica
ATH-ANC33iS QuietPoint
3.6
60h
(AAA battery)
$$ ($30-$80)
Good
Wires
Balanced
Review
BEST BUILT-IN
BATTERY




AKG K391NC
3.0
35h
$$$$ ($120-$200)
Above average

Wires
Balanced
Review

BEST FOR
XPERIA




Sony MDR-NC31EM
(only for Sony Xperia)
3.6
No battery
$$ ($30-$80)
Above average
Wires
(Xperia only)
Balanced
Review
BEST BUDGET




TaoTronics
ANC Earbuds
4.4
15h
$$ ($30-$80)
Good
Wires
Slight bass
emphasis
Review
Related: Most comfortable earbuds reviewed.
Best Noise Cancelling Earbuds Reviewed
Bose QuietComfort 20 are the best noise cancelling earbuds, bar none, on the market right now.
PROS
Best in class noise cancelling technology
Very comfortable with stable fit
Good build quality that's going to last
Perfect earbuds for travelers
Sound quality comparable with the best ANC headphones
CONS
Pricey
With ANC off, sound quality takes a dive
Some might not like Bose products, but when it comes to sound cancelling, they are the best in business.
It's a fact Amar Bose and his company first offered noise cancelling headphones to the public.
With QC 20 not only do you get the best active noise cancellation, but also very comfortable, durable and good sounding earbuds, all in one package.

Noise Cancellation
If you want to magically delete the background noise and just enjoy the music while still hearing higher pitched sound, Bose QuietComfort 20 are the best audio equipment for this job.
With the combination of good passive noise isolation and best in class, active noise cancelling, you won't find better earbuds.
It seems noise cancelling works better even for higher frequencies than with competitive ANC (active noise cancelling) headphones. They are so good, these earbuds won't just remove the humming sound of plane engines, but also parts of street traffic, human conversation and bird chirping.
They don't completely cancel these sounds, but do it better than any other earbud model out there.
Additionally, these have a special feature called, Aware mode, which lowers the level of noise cancelling for cases when you need to hear the people around you. It works nicely and it's as simple as pressing a button.
Click on a button to activate it, and click again to deactivate, it works like magic.
The battery needed for noise cancellation is unfortunately not replaceable, but has about 16 hours of battery life (USB charging), which is quite good. Since it's a lithium ion battery it is good for about 500 full charges, after which the capacity will start to diminish.
If you're a heavy user, like 10 hours per day on average, you can expect a good year and a half of use out of them.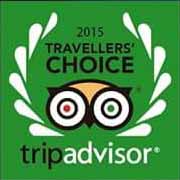 Bose QuietComfort 20 got the Travelers' Choice Award 2015 for being the best noise cancelling earbuds.
Durability
Build quality is good, even if earbuds are made of plastics.
The silicone ear tips are well made and provide a tight fit. Cables are protected by a nice amount of rubber and there seem to be no major weak points in the design.
Comfort
Because of their lightweight design and quality silicone ear tips, Bose QuietComfort 20 are very comfortable.
In the package you get 3 different sizes of ear tips, small, medium and large that will fit in most people's ears. The ear tips seem shorter and from the looks of it, don't promise a lot in terms of passive noise isolation and stability of the fit…
…but they do a very nice job. With the combination of "wings" that you attach to your ears, the fit is very stable and comfortable at the same time. They aren't the most comfortable earbuds in the world, but pretty close.
Passive noise isolation is quite good as well, especially once you find the proper size of ear tips.
Features
The microphone is positioned on the cable and works like intended, you can comfortably make calls without interruptions.
The controls are conveniently placed and you'll get used to them very quickly. You can control; play/pause, next/previous song and ANC on/off, plus the button for Aware mode (just make sure to buy the right OS model – iOS or Android).
There are also older, cheaper Bose models that have equally good noise isolation if you don't want to pay the full price.
Want headphones for swimming? Click here to find top waterproof iPods.
Sound
Sound quality is very good for noise cancelling headphones, but obviously, can't compare to regular, audiophile models.
It seems the sound is better when noise cancelling is on, compared to when it's offline. The mids are usually more recessed in the latter case so it makes sense to always use ANC (active noise cancelling) mode if possible.
Generally the sound is still very "Bose-like". With emphasized bass and treble slightly overshadowing mids. Yet the sound seems more balanced than with previous models, these have better mid-range than any noise cancelling Bose earbuds before.
There isn't much soundstage, like with most earbuds, and there is also that slightly hearable hiss that noise cancelling technology produces. In the end, sound reduction more than makes up for it, so it's not really such a big deal.
If you value awesome noise cancellation before sound quality (awesome for frequent travelers), you'll love these, even if the price is a bit steep. You get what you pay for.
In the end, if you want the best possible noise cancelling technology packed in a small, comfortable earbud design that produces good sound quality, Bose QuietComfort 20 are the earbuds for you.
---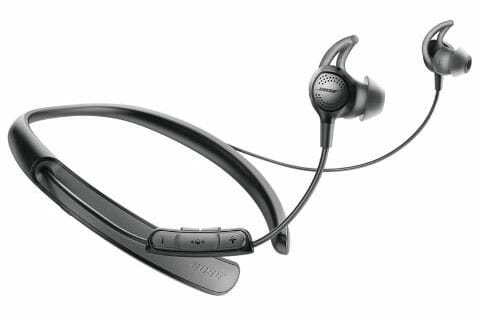 Bose is known for delivering great sound and best-in-class active noise canceling performance. While not as good as QC20, we think these are the best wireless noise cancelling earbuds right now.
PROS
Premium sound quality
Good ANC performance
Very comfortable
Wireless Bluetooth connectivity
CONS
Talkback microphone is low quality
ANC may be slightly lower than other Bose products
Neckband can slide around
The QuietControl 30 wireless earbuds are very close to earning their place on top, but a few small features may not work for some. Read further for more details.

Noise Cancelling
The Bose QuietControl 30 may not be the most advanced set of active noise cancelling headphones, but they certainly outperform many other ANC earbuds.
The noise cancelling circuit is housed in a lightweight neckband with dual microphones.
Bose's Connect mobile app allows you to select various levels of noise cancellation so you can fine-tune the performance to your environment.
While the performance of the ANC technology is better than many other noise cancelling earbud brands, users of other Bose ANC products (like the QC35 or QC25 headphones) may feel that the cancellation isn't quite as good.
To be fair, the QuietControl 30 uses a little bit different type of ANC technology than some of the other Bose products. It works rather well for its intended use.
Overall, lower frequencies are cancelled quite effectively. Some higher frequency noises and strong impulse sounds aren't cancelled as well.
The noise cancelling mode can work without being connected to a Bluetooth device.
Durability
Everything from the packaging to the product construction is high quality.
The neckband that houses the electronics is flexible but not flimsy.
Strain relief for the cables seems adequate for everyday use.
The biggest drawback and quality concern with the QuietControl 30 is the poor talkback microphone quality. This may be caused by some interference with the ANC circuitry.
If you plan to use these earbuds for talking on the phone, you might want to explore other options. Other than that, this is a great quality product.
Comfort
This is a category were Bose excels. The StayHear+ QC silicone eartips are extremely comfortable and great for long wearing sessions.
There are three different sizes of QC eartips included and they are easy to remove, clean and replace.
The lightweight neckband sits around the back and sides of the neck, is fairly comfortable and works for various wardrobe choices, hiding under a collar if needed.
You can certainly use the Bose QuietControl 30 earbuds for working out, but the neckband may slide around too much and be unsuitable for some activities.
Features
Besides the wireless neckband receiver and attached earbuds, you'll also receive a charging cable, three eartip sizes, and a nice zippered carrying pouch.
Bluetooth range is effective for 30-50' and is pretty easy to pair with most devices.
There is no support for a wired audio connection, so that means you can't use these earbuds to listen to the audio distributed on airplanes.
A 10-hour battery life can be achieved with less than a 3-hour charge, but the earbuds cannot be used while charging.
One really handy feature is the ability to connect the QuietControl 30 earbuds to the Bose Connect mobile app.
This app allows you to dial in the level of noise cancelling you want, as well as save any other custom audio presets for your device.
Sound
Bose delivers crystal clear audio with these earbuds. It isn't too bass-heavy like some earbuds can be.
The noise cancelling circuit is quiet and doesn't generate a lot of noticeable self-noise that cheaper ANC products tend to do.
Volume handling is respectable and doesn't break up at higher levels. The frequency response sounds even and balanced across varied listening levels.
You won't have to push these earbuds deep into your ear to get a good seal for great sound. The QC eartips hold the lightweight housing in place perfectly.
(summary & call to action)
The Bose QuietControl 30 carries a premium price for a premium product. The ANC technology isn't perfect, but the overall sound and quality still delivers good value.
If you're tired of constantly replacing cheap Bluetooth noise cancelling earbuds that aren't fun to listen to, an upgrade to the QuietControl 30 should be in your future.
---
Phiaton BT 220 NC are the best-value-for-money Bluetooth noise cancelling earbuds right now.
PROS
Good noise cancelling, up to 95% cancellation
Comfortable because of lightweight design and good ear tips
Above average battery life at 16 hours per charge
Bluetooth 4.0 with AptX
Can be used as wired earbuds as well
Balanced, clear, high sound quality
CONS
Strong wind messes with sound when NC is on
This is the upgraded version of already good Phiation PS 210 BTNC model which you can still get at a lower price, but with slightly fewer features.
Noise Cancellation
For those of you who know a little bit about noise cancelling, you've probably already heard of Phiaton. This company is well known for making top quality ANC headphones.
With Phiaton BT 220 NC the noise cancelling circuitry is packed in a small box where you can also control music, ANC activation and Bluetooth connection.
Noise cancelling is supposedly even better than with older version, as it will block up to 95% of all noise. While these are nice numbers, Bose QuietComfort 20 still have a slight edge in this regard (especially cancelling higher range sounds), but for a higher price and with lower sound quality.
Phiation doesn't produce such noticeable hissing sound most other ANC headphones do. This is something other manufacturers have yet to learn.
Battery life is good with around 16 hours, depending on how much you use the noise cancelling technology. You can also use it with NC off and you'll get more juice out of the battery.
Bluetooth 4.0 works pretty much like the older versions, not much improvement there. So you can expect about 30ft of range without obstacles in between.
These wireless earbuds also have AptX for better sound quality, just make sure your device supports it. (iPhones don't)
The good thing about these is that you can use them in various ways.
Either with Bluetooth and ANC, or you can connect them with a micro USB cable and use them as regular wired earbuds.
You can also use noise cancelling without any music if you just want some peace and quiet.
Durability
When it comes to durability, these aren't anything special. They are still well built, but aren't resistant to sweat or have a lot of aluminium in them.
They are made mostly out of plastic, but this makes them very light. In the end, you should treat these just like any average earbuds and they'll survive for a long time.
Comfort
Because of their lightweight design, these are very comfortable. Once you find the right size of ear tips you will often forget you're even wearing them.
In any case, you can change the ear tips with better ones if you want, like foam Comply tips that are considered as best in class.
Features
With Bluetooth 4.0 and AptX you also get NFC connectivity, a microphone (only works in Bluetooth mode) and multipoint connection, basically meaning you can connect it to 2 devices at the same time.
Sound
The sound is very good, probably even better than with Bose QuietComfort 20, but only if you appreciate the balanced sound. Bose has more bass and Phiaton a more even reproduction of all ranges.
The highs are very crip and detailed, midrange isn't overshadowed and the bass is punchy, but definitely not emphasized. For bassheads, this isn't the right model.
The only problem, that all noise cancelling headphones have, is that strong wind will still make a mess of the sound when NC is on. This is one of the disadvantages of noise cancelling technology.
In the end, if you're looking for comfortable, affordable, noise cancelling and Bluetooth earbuds with great sound quality, Phiaton BT 220 NC is your best choice.
---
AKG K391 NC are another good choice of noise cancelling earbuds.
PROS
Above average noise cancelling (not as good as Bose)
High durability, aluminium casing
Flat, balanced sound
CONS
A bit bulky, especially with battery box
Sound still worse than regular headphones
With slightly different features and specs, and especially for a lower price, you're getting a great pair of ANC in-ear monitors.
Noise Cancellation
If we compare these to the level of noise cancellation of Bose earbuds above, AKG K391 have to do some catching up to, but still offer above average noise attenuation.
For use on the plane or busy public street these earbuds will provide you with good noise cancelling. You'll still hear higher pitched sounds while the "white noise" and other background hums will disappear.
The battery life is even better than with Bose, as these will deliver up to 40 hours of playtime (more around 35) on one battery charge. This offers even more flexibility for on the go use.
What are the most durable headphones for kids?
Durability
Made out of aluminium, the build quality is top notch. From aluminium earbud casing, thick, rubberized cables to aluminium plated battery and ANC box, you'll have a hard time finding more durable noise cancelling earbuds.
This is to be expected, as AKG is well known for making high-quality products and not skimp on build quality.
Comfort
AKG K391 NC have a more standard in-ear design than the Bose QuietComfort 20 that are closer to on-ear earbuds.
They stay in ears as long as you don't do any fast movement, they really aren't meant for working out.
The ear tips can be replaced with better, foam ones to improve comfort, even though original silicone tips aren't that bad.
Expect average IEM comfort level, not too bad, but not great either.
If you're used to wearing IEMs, these will be comfortable for you.
Features
The microphone works nicely for making calls and you can connect the same pair of earbuds to both, iOS and Android devices. Don't expect studio quality recordings, but more like enough quality for talking to your mom.
The bad side of big battery pack is portability. You always have to carry the battery and ANC box with you, so this can be one of the bad sides of noise cancelling technology.
Sound
All audiophiles will agree that AKG K391 NC sound better than Bose SoundQuiet 20 and that's because the sound is more balanced.
With Bose you get emphasized bass and treble, but the AKG has a much flatter sound signature. It still can't compare to non-noise cancelling headphones, but it's definitely closer.
With ANC off, the sound is muffled and lacks details, but once you turn it on, it dramatically changes. Highs are clean and defined, more on a warmer side. Midrange is not overshadowed and plays its role properly. The best part is the bass, it's not boomy and deep, but rather tight and punchy.
Overall AKG K391 have balanced sound without any major lacking points, of course, considering these are noise cancelling earbuds.
If you don't want to spend the steep price of Bose QuietComfort 20, but still want high-quality noise cancelling earbuds, AKG K391 are one of the best possible choices.
---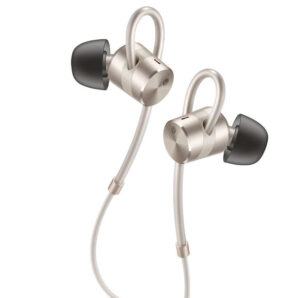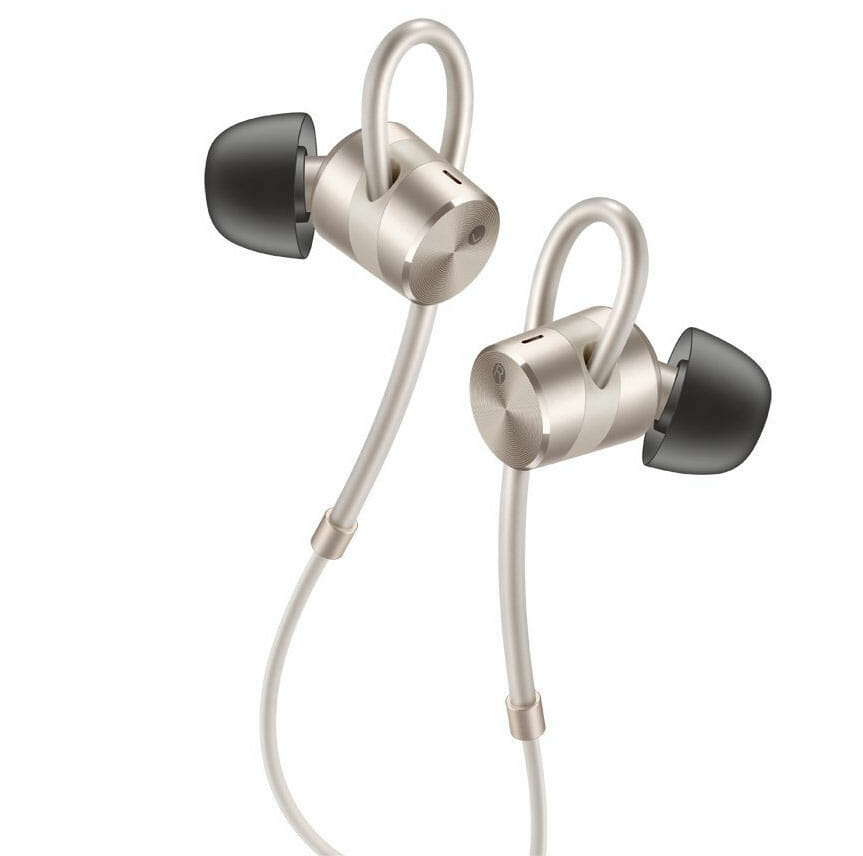 Pros
Rich and spacious sound quality
Attractive look and feel
Very comfortable
Dual-driver design
Cons
ANC is good, but not great
Limited charging options without special adapter
The audio quality of the Huawei AM185 earbuds will probably surprise you, especially considering their average price of less than $100.
These earbuds are very comfortable too. The noise cancellation is good, but read a little further for a few important details.
Noise Cancelling
These are active noise cancelling earbuds, and that's probably a good thing because there is little-to-no passive noise cancellation.
The noise cancelling electronics are housed in a small rectangular in-line enclosure that matches the gold color and metal construction of the earbuds.
Huawei's ANC engine works ok, especially for more constant plane or road noise, but it doesn't always do the best job with random noise like people talking.
Granted, that can be a hard thing for any noise cancelling headphones to really get perfect, but it seems like the 185 earbuds could be a little better at this.
Durability
The design and build quality of the components looks very good.
The gold gunmetal-finished aluminum earbuds look very clean and solid.
Cable strain relief and connector quality is equally impressive. It's hard to find anything physically wrong with this design.
Comfort
These might be some of the most comfortable earbuds you put in your ears.
The Huawei AM185 are very light, and fit nice and shallow in the ear.
The open case and driver design means that you don't need to fight to achieve a tight seal like you do to maximize sound quality with other closed earbud styles.
You really could wear these earbuds for hours with minimal discomfort from pressure points.
Three extra eartip sizes are provided to help maximize the fit and comfort experience.
Features
Huawei seems to have taken a cue from Apple when designing the AM185 because everything from the sleek design lines to the packaging conveys a sense of quality.
The earbuds and ANC unit are shipped in a nice box with minimal instructions.
A separate (and equally well styled) USB to 3.5mm charging adapter is included.
While the ANC unit can be recharged and powered from a compatible Huawei mobile device, it is best if you keep track of the charging adapter and don't lose it!
It should be noted that the in-line volume control does not work with iPhones.
A small cloth pouch is included as a carrying case. It looks nice, but it is very basic so you may want a better case if you use these for travel.
These earbuds can be worn with cables up over the ears or down, but microphonic noise is greatly reduced when using the included adjustable ear loop guides.
Sound
The overall sound quality is where the Huawei AM185 really shine.
Bass is very full and rich, without being overdriven and pumping.
The mid range is well represented and full of great presence, but not so much that it sounds muddy or heavy.
High frequency response may be lacking the slightest bit of detail, but as a rule it is very crisp, clear, and balanced with the rest of the sound.
The soundstage is very wide and deep, providing a rich listening experience.
The dual driver technology features one dynamic driver and one balanced armature driver in each ear that delivers the high quality audio.
Since these earbuds have an unsealed case and driver design, there is some sound bleed from the earbuds. They might not be great for quite office environments.
While it's true the Huawei AM185 noise cancelling earbuds are not the top rated for ANC, they deliver solid value for the audio quality and good ANC benefits.
If you want gold colored earbuds that are super comfortable and sound great, these are definitely worth trying out!
---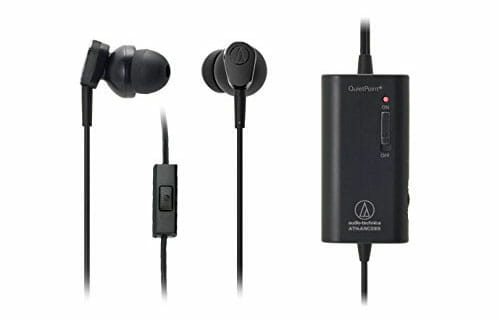 Pros
Great value and performance
Up to 60 hours listening time
Talkback mic included with this model
Good passive noise isolation
Better sound quality than previous model
Cons
Awkward cable length and control box location
Some minor control issue with iPhones
Audio-Technica ups its game with the latest set of ATH-ANC33iS noise cancelling earbuds.
There are remarkable improvements in audio quality and dependable ANC functionality at a very reasonable price.
Noise Cancelling
One thing that sets these Audio-Technica earbuds apart from other similar brands is that the passive noise isolation is actually pretty good.
The foam Comply eartips provide a reasonable seal that blocks out some ambient sound, then the active noise cancelling technology takes over.
ANC performance is pretty good, effectively cancelling out most low-end rumble and even some wind noise.
The ATH-ANC33iS isn't going to outperform some other brands like Bose, but the price and respectable performance in this category is a really good value.
Durability
This set of earbuds uses lightweight plastic that is good quality and holds up well for most listener requirements.
The biggest complaint about the design of the ATH-ANC33iS is with the cable length and the control box being placed in the middle between the audio plug and the earbuds.
While this design style is common, it seems that the Audio-Technica implementation of this makes a lot of users get creative with how to best position the control box.
How does this affect durability? Depending on where you clip the box or coil the cables, you could start to weaken the strain relief on the control box or kink/damage the excess audio cables.
Comfort
Three different sizes of foam Comply eartips allow for a comfortable fit that can be sustained for several hours.
The cable exit design allows for these to be worn with cables down, but you could also route the cable over the top of the ear if you needs a more secure fit.
Features
Audio-Technica made several improvements to the ATH-ANC33iS that make it worth the upgrade from the previous ATH-ANC23 model.
This new model features larger audio drivers, a slightly longer cable, silver highlights on the earbuds, and a talkback mic for making phone calls.
With all of the great upgrades, there is one minor downgrade: the carrying pouch with the new model is a simple cloth pouch instead of a zippered case.
The ANC controller is powered by a single AAA battery, which provides up to 60 hours of listening time.
While the earbuds are lightweight, the need to use an AAA battery in the controller makes the overall assembly a little heavier than some ANC earbuds, but it's not bad.
A single remote button is also included for controlling smart phone functions (play/pause/call).
The volume control located on the controller does not control your phone or playback device.
The talkback mic quality is good, making this a nice upgrade compared to some other ANC earbuds.
Sound
The larger 13mm drivers really do make a noticeable difference in sound quality when comparing the new ATH-ANC33iS with the older ANC23 model.
While the bass isn't going to overwhelm you, it isn't too accented like a lot of other brands tend to do with their earbuds.
The mids are strong and the highs maintain a pleasing balance with the overall frequency response.
Astute listeners may notice a slight hiss or circuit noise when the active noise cancelling option is turned on, but it fades into the background easily with any music playing.
Some earbuds have amazing sound but poor ANC. Some earbuds have great ANC but poor sound. The ATH-ANC33iS provides a very solid combination of both technologies.
For the price and the quality, these Audio-Technica noise cancelling earbuds are definitely a strong contender in the "best value" category.
---
In our opinion, these are the best value for money noise cancelling earbuds right now, period.
Audio-Technica ATH-ANC23 are one of the most popular noise cancelling earbuds…
…and not without a reason.
PROS
Very good noise cancelling, up to 95%
Good battery life up to 60h (AAA)
Well built
Affordable
Best value for money in noise cancelling earbuds
High quality sound, slightly emphasized mids
CONS
For the price, you can't expect more
For under $100 you're getting durable, noise cancelling earbuds with a high-quality sound that is better than many $200+ ANC (active noise cancelling) earbuds.
Noise Cancellation
According to Audio-Technica, these earbuds cancel up to 90% of noise. Real life effectiveness confirms this.
These have one of the best noise cancelling effectiveness that can compare even to Bose QuietComfort 20 and Phiaton earbuds.
This says a lot.
Put them on, turn on the noise cancelling and enjoy the magical "disappearance" of all annoying noise. You can still hear people around you, but just enough to know if someone is calling you.
The battery life is great at around 60 hours with one AAA battery that's stored in the attached casing.
Having a changeable battery gives you a lot of flexibility. If it suddenly dies on you, you can easily replace it with a new one, no need to recharge.
Durability
Since these are Audio-Technica earbuds, build-quality is very good. They are made out of plastic, but the high-quality kind that doesn't break down in a few weeks.
On the other hand, don't use these for sports as you'll most likely have a problem with the noise cancelling "box" attached to the cable, plus sweat will probably kill these sooner than later.
Comfort
Audio-Technica ATH-ANC23 are lightweight IEMs with a bulky design. This doesn't make them uncomfortable, in fact once you find the proper size of ear tips these are as comfortable as any other in-ear monitors.
Because of low weight, earbuds don't pull down, so when they fall out, it's more of a coincidence.
Features
The earbuds don't have a microphone for taking calls since mics are integrated into earbuds themselves. You control noise cancelling, called QuietPoint, with controls on the "box". It is as simple as pressing a button and you get transferred to a more peaceful place.
Sound
This is where Audio-Technica are really good, especially considering the price.
These are one of the best sounding noise cancelling earbuds. They are rather midcentric, but only to a small degree. The treble is mostly clean but can be a bit harsh at times. The lows have good extension and quite a lot of punch for earbuds.
Soundstage is better than with other ANC buds, so if you care about having that spacious sound, you're going to like these.
At the same time, you can't expect perfect audiophile sound, but it's quite close.
If you want the best bang for your buck in noise cancelling earbuds, Audio-Technica ATH-ANC23 are your best choice.
---

Best bass noise cancelling earbuds

If you're looking for a great value for money noise cancelling earbuds with strong bass look no further.
Linner NC50 earbuds have above-average noise cancellation, maybe not as good as Bose but very effective, especially considering the price.
Take them on the plane, turn on the ANC and some music on and you'll forget you're flying on a plane. Since they're smaller than over-ear headphones this makes them more portable.
Bluetooth connectivity is stable and works well. You also get a good battery life of 9 hours on full charge.
The comfort doesn't disappoint either. The behind-the-neck fit is comfy since these are lightweight and stick in the ears well.
With IPX4 water protection rating, you can use them in rain or even for sports without worry.
The sound has a strong emphasis on bass which makes these great for all bassheads out there.
All in all, Linner NC50 are made even sweeter with the price of around $50 which is very affordable for noise cancelling earbuds.
Buy on Amazon
---
Before the review, you have to know that Sony MDR NC31E are only compatible with Sony devices that support noise cancelling technology, like Xperia smartphones and tablets (Z2, Z3, Z4, Z5…).
PROS
Noise cancelling works better than average
No "box" attached to the cables since NC is processed by connected device
Needs no battery
Affordable
Unique design of noise cancelling earbuds
Decent to good sound quality with NC on
CONS
Only work with Sony Xperia devices (crucial)
Should make them more useful for non-Sony devices
You can also use these with any device supporting 5 pole 3.5mm output, but noise cancelling won't work because it needs the on-board noise circuitry that only Sony devices have.
If you're not using one of these Sony devices, it would be better to look at some other noise cancelling in-ear earbuds.
On the other hand, with an Xperia device, these earbuds work very well.
Noise Cancellation
According to Sony, these have up to 98% of noise cancelling.
This is more than any other competitive models, though we still think Bose QuietComfort 20 have a clear advantage in this regard.
With a good seal you should get a much cleaner and quieter sound, generally, noise cancelling in NC31EM works better than average (just with compatible Xperia devices).
The great thing about Sony MDR NC31E is that they have no additional "box" with the noise cancelling circuitry like other ANC (active noise cancelling) headphones.
This makes them more portable as you don't have to worry where to put the box, which is more of a nuisance than anything else.
Everything is taken care of by your connected Sony device, including all the controls. Turning NC on or off takes just a few taps.
They also give you the option of adjusting the noise cancelling depending on where you are, you have the option of flight mode, bus mode and office mode. These work well, but only use them when appropriate.
Additionally, you don't have to worry about the battery life, as these have none. Just plug-in and play.
Durability
The earbuds are made out of plastic with decent, rubberized, uneven length cable that is prone to tangling (left side is shorted than right side). The build quality is good, like most Sony products, but nothing special.
You have to understand these are "lower-end" noise cancelling earbuds that cost under $100 so you can't expect top-notch durability.
If you plan on using these occasionally, for traveling like most people, then durability won't be an issue. Just don't expect to use them for very long if you make these your main, everyday use, earbuds. Check the most durable earbud models.
Comfort
When it comes to the fit and comfort Sony MDR NC31E aren't bad either. The changeable ear tips play a crucial role in comfort. You can easily replace them with foam Comply tips if you want better comfort.
They are comfortable enough for in-ear monitors, but can't exactly compare to the most comfortable IEM models.
Features
The noise cancelling works because the microphones are built-in the earbuds themselves and the actual noise cancelling wave producing is handled by the connected Xperia device.
There are no earbuds like these on the market right now and if you use Sony devices you can't go wrong with these.
Sound
The sound quality is pretty good. It's more of a balanced sound, definitely not bass heavy. It's what you would expect from $50 earbuds.
Can't compare to audiophile headphones and at the same time produce better sound than most $20 earbuds.
You shouldn't expect over the top sound quality since these are noise cancelling headphones after all, but it's good enough to enjoy some music during a plane flight.
All in all, if you're looking for affordable, noise cancelling earbuds and use Sony Xperia devices, the MDR NC31E are a very good choice.
---
For a budget option of active noise cancelling earbuds these are the best. Now keep in mind these are very cheap compared to other NC earbuds so don't compare them. You won't get the same NC technology.
PROS
Very cheap price
Quite comfortable and durable design
Effective noise cancellation for the price
Great value for money overall
CONS
Can't compare to higher-end models
What's in the box?
TaoTronics noise cancelling wired earbuds (model:TT-EP002)
3 pairs of silicone eartips
2 pairs of ear hooks
Short Micro-USB charging cable
Airline adapter
Soft carrying pouch
User manual
Noise Cancellation
The noise cancellation circuitry is installed in a small box which your earbuds connect to. On the box are all the switches which control ANC.
How effective is it?
Well for the price it's quite good, but don't expect to compare them to higher-end NC earbuds. Bose is still much better and the difference is paid in price.
Nonetheless for such a cheap price these noise cancelling earbuds perform rather well. You will get a noticeable reduction in outside noise, especially the lower ranges.
TaoTronics reports up to 25dB noise reduction but we all know this greatly depends at what frequencies this is measured. For the price, it does what it promises.
Since noise cancelling is very useful for airplane travel you also get an airplane adapter as an accessory.
The battery holds about 15 hours of playtime per full charge. This depends on the mode used and volume you listen to but most users will get about 15h out of it.
With "monitoring mode" you can control how much noise gets let through which might be useful for hearing a flight attendant or other people around when needed.
Durability
Build-quality isn't bad either. The casing is made out of aluminum and quality plastics. The weak points have some strain relief but the cable is rather average. Plain rubbery cables with an I 3.5mm plug at the end.
These noise cancelling TaoTronics earbuds aren't made for sports, they're not sweat-proof so don't use them for sports.
For runners, here are best earbuds for running in case you want more sports oriented IEMs.
Comfort
Comfort is pretty good as well. While these are a bit heavier in-ear earbuds since they have noise cancelling you'll get used to them quickly. The NC box isn't too heavy and you'll soon forget it's there.
The silicone eartips offer average comfort which means you can wear them for hours on end without irritation.  But Bose earbuds still have an advantage over them.
If you replace the original eartips with some foam premium ones, you'll get improved comfort.
Features
Together with noise cancelling these earbuds offer making and accepting calls as well. There's an inline microphone and remote control for volume, song selection, play/pause and accepting/rejecting calls.
The noise cancelling buttons are all on the NC box and not on the remote.
Carrying pouch is very soft so it doesn't offer a lot of protection but it's better than nothing.
The in-line microphone also has noise cancelling so your calls are slightly clearer though you won't notice a big difference.
Sound
When it comes to sound quality it's what you'd expect from a cheap NC model.
It's nothing special but more than good enough to justify the price.
Since noise cancelling is the main feature of these earbuds sound was less focused on.
It's slightly bass emphasized which might be to the liking of the general public. You can find the best basshead earbuds here.
For an audiophile though, these aren't really comparable since none of the ranges come close to the audiophile standard. The highs aren't clear and detailed enough, mids are hidden and bass is muddy would be a short summary of an expert.
Nonetheless, these are much better than your standard airplane earbuds you get for free. As long as you don't expect sonic fidelity, (and you shouldn't since these are so cheap) you will be more than satisfied with the sound as well.
Understand these are cheap and you'll be very happy with them.
Overall, if you're looking for a cheap way to get rid of noise with ANC in a small package, these TaoTronics earbuds are the best budget pick right now.
---
You can find great cheap earbuds here.
Or cheap over-ear & on-ear headphones.
Noise Cancelling vs Noise Isolation – Is Noise Cancelling Better?
There is a lot of misconception about noise cancelling and noise isolation. Here we'll explain the difference.
Noise Cancelling
Noise cancelling also known as active noise cancellation is a powered system that requires a microphone and a battery to function.
The microphone picks up the surrounding noise and sends the opposite frequency to the headphones to negate the unwanted noise.
This works nicely for constant, low frequency sounds like the constant engine noise.
When active noise cancelling is on it feels like you're in a quieter place, but it does not cancel out all noise.
The sound of human voices, loud music and every other, non-constant frequencies won't be cancelled out and you'll still hear them.
Usually the combination of active noise cancellation and passive noise isolation offers the best results.
Noise Isolation
Passive noise isolation is a more basic concept, but very effective nonetheless. It uses no batteries or microphone, just simple noise blocking by isolation.
For over-ear headphones the use of tight fitting ear pads plays a crucial role in blocking out all external noise. For in-ear monitors, using double or triple flanged ear tips usually gives the best results.
You can find great noise isolating earbuds here.
Good noise isolating headphones will block up to 37 db of noise which means, complete isolation from normal conversation volume, especially once you play some music.
Passive noise isolation blocks all outside sounds, from neighbors to loud kids. This makes them very useful when you just want to have some peace and quiet without being bothered by the outside world.
On the other hand, complete sound isolation can be dangerous in public places, like walking on the street when it's good to know what is going on around you.
What Can You Expect From Noise Cancelling Headphones?
Noise cancelling headphones will get rid of most background noise without cancelling higher frequency sounds like human voices and street traffic.
Once you press the button to active noise cancelling, part of the background sounds will just disappear, making the illusion of a quieter environment.
Noise cancelling headphones are best for traveling since you want some quiet time, but at the same time hear any important information regarding your flight, train schedule or just hearing an approaching car on the street.
What Does Active Noise Cancelling Up to 95% Actually Mean?
Here's an interesting fact.
All ANC (active noise cancelling) ratings represent a measurement at best possible conditions.
Usually, the effectiveness of noise cancelling is measured at specific, low frequency and lower volume conditions, since this is where ANC is most effective.
It doesn't mean active noise cancelling headphones with 95% rated effectiveness will cancel out 95% of background noise. They will cancel various frequencies at different levels.
Take the ANC ratings with a grain of salt as these don't represent the exact behavior and effectiveness of the noise cancelling technology.
What Are Your Favorite Noise Cancelling Earbuds?
If you have great active noise cancelling earbuds that you want the world to know about and we haven't reviewed them on this page, please let us know.
You can either contact us through the website or just leave a comment below.
Tell us why you think your favorite model is better so we can compare them to other NC models.
To get future updates, like the page on social media or subscribe to get updates.
Comments