Sports
8 Best Workout Headphones in 2020
Need robust, sweatproof sport headphones that don't fall out? Find the best workout headphones for sports activities.
Comparison: Best Workout Headphones
There are many headphones for sports available on the market right now, but only a good dozen made the top list. We've scoured all the options and made the selection.
The best workout headphones here are picked based on:
stability of fit for sports
battery life and Bluetooth technology
build-quality
sweat and water protection
sound quality
noise isolation
Find the best-rated and most popular headphones for working out below.
Hone down your search:
Best waterproof Bluetooth earbuds
Best Workout Earbuds
Small earbuds are the most popular choice when it comes to sports. Because of lighter design and better noise isolation, most people choose them as the first choice.
If you have an iPhone X or another phone without the 3.5mm support, you don't have any other option. You need Bluetooth headphones, and wireless earbuds are the best in this class.
---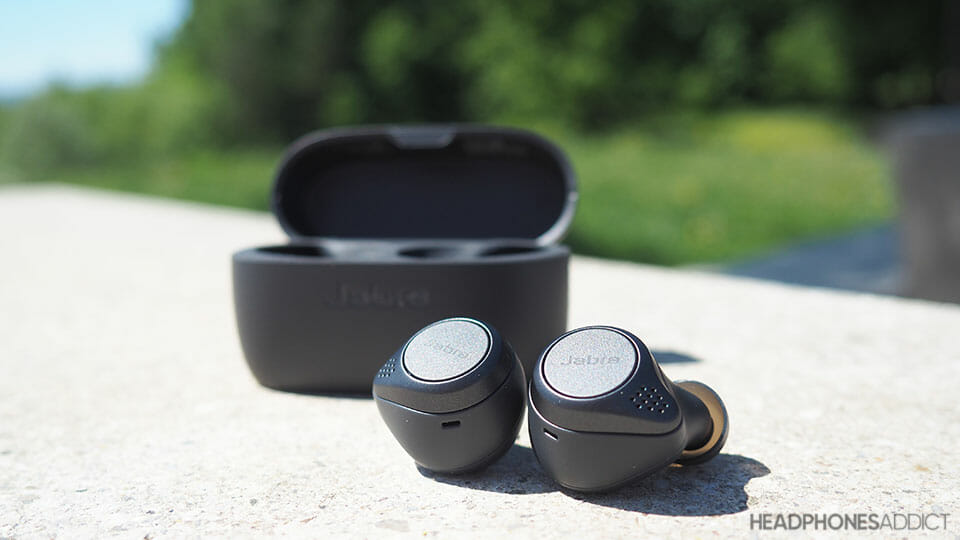 Jabra Elite Active 75t are the best true wireless earbuds for working out (for most people).
Connection: Bluetooth 5.0
Battery life: Over 7 hours (20h in the case)
Water-resistant: IP57 (IPX7), waterproof
Type: Truly wireless
Why Buy These?
If you're looking for the best of the best, then Jabra Elite Active 75t fit the needs of all sportspeople.
With a super stable fit, you don't have to worry about the earbuds falling out. You can use them for working out, using the treadmill, or even gymnastics.
The HearThrough mode offers versatility for when you want to block or hear your surroundings.
And to make sure you never run out of music during workouts, a 7-battery life provides plenty of juice for even the most extreme athletes.
To protect against sweat, rain, and dust, IP57 rated protection keeps them safe even if you dip them underwater or use plenty of chalk when wall climbing. The Jabra's survive all of it.
To top it all off, a 4-microphone system provides high quality calls on the go with superb built-in controls.
The Bad
You have to pay a premium price of around $200. Tiny soundstage.
The Sound
As is usual for workout headphones, the sound is bass emphasized. Still, you have the option of full equalization with the Jabra Sound+ app.
The sound quality is perfect for an avid athlete who likes stronger bass for extra motivation but also works for those who prefer a calmer sound signature.
If you want the most versatile sport earbuds with the latest technology on the market, get yourself the Jabra Elite Active 75t. For slightly worse specs and lower price, Jabra Elite 75t are still a great pick.
Check the Jabra Elite Active 75t review.
---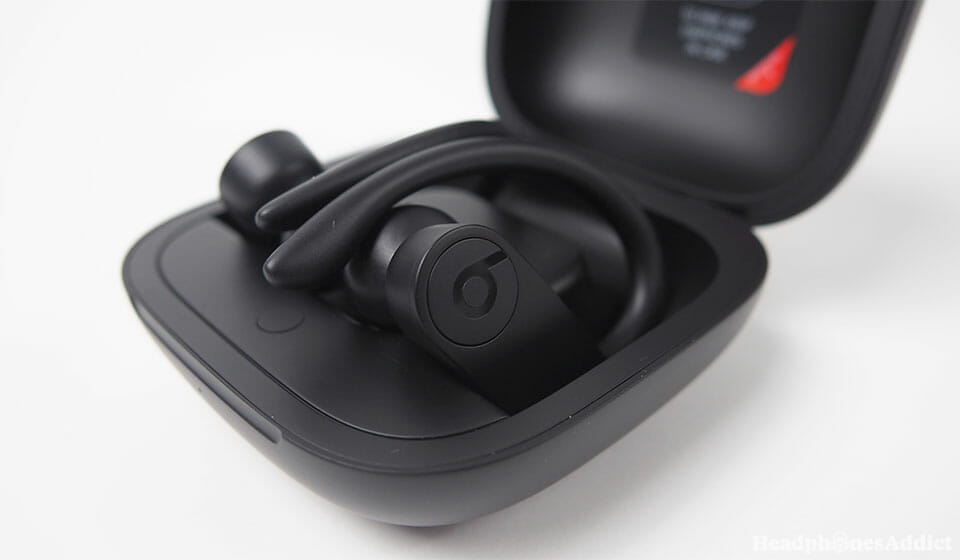 Beats PowerBeats Pro are arguably the most stable true wireless headphones for sports, plus they come with strong bass.
Connection: Bluetooth 5.0 + Apple H1 chip
Battery life: Up to 9 hours (24h in the case)
Water-resistant: Sweatproof, IPX4
Type: Truly Wireless
Why Buy These?
If you like your music bassy and want to work out in style then these Beats PowerBeats Pro are for you.
The fit is amazingly stable for all kinds of exercise, the battery life is best-in-category, and high-quality materials with IPX4 water protection, make these a fantastic choice.
Auto on/off feature with physical built-in volume controls and multifunction button enable you to make calls or give voice commands.
It's a great pair of true wireless earbuds with sports in mind and the latest Bluetooth 5.0.
The Bad
They can get slightly uncomfortable for people with smaller ears.
The Sound
Beats is known for strong bass and PowerBeats Pro are no different. The bass and highs are boosted to give your music more rhythm and have you working harder.
Plus they've taken good care of muddiness and harsh treble that's hard to spot. These sound the best we've seen from Beats earbuds.
For the best bass in Bluetooth workout headphones that are suitable for all kinds of working out, get the Beats PowerBeats Pro.
Get more info in PowerBeats Pro review.
---
More: Find out the top noise-cancelling earbuds here.
---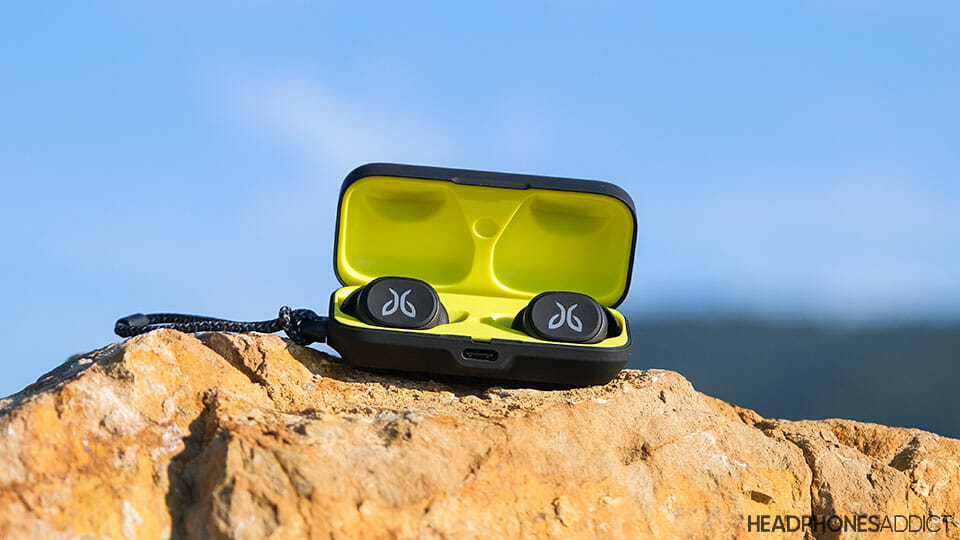 Premium-looking truly wireless headphones with extremely robust, water-resistant construction, and engaging audio performance.
Connection: Bluetooth 5.0
Battery life: Up to 6 hours (10h in the case)
Water-resistant: Waterproof, IPX7
Type: Truly wireless
Why Buy These?
They fit in your ear very securely. You can choose between different ear fin sizes to ensure optimal stability. Since ear tips are too big to go into the ear canal, they rest in front of it. That provides excellent comfort since you don't feel any pressure during usage.
Sports earbuds need to be water-resistant. Fear not, since Jaybird Vista boast an IPX7 rating, with an additional MIL-STD-810G military standard. That makes them both completely water-resistant and shockproof.
The battery duration is quite decent, with 6 hours on a single charge and 10 hours inside the charging case. The lack of battery correlates to the case's size, which is relatively small and can fit most pockets with ease.
The Bad
Mediocre call quality.
The Sound
Punchy and energetic, regardless of how you tweak it inside the app's EQ. They're quite detailed and spacious, too. You really can't go wrong with these.
Jaybird Vista are a great pair of earbuds with lots of customization, durable construction, great sound quality, and stable fit. They should be on top of your shopping list.
Check our full Jaybird Vista review.
---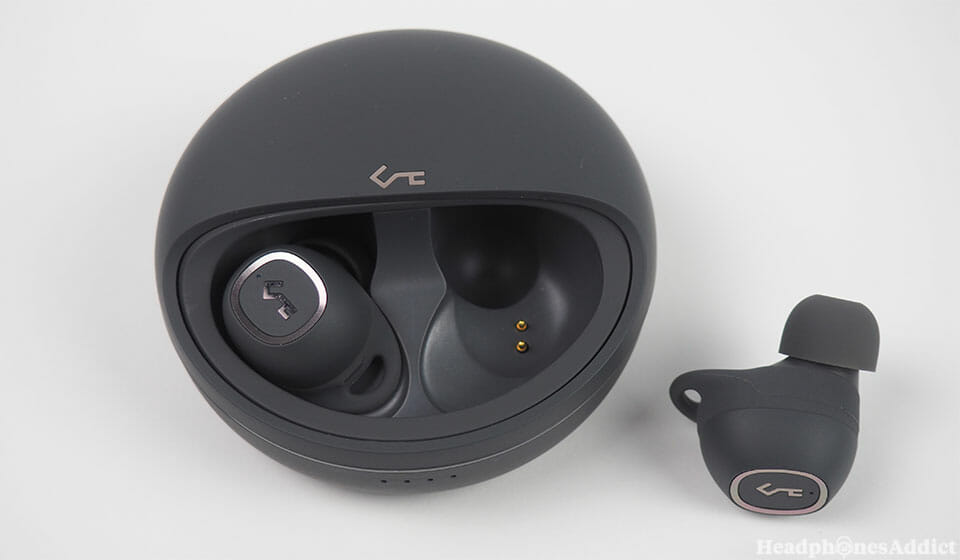 Great sports true wireless buds that compare to higher-end models for less money.
Full Aukey Key Series T10 review.
Connection: Bluetooth
Battery life: Up to 7 hours (24h in the case)
Water-resistant: Waterproof, IPX5
Type: Truly wireless
Why Buy These?
If you're looking for true wireless headphones with the latest technology and features, but don't want to pay a premium price, the Aukey T10 are the best choice around $100.
These wireless buds come with Bluetooth 5.0 and a strong connection, around 6-7 hours of battery life per charge, or 24h in the charging case, plus a quick charging capability that makes these ready in no time.
To protect against liquids, they have IPX5 water-resistant rating, fit well and comfortably in the ears, and offer dependable touch controls.
The Bad
Touch controls need some getting used to.
The Sound
Sound is balanced, so it's suitable for all music genres. The treble is clear and detailed with vibrant vocals and rumbling bass. But bass lovers should know the lows aren't as strong as a lot of them prefer.
For the best workout true wireless earbuds around $100, check out the Aukey T10 that come with a modern design and latest technology.
Read the full Aukey T10 review.

---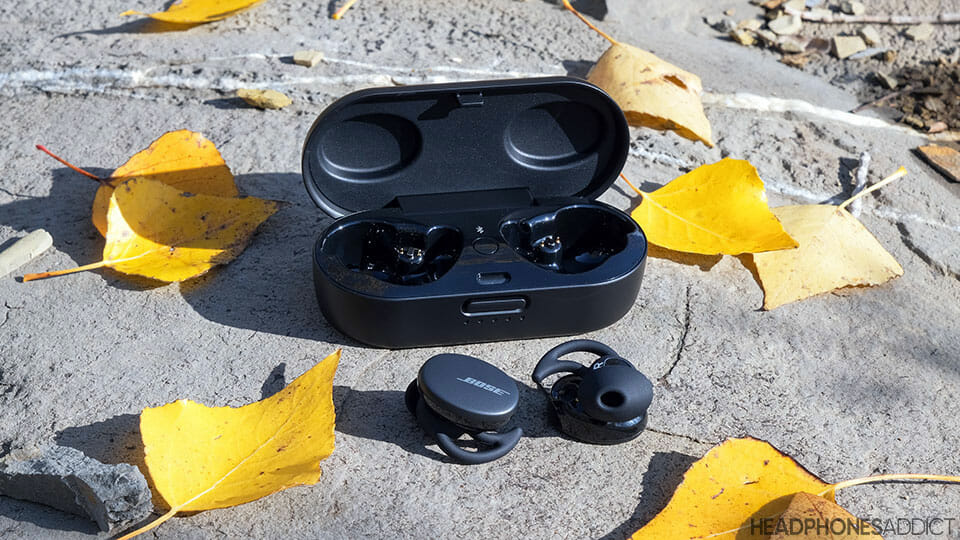 A successor to the popular Bose SoundSport Free Bluetooth earbuds with exceptional comfort and fit, great sound, and sweatproof housing.
Connection: Bluetooth
Battery life: Up to 5 hours (10h in the case)
Water-resistant: Sweat-resistant, IPX4
Type: Truly wireless
Why Buy These?
Even though Bose Sport Earbuds appear bulky, they fit securely in your ears without creating pressure points. They're using ear gels, a combination of tips and fins, that only differ in fin length. The latter latches into your ear and prevents earbuds from moving around.
Regarding ear tips, they rest gently in front of the ear canal, providing excellent comfort for long listening sessions. Despite that, you never feel like earbuds are about to fall out during workouts. These have an IPX4 rating, which should keep the sweat away from the internals.
Their battery duration is nothing to rave about, although they will last you through a lengthy gym visit. You can expect around 5 hours of playtime, with another 10 hours of battery life stored in the charging case.
The Bad
The mobile app lacks meaningful features.
The Sound
It's on the bassier side, and you can't change it, but it's pretty great for listening to music. The bass shows excellent control and punch without skipping a beat, whereas the mids and highs remain slightly subdued yet clean.
Bose Sport Earbuds offer a pretty well-rounded package.
Read the full Bose Sport Earbuds review
---
More headphones under $100:
The best of ovn-ear and over-ear headphones (under 100)
Excellent in-ear headphones under $100
---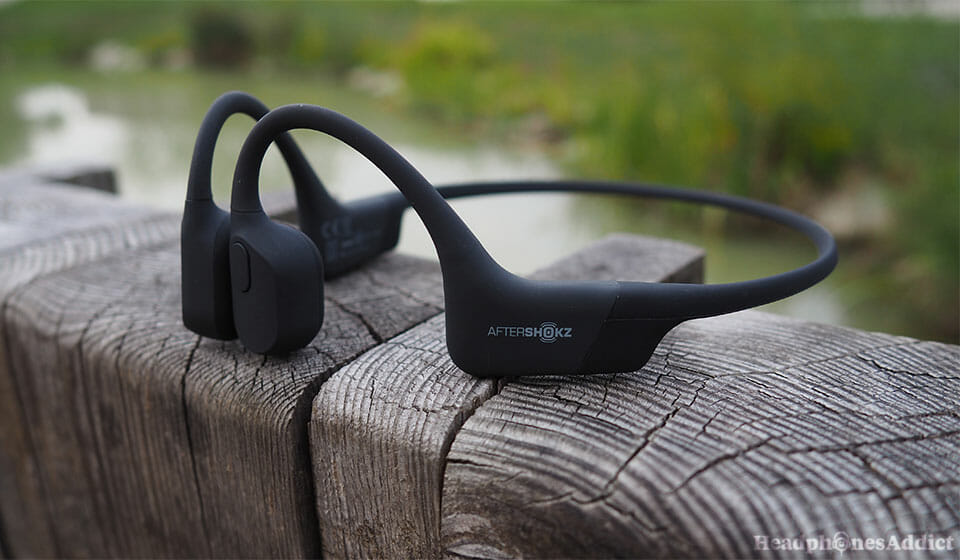 Best bone conduction headphones with open-air design, fanastic for outside sports.
AfterShokz Aeropex bone-conducting headphones have reliable Bluetooth functionality and keep your ears free during an exercise.
Connection: Bluetooth 5.0
Battery life: Up to 8 hours
Water-resistant: Waterproof, IP67
Type: Bone conduction
Why Buy These?
These headphones fit the bill for running headphones. They are very stable and stay in place around the head during rigorous exercises.
Whether you're doing cardio or lifting weights, they stay out of the way.
AfterShokz Aeropex are the lightest yet (30% lighter than the Air model).
Also, the Bluetooth is very reliable, and they keep connection even at around 30 ft (10m) without disruption.
A waterproof IP67 rating means they are water-resistant. Even the most sweaty gym sessions can be dealt with by the Aeropex.
The Bad
Some people don't like the feel of the vibrations on their temples. The bass is less pronounced due to bone conduction.
As they sit on the head, not in the ears, you will hear what is going on around you. In a busy gym, this might not be ideal.
If you're doing bench presses, you can't rest your head on it because the back headband is in the way.
The Sound
Undeniably, the sound has vastly improved compared to the AfterShokz Air (older model).
These headphones have boosted bass. Bone conduction headphones sometimes don't have the low-end power of standard headphones, but these are the best yet.
Otherwise, these sound pretty good for non-bassy music.
For high stability, and for being able to hear your surroundings while working out, consider the AfterShokz Aeropex as a top option.
Full AfterShokz Aeropex review.
---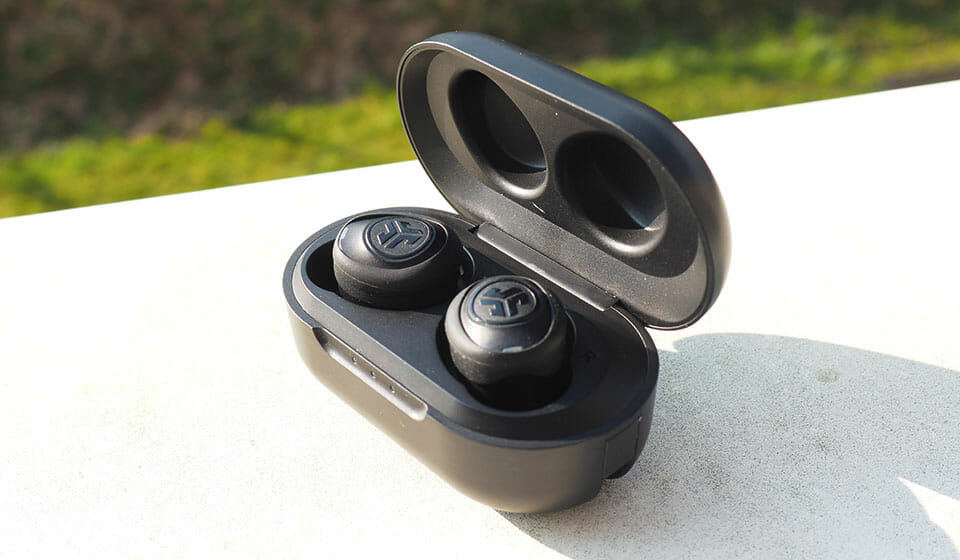 Jlab Jbuds Air are the best workout earbuds under $50.
Read the Jlab Jbuds Air review.
Connection: Bluetooth
Battery life: 5.5 hours
Water-resistant: Waterproof, IPX5
Type: Truly wireless
Why Buy These?
Jbuds Air are one of the cheapest truly wireless in-ear headphones for working out. The low price under $50, stable fit, and solid performance make them a top choice.
If you're always looking for cheap gear that is better than its price, then you should check the Jbuds.
Overall, the Bluetooth earbuds aren't anything special, but the low price and many features make them a great buy.
You get entirely water-resistant earbuds—rated as IPX5 (IP55)—with a stable and comfortable, fit due to lightweight and ergonomic design. They're suitable for all types of sports except swimming.
Additionally, the battery holds for solid 5 hours with 15 more hours in the charging case.
While 5 hours isn't fantastic it should last you more than a whole workout. Most people stay in the gym for around 1 hour.
The Bad
Can be uncomfortable for people with smaller ears. Physical controls make you irritate your ears.
The Sound
Sound quality is good for the price that you pay and comes with 3 different EQ presets (Jlab signature, balanced, and bass boost).
Its main preset is V-shaped with emphasis on treble and bass which makes them great for a fitness environment.
Unfortunately, there's no aptX support, so you have to do with SBC and AAC.
Overall, they are a great budget purchase for the gym that will save you money if you're willing to give up Hi-Fi sound.

Read the Jlab Jbuds Air review.
---
---
Best Workout Headphones (on-ear, over-ear)
In case in-ears aren't comfortable for you, take a look at on-ear and over-ear headphones for working out.
Made specifically for sports, you get all the features, durability, and a stable fit in a classic headphone design. Here are our best workout headphones picks.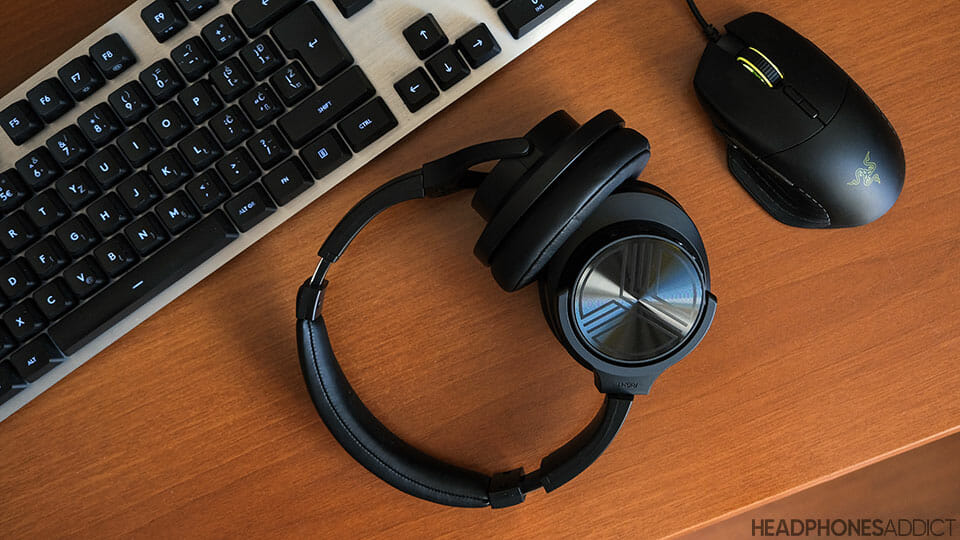 Full-sized gym headphones with active noise cancellation for all of you over-ear lovers. They offer great comfort, bassy sound, and have a sweatproof design.
Connection: Bluetooth & 3.5mm
Battery life: 35 hours
Water-resistance: Sweatproof, IPX4
Type: Over-ear
Why Buy These?
Their build quality feels nice, with a hard plastic body that has a soft, premium finish. The design is quite understated yet trendy, so they don't look weird on your head. Earcups go around your ears and create a snug fit that remains comfortable for hours.
Z2's come with active noise cancelling feature, although it's not quite on par with more expensive models. In practice, they do a good job blocking low-end humming noise but can't completely eliminate speech, which is reasonable at this price.
Apart from an IPX4 rating of sweat resistance, Treblab also included a hard carrying case and a carabiner for more secure transport. With up to 35 hours of runtime, the battery shouldn't be a problem.
The Bad
They are still rocking a micro-USB port for charging.
The Sound
Without noise canceling, it's quite bassy and warm, but it also lacks detail. With ANC, the sound signature becomes more balanced and detailed. However, the bass is almost completely gone.
Treblab Z2 are still a worthy pick for working out, with a comfortable fit and sweatproof design that is hard to come by in over-ear pair of headphones.
Read the full Treblab Z2 review.
---
Honorable Mentions
Origem HS-1 (Review) – Great cheap wireless earbuds with long battery and water protection but out of production.
Apple AirPods Pro (Review) – One of the best headphones in terms of noise-cancelling performance and user experience on iOS. There is also good sound quality and a very useful Transparency mode. (check price)
Bose SoundSport Wireless – Or SoundSport Pulse, slightly outdated Bluetooth earbuds that are still solid option for exercising. (check price)
Sony WF-SP800N – A nice pair of Sony earbuds that sound great and come with active noise cancellation. With 13-hour battery life and a secure fit, these are worthy of consideration. (check price)
What Sports Headphones to Avoid?
We see some big websites recommending Jlab Audio Epic2. We recommend against Jlab Audio Epic2 because of their poor durability. It seems they have a problem with sweat and moisture in general and die out pretty quickly. Avoid the 1st Jlab Audio Epic model as well.
Beats PowerBeats3 – Used to be our recommendation for Beats running headphones but ever since 2017 the durability has gotten worse.
Plantronics BackBeat FIT 300/305 – Might seem like a good option since the BackBeat 500 are first-rate, but they seem to have a build-quality issue.
Sennheiser CX Sport – These are the newer Bluetooth workout headphones from Sennheiser. In contrast to their positive reputation, this model seems to suffer from signal interruptions and is better to avoid.
---
More related guides:
How to Get Good Workout Headphones – Buyer's Guide
Most headphones are not suited for working out.
You need to look for specific features. Before buying, ask yourself these questions:
To learn why asking this is important check the explanations below.
How Will They Fit During a Workout?
Whether you're lifting weights, running, or exercising on fitness machines, you need your headphones to stay put.
There's nothing more annoying than constantly readjusting a bad-fitting pair of headphones.
You want to focus on your exercise in comfort and enjoy music without distractions.
For these reasons you need to know that:
Small earbuds (in-ear headphones) have the most stable fit for working out. They're lightweight, usually, come with stability ear-wings or ear hooks, and offer plenty of "staying power" even for the most intense sports.
Earbuds also come with a variety of ear tips.
The best are memory-foam tips which are comfier and more stable than silicone eartips. You can get them separately for most in-ears.
Here's more on how to improve the fit of earbuds.
The other options are:
On-ear and over-ear workout headphones, which offer superior comfort but less stable fit. These aren't suitable for fast exercise like sprinting due to higher weight (prone to fall off).
But many people use them for a slower activity like lifting weights.
Are They Water or Sweat-Resistant?
Sports headphones have to be resistant to moisture.
When you're pushing yourself, you'll be sweating heavily. And, when the sweat comes in contact with the headphone's electronics, it can damage it.
Also, you might get caught running in the rain or get splashed if you do water sports.
It's not uncommon that a bit of sweat kills a set of headphones forever.
That's why you should look for (at least) sweat-resistant or sweatproof headphones—even better if they have a certified IPX rating.
A higher IPX rating (from 1-9) means better water protection. In-depth IPX explanation here.
Generally, an electronic device needs at least an IPX4 rating to be sweatproof.
Sweat-resistant is < IPX4
Sweatproof is IPX4
Waterproof (or water-resistant) is IPX5 – IPX7
Fully waterproof IPX7+
Full water-protection or "waterproofness" starts at IPX7 and IPX8 ratings.
These headphones can be submerged in water up to 30ft (1m) but not further.
Can I swim with waterproof workout headphones?
You can, but there are limitations.
First, you need waterproof headphones with a minimum IPX7. Then if you have Bluetooth headphones, you can only swim with the head above water.
Furthermore, Bluetooth technology has a limited range (most around 33ft/10m) and stops working underwater.
Water is too dense for Bluetooth signal to travel through (rain is fine, but pools and lakes are not).
So if you're serious about swimming, get dedicated swimming headphones.
As for wired workout headphones, there aren't many fully waterproof plus you need a waterproof smartphone, and the wires will be in the way of swimming.
Can I shower with my workout headphones?
You can, but only if the water protection of your headphones is high enough.
We recommend waterproof headphones with at least IPX5 rating/water protection.
Any rating lower and you risk damaging them.
Also, Bluetooth works fine under the shower but not underwater in the bath.
Keep in mind, just because the manufacturer says the headphones are waterproof or sweatproof, it doesn't mean you can shower with them.
You need at least IPX5 (more is better) to shower comfortably. IPX explained here.
The problem is, not all companies reveal their IPX ratings. Bose, for example, won't give you the info.
In cases when you don't know it's better not to try it. Thankfully, we've made a guide on waterproof wireless headphones you can check out.
How Durable are They?
Build quality is an essential factor.
During workouts, you are moving fast, and you're more likely to hit and damage your headphones accidentally.
Perfect gym headphones have to sustain hits and bumps without suffering damage.
If you're a regular gym-goer—as most are—you'll be using your headphones quite a lot. Picking a well-built product that doesn't break after a couple of months will save you money in the long run.
It's tough to measure durability just by looking at headphones.
It's best to test them (waterproof test) and check for feedback from other users.
In this guide, we recommend only the better quality workout headphones that have lower rates of failure.
How Will I Connect Them, Wirelessly, or With Wires?

For working out, wireless Bluetooth headphones are the most popular. They offer a better overall experience.
It used to be a hard question. However, today, all the major headphone manufacturers make their flagships wireless.
When Bluetooth technology was in diapers, it was less reliable and more expensive. That's not the case today.
Here are the benefits and flaws of wireless workout headphones.
Benefits
You're free to roam around—in the Bluetooth range of roughly 30ft (10 m)
No wires to entangle and annoy you
All Bluetooth headphones support phone calls
Flaws
Must charge the battery (battery capacity lowers with age, increased failure rate)
More expensive on average—though you can still get them on the cheap
The freedom of not having any wires is a strong selling point.
You can put your iPhone or Android smartphone somewhere in the gym, connect it, and start working out.
If you're exercising outside, you can put your phone in the pocket and never have to worry about pulling on wires.
The only problem with Bluetooth headphones—now that audio quality isn't such a problem anymore, thanks to bit rate efficiency—is the battery.
It needs constant charging, it adds weight and is prone to deterioration. Thankfully, the new wireless in-ears can last around 8 hours and are filled up in under 2 hours with quick-charging.
If you don't mind charging the battery, wireless headphones are the way to go.
When to get wired workout headphones?
On the other hand, wired sports headphones are usually cheaper and more reliable.
Wires are a proven technology that works well, especially with improved tangle-free cords.
There's no need to think about charging the battery, only plug in and play. You do have to keep your music device in your pocket, but then again, you're probably used to it.
In case you aren't working out too intensely and have a 3.5mm audio device (many new smartphones don't have the AUX), then wired workout headphones are a good choice.
In the end, it comes to personal preference.
Overall, wireless headphones have become excellent. Thus they easily out-compete the wired competition.
Do I Want Good Noise Isolation or Better Awareness?
Passive noise isolation is great for when you don't want to be bothered by the ambient noise (like gym music, traffic noise, etc.).
Also, other people might hear your music, which might be embarrassing—if you're a Hannah Montana fan.
To block the maximum amount of background noise, check the best noise isolating headphones.
On the other hand, in situations like running in the city, good situational awareness is critical.
Being aware of the surroundings can save you from injury.
In this case, you should get open-back or semi-open headphones with little passive noise isolation.
Or use smaller tips for earbuds to let more air (and noise) in, but this will also diminish audio quality.
You can check the best running headphones here.
How is the Sound Quality?
Just because you'll use the headphones for exercise, doesn't mean you have to suffer lousy sound.
You want to enjoy your music without irritation. Most people prefer an emphasis on bass for exercising because it gives them rhythm and motivation.
In any case, most of the Bluetooth workout headphones in this article have a bass emphasized sound signature.
And many also come with an equalizer that makes it easy to change the sound to what you want (those at a higher price).
Check the reviews for more info.
What's the Minimum Battery Life I Need? (if wireless)
Wireless headphones come with a battery that needs to be charged.
But how long do you need it to last?
Your wireless workout headphones need to have enough power to get you through at least one workout—if not more.
The battery dying right in the middle of a exercise is irritating.
You should look for exercise headphones with at least 4-5 hours of battery duration (or more).
Better models can last up to 10 hours while the smaller, true wireless earbuds around 4 hours (don't go for less).
Earbuds vs. Headphones for Working Out
Which type of headphones is best for exercise?
We know a couple of types:
Earbuds/in-ear headphones (wireless and wired)
True wireless earbuds (wireless only)
On-ear headphones (wireless and wired, smaller than over-ears)
Over-the-ear headphones (wireless and wired, the biggest)
The best and most popular type is the earbud or earphone type.
They're small, lightweight, and offer the most stable fit and decent comfort.
You can choose from wired, wireless, and truly wireless earbuds.
Due to their small size, their battery capacity is lower.
On-ear and over-ear headphones are most popular with weightlifters.
Bigger headphones with earcups offer superior comfort. Many gym-goers prefer them but some also use them for jogging.
You can get wired and wireless over-ear headphones for working out that are sweatproof and have a decent fit.
In the end, it's a question of better comfort or fit, and it's up to you.
Check more guides:
Top passive noise isolating headphones.
The most rugged earbuds on the market.
---
Disclosure: We might receive affiliate compensation if you purchase products via links on this page. In spite of that we do our best to tell the truth about every product and don't favor any one brand or model.
Comments