Get great sound at an affordable price. Compare the best earbuds that you can get for under $100.
Comparison: Best Earbuds Under $100
Why pay top dollar when you don't have to spend a lot of money to get high-quality earbuds?
You can find better-value earbuds under $100 that sound better, are durable, and make for a perfect portable companion.
Check the in-ear monitors below to find the right ones for you.
What are the Best Earbuds under $100 for You?
To get the best value for money, go with wired earbuds. You get better sound quality for the price, but your phone needs to have a 3.5mm socket. In case you have one of the newer phones you'll have to use an adapter or switch to wireless.
Wireless earbuds are a solid alternative. While frequency response hasn't yet reached the oldschool wires, it's close enough. Plus, you get to move around freely which adds to the user experience (and you look cooler). True wireless earbuds have gotten cheaper, and you can get a decent pair under $100.
If you're an active user, you need at least IPX4 or more. Water resistance is crucial for sports and other activities. Liquids are the arch-enemy of electronics and can quickly end your earbuds. IPX4 protection makes them sweatproof, while IPX6 and 7 are waterproof.
Best Earbuds Under $100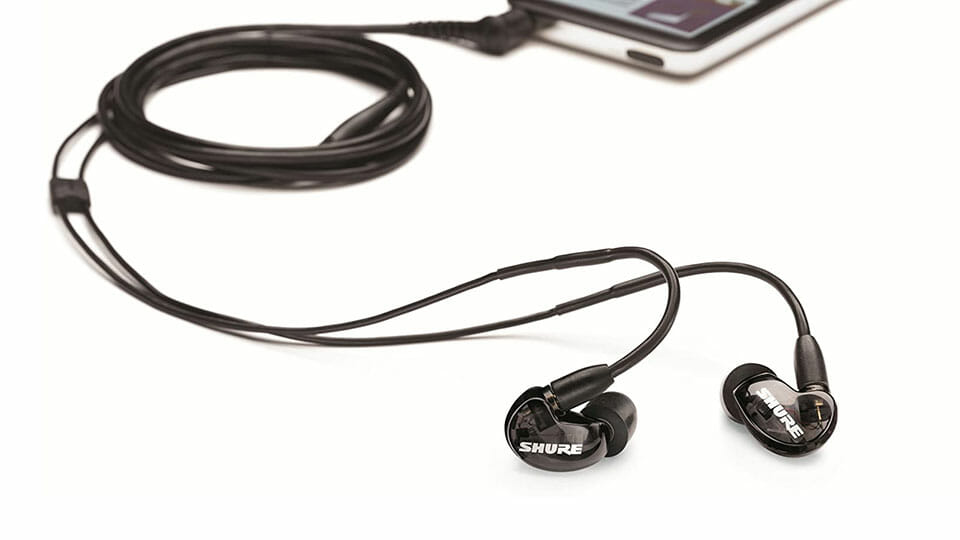 Shure SE215 are designed as professional-grade in-ear monitors. They truly deserve their top spot on the best earbuds under $100 list.
Type: In-ear
Connection: Wired, 3.5mm
Microphone & Controls: Optional
Why Buy These?
Shure makes high-quality audio products designed for use and abuse on and off the stage, so these earbuds are perfect for those in need of a robust headphone solution. Despite the bulky size of the earbud body, it stays in place very well once a proper fit is achieved.
The body and tip assembly of the earbuds are resistant to moisture and sweat, making them a good option for use when exercising. A detachable cable provides an extra layer of durability.
The Bad
Some users may find that the cable can easily disengage from the earbuds.
The Sound
The overall sound signature can be characterized as balanced, rich, and full. High frequencies are articulate, but not too sharp or piercing. Mids are precise and clear, without being tubby or muddy. And the lows sound warm, natural, and even.
Audiophiles listening to more expensive headphones may feel that this is an entry-level earbud. While it's true that the soundstage may not be as deep or wide as higher-end models, the Shure SE215 is exceptionally versatile and with great sound quality.
---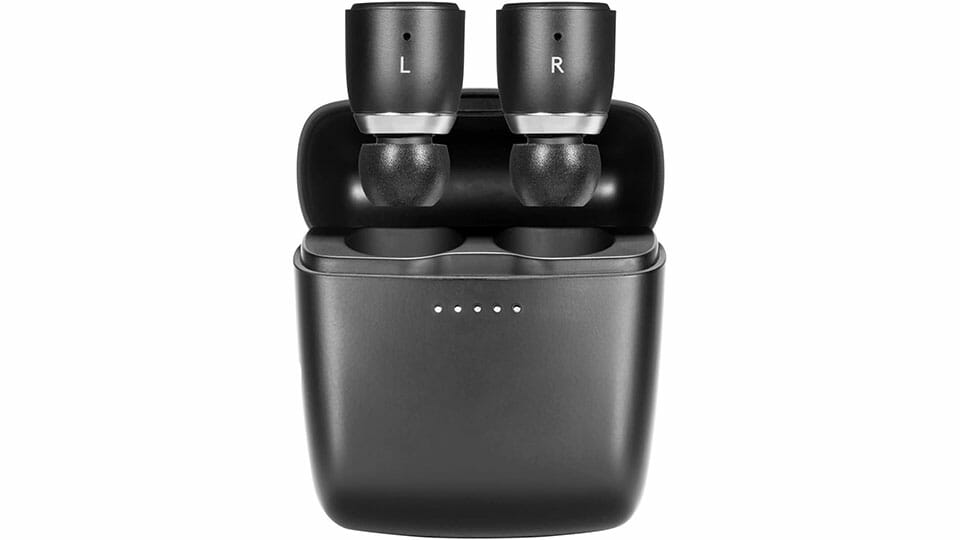 The Melomania 1 are the best true wireless earbuds under $100 for most people.
When a British audio company with a long tradition shows one of their first true wireless pair of earbuds, you know they must be good.
Type: In-ear
Connection: True wireless
Microphone & Controls: Yes
Why Buy These?
Melomania bullet-like housing not only makes them unique looking but also very comfortable to wear. There are no sharp edges that could poke into your ears, so you should be wearing them for hours without fatigue.
In terms of features, they come with IPX5 water-resistance, Bluetooth 5.0, and aptX/AAC audio codecs. The battery life is excellent, with up to 9 hours per charge and another 36 hours inside the charging case.
For better comfort and fit, there are foam tips already included in the box.
The Bad
Surprisingly the Melomania's have a physical button on each earbud instead of touch controls. This kind of button can be annoying because you continuously press the earbud into the ear canal.
The Sound
Small, 5.8mm graphene drivers do a fantastic job at reproducing your favorite tracks as faithfully as possible. They offer a balanced sound, that is very clean across the board, with good imaging capabilities.
Cambridge Audio Melomania 1 are a fantastic choice for an audiophile who wants to get the best true wireless sound quality in a $100 price range.
---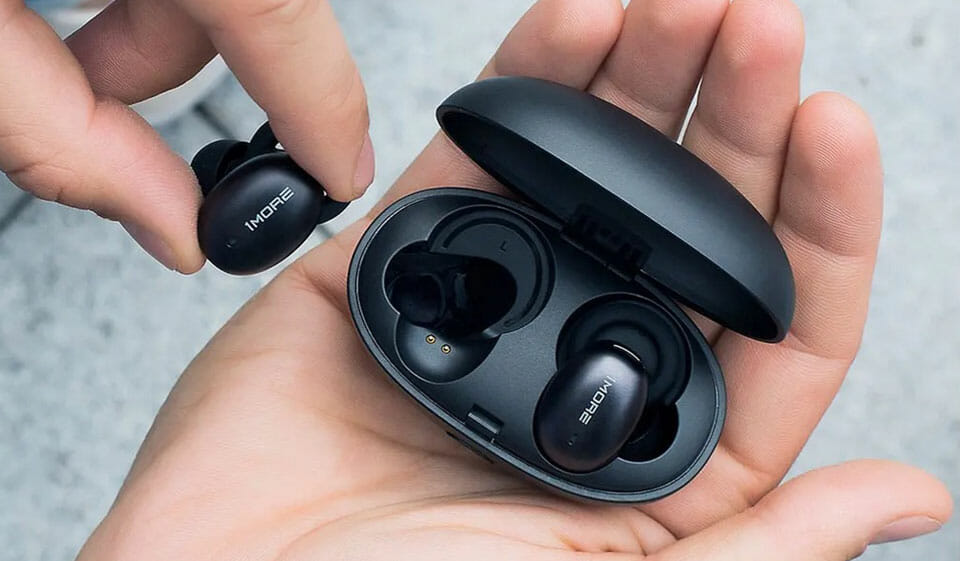 They nailed the name. Stylish's are indeed sleek true wireless earbuds, with long battery life, good sound quality, and comfortable fit.
Type: In-ear
Connection: True Wireless
Microphone & Controls: Yes
Why Buy These?
Sleek looking earbuds are designed to fit in your ears perfectly. Everything from the angled nozzles to the included ear fins proves excellent stability and comfort.
aptX audio codec gives you better audio quality and lag-free video watching. In terms of battery life, you're looking at 6.5 hours on a single charge, with an additional 17.5 hours from the charging case (24h battery life in total).
These wireless pair of earbuds was tuned by a grammy-winning sound engineer Luca Bignardi.
The Bad
Microphone quality is not that impressive.
The Sound
You can expect a bass-heavy sound coming out from these. Thankfully the low end does not mask the rest of the frequencies, so you're left with an overall punchy, warm presentation. This kind of signature might appeal to more active users, who need a bit of extra energy to help them through the workout.
1MORE Stylish true wireless earbuds are very lightweight and comfortable to wear, and can be an exciting choice for users who just can't find enough bass in other earbuds on the market.
---
Related
---
Funky name aside, this is the best earbud if you want to step up the game and try something better than what you are used to. Comfort, build quality, and Hi-Fi audio. You can get it all.
Type: In-ear
Connection: Wired, 3.5mm
Microphone & Controls: Yes
Why Buy These?
Don't let the shiny look fool you. Build quality on these is pretty good, with aluminum plates that add to the overall robust construction.
Because they're so small and comfortable, you can even wear them under a helmet or use them while sleeping. You can choose between 5 different ear tips to get the best fit.
They're equipped with built-in remote control for music and calls. Plus, you get a carrying case, a nice touch from Beyerdynamics.
The Bad
Lack of IP rating might turn off users who want to use them for sports.
The Sound
For the current asking price of under $100, the pair of earbuds can portray impressively balanced, full-bodied sound. Bass can be quite accurate, both in quality and quantity. Instrument and vocals are nice and clean. The same goes for the treble.
Beyerdynamics Soul BYRD are not the first choice for bass-heavy earbuds under $100. But audiophiles might be interested in their fairly natural and accurate performance.
---
If you are tired of cheap earbuds but don't want to pay big bucks for top-end quality, you should check out the Brainwavz M2.
Type: In-ear
Connection: Wired, 3.5mm
Microphone & Controls: No
Why Buy These?
The housing for the earbud is metal and plastic, and it holds up well to impact and wear. The pair of earbuds is good to go right out of the box, but you can customize your fit with a wide selection of included ear tips.
Construction of the Brainwavz M2 is high-quality. The 50-inch cable is one of the highlights: it has a good thickness and resists tangles.
These earbuds don't sit very deep in your ear, but they offer a good hold even during jogging or physical activity.
The Bad
Some users report the earbuds aren't very comfortable in their narrow ear canals.
The Sound
You get a decent amount of bass, but don't expect your hip-hop and electronic music to thump with these in your ears. The mids are better than the lows. They sound crisp and clear, and you do get a lot for the price when you consider the competition.
Overall, the Brainwavz M2 in-ear headphones offer a lot of value and excellent sound quality for the price.
---
Check the best earbuds under $50.
---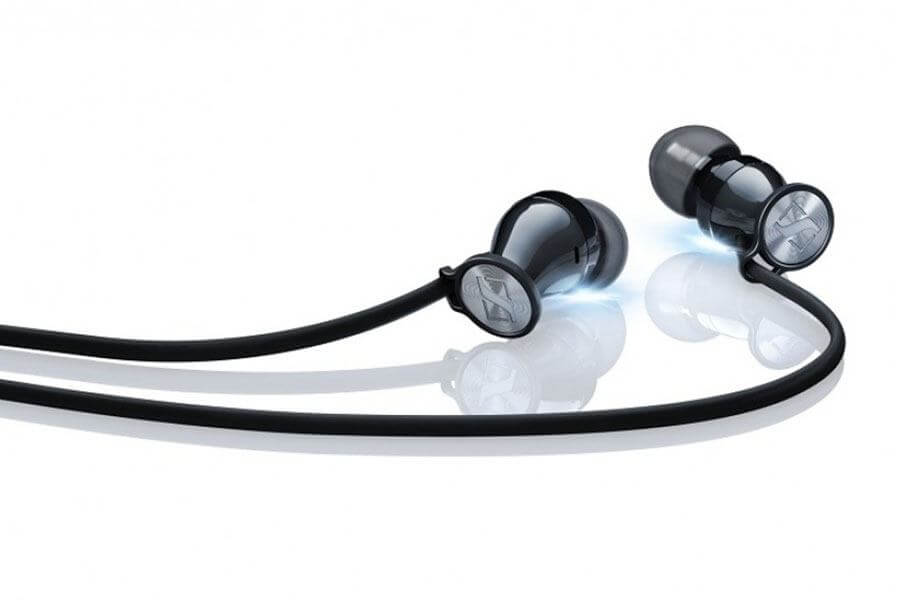 The Momentum In-Ear series delivers powerful bass in a lightweight and attractive package. These are one of the best thanks to the dependable and approachable sonic delivery.
Type: In-ear
Connection: Wired, 3.5mm
Microphone & Controls: Yes
Why Buy These?
This unique in-ear design from Sennheiser fits the ear very well and the lightweight construction is comfortable for long listening sessions.
The unique plastic housing design is lightweight, but it doesn't look or feel cheap. Stainless steel sound tubes exit the plastic earbud shell and hold up well when changing out eartips or cleaning.
Four sizes are silicone eartips are provided, but some users may benefit from trying foam or other styles of eartips.
The Bad
There is a noticeable cable noise (microphonics) when worn cables down without using the cinch.
The Sound
The frequency response of the Momentum In-Ear tends to follow a V-shaped frequency profile. Lows are delivered with a fast attack and a veritable punch. Mid tones can be perceived as lacking, especially with electric guitar-heavy rock tracks. Highs are reasonably well balanced and clear without injecting too much sibilance.
Users looking for a tasteful blend of style, a comfortable fit, and quality will want to check them out.
---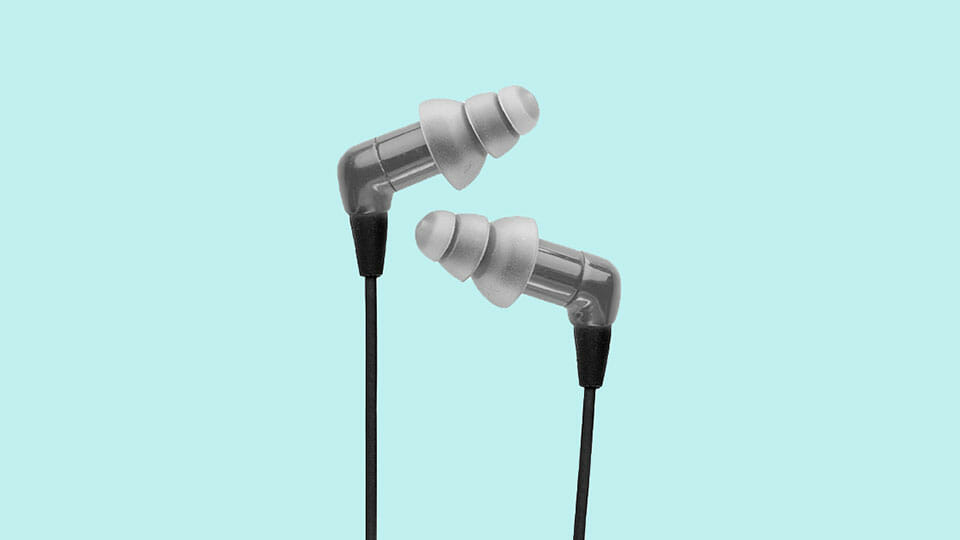 These are one of the best earbuds under $100 if you're looking for excellent passive noise isolation and an almost flat sound signature.
Type: In-ear
Connection: Wired, 3.5mm
Microphone & Controls: No
Why Buy These?
Pushing your earbuds deep into the ear canal might be weird at first, but that does block a lot of surrounding noise. This is why many musicians use Etymotic products on stage to monitor their performance.
See other noise isolating headphones.
If you don't like triple-flanged ear tips for deep insertion, you can also try the included foam tips. In both cases, the fit is superb, but be careful not to put them out of your ears too rapidly (deep fit builds the vacuum inside your ears).
MK5 are made entirely from plastic, and although they look a bit cheap, the construction is very solid.
The Bad
They are all-plastic, with not the best build quality.
The Sound
Etymotic products are known to lean more towards flat frequency response. However, the MK5 are slightly boosted in the bass to sound fuller, but only by a smidge. The rest of the frequencies are nicely balanced, without any piercing treble whatsoever, which provides an excellent listening experience.
Etymotic Research MK5 are a required taste in terms of looks and fit. But they do reward you with accurate sound and unbeaten noise isolation.
Honorable Mentions
Aukey Key Series T10 – true wireless earbuds for working out with water protection and stable fit. These have gotten awards for their unique and smart design. They are the best earbuds under $100 for workouts.
FiiO FH1 – wired in-ear monitors with an over-the-ear fit that produce amazing sound and come with detachable cables. But you need a 3.5mm output on your phone.
If You're Willing to Pay a Bit More: See the best wireless earbuds guide
What You Should Know About Earbuds under $100
What tier of earbuds are these?
While $100 isn't little money, you won't get a flagship earbuds either. These are mid-tier buds that excel at value for money, though you can expect more than from budget earbuds.
Passive noise isolation
Thanks to their in-ear fit, these have great passive noise isolation. Ambient noise overwhelms your music and makes it harder to listen to it (a fancy way to call it is auditory masking). With a proper seal, especially with memory-foam ear tips, you block more background and let in more music. Thus, dramatically improving the overall sound quality and lowering sound leakage.
You can get aftermarket memory-foam eartips for almost all earbuds. You just need to figure out what size fits them.
Do you need an amplifier or DAC?
You might be wondering if you need an amp to properly power your earbuds. You don't (in most cases). Since earbuds are made to work well at lower Ohm requirements, they are loud and clear with most smartphones.
It's true if you're an audiophile, you might notice a difference if you attach a high-end amp, but it won't dramatically improve the loudness or clarity. It's not worth carrying the amp in your pocket for a minuscule improvement.
---
Related:
Most bass-heavy earbuds right now.
Comments