If you want quality buds for less money, check the best in-ear headphones under $50 you can get today.
Compare the Best Earbuds under $50
Cheap in-ear headphones offer fantastic value for money but what if you want to spend a tiny bit more and still stay below $50? Help yourself with the list of the best earbuds under $50 you can get today.
Contrary to the perception you can get quality earbuds with high-end sound for less than 50 bucks—if you know where to look. It's always nice to buy yourself expensive headphones that satisfy your needs, but it's even better when you find a bargain that does the same for less money.
Check the earbuds below to find what you're looking for. Whether you want neutral or bass-heavy in-ear monitors—and everything in between—we have you covered.
Not what you're looking for?
Best Bluetooth earbuds under $50
The best cheap earbuds guide
The best in-ear headphones under $100
The Best In-Ear Headphones under $50
Here you can find the top earbuds in the $30 – $50 range that offer the most value regarding sound, build quality, and comfort. Not the cheapest headphones but still on the lower-end.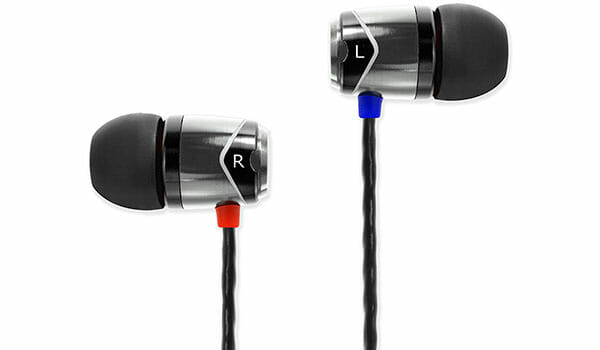 The Soundmagic E10 are the overall best earbuds under $50 right now.
Should You Buy These: If you want to get maximum sound quality (balanced signature) and a reliable product for less than $50, this is your top choice.
The Good
The sleek metal casing looks good and feels comfortable due to lightweight. Additionally, solid craftsmanship promises lengthy usability for all situations.
Add to this high audio quality with a balanced sound signature and impressive noise isolation, and you'll understand why these have been so popular. Not to mention, they cost under $40 which leaves you some budget to get better foam tips if you want.
The Bad
Bassheads will be disappointed in their lack of bass. If you're a bass lover, you should look for another model. Also, even though this is an under $50 model, it would be nice if it had a microphone and remote control which you don't get.
The Sound
Considering the price, Soundmagic E10 have one of the most enjoyable sounds out there. With a pleasant balance of treble, mids, and bass you will enjoy listening to all music genres.
The Verdict
For less than $50 with metal construction, lightweight design, and excellent sound, it makes the E10 a no-brainer.
Main Specs
Type: in-ear headphones
Connection: wired, 3.5mm
Microphone & Controls: no
---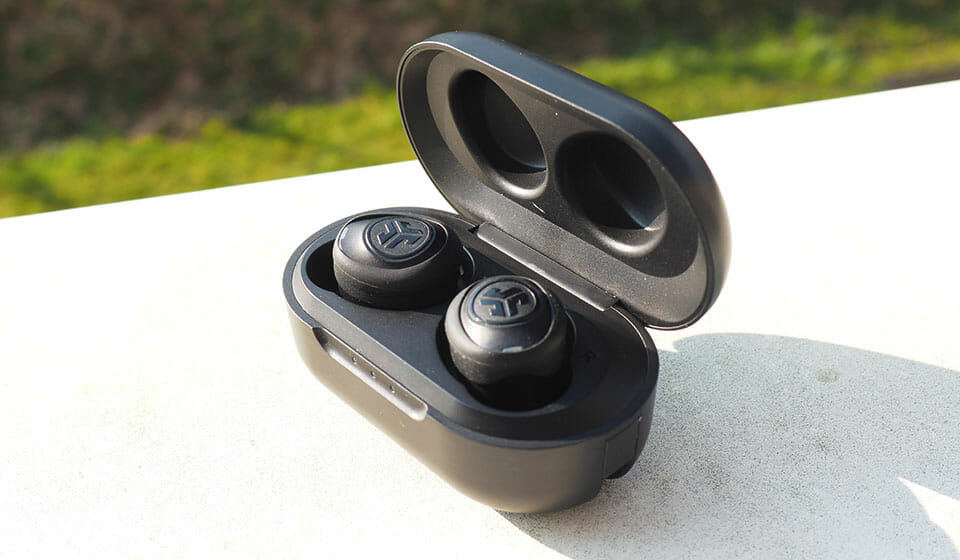 Jbuds Air are the best sub-$50 true wireless earbuds for most people.
Should You Buy These: For true wireless capability that gives a solid user experience at $50, the Jbuds are the top choice.
The Good
You can expect almost all the features of the more expensive models.
Stable fit that doesn't fall out. IPX5 water protection to save you from worry outside or when working out.
Built-in controls and microphone for changing music, making phone calls, and using voice assistants like Siri.
Plus, the charging case holds 15h more power on top of the 5.5h charge in the earphones themselves.
Bluetooth reliability, while not perfect, is satisfactory as well.
The Bad
If you have smaller ears, you might feel discomfort after a while. Short Bluetooth interruptions at random times.
The Sound
They have a somewhat balanced sound signature with slightly emphasized mid-bass. It's capable of reproducing all types of music and especially EDM and Hip Hop.
The Verdict
For under $50, the Jbuds Air offer more than most competitors of true wireless earbuds. For a budget product, they perform well and can easily be recommended.
Main Specs
Type: In-ear headphones
Connection: True wireless, Bluetooth 5.0
Microphone & Controls: Built-in
Battery: 5.5h +15h in case
The full Jlab Audio Jbuds Air review.
---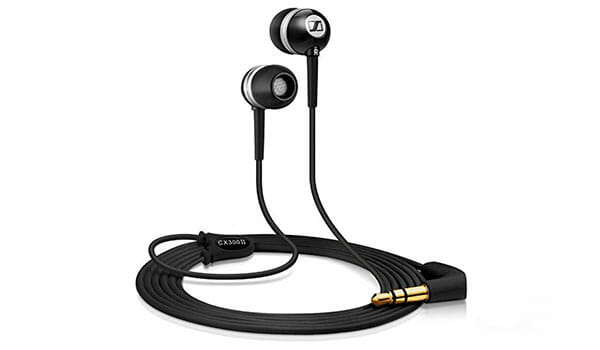 Sennheiser CX 300-II are the go-to bass-heavy earbuds under $50.
Should You Buy These: If you're a bass enthusiast and love the extra bass in your music, you should check the CX 300-II.
The Good
Sennheiser is known for making high-quality products, and these are no different. Sporting quality materials with reinforced weak points—the 3.5 mm plug and bud connections—and a classical bass emphasized sound quality. Did we say the AUX plug is gold-plated?
Moreover, these cheap headphones are comfy for long listening sessions, and they're pretty good at staying in the ears. You also get a useful carrying bag in the box.
The Bad
The only concern might be life expectancy since the wired earbuds are entirely plastic. Even though it's high-quality plastics it still can't compare to metal design, keep that in mind when putting them on.
The Sound
For all bassheads, this is the sound to your liking. The deep bass overpowers other ranges and is the dominant force in all music genres. It might not be to the likes of audiophiles because of sheer power, but a basshead will like it a lot.
The Verdict
The Sennheiser CX 300-II are the first choice for any bass fanatic that looks for "max boom" under $50.
Main Specs
Type: in-ear headphones
Connection: wired, 3.5mm
Microphone & Controls: no
---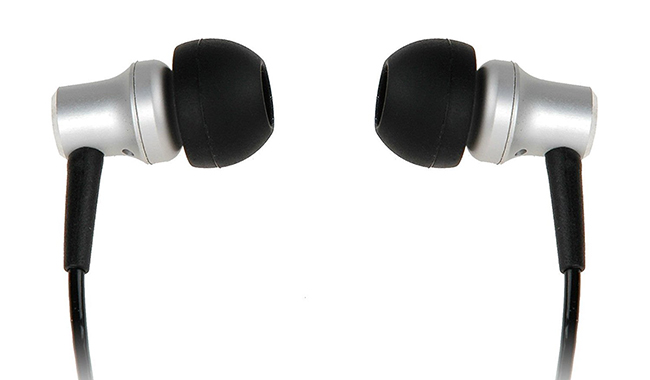 The HiFiMan RE-400 are the best earbuds under $50 with neutral sound.
Should You Buy These: If you want to get a pair of neutral in-ear headphones (with the solid build quality and comfort) for an affordable price range, these are the best choice for you.
The Good
The HiFiMan is a lesser known company by the general populace, but it has created quite a following in the audiophile world. The reason is that they offer amazing headphones for a fraction of the price. The RE-400 used to sell for around $100 but have been discounted for just under $50 since they're an older model.
For this price, you get standard-setting, neutral sound quality with durable aluminum design and compact and thus comfortable in-ear monitors. Add excellent passive noise isolation, and you're getting the top contender for sub-$50 in-ear headphones (even for audiophiles).
The Bad
Of course, they don't come without faults. The wires suffer from some microphonics which you can remedy by wearing them over-the-ear. They also lack remote and mic—though you can get the 400i model with the mic and remote. Unfortunately, it's poorly made and often disassembles.
The Sound
The audio is the best part, a fantastic standard-setting, neutral sound suitable for supreme audiophiles. The perfect balance of all ranges without sibilance and non-fatiguing that's easy to listen to. Just keep in mind, the sound signature might put off some people.
The Verdict
The best neutral-sounding earphones under $50—used to cost $100—are the HiFiMan RE-400 which offer remarkable value-for-the-money.
Main Specs
Type: in-ear headphones
Connection: wired, 3.5mm
Microphone & Controls: no
---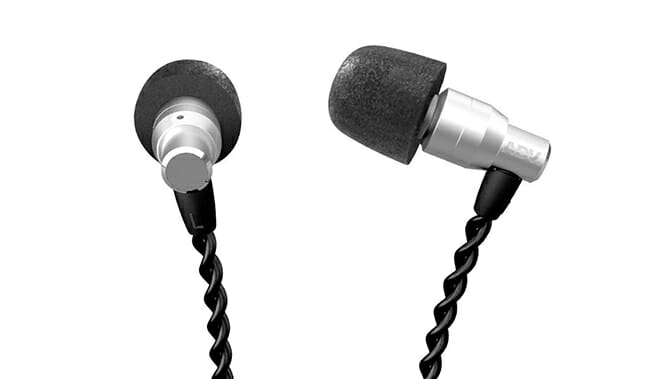 Advanced Sound M4 are the go-to in-ear monitors with a microphone and remote control under $50.
Should You Buy These: If you're looking for balanced and affordable in-ear headphones with an in-line microphone and remote control, get these.
The Good
These are another audiophile earbuds with a beautiful audio quality with the addition of a microphone for making calls and simple remote control for regulating music. Furthermore, the build quality is superb with aluminum chassis and braided cables.
To make the offer even better, you get 10 pairs of ear tips—one pair of foam tips—and a sturdy carrying case.
The Bad
There isn't much to complain about the M4, but if there's one thing that is bothersome, it's sibilance. The harsh treble comes out with some songs and is hard to listen to it sometimes. You can fix it by equalizing to some degree.
The Sound
The overall sound signature is balanced and neutral. They are an excellent choice for any entry-level audiophile or just someone who wants affordable earbuds. You can enjoy all music genres in rich detail and clarity.
The Verdict
The Advanced Sound M4 earbuds offer high value in an audiophile-friendly package with a microphone and in-line remote control.
Main Specs
Type: in-ear headphones
Connection: wired, 3.5mm
Microphone & Controls: yes, in-line
---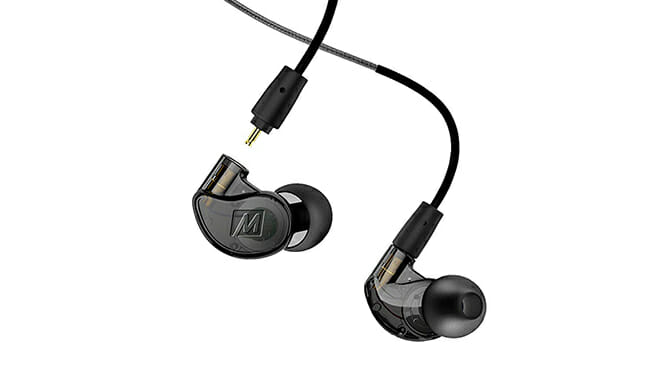 The MEE Audio M6 PRO 2nd gen are the most durable and best stage earbuds under $50.
Should You Buy These: If you want reliable, durable, and sweatproof in-ear headphones built for musicians, all for an affordable price of less than $50, you should get these.
The Good
The construction and design are superb. Worn over-the-ears have sweatproof chassis and detachable cables (2 types: stereo and mic version) to survive the longest gigs. The sturdy casing is also friendly to the ears with the ergonomics that offers exceptional fit and comfort.
Noise from the crowd won't bother you either because the M6 PRO are very effective at blocking the ambient noise, especially when you combine them with Comply foam ear tips. Finally, the IEMs offer full-range audio engineered for the stage so you can deliver your performance with confidence.
The Bad
Since these are made for musicians, who need clear and natural sound, they don't have much bass. For a basshead, these might be "bassless" even though that's not true. Also, you can experience some microphonics or cable noise so you should use a shirt clip.
The Sound
It's very clear and detailed so you can hear all the nuances but this comes with a price. The natural sound signature lacks in strong bass, even though you can change this with equalizing. In the end, the balanced audio quality is superb for the price and will make most people happy.
The Verdict
The MEE Audio M6 PRO 2nd gen. are exceptional earphones made for professional use yet with an affordable price of under $50 that can compare to many more expensive headphones.
Main Specs
Type: in-ear headphones
Connection: wired, 3.5mm
Microphone & Controls: yes, in-line
---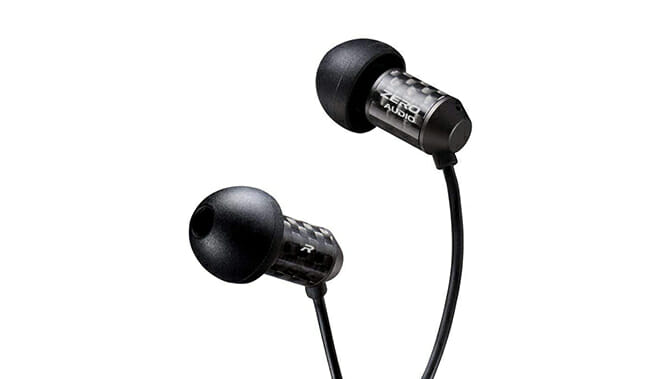 The Zero Audio Carbo Tenore offer startling sound quality at a fraction of a price (best in-ear headphones under $50 with balanced sound).
Should You Buy These: If you want the best earbuds with balanced signature and punchy bass for less than $50 get the Carbo Tenore. Read the full review.
The Good
Zero Audio is a Japanese company that is well-known in the audiophile world for offering great value headphones. The cheap earbuds are lightweight and comfortable though might stick out of the ears a bit so you can't sleep with them. Ambient noise is reasonably well blocked and provides enough isolation to enjoy the high-end sound.
The Bad
The one glaring issue is the dangerously thin cable. The wires are fragile and have minimal strain relief so you should take good care of them. You shouldn't use them for heavy outside use or sports.
The Sound
It's hard to believe sub-$50 earphones can offer an almost perfect balance of audio ranges without sibilance even at higher volumes. There's nearly no microphonics either, and all the ranges come out clear and detailed. The bass is punchy and controlled which makes them enjoyable for all music genres.
The Verdict
Zero Audio Carbo Tenore are a lesser-known gem (unjustly) among in-ear headphones that offer impressive, balanced sound in under $50. Full review.
Main Specs
Type: in-ear headphones
Connection: wired, 3.5mm
Microphone & Controls: no
---
Help! My Phone has No Headphone Jack
Nowadays a lot of the newest smartphones come without the headphone jack which poses a problem if you don't have wireless headphones. A question arises; "What do I do with my wired headphones?"
There's a simple solution to that. It isn't optimal but is better than throwing away your current cans.
You should get an adapter. It solves this problem by changing the sound signal from digital (Lightning, USB-C, Micro-USB) to analog (3.5 mm) so you can connect your wired headphones to a smartphone without a headphone jack.
Which adapter you should get depends on your smartphone brand and type. Here are your options:
For iPhones with the Lightning connector, you can get Lightning to 3.5mm adapter.
For the newest Android smartphones that use the USB-C, get this adapter.
It doesn't come without a price. It generally lowers the sound quality and you're unable to charge the battery when in use, plus they're easy to lose.
Nonetheless, you can always get yourself new Bluetooth earbuds that have become quite good in recent years and can compare with wired ones quite well.
My Earbuds have No Bass
The biggest and most common reason you're not getting any bass is bad fit.
You need to get an airtight fit otherwise your in-ear headphones won't sound as good. To get the right fit you have to pick the right ear tips for your ear size. Most earbuds come with at least 3 sizes, many with plenty more, and there are many other types to choose from among the aftermarket tips.
The absolute best ones are the memory foam ones that offer superior comfort and noise isolation. However, you can usually only get them as an accessory, and they cost more money.
Try all sizes of ear tips and see which ones fit you best. One type will surely provide you with a solid fit and thus strong bass.
Of course, you have to be sure your in-ear headphones actually have strong bass and aren't bass-poor by design.
You can find more earphone guides on our website:
The best bass earbuds
The best active noise-cancelling earbuds
The most durable earbuds
Comments