Budget
The 7 Best Earbuds under $30
What kind of earbuds can $30 get you today? Discover the best wired and wireless options.
Comparison: The Best Earbuds under $30
Don't want to spend more than $30 on a new pair of in-ear headphones? We got you covered.
Here you'll find the top wired and wireless earbuds at this price. You can choose from great-sounding to durable or workout earbuds, all in the same price range.
The budget earbuds market is huge. There are a lot of different brands offering their headphones for little money and it takes quite a lot of time to research and review the top ones. Hopefully, this guide will be of help to you.
Want more cheap earbuds?
Take a look at:
The best cheap earbuds across prices
The best earbuds under $50
The Best Earbuds under 30 Dollars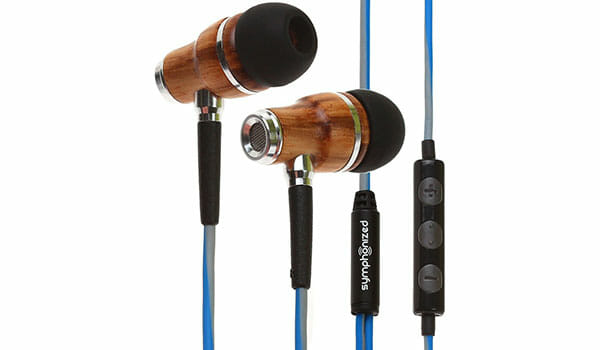 Amazing earbuds with wooden casing and melodic sound.
We put the Symphonized NRG 3.0 on top of our list, because they are stylish, work exceptionally well and are the best overall you can get for less than $30.
Should You Buy These?
If you don't want to spend a lot of money, but you're still looking for quality, good sounding earbuds with stylish design, these are perfect for you.
The Good
First of all, the sound is detailed, balanced and enjoyable overall. Plus, they look amazing because they're made out of real wood (The wood also makes them lightweight). You get 6 different ear tips to find your perfect size, that makes them comfortable and noise isolating.
The in-line microphone works as well. You can make phone calls and use voice control. Just don't expect to use it in a noisy office.
The Bad
Microphonics is present. Rubbing against the cable makes sounds that you'll hear in your earbuds, which is disturbing your calls or quiet music. Put them in a fixed position to solve it. Moreover, these aren't waterproof so stay away from the water.
The Sound
Great sound for the price. Rich in details and the wood is providing warmer tones. It also adds more quality to the bass. A no-brainer for the price.
The Verdict
Symphonized NRG 3.0 are the top in-ears under $30 right now. Low price, great design and lovely sound will make you fall in love with them.
---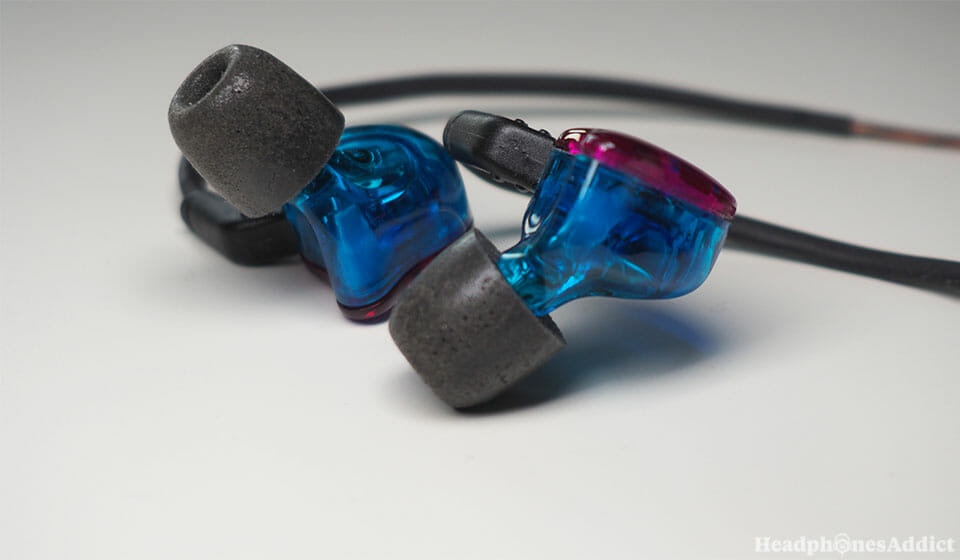 Great sounding earbuds under $30.
With the introduction of chi-fi headphones, great audio became much more affordable. ZST's are the prime example of that. A fantastic pair of in-ears with a sound of the $100 headphone.
Should You Buy These?
Ergonomically designed housing appears premium, and it fits nicely in your ears. Of course, these also provide excellent comfort that is necessary for long listening sessions.
It's quite remarkable to have a detachable cable in this price range. That makes them more durable since the wire can get replaced if damaged. Not only that, but it also comes with an in-line microphone and remote control.
The Bad
All plastic construction.
Barebones accessories.
The Sound
There are two drivers inside the earbud: one balanced-armature and one dynamic. Overall signature tilts toward V-shaped sound, which is something many users prefer.
You can expect full-bodied bass with solid punch and rumble. The midrange is slightly subdued, but not to the point of missing detail. High-end it very clear, and it has a good extension for airier presentation.
If you're an audiophile on the tight budget, KZ ZST are a fantastic pick. You can also upgrade them in the long run, replacing the cable and trying out different ear tips.
---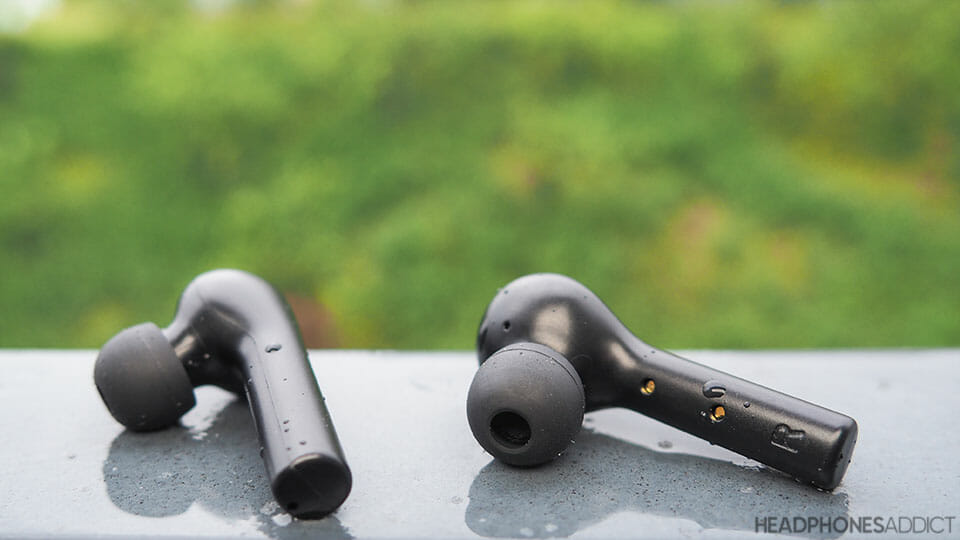 The best true wireless earbuds under $30.
Aukey EP-T21 are the top Airpods knockoffs that make for a fantastic value for money offer.
Should You Buy These?
There aren't many under $30 true wireless headphones that are dependable and work as intended. The Aukeys work well in all categories and even compare to more expensive models.
The Good
They are waterproof (IPX4 rated), true wireless, and have a 4.5-hour battery life with 20 hours more in the charging case.
Together with reliable Bluetooth, you also get a stable and comfortable fit suitable for working out or daily use.
These make for great secondary earbuds that you can enjoy with music and videos.
The Bad
If you move your ears a lot, they require some readjustment from time to time.
The Sound
With balanced sound quality, they work for most music genres but don't really excel at any. These are budget in-ear headphones after all.
Nonetheless, for the price you pay, they are really loud and quite enjoyable for a casual user.
The Verdict
The Aukey EP-T21 offer a lot of the latest technology and functionality under $30, which makes them fantastic value for money.
Check the Aukey EP-T21 review.
---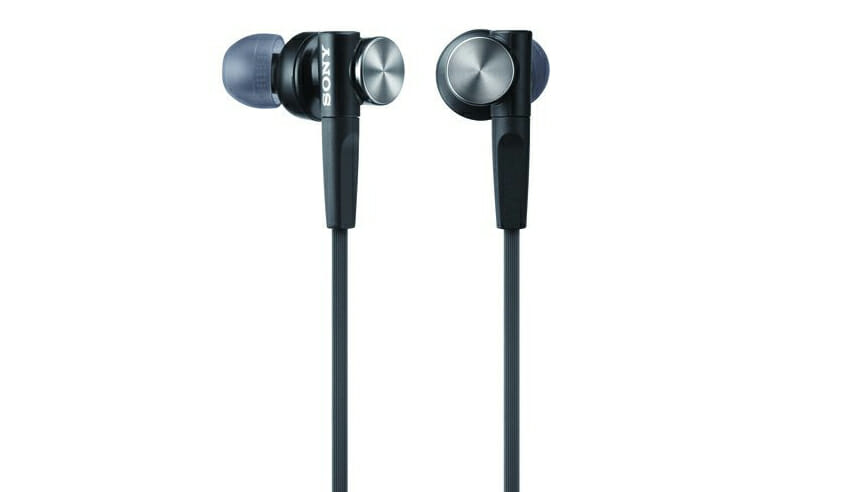 The best bass $30 in-ear headphones can produce.
Price: MSRP $49.99 Full review.
Definitely the best bass you can expect for under $30 from in-ear earphones.
Should You Buy These?
If you're a fan of powerful bass and enjoy listening to bass-heavy music like EDM, pop and hip hop, make sure to check these out.
The Good
Outstanding, bass, for those who like it that way. Deep, overpowering lows is the sound signature which makes them perfect for bassheads.
Also, the MDR-XB50AP come with a tangle-free cord, quality materials that make them last longer, loud volume even if you use them with your smartphone and lightweight, comfy design. Although they are big, they stick in ears well and can easily make you company on your daily activities.
Another great thing is that noise isolation is better than with most low-priced earbuds. These used to cost more but have been discounted to fit right into the under $30 category.
The Bad
However, if you're not a fan of powerful bass, these will be too strong for you. On the top of that, they are very big for IEM headphones, and the earbuds are sticking out of your ears.
The Sound
Notably, a perfect audio for hard bass lovers. The low-end is dominant, and it's overpowering other ranges. The middle and high ranges are recessed. This makes them an excellent choice for bass-intense music.
The Verdict
A sure winner of the best bass earbuds under $30 is the Sony MDR-XB50AP, read full review here.
---
If the long battery life is essential to you, there is nothing better than BH001's. They can last you for a full day with their 24-hour playtime.
Should You Buy These?
As mentioned, these wireless in-ears offer 24 hours of battery life. In the world of similarly designed in-ear headphones, you can usually expect around 10 hours of juice, which makes the iTeknic specs very impressive.
With the addition of ear fins, these also provide a very stable fit. Since they are IPX4 sweatproof, you can use these on your runs or at the gym.
It's also worth mentioning they're quite comfortable. The buds are connected with a wire, so you can hang them on your neck when not in use.
The Bad
Housing protrudes a little too much, creating wind noise.
The Sound
These are very balanced pair of wireless earbuds, giving you just enough low-end presence to make them sound a bit fuller. Therefore, these are not the best choice bassheads or sportspeople looking for something punchy.
The mids are decently clean, while the treble suffers from a slight sibilance (at higher volumes).
The Verdict
iTeknic BH001's are well priced wireless in-ears with an IPX4 rating and fantastic battery life.
Read the full iTeknic BH001 review here.
---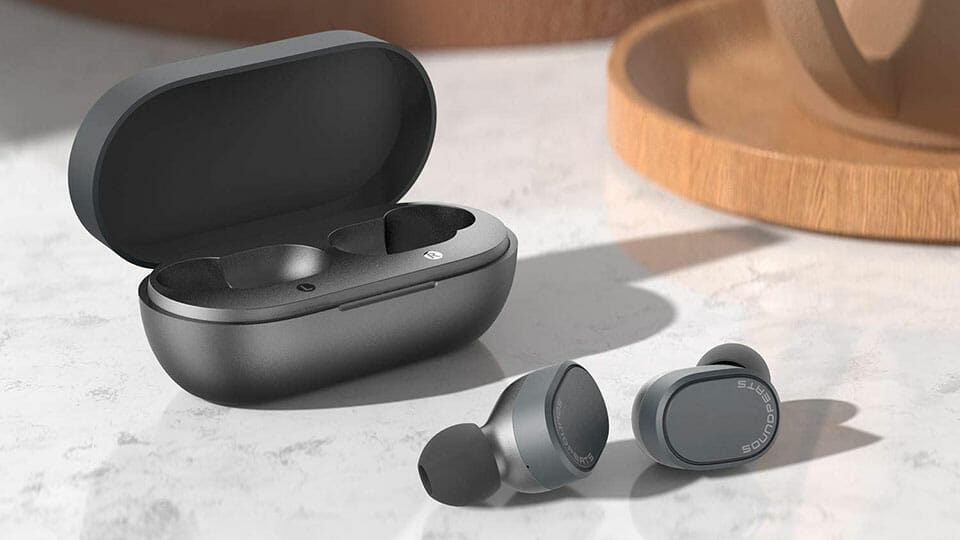 True wireless earbuds with good audio, an amazing comfort, and a lag-free video experience.
Why Buy These?
These are little earbuds that come with a small charging case. The latter is super portable and can easily fit in all sorts of pockets.
They're also super lightweight (3.5g per bud) compared to the competition. After achieving the proper fit, they can be very comfortable. You can choose from 3 sizes of ear tips to find the best seal.
Battery life is decent, with 3.5 hours on a single charge being enough for a long bus ride or movie watching. With the aptX Bluetooth codec, you can expect to experience no lag during videos.
The Bad
The microphone is not the greatest.
The Sound
7.2mm drivers provide an enjoyable sound quality, especially if you tend to listen to more vocal-oriented music. Midrange packs a lot of detail for the price, while the treble outputs good clarity. However, the bass is slightly shy, making these not suitable for bass lovers.
The Verdict
If you're looking for something extremely cheap, but of good quality, these might be an excellent pick. SoundPEATS TrueDot's are so light you barely feel them, and they have pleasing sound quality.
---
World's best-selling wired earbuds with fantastic durability and low price.
Should You Buy These?
Of course, you can get an incredible deal for around $10. One of those deals are the Panasonic ErgoFit in-ears, which are beloved by many. For their price, you're getting very durable buds that will last you for a long time.
For our review, we used a 4-year old pair. It got a bit greasy, and the ear tips started to chip, but 4 years is impressive longevity for the cheap wired in-ears: usually, those malfunction after a year or two when the cable breaks.
They're tiny and lightweight, and you can wear them for hours. Housing is ergonomically designed to provide the best comfort.
The Bad
Thin wire generates a lot of cable noise.
The Sound
They have a satisfying amount of low end, with clear highs. However, the midrange is slightly forward, pushing the vocals upfront. Overall, the sound of these is quite good, and a decent option to replace your phone's included in-ear headphones.
The Verdict
If you don't want to spend more than $15 for earphones, these should be on the top of your list. They're durable and sound quite good.
Read the full Panasonic ErgoFit HJE120K review.
---
Frequently Asked Questions (FAQ)
What In-ear Headphones Can You Expect for 30 Dollars?
While $30 is not a lot of many for headphones you can still expect solid products without significant weaknesses. Most in-ear monitors on the market cost more money, but there's plenty of choice in the under $30 market.
The reason why in-ears can be so cheap is because the manufacturing costs have been going down for a while now. There's new competition from emerging markets where new companies are trying to attack market share by selling their products under market value.
This is how you can get superb earbuds from unknown brands for a low price. While the same quality earphones would cost double the price from a major company.
As you can see, most of the brands we recommend here aren't the biggest and best-known ones.
How To Find Good Cheap Earbuds?
Do you want to know how to pick the best in-ear headphones out of hundreds currently available?
Read our guides. Well, you could research the hundreds of different earbuds and test them yourself, but that's hard work.
Now, we don't claim we're the absolute authority in this regards, but our guides are a pretty good start.
In case you want to find a new gem just for yourself, you can compare our headphones with the ones you find yourself. This way you'll know what to expect and what to compare. And when you find better earbuds under $30, please let us, and everyone else, know in the comments below.
Should You Get Wired or Wireless Earbuds? (considering $30)
The ever more important question, should I get wired or wireless headphones?
Since you have to consider the price of under $30 you can only choose from the low-end of budget wireless earbuds. This means you'll have to give up on specific features that more expensive models have.
You can get basic Bluetooth functionality and decent audio quality. You can forget about the EQ apps, noise cancellation or extra comfy eartips.
Also, some of the new smartphones are ditching the 3.5mm plug, so the only option is wireless headphones. Thankfully, not all major phone manufacturers will make the same decision because people like wired headphones for many justified reasons.
In case you're the owner (or plan to be) of a phone without a headphone jack than wireless is your only option.
On the other hand, wired earbuds generally have better sound quality and are less prone to failure.
The battery in wireless headphones is slowly deteriorating, especially among the cheap models. Wired earbuds don't have this problem.
Why you should get wired?
Better sound quality
No need to charge
Arguably longer durability
Why you should get wireless?
Wire-free experience
Keeping up with technology
How Do I Ensure My Earbuds Last Long?
There are a couple of things you can do to ensure a longer life for your new in-ear headphones.
Basically, you should be kind towards them like you are to your friends.
First of all, you keep them clothed. In this case, you should get a carrying case—preferably hard one—to store the in-ear monitors. The case protects them from physical harm as well as liquids.
I know you all want to own indestructible earbuds because it's a hassle taking good care of them but they don't exist. The best way is to learn some discipline and make it a rule to store them in a sturdy carrying case.
If this is too hard for you to do, you can at least put them in safe pockets and make sure they don't entangle. Many times untangling the wires becomes so frustrating people use a bit too much force. The wires break or crack and the damage is done.
Another good idea is to keep the earphones away from water and humidity. Sure, you can get sweatproof or even waterproof earbuds but they aren't 100% resistant to humidity over the long run. It's best not to push the envelope.
It's best to store them in a dry place.
That's pretty much it. Understand that your earbuds will probably not last forever. The best you can do is take good care of them and they'll serve you well.
Thank you for checking out our guide. Please let us know what you think in the comments section below.
---
Disclosure: We might receive affiliate compensation if you purchase products via links on this page. This is how we purchase headphones for new reviews and keep the site adds-free. In spite of that we do our best to tell the truth about every product and don't favor any one brand or model.
Comments