Earbuds/In-Ear
The 10 Most Comfortable Earbuds (Get Comfy In-Ear Earphones Here)
The most comfortable in-ear headphones right now!
Comparison Table: 10 Most Comfortable Earbuds
Rating
Price
Warranty

i

Please review the warranty carefully because it can be different from manufacturer to manufacturer.

Weight

Samsung Galaxy Buds Plus

4.4
$$$$ ($120-$200)
2-year-warranty
0.81 Oz
(22.9 g)
More info
Westone W10
4.0
$$$$ ($120-$200)
2-year-warranty
0.45 Oz
(12.75 g)
More info
RHA T10i
4.0
$$$$ ($120-$200)
3-year-warranty
1.45 Oz
(41 g)
More info
SoundMagic TWS50
3.8
$$ ($30-$80)
1-year-warranty
0.28 Oz
(8 g)
More info
Bose QuietComfort 20
4.3
$$$$$ ($200-$300)
1-year-warranty
1.55 Oz
(43.9 g)
More info
Apple AirPods 2
4.6
$$$$ ($120-$200)
1-year-warranty
0.28 Oz
(8 g)
More info
Aukey T10
4.1
$$$ ($80-$120)
2-year-warranty
0.42 Oz
(12 g)
More info
Shure SE215
4.0
$$$ ($80-$120)
2-year-warranty
1 Oz
(30 g)
More info
Skullcandy Smokin' Buds 2 Wireless
4.0
$ (<$30)
2-year-warranty
1.05 Oz
30 g )
More info
Maxrock Unique
4.1
$ (<$30)
3-months-warranty
0.35 Oz
(9.9 g)
More info
It's hard to know which earbuds are comfortable nowadays since you have hundreds of options.
After thorough research (looking at general feedback while reviewing them ourselves) we came up with the list of the most comfortable in-ear earbuds on the market right now. Check it out below.
Don't like in-ear? Looking for classic earbuds, click here.
How Do We Know What Comfortable Earbuds Are?
Aren't all people different, we all have different ears? Yes, that's true. But it's also true the ears are usually the same shape and most people's ears fit in a specific size range.
It's very hard to say if a specific model will be comfortable for you, but the ones that fit most people are generally the most comfortable earbuds.
We also follow certain parameters like weight, size, type of design, and materials used.
In the end, the best way to know for sure is to try them yourself but since you can't do that with every model you can check out our reviews.
How to Make Your Earbuds Even More Comfortable?
With all in-ear headphones, you can change the eartips. And since there are many different eartip types you can always switch between them to find the ones that fit you best.
Generally, the most comfortable are Comply memory foam eartips. You can find them for almost all in-ear earbuds.
What makes them so comfortable is that they are soft and easily moldable and once inside your ear they expand for a perfect fit.
How to clean Comply eartips?
Since Comply tips have a slightly sticky surface they tend to get dirty fast.
The best way to clean them is with a wet cloth. Don't use any alcohol or cleaning chemicals. A cloth and some water is all you need. Afterward just wait for the ear tips to dry and they're ready to use again.
Comply foam tips size guide
The best way to find the right Comply tips for your in-ear headphones is to check their compatibility finder. You can find it here.
Comply foam tips compatibility
Comply foam tips are compatible with most in-ear monitors. You can check their compatibility guide here.
Is There Any Other Solution than Comply Tips to Get Best Comfort?
You have the option of getting custom-molded eartips. Now that is usually very expensive but we found a couple of cheaper options as well.
Check out Decibellz. These are custom moldable earplugs that you can make yourself to fit your ears perfectly.
For an even cheaper option, check out Radians custom molded earplugs.
You have to play a bit with it, but you can create great custom-molded earbuds that will fit you better than any generic ones. There's a video about it on Youtube.
Most Comfortable Earbuds Reviews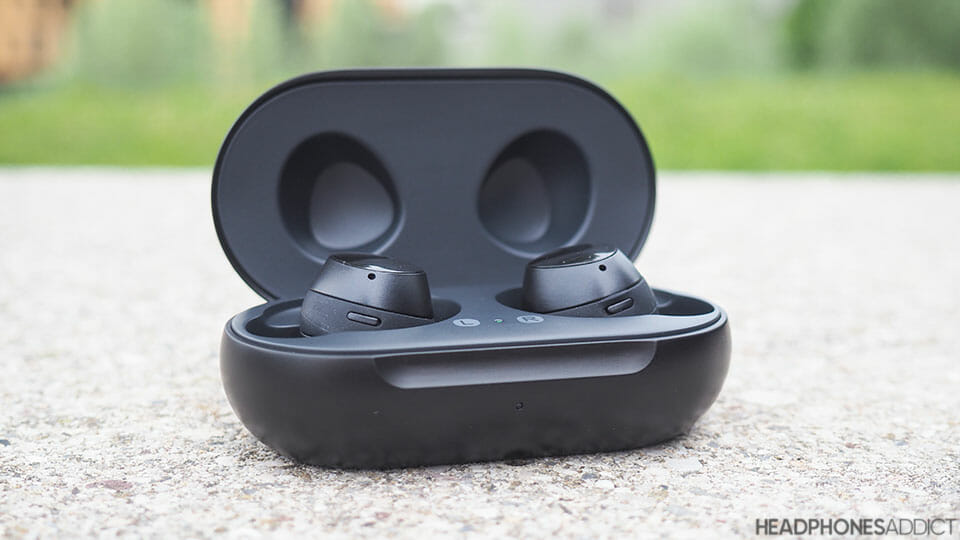 New true wireless earbuds from Samsung have improved sound quality and battery life.
Why Buy These?
Despite all the technology inside of them, Galaxy Buds+ feels quite lightweight. There are no sharp edges on the housing which makes them very comfortable to wear for longer periods. With the new model, you are also getting small wingtips for additional stability.
You don't have to charge them every day because the battery life is quite impressive. You can get around 11 hours of battery life, with another 11 hours worth of juice from the charging case.
They offer the »Ambient Aware« feature for amplifying surrounding sounds. You can control the intensity of this feature via the mobile app.
The Bad
The list of audio codecs is rather limited.
No active noise cancelling.
The Sound
Dual drivers are slightly emphasizing the bass to make to sound more punchy and suitable for popular genres. Mids are balanced and nicely detailed, with the high producing decent sparkle. You can tweak the sound to your likings inside the app (it works best if you use Samsung phones).
The Verdict
Samsung has improved all the things that matter. Galaxy Buds+ look good, feel good, and also sound good.
---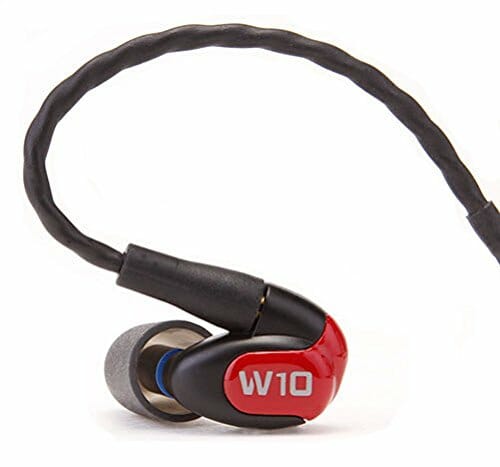 High quality, audiophile in-ear headphones with great comfort.
Should You Buy These?
Westone W10 in-ear monitors are comfortable to wear and even more comfortable to listen to. The first thing you might notice after opening the box is that there are 10 different ear tip combinations. This allows for precise comfort selection and a flexible fit.
The earbuds fit deep enough in the ear canal to provide a good seal, but not so deep that they are uncomfortable or irritating.
The plastic earbud housing is designed for everyday use and holds up well in most environments. They even offer a modest level of moisture resistance.
The Bad
Proper fit can take time to achieve at first.
Sound
Westone W10 earbuds are sonically pleasing for a single balanced armature driver design. Bass frequencies are warm, round, and can even be punchy with a tight-fitting seal. Mid-range power is where these monitors really shine. They provide a solid vocal presence with great clarity. Highs are crisp and defined, but never seem harsh or sibilant.
The Verdict
Westone W10 in-ear monitors provide audiophile sound quality and excellent comfort in an attractive package that is definitely worth checking out if you want a high quality set of earbuds under $200.
---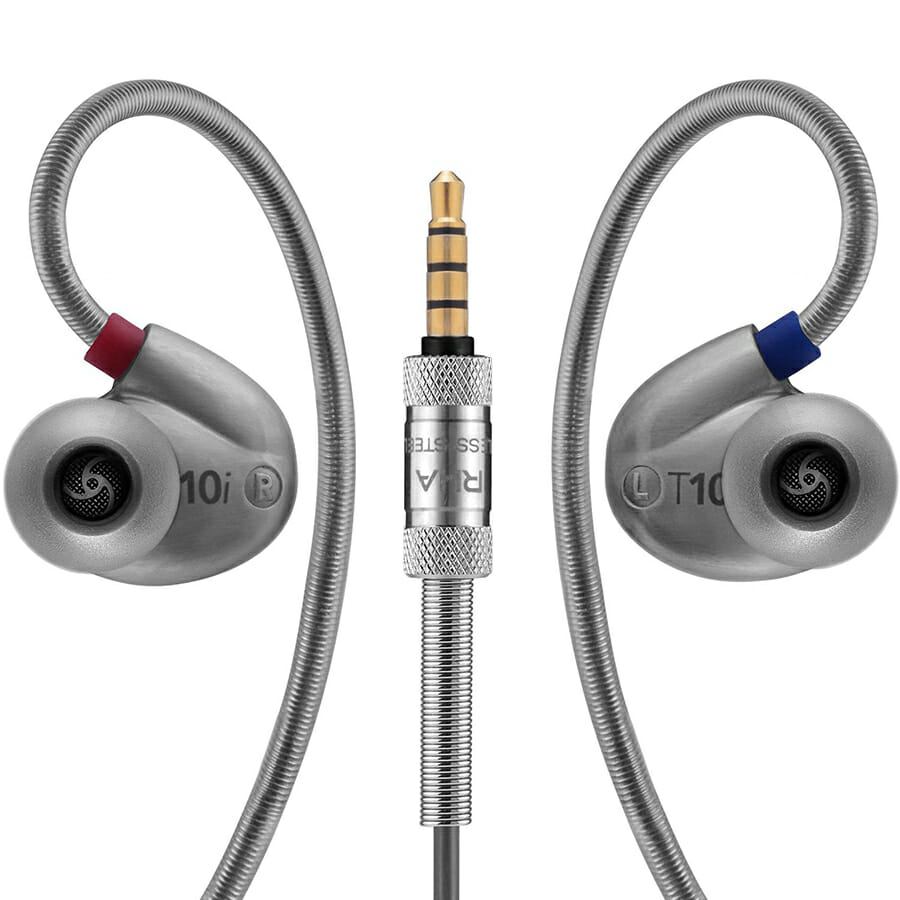 Most comfortable "heavy" (stainless-steel) earbuds with strong bass.
Should You Buy These?
In case you don't want to sacrifice build quality for comfort check the RHA T10i. The stainless steel in-ear headphones offer great durability while at the same time keeping great comfort.
While they are a bit heavier than your average in-ear earbuds, that doesn't take away from the comfy experience. The ergonomic design and a rich selection of ear tips offer long hours of comfortable listening.
In-line remote and microphone enable you for calls while looking good. The finish has a real premium feel to it. Thankfully, the price has dropped a bit and now you can get them for under $200.
The Bad
Even though the weight is nicely redistributed, they are still a little bit too heavy to be taken on a run.
The Sound
Typical V-shaped sound signature is fun to listen to, especially to Pop, Hip-hop and EDM. Add to this the option of tuning the sound signature with unique filters and you get a great pair of premium headphones. You can even make them into great basshead earbuds.
The Verdict
These high build quality in-ear earbuds are surprisingly comfortable, built to last, and are offering filters to customize your sound.
---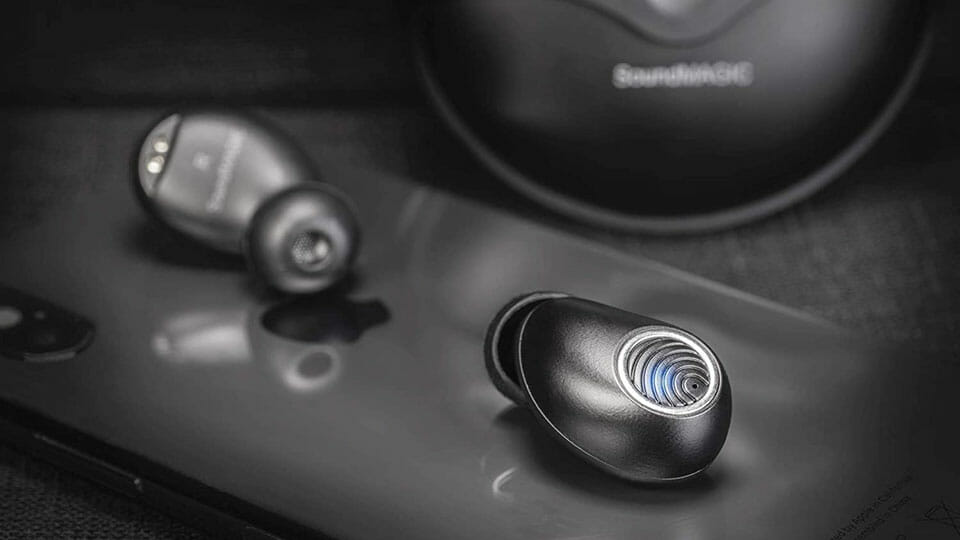 These are so small and light that you hardly know you are wearing them.
Why Buy These?
TWS50's are one of the smallest true wireless earbuds on the market. They weight only 4 grams which also makes them one of the lightest. Rounded housing doesn't stick too much out of your ears and is very comfortable to wear.
With the IPX7 water resistance, they are prepared to be taken out for a run. With 6 hours per charge and an additional 24 hours out of the case, the battery is also pretty solid.
The charging case looks really cool, with a twistable lid and an LED indicator for the remaining battery percentage.
The Bad
Users are reporting on some quality control issues.
The Sound
Despite their small size, these are very balanced with a good low-end presence and a big soundstage. It is hard to find any major flaw at this price. Apart from maybe treble which is rolled off. That makes it more smooth but at the cost of the fine details.
The Verdict
SoundMagic TWS50 are great if you are looking for something that is light and comfortable and can also sound really good.
---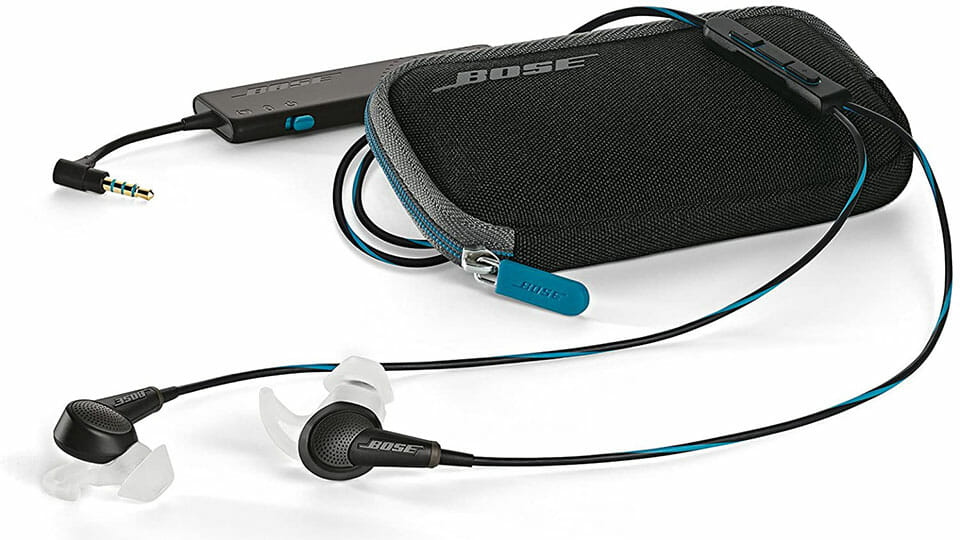 These are one of the most comfortable earbuds out there, with amazing sound quality and active noise cancelling.
Why Buy These?
You get a quite large »StayHear+« silicone tips with ear fins that provide an extremely comfortable fit. The earbuds also fit really well and have a superb Acoustic noise cancelling feature.
There is this thing called Aware Mode that you can activate by pressing the button on the cable. It lets you hear important things like people who are talking to you, regardless of active noise cancellation being turned On or Off.
At 16 hours of battery life, you can easily squeeze two days of playtime, before charging them again.
The Bad
The battery is also these earbud's weakness. It is very big and it takes up additional space inside a pocket.
The Sound
There is a lot to like about the sound. It is very balanced, with a good bass extension and a smooth midrange. There is not a hint of sibilance, making it great for long listening sessions.
The Verdict
Bose QuietComfort 20's are quite pricey, but they justify that with many of their great features and audio quality.
---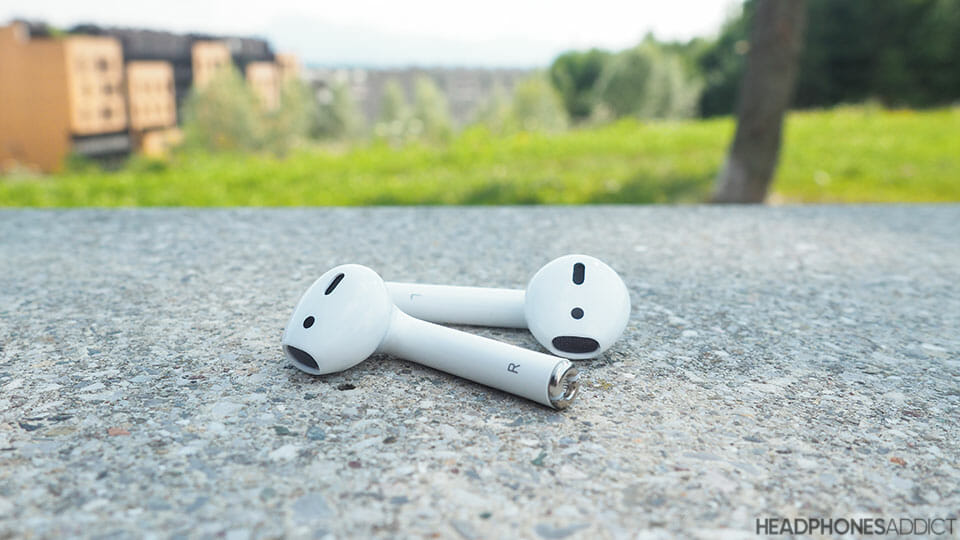 A well-known design in a true wireless form. AirPods 2 are very light and comfortable earbuds, but finding the right fit can be tricky.
Why Buy These?
They maybe look simple, but they pack a lot of cool features (it is however good to know, that the majority of these features can only work on Apple devices). Connecting between iOS devices is extremely fast and simple thanks to the built-in H1 chip.
The call quality is also really good. Microphones can pick up your voice clearly even in crowded and noisy places.
The battery is slightly better compared to the first generation. You get 5 hours per charge, with an additional 24 hours from the charging case.
The Bad
They are comfortable, however, they might not fit everyone's ears.
The Sound
Since they don't isolate that well, the sub-bass is of course lacking. But you do get a nice sense of the upper bass, with the midrange being the clearest. Highs are rolled off to prevent harshness.
The Verdict
AirPods 2 are a decent pair of true wireless earbuds, that truly start to shine when paired with an iOS device. While they are comfortable, you should definitely try out if they fit you.
Read the review of Apple AirPods 2.
---
Great wireless earbuds with an award-winning design and a stable, comfortable fit for everyday use.
Why Buy These?
Charging case, as well as the earbuds themself, look very high-end. Despite being a little bulky, they fit nicely inside your ears and remain comfortable for hours. The attachable ear wings provide extra stability to prevent earbuds from falling out.
The battery is rated at 6 hours per charge, with an additional 24 hours of use from the case. The latter can be charged via USB-C or Qi wireless charger.
In terms of durability they are made of quality plastic, that can withstand a drop or two, and an IPX5 rating for water protection.
The Bad
Touch controls can be too sensitive, which sometimes results in registering 2 taps instead of 1 tap.
The Sound
It is very balanced, with no bass emphasis whatsoever. This makes them a great choice for all music genres, although some might miss the more punchy bass or brighter treble.
The Verdict
Aukey T10 represent a good value. If comfortable fit and durable design is what you're after, then you should give them a try.
---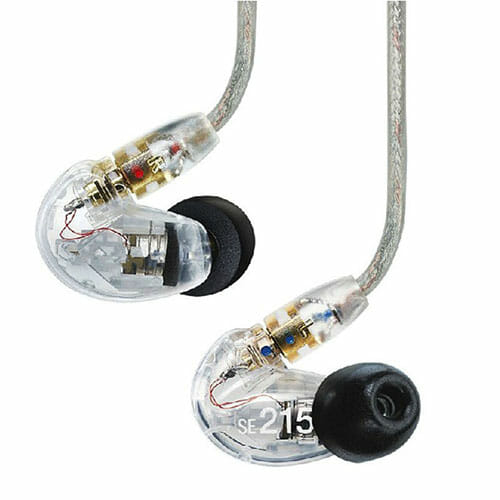 Popular Shure in-ear earbuds with almost cult status.
Should You Buy These?
Foam ear tips can provide a softer feel, while the soft flex sleeves can allow for slightly deeper insertion in the ear canal. Both sleeve types are comfortable to wear.
Shure SE215 sound isolating earphones are very good at blocking ambient noise.
A plastic earbud housing and ear tip design is resistant to moisture, so these are great for workouts. Detachable cables provide an extra level of durability. And if you accidentally damage the cable, you can easily replace it.
The Bad
The shape of the SE215 is different than a traditional earbud, so that may be uncomfortable for those with smaller ears.
It takes some time to achieve the optimal fit.
Sound
The bass response is warm and well rounded. Mids are powerful and deep, providing rich instrumental tones and great vocal detail. Highs are crisp and articulate. The level of detail from the dynamic micro driver almost rivals what you might expect from a balanced armature driver design.
The Verdict
Shure SE215 earbuds are a good value and definitely deserve your attention. Especially if you want professional quality, durability, comfortable fit and a great sound quality at an approachable price point.
---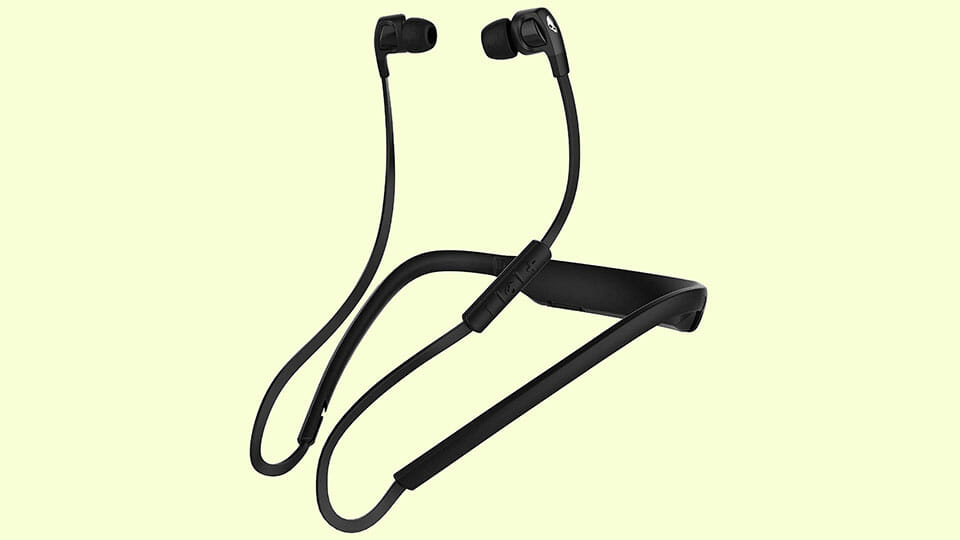 Smokin' Buds 2 Bluetooth earbuds brings the comfortable fit with big and powerful bass.
Why Buy These?
Earphones come with a flexible rubber neckband. It is mostly there to keep the cable in place and can be removed for a more clean look.  Because these earphones are light, they don't cause any discomfort. Actually, these are super comfortable, with or without the neckband.
They don't have active noise cancellation, but they do offer really good noise isolation. Not only that, but they are also equipped with a quite decent microphone.
You get 6-hour battery life from a single charge. Not the best, but they should last you through a workout or a bus ride.
The Bad
The Bluetooth connection is not the most reliable.
The Sound
Fun and dynamic. Bass is, as in many Skullcandys, very powerful and can reach quite low. This can be enjoyable for certain genres, but it can also ruin some. Treble is boosted just a bit to compensate for the bass.
The Verdict
You can get a wired or wireless version of the Skullcandy Smokin' Buds 2. Both are similar in terms of comfort, fit, and sound quality. If the extra bass is what you want, these will do the job.
---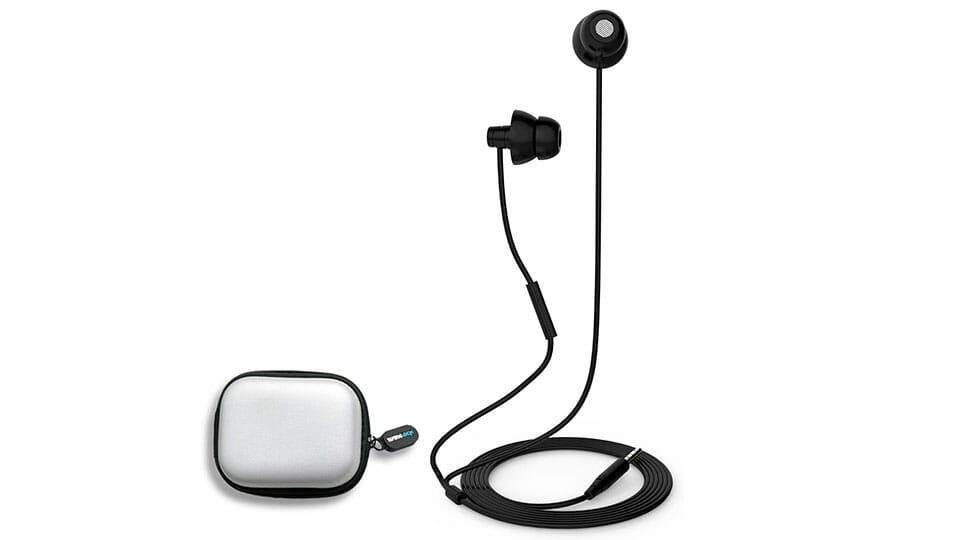 The ergonomic design of these in-ear earphones makes them perfect for sleeping.
Why Buy These?
They are made specifically for sleeping, so you know they need to be comfortable. Users who suffer from a certain condition like insomnia, or are just sleeping with people who snore a lot, should probably check these out.
These earbuds are very small, super light, and don't protrude out of the ears. Therefore you can easily sleep with them without experiencing any discomfort.
They are exceptional at isolating outside noise. You do however need to push them slightly deeper into your ear canal. This is something that can be annoying at first, but you get used to it.
The Bad
The materials used to make these are not that good. But then again, these costs under $20.
The Sound
Because of the deep fit and isolation, the sound quality is more than acceptable. It has decent clarity, but it is rather low in volume. Of course, their main focus is to isolate for sleeping, so you shouldn't expect a very engaging sound.
The Verdict
The Maxrock Unique is one of the best earbuds for sleeping since they're offering exceptional isolation and comfortable fit.
---
Comments