Earbuds/In-Ear
The 10 Most Comfortable Earbuds (Get Comfy In-Ear Earphones Here)
The most comfortable earbuds right now!
Comparison Table: 10 Most Comfortable Earbuds
Rating
Price
Warranty

i

Please review the warranty carefully because it can be different from manufacturer to manufacturer.

Weight

Apple AirPods Pro
4.7
$$$$$ ($200-$300)
1-year-warranty
0.39 Oz
(11 g)
More info
Bose Sport Earbuds
3.9
$$$$ ($120-$200)
2-year-warranty
0.42 Oz
(12 g)
More info
Samsung Galaxy Buds Plus
4.6
$$$ ($80-$120)
2-year-warranty
0.42 Oz
(12 g)
More info
Jabra Elite Active 75t
4.2
$$$$ ($120-$200)
2-year-warranty
0.42 Oz
(12 g)
More info
Aukey EP-N5
4.3
$$ ($30-$80)
2-year-warranty
0.7 Oz
(20 g)
More info
Apple AirPods 2
4.6
$$$$ ($120-$200)
1-year-warranty
0.28 Oz
(8 g)
More info
Sennheiser Momentum True Wireless 2
4.3
$$$$$ ($200-$300)
2-year-warranty
0.42 Oz
(12 g)
More info
Cambridge Audio Melomania 1
4.1
$$$ ($80-$120)
2-year-warranty
0.35 Oz
10 g )
More info
Shure SE215
4.4
$$$ ($80-$120)
2-year-warranty
1 Oz
(30 g)
More info
Aukey EP-T21
4.3
$ (<$30)
1-year-warranty
0.35 Oz
(9.9 g)
More info
It's hard to know which earbuds are comfortable nowadays since you have hundreds of options.
After thorough research (looking at general feedback while reviewing them ourselves) we came up with the list of the most comfortable in-ear earbuds on the market right now. Check it out below.
Don't like in-ear? Looking for classic earbuds, click here.
How Do We Know What Comfortable Earbuds Are?
Aren't all people different, we all have different ears? Yes, that's true. But it's also true the ears are usually the same shape and most people's ears fit in a specific size range.
It's very hard to say if a specific model will be comfortable for you, but the ones that fit most people are generally the most comfortable earbuds.
We also follow certain parameters like weight, size, type of design, and materials used.
In the end, the best way to know for sure is to try them yourself but since you can't do that with every model you can check out our reviews.
How to Make Your Earbuds Even More Comfortable?
With all in-ear headphones, you can change the eartips. And since there are many different eartip types you can always switch between them to find the ones that fit you best.
Generally, the most comfortable are Comply memory foam eartips. You can find them for almost all in-ear earbuds.
What makes them so comfortable is that they are soft and easily moldable and once inside your ear they expand for a perfect fit.
How to clean Comply eartips?
Since Comply tips have a slightly sticky surface they tend to get dirty fast.
The best way to clean them is with a wet cloth. Don't use any alcohol or cleaning chemicals. A cloth and some water is all you need. Afterward just wait for the ear tips to dry and they're ready to use again.
Comply foam tips size guide
The best way to find the right Comply tips for your in-ear headphones is to check their compatibility finder. You can find it here.
Comply foam tips compatibility
Comply foam tips are compatible with most in-ear monitors. You can check their compatibility guide here.
Is There Any Other Solution than Comply Tips to Get Best Comfort?
You have the option of getting custom-molded eartips. Now that is usually very expensive but we found a couple of cheaper options as well.
Check out Decibellz. These are custom moldable earplugs that you can make yourself to fit your ears perfectly.
For an even cheaper option, check out Radians custom molded earplugs.
You have to play a bit with it, but you can create great custom-molded earbuds that will fit you better than any generic ones. There's a video about it on Youtube.
Most Comfortable Earbuds Reviews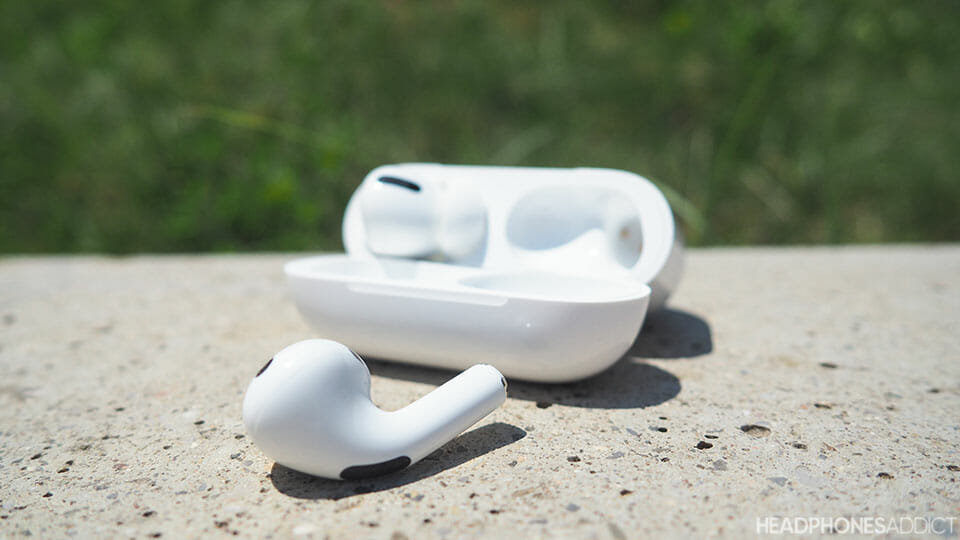 Despite having a stem that hangs out of your ear, these are one of the most comfortable earbuds you can buy.
Why Buy These?
AirPods Pro hardly need any introduction. They're sleek looking earbuds with an iconic white housing and a stem extension that dangles out of your ears. If you think that makes them weird to use, you would be wrong. In reality, these are one of the most comfortable earbuds currently on the market.
The secret lies in the ear tips. The proprietary solution only hangs in front of the ear canal without creating any pressure. Because of that and lightweight construction, you barely feel them inside your ears.
AirPods Pro also have many features like active noise cancellation, Transparency mode, Dolby Atmos, great microphones, H1 chip for connectivity, IPX4 sweat resistance, and more.
The Bad
When exercising, sweat can make the ear tips slippery, which is why they tend to fall out.
Price.
The Sound
AirPods Pro have a relatively balanced frequency response, with a slight boost in the upper midrange and treble. The latter is great for understanding vocals.
As long as you use Apple devices, these are a no-brainer, with many extra features and crazy comfortable design.
---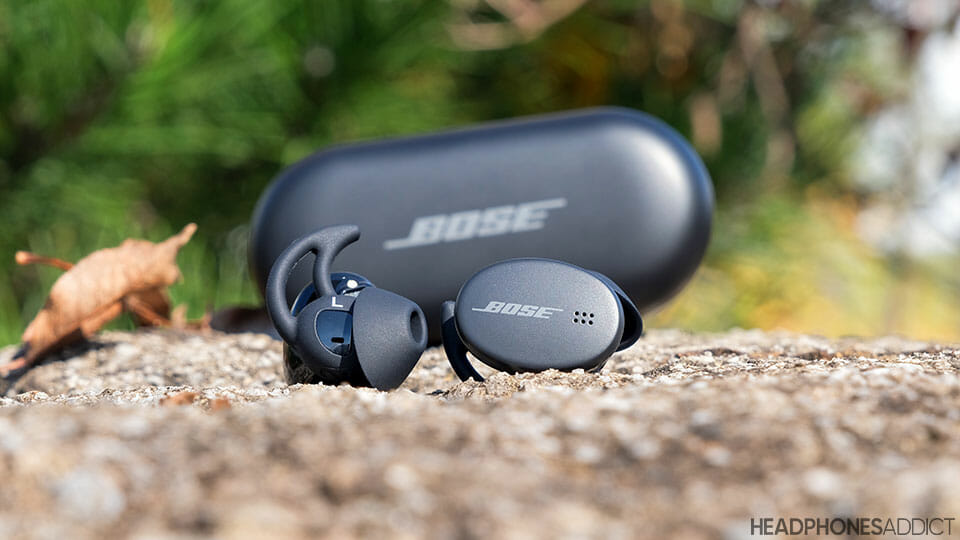 The new true wireless earbuds from Bose might not convince with extra features but excel at comfort and stability.
Why Buy These?
Surprisingly, Bose managed to create a relatively bulky pair of earbuds with outstanding comfort. Housing is ergonomically designed to fit beautifully into your ears without creating any hot spots. Ear fins are in charge of locking them into place and prevent them from moving around.
The ear tip design is very similar to AirPods Pro: it only hangs in front of the ear canal. Earbuds are a bit heavier than Apple's, but you quickly forget about them.
These are especially great for running and working out, with an IPX4 rating to keep the sweat away. They last for around five hours on a single charge, while you only get for approximately 10 hours inside the charging case.
The Bad
The mobile app offers very little in terms of customization.
The Sound
Quite bassy but still enjoyable and detailed. The bass has excellent control and can make any track that is low-end focused sound amazing. The midrange and the treble are pushed aside yet clear nevertheless.
If you seek both comfort and stability, you should consider Bose Sport Earbuds.
---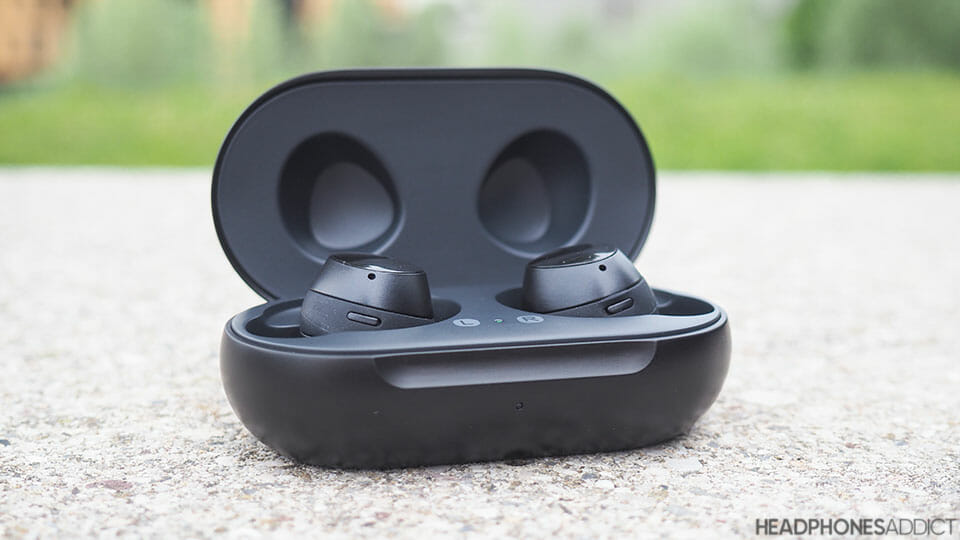 New true wireless earbuds from Samsung have improved sound quality and battery life.
Why Buy These?
Despite all the technology inside of them, Galaxy Buds+ feels quite lightweight. There are no sharp edges on the housing which makes them very comfortable to wear for longer periods. With the new model, you are also getting small wingtips for additional stability.
You don't have to charge them every day because the battery life is quite impressive. You can get around 11 hours of battery life, with another 11 hours worth of juice from the charging case.
They offer the »Ambient Aware« feature for amplifying surrounding sounds. You can control the intensity of this feature via the mobile app.
The Bad
The list of audio codecs is rather limited.
No active noise cancelling.
The Sound
Dual drivers are slightly emphasizing the bass to make to sound more punchy and suitable for popular genres. Mids are balanced and nicely detailed, with the high producing decent sparkle. You can tweak the sound to your likings inside the app (it works best if you use Samsung phones).
The Verdict
Samsung has improved all the things that matter. Galaxy Buds+ look good, feel good, and also sound good.
---
Ergonomic design helps these earbuds stay comfortable for hours on end.
Why Buy These?
Even though they rely on a deeper seal to stay in your ears, they're still one of the most comfortable earbuds for sports activities. Carefully designed housing contours ear's shape nicely, so you shouldn't feel sore even after more extended listening sessions.
Another useful thing about these in-ear wireless headphones is their mobile app. In there, you can fine-tune them by using EQ or change commands for physical buttons outside the buds. You can even find them if they get lost in your room, emitting a loud beep.
Their battery life is also great, giving you slightly more than 7 hours of playtime, with an additional 20 hours inside the charging case.
The Bad
Only the right earbud works in mono mode.
The Sound
While you can't expect fidelity out of workout earbuds, these are very enjoyable, with punchy, deep bass and clear, sparkly highs that don't suffer from sibilance. If you play with an equalizer a bit, you can tweak the sound based on your preferences.
Jabra Elite Active 75t are excellent sports earbuds with all the essential features. They're comfortable, practical, robust, and offer an IP57 rating of water-resistance.
---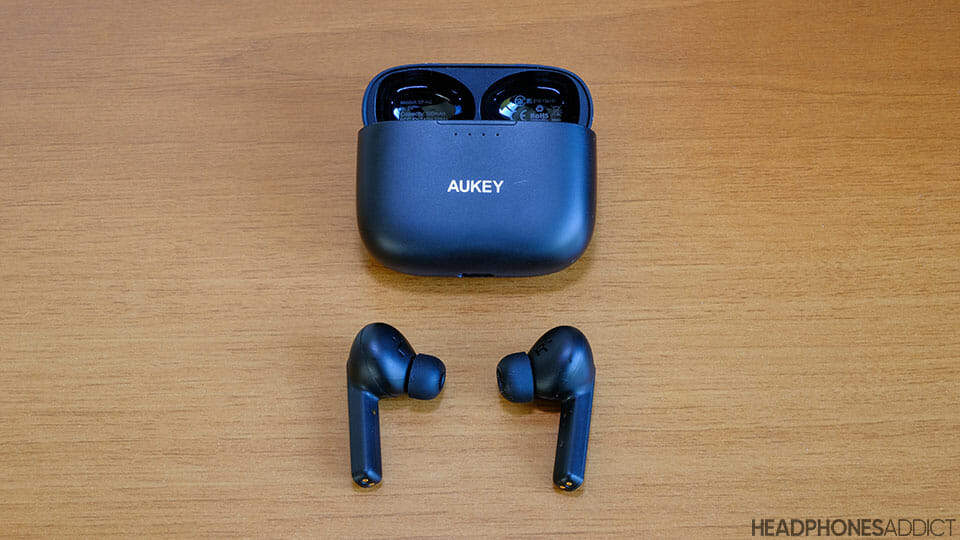 A much cheaper alternative to AirPods Pro but with the same level of superb comfort.
Why Buy These?
EP-N5 are very similar to Apple's flagship, yet different enough to stand on their own. They come in matte black color and have slightly longer stems. Ear tips again only rest right at the beginning of the ear canal, making the listening experience very comfortable.
Apart from excellent comfort, you also get active noise cancelling features that work well with low-frequency noises but can't do much with removing the speech.
The battery life is above average for true wireless earbuds, with around 7.5 hours on a single charge and generous 28 hours inside the charging case. Aukey's are also splash resistant with an IPX5 rating if you plan to use them for working out.
The Bad
Horrible microphone quality. There aren't suitable for taking long phone calls.
The Sound
Relatively bassy and warm, with good presence in the mids and highs. While there is nothing analytical about them, they sound surprisingly clean, despite the bass's meaty punch. The soundstage and imaging are about average.
Aukey EP-N5 are a great buy if you don't want to spend more than $60. Most importantly, they're incredibly comfortable.
---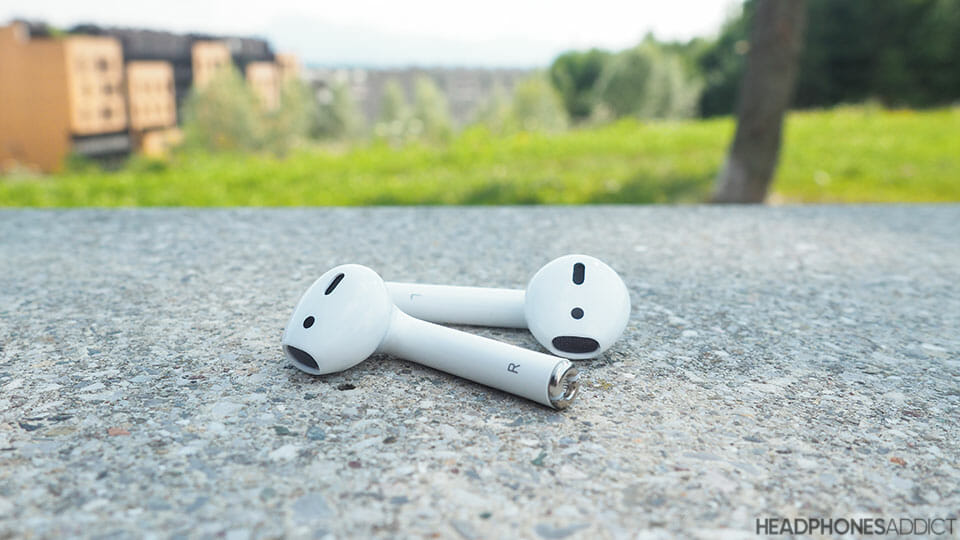 A well-known design in a true wireless form. AirPods 2 are very light and definitely one of the most comfortable earbuds, but finding the right fit can be tricky.
Why Buy These?
These wireless earphones maybe look simple, but they pack a lot of cool features (it is however good to know, that the majority of these features can only work on Apple devices). Connecting between iOS devices is extremely fast and simple thanks to the built-in H1 chip.
The call quality with these in-ear earphones is also really good. Microphones can pick up your voice clearly even in crowded and noisy places.
The battery is slightly better compared to the first generation. You get 5 hours per charge, with an additional 24 hours from the charging case.
The Bad
They are comfortable, however, they might not fit everyone's ears.
The Sound
Since they don't isolate that well, the sub-bass is of course lacking. But you do get a nice sense of the upper bass, with the midrange being the clearest. Highs are rolled off to prevent harshness.
The Verdict
AirPods 2 are a decent pair of true wireless earbuds, that truly start to shine when paired with an iOS device. While they are comfortable, you should definitely try out if they fit you.
Read the review of Apple AirPods 2.
---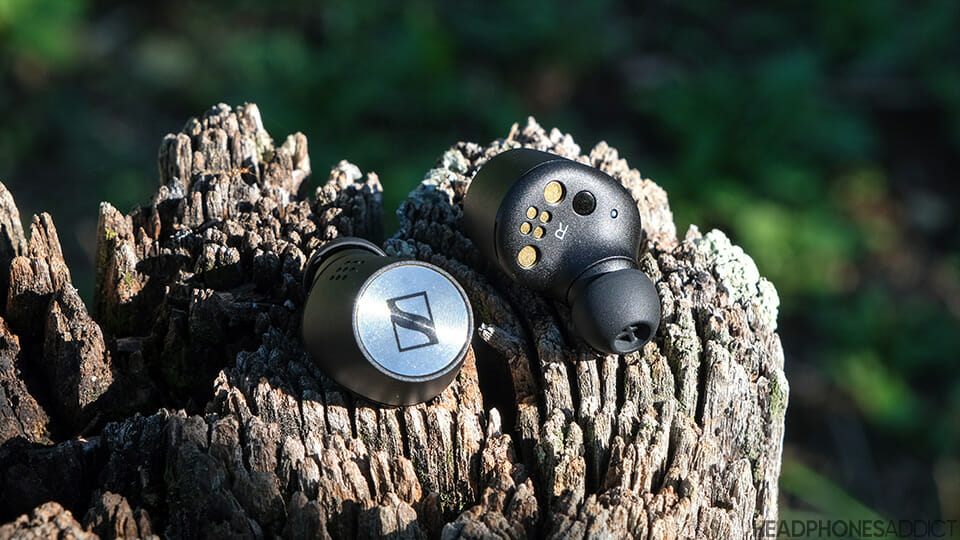 The most comfortable audiophile-grade true wireless earbuds that you lay your hands on.
Why Buy These?
Sennheiser made a second generation model of their true wireless headphones slightly slimmer to better fit inside the ear. Even though they still look a bit bulky, they feel wonderful, and you can wear them for multiple hours at a time.
Giving their premium price, they also come with many useful features. The most notable are active noise cancellation and Transparent Hearing. Both do an excellent job, especially the latter. You can also connect them with an app to tweak their EQ and customize touch controls.
Momentum 2 Wireless received a boost in battery life, giving you roughly 7 hours of playtime and extra 28 hours inside the fancy-looking charging case.
The Bad
Video lag is unbearable, despite support for aptX Bluetooth codec. If you force them to use SBC, the lag gets better.
The Sound
Nothing short of amazing. While they could use a tighter punch, their studio-quality sound is incredibly refined and detailed, with spacious soundstage and accurate imaging. For the best results, you have to enable the High-End Tuning feature inside the app.
Sennheiser Momentum True Wireless 2 are superb earbuds that can offer both pristine sound and comfort.
---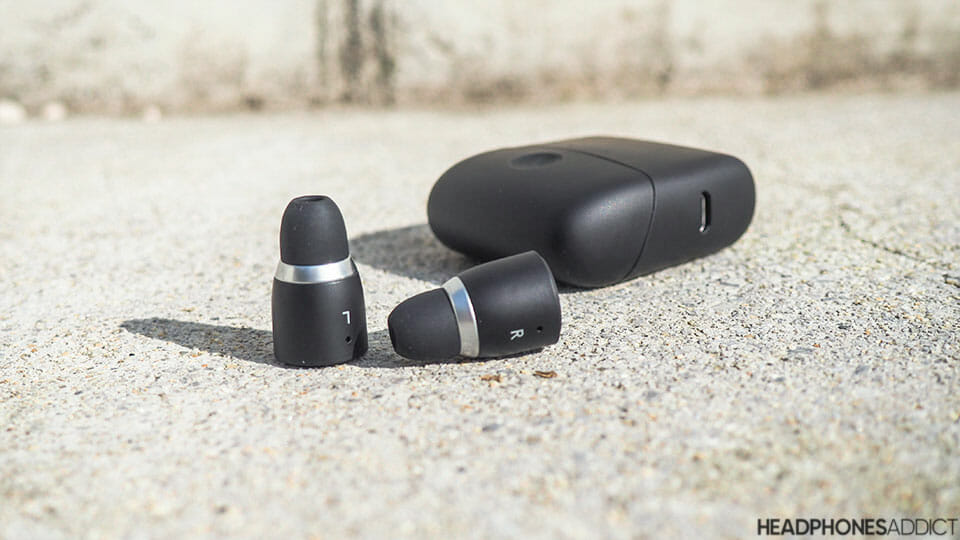 A barebone true wireless earbuds from an acclaimed audio company that can offer great comfort besides the sound quality.
Why Buy These?
These bullet-shaped earbuds don't look very ergonomic, but they fit in your ears quite well. As long as you use them with memory foam ear tips that are, thankfully, included in the box.
Foam tips feel very snug and can also stay in your ears much better than silicone ones. Isolation also improves, and you can use these for a light workout since they offer IPX5 water-resistance.
The battery life might not meet advertised expectations, but at 6.5 hours per charge, they're still great for a day of use. The charging case holds another 25 hours of extra juice.
The Bad
Use of the outdated Micro-USB instead of USB-C port for charging.
They can't get very loud.
The Sound
Being a pair of in-ear headphones from an audiophile company, these earbuds have a neutral sound signature. They work equally excellent with all music genres, regardless if you listen to rock or orchestral music. While their sound is nicely detailed and airy, bassheads might be disappointed by the lack of bass quantity.
Cambridge Audio Melomania 1 are the best sounding TWS earbuds under $100, and with proper tips, also very comfortable.
---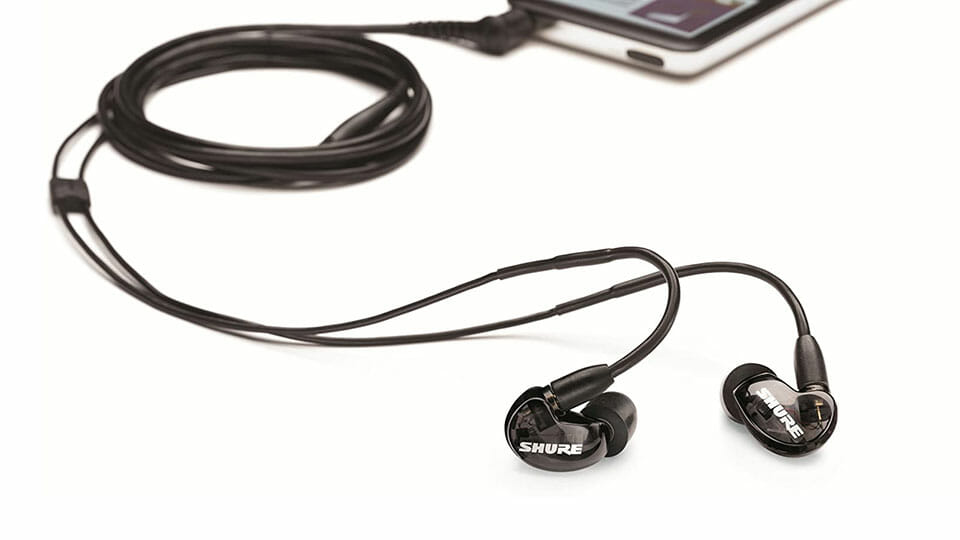 Popular Shure in-ear earbuds with almost cult status.
Should You Buy These?
Foam ear tips can provide a softer feel, while the soft flex sleeves can allow for slightly deeper insertion in the ear canal. Both sleeve types are comfortable to wear.
Shure SE215 isolating earphones are very good at blocking ambient sound.
A plastic earbud housing and ear tip design is resistant to moisture, so these are great for workouts. Detachable cables provide an extra level of durability. And if you accidentally damage the cable, you can easily replace it.
The Bad
The shape of the SE215 is different than a traditional earbud, so that may be uncomfortable for those with smaller ears.
It takes some time to achieve the optimal fit.
Sound
The bass response is warm and well rounded. Mids are powerful and deep, providing rich instrumental tones and great vocal detail. Highs are crisp and articulate. The level of detail from the dynamic micro driver almost rivals what you might expect from a balanced armature driver design.
The Verdict
Shure SE215 earbuds are a good value and definitely deserve your attention. Especially if you want professional build quality, comfortable fit, and great sound quality at an approachable price point.
---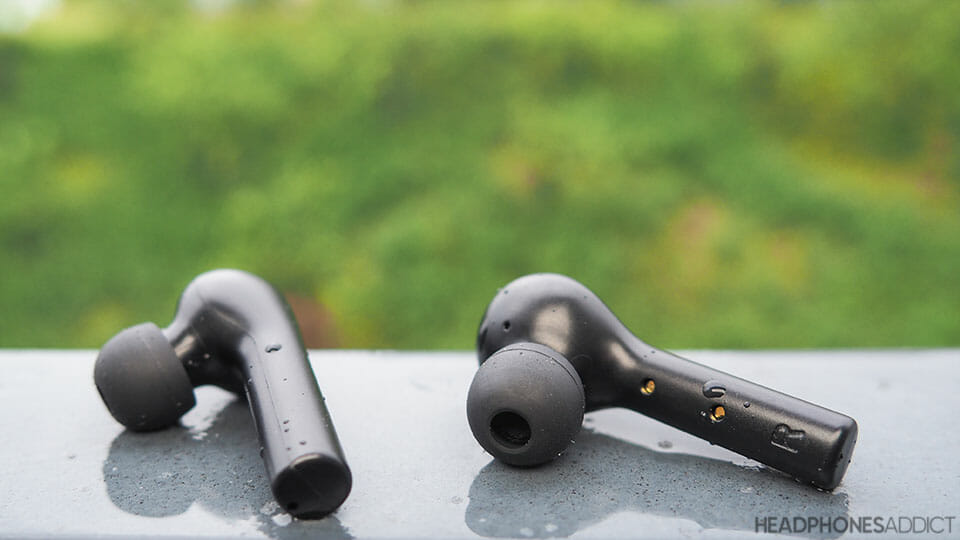 The cheapest earbuds on our list that can offer excellent comfort under a $30 price tag.
Why Buy These?
These true wireless earbuds that strongly resemble some products from Apple come with an in-ear design. Since they use ear tips, you have to push them a bit deeper. Thankfully, that doesn't result in discomfort. Instead, you almost forget you wear them after a while.
They come in a smallish-sized charging case that doesn't create too big of a bulge in your pocket. EP-T21 battery life is about average, with 4.5 hours of continuous playback and another 20 hours inside the box.
With an IPX4 rating, you can safely use them for exercising. However, that doesn't make them water-resistant but only sweatproof. Despite a budget price, the top of the stem is touch-sensitive instead of using physical buttons.
The Bad
Flimsy construction on the charging case.
The Sound
For budget Bluetooth earbuds, their sound is quite good. Overall, they sound very clean in the midrange and treble, yet they lack a little detail. The bass is present, but not overly so. To soundstage isn't impressive, but then again, at $30, you can't expect to have it all.
Most comfortable earbuds under $30 price point.
---
Honorable Mentions
Bose QuietComfort 20 – These are one of the most comfortable in-ear headphones out there, with amazing sound, build quality, and active noise canceling. Price point of these earbuds is quite high, but they justify that with many of their great features.
Beats PowerBeats Pro – They offer a decent comfort, although you can't use them for long listening sessions. These truly wireless earbuds offer a good sound with a bassy frequency response. (Check our Beats PowerBeats Pro review)
RHA T10i – Wired stainless steel in-ear headphones with strong bass, handmade drivers, and one of the toughest products in this guide. Despite the weight, their comfort is excellent.
Westone W10 – High quality, audiophile in-ear headphones with great comfort. These are worthy of consideration if you just want to listen to music and enjoy the comfortable user experience.
---
Comments