The unbreakable, heavy-duty earbuds for all occasions.
Comparison of Most Durable Earbuds
Tired of earbuds constantly breaking up and becoming useless?
Wasting your hard earned money buying new earbuds just to see them break in a couple of months.
Here is a solution.
The 7 top "invincible" in-ear earbuds that will last you longer than most.
All of the earbuds below are made of quality materials, like durable plastics and aluminum, don't have any major weak points and are simply better suited for the "hard human abuse".
No matter how much money you want to spend on new IEMs, if you get any from the table above, you can expect better durability.
Related: Find the most comfortable earbuds here.
How Long Should Earbuds Last?
At least a couple of years. Depending on the price you paid and how much value you got out of them, you need to get your money's worth. This takes 3-4 years, possibly over 5 years for more average users. If you're a light user, and take good care of your gear, then they can last longer.
Wireless earbuds tend to stop working sooner due to their battery which gets weaker over time and is prone to malfunction. But wired earbuds, if you keep them safe and you're careful with them, can last you a lifetime.
Unfortunately, we're all a bit clumsy and most people have to buy a couple of pairs in their lifetime.
Are headphones more durable than earbuds?
Generally, yes. Most over-ear and no-ear headphones have metal headband, and at least some metal parts. Plus, they're heavier and bigger so we tend to take better care of them.
Earbuds are often thrown into backpacks, carried in pockets and exposed to clumsy situations that end their "life". Normal wear and tear is harder on earphones.
Why do earphones break?
There are many reasons:
You can drop them on the floor
You can sit on them
You can crush them in a pocket / backpack
Water can damage their electronics
You can pull on the wires too strongly
You can snap their cable
Your cat or dog can chew the wires
And there are probably more reasons that belong to "other" category (tell us in the comments)
What Makes Headphones Durable?
Quality materials: Strong, durable plastic is lightweight and offers great protection from physical damage. Even better is a metal housing, like aluminum which offers even more advantages. The thickness of rubber around the wires is also very important, not all rubber is made the same.
No weak points: A lot of headphones have some kind of weak points, whether it's badly made I connector or weird, crack-able shape of main earbud design. These weak points are always revealed after the first few weeks of use so it's impossible to know them beforehand.
Design of hinges: If any hinges are present, it is imperative they're made for long-term use and don't crumble after a few weeks.
Cable coating: Some cables are reinforced with Kevlar and some have extra layers of rubber, but since cables are one of the usual weak points, cable strength plays an important role.
Moisture resistance: For athletes and fitness freaks sweat-proof headphones are a must. For everyday use, you'd like the headphones to withstand a bit of rain that will surely come in its way eventually.
Click here to find out top headphones for the gym.
Good warranty helps: Customer support play a big role in deciding to buy certain headphones. If you know that you have access to good customer support that can quickly replace your broken pair of earbuds, then it's much easier to make the purchase. Especially if the product has a lifetime warranty like Koss's.
The Most Durable Earbuds
1. RHA MA750 Wireless (best steel housing)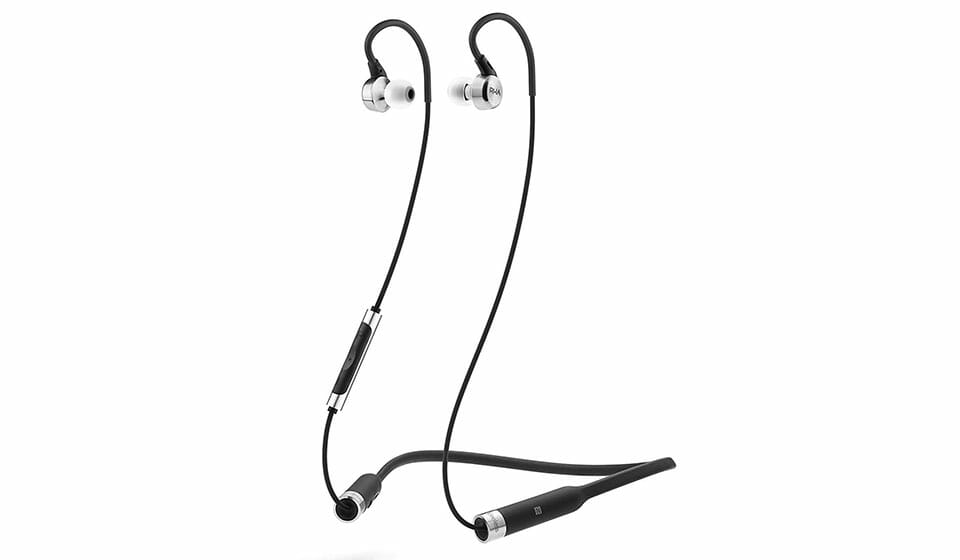 Durable earbuds with stainless steel housing
These durable wireless earbuds come in 303F stainless steel housing. They're hard-wearing and built to last.
Connection: Wireless Bluetooth
Battery life: 12 hours
Water protection: Not specified
Body construction: Stainless steel
Why Buy These?
RHA MA750 headphones are incredibly durable. They have 303F stainless steel housing containing handmade 560.1 dynamic drivers.
They're made in Japan, and the Japan Audio Society has certified them as high-resolution audio. The drivers are powerful and offer impressive frequency response.
You can see the attention to detail in the design. I love the oxygen-free copper cable to retain high-quality audio signal. Build quality is top notch.
This pair comes with a carry case and loads of accessories, including multiple silicone ear tips. You can choose the most suitable and comfortable for your ears.
The Bad
Some cable noise can occur when they touch clothing.
Also, the neckband connecting the earbuds is really long. Probably a bit too long for most people.
The Sound
These headphones are crisp and clear in the highs and mids. They are high-fidelity and perfect for listening to lots of genres of music, though the bass isn't as crisp and punchy. Neutral sound signature sounds good for all music genres.
For one of the most durable earbuds, clear and crisp mids and highs, consider the RHA MA750 stainless steel earbuds.
---
2. Aukey Key Series T10 (affordable true wireless)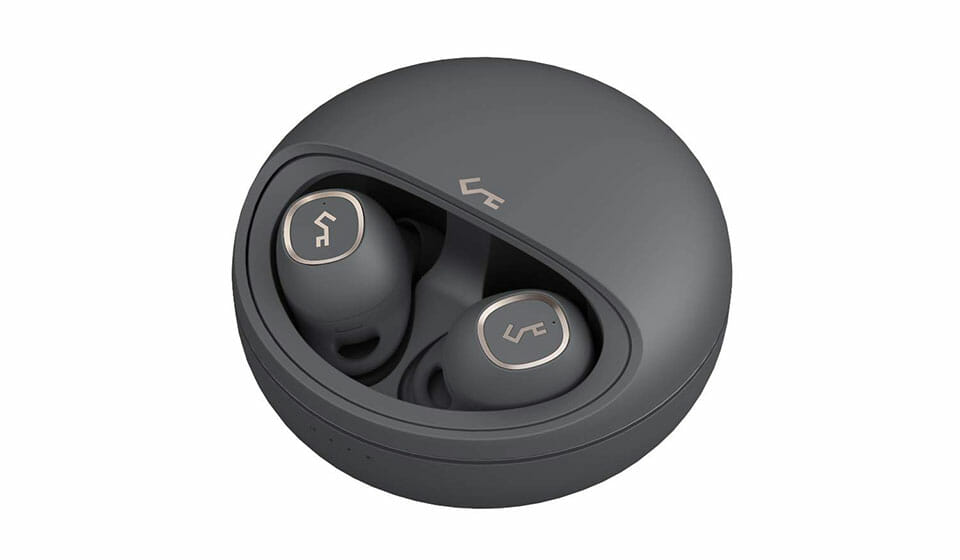 Best affordable true wireless headphones
True wireless functionality often comes with a big price tag, but the Aukey T10 headphones are affordable and still do a great job.
Connection: Wireless Bluetooth
Battery life: 24 hours
Water protection: IPX5
Body construction: Silicone
Why Buy These?
They're not just a budget option with true wireless functionality. The T10s come with high build quality.
Graphene diaphragms and high-quality dynamic drivers give power to the earbuds.
They have 3 different sizes of eartips included. You can match up the ideal one for comfort. The battery life is good, 7 hours at a time, but this can be extended to 24 hours by using the charging case.
The T10 earbuds also offer touch controls. Just tap the side to change track or volume. There's an inbuilt mic for taking phone calls, too.
Plus, they have a stable and comfortable fit for sports.
The Bad
Advertising 24 hours battery life is a tiny bit misleading. This isn't continuous, you need to recharge the headphones in their case.
The touch controls are good, but you need to get used to them.
The Sound
For an affordable option, the sound of the Aukey T10s is surprisingly punchy. You get clear bass from quality drivers and a high-fidelity sound with a reasonable price tag.
When it comes to true wireless earbuds with sturdy design, water protection, and acceptable price, Aukey T10 are among the best.

---
3. 1MORE Quad Driver (best quad driver)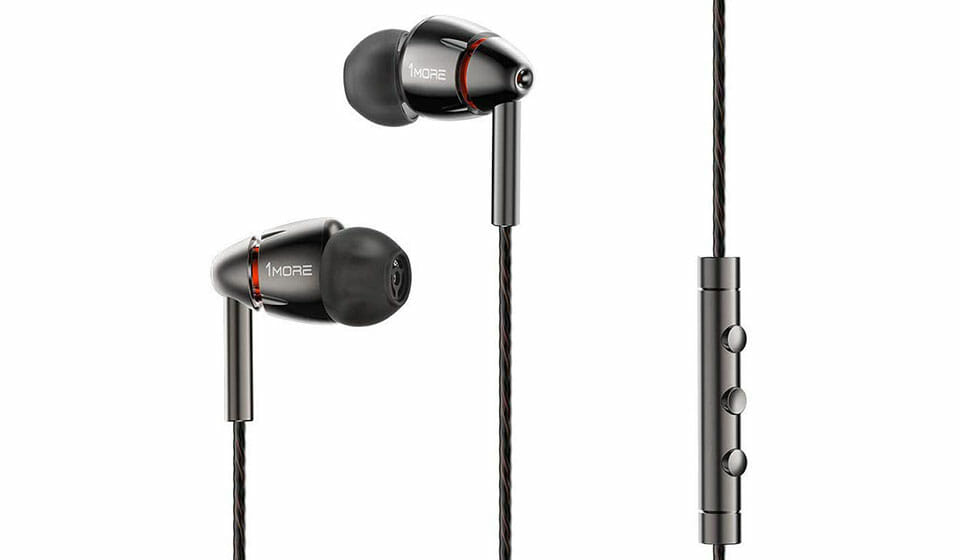 The best quad driver earbuds
These are in-ear monitors with a focus on sound clarity. Four drivers are included to channel the sound and create a high-fidelity audio experience and beautiful sound stage.
Connection: 3.5mm connection (6.3mm adapter included)
Water protection: IPX4
Body construction: Aluminum
Why Buy These?
If wireless isn't high on your priorities, then the 1MORE Quad Driver could be an option. The aluminum creates a sound chamber, and the 45-degree rotating ergonomic ear tips fit your ears comfortably. They come with 9 pairs of tips. You can choose the best design and fit.
These headphones come with simple in-line controls and a microphone for making phone calls.
The cable has a Kevlar core. It's designed to hold up to rigorous stress and travel, great build quality.
The Bad
No option for wireless capabilities could be a dealbreaker for some people.
These headphones aren't that stable within the ear and may fall out.
The Sound
Excellent soundstage, a brilliantly tuned set of headphones, and four drivers to deliver power and precision make the 1MORE Quad Driver earbuds a great choice.
---
4. Shure SE215 (best under $100)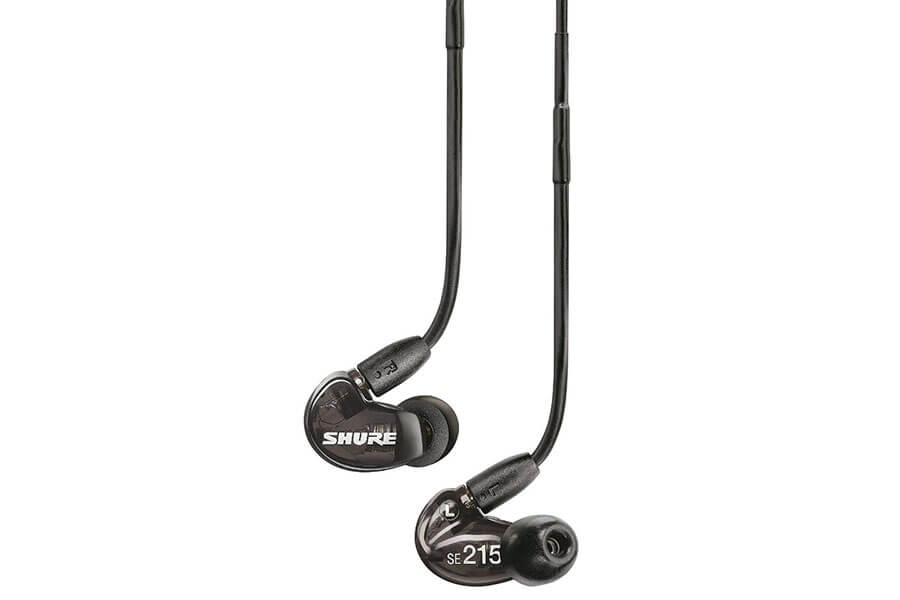 Durable earphones under $100
For blocking out external sounds, the Shure SE215 do a fantastic job, and they're rugged too, thanks to the thick plastic design.
Connection: 3.5mm connection
Water protection: Not rated
Body construction: Plastic
Why Buy These?
As well as rugged earpieces, SE215 have a durable reinforced cable that's detachable. These can handle being thrown around in a rucksack, or worse punishment.
Build quality is above average, as you can expect for the price.
The sound isolation is great too. These earbuds have sound isolating sleeves that can block out 37 dB of ambient noise. You can enjoy your music as intended.
They look big and bulky for a pair of earbuds, but the nozzle-shaped earpieces are designed to fit within the ear comfortably. 360-degree rotation also allows you to find a comfy position.
The Bad
No water protection, so not the best for sports. No metal housing like with alternative buds, these are fully plastic.
There's an art to the insertion of these headphones. It can take a while to get used to the nozzle design.
The Sound
Respectable, entry-level audiophile sound, with good, strong bass, even if they are lacking a bit in the high end for absolute purists. Balanced sound signature is suitable for all music genres.
We've come to expect high quality from Shure, and the Shure SE215s are rugged, and great if you need some noise isolation.
---
5. MEE Audio M6 PRO (best under $50)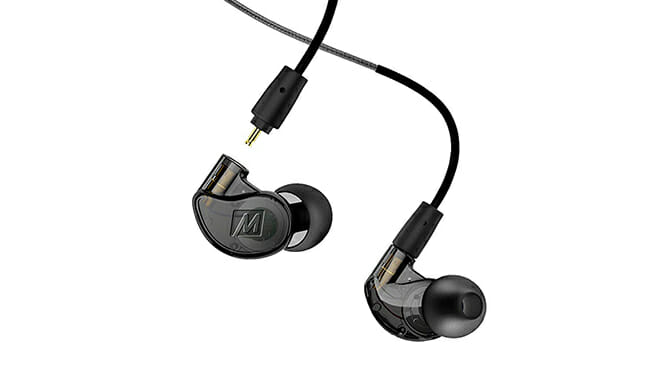 Durable earbuds under $50
If you don't have a huge budget to spend, you'll be glad products like the MEE Audio M6 exist. This is an affordable yet decent set of earbuds on the market.
Connection: 3.5mm connection
Water protection: IPX5
Body construction: Plastic
Why Buy These?
With IPX5 rating for water resistance and sturdy plastic design, these headphones aren't likely to break easily.
They've been made with replaceable cables. This means if one breaks, you can simply replace it, extending the life of the earbuds. They're resistant to sweat and water.
Memory wire ear hooks are designed to provide a secure fit.
There are 6 sets of eartips included for a comfortable fit, a carrying case to further protect the earbuds, and even an inbuilt mic with in-line controls.
The Bad
These earbuds lack in sound isolation features. Also, they could do with being a bit more comfortable for long-term use. Your ears might ache after prolonged use.
The Sound
It's not the very best sound on the list. These are affordable earbuds and don't give elite, audiophile sound, but the bass is clear enough, and they're not going to break easily.
The MEE Audio M6 PRO make a smart choice if you're looking for the most durable earbuds under $50.
---
6. TaoTronics SoundElite 72 (wireless option under $50)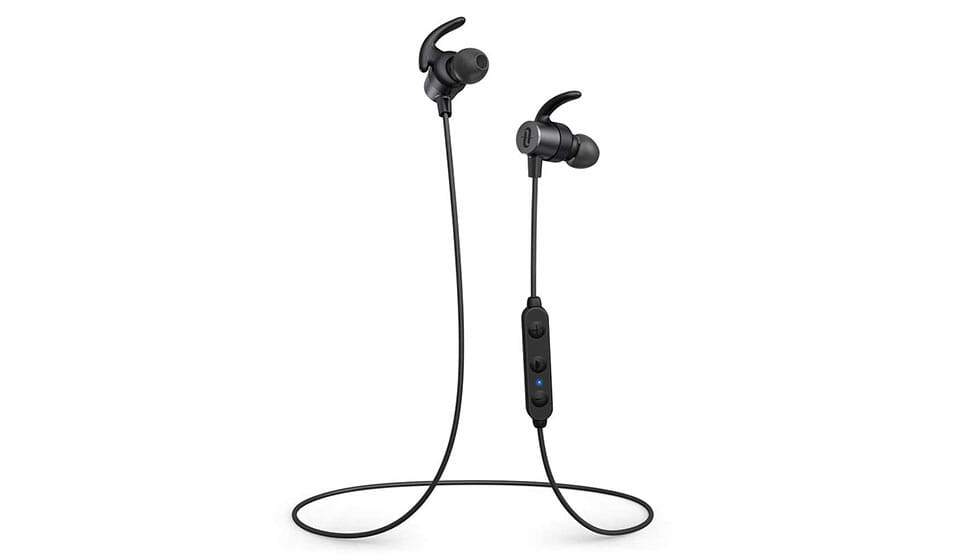 Durable wireless earbuds under $50
It can be hard to find headphones that allow wireless listening and are durable at a price point like this. The TaoTronics provide surprising quality and value.
Connection: Wireless Bluetooth
Battery life: 14 hours
Water protection: IPX6
Body construction: Plastic/silicone
Why Buy These?
This pair of earbuds has solid build quality for the price. IPX6 protection means they can be worn in the rain, and they have a protective layer to add to the durability and rugged design.
A clever magnetic design means these attach around your neck while not being used.
The battery life is brilliant. 14 hours on a single charge.
You can take advantage of the three different EQ settings. The CVC 8.0 noise cancellation technology gives a little bit of ambient sound cancelling during phone calls.
The Bad
The sound quality is not elite, as you would expect at this price. The battery can also die a lot quicker than 14 hours if you crank the volume.
It has a micro-USB connection to charge. Most devices are moving to USB-C compatibility.
The Sound
The sound is fine for most casual listening with boosted bass and decent highs. You can't really expect Hi-Fi from affordable wireless buds. But they sound better than most alternatives at the price.
The TaoTronics SoundElite 72 earphones offer a long battery and great durability for the price.
More Bluetooth earbuds under $50.
---
7. Anker Soundbuds Slim+ (best wireless under $30)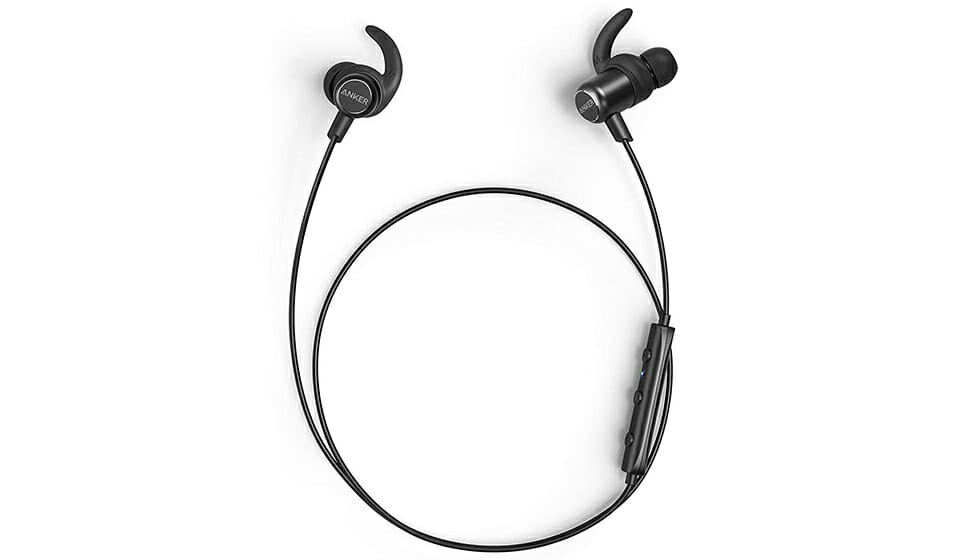 Sturdy wireless earbuds under $30
Cheap and wireless headphones aren't usually durable as well, but the Anker Soundbuds Slim+ break that trend.
Connection: Wireless Bluetooth
Battery life: 10 hours
Water protection: IPX7
Body construction: Metal/plastic
Why Buy These?
The wireless functionality is a big plus point, and for the price, it's very reliable.
The metal housing has got an IPX7 rating which means you don't have to worry about wet conditions while exercising.
A shirt clip helps it to stay in place, even if you are running or exercising. Multiple tips and ear wings mean you can get a comfortable fit for you.
The Bad
Though they offer great water resistance, they're not quite as durable as some other options on this list, as they're very lightweight.
Battery life dies much quicker if listening at high volumes.
The Sound
It may not keep audiophiles happy, but these durable earbuds offer a decent enough sound when you consider the low price point. The frequency response is decent, and most casual listeners will enjoy them.
For very affordable and dependable wireless earbuds, consider the Anker Soundbuds Slim+.
More wireless earbuds under $30.
---
Honorable Mentions
Beats PowerBeats Pro (check price) – great sports true wireless earbuds with sweat protection and sturdy plastic construction. One of the best on the market but IPX is a little low, not waterproof just sweat proof.
ToughTested wired earbuds (check price) – Bad sound quality for anything more than basic listening, and not as though as marketed.
---
What are Your Favorite Durable Earbuds?
Why do you think so?
Please share your opinion and tell us your story of other extra durable headphones out there.
We'd love to hear it.
For future updates subscribe or like us on Facebook.
---
Disclosure: We might receive affiliate compensation if you purchase products via links on this page. In spite of that we do our best to tell the truth about every product and don't favor any one brand or model.
Comments