Here are the unbreakable, heavy-duty earbuds for all occasions.
Tired of earbuds constantly breaking and becoming useless?

Are you wasting your hard-earned money on buying new earbuds just to see them break in a couple of months?

Here is a solution.

The 8 most durable earbuds you can get today that are tough enough to survive "hell" (in our opinion).

All of the earphones here are made of quality materials, like tough plastics and aluminum, don't have major weak points, and are simply resistant to "human abuse".

No matter how much money you want to spend on your new in-ear headphones, if you get these, you'll get earbuds that last long.

Related: Find the most comfortable earbuds here.
The Most Durable Earbuds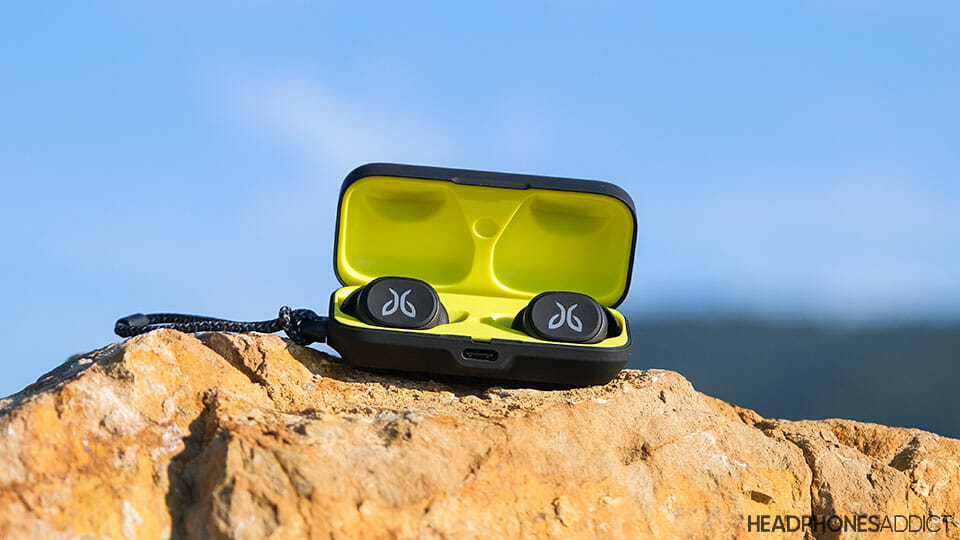 One of the most durable earbuds out there, with IPX7 water-resistance and MIL-STD-810G military standard of endurance.

Connection: Wireless Bluetooth
Battery life: 6 hours per charge
Water protection: IPX7 (waterproof)/MIL-STD-810G
Body construction: Brushed plastic

Why Buy These?

As soon as you put these earbuds out of the case, you feel reassured these earbuds mean business. They have a soft rubberized finish, with a silicone ear fin that locks them securely into place. Fins and ear tips are part of the same ear gel, so you don't have to worry about losing them.

As mentioned, these buds come with an IPX7 rating of water-resistance, making them completely submergible. For the added shockproof protection against drops, Jaybird made sure to meet the MIL-STD-810G durability standards.

Earbuds come in a sleek case that is small enough to fit easily in the pocket, with a short string attached to it. It offers the same kind of soft rubbery finish as on the buds. They can last you around 6 hours on a single charge, with about 10 hours left in the case.

The Bad

Subpar microphone quality.

The Sound

Truly impressive if you invest a little time into EQ settings. It's very punchy and energetic, with a nice sized soundstage.

Jaybird Vista are the best durable earbuds with high-quality sound.
---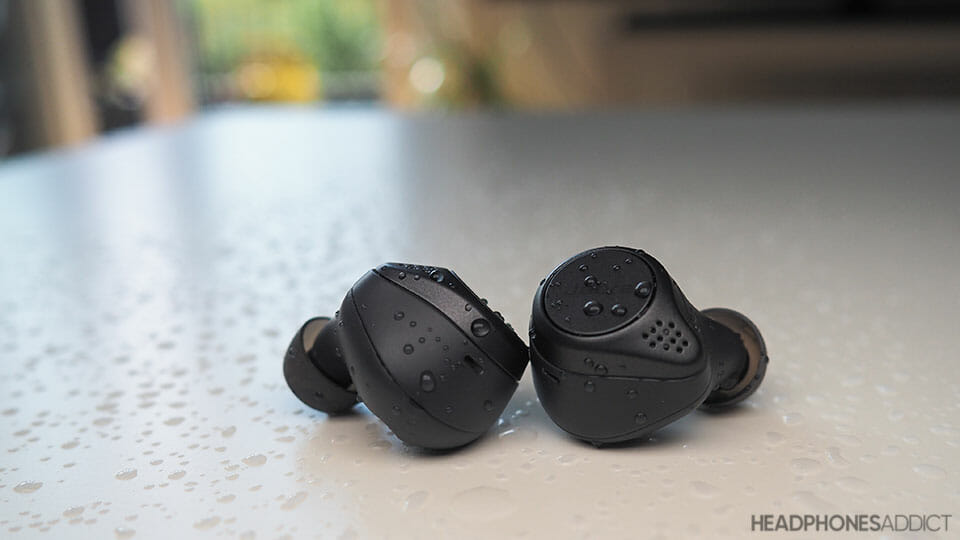 The Jabra Elite Active 75t are fully waterproof and dustproof wireless earbuds with high build quality.
Connection: Wireless Bluetooth
Battery life: 7 hours+ per charge
Water protection: IP57 (dustproof and waterproof)
Body construction: Brushed plastic

Why Buy These?

The Jabra Elite Active 75t are exceptionally rugged earbuds. They're built from brushed plastic, with some areas covered in the softer, premium-feeling silicone material. On top of IP57, you also get a 2-year warranty against dust and water damage.

You can throw these earbuds in the sand or submerge in water, they'll keep working like new.

Thanks to smart ergonomics, these are very stable and comfortable for hours. Because of their excellent sound isolation, they also offer HearThrough feature, which makes you more aware of your surroundings when you want to.

7 hours per charge is also pretty good, with an additional 20 hours from the charging case. Battery running low? A 15-minute charge gives 1 hour of playtime.

The Bad

Pricier than the competition. Only right earbud works in mono mode (for phone calls).

The Sound

Out of the box, Jabra Elite Active 75t are quite bass-heavy with superb low-end extension and clear, detailed highs. And, you can customize the frequency response in the Sound+ app to better suit your taste.

Jabra Elite Active 75t are superbly durable earbuds for sports that offer great sound quality, comfort, and durability for the harshest conditions.
---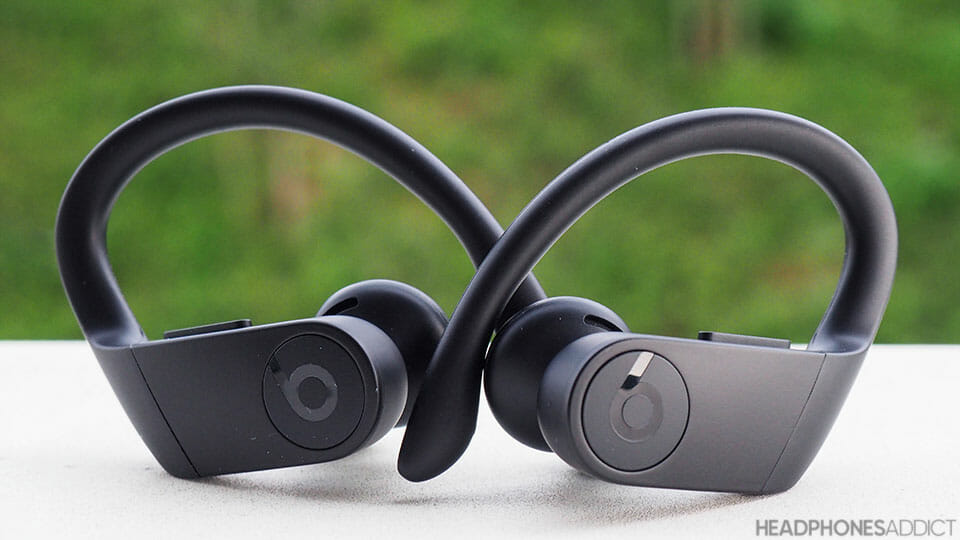 With its durable construction and great stability, PowerBeats Pro are an amazing workout companion for any basshead.
Connection: Wireless Bluetooth
Battery life: Over 11h per charge
Water protection: IPX4 (sweatproof)
Body construction: Hard plastic

Why Buy These?

When it comes to build quality, the PowerBeats Pro are amazing. Construction is excellent, with hard plastic housing and flexible ear-hook design for extra stability.

Not only are the PowerBeats Pro dependable, but they also sport an incredible battery life. With officially 9-hour capacity, in our tests, we got over 11 hours per charge with an additional 24-hours from the charging case.

With the IPX4 water protection, they are sweatproof, although we don't recommend submerging them into water. All in all, these are durable earphones with mic that are perfect for active use.

The Bad

We have experienced some minor Bluetooth interruptions and comfort issues. More in the review.

The Sound

Beats is finally going for more clear sound quality, although PowerBeats Pro are still primarily basshead wireless earbuds. They have a very distinct V-shaped frequency response, which is very enjoyable for a bass lover.

Beats is going in the right direction with PowerBeats Pro. These are very durable earbuds, offering high stability, and have an enjoyable sound.
---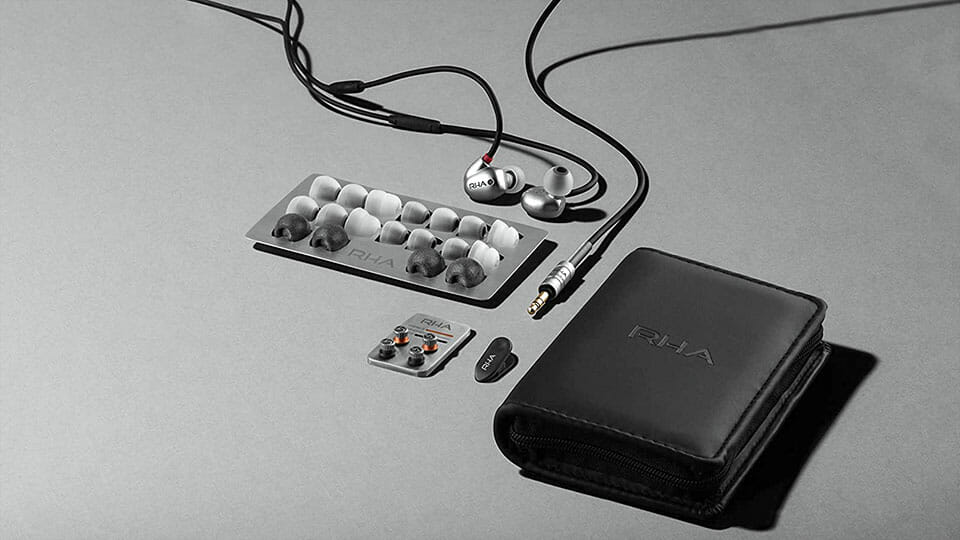 While they don't offer water protection, their metal housing makes them extremely durable against accidental drops.

Connection: Wired
Battery life: /
Water protection: /
Body construction: Stainless Steel

Why Buy These?

Despite a flood of true wireless earbuds, wired IEMs still have few benefits. Because the cable distributes most of the weight, they can make them from more premium materials. T20 Gen.2 are made from injection-molded stainless-steel, providing superb sturdiness.

In the box, you get a wide variety of ear tips (10 pairs) and even a couple of filters to change their sound. As with any premium product, you're getting a nice carrying case with a stitched leather.

The tangle-free cable is equally durable, with robust wire reliefs and gold-plated connectors. For added comfort, the cable goes over your ears, which also helps with microphonics.

The Bad

Non-detachable cable.

The Sound

These earbuds offer a punchy, V-shaped sound with a warm midrange. The frequency response is excellent, with a detailed treble up on top. If that sounds a bit too exciting, you can change the sound with 3 filters that come inside the box.

True wireless earbuds are maybe more convenient, but wired IEMs can still blow some punch in premium build, comfort, sound isolation, and even sound quality. RHA T20 Gen.2 are one of them.
---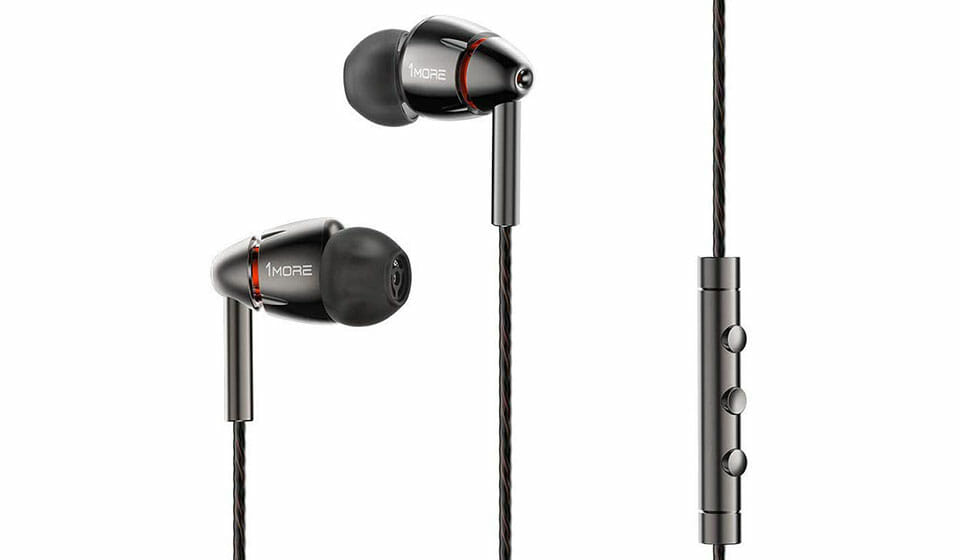 These are in-ear monitors with a focus on sound clarity. Four drivers are included to channel the music and create a high-fidelity sound quality and beautiful soundstage.
Connection: 3.5mm connection (6.3mm adapter included)
Water protection: IPX4
Body construction: Aluminum

Why Buy These?

If wireless isn't high on your priorities, then the 1MORE Quad Driver could be an option. The aluminum creates a sound chamber, and the 45-degree rotating ergonomic ear tips fit your ears comfortably. Earbuds come with 9 pairs of ear tips. You can choose the best design and fit.

These durable wired earbuds come with simple in-line controls and a microphone for making phone calls.

The braided wire has a Kevlar core and is tangle-free. It's designed to hold up to rigorous stress and travel with great build quality. These are definitely among the sturdiest earbuds with wires.

The Bad

No option for wireless capabilities could be a dealbreaker for some people.

These headphones aren't that stable within the ear canal and may fall out.

The Sound

Excellent soundstage, a brilliantly tuned set of headphones, and four drivers to deliver power and precision make the 1MORE Quad Driver earbuds a great choice.

Extremely durable in-ear headphones with high-quality sound.
---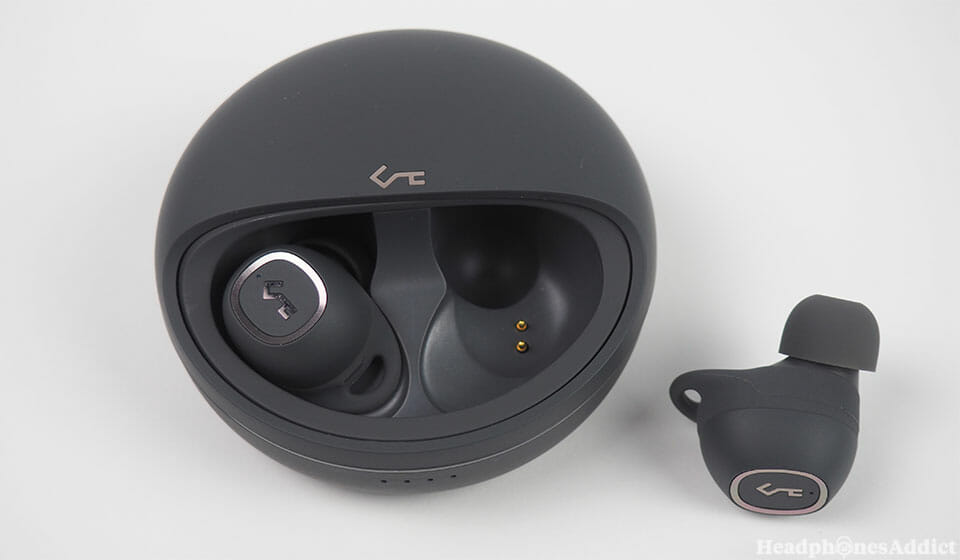 True wireless functionality often comes with a big price tag, but the Aukey T10 headphones are affordable and still do a great job.
Connection: Wireless Bluetooth
Battery life: Around 6 hours per charge, 24h together with the case
Water protection: IPX5
Body construction: Silicone

Why Buy These?

Aukey Key Series T10 are wireless long-lasting earbuds on a budget. Yet they come with a surprisingly high-quality build.

Earbuds fully plastic but with good IPX5 water protection. You can wash them under tap water without worry. And if you drop them on the floor, they're tough enough to escape with just scratches.

Graphene diaphragms and high-quality dynamic drivers give power to the earbuds.

Earbuds have three different pairs of silicone ear tips included. You can match up the ideal one for comfort. The battery life is good, 7 hours at a time, but this can be extended to 24 hours by using the charging case.

The T10 earbuds also offer touch controls. Just tap the side to change track or volume. There's an inbuilt mic for taking phone calls, too.

Plus, they have a stable and comfortable fit for sports.

The Bad

Advertising 24 hours battery life is a tiny bit misleading. This isn't continuous, you need to recharge the headphones in their case.

The touch controls are good, but you need to get used to them.

The Sound

For an affordable option, the sound quality of the Aukey T10s is surprisingly punchy. You get clear bass from quality drivers and high-fidelity audio with a reasonable price tag.

When it comes to water protection, and acceptable price, Aukey T10 are among the best durable earbuds around $100.

---
---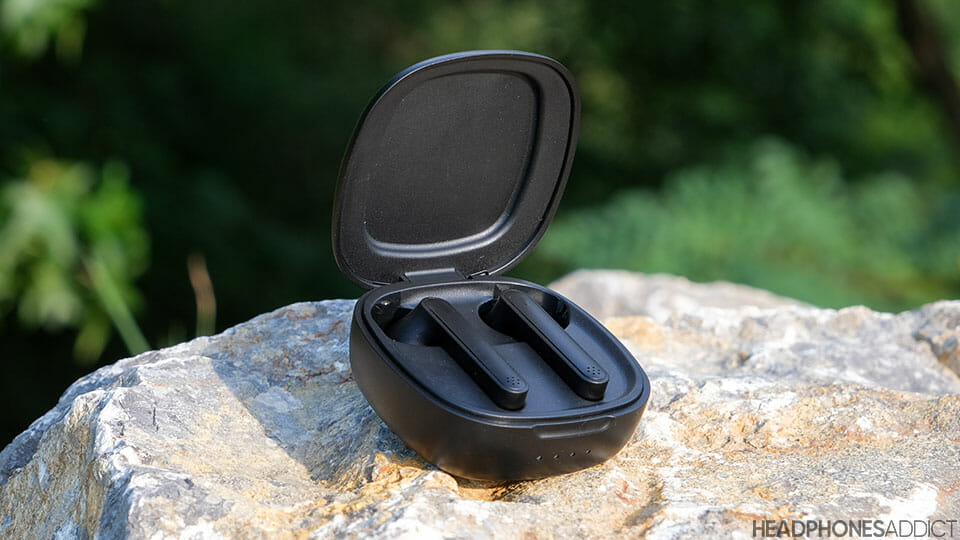 These AirPods lookalikes are one of the most durable earbuds, with IPX8 to ensure the ultimate protection.
Connection: Wireless Bluetooth
Battery life: Around 5 hours per charge, 20h together with the case
Water protection: IPX8
Body construction: Hard plastic

Why Buy These?

They come in black color with a matte finish. Earbuds are very comfortable to wear since you don't need to push them deep into your ears.

Fit highly depends on your ear's shape, but they're usually fine for a light jogging. Thankfully, even if they fall on the floor, they seem sturdy enough to survive. Also, with IPX8, you can easily use them near water or wash them after a sweaty workout.

5 hours of battery life is pretty standard for wireless earbuds of this size, with another 20 hours waiting inside the case. You also get a quick charge, giving you an hour of playtime in just 5 minutes.

The Bad

The fit might not be for everyone.

The Sound

Surprisingly clean midrange, but don't expect much bass from these pair of earbuds. They're very inoffensive, with no harshness whatsoever.

If you're a fan of Apple AirPods design but need something much cheaper and durable, SoundLiberty 92 might be the best pick. They even sound better.
---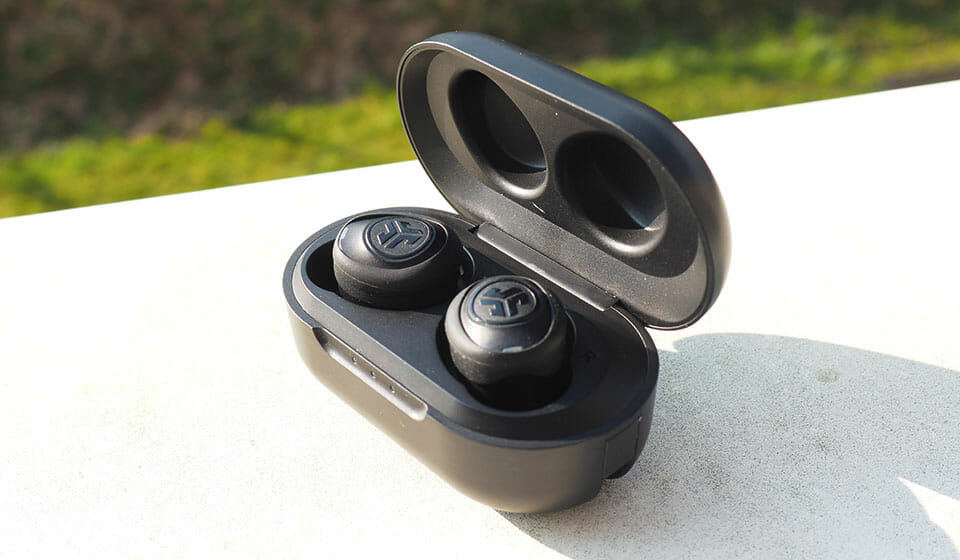 The Jlab Jbuds Air are the most durable in-ear headphones under $50.
Connection: Bluetooth
Battery life: 24 hours
Water protection: IP55
Body construction: Plastic

Why Buy These?

Jlab Jbuds Air are made out of durable hard plastic that doesn't break that easily. We have accidentally dropped these earbuds on the floor, and to our surprise, they work great with no signs of damage.

The charging case is also very sturdy, with a hinge that doesn't wobble like in some more expensive models, like PowerBeats Pro.

IP55 water protection is making sure that water or dust can't harm them.

The Bad

Using physical controls on the Jlab Jbuds Air is annoying because while pressing them, you're constantly pushing them into your ear canal.

The Sound

Jlab Jbuds Air provides a decent V-shaped sound quality. They offer 3 EQ presets, and in our own opinion, the Jlab Signature preset is the most likable.

Overall, these durable earbuds are finally making the budget wireless interesting. You get the features and technology of the more expensive models but under $50.
---
More Bluetooth earbuds under $50.

More wireless earbuds under $30.
---
Honorable Mentions
RHA MA750 Wireless (check price) – These earbuds offer impressive stainless steel housing with IPX4 water protection, oxygen-free cable, and a handmade 560.1 driver made in Japan. Because of their neutral sound signature, they'll sound great with a wide variety of genres.

RHA MA650 Wireless (check price) – Another durable earphones from RHA with the uncompromising build quality. These are one of the most durable earbuds under $100. They are metal and sweatproof with IPX4 with an impressive battery life of 12 hours and a clear, balanced sound.

ToughTested wired earbuds (check price) – Bad sound quality for anything more than basic listening, and not as though as marketed.

Shure SE215 wired (check price) – The most durable earbuds with a cable (for most people). They do a fantastic job, thanks to the thick plastic design, detachable cables with gold-plated connectors, and plenty of noise isolation.

TaoTronics SoundElite 72 (check price) – It can be hard to find tough headphones that allow wireless listening at a price point like this. The TaoTronics provide surprising quality and value.
---
How Long Do Most Durable Earbuds Last?
Average quality earbuds last from 3-4 years after which they get outdated or something gives out.

The longest-lasting earbuds are built from better materials and have a higher build quality. You can expect at least 5 years+ with medium use, basically doubling the lifetime.

Now, that's true if you're a light user, and take good care of your gear. But if you listen to music every day in a gym and throw them around, it will have an impact on longevity.

In general, wireless earbuds tend to stop working sooner due to their battery which gets weaker over time and is prone to malfunction. In contrast, wired earbuds, if you keep them safe and you're careful with them, can last you a lifetime.

Unfortunately, we're all a bit clumsy and most people have to buy a couple of pairs in their lifetime.

Are headphones more durable than earbuds?

Generally, yes. Most over-ear and on-ear headphones have a metal headband, and at least some other metal parts. Plus, they're heavier and bigger so we tend to take better care of them.

Earbuds are often thrown into backpacks, carried in pockets, and exposed to clumsy situations that end their "life". Normal wear and tear is harder on earphones.

Why do earphones break?

There are many reasons:
You can drop them on the floor
You can sit on them
You can crush them in a pocket/backpack
Water can damage their electronics
You can pull on the wires too strongly
You can snap their cable
Your cat or dog can chew the wires
And there are probably more reasons that belong to "other" category (tell us in the comments)
What Makes Earbuds Durable?
Quality materials: Strong, durable plastic is lightweight and offers great protection from physical damage. A metal housing is even better which offers better structural integrity, and it looks nice.

Water resistance: For athletes and fitness freaks sweatproof headphones are a must. Look for a minimum IPX4 for sweatproof or IPX6 for waterproof design. What's IPX?

Click here to find the top water-resistant headphones for the gym.

No weak points: A lot of headphones have weak points, whether it's a badly made connector, inadequate strain relief, or weird, crack-prone earphone shape. These weak points are always revealed after the first few weeks of use so it's impossible to know them beforehand.

Hinge design: If hinges are present, it's important they're made for long-term use and don't crumble after a few weeks.

Cable coating: Some cables are reinforced with Kevlar and some have extra layers of rubber, but since cables are one of the usual weak points, cable strength plays an important role.

Good warranty helps: Customer support plays a big role in deciding whether to buy certain headphones. If you know that you have access to good customer support that can quickly replace your broken pair of earbuds, then it's much easier to make the purchase. Especially if the product has a lifetime warranty like Koss's.
What are Your Favorite Durable Earbuds?
Why do you think so?
Please share your opinion and tell us your story of other heavy-duty earbuds out there.
We'd love to hear it.
Comments