Budget
The Best Wireless Earbuds Under $30
Get the best wireless Bluetooth earbuds under 30 dollars.
Comparison: The Best Wireless Earbuds under $30
We included a few earbuds that might be a couple dollars above 30 at times, because prices change over time. All of the wireless earbuds here were listed for $30 or less in the last couple of months (but might be a bit more right now).
You're sure to find really cheap but quality earbuds with reliable Bluetooth performance.
Related:
Best earbuds under $30 (wired included)
The best wireless earbuds under $50
The best Bluetooth earbuds overall
The Best Wireless Earbuds under $30
1. Aukey EP-T21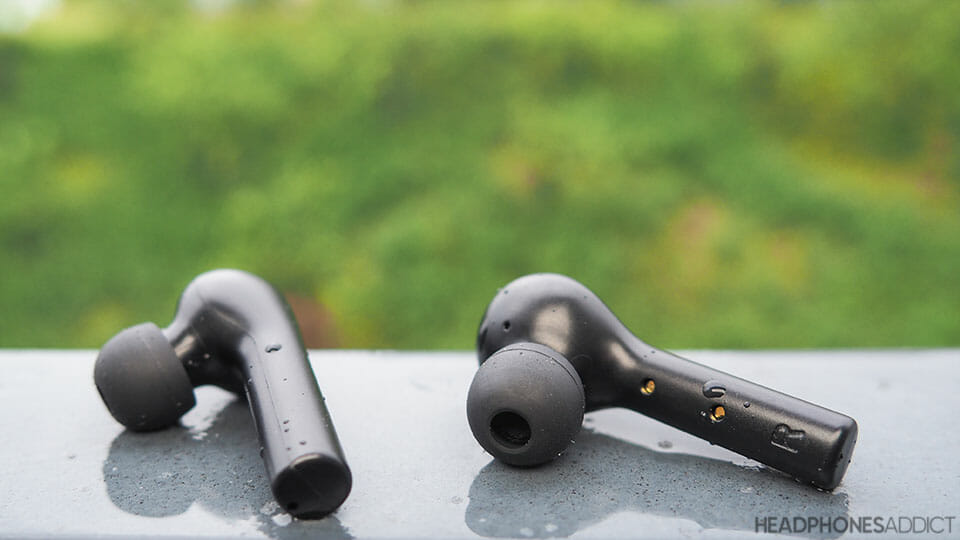 Aukey EP-T21 are lightweight Airpod-like earbuds that offer a ton of value for $30.
Check the Aukey EP-T21 review.
Should You Buy These?
The Aukey EP-T21 are light and ergonomic earphones that copy from the popular Airpod design.
They're reliable, comfortable, and generally work well for daily use.
The Good
The IPX4 casing protects against sweat and rain while the Bluetooth 5.0 provides a constant connection.
The battery life is 4.5 hours. And, when you run out of juice, you have 20 more hours in the charging case. That's more than many comparable TWS earbuds.
You can make hands-free phone calls with a built-in mic and touch controls. To call your favorite voice assistant takes just one touch of a finger. And the mic isn't bad at all.
The Bad
Basic Bluetooth codecs, only SBC. If you grimace your face a lot, they tend to lose the fit.
The Sound
While you don't get Hi-Fi audio quality, it's better than expected for the price. Sound quality is somewhat balanced, with all ranges equal.
This works for most music genres. Also, there's no video delay if you like binging on your favorite YouTube channels.
The Verdict
These are modern, dependable, sweatproof, and work better than expected. Truly the best wireless earbuds under $30.
---
2. SENSO Bluetooth Wireless Headphones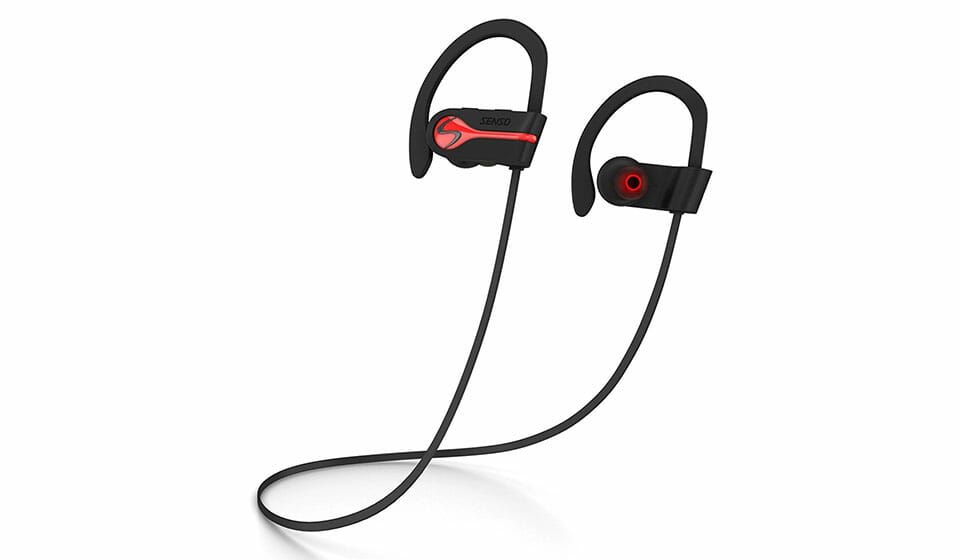 The SENSO Bluetooth wireless earbuds are the most popular hook earbuds under 30$.
The full SENSO Bluetooth headphones review.
Should You Buy These?
The attractive looks (copied Powerbeats) topped with adjustable ear-hooks, and firm sound makes SENSO headphones a respectful choice, especially for sports.
The Good
SENSO wireless headphones are decked with Bluetooth 4.1 and CVC 6.0 noise suppression technology. Combined with IPX7, you can be sure that your headphones will work in almost every given environment.
The Lithium-ion battery can provide up to 8 hours of life, and it takes around 90 minutes to get it fully re-charged.
The Bad
The adjustable ear hook will fit almost every ear, and even though they seem quite light and soft, they still can be unpleasant. Especially, if you wear them for hours.
The Sound
Overall, it delivers a clear sound. The low end is well-rounded and warm while the highs aren't too bright. They don't distort at higher volumes which is definitely a plus.
The Verdict
SENSO Bluetooth wireless headphones combine good sound, ergonomic design, and excellent battery life, which makes them an awesome value for the money.
---
3. Mpow Flame S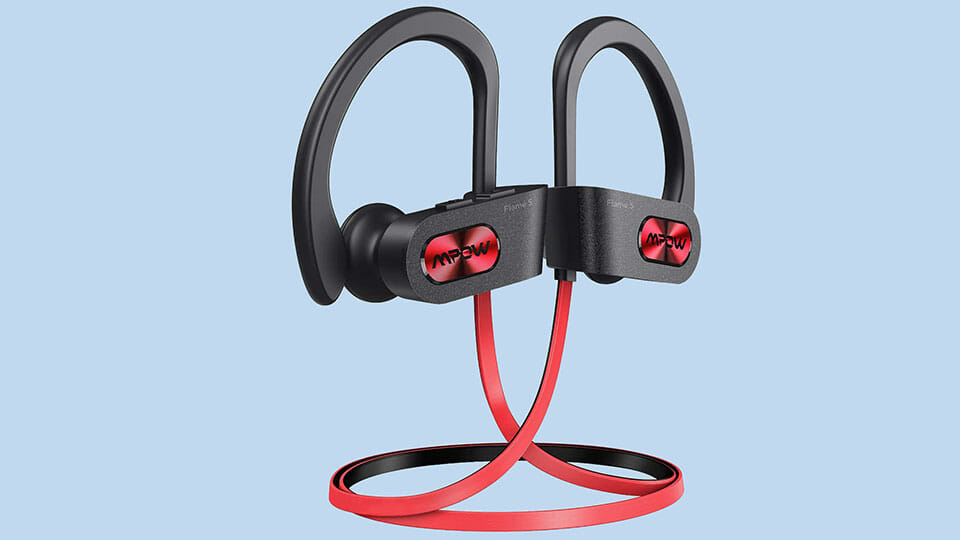 Mpow has released many great products for an affordable price, but the Flame S goes one step further. For under $30, you get more features than in many other premium wireless headphones.
Should You Buy These?
These are highly recommended if you tend to listen to your music during workouts. Ear hooks grab your ears and remain stable, regardless of how much you're moving.
They're also quite comfortable, with a newly designed flat cable, which is less irritating on your skin. These are also 4 tips included in the box (L, M, S, XS).
Not only they have Bluetooth 5.0 and IPX7 water-resistance but can receive aptX HD signal for high-quality audio. The battery hold for around 12 hours of playtime.
The Bad
They are a bit bulky, and the wire produces some cable noise.
The Sound
The 11mm driver inside produces a balanced, rich sound experience. Everything is surprisingly sharp and clean, with excellent overall performance across the board. However, they might not please bassheads.
The Verdict
Some might find them too bulky, but they stay in your ears just fine, even during intense workouts. With the addition of some serious technical specs, you should check these.
---
4. iTeknic BH001
A real battery life beast with decent sound.
Should You Buy These?
These offer a massive battery life (for wireless earbuds) of 24 hours, making them a top choice for those looking reliable earbuds that can last for a few days of casual use.
Despite the impressive battery, the buds remain very lightweight, also bringing comfort to the table. They have ear hooks, which provides a very secure fit, making them ideal gym companions.
Apart from the SBC Bluetooth codec, they also support aptX. The latter improves the video lag when watching videos, while also transmitting audio with higher bitrates.
The Bad
They are not the most suitable for running, since they protrude, which creates wind noise.
The Sound
These are very balanced sounding earbuds, with a moderate bass quantity. While bassheads should stay away from these, casual listeners will appreciate the clarity across the whole spectrum. Sibilance is present, but only when the volume gets cranked up.
The Verdict
If you need long-lasting battery life and budget-friendly wireless earbuds, iTeknic BH001 might be your next pair.
---
5. Anker Soundbuds Slim+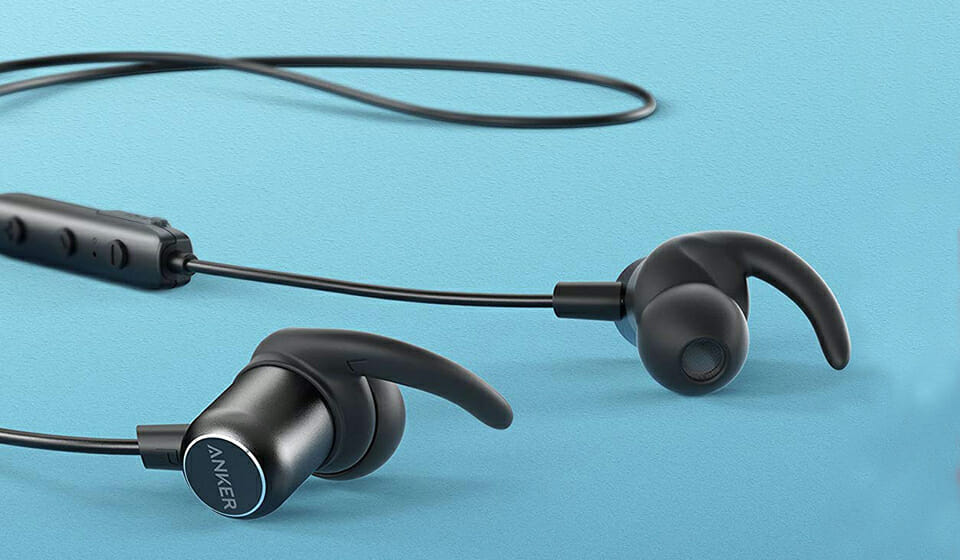 A well-made pair of wireless earbuds, with great comfort and enjoyable sound quality. What more can a person want?
Should You Buy These?
Slim+ are especially suitable for sports. With its IPX5 water-resistant rating, they should survive small water splashes, with absolutely no problems when it comes to repealing sweat.
Ergonomic design helps them to be comfortable for hours of use. They're equipped with small ear fins, which glues them directly to your ears.
You can make phone calls with the built-in microphone, and watch YouTube videos with no lag thanks to the aptX Bluetooth codec. The whole listening experience should last for 7 hours on a single charge.
The Bad
They get a bit sibilant at higher volumes.
The Sound
For the price, the sound quality is quite satisfying. Soundbuds Slim+ have a slight V-shape, which makes the bass and the treble a little more present. Overall, the mids and the highs stay clean, while the bass only delivers the punch when needed. Cranking up the volume can introduce some distortion and sibilance, so we don't recommend doing that.
The Verdict
You should check these out. With the Anker Soundbuds Slim+, you get a lot for just a $30.
---
6. VAVA Moov 28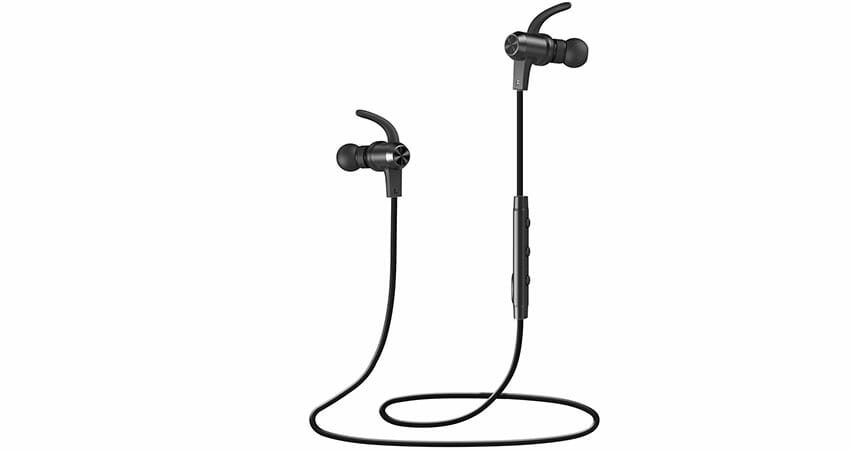 VAVA waterproof earbuds with a stable fit, Bluetooth, and decent sound for a super low price.
Should You Buy These?
They're small and lightweight which makes them suitable for any sports activity. The passive noise isolation is decent as well especially when you find the perfect ear tips for your ear shape.
The Good
The VAVA Voom 28 are IPX6 rated and equipped with Bluetooth 4.2 technology. The 120mAh provides up to 9 hours of listening experience and can be fully charged in two hours. They're built from quality materials which make them durable.
Overall, these are cheap wireless earbuds that offer a ton of value.
The Bad
Even though the sound quality is quite good, it has few limitations as well, which isn't really a surprise considering the price. At higher volume highs get harsh and slightly sibilant. The bass on the other side can sound a bit thin without an airtight fit.
Check the best bass earbuds here.
The Sound
VAVA Moov 28 have aptX support for better sound quality over wireless Bluetooth. Having in mind that these are really cheap buds, we can say the sound is pretty solid. Also, they can get quite loud, with clear highs on lower volumes, decent mid-range, and some bass.
The Verdict
Overall durability, comfort, fit and good sound make VAVA Moov 28 one of the best wireless earbuds under 30 dollars right now.
---
7. SoundPEATS TrueDot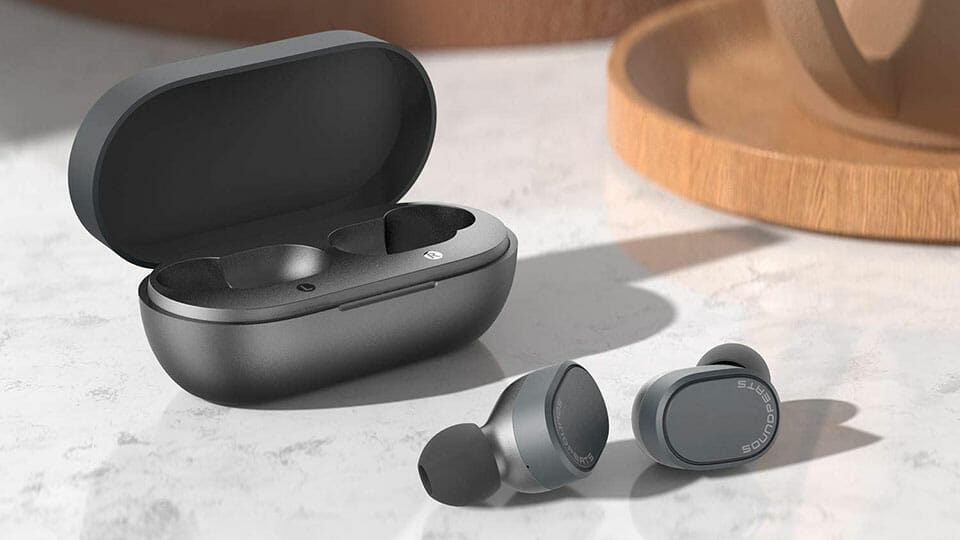 Compact earbuds with a big sound, impressive comfort, and even better price tag.
Should You Buy These?
These true wireless earbuds come with a portable case that is tiny and can fit in all pockets. Despite its small size, the charging case packs around 15 hours of battery life, with 5 hours already inside the earbuds.
Bean-shaped housing fits nicely inside the ear, providing a very comfortable fit. They come in matte black color, which prevents them from catching too many fingerprints.
You control these by pressing the touch-sensitive panel on the outside of the bud. Controls are very responsive and easy to learn.
The Bad
You can use only the right earbuds for mono mode.
The Sound
They're very natural sounding, performing incredibly well with all genres. You can expect deep bass that can rumble your ear canals. Surprisingly, it doesn't bleed into the midrange. The latter stays nicely clean and detailed. The same goes for the treble. The most amazing is the soundstage, providing an accurate position of the instruments.
The Verdict
SoundPeats TrueDot are a genuine surprise at this price. These are the best wireless earbuds under $30 if you're looking for sound quality.
---
Why So Few True Wireless Earbuds under $30?
30 dollars is such a low price that few decent true wireless earbuds exist. You might find some at this price point but you should be careful not to buy bad earphones.
Decent true wireless earbuds do exist at this price but be careful with picking unproven ones.
---
Check related guides on earbuds and other cheap headphones (over-ear headphones).
Want to spend more money? Check the best Bluetooth earbuds under $50.
Comments