Get the best wireless Bluetooth earbuds under 30 dollars.
Comparison: The Best Wireless Earbuds under $30
We included a few earbuds that might be a couple dollars above 30 at times, because prices change over time. All of the wireless earbuds here were listed for $30 or less in the last couple of months (but might be a bit more right now).
You're sure to find really cheap but quality earbuds with reliable Bluetooth performance.
Related:
Best earbuds under $30 (wired included)
The best wireless earbuds under $50
The best Bluetooth earbuds overall
The Best Wireless Earbuds under $30
Anker SoundBuds Slim+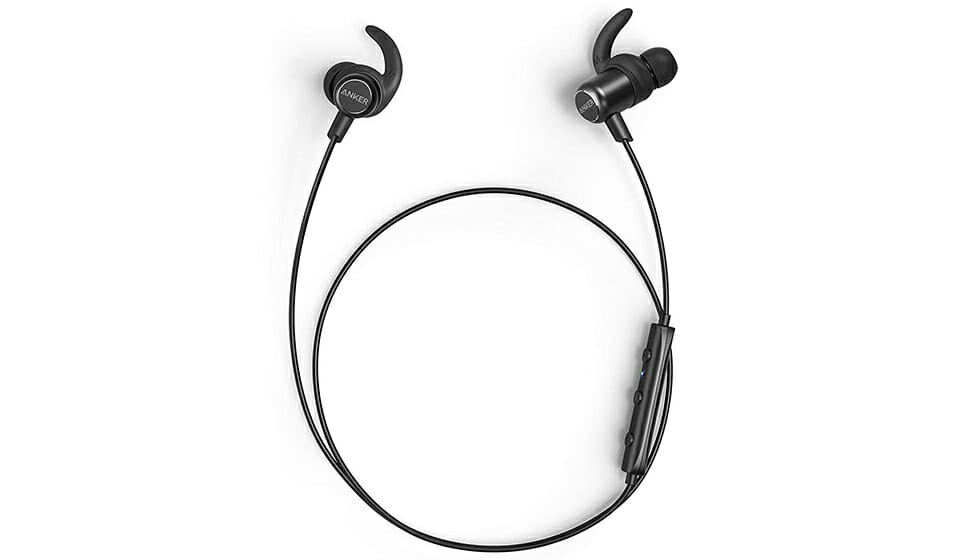 Anker SoundBuds Slim+ are lightweight earbuds that offer a ton of value for $30.
The full Anker SoundBuds Slim+ review.
Should You Buy These?
The SoundBuds Slim+ are light and ergonomic earphones which makes them comfortable and therefore easy to wear. This is highly appreciated amongst sports enthusiasts.
The Good
The IPX5 casing effectively protects against liquids while the Bluetooth 4.1 provides a constant connection. The battery life is 7 hours. It takes roughly 90 minutes to get it fully charged which is pretty solid.
Compared to the old Slim version, Slim+ also has an aptX codec that supports high-quality sound through Bluetooth.
They offer a secure fit that suitable for sports or everyday listening.
The Bad
Even though the sound is pretty good, you can't expect too much. Treble can be too present and even distort at higher volumes. Luckily, blasting volume isn't healthy so don't do that. Slim+ sound good for all music genres as long as you don't expect too much.
The Sound
The sound quality is rather solid for the price range. The bass is smooth and slightly emphasized while the highs and mids are present and clear. They have a somewhat V-shaped sound signature.
The Verdict
In the end, Anker SoundBuds Slim+ are wireless waterproof earbuds with superb build quality and an even better price. The best Bluetooth earbuds under $30.
---
SENSO Bluetooth Wireless Headphones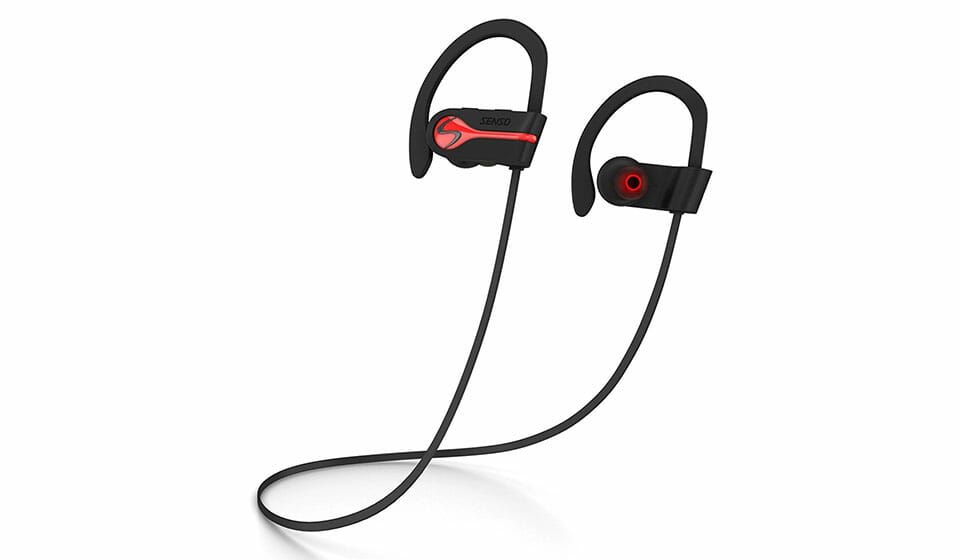 The SENSO Bluetooth wireless earbuds are the most popular hook earbuds under 30$.
The full SENSO Bluetooth headphones review.
Should You Buy These?
The attractive looks (copied Powerbeats) topped with adjustable ear-hooks, and firm sound makes SENSO headphones a respectful choice, especially for sports.
The Good
SENSO wireless headphones are decked with Bluetooth 4.1 and CVC 6.0 noise suppression technology. Combined with IPX7, you can be sure that your headphones will work in almost every given environment.
The Lithium-ion battery can provide up to 8 hours of life, and it takes around 90 minutes to get it fully re-charged.
The Bad
The adjustable ear hook will fit almost every ear, and even though they seem quite light and soft, they still can be unpleasant. Especially, if you wear them for hours.
The Sound
Overall, it delivers a clear sound. The low end is well-rounded and warm while the highs aren't too bright. They don't distort at higher volumes which is definitely a plus.
The Verdict
SENSO Bluetooth wireless headphones combine good sound, solid ergonomics and excellent battery life which makes them an awesome value for the money.
---
VAVA Moov 28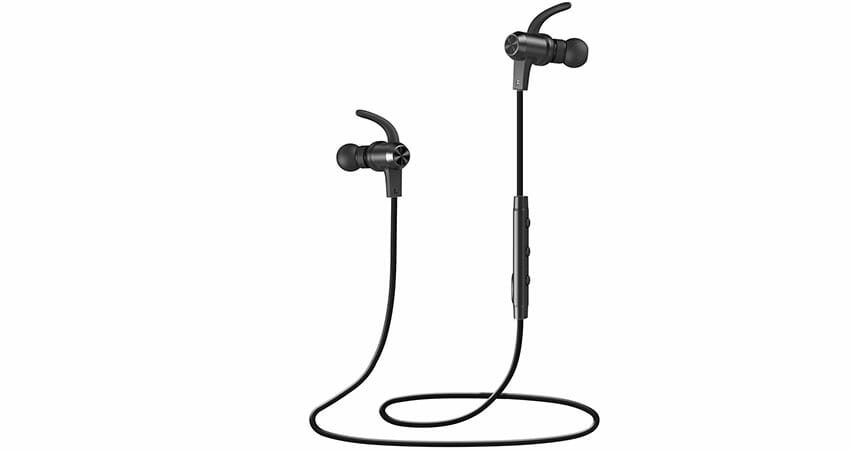 VAVA waterproof earbuds with a stable fit, Bluetooth, and decent sound for a super low price.
Should You Buy These?
They're small and lightweight which makes them suitable for any sports activity. The passive noise isolation is decent as well especially when you find the perfect ear tips for your ear shape.
The Good
The VAVA Voom 28 are IPX6 rated and equipped with Bluetooth 4.2 technology. The 120mAh provides up to 9 hours of listening experience and can be fully charged in two hours. They're built from quality materials which make them durable.
Overall, these are cheap wireless earbuds that offer a ton of value.
The Bad
Even though the sound is quite good, it has few limitations as well, which isn't really a surprise considering the price. At higher volume highs get harsh and slightly sibilant. The bass on the other side can sound a bit thin without an airtight fit.
Check the best bass earbuds here.
The Sound
VAVA Moov 28 have aptX support for better sound quality over wireless Bluetooth. Having in mind that these are really cheap buds, we can say the sound is pretty solid. Also, they can get quite loud, with clear highs on lower volumes, decent mid-range, and some bass.
The Verdict
Overall durability, comfort, fit and good sound make VAVA Moov 28 one of the best wireless earbuds under 30 dollars right now.
---
Origem HS-1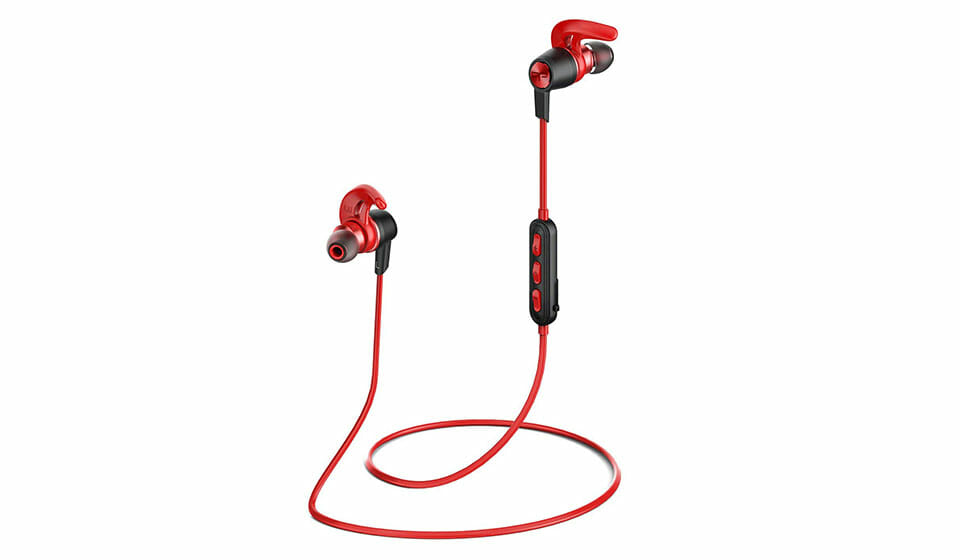 Origem HS-1 are budget-friendly fully waterproof Bluetooth earbuds.
Should You Buy These?
If you're an active person that likes to listen to music no matter the weather and aren't willing to pay a premium price for wireless earbuds, you should check out the Origem HS-1.
The Good
Origem HS-1 are affordable earbuds with the recent technology that enables quick charging. Once they're fully charged, you can listen to music up to 10 hours via high-powered, dynamic speakers with aptX technology. That's a long battery life in this category.
It's true these Bluetooth earbuds cost slightly above $30, but you should still consider them because they offer a lot of value. When you combine all specs with a waterproof design and a price that is set just shy of 35$, you get a pair of great wireless earbuds.
The Bad
The earbuds are quite big and can be unpleasant even fall out of your ear occasionally.
The Sound
Considering its price, HS-1 has a really nice V-shaped sound (boosted treble and deep bass) which makes them perfect for working out.
The treble is clear and precise, and they punch a good amount of bass. It's a popular sound that will satisfy most users.
The Verdict
If you're looking for low-budget earbuds with energized sound, water-protection, and reliable Bluetooth, then Origem HS-1 are something to consider.
---
Monoprice Bluetooth Wireless Earphones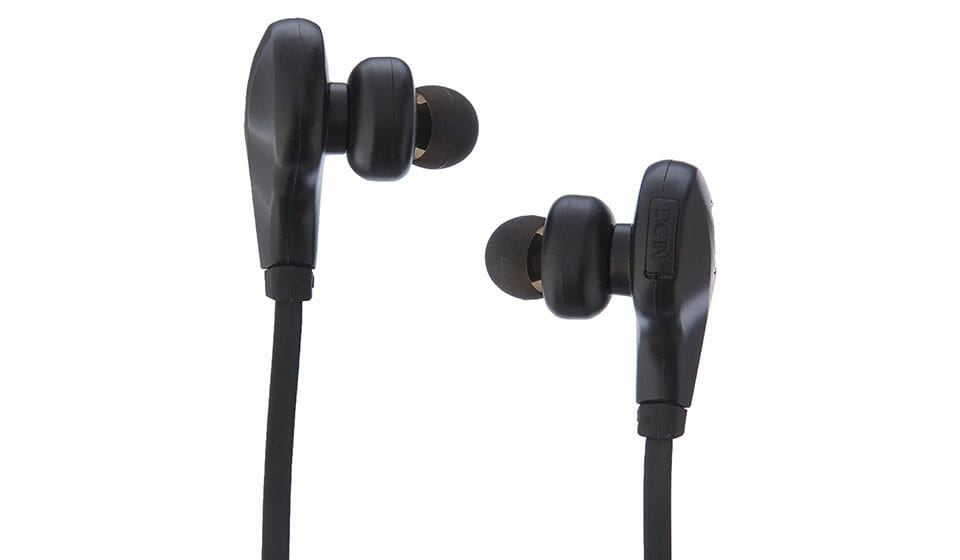 Monoprice Bluetooth earbuds deliver quality at a dirt-cheap price.
Should You Buy These?
With a lightweight structure and smooth sound, Monoprice wireless earbuds offer a perfect fit for users that are seeking good quality on the cheap.
The Good
The 11mm speakers can provide respectful sound quality while the battery allows decent 5 hours of music. The light design and metal alloy enclosures enable the sound to resonate and build volume naturally before it reaches your ears.
The in-line module includes a microphone for hands-free phone calls and a controller which allows you to pause, start playback, and skip audio tracks.
The Bad
The bass can sound a bit thin, so these may not be the most suitable headphones for bassheads. Build-quality isn't top-notch either, but hey, these are cheap.
The Sound
Considering its price, Monoprice has a rather pleasant sound quality. The sizeable drivers make the mids and highs clear and rounded while the bass does lack some depth occasionally. It's more of a neutral sound.
The Verdict
Lightweight design, solid sound, and a cheap price make the Monoprice headphones one of the best under 20$ range.
---
MEE Audio M9B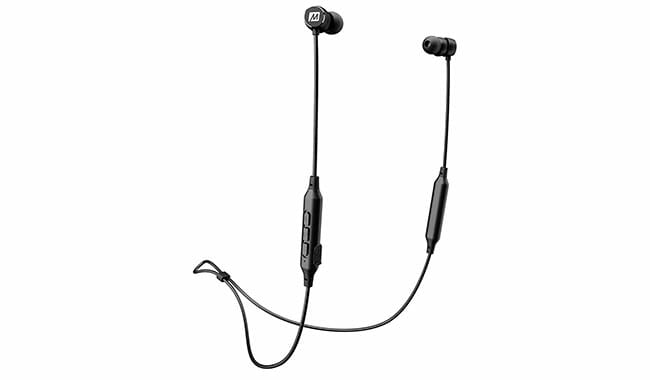 A full-featured wireless headset in a lightweight and compact design. The MEE Audio M9B are sub-$20 buds worth getting.
Should You Buy These?
A lightweight design and good overall ergonomics make the M9B perfect for use on the go. This makes them suitable for active users who want something cheap.
The Good
The Bluetooth 4.0 technology with Multipoint functionality allows you to manage calls and media from two devices simultaneously. The built-in magnets keep earpieces conveniently out of the way when not in use.
The multiple sets of eartips and ear-wings ensure a personalized fit that blocks outside noise and helps them stay in your ears. A comfortable fit is really important for any earphones.
The Bad
The battery life could last longer than 5 hours which would be better. No water-protection.
The Sound
The sound is one of the highlights. The 9mm speakers translate crisp and clear sound with somewhat enhanced bass. Something that hip-hop listeners and bassheads will appreciate.
The Verdict
MEE Audio M9B offers good sound, solid build quality, and endurance. If you add the price below 20$, you get a pair of solid wireless Bluetooth earbuds.
---
Why no True Wireless Earbuds under $30?
30 dollars is such a low price that no decent true wireless earbuds exist. You might find some at this price point but you should be careful not to buy bad earphones.
Decent true wireless earbuds start from $50+ and even those are of questionable durability. For a long-lasting pair of true wireless earphones you should expect to pay over $100.
Check related guides on earbuds and other cheap headphones (over-ear headphones).
Want to spend more money? Check the best Bluetooth earbuds under $50.
Comments