Get the best cheap noise-cancelling headphones (under $80) that don't suck.
Comparison: The Best Cheap Noise Canceling Headphones
If you're on the hunt for cheap active noise cancelling headphones here are the best options. We picked the top models under $80 which is considered a low price in this category.
You can find more expensive and higher-end ANC headphones here, but if you want to maximize value for the money, you've come to the right place.
Sure, you can't really compare the effectiveness of the noise cancelling technology with premium headphones like Bose QuietComfort 35 or Sony WH1000X. But it's close enough, especially if you consider the price.
You can even get an ANC pair of headphones under $50 (the cheapest of the cheap). Check them out below.
More similar guides:
The best noise cancelling headphones
The Best Cheap Noise Cancelling Headphones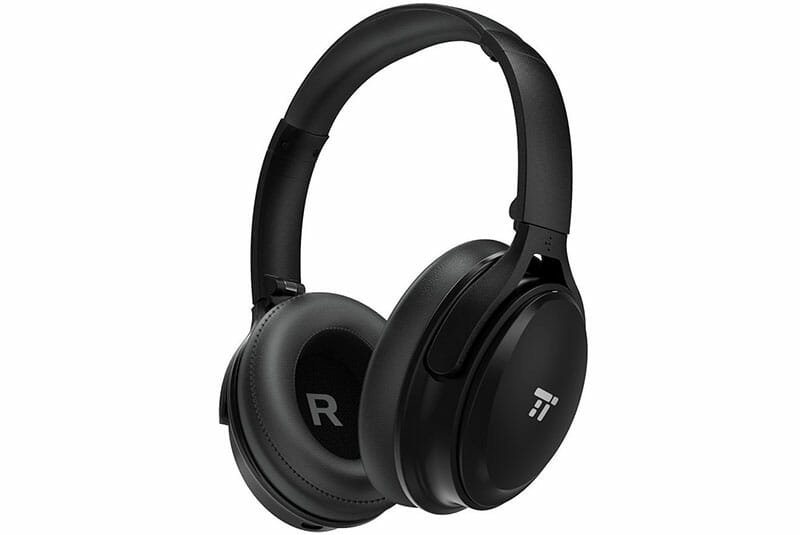 TaoTronics TT-BH22 are the best budget noise cancelling headphones at the moment.
Price:
TaoTronics TT-BH22 full review.
Type: Over-ear
Back design: Closed-back
Battery life: Up to 25 hours
Connection: Wireless (Bluetooth) and wired
Should You Buy These?
If you're looking for a pair of headphones with noise cancellation and Bluetooth that you can take on your flights, and spend little money on, get these.
The Good
The over-ear headphones are well built and can last for a long time. The design also looks premium and modern. Also, the soft foam ear pads adjust to your ears well. So, you can enjoy excellent comfort, even if you're wearing them for a long time (those inter-continental flight can be quite long). Moreover, though these are budget headphones, their noise cancelation is quite efficient.
You can find an easy-to-use built-in control on the ear cups. There's also a built-in microphone you can use for your important calls. Plus, the lithium-ion battery lasts up to 25 hours which is plenty of time. On the top of that, you can plug in the cable and use them in wired mode if need be (and you get a carrying case as well).
The Bad
Ear cups provide a tight fit. That's why people with larger heads might experience some pain after a while. In addition, there's no airplane adapter included in the package, and if you're flying with a plane that needs it and doesn't have Bluetooth, you'll need to get it elsewhere.
The Sound
They have more of a V-shaped sound signature. It's fun and lively. It won't win any sonic fidelity awards, but for the price it's fine. Overall, the audio is quite average, but not disappointing.
The Verdict
TaoTronics TT-BH22 are reliable and comfy wireless noise-cancelling headphones. Extended battery life and affordable price make them the best choice in this category.
---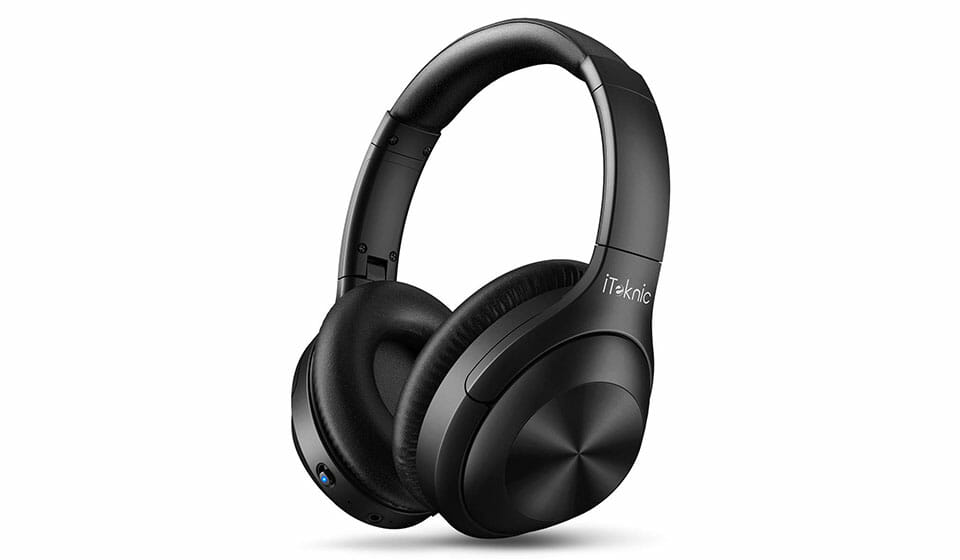 The most comfortable noise-cancelling headphones on the cheap.
Type: Over-ear
Back design: Closed-back
Battery life: Up to 15 hours
Connection: Wireless (Bluetooth) and wired
The iTeknic IK-BH002 full review.
Should You Buy These?
If you're in the market for affordable headphones with noise-canceling and exceptional comfort, these are the go-to choice.
The Good
iTeknic IK-BH002 are competing with the best comfort in the cheap category with big, soft earpads that fit nicely around the ears. You can comfortably wear them for hours.
They create good passive isolation that helps with background noise and helps the noise cancellation to create a more peaceful experience.
The cans are well built and have a sleek finish that doesn't show their low price.
The Bad
Considering these are on the cheaper side, there isn't much to complain. The only thing that could be better is the sound quality which is rather average.
The Sound
The headphones are bass-heavy, but some of that bass is lost when you turn on the ANC. It's a fun sound that sounds good for popular music though can't compare to high-end headphones.
The Verdict
For comfortable noise cancelling headphones that don't cost an arm and a leg, look no further, the iTeknic IK-BH002 are the best option right now.
---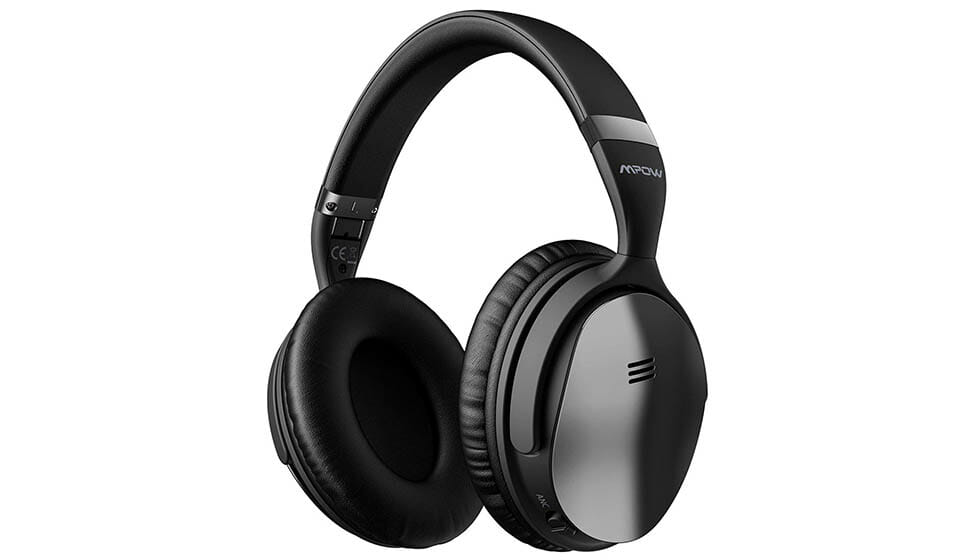 Mpow H5 are well-built ANC wireless headphones, providing lots of technology for a low price.
Price:
Type: Over-ear
Back design: Closed-back
Battery life: Up to 18 hours
Connection: Wireless Bluetooth and wired
Should You Buy These?
Mpow H5 are perfect ANC (active noise cancelling) headphones for bassheads that would like to enjoy music on flights or noisy streets, without ambient noise ruining their music.
The Good
Built quality is excellent. Just by looking at them, you can't tell these are budget headphones. Plus, you can fold them and take them with you which makes traveling easier.
You get 18-hour battery life plus a wired option, so you never have to worry about running out of juice. Bluetooth connection is stable and reliable. You can use the remote buttons without any complications. Also, the microphone works well. It's rather average but still does its job.
The Bad
Because of their tight fit, some people might find them uncomfortable. The noise-cancellation headphones aren't the most effective, but they are a budget model, so it's understandable.
The Sound
Big strong punchy bass is all we need to say. These closed-back headphones are specially made for low-frequency lovers. If you like more of a balanced sound quality, then these are not for you. If you want more bass in your music, get these.
The Verdict
Mpow H5 are a perfect match for bass enthusiasts that want cheap noise cancelling headphones with wireless Bluetooth technology and robust durability.
---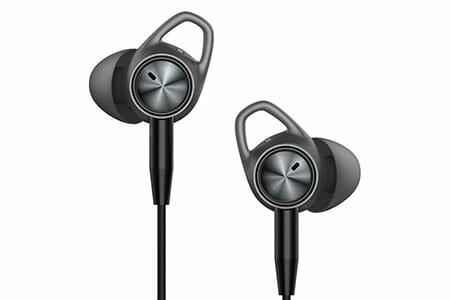 TaoTronics EP002 are cheap in-ear headphones with solid ANC that can satisfy average listeners.
Price:
Type: In-ear
Back design: Closed-back
Battery life: Up to 15 hours
Connection: Wired
Should You Buy These?
If you'd like active noise cancelling earphones for a dirt-cheap price, then check these out.
The Good
Aluminum and quality plastics make them durable, contrary to what you might expect. Choosing the right eartips can make them extremely comfortable. Even so, you will completely forget you're wearing them.
A 15h lithium-ion battery provides long-lasting noise reduction which can easily last you through a flight or a commute.
Additionally, the in-line microphone (also noise-canceling) helps with calls and the remote control with navigation of tracks.
The Bad
Because of the low price, the active noise cancelling isn't the most effective. It's definitely noticeable (when you press the ANC button) but can't compare to better noise canceling earbuds (can even get wireless earbuds).
The Sound
It is slightly better than what you'd expect for the price. They produce a balanced signature, suitable for calmer music. But it's doesn't shine at anything in particular.
The Verdict
TaoTronics EP002 have average features, like mediocre ANC and sound quality. But high durability, comfort, and an unbeatable price make them an excellent choice for audiobooks and casual listening.
---
The Best Noise Cancelling Headphones under 50 Dollars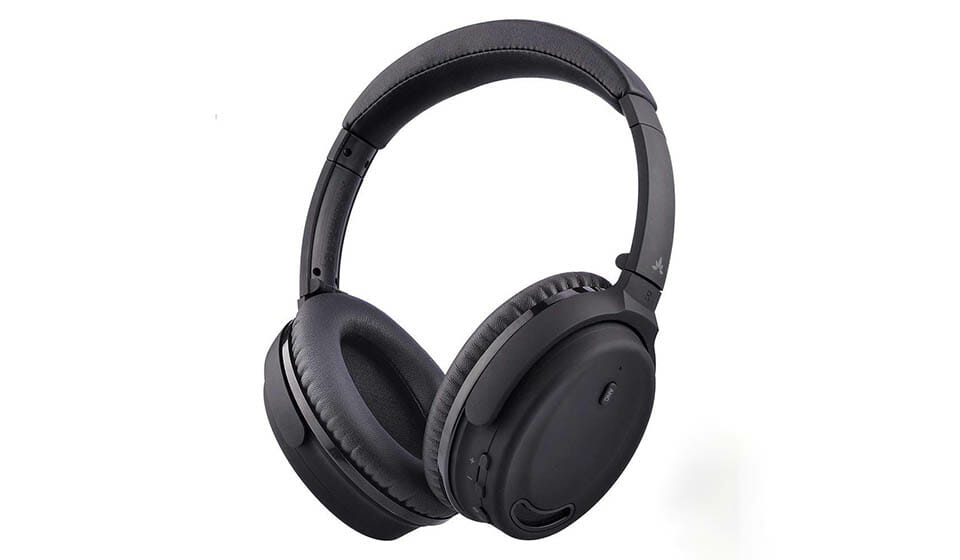 Avantree ANC closed-back headphones are the best noise-cancelling headphones under $50.
Price:
Type: Over-ear
Back design: Closed-back
Battery life: Up to 10 hours (with Bluetooth and ANC on)
Connection: Wireless (Bluetooth) and wired
Should You Buy These?
If you're looking for durable and useful over-ear headphones with noise-canceling for less than 50 dollars, then check these.
The Good
They are built from lightweight yet durable material that makes them last a long time. Because of their customizable fit, foldable headband and super soft earpads you can wear them for hours without any pain.
Also, you can use a built-in mic for phone calls and the remote controls (on the ear cups) to manage your music. When you run out of battery, you can plug in the cord (3.5mm) and continue listening.
Sure, 10-hour battery life is quite average. But you can use them for 18h with ANC off (in Bluetooth mode). And without Bluetooth (just ANC) you get up to 48 hours of battery life. It's pretty neat for 50 bucks.
The Bad
People with bigger earlobes might complain after long listening sessions. Also, some users complain that these headphones cannot connect with their PC.
The Sound
Their sound signature is somewhat balanced. Neither the bass nor the highs are in front so some people might find them dull. But these can still be used to listen to all music genres. As long as you don't expect high-quality sound, you'll be happy.
The Verdict
Avantree produces great value-for-money headphones, and these wireless noise-canceling headphones are no different. High durability and satisfying noise reduction can make your boring flights pass faster and turn them into fun for under $50.
---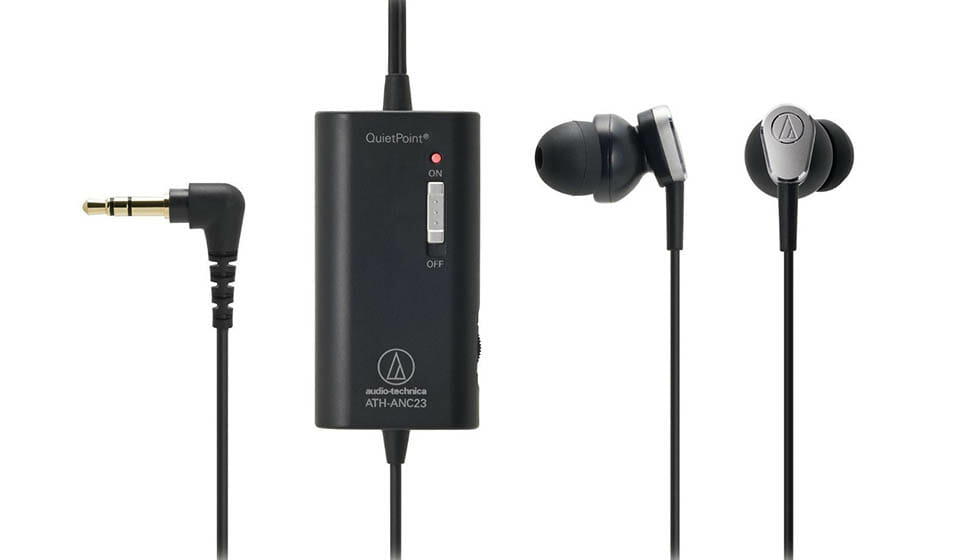 Audio-Technica ATH-ANC23 QuietPoint are the best noise-cancelling earbuds under $50.
Price:
Type: In-ear
Back design: Closed-back
Battery life: Up to 60 hours (AAA battery)
Connection: Wired
Should You Buy These?
If you're looking for solid noise cancelation from in-ear headphones that can easily compete with more expensive earbuds and spend less than $50, get these.
The Good
ATH-ANC23 are the cheapest ANC in-ears on the list and have an ultra-compact in-ear design. It provides a tight fit and proper background noise isolation.
Combined with satisfying active noise cancellation, you can enjoy your music without distractions. They are ideal for your traveling, even long distances, because of fantastic battery life and reliable performance. Not to mention the dirt-cheap price.
The Bad
Short cable makes them awkward to manage. Especially if you want to put your device in your pocket. Also, you always need to have a spare AAA battery around, in case the one inside runs out. The battery box is kind of heavy.
The Sound
All ranges are well presented, with bass being slightly enhanced. You will experience an open and detailed sound quality. The only bad thing is that it can get a little muddy at high volumes.
The Verdict
What makes Audio-Technica ATH-ANC23 QuietPoint stand out in this category is their ability to cancel most of the (low frequency) noise around you for the lowest price. On top of that, you get good comfort, audio quality, and extended battery life (for less than $40 most of the time).
---
Frequently Asked Questions (FAQ)
How Do Active Noise Cancelling Headphones Work?
Noise cancellation works like this:
The microphones in the headphones pick up the ambient noise and then send it to internal ANC circuitry. The technology then makes a reverse sound wave and sends it to your ears.
When the two sounds reach your ears, they effectively cancel each other out. You can read more about it here.
Now, because electronics needs the power to function, all NC headphones need a battery. When you run out of juice, it won't work anymore.
What is the Difference Between Active Noise Cancellation and Noise Isolation?
A lot of people confuse passive noise isolation with active noise cancelling.
The two are entirely different.
Basically, one is describing how much background noise the headphones are blocking passively, and the other is talking about removing it electronically.
The electronics use microphones and unique audio conversion to get the effect.
You can read more about the difference between isolation and cancelling here.
Where Does Active Noise Cancellation Work Best?
While the manufacturers make big statements about how effective their noise canceling is, you should know it doesn't cancel out all sound.
It's best at removing lower frequencies like the buzzing of airplane engines or of people chatter on a bus.
It won't cancel high pitched sounds like people talking nearby or bird chirping. Nonetheless, the effect is noticeable and immediate and helps with removing distractions (well, some distractions).
For this reason, it's best to know what to expect so you're not disappointed later. Cheap noise canceling headphones usually employ older ANC chips and thus don't offer the latest and best effectiveness. It comes with the price.
Is Active Noise Cancelling Safe?
Yes. It's perfectly safe and doesn't impact your ears or eardrums in any way. In fact, because it enables you to listen to your music at a lower volume, it can help you retain your hearing in the long term.
It's because loud music damages your hearing and you read about it here.
Does ANC Impact Sound?
In most cases, yes. Usually, it changes some frequencies in music, and it can dramatically lower the bass.
Thankfully, this is less common with newer headphones and almost non-existent in high-end noise-cancelling headphones.
In the end, you have to make a compromise between the best audio quality or peace of mind by removing external noise.
Can You Sleep with Noise-Canceling Headphones?
You could but won't be comfortable. Over-ears are the most common. They are going to irritate your head and ears and are thus unsuitable for sleeping.
Plus, why spend money on advanced headphones (which aren't the cheapest) and then risk breaking them during sleep.
If you want to have a good night's sleep and need to block loud neighbors get headphones for sleeping instead.
Can You Get Noise Canceling Headphones that are Waterproof?
Not that we know of.
Most are made for everyday use and traveling. There are no workout headphones with noise cancelation because passive sound isolation works fine for that purpose.
If you want to block as much background noise with waterproof headphones, get in-ear monitors (earbuds) and some memory foam eartips, and you'll get fantastic results.
Can You Use ANC Headphones without Music?
Yes. You can use the headphones to cancel the unwanted ambient sound only. Without listening to music and without being connected to a playing device.
Make sure the battery has power, turn on noise-cancellation and enjoy peace and quiet. Many people use them like that on airplanes and on a commute to help them focus. You can do more work like that.
---
Thank you for using our guide. Let us know if it was helpful and if missed something important. You can use the comments section or contact us directly.
---
Disclosure: We might receive affiliate compensation if you purchase products via links on this page. This is how we purchase headphones for new reviews and keep the site adds-free. In spite of that we do our best to tell the truth about every product and don't favor any one brand or model.
Comments