Get the best cheap noise cancelling headphones (under $80) that don't suck.
Comparison: The Best Cheap Noise Canceling Headphones
If you're on the hunt for cheap active noise cancelling (ANC) headphones here are the best options. We picked the top models under $80 which is considered a low price in this category.
You can find more expensive and higher-end ANC headphones here, but if you want to maximize value for the money, you've come to the right place.
Sure, you can't really compare the effectiveness of the noise cancelling technology with premium cans like Bose 700 or Sony WH1000XM3. But it's close enough, especially if you consider the price.
The lowest price for the noise-canceling pair of headphones is around $50. Lower than that is not worth considering.
More similar guides:
The best noise cancelling headphones
---
One thing you need to know about budget noise cancelling headphones:
Most of these headphones come from generic brands that often share the design, technology, and even the drivers inside. A lot of these are made in the same factories.
A generic brand might order a large batch of a pre-developed pair of headphones, make some tweaks and sell them under their own brand. They often don't do their own development of the products.
For this reason, you might find different brands of noise-canceling models that look awfully similar to each other.
Anyway, this isn't a big concern if you want to maximize your value-for-money. You still get the benefits of large-scale manufacturing. But it's a good thing to know what to expect.
For unique and brand-specific development you have to spend 2-3 times the money.
---
The Best Budget Noise Cancelling Headphones

Spending up to $300 is a high price for enjoying an excellent noise-canceling performance. Thankfully, you can still get great ANC headphones for only $60.
Type: Over-ear
Back design: Closed-back
Battery life: Max 35-hour battery life
Connection: Wireless (Bluetooth) and wired
Why Buy These?
BH090 follows the design tradition of the previous TaoTronics models. You can expect a fully plastic construction painted in matte black. Earpads are nice and plush and are able just barely to cover the ears. The latter is essential; otherwise, the noise-canceling can't work correctly.
These headphones are doing a great job of eliminating constant noises that don't change in pitch, such as cooling fans, construction work, or airplane noise.
Battery life is rated at 35 hours on a single charge. If you end up without the charge, you can play them via 3.5mm jack. When you finally reach the power socket, a 5-minute charge can add up to 2 hours of playtime.
The Bad
They might not fit the biggest heads.
The Sound
These are very easy to listen to, with an overall smooth sound signature. They can still produce a decent punch and a crisp treble but in a very polite, non-fatiguing manner.
Yet another great pair of wireless headphones from TaoTronics.
---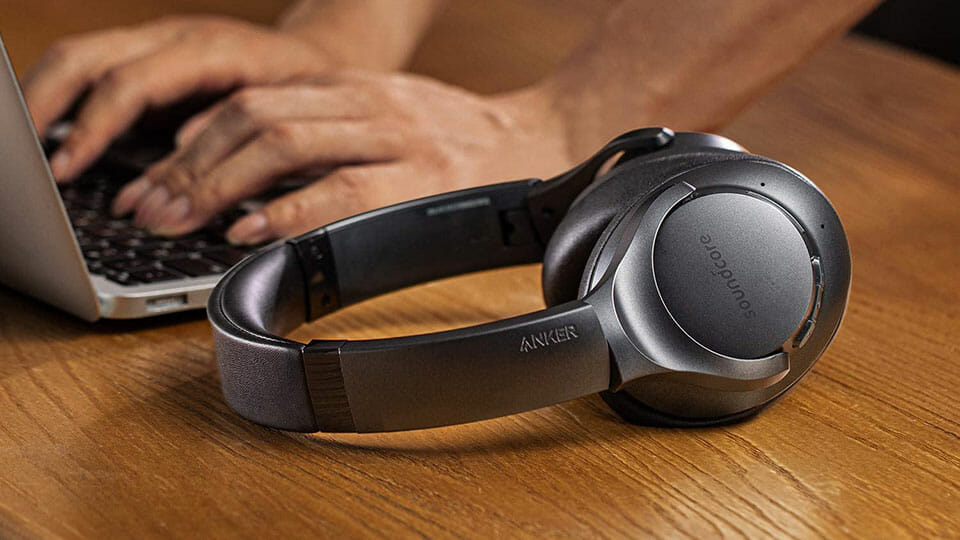 Anker Soundcore Life Q20 are great everyday wireless headphones with a little bit of everything.
Type: Over-ear
Back design: Closed-back
Battery life: Max 60-hour battery life
Connection: Wireless (Bluetooth) and wired
Why Buy These?
Anker hasn't cheap out in the design department. They made the Anker Soundcore Life Q20 look very modern, but still not too flashy. They're made from durable hard plastic and are coming in black or silver color.
Earcups can rotate in both directions, and the size is sufficient even for users with bigger ears. Padding is also quite generous, with memory foam inside the pleather covers.
You can expect a 60-hour battery life, with quick charging capabilities (5 minutes add an extra 4 hours of charge). Interestingly, noise cancellation works excellent on eliminating people's speech but is not as effective as humming noises.
The Bad
They might be too big for users with smaller heads.
The Sound
These work great for plenty of music genres. They're leaning towards a warm sound signature, with bass as a clear star of the show, and a slightly recessed midrange. This smoothness can affect vocal clarity and treble, making the overall presentation a bit dark.
Anker Soundcore Life Q20 are an excellent pick for a casual music listener, who also want to enjoy some quietness when commuting.
---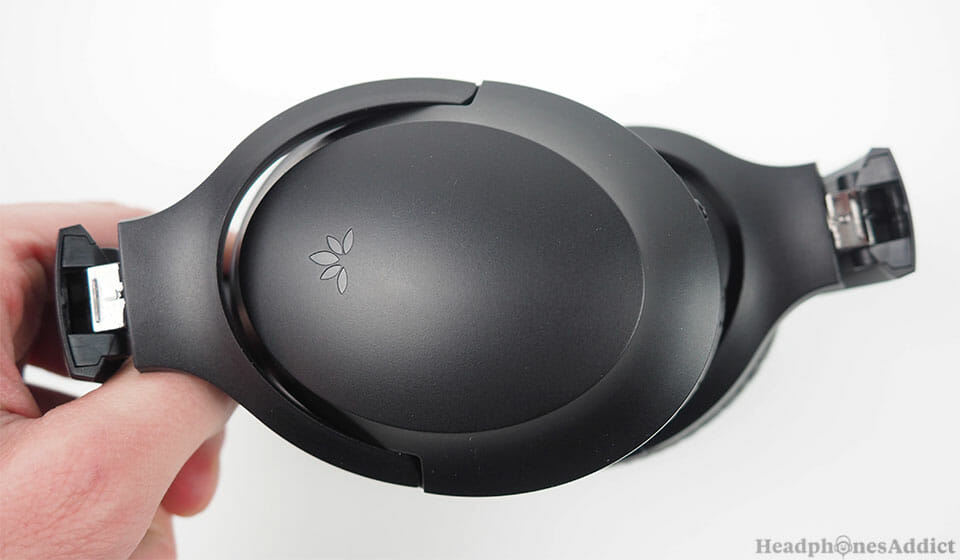 A good pick under $70 for noise-cancelling headphones
Type: Over-ear
Back design: Closed-back
Battery life: Up to 35 hours (10h+ with ANC)
Connection: Wireless Bluetooth & wired
Should You Buy These?
For under $70, you get a decent pair of Bluetooth headphones, ANC with superb passive isolation, and comfort. While there are other similar models on the market, you won't go wrong with these.
The Good
Due to lightweight design and memory foam earpads, you can wear them for hours. They're great for long plane flights, and can even fit slightly bigger ears (their earcups are a bit deeper than usual).
Noise-cancelling isn't as good as with the high-end models but compares to the competition at the price point (under $100).
Also, passive noise isolation is high, which comes handy when you don't want to use the active one.
You can use them as wired headphones, fold them up for easier storage, and they even come with a standalone mic mute button.
The Bad
Fully plastic which feels a bit cheap. When you turn on the noise-canceling, it changes the sound, takes away the bass which is a shame.
The Sound
Audio is geared towards a general audience with a slightly emphasized bass. But it eliminates some of the lows with noise-cancellation.
Overall, it's okay for casual listening but won't win any critical awards.
The Verdict
For a low price of around $70, you get a lot of technology for your money. Avantree Aria are among the best budget noise-cancelling headphones with reliable performance and decent features.
---
4. Treblab Z2 – most comfortable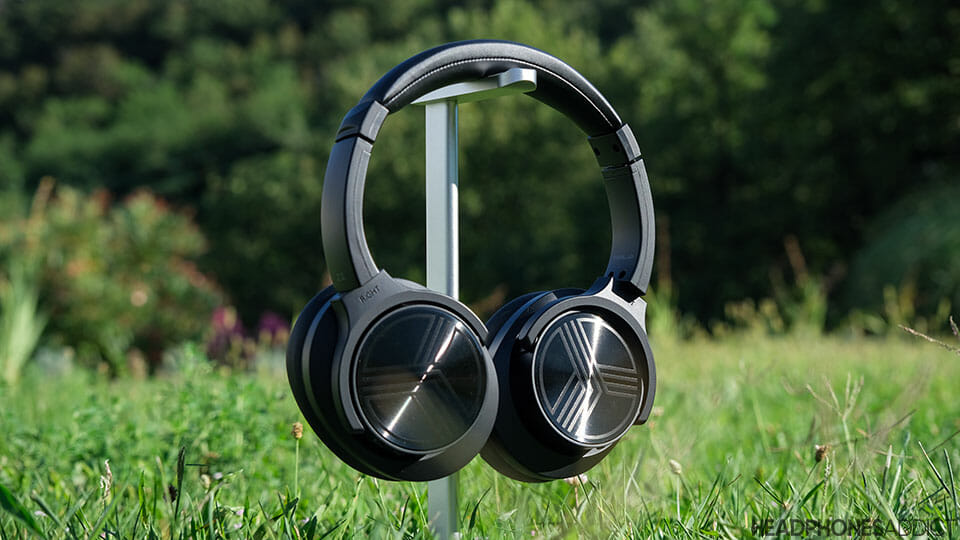 Most comfortable noise-cancelling headphones
Treblab Z2 are the most nicely made of the bunch, with rotatable ear cups, good noise-cancellation and comfortable fit.
Type: Over-ear
Back design: Closed-back
Battery life: Up to 30 hours (20h+ with ANC)
Connection: Wireless Bluetooth & wired
Why Buy These?
You get them inside a nice hard-shell carrying case. Housing is made from plastic that has a soft finish to it. They appear quite durable, with an IPX4 rating. That means you can even use them during workouts since they don't get damaged by sweat or rain.
The padding on the ear cups might appear shallow, but we still find them very comfortable. Fit is also very stable for a full-sized headphone. You can run and jump with these; they're not moving away from your ears.
You're getting around 30-hour battery life if you leave noise-cancellation turned off. Otherwise, you can expect approximately 20 hours of playtime. Noise-cancelling is quite decent and works reasonably well for combating constant noises.
The Bad
Since they don't breathe much, your ears get sweaty relatively quickly.
The Sound
Noise-canceling can affect their sound immensely. When the feature is off, these sound very warm and bassy, almost muddy. When ANC turned on, everything sounds more detailed and clean, but with much less bass.
Treblab offers us an excellent deal with their Z2 wireless headphones if you're ready to forgive some sound anomalies.
---
5. Aukey EP-N5 – best true wireless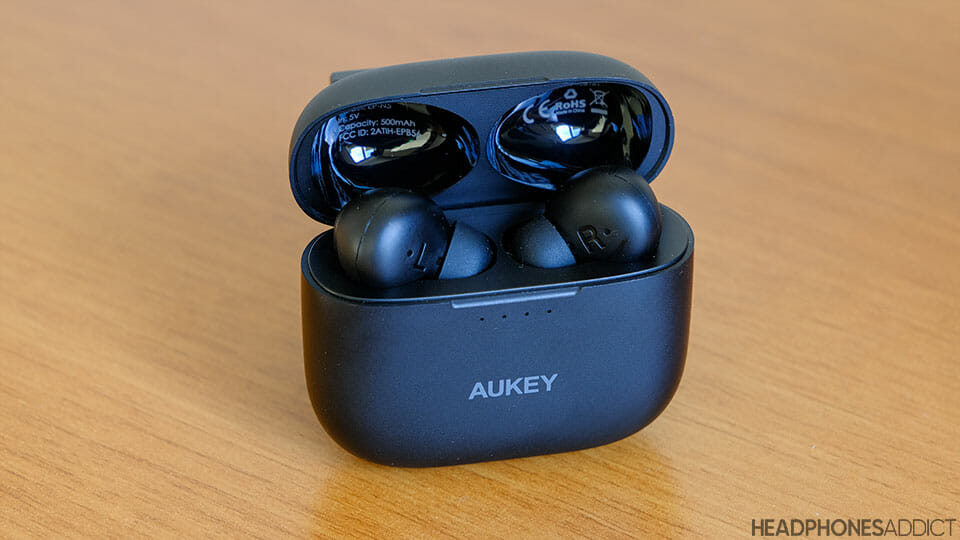 Since there aren't many budget true wireless earbuds with ANC on board, Aukey's are worth checking out.
Type: In-ear
Back design: Closed-back
Battery life: Up to 7 hours per charge (4.5h+ with ANC), 28h in the case
Connection: Wireless Bluetooth
Why Buy These?
Despite being on the chunky side, they're superbly comfortable. That is mostly due to the shallow fit, which prevents from creating too much pressure inside your ears. They also don't make very close contact with your skin.
Thankfully, their fit is still secure and suitable for sports activities. You can do some exercise with them, since they're quite durable and come with an IPX5 water-resistance.
Compensating the shallow fit (and consequently low isolation), noise-cancellation works reasonably well, reducing most of the constant noises around you.
The Bad
Microphone quality is awful, even if you use them in a quiet room.
The Sound
They come with a boosted bass and a well-balanced midrange and treble. Despite the powerful low-end, it doesn't bleed into the midrange. These are very enjoyable to listen to, with a warm, laid-back sound that you can listen for hours on end.
If you're looking for something that sounds and feels good while also provide you with ANC, then look no further.
---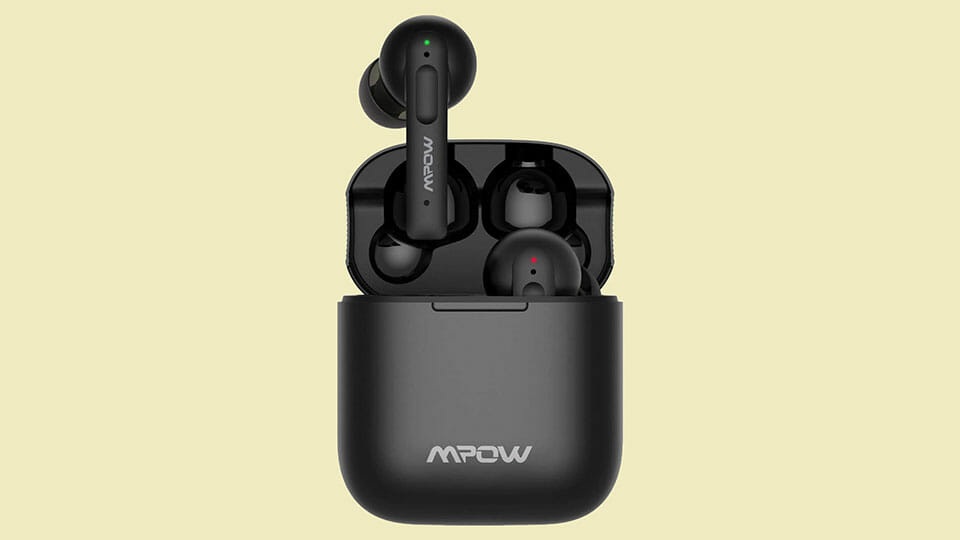 These are the Mpow's high-end true wireless headphones, with plenty of features to play with. And all of that at a fraction of the cost of the brand new AirPods Pro.
Type: In-ear
Back design: Closed-back
Battery life: Up to 7 hours per charge (6h+ with ANC), 23h in the case
Connection: Wireless Bluetooth
Why Buy These?
X3's come with noise cancellation. It doesn't work as flawlessly as the more expensive solutions, but they still do a respectable job at eliminating constant hums like home appliances and cooling fans.
They support both SBC and AAC, so you can also enjoy their full potential on iOS devices. When listening without noise-canceling, battery life lasts up to 7 hours (6 hours with ANC), with 23 hours waiting in the charging case.
Stems are touch-sensitive and very responsive, so you don't have to use your phone to control the earbuds.
The Bad
Their charging case appears cheap and fragile.
The Sound
Budget-friendly earphones follow a trend of delivering a fun sound experience, pleasing most of the casual users. Everything seems nicely balanced, with good detail, punchy bass, and a decently large soundstage.
Despite their resembling AirPods design, these are still worth your consideration. They come with good noise-cancelling performance, reliable touch controls, and well-balanced sound.
---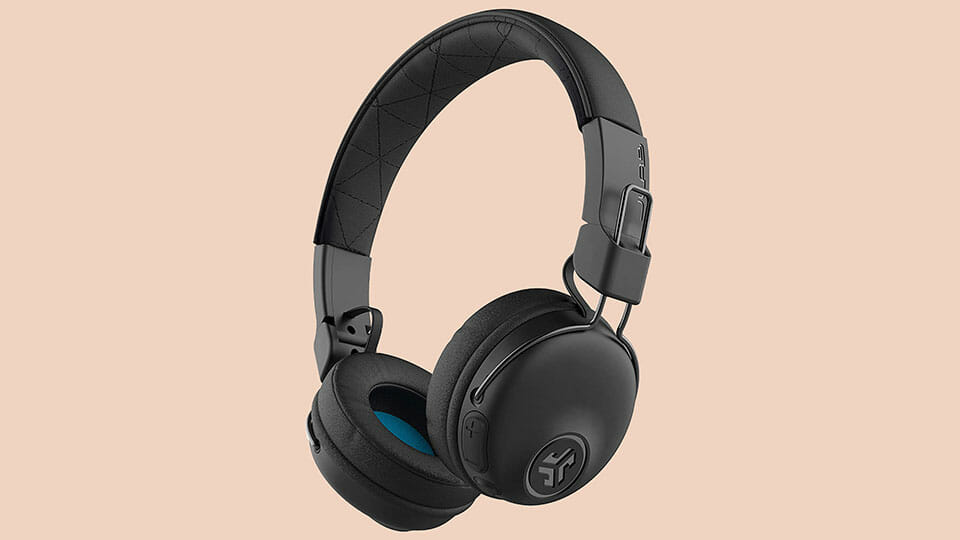 They say you need at least an in-ear or over-ear headphones to achieve good noise-canceling. Well, Jlab can do it on a budget with on-ears, while still delivering excellent battery life.
Type: On-ear
Back design: Closed-back
Battery life: Up to 34 hours per charge (28h with ANC)
Connection: Wireless Bluetooth
Why Buy These?
Since these headphones are sporting an on-ear design, you can't expect them to be crazy comfortable. However, Jlab uses its unique "Cloud Foam", which ensures a cushier experience compared to other on-ear cans.
Battery life is impressive on these, with 28 hours of playtime with ANC and 34 hours without it. That puts them right up there with some of the most expensive ANC headphones on the market.
To enable the ANC, you need to switch a toggle on the earcup. Performance is not rivaling the kings in this category, but they still do a fair job reducing the constantly repeating noises.
The Bad
The on-ear design might not work for everyone.
The Sound
Sound quality is very similar to other Jlab products in the price range. It's good enough for a casual listen, but they lack refinement. You get 3 EQ presets: Jlab Signature, Balanced, and Bass Boost.
If you're the person who doesn't like in-ears and wants something light with ANC, Jlab's can be a worthy choice.
---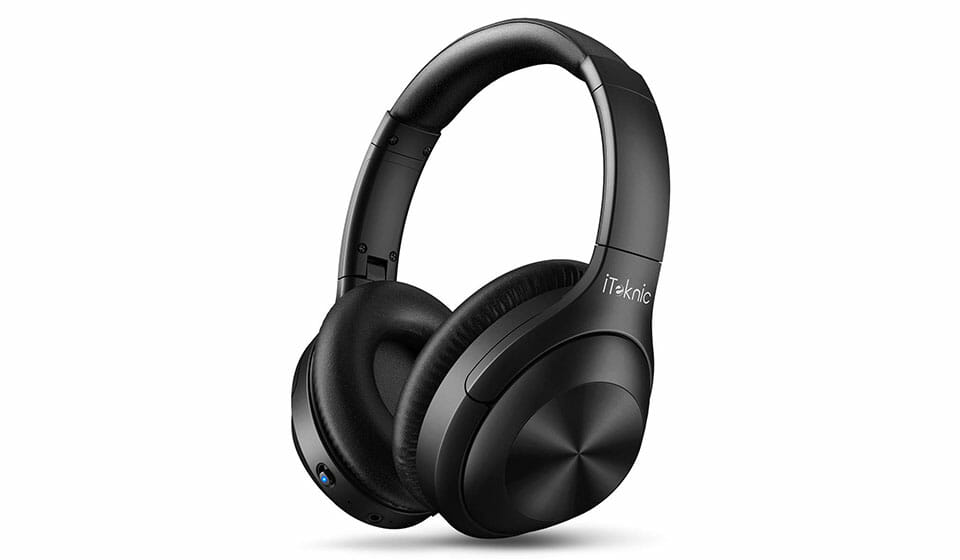 The cheapest noise-cancelling headphone.
Type: Over-ear
Back design: Closed-back
Battery life: Up to 15 hours
Connection: Wireless (Bluetooth) and wired
The iTeknic IK-BH002 full review.
Should You Buy These?
If you're in the market for affordable headphones with noise-canceling and exceptional comfort, these are the go-to choice.
The Good
iTeknic IK-BH002 are competing with the best comfort in the budget category with big, soft earpads that fit nicely around the ears. You can comfortably wear them for hours.
They create good passive isolation that helps with background noise and helps the noise cancellation to create a more peaceful experience.
The cans are well built and have a sleek finish that doesn't show their low price point.
The Bad
Considering these are on the cheaper side, there isn't much to complain. The only thing that could be better is the sound quality which is rather average.
The Sound
The iTeknics are bass-heavy, but some of that bass is lost when you turn on the ANC. It's a fun sound that sounds good for popular music though can't compare to high-end headphones.
The Verdict
For comfortable noise cancelling headphones that don't cost an arm and a leg, look no further, the iTeknic IK-BH002 are the best option right now.
Check the iTeknic IK-BH002 review.
---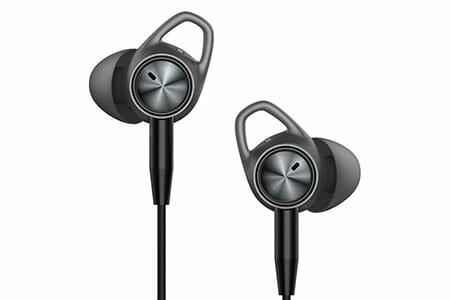 TaoTronics EP002 are budget earbuds with solid ANC that can satisfy average listeners.
Type: In-ear
Back design: Closed-back
Battery life: Up to 15 hours
Connection: Wired
Should You Buy These?
If you'd like ANC earphones for a dirt-cheap price, then check these out.
The Good
Aluminum and quality plastics make them durable, contrary to what you might expect. Choosing the right eartips can make them extremely comfortable. Even so, you will completely forget you're wearing them.
A 15h lithium-ion battery provides long-lasting noise reduction which can easily last you through a flight or a commute.
Additionally, the in-line microphone (also noise-canceling) helps with calls and the remote control with navigation of tracks.
The Bad
Because of the low price, the active noise cancellation isn't the most effective. It's definitely noticeable (when you press the ANC button) but can't compare to better noise-canceling earbuds (can even get wireless earbuds).
The Sound
It is slightly better than what you'd expect for the price. They produce a balanced signature, suitable for calmer music. But it's doesn't shine at anything in particular.
The Verdict
TaoTronics EP002 have average features, like mediocre ANC and sound quality. But great build quality, comfort, and an unbeatable price make them an excellent choice for audiobooks and casual listening.
See the TaoTronics EP002 review.
---
Frequently Asked Questions (FAQ)
How Do Active Noise Cancelling Headphones Work?
Noise cancellation works like this:
The microphones in the headphones pick up the ambient noise and then send it to internal ANC circuitry. The technology then makes a reverse sound wave and sends it to your ears.
When the two sounds reach your ears, they effectively cancel each other out. You can read more about it here.
Now, because electronics needs the power to function, all noise cancelling headphones need a battery. When you run out of juice, it won't work anymore.
What is the Difference Between Active Noise Cancellation and Noise Isolation?
A lot of people confuse passive noise isolation with noise-cancelling.
The two are entirely different.
Basically, one is describing how much background noise the earcups are blocking passively, and the other is talking about removing it electronically.
The electronics use microphones and unique audio conversion to get the effect.
You can read more about the difference between isolation and cancelling here.
Where Does Active Noise Cancellation Work Best?
While the manufacturers make big statements about how effective their ANC is, you should know it doesn't cancel out all sound.
It's best at removing lower frequencies like the buzzing of airplane engines or of people chatter on a bus.
It won't cancel high pitched sounds like people talking nearby or bird chirping. Nonetheless, the effect is noticeable and immediate and helps with removing distractions (well, some distractions).
For this reason, it's best to know what to expect so you're not disappointed later. Budget noise-canceling headphones usually employ older ANC chips and thus don't offer the latest and best effectiveness. It comes with the price.
Is Noise Cancelling Safe?
Yes. It's perfectly safe and doesn't impact your ears or eardrums in any way. In fact, because it enables you to listen to your music at a lower volume, it can help you retain your hearing in the long term.
It's because loud music damages your hearing and you read about it here.
Does ANC Impact Sound?
In most cases, yes. Usually, it changes some frequencies in music, and it can dramatically lower the bass.
Thankfully, this is less common with newer headphones and almost non-existent in high-end noise-cancelling headphones.
In the end, you have to make a compromise between the best audio quality or peace of mind by removing external noise.
Can You Sleep with Noise-Canceling Headphones?
You could but won't be comfortable. They are going to irritate your head and ears and are thus unsuitable for sleeping.
Plus, why spend money on advanced headphones (which aren't the cheapest) and then risk breaking them during sleep.
If you want to have a good night's sleep and need to block loud neighbors get ear plugs for sleeping instead.
Can You Get Noise Canceling Headphones that are Waterproof?
Not that we know of.
Most are made for everyday use and traveling. There are no workout headphones with noise cancelation because passive sound isolation works fine for that purpose.
If you want to block as much background noise with waterproof headphones, get in-ear monitors (earbuds) and some memory foam eartips, and you'll get fantastic results.
Can You Use ANC Headphones without Music?
Yes. You can use the headphones to cancel the unwanted ambient sound only. Without listening to music and without being connected to a playing device.
Make sure the battery has power, turn on noise-cancellation and enjoy peace and quiet. Many people use them like that on airplanes and on a commute to help them focus. You can do more work like that.
---
Thank you for using our guide. Let us know if it was helpful and if missed something important. You can use the comments section or contact us directly.
Comments