Budget
The Best Headphones under $50
Here are the best headphones under $50 in 2020 that are actually worth your hard-earned cash.
You probably know most headphones under $50 aren't much to rave about. You can only dream about the latest technology and Hi-Fi frequency response.
But after a couple of hours (more like tens) of research, we found surprisingly good headphones.
Here's the list of the top headphones under $50 that are better than what you'd expect for the price. You can get good audio and build quality with some of the latest tech as well.
These offer a lot of value for your money. Check the research below to find more about it.
The Best Headphones under 50 Dollars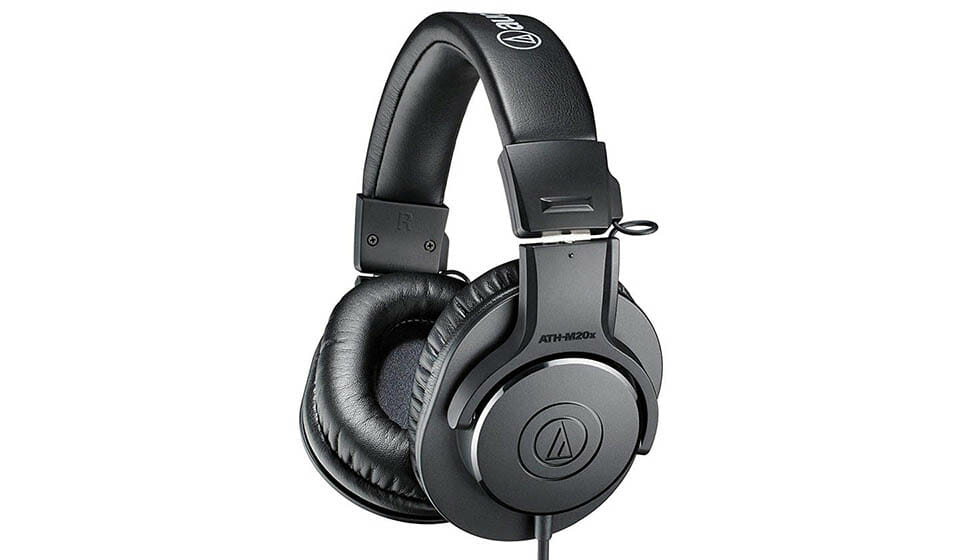 Audio-Technica ATH-M20x are the best headphones under $50. Coming from a reputable company, they offer tremendous value.
Type: Over-ear
Back design: Closed-back
Connection: Wired
Should You Buy These?
If you're looking for well-made over-ear headphones that give you high sound quality and comfort, you should get these.
The Good
First of all, their excellent build quality and lightweight casing make them comfortable to wear (even if you're wearing glasses). You can easily find your size with the adjustable headband, and they even fit large heads. Also, they last a long time, so that's money well spent.
The ATH-M20x are suitable for mixing tracks in the studio. The audio signature is above average (in the category).
The Bad
Their noise isolation is not the most satisfactory. If you are a DJ or listening to your music in loud environments, these are not the optimal choice. In addition, they don't have any audio controls or microphone, which is somewhat disappointing.
The Sound
As said before, their audio quality is above average (for the cost). Tones are rich and warm. The ranges are rather balanced, with bass and mids being slightly enhanced. It's really clear and makes every music genre worth listening to.
The Verdict
What makes Audio-Technica ATH-M20x stand out at the price point is their pleasant sound, reliable comfort, and long-lasting durability.
---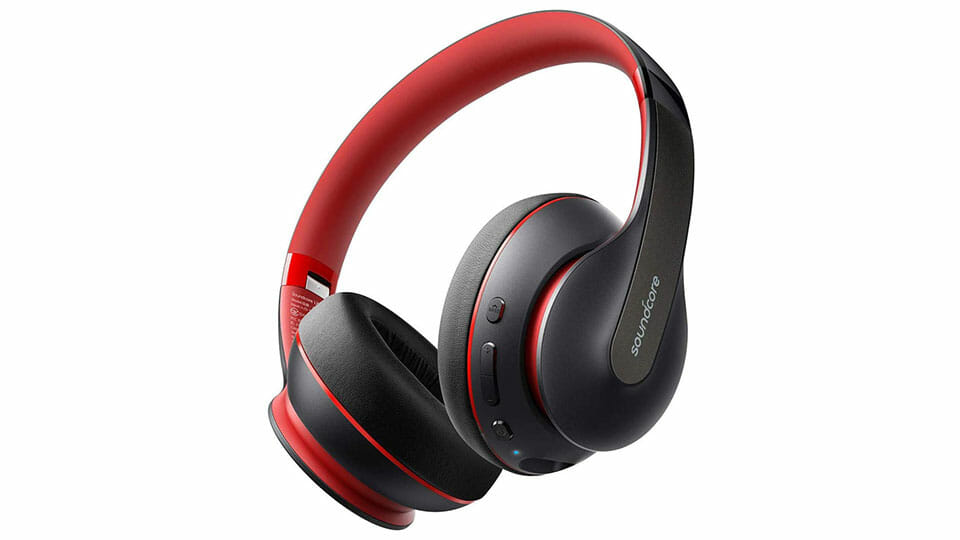 With the best wireless headphones under $50, you get excellent comfort and deep, skull-rattling bass.
Type: Over-ear
Back design: Closed-back
Connection: Bluetooth
Should You Buy These?
A cool-looking headphone for youngsters, with a red-black exterior to make them pop. Earcups are foldable for better portability, albeit they don't rotate much.
Superb comfort is provided by thick memory foam earpads that go over your ears. Although there is no ANC, the pleather on the pads creates a good seal, ensuring good noise isolation.
You get all the necessary controls right on the cups themselves. There you can control loudness, skip songs, and answer calls. With their amazing 60-hour battery life, you can use them for a couple of days straight. They even support quick charging, giving you extra 5 hours in just 5 short minutes.
The Bad
Bass-heavy sound isn't for everyone.
Microphones are a bit weak.
The Sound
They don't spare much when it comes to low-end quantity, which should satisfy even the most demanding bass lovers. The sound is punchy and digs deep, while the rest of the spectrum remains relatively clean.
The Verdict
These Hi-Res certified wireless Bluetooth headphones are a great budget option for those seeking good bass with comfortable construction.
---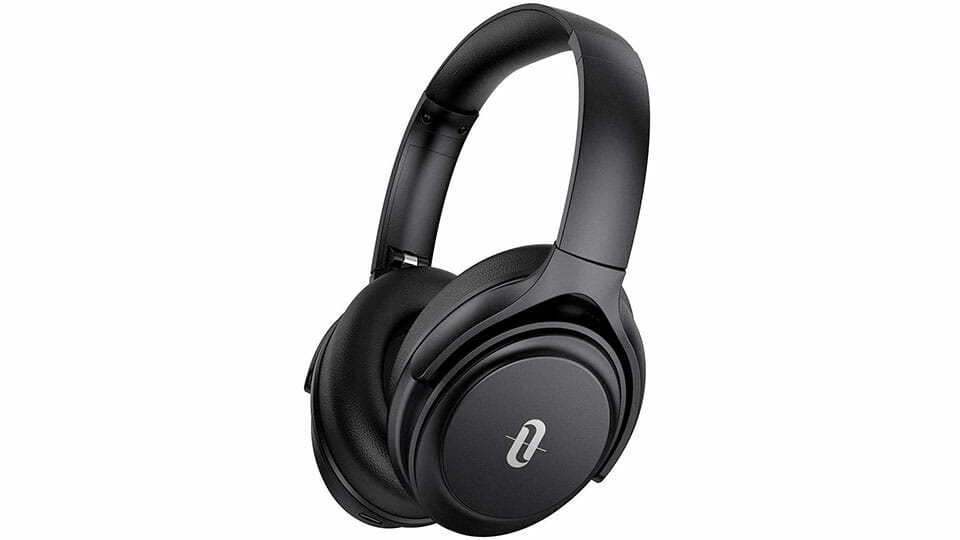 The best noise cancelling headphones under $50, these have a lot of high-end features. Not just the ANC but also the long-lasting battery.
Type: Over-ear
Back design: Closed-back
Noise-cancelling: Yes
Connection: Wireless, 3.5mm
Should You Buy These?
The housing is mostly plastic but made quite well. The cushy pleather pads are filled with memory foam and breathable. This prevents the ears from overheating.
The battery is fantastic, playing your music for around 40 hours before needing to recharge. In case the battery dies, a quick 5-minute charge means another 2 hours of playtime.
For budget Bluetooth headphones, these have really good active noise cancellation (how is it different from noise isolation explained here). They don't block as much noise as high-end Sony or Bose models, but they sure are impressive in their price range.
The Bad
The noise canceling drains the battery quite a lot. You should expect around half the battery life when the feature is turned on.
The Sound
You get a decent sound quality with a good amount of punch from the 40mm driver. But despite that, the mids and highs remain clean and not muddy at all.
The Verdict
With the TaoTronics TT-BT085's, you get your money's worth. They check all the boxes of a good wireless headphone.
---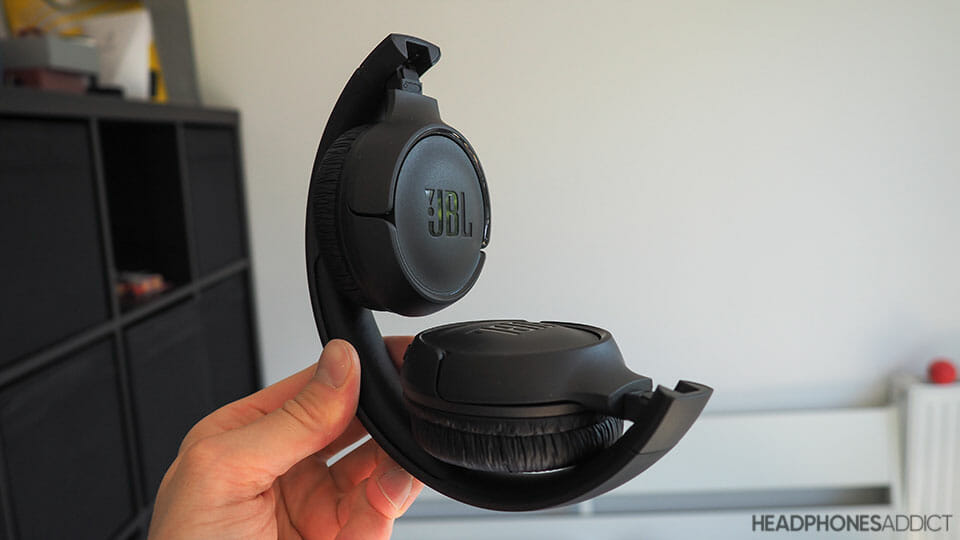 For portable headphones that are great on-the-go, check out the JBL Tune 500BT.
Type: On-ear
Back design: Closed-back
Connection: Bluetooth
Should You Buy These?
Foldable on-ear headphones are easily portable. Due to smaller size, it's easier to pack them while you still get the benefit of more powerful drivers compared to earbuds.
These JBL on-ears are the top choice in the category.
The Good
The lightweight construction is comfortable as well as flexible and durable. They fit larger heads with an extendable headband and swiveling ear cups. You can even use them for sports, though they aren't sweatproof.
One full charge gets you over 18 hours of battery life on average. And if you forget to charge them, you get 1 hour of music for a 5-minute charge. That's pretty impressive.
They're perfect for phone calls on the go and commanding your voice assistants. The built-in physical buttons are easy to use, so you aren't confused about what to press.
All in all, they offer everything a pair of headphones under $50 needs.
The Bad
No way to use them wired if the battery dies. They use the older Micro-USB standard and have cheap fabric on the earpads.
The Sound
It's clearly bass boosted to the point of masking other ranges. These aren't meant for purists but those that like more bass in their music.
They work great for videos and daily casual use.
The Verdict
The JBL Tune 500BT are built for a price-conscious user who wants to enjoy dependable wireless connectivity with a fun, bassy signature. And they do a good job at it.
Read the JBL Tune 500BT review.
---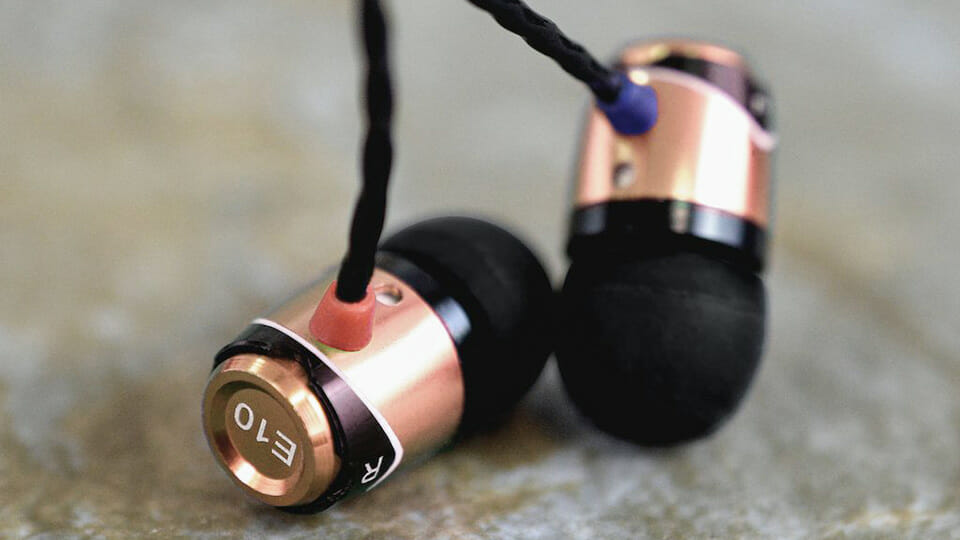 Soundmagic E10 are a mixture of high comfort, modern in-ear fit, and exceptional audio performance.
Type: In-ear
Back design: Closed-back
Connection: Wired
Should You Buy These?
If you're looking for earbuds that have durability and audio quality under 50 dollars, then you should get these.
What gives them the premium feel is the metal structure. Lightweight and quality eartips create an airtight fit, which results in above-average noise isolation and ample amounts of volume.
The Bad
The lack of in-line control makes them a little less exciting (model with mic is more expensive). Subdued bass is not suitable for bassheads.
The Sound
Perfectly balanced sound and lots of clarity. Don't expect strong, punchy bass. Instead, you get overflowing tones, making every music exceptional. These are one of the top earbuds ever made (if you consider their cost, of course).
The Verdict
Soundmagic E10's can make even the pickiest listener happy. Admirable comfort and attractive frequency response make them one of the finest in-ear headphones under $50.
---
Find more related headphones:
The leading cheap headphones including under $30 or even under $20
Best wireless Bluetooth earbuds under $50
Top (mostly wired) earbuds under $50
---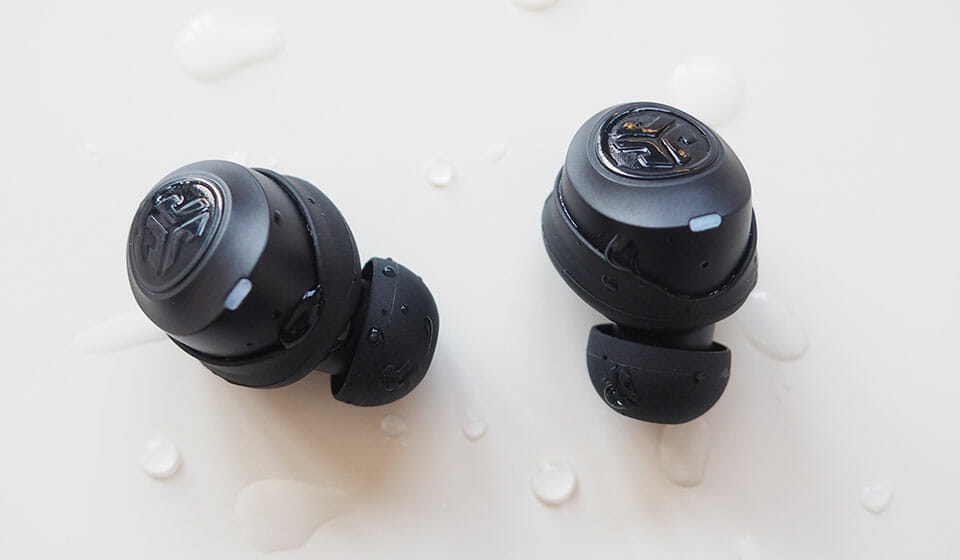 Great true wireless earbuds for sports with durable housing and good battery life.
Type: True wireless
Back design: Closed-back
Connection: Bluetooth
Should You Buy These?
They do a great job providing a secure fit if you plan to use them during a workout. Earbuds come with an IP55 rating, which makes them dust and water-resistant. Fit and comfort are great, primarily due to the small rubber sleeves that prevent them from moving too much.
Thanks to deep insertion and non-protruding design, isolation is above average. Therefore, you shouldn't be interrupted by the loud music in the gym or a wind noise during running.
The battery life is quite good, with around 5.5 hours of playback in the bud themselves and another 15 hours in the charging case. The charging cable is integrated into the box so that you never lose it.
The Bad
Physical controls require you to push the earbud deeper into the ear canal, causing slight discomfort.
The Sound
These earbuds have a quite decent sound, and you can also choose between 3 EQ presets: Jlab signature, neutral, and bass boost. The first sound profile is the best, creating a V-shaped sound signature that will suit most users.
The Verdict
These wireless earbuds are a great pick under $50 with all the features you might expect from sports in-ear headphones.
---
Perfect wireless headphones under $50 to soothe your basshead needs.
Type: Over-ear
Back design: Closed-back
Connection: Bluetooth
Should You Buy These?
Despite their mostly plastic construction, these feel quite durable. They can even survive a little bit of tossing around. The pleather pads are filled with dense foam, which provides a decent comfort.
These don't have ANC, but pretty decent passive noise isolation. Therefore you can still enjoy your music without the outside interruptions.
The battery life of 15 hours should last throughout the whole day. Fortunately, there is an AUX cable inside the box if a battery suddenly dies.
The Bad
Pleather pads are dense and are preventing the air from circulating. This means your ears can become hot after a few hours of use.
The Sound
You should be only looking at these if you really like your bass. In terms of quantity, there is plenty of low-end. So much so that it sometimes loses a little bit of control. Interestingly, the mids remain fairly clean, with the highs being nice and sparkly.
The Verdict
Some just want to enjoy music and rock their heads to the rhythm of the music. Hesh 2's gives you exactly that. This is why so many users love their Skullcandy's.
---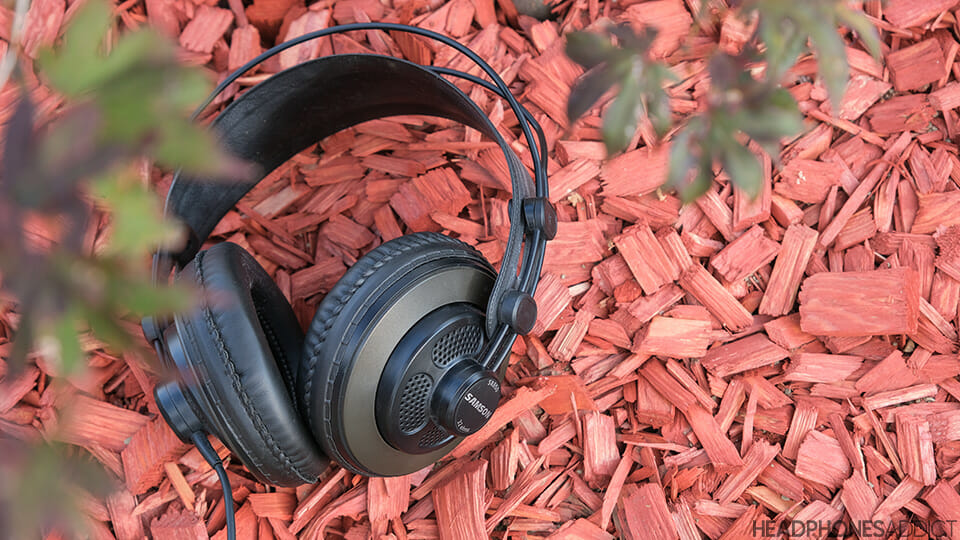 While not winning any beauty contest, these headphones excel at the sound quality.
Type: Over-ear
Back design: Semi-open
Connection: Wired
Should You Buy These?
If you're on a tight budget but still want a great headphone to use in your home studio, these should do the trick. They're semi-open, which lets in and out less sound than with fully open headphones.
Earpads are not the most impressive out there, but they're fine for a quick listening session. Thankfully, the cup size is compatible with brands like AKG so that you can buy their replacement pads. That should improve comfort significantly.
The audio cable is non-detachable, but it's robust and won't break easily. You get a 3.5mm connector at the end, with a 6.3mm adapter in the box.
The Bad
All-plastic construction feels cheap.
The Sound
It's quite remarkable how good are these for the price of around $40. All the cost savings went into the sound. It's punchy and controlled, with a clean midrange and slightly boosted highs. Although they're bright, vocals never become sibilant. The soundstage is also quite decent, with good imaging to go with it.
The Verdict
Samson SR850 are budget headphones that offer excellent sound well above their price.
---
Frequently Asked Questions (FAQ)
What Can You Expect from Headphones under $50?
$50 isn't a lot of money for a pair of headphones. It's in the lower pricing range, and most headphones from big brands cost more money.
Nonetheless, you can still get decent quality.
What you can't expect are big brand names. The most known and popular models from brands like Bose, Sony, Sennheiser, and others cost more money.
Also, 50 bucks will get you basic headphones. You can't expect a state of the art noise-cancellation or the latest wireless technology. For this money, you can mostly get budget-oriented headphones.
If you want the latest technology, you'll just have to spend more money. You can check:
Comments