Best Guides
7 Best Bass Earbuds in 2019 (#1 are Dangerous to Ears…)
Enjoy the best bass from little earbuds anywhere you go.
Top 7 Bass Earbuds – Comparison Table
Model
Picture

Rating
Price
Driver
size
3.5mm Plug (AUX)
Mic &
Remote

RHA T10i
best overall
4.0
$$$$$
($200-$300)
Not specified
I-shaped
More info
Sony XB50BS
Extra Bass
best wireless
3.5
$$
($30-$80)
12mm
wireless
Bluetooth
More info
SONY MDR-XB90EX
Extra Bass

best sub-bass
4.2
$$$$$
($200-$300)
16mm
L-shaped
More info

Sony MDR-XB50AP



best value-for-money
4.1
$ (<$30)
12mm
L-shaped
More info
Sennheiser IE80
best higher-end
3.4
$$$$
($120-$200)
Not specified
L-shaped
More info
Sennheiser CX 300 II



best under $50
3.7
$$
($30-$80)
8mm
L-shaped
More info
Betron YSM1000
best under $20
4.2
$ (<$30)

9.2mmL
I-shaped
More info

KZ ATE
best budget
3.8
$ (<$30)

n/a
L-shaped
More info
Do you want the best punchy bass, small earbuds can produce?
Wondering what the best earbuds for bass are?
Keep reading, and you'll find out the top bass earbud models you can get right now.
But be careful…
… the #1 pick is so good it can be dangerous to your health…
… because you won't stop listening to them.
Scroll down to find out the top earbuds for bass.
Related: For the best over-ear bass headphones click here.
What to Look for in the Best Basshead Earbuds?
Apart from bass, you should also look at other factors. How comfortable they are, how durable they are and how much money you have to fork over (best earbuds for the money here).
Here are some pointers to remember:
Sound Quality: Some of these earbuds have amazing acoustics with technology that is very sophisticated. Apart from playing deep, punchy bass, you want to hear other ranges as well. Music isn't just bass.
Sound isolation: Because sound isolation is so important for experiencing full and rich sound, many of these in-ear monitors offer great passive protection from outside noise. The quality of the fit is crucial for experiencing deep bass with any IEM (in-ear monitor).
Price: Some of the brands have produced earbuds especially for bassheads with boosted bass. It seems that manufacturers have found a new niche where customers are willing to pay for bass emphasized headphones.
Durability: Not every pair of headphones is made equal. Some are well built from sturdy materials that last for years and some aren't. Make sure you know what to expect from the model you're getting.
What to Expect from the Bass Earbuds?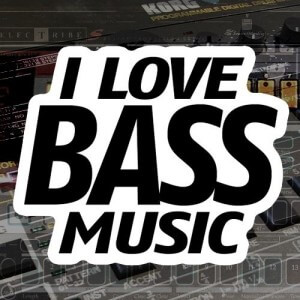 While "precision enhanced bass" or "extra bass" sounds nice, earbuds suffer one major flaw for producing good bass.
Their small size.
The sound is significantly limited by physics and small earbuds just aren't known for generating head-dizzying bass. To get great bass out of IEMs, you need to pick the right models.
But don't be discouraged. Small doesn't mean bad in every case. The models picked here excel in either their deep and punchy or clean and precise bass that will make you smile.
Read the reviews of top models to get more detailed info. Don't forget to make sure you pick the one that best suits your needs even if it's not the first recommendation.
All models can be used with phones, tablets, MP3 players and any other device with a headphones output.
Deep bass comes extra handy in the gym, which is one of many possible ways of using these. For more gym options see best wireless headphones for working out.
How to Get the Best Bass from IEMs (in-ear monitors)?

"Help! My earbuds have almost no bass?"
To get the best bass out of any IEMs (in-ear monitors), you need to have an airtight fit.
Without a proper fit, you won't get strong bass no matter how big the earbud drivers are. Therefore it's crucial to get a good fit.
It would be pretty futile to try and explain how to achieve an optimal fit with words. The best thing we can say is just try out different ear tips and positions. You will notice when the bass comes alive.
Before you judge any earbuds and their lack of bass, make sure to thoroughly test different positions and ear tips. Sometimes changing ear tips completely changes the sound. Test them all.
7 Top Bass Earbuds Reviewed
best bass earbuds overall: RHA T10i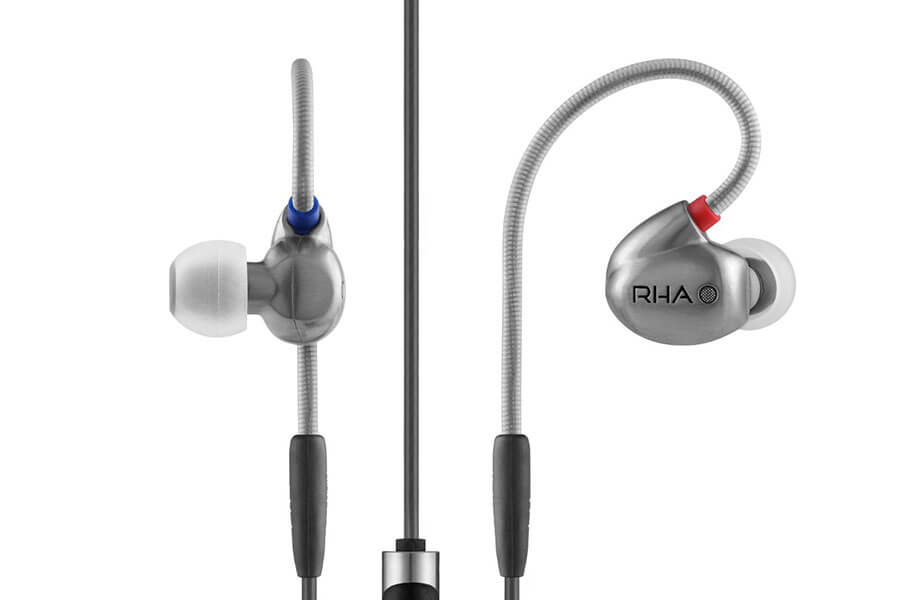 The best bass earbuds for bassheads right now are the RHA T10i.
Price:
In our opinion, these earphones are super bassy and have lots of overpowering lows that will fill your ears. Use the bass filter for best results.
Keep in mind that the RHA T10i have so much bass that they can be muddy and almost too much. These are only for serious bassheads. People who like balance won't like their sound so much. Now that you know this lets' talk about build quality.
In fact, it's superb. The stainless steel casing with quality materials in an ergonomic design offers durability and comfort. The memory wires keep the in-ear monitors in place for normal use but we don't recommend them for working out. They're simply too heavy.
You can connect the earphones with the straight 3.5mm AUX plug. It's well reinforced and the cable is covered with sturdy rubber for good protection. Additionally, you get a 3-year warranty which is more than the competitors.
You get a lot of different ear tips. Actually, there are 10 pairs of them. All of them are good for lowering ambient noise. Plus you get 3 pairs of ear hooks and 3 different sound filters. The bass filter, reference filter, and treble filter, each changes the sound in its own way. Overall, the sound signature resembles V-shape which means lots of bass and treble with recessed mids. It's a good frequency response for anyone who likes strong bass.
Add to this an in-line microphone and remote control and you get yourself a great pair of bass in-ear headphones that will last for years.
In the end, if you like super strong bass and want durable, and comfortable in-ear earbuds from a reputable company, get the RHA T10i.
---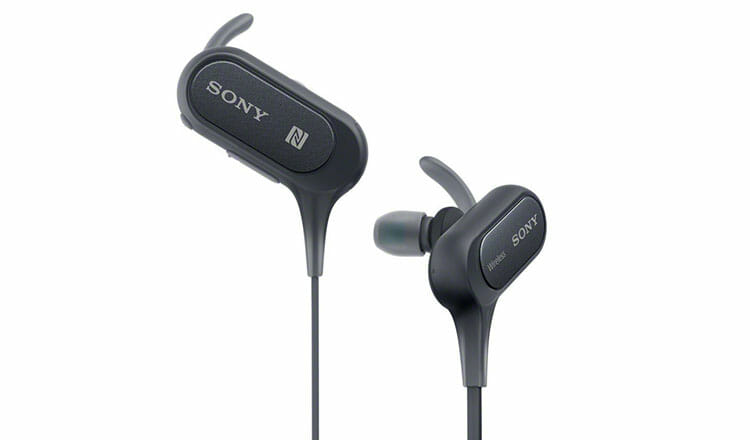 If you're looking for bass wireless earbuds, then Sony XB50BS are your top choice.
Price:
These Bluetooth earbuds offer a strong bass in a wire-free package. The battery holds for up to 8.5 hours which is comparable to premium wireless earbuds. Of course, you also get a built-in microphone for making calls and on-casing buttons for controlling music.
Because they are made for sports the fit is very stable and comfortable even during movement. You can use them for working out or just commuting to your work. They stay in place without a problem. You get 4 sizes of regular-shape silicone ear tips and 3 sizes of ear wings.
One thing that might be bothersome is that they bulge out of the ear canal quite strongly. The earbuds are bigger because the battery is stored inside. You can't use them for sleeping or with a helmet for very long. Nevertheless, for normal use, they are very comfortable.
Additionally, these bass Bluetooth earbuds also have sweat protection rated as IPX4. This means you can easily take them on a run or even to your gym. There only seems to be an issue with the quality of built-in buttons. There are some reports of buttons falling out. Hopefully, Sony figures out how to solve this problem quickly.
The sound signature is classic V-shape with a strong emphasis on bass, hence the name "Extra Bass". Sony made great basshead headphones with their XB90EX and XB50AP models and these are no different.
XB50BS Bluetooth earbuds can be classified as "bassy" which means bass overpowers some mids and highs. Generally, the treble (highs) are clear and detailed though can't compare to high-end audiophile earbuds.
All in all, for great wireless features, strong bassy sound, great comfort and fit, all for an affordable price, get Sony XB50BS Extra Bass wireless in-ear headphones.
---
One of the Best Audiophile Bass Earbuds!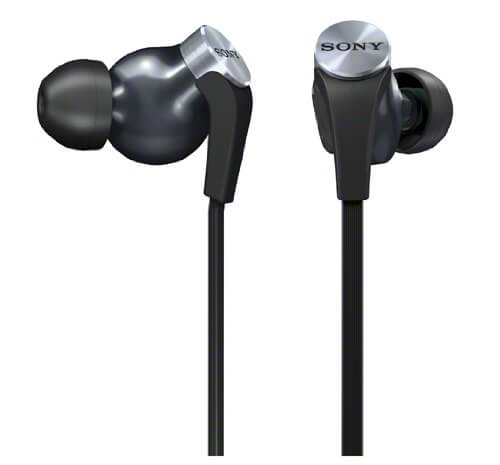 MDR XB90EX used to be our #1 recommendation. But because they are extremely hard to get and their price has risen ridiculously high we can't recommend them as the top pick anymore. The end of production has increased their price. But for the price of $400 they might be a bit too expensive. We'll update our guide if we find a good replacement.

Sony MDR models are known to be good products, but these are so good you won't stop listening to them.
Price: (used)
PROS
Great punchy sub bass you don't get with any other earbuds
Precise and clean mids and highs as well
Quality durable design
CONS
Bulky and big, might be uncomfortable for some
These are pretty hard to get in a local store since they are imported from Japan but worth every penny. Not to mention, exclusivity gives you special bragging rights.
Sony MDR XB90EX are the uncontested winners for the best sub-bass earbuds.
The combination of all the features, good build quality, and extreme sub-bass will make you smile.
Fit (Isolation)
Even though they are quite bulky, the lightweight design helps with keeping a proper fit. The weight isn't a problem and once you find a good seal, you don't have to readjust it many times.
Keep in mind that a tight seal is very important for hearing the bass with any earbuds. If you pick the wrong ear tips and don't get a proper seal, you won't hear much bass even with these earbuds.
Passive sound isolation is also very good, especially with tight fitting ear tips. Put them in and enjoy your music in peace.
Comfort
The bulky design might seem uncomfortable, but its in-ear design fits into ears nicely. You can see the earbuds sticking out of your ears, but it's not a real issue. It just looks like you have serious earbuds in your ears. Which you do.
The only uncomfortable position might be trying to sleep on the side with them. Because they are simply sticking out of ears too much.
Durability
The build quality is good and doesn't have any critical design flaws as is common for Sony products. You can easily carry them around on your daily errands and throw them in your bag. They should last long enough.
The tangle-free wires are coated in rubbery plastics and don't have any major weak points.
Features
Unfortunately, there is no model of XB90EX earbuds with remote or microphone, all you get is earbuds with wires and a 3.5mm audio plug at the end. This isn't such a major problem as the earbuds themselves are great.
You'll just have to do your calls on your phone instead.
Sound
The bass is so clear and precise if you put the volume high enough, it feels like they can rupture your eardrums.
Technically speaking, that can't happen, but listening too loud for too long affects your hearing. So be careful not to overdo it.
The bass alone is worth the price. These Sonys will make you feel like you have a subwoofer in your head, especially if you power them up with a quality amplifier.
Sub bass in these is really something you can't experience with any other earbuds of a similar price range. For the money spent this is as much bass as you can get out of earbuds.
In other words, if you want high-quality earbuds with deep sub-bass and clean mids and highs, for an affordable price… it would be a sin not to get Sony MDR-XB90EX.
In case you're a more casual user but still want good bass and clear sound, check Sony MDR XB50AP below.
Note: Due to low supply the price has risen dramatically.
---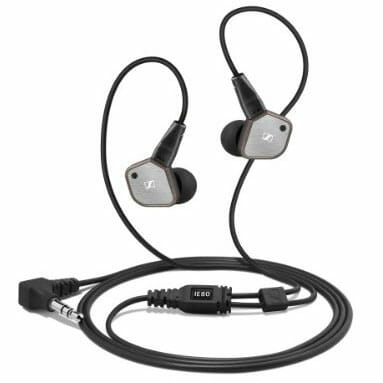 Sennheiser continues to deliver exceptional audio quality and solid bass response with the venerable IE80 in-ear monitors.
Price:
PROS
Customizable bass response
Great quality sound
Replaceable cables
20 dB passive noise isolation
Comfortable and versatile design
2-year warranty
CONS
Thin cables can be weak at the strain relieve point
Initial fit can take some time to get right
No in-line controls or talkback mic with stock cable
These quality earbuds even come with an adjustable bass response feature, allowing you to fine-tune the sound signature to suit your listening needs.
Fit (Isolation)
Perhaps the most notable thing about the IE80 is the 20 dB of passive noise isolation that is available with a tight fit. This allows you to listen to every detail.
Several sets of eartip sizes are available to help conform to your ear and achieve the sound performance that works for you.
Initial fit can be a little bit tricky depending on whether you prefer the under-ear or over-the-ear method of wearing earbuds.
These Sennheiser earbuds accommodate both wearing styles, even including wire-guide ear hooks. The design works well in either configuration with a little practice.
Comfort
Once a consistent proper fit is achieved, these earbuds are rather comfortable, perfect for long listening sessions.
The included clothing clip accessory allows for good cable management, and the thin wires tuck away very easily.
Durability
The IE80 wired earbuds feature a plastic case with a brushed metal plate. It is a fairly durable and attractive design.
The interchangeable cables allow you to swap out cables in case one breaks, or if you prefer the in-line microphone and controls from an upgrade option.
The strain relief for the cables is ok, but the small cable size can bend sharply, causing extra wear adjacent to the molded strain relief
Sennheiser provides a global 2-year warranty and replacement cables are readily available if you have component issues more than 2-years after purchase.
Features
While these ear monitors lack in-line controls and other features found on cheaper earbuds, the IE80 does include one important feature:
Customizable bass response.
This is incredibly helpful in allowing you to fine-tune the bass response and low-frequency tone signature to your specific needs.
Sennheiser even includes a small screwdriver and cleaning tool for the purpose.
Bassheads will love this feature, and casual audiophiles will appreciate the option to keep the frequency spectrum more natural sounding.
The plastic molded carrying case is also a nice feature worth noting. You want to protect a quality investment like this.
Sound
The IE80 earbuds do not reproduce strictly audiophile quality sound, but they offer very respectable and agreeable performance for a price point just under $250.
The first thing you might notice is the wide soundstage. It almost feels like you are in a performance venue.
Bass is strong and punchy. The mid-bass response can be characterized as slightly colored with a warm and strong quality.
And of course, the bass frequency profile is tunable by adjusting the setting on the outside of each earbud.
Mids are very smooth and deep, and highs seem perfectly balanced for most instrumentation.
Vocals can feel a little pushed back in some instances, but it varies by genre.
It should be noted that these earbuds really excel in classical music.
Changing out different ear tips can certainly have an impact on the tonal response and quality perception of these earbuds, so be sure to experiment.
And like most earphones and earbuds, give the IE80 time to burn in to achieve the best possible listening experience.
Just know that there are some fake knock-offs out there, so make sure you get the authentic Sennheiser brand because you will notice a difference in the quality.
The Sennheiser IE80 earbuds are a powerful contender in the premium ear monitor space, with a strong bass response and a quality audio profile.
Whether you're a casual listener or a basshead that listens to different styles of music, you'll love the customizable bass response. These are definitely worth a listen.
---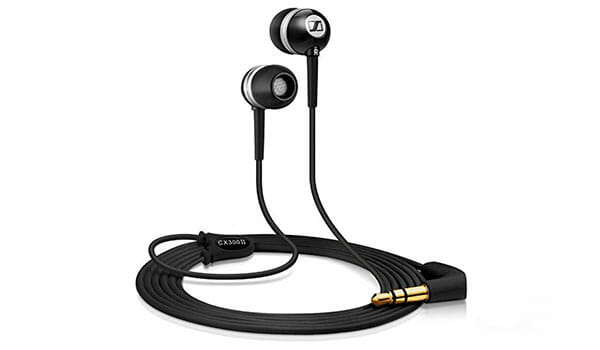 Famous Sennheiser earbuds that offer a lot of bass for the price.
Price: MSRP $49.99
PROS
Clear and surprising bass sound for its size
One of Sennheiser's popular models
Affordable price
Very good durability
Great comfort
CONS
These are low to mid-level earbuds and won't satisfy a demanding audiophile
Not the strongest bass from the list (if you like extreme bass only)
These Sennheisers provide powerful, bass-driven sound with crystal clear clarity much better than any similarly priced earphones.
Sennheiser stands for quality which lasts. This specialized German company has made another great product.
In this price range, you'll have a hard time finding better earbuds that produce the clean, precise mids and highs with punchy bass. CX 300 II just do a better job.
Fit (Isolation)
One side of the wire is longer than the other (J wire) if this annoys you avoid them.
Provided are different sizes of silicone ear tips to allow for a customized fit.
The earbuds are light and easy to fit into ears with a good seal. In case you want the most out of them, some Comply foam tips do a good job of improving the experience.
Passive noise isolation does a good job depriving your ears of background noise and can be ranked better than average.
Comfort
Because of their lightweight design, these are very comfortable. The earbuds aren't too big and you can fit them even in smaller ears.
Keeping them in ears during work or watching a movie won't irritate your ears. A product well-done by Sennheiser.
Durability
Build quality is high as is standard with all models of this German brand. Sure they are completely plastic, but they're still sturdy enough to withstand a lot of everyday abuse.
The L-shaped and reinforced 3.5mm plug won't give out easily, it's a solid design.
You can easily use these for your workouts, your job commute or just for listening at home.
Features
The CX 300 II Precision Enhanced Bass headphones don't have any special features. You get the earbuds, wires and a 3.5mm plug-in, 3 sizes of silicone eartips and a small pouch. The basics.
Sound
Plug them in your phone, MP3, tablet or computer and you'll always get a clean sound with strong bass.
Sennheiser CX 300 II Precision Enhanced Bass have more of a balanced sound signature than other bass earbuds here. The bass is still emphasized but doesn't have the same overpowering oomph like with other models.
The treble and mids are less overpowered by bass as with comparable basshead models. They're crisp and produce good details. If you like a bit more bass, but also like clear highs and mids, these earbuds are for you.
Bass is still overpowering and even muddy at times, but this is what bassheads usually like.
For the absolute bassheads, you might want to look at some other models first.
For a great combination of everything earbuds are supposed to have, plus clean highs and mids with strong bass, Sennheiser CX 300 II are for you.
---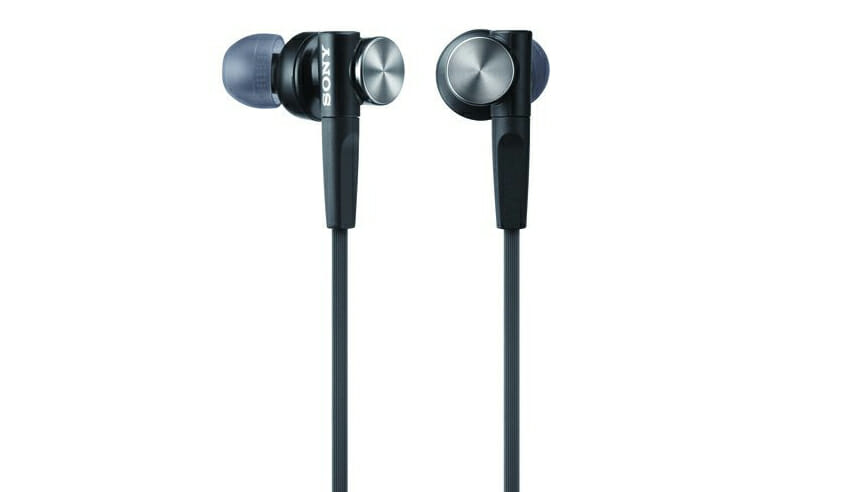 For max bang for your buck, get Sony MDR-XB50AP as these are the best value-for-money bass earbuds at the moment.
Price: Under $30
These are the cheaper sibling of MDR-XB90EX. While not as good these earbuds still offer great bass (full review here).
PROS
Affordable price
Really good at playing bass
Durable design
Mic & in-line remote
Great value for money
CONS
Big and bulky like the XB90EX
Could use a better microphone
It doesn't matter what kind of music you're listening to, you'll hear the bumps.
If you don't want to pay too much money and like Sony products, these earbuds don't disappoint. In fact, they are one of the best Sony earbuds on a budget.
Fit (Isolation)
Getting an airtight fit is easy. The design isn't any different from many other Sony IEMs (in-ear monitors). You get used to their design fast.
The quality of the fit depends on the ear tips you're using. Get the right size for your ears. Or better yet, get premium Comply tips and experience MDR-XB50AP at their best.
You get 4 different sizes of silicone eartips, enough for a regular user.
Passive sound isolation is good as you'd expect from any in-ear earphones. You will still hear some background noise of course, in case you're looking for maximum silence in earbuds, look at best isolating models here.
Comfort
Just like the XB90EX these are bulky and may be uncomfortable for some people. If you don't care about looks too much and can use bulkier earbuds, then you're a perfect person for these.
The comfort is good as long as you don't try to sleep on the side with them. The earbuds stick out considerably and it's impossible to get a comfortable position lying on the side. Sleeping users, beware.
Durability
Made out of quality materials with a durable design that is going to last even if you take sub-par care of them. Sony is known for making durable, high-quality products and these aren't any different.
The cable is flat, which helps keep it untangled, but rather narrow so it's hard to see the flatness of it. Strain relief is decent enough so you don't accidentally ruin the IEMs on your first pull.
Did we mention these have gold-plated, L-shaped plug? Yes even for such a low price, you get the best contacts for sound which helps with sound quality.
Features
The in-line microphone could be better, but at this price, it's just a bonus so you can't expect too much from it. While it's still usable to make calls, the sound recorded is not always crystal clear.
The in-line remote, compatible with iOS and Android, has the play/pause and call functionality. You can change songs with it too, 2 quick clicks for forward, 3 for backward.
You get a carrying pouch in the package, but it doesn't offer much protection from physical abuse, still useful for protecting the earbuds from moisture.
Sound
The overall sound signature is bass heavy and this cuts into the details and richness of mids and treble. If you're a basshead you probably don't mind.
To put it into one sentence, they have average sound quality with great bass so basically, they're a perfect fit for anyone looking at affordable bassy earbuds.
For a very affordable price, you get durable Sony earbuds that play great bass, have an in-line mic & remote and gold plated plug-in.
In conclusion, Sony MDR-XB50AP are hard to beat, this is why they're one of the best bass earbuds on the market right now.
---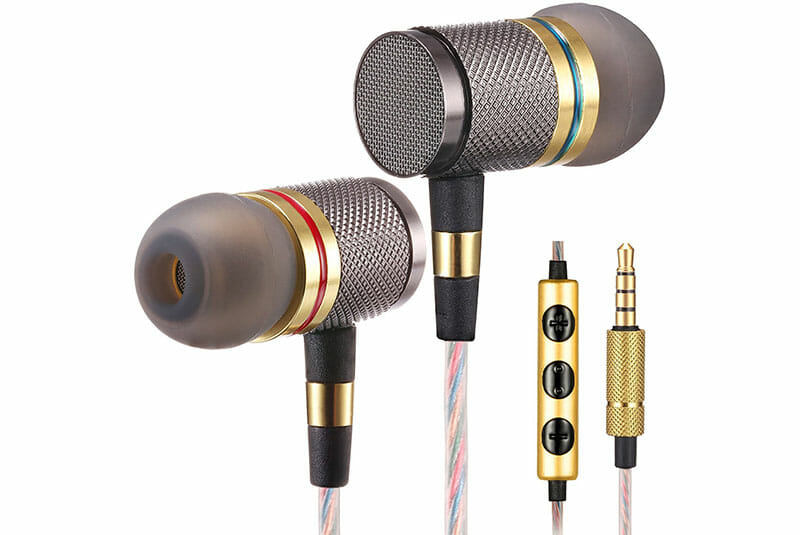 A great pair of bass earbuds under $20.
Price:
Read the full Betron YSM1000 review.
In case you're looking for dirt cheap earbuds with oomph, check the Betron YSM1000. The company is unknown, but that's probably why these in-ear monitors are so cheap.
Why should get them?
Get them if you're a basshead, who wants extra bass for the lowest price.
Why should you avoid?
Avoid if you like natural sounding headphones and aren't into deep lows.
For under $15, as of writing this, you get excellent build quality, extra features like in-line remote control (works on iOS and Android) and microphone and decent comfort. The flashy metal design might be a bit much for some, but it adds extra durability.
Above all, the sound is typical bass heavy with deep and strong lows. Read more about YSM1000 in the full review.
---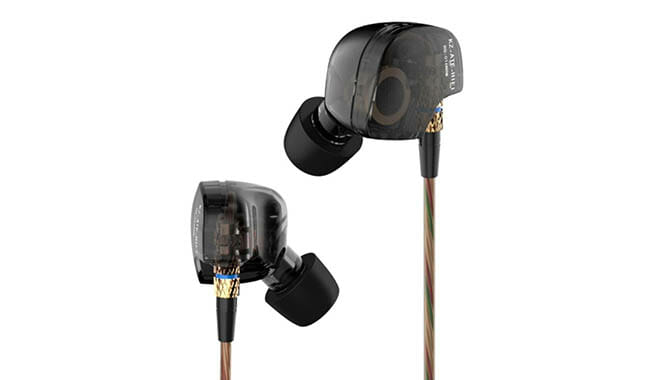 Don't let the price fool you. KZ ATE have solid build quality and comfort.
Price:
Should You Buy These?
You don't want to spend a lot of money, but still, want to listen to your bass-heavy music? Then you definitely need to get these.
The Good
Although they are entirely plastic, their durability is higher than most of the budget IEMs on the market. Their lightweight design makes them comfortable to wear for an extended period of time. Moreover, they provide nice noise isolation with the right ear tips.
Of course, their most significant advantage is their bass-emphasized sound. Also, the in-line microphone and 1-button remote control work well on iPhone and Android devices.
The Bad
You may struggle with their over-the-ear fit. That's why you have to take some time to adjust them to feel comfortable.
The Sound
Bass they produce is excessively good in this price range. The focus is always on the lows, not being too muddy, but somewhat clean and detailed. These are made for bass lovers, that still appreciate the good separation of instruments. Other ranges supplement lows. All in all, they provide excellent sound, not many budget headphones can give.
The Verdict
Sure, KZ ATE are cheap. But their sound is anything else but cheap. With a lightweight, durable design, and "bassy" yet beautiful bass signature, they are definitely worth getting. Read the full review here.
Are you a runner? Get top runner headphones here.
Note: Top budget headphones here (over-ear & on-ear).
---
Old recommendations that might still be an option:
Pump Audio V2 (removed because they are an older model that's harder to get, still great bass headphones)
Check out similar articles like top Bluetooth noise-cancelling headphones.
What are Your Favorite Bass Earbuds?
We want to know what you think about this selection.
Share your opinion with us in the comment section below and make sure to include why you think your model should be added to the list.
It's very important.
Growing the best list of bass earbuds with your help will be much easier.
---
Disclosure: We might receive affiliate compensation if you purchase products via links on this page. This is how we purchase headphones for new reviews and keep the site adds-free. In spite of that we do our best to tell the truth about every product and don't favor any one brand or model.
Comments