Sports
Best Workout Earbuds in 2020
Earbuds, earphones, in-ear headphones, whatever you call them, these are the best for working out.
Comparison of Sport Earbuds
Wireless earbuds are compact and convenient for use on the move due to their small size. For this reason, many people choose them to wear for the gym and other activities.
We've compared the best workout earbuds in this guide. You'll find top choices for everything from weightlifting to running.
The options on the list all have features you should expect from wireless headphones for working out, like water-protection, stable fit that doesn't annoy you, and enjoyable sound.
Everyone's workout needs are slightly different, so take a look at the top 10 options we recommend. You're likely to find good choices for you.
Key Features of Earbuds for Working Out
Looking for great earbuds for working out is not just about finding the top earbuds on the market.
You need to think about your workout, and the strain it will put on the buds.
Features you may not care about on the train or at home might be very important for your workout.
Stability
If your wireless earbuds keep falling out of your ears, they're pretty useless for workouts. It's also extremely frustrating.
Imagine you are on an elliptical trainer and you need all of your limbs. If your earbuds keep falling out, then you will have to stop the exercise to put them back in. Annoying.
Manufacturers of workout headphones know that it's key that the buds stay in your ear throughout. A winged design which molds to fit inside your ear, or a hooked design that hooks around the back of your ear, are great for combating this.
Earbuds are usually better for workouts than on-ear headphones due to better stability.
Durability
Slightly different to stability. They need to be durable, too. This means they can stand up to regular sweaty use.
When you're running or in the gym, there's a chance they'll have to cope with a lot of movement, being stored in a gym bag and more. Nobody wants buds that will break at the first sign of trouble.
Waterproof (or at least sweat-resistant) protection
If you don't sweat when you exercise, you're probably not doing it right. The best earbuds for working out have been made with this in mind. IPX (waterproof rating) will tell you how waterproof the headphones are. About IPX4 and upwards is sweat-resistant.

Noise Isolation
This passive feature is a big thing for gym-goers since it allows you to drown out the gym noise and focus on your workout.
Don't mistake active noise cancelling earbuds, that actively cancel sound waves within the ear, with passive noise isolating that physically block external sounds. More info about the difference here.
If you plan to work out in a gym or another busy location, then blocking out ambient noise is the way to go.
However, if you need to hear noise such as traffic for your safety, then get earbuds with less noise isolation.
Wireless or Wired?
Do you need wireless workout headphones or will a wired option do?
Obviously, wires get in the way. If you're using equipment in the gym, this can be particularly annoying. Many people like to tuck their wires under their clothes, but this can cause chaffing.
Instead of wireless earbuds, which don't have a cable leading to the device, you can opt for true wireless earbuds (TWS). These have no wires at all.
TWS buds can be convenient, but it's even more important that you find a stable option that will stick in the ears.
Battery Life
If you are going wireless, think about battery life, too. This is one of the few downsides to having wireless functionality. The longer your battery life, the better.
Also, think about other features and functionality such as whether they have a quick-charge capability. Great for people who forget often.
Best Workout Earbuds
1. Jabra Elite Active 75t – best overall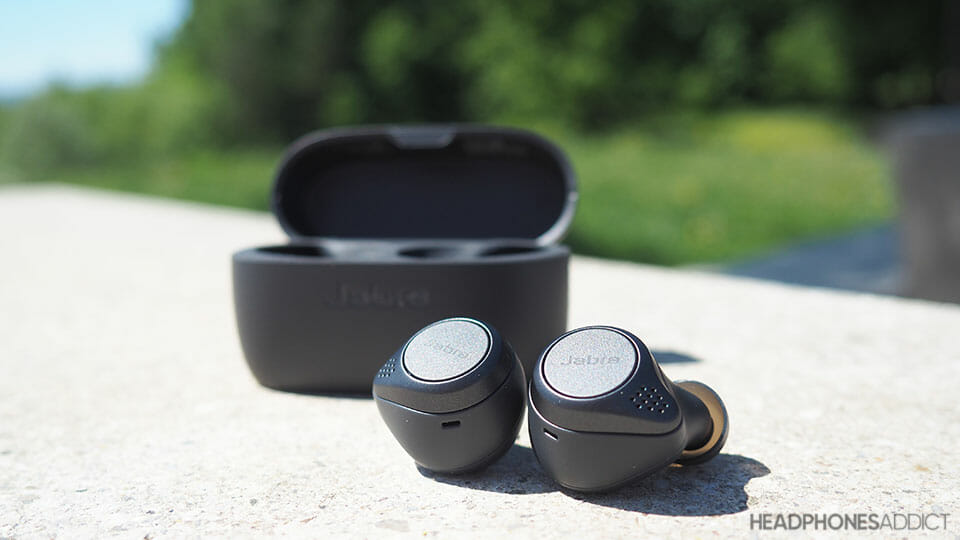 Overall best workout earbuds
Active 75t's are the best workout earbuds right now (in our opinion).
Best for: All-rounder workout buds
Connection: Bluetooth 5.0
Water-protection: IP57 (IPX7) – water-resistant
Battery: Over 7 hours (20h in case)
Why Buy These?
As the most versatile earbuds that you can use in a loud gym or playing basketball, the Jabra Elite Active 75t make the top choice.
The buds block the ambient noise with effective in-ear design, but you can also increase your awareness by activating HearThrough mode.
They provide secure fit and stay comfortable for hours. Add a generous 7-hour+ battery life with quick charging, and you'll understand why these are so popular.
You can expose them to dust and water thanks to the highest yet IP57 protection.
The Bad
Higher price around $200. Tiny soundstage.
The Sound
The Elite Active 75t have a bass emphasized sound quality. Additionally, you can equalize it with the Sound+ app (it also offers other options).
You can create your own custom presets for different moods and occasions. These are perfect for even more demanding users. Read more about in the review.
As the best workout earbuds, the Jabra Elite Active 75t make for a great choice.
Read the Jabra Elite Active 75t review.
---
2. Beats PowerBeats Pro – best bass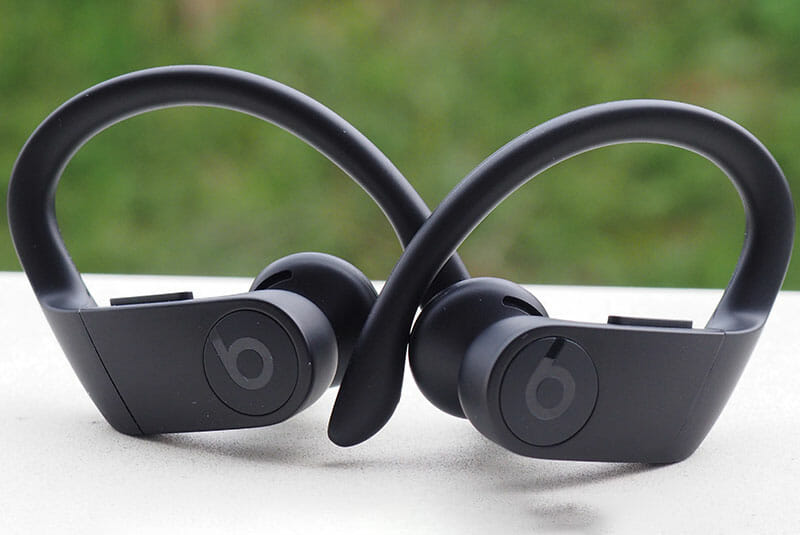 The best workout earbuds if you like powerful bass
Beats made superb workout earbuds, with enjoyable sound, and outstanding stability.
Check Beats PowerBeats Pro review.
Best for: Enjoying bass in music
Connection: Bluetooth 5.0
Water-protection: IPX4 – sweat-resistant
Battery: Over 11 hours (24h in case)
Why Buy These?
Construction on these is of high-quality. Housing is made from hard plastic, with a matte black finish and ear hook design. The latter work exceptionally well at providing stability during movement.
While you can't wash them under a tap, they have no problem with excess sweat (IPX4 certification).
Even if your workout routines are incredibly long, PowerBeats Pro come with an 11-hour battery life per single charge. To make their longevity even better, you get an additional 24 hours inside the charging case, while the earbuds themselves can quick charge.
The Bad
After 30 minutes of use, they can start to irritate slightly, which makes them uncomfortable. However, the same might not apply to you.
The Sound
Beats headphones with no bass don't exist. The same goes for the PowerBeats Pro, which have powerful, rumbling low-end with good sub-bass extension. Thankfully, this time around, it's very controlled and enjoyable to listen to. The midrange is slightly reduced, while the treble shows a significant amount of sparkle.
If you like the Beats brand and need something to boost your energy during a workout, Beats PowerBeats Pro are worth considering.
Check Beats PowerBeats Pro review.
---
3. Jaybird Vista – best sound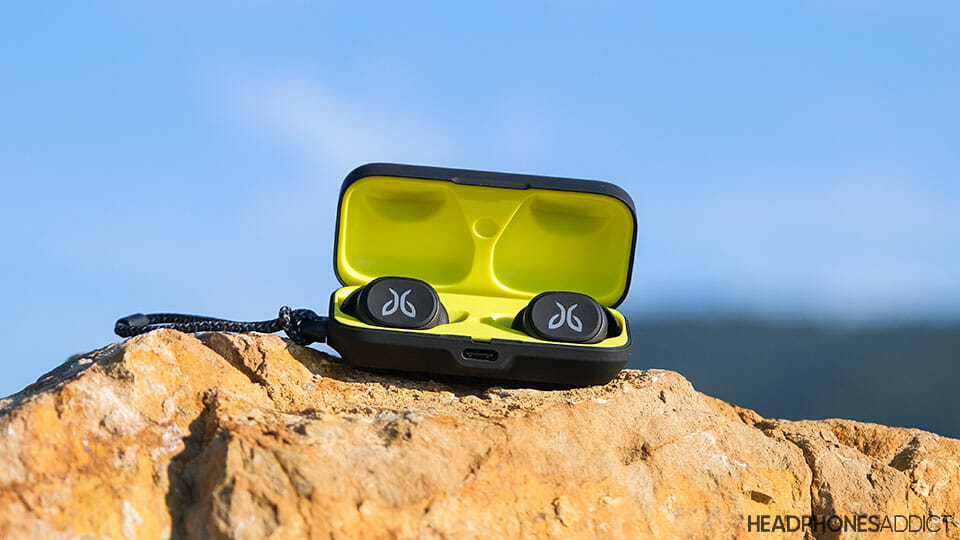 Best workout earbuds for sound quality
There are many well-built earbuds, but only one has passed a military standard of ruggedness.
Check our Jaybird Vista review.
Best for: Sound quality under $200
Connection: Bluetooth 5.0
Water-protection: IPX7 – water-resistant
Battery: Up to 6 hours (10h in case)
Why Buy These?
From the unboxing to the user experience, Jaybird Vista are very premium-feeling in-ear headphones. They come with a small charging case that has a soft finish. Earbuds themselves are similar in build and finish, but with extra silicone ear fins for improved stability.
Despite the shallow seal, they isolate reasonably well and remain comfortable for long listening sessions. You can continuously monitor the 6-hour battery with your phone. The charging case gives another 10 hours of juice.
Vista's are prepared for the majority of real-world situations. They come with IPX7 water-resistance and military standard MIL-STD-810G, which makes them shockproof.
The Bad
The microphone picks up a lot of the outside noise, so we don't recommend them for longer calls.
The Sound
Right out from the box, it might disappoint you with its harsh midrange and messy treble. Changing the EQ inside the app makes them completely different earbuds. We managed to change their sound to almost neutral levels, while still retaining punchy bass.
They might not be a "plug and play" type of earbuds, but after some tweaking, they are incredible.
Check our Jaybird Vista review.
---
4. Anker Soundcore Liberty Neo – best value

Best value workout earbuds
A cheap alternative if you want something durable and comfortable, but don't want to pay big money for it.
Check out Anker Soundcore Liberty Neo review.
Best for: Great for under $50
Connection: Bluetooth 5.0
Water-protection: IPX7 – water-resistant
Battery: Up to 3.5 hours (9h in case)
Why Buy These?
These lightweight true wireless in-ears fit perfectly inside your ears, with big ear fins preventing them from falling out during workouts. You can wear them comfortably for hours on end.
The latter is achievable by a large selection of accessories that come inside the box. You can choose from multiple sizes of ear tips and ear fins.
Earbuds are made with quality materials while also providing high water protection (IPX7 rating). With their reliable Bluetooth 5.0 connection, you don't have to worry about stutters and dropouts.
The Bad
The charging case's lid seems flimsy and might be the first thing to break.
The Sound
You can expect an enjoyable sound coming out from these. They emphasize bass, which delivers a good punch and has a decent extension. The overall signature is warm and inoffensive. For those who like their music loud, you can crank these up to dangerous levels.
Anker Soundcore Liberty Neo are a great budget option. They provide you with all the basic things you need for an enjoyable experience.
Check out Anker Soundcore Liberty Neo review.
---
5. TaoTronics SoundLiberty 92 – best classic earphones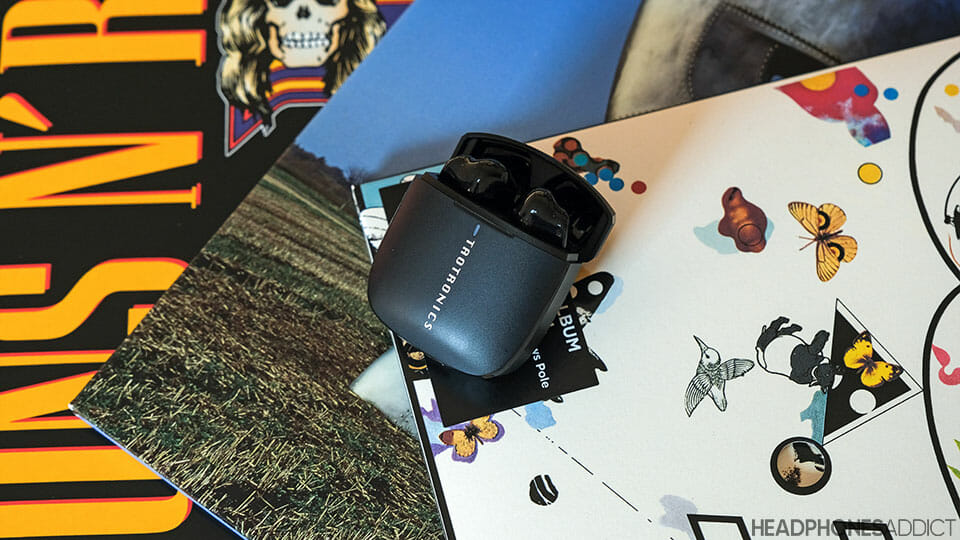 Best affordable true wireless headphones for workouts
If you don't like in-ear headphones, you might want to check these classic earphones instead. They're built well, offer almost neutral sound, and come with an IPX8 rating.
Check our TaoTronics SoundLiberty 92 review.
Best for: Best value under $50
Connection: Bluetooth 5.0
Water-protection: IPX8 – water-resistant
Battery: Up to 5 hours (20h in case)
Why Buy These?
92's are a great AirPods replacement for just a fraction of price. They come in a sturdy looking housing with a glossy finish. They're somewhat chunky, but they fit nicely, considering the classic earphone design.
Comfort is also not an issue, since you hardly know you're wearing them.
While their battery is pretty amazing for truly wireless in-ears of this type (5 hours per charge, with another 20 hours inside the charging case), the most impressive thing is their water-resistance. IPX8 makes them submergible up to 3 meters, which might be overkill, but better safe than sorry.
The Bad
Since they don't' have anything to grab on, the stability is rather weak.
The Sound
The sound of these is surprisingly full, with a decent bass punch, and relatively even response throughout the range. Treble is smooth to prevent sibilance.
TaoTronics SoundLiberty 92 are a great value if you like this type of earbuds. They're comfortable and fun sounding.
Check our TaoTronics SoundLiberty 92 review.
---
You can also check out another option for true wireless earbuds.
---
6. AfterShokz Aeropex – best bone conduction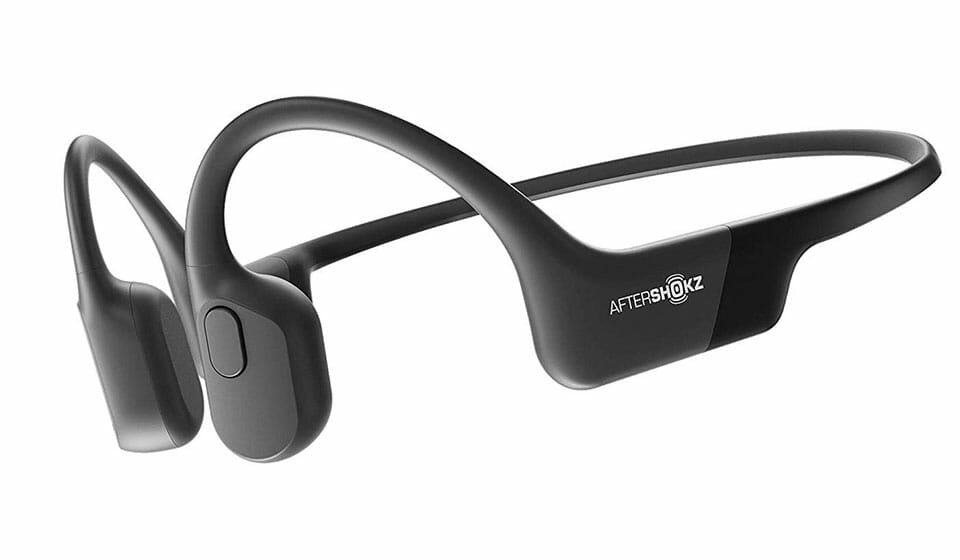 Best bone conduction earbuds
Bone conduction leaves your ears clear to the environment, great for working out outdoors, where you have to be aware.
Best for: Bone conduction
Connection: Wireless
Water-protection: IP67 – water-resistant
Battery: Up to 8 hours
Why Buy These?
Bone conduction headphones are the best option for those who want to keep their hearing open.
AfterShokz is a top brand for this style of sports earbuds, and they have multiple patents. The Aeropex weigh only 26g, which is incredibly lightweight, but they still don't compromise on features.
This is the newer and better model compared to AfterShokz Trekz Air.
PremiumPitch 2+ is an improved technology in these latest earbuds for improved bass through bone vibration. Also, it lessens the vibration feel in your cheeks, which is annoying some people.
A titanium wrapped headband is designed to be extremely flexible and fit all sorts of head shapes.
With IPX7 water-resistant design and a super secure fit, you can use them for all types of working out.
The Bad
Some people don't like the feel of bone conduction; it can cause the vibration of their face. Other than that, it is very hard to fault these.
The Sound
Once you've converted to bone conduction, you may well love it. The sound fidelity is brilliant, with wide frequency response and a tailored bass boost (for bone conduction headphones).
But it falls short to regular headphones that have more and deeper bass.
For perfect awareness during your workout and good sound quality, check the bone-conducting AfterShokz Aeropex headphones.
Check the full AfterShokz Aeropex review.
---
Most Affordable Workout Earbuds
7. Jlab Audio Jbuds Air – best under $50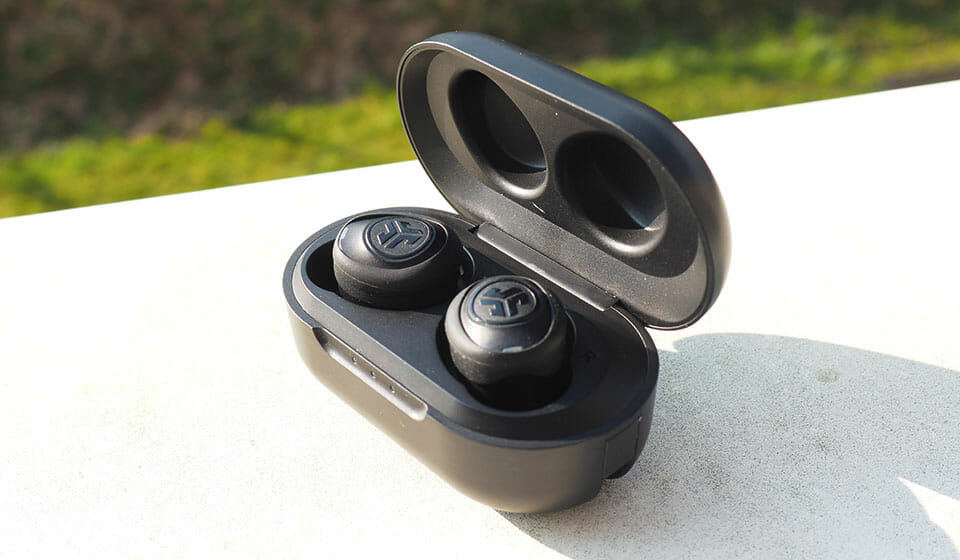 The best true wireless in-ears under $50 for working out.
Jlab Audio Jbuds Air are great true wireless headphones for a workout due to secure fit, excellent noise isolation, and enjoyable sound (for cheap buds).
Best for: Best under $50
Connection: Bluetooth 5.0
Water-protection: IPX5 (IP55) – water-resistant
Battery: 5.5 hours per charge (+15h in case)
Why Buy These?
The combination of Bluetooth performance, super stable fit that will survive your workout without much readjustment and competition-beating price make these a bargain.
If you're short on money but need dependable workout earbuds that don't need to be exceptional in every way, but just good enough for an enjoyable gym experience, then these are it.
Sure, the battery life is on the lower end with 5 hours, but most people don't spend more time than 1.5 hours per workout. With the charging case, you get a week's worth of workout music.
Moreover, solid noise isolation protects you from bad gym noise so that you can focus on your lifting. And, when you want to call your friends, you can do so hands-free with a built-in microphone.
IPX5 also makes them water-resistant; you can wash them under the tap.
The Bad
The earbuds can irritate smaller ears. You can get a longer battery for a similar price. See other wireless earbuds under $50.
The Sound
Jbuds Air come with 3 EQ presets with decent sonic fidelity. These are cheap true wireless headphones, so the sound isn't Hi-Fi but more than good enough for working out. Read more in the full review.
With the overall good performance, the Jlab Jbuds Air offer a lot of value to a gym rat who wants a decent product for a low price.
The full Jlab Audio Jbuds Air review.
---
8. Bose SoundSport – best wired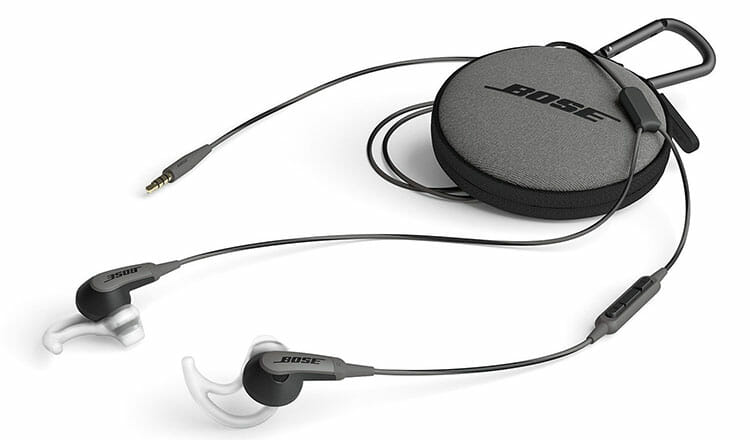 The best wired earbuds for working out
Best for: Wired workout earbuds
Connection: Wired, 3.5mm
Water-protection: IPX6 – water-resistant
Battery: n/a
Why Buy These?
If you don't mind wired earbuds for running, you can definitely get more for your money. Bose SoundSport is an example of this.
They have an inline mic and controls which enable you to take calls, change the volume, and skip through tracks.
StayHear ear tips are one of the main benefits of these Bose earbuds. They are in three different sizes to allow for a snug fit, but also still allow you to hear what is going on around you. So, passive noise isolation is bad, but this gives you better awareness.
Still, these are wired, and you need a smartphone or MP3 player that supports it.
The Bad
Also, 3.5mm connections are becoming less common in smart devices, making it impossible to connect to many modern devices.
The Sound
Most audiophiles are not surprised when they hear great sound quality from the Bose brand. Though not wireless, these offer an excellent frequency response, plenty of power, and balanced audio.
For an affordable wired option with high fidelity, the Bose SoundSport earbuds are a top choice.
---
9. iTeknic BH001 – best battery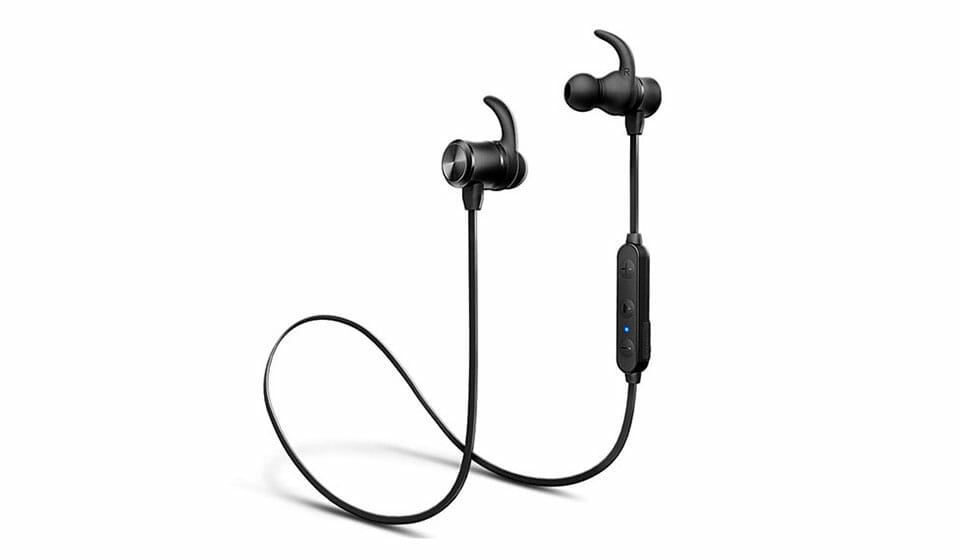 Best battery life in wireless workout earbuds
Best for: Battery life
Connection: Wireless
Water-protection: IPX7 – water-resistant
Battery: Up to 24 hours
Why Buy These?
It's hard to believe that wireless headphones that are so affordable have an incredible battery life of 24 hours.
They're pretty good at staying in your ears, and in spite of bigger earbud casings, the ear pieces don't fall out often. The tight buds also do a good job of blocking noise.
Another impressive feature is that these are IPX7 water-resistant, which makes these great for exercise.
So, if you're looking for cheap earbuds for working out that have a fantastic battery, you should consider these.
The Bad
You shouldn't expect ultra high fidelity from such affordable wireless in-ears.
The iTeknic BH001 are a little big and bulky for some people's liking.
The Sound
Though not award-winning fidelity, the respectable sound, and decent frequency response are some of the plus points of these in-ear headphones. It's decent and should satisfy average users for music, audiobooks, and podcast listening.
If you're looking for amazing battery life on a budget, consider the iTeknic BH001 wireless in-ears.
See the full iTeknic BH001 review.
---
10. Anker SoundBuds Slim+ – best cheap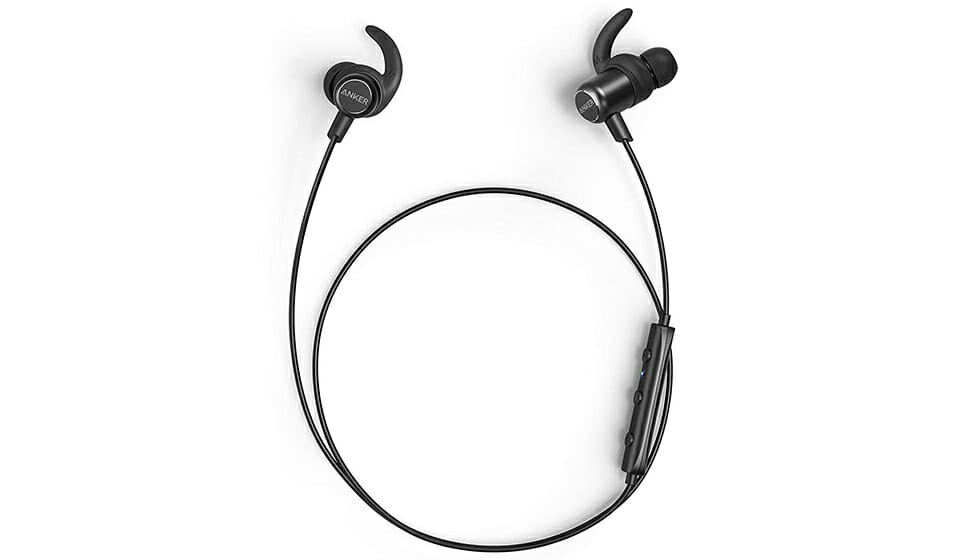 The best cheap headphones for workouts
Some people just want earbuds that can do the job, at a very reasonable price. If you're in that category, these headphones could be your answer.
Best for: Cheap price for decent performance
Connection: Wireless Bluetooth
Water-protection: IPX7 – water-resistant
Battery: Up to 10 hours
Why Buy These?
In spite of not costing a huge amount, these earbuds have plenty to like. The 10-hour battery life is one example of a feature you'd expect from more expensive in-ear headphones.
The water resistance is excellent (IPX7), so you can work out outdoors. You can also take calls with a decent microphone.
For stability, ear wings help them stay in place. They do a good job of keeping the wireless in-ears stable even during rigorous movement.
The Bad
Patchy Bluetooth is the most common issue people experience with these Anker earbuds.
Also, although the sound isn't bad, it is a little lacking in the bass frequencies.
The Sound
If you're realistic about what sound you can get at this price point, these headphones have plenty to offer, especially if you don't need loads of bass. For casual listeners, the sound is more than adequate. For more demanding sportspeople, expect to pay more.
If you're looking for cheap workout earbuds with Bluetooth and decent overall quality, get the Anker SoundBuds Slim+.
Check the Anker SoundBuds Slim+ review.
---
Honorable mentions
Jaybird X4: Earbuds are a great option for anyone who wants that extra level of control via an EQ app. Sound is still a key feature for workout headphones.
---
Related:
---
How to Choose Earbuds for Working Out
There's no way someone can recommend one set of earbuds for everyone. You need to consider your needs before you can make this choice.
What is Your Type of Earbuds?
The chances are you've decided on earbuds as opposed to on-ear headphones.
In-ear headphones are lightweight and fit great
On-ear headphones are the smaller type of "normal" headphones, but they aren't suitable for fast movement
Over-ear headphones aren't good for exercise at all. They can be great for active noise canceling, and they can provide a full sound, but earbuds are usually far more convenient for exercise.
Buds are smaller, can comfortably fit with a wing or hook design, and aren't likely to get in the way. Get more info on the subject of earbuds versus headphones.
You can also look into our guide on workout headphones, comparing on-ear to in-ear options.
Where are You Working Out?
Obviously, you can exercise in different places. However, it makes sense to base a lot of your decision on where you'll be for most workouts.
If you go to a noisy gym a lot, think about noise isolation.
If you exercise somewhere where there's traffic, you need to hear it. So go for awareness instead of noise isolation. For instance, bone conduction headphones give perfect awareness.
If you exercise outside, even in the rain, waterproof functionality is a must for your buying decision.
Running requires more stable fit than just lifting weights in the gym. Ear wings and hooks help with stability.
What is Your Budget?
You don't have to buy the best, which is usually the most expensive, earbuds on the market. You can often get by with paying a lower price and getting a great value pair of headphones.
Here's a general price range to consider:
$100-$200: high-end workout headphones, wireless and true wireless
$50-$100: mid-range where you can expect better value for money but fewer features and customization
under $50: low-end sport earbuds that come with basic features
One exception are true wireless headphones. Budget models start at the $50-$100 range.
Comments