We're looking at the best in-ear monitors for musicians, studio professionals, and regular users.
Comparison of In-Ear Monitors
If you are looking for classic in-ear headphones at different prices, here's the rundown.
Some people refer to "in ear monitors" as IEMs, it's an abbreviation. They're also known as in-ear headphones, floor monitors, earpieces, personal monitor, and they're usually a part of professional monitor systems.
What Are In-Ear Monitors?
In-ear monitors are equivalent to studio monitor headphones but with a different design. They sit in the ear canal, instead of the outside of the ear (like over and on-ear headphones).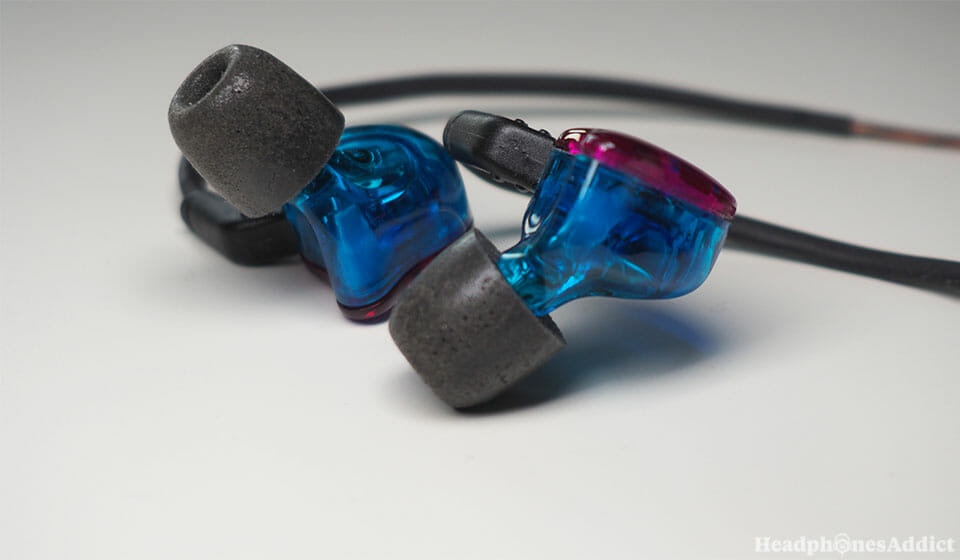 They are very popular with live musicians who can monitor their singing by listening to themselves while keeping the ability to move. Over-ear headphones are big and conspicuous. You can also use them either in recording or in a casual environment.
In-ear monitor headphones have a lot of benefits for musicians. The engineer sends a monitor mix to each musician. You can hear the levels you need to keep you playing at your top potential. For example, you may wish to hear more of the drummer to keep your timing perfect.
In the non-professional market, you see a lot of wireless in-ear monitors (also known as wireless earbuds). These are designed for more casual, daily use and focus on convenience.
Some people opt for balanced armature monitors. These use a balanced armature driver which can be tuned to specific frequencies, give more detailed sound and can even act as a form of hearing protection.
How Do In-Ear Monitors Work?
In a stage setting, firstly, a mixer sends a feed to a wireless receiver. The receiver usually sits on a belt and connects to your in-ear monitors so that you can hear the sound.
A monitor engineer in big productions does the monitor mix. However, on live shows, the live sound engineer may do this instead.
By having custom in-ear monitors being mixed separately, each member of a band can hear what they want to. This aids their performance. Wireless systems for in-ear monitors also allow more freedom around the stage.
In ear monitors also keep the stage sound levels down. This means that you no longer need to use big, bulky stage monitors. This is good for your hearing.
The echo can be a problem with in-ear monitor headphones and live performances. Echo cancellation is the answer. It works by monitoring the sound being played into the microphones and then comparing it to the sound originating from the far end. It can cancel out the sound it finds in both. This sound can only be coming from the far end. This sort of technology works on your smartphones, too.
You can learn more about how to use in-ear monitors on stage here.
Pros and Cons of In-Ear Monitors
In-ear earphones and monitors have upsides and downsides.
Most successful live musicians and bands use IEMs. However, it's important to point out that not everyone can and that their use isn't always suitable.
PROS:
IEMs allow you to get a personalized monitor mix
In-ear headphones are much more flexible than over-ear headphones
You don't have to stay near a stage monitor, so you can walk around freely
The stage noise is lower as a result of not having stage monitors
Due to sound isolation, music is being sent straight to your ear canals, meaning a clearer sound
In-ear earphones are more stable than classic earbuds
CONS:
You may not be able to hear crowd reactions as well
The whole setup can be expensive
You need a monitor mix to be done by an engineer or a live engineer
You need more equipment such as transmitters for your IEMs to work
For most musicians and big tours, in-ear monitors are the way to go. For small club gigs, they might be an expensive overkill.
Best In-ear Monitors and Headphones With Monitor Features
1. Shure SE215 (best under $100)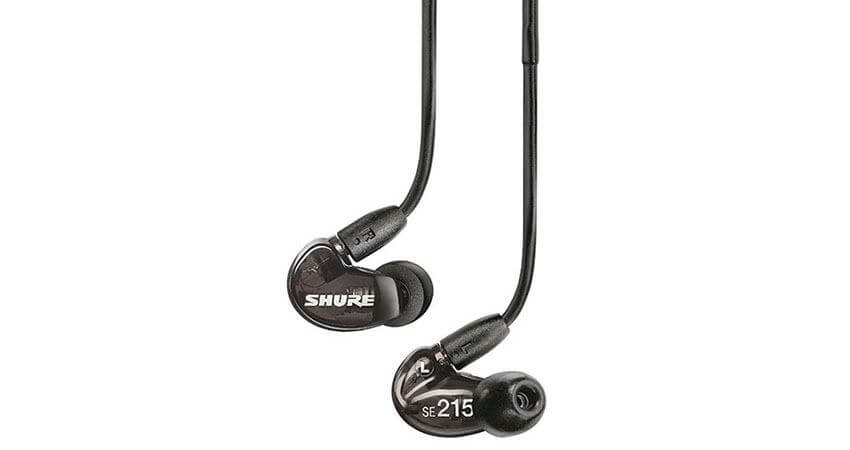 Best in-ear monitors under $100
In-ear monitors don't have to be expensive. These popular Shure in-ear earphones come in at under $100 and have some great features and sound.
Connection: Wired (Wireless Bluetooth adapter available)
Detachable cables: Yes
Why Buy These?
The quality of these IEMs is excellent, and the sound isolating eartips block out a lot of ambient noise, meaning you can hear the mix as intended.
They have gold plated MMCX connectors and snapping mechanism so you can rotate to your preference. These earphones also have 3 different sizes of ear tips.
They're pretty lightweight and don't sit too heavy in the ears so that you can cope with a whole concert wearing them.
The original model is wired, but you can purchase an adapter that can give a 30 feet wireless range. Unfortunately, the adapter isn't working that well, so stick with wires.
The Bad
The way you wear these behind the ear takes getting used to. Also, the bass can sound a bit "boomy" with no EQ settings to impact this.
The Sound
If you like your sound bassy, these IEMs could be for you. Some in-ear headphones lose this, but these have a boost in the low-end to keep you hearing the low frequencies clearly.
For a fun bassy sound and high-quality design under $100, consider the Shure SE215.
---
2. 1MORE Quad Driver (best under $200)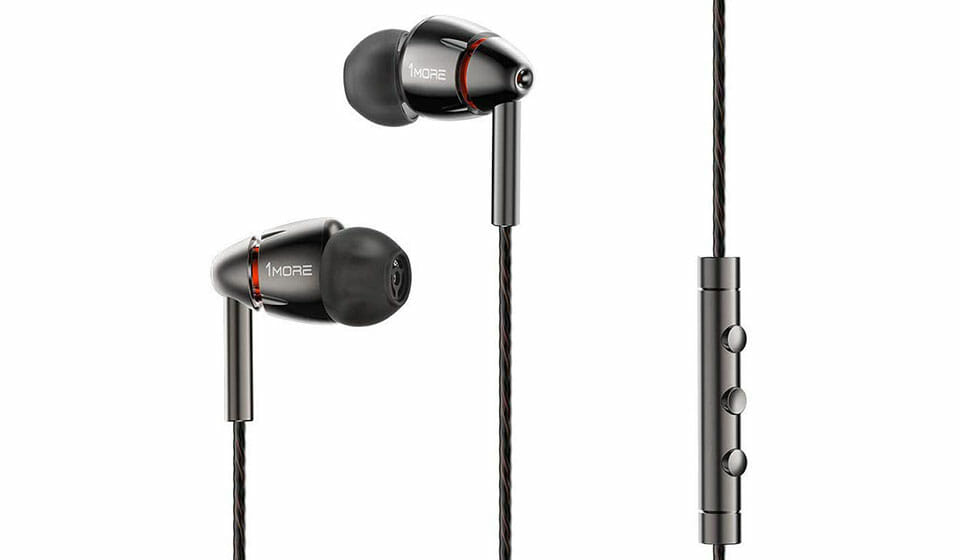 Best in-ear monitors under $200
If you're looking for in-ear monitors with meticulous detail and design, these earphones could be for you. Plus, they come in at under $200 from a company, 1MORE, that's known for making quality headphones for less.
Connection: Wired 3.5mm (+ airline adapter)
Detachable cables: No
Why Buy These?
Incredible quad drivers (four of them) have an amazing level of power and give a clear definition to the monitor mix. Three balanced armature drivers are included for handling the high-end, and another driver for bass alone.
And when you don't want to enjoy Hi-Fi music, you have in-line controls for making phone calls and changing music and volume in a breeze.
9 different eartip sizes are included for you to choose the best for you. You also get a leather case and shirt clip.
The Bad
Paying almost $200 for wired in-ear headphones is hard to justify for a modern music enthusiast since you have so many wireless options.
The Sound
The sound quality is fantastic. The drivers we've already mentioned give clarity as well as power. The headphone's audio signature has been designed by Luca Bignardi who is a grammy-winning engineer.
If you don't mind wired IEMs and are looking for brilliant, clear audio, think about getting your hands on some 1MORE Quad Drivers.
---
3. Shure SE846 (best high-end)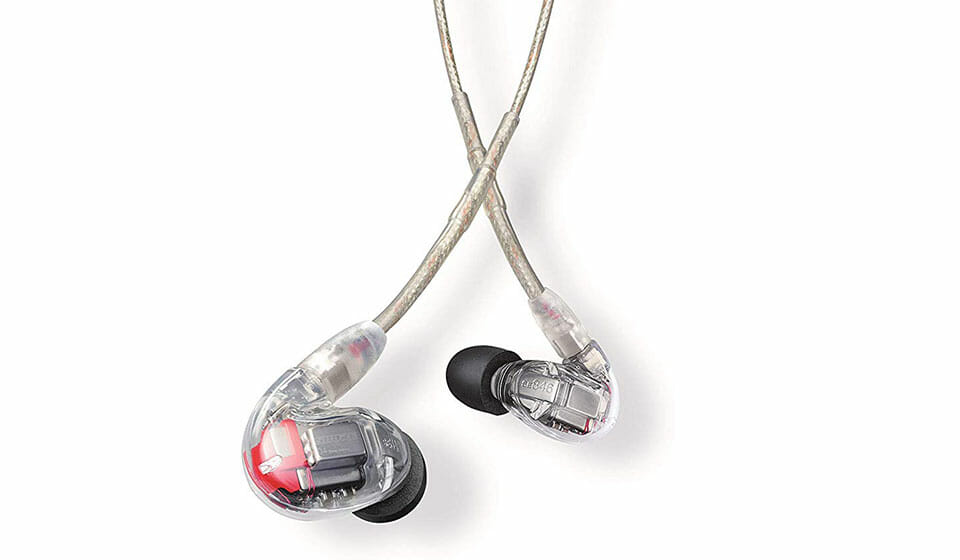 Best high-end in-ear monitors
If you are a serious musician, looking for seriously impressive quad-driver IEMs, these could be perfect for you. An incredible set of features and quality, packed into a tiny package, but comes at a price.
Connection: Wired 3.5mm (wireless adapter available)
Detachable cables: Yes
Why Buy These?
The go-to IEMs for many pros. Quad drivers, quality design, and superb sound.
Firstly, a detachable cable enables connectivity options. And the earphones have a 37 dB noise isolation capability for blocking out ambient stage noise.
Furthermore, they offer a secure and comfortable fit and convenient carrying case for serious musicians.
These are the standard-setting in-ears for many audiophiles.
The Bad
The only real bad thing is the price, and it's a significant consideration as they cost almost $1000 ($900-ish).
The Sound
The sound justifies the price. Four exceptional drivers, a low-pass filter, and the choice to amend and customize the frequency response makes these some of the best-sounding monitors you're likely to hear.
If you're a serious musician and only high fidelity and clarity will do, go for the Shure SE846.
---
4. MEE Audio M6 PRO (best under $50)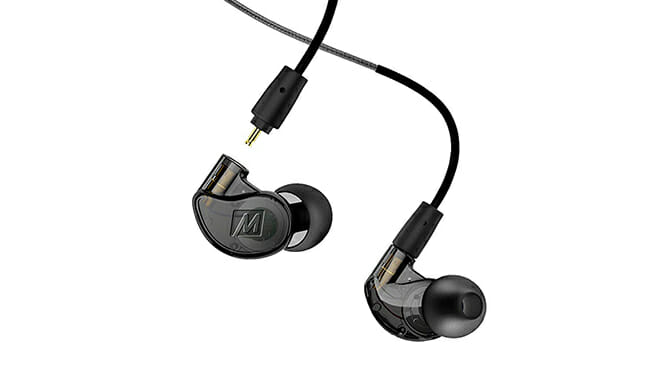 Best in-ear monitors under $50
Looking at the price tags of some IEMs may put a lot of musicians off. However, a budget option is on offer. The MEE Audio M6 PRO have decent features without breaking the bank.
Connection: Wired 3.5mm (wireless adapter available)
Detachable cables: Yes
Why Buy These?
Naturally, the price tag is a huge plus point and one reason that many people will consider the M6 PRO. There are some cool features, too.
The flexible memory wire allows these to fit nicely within the ear and stay there. There are 6 sets of ear tips you can choose from, and all of them are good at blocking ambient noise.
Though wired, the cable is detachable, so you can get a wireless adapter if you want.
The Bad
The frequency response is not as good as some other earphones on the list. Furthermore, the power in the bass frequencies is somewhat lacking.
The Sound
You probably won't find ultra-high fidelity at this price, but the M6 PRO are right behind. The sound is good enough for a starting musician and their monitor needs.
If you need an affordable option with good sound quality, go for the MEE Audio M6 PRO.
---
5. HiFiMan RE-400 (under $50 alternative)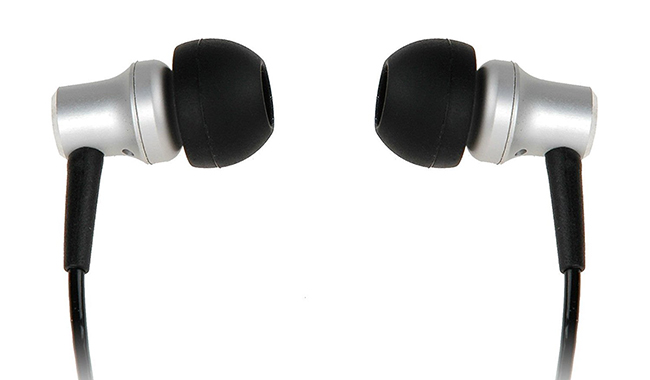 An alternative in-ear model under $50
Another option for an affordable set of in-ear monitors is the HiFiMan RE-400. These have a decent bass response and some pretty good features for the money.
Connection: Wired 3.5mm (wireless adapter available)
Detachable cables: No
Why Buy These?
If you find that the IEMs on a budget can be a little tinny and lacking in bass, these have a boosted bass response, which means the low-end doesn't go missing.
There are multiple tips to allow you to choose the right size for you.
A titanium diaphragm, neodymium magnet, and copper cable are designed to stop the 'stethoscope' effect of hearing your heartbeat.
The Bad
These are very basic. No wireless capabilities, and no detachable cables.
Though the manufacturers say these are compatible with iPhone and Android, adapters are needed for the iPhone.
The Sound
The 15Hz-22KHz frequency response is more than adequate, and a little bass boost gives these a good sound that's hard to find at this price, though the audio is better with higher-end models.
For in-ear monitors with clear and powerful bass on a budget, go for the HiFiMan RE-400.
---
6. KZ ZST (best cheap in-ear monitors)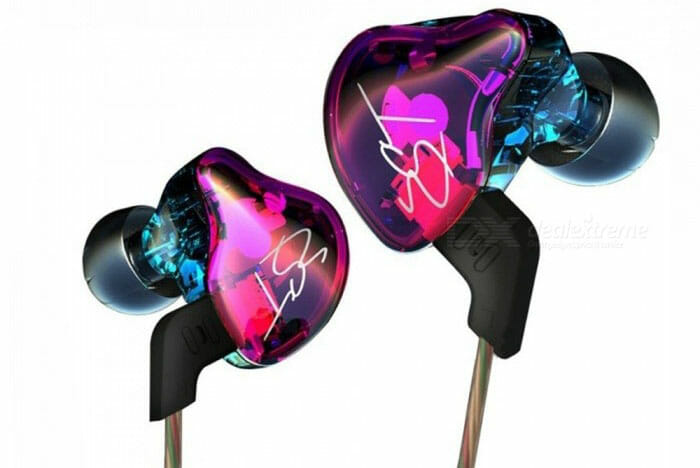 Best cheap in-ear monitors
If you're on a really tight budget and want something cheap, but decent, the KZ ZST monitors might surprise you with their quality.
Connection: Wired 3.5mm
Detachable cables: Yes
Why Buy These?
The KZ ZST in-ear headphones are actually pretty decent in spite of their low price.
The detachable cable is a big bonus for a set of ear buds this affordable. 3 pairs of silicone ear tips help you find a comfortable fit though memory foam tips are better.
The Hybrid Balance Armature drivers could be mistaken for more expensive IEMs. And, you wear these behind the ear, like Shure, so they stay comfy for hours.
The Bad
No way to make them wireless in-ear monitor. Also, the materials feel a bit cheap, "plasticky."
The Sound
For the price, the sound is unrivaled. It's tough to get such clarity at such an affordable price tag. The frequency response is great, the bass doesn't go missing and has a nice punch while highs are detailed without harshness. It's a balanced sound signature that's hard to find in even more expensive headphones.
For affordability and sound that outperform the price tag, take a look at the KZ ZST in-ear monitors.
---
7. BASN Bsinger BC100 (cheap option for musicians)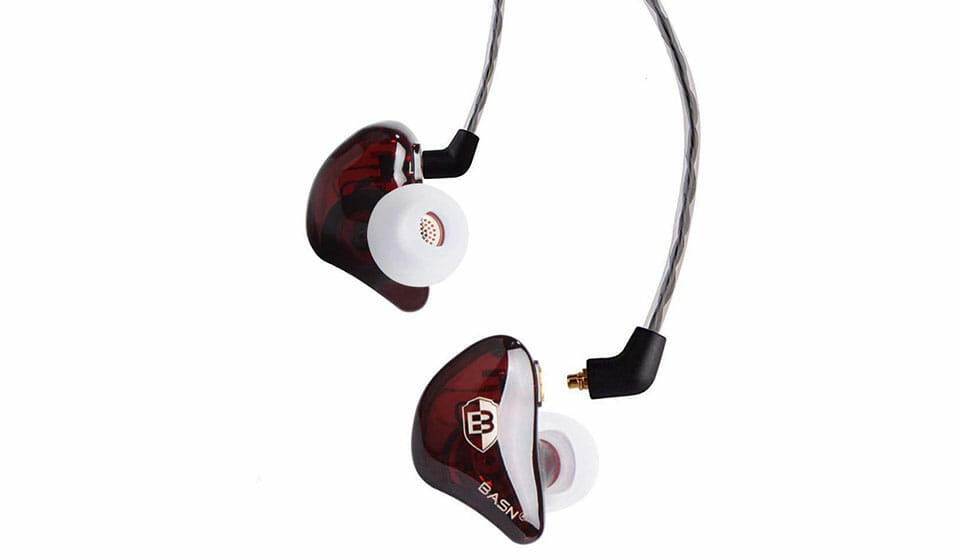 The best cheap in-ear monitors for musicians
For affordability, but also a good level of features fit for stage use, these earphones could be your best choice.
Connection: Wired 3.5mm
Detachable cables: Yes
Why Buy These?
The quality, detachable MMCX connector is the same as that used in some of the Shure models on the higher end of the market. There are a lot of features for a low price, and the dual dynamic driver gives plenty of power and clarity on a budget.
The adjustable earhook design can be customized to your face and give you a perfect fit for your own ears, meaning they don't fall out.
Plus, you can choose from different colors to fit your style; red isn't the only option.
The Bad
Sometimes, they can pop off the detachable wires if you pull too strongly.
The Sound
The sound clarity can't be argued with for an affordable price, especially if you don't need huge booming bass. The mids and highs are pretty impressive. These are designed for clarity and accuracy that a musician needs.
If you're looking for cheap IEMs suitable for use as a musician when recording or performing, consider the BASN Bsinger BC100.
---
Honorable Mentions
More in-ear monitors that are generally a good choice.
FiiO F9 – check price
RHA MA750 – check price
MEE Audio Pinnacle P1 – check price
---
More earbud guides:
Comments