Pick one of the hardest hitting bass "cannons" you can get right now.
Comparison of Best Bass Headphones
Go to:
Here are the best bass headphones you can get right now.
If you're looking for hard-hitting cans that blast your ears with powerful lows or more defined bass response, you'll find something for you here.
And together with fun sound, you should also expect reliable wireless performance and good build quality.
In the guide, you'll find all types of headphones and if you're looking for bass earbuds go here.
15 Best Bass Headphones
1. Sony WH-XB900N Wireless Extra Bass | best overall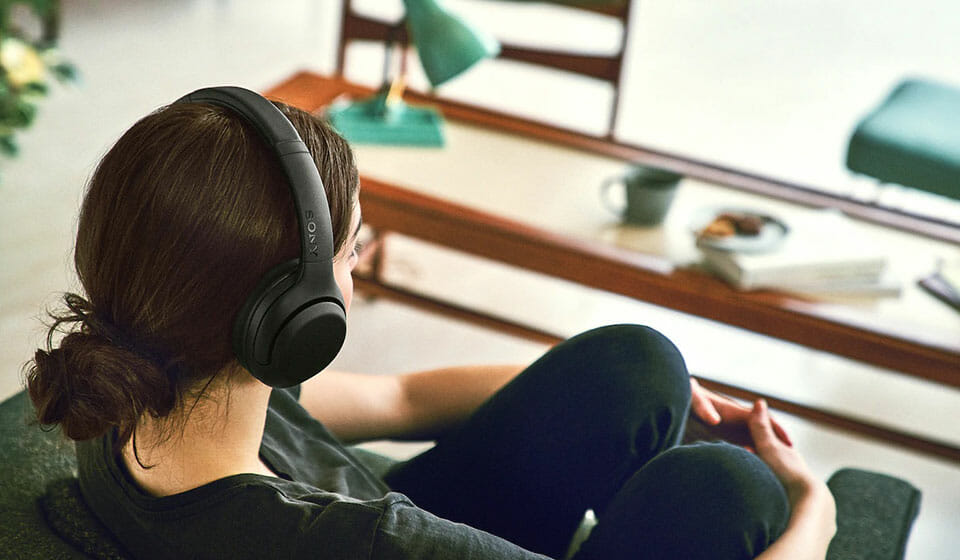 The best bass headphones for most people
Sony has hit the nail on the head with a combination of noise cancelling wireless headphones with a clear and punchy bass boost.
Back design: Closed-back
Foldable: Yes
Battery life: 30 hours
Drivers: 40mm dynamic
Why Buy These?
These headphones are part of Sony's deep bass range, making a great option for people who like to listen to heavy, bass-forward music.
The Sony WH-XB900N offer lots of convenient features such as a long, 30-hour battery life, with a quick charge option and even a folding construction. Pack these up and take them in your backpack with ease. A USB-C charger offers you quicker powering without proprietary cables.
The plush padding around the ear cups helps with noise isolation. You can listen for long periods and remain comfortable throughout.
Simple ear cup controls and a removable cable further add to the ease of use.
The Bad
Though the headphones are comfortable, the ear pads can get hot. Listening in a hot environment can lead to sweating.
The Sony WH-XB900N headphones are well tailored for bass music, but listening to some pop and mellow rock can sound a little unnatural with the big bass.
The Sound
If you love listening to heavy genres of music and bassy, electronic genres, the crisp low-end of these headphones is hard to fault.
The Sony WH-XB900N cans offer plenty of technology, and deep bass. A perfect companion for a modern user.
---
2. Beats PowerBeats Pro | best true wireless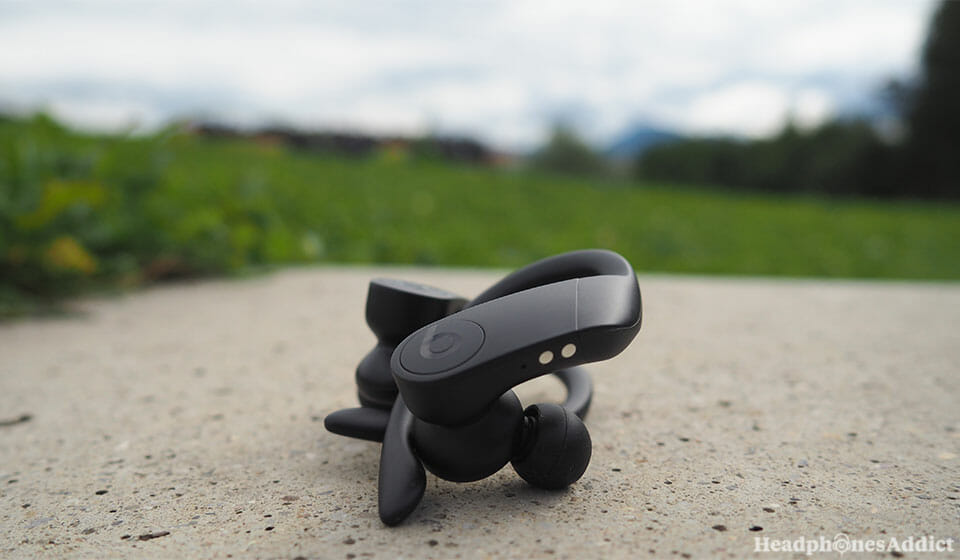 Best true wireless headphones for bass
Beats headphones have a reputation for bass boosting, and their true wireless option, the PowerBeats Pro (review), are a great example of this.
Back design: Earbuds closed-back
Foldable: No
Battery life: 9 hours (24 with charging case)
Drivers: 12mm rigid aluminum linear piston driver
Why Buy These?
PowerBeats Pro give reliable wireless streaming and good range with the Apple H1 chip. They're also a true wireless type, so there are no annoying wires at all.
You can choose the fit you desire from four different ear tips, and the ear hooks fit around the back of your ears to keep them secure during workouts.
Also, they're IPX4 water-resistant, so safe to use if there's a bit of rain or sweat. They're fantastic workout headphones.
9 hours of battery life is reasonable. You can boost this to 24 hours with the charging case. Also, a 5-minute quick charge gives you 90 minutes of listening time.
Simple controls sit on the earbuds, but you can also use voice controls.
The Bad
There's not much to dislike about these bass earbuds. However, the charging case is a bit bulky and awkward to carry around.
The Sound
The PowerBeats Pro have a strong bass boost that pops out immediately. They have good sound for bassy music, and you can still listen to podcasts or balanced music. With crisp highs that complement the boosted lows you get a versatile pair of headphones.
For secure and convenient earbuds with a true wireless design, the PowerBeats Pro are the best basshead option.
---
3. Skullcandy Crusher Wireless | monster bass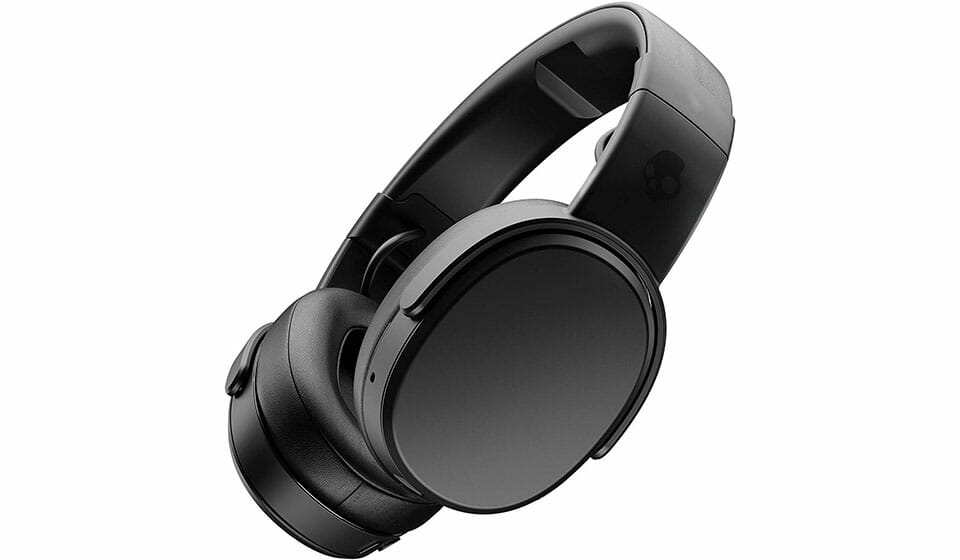 Great Skullcandy headphones with a huge bass sound
If you're in the market for roaring bass that you can feel, check the Crushers.
Back design: Closed
Foldable: No
Battery life: 40 hours
Drivers: 40mm dual drivers
Why Buy These?
These are one of the best Bluetooth headphones with a huge bass sound. There's even a secondary, haptic driver that boosts the bass so much you can feel it (it literally vibrates). Skullcandy calls this "sensory bass." You can adjust it to your preference with the slider.
The battery is excellent—40 hours of listening time in total. You can also get 3 hours from a simple 10-minute charge.
Plus, you can get the upgraded model with active noise cancelling, Skullcandy Crusher ANC. These cancel out ambient sound but cost considerably more ($300).
The Bad
The headphones are quite comfortable, but you might feel some pressure after listening for a while. They could do with more swiveling and flexibility.
The noise isolation is okay, but not amazing.
Also, for listening to podcasts or less bassy music, the headphones may have too much bass.
The Sound
If volume and loudness of bass is your number one priority, you should consider these. It's brutally powerful and makes the headphones vibrate on your head (if you want to).
On the other hand, expect all music to be highly colored and far from the original bass levels. Mids and highs take a backseat.
If you want wireless headphones that make you feel the bass, the Skullcandy Crushers are the way to go.
---
Also see Skullcandy Sesh review (true wireless earbuds).
---
4. Beats Studio3 | good sub-bass extension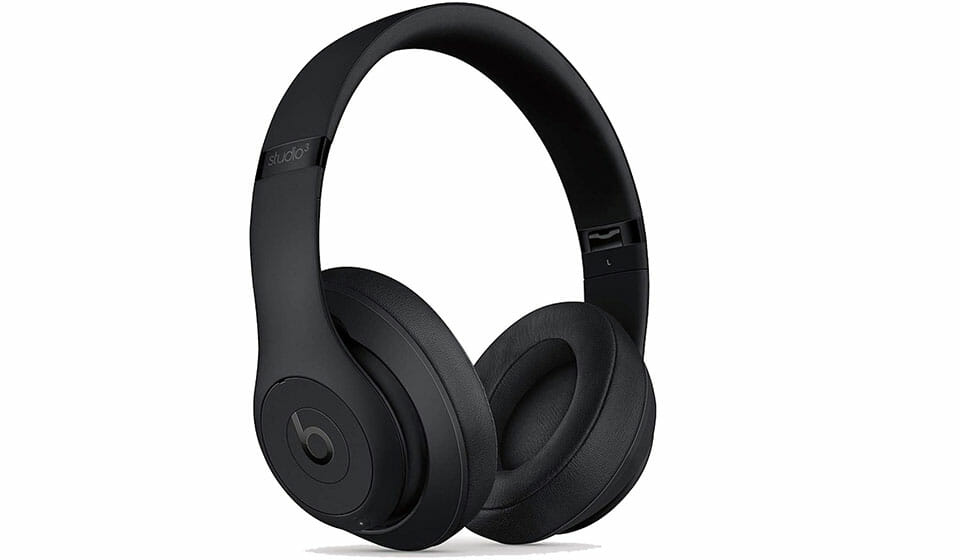 Beats headphones with good sub-bass extension
Another option from the kings of bassy headphones, Beats offers the Studio3 headphones as a premium, fancy option with a ton of bass.
Back design: Closed
Foldable: Yes
Battery life: 22 hours
Drivers: 50mm
Why Buy These?
The Studio3 have the typical Beats sound signature, including boosted bass. They also come with noise cancellation (Pure ANC).
The Apple W1 chip provides battery efficiency and reliable streaming from Bluetooth devices.
22 hours of battery is good, and the "fast fuel" quick charge gives 3 hours of playing time from just 10 minutes of charging.
These are comfortable headphones, too, with padded ear cups to protect your ears against irritation.
The Bad
The main negative is in the midrange frequencies, which can get a bit muddy when listening to certain genres. And a hefty price that belongs to the premium range.
The Sound
The bassy sound features extended sub response down to 19Hz, for a real booming feel. The mid-range isn't perfect, and music is highly colored, as is typical of Beats.
If you are looking for fancy and cool wireless headphones with powerful lows, then the Studio3 by Beats are a great option.
---
5. Fostex T20RP MK3 | best open back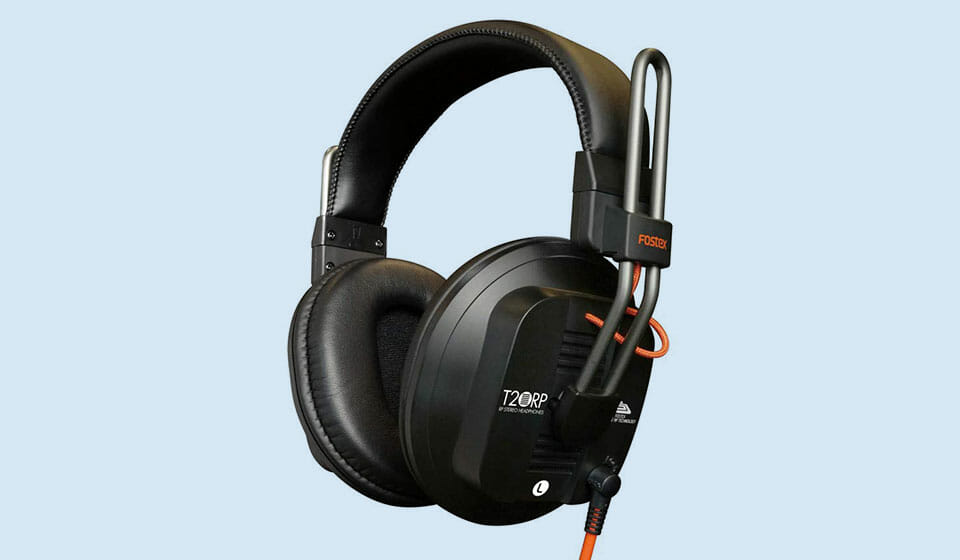 Best open-back headphones for bass with bigger soundstage
Open-back headphones sometimes "muddy" the bass, but the Fostex T20RP Mk3 are a good option for keeping the bass response clear and punchy.
Back design: Open
Foldable: No
Drivers: Regular Phase (RP) neodymium diaphragm driver
Why Buy These?
The Fostex drivers are one of the best things about these wired headphones. They're high-quality and come out cleaner and more detailed than most competitors. They come with two audio cables for connectivity with most audio devices.
There's a lot of padding, on both, ear cups and headband for a comfortable listening experience.
The Bad
These wired headphones are best for listening in one spot. They're big and bulky, and you can't easily fit in a bag. Also, wires can get in the way.
The Sound
The bass frequencies are sometimes packed in closed-back headphones in a sort of bass trap. The open back of the T20RP lets the lows breathe. It's more spacious with a bigger soundstage and more balanced sound.
You also have another good option, the T40RP in the same range, have even more focus on bass, but the soundstage and frequency response in Fostex T20RP is more natural.
---
6. Beyerdynamic DT 770 Pro | great v-shaped sound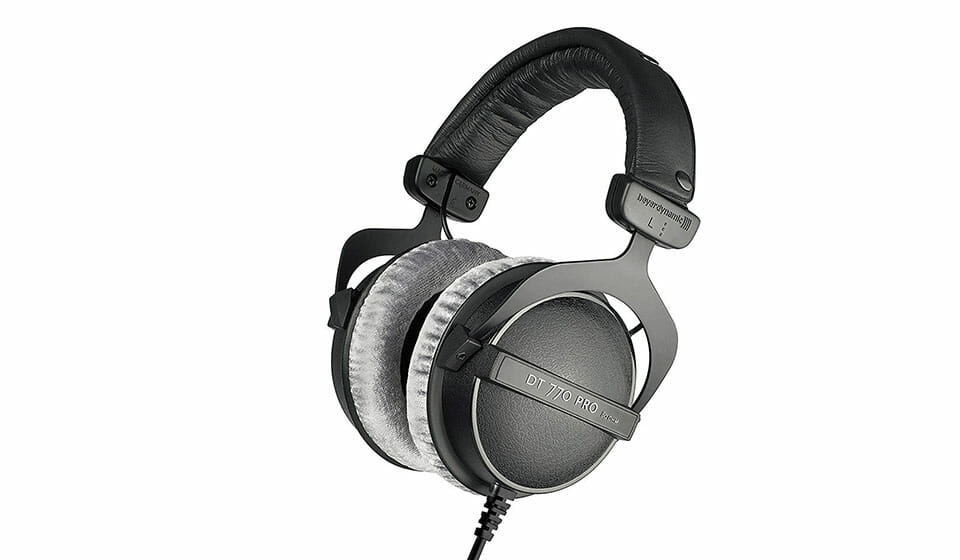 Great bass headphones with a V-shaped sound signature
If you enjoy your music in a V-shaped EQ signature (boosted bass and highs), then the Beyerdynamic DT 770 Pro are a fantastic option.
Back design: Closed-back
Foldable: No
Drivers: 45mm dynamic
Why Buy These?
The DT770 Pro headphones are popular for monitoring or listening to music at home. You can bet on high sound quality, and comfortable fit.
They're used by many professionals like DJs, radio hosts, and YouTubers.
The ear cups are flexible and huge to give you the ideal fit. Replaceable fabric ear pads also protect your ears from aching and fatigue.
They make them in Germany and come with the tank-like build quality. These are truly rugged studio headphones.
The Bad
The DT 770 Pro are best for use at home or in the studio. They aren't portable and only come wired, with no noise cancelling.
They aren't great for mixing and producing music. The V-shaped signature sounds great but can skew your mixing as you overcompensate in the middle range.
The Sound
Though these aren't balanced for mixing headphones, they sound brilliant and lots of fun with deep bass and crisp highs creating exceptional sound.
If you're looking for a solid V-shaped pair of headphones and portability isn't high on your priorities, consider the Beyerdynamic DT 770 Pro.
---
7. Audio-Technica ATH-WS1100iS Solid Bass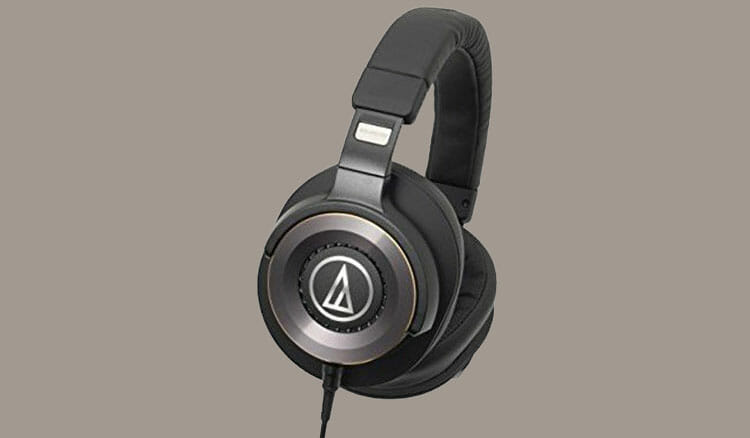 Audio-Technica headphones with great bass response
The ATH-WS1100iS come with a bass venting system for best bass response.
Back design: Closed-back
Foldable: No
Drivers: 53 mm Deep Motion Hi-Res Audio Drivers
Why Buy These?
Together with powerful bass response, you also get excellent convenience.
The detachable cord has in-line controls and a microphone, so you can make and receive calls. Not many bass headphones on the list offer this.
The dual layers of earpads allow you to stay comfortable but also aid with noise isolation.
To help with the low end boost and avoid unwanted vibrations, they include an aluminum stabilizer ring.
The Bad
The bass boost is more subtle than with the other headphones. This isn't a negative for everyone, but if you want the most powerful bass possible, they might not be ideal.
You will also get much more out of them if you can use a headphone amp.
The Sound
The sound of this pair of headphones is rather balanced, and the bass venting helps with a subtle but noticeable boost in the low end. For comfy headphones with good soundstage, the ATH-WS1100iS are a good option.
---
8. V-MODA Crossfade Wireless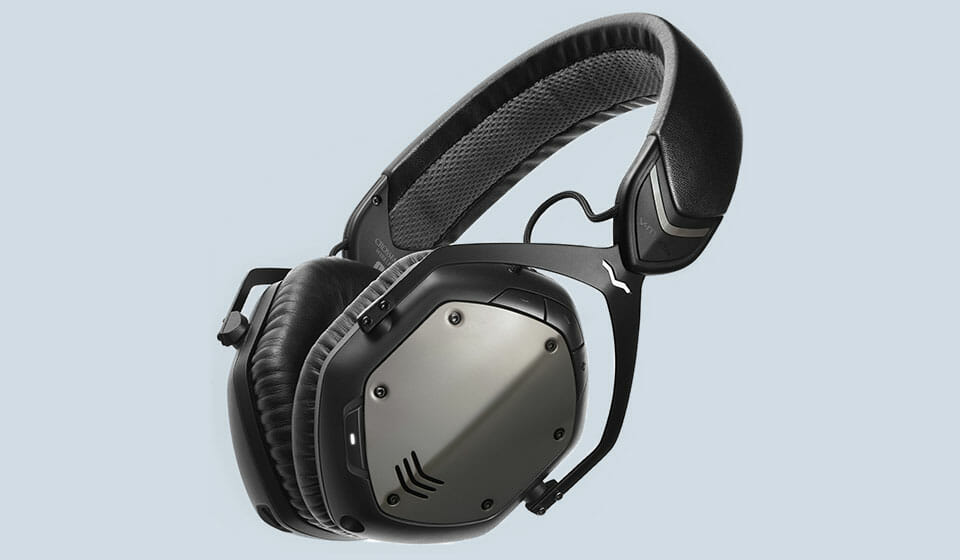 Great headphones for wireless or wired listening experience
These are sturdy wireless headphones, but they can also be used wired for more reliable audio when at home or in the studio. These cost under $150 since they're the older model. The Crossfade 2 Wireless go for around $350 but only have a slightly better battery and aptX & AAC Bluetooth codecs (see price).
Back design: Closed-back
Foldable: Yes
Drivers: Dual-diaphragm 50mm driver
Why Buy These?
If you are a basshead who is looking for headphones that can be used for music, movies, and games, they are a good option.
These have good wireless capabilities and a 12-hour battery life (with micro-USB charging). You can use them as wired headphones with the included AUX cable.
There's a hidden built-in microphone for phone calls and voice control.
The build quality is high. You can enjoy a faux leather finish and plenty of padding all around the headband, so the pressure doesn't build up, even in long sessions.
The Bad
Controls on the headphones are hard to locate. Changing volume while listening can be annoying and clunky.
The V-shaped frequency response is great for listening, but not for mixing and producing music.
The Sound
The drivers, an altered version of the award-winning Crossfade M-100, give plenty of power. You can enjoy a crisp and deep bass, whether listening wired or wirelessly. The frequency response is great, and the V-shaped sound is lots of fun for modern music.
In case you want flexible V-shaped headphones, consider the V-MODA Crossfade Wireless.
---
9. Plantronics BackBeat Pro 2 | quality noise cancelling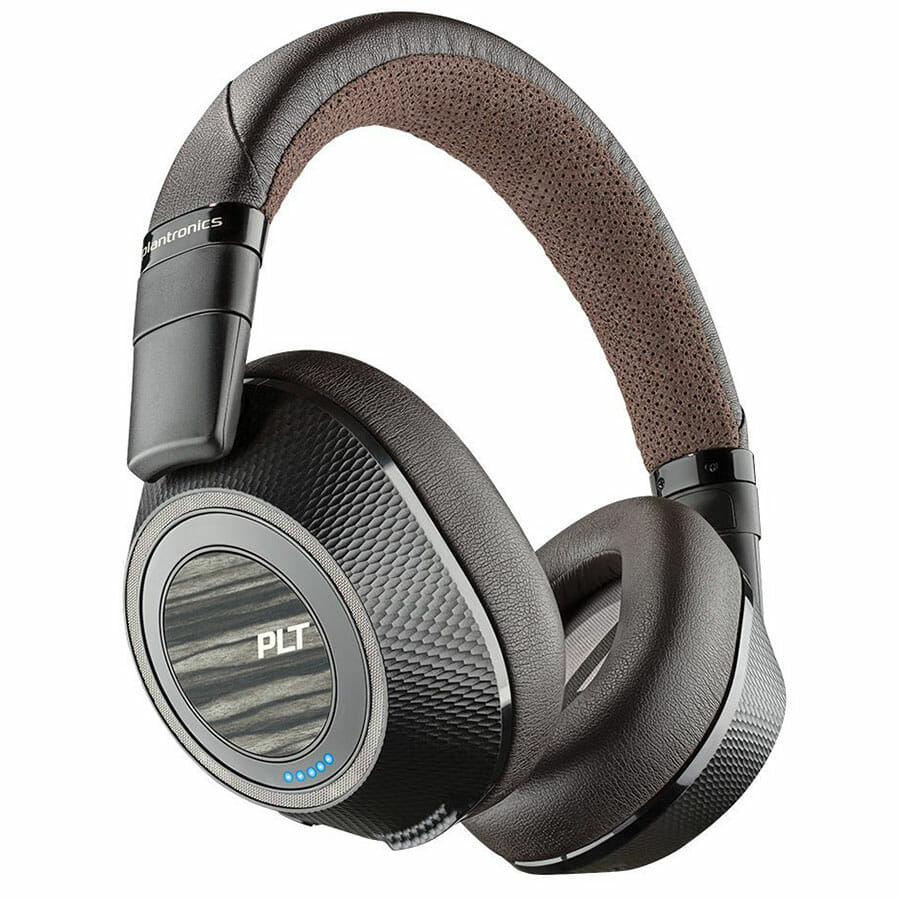 Great noise cancelling headphones for bass
The BackBeat Pro headphones feature a noticeable bass boost. They also have ANC and reliable Bluetooth connectivity.
Back design: Closed-back
Foldable: No
Battery life: 24 hours
Drivers: 40mm dynamic
Why Buy These
The battery life and noise-cancelling technology make the Plantronics Pro stand out. They cut out ambient and background noise brilliantly, and the closed-back casing helps isolate the sound.
24 hours of battery life can increase to 60 hours if not using the ANC. Switching ANC on and off is easy, as are the rest of the headphone controls.
Connectivity is great, and the Bluetooth range can be up to 330 feet. You can also connect to two devices at once.
The Bad
The build quality could be improved in an ideal world. Also, if you are looking for extreme comfort, the ear pads on these headphones don't quite cut it. The features are great, but with a little rethink of the cushioning, you may find it more comfortable.
The Sound
There is plenty of rich bass on offer despite 40mm drivers, slightly smaller than most other options. These headphones are great for bassheads to enjoy deep styles of music. The sound quality holds up well when listening with ANC turned on, too.
For great connectivity and good bass, the BackBeat Pro could be an option.
---
10. Sony WH-XB700 Extra Bass | best on-ear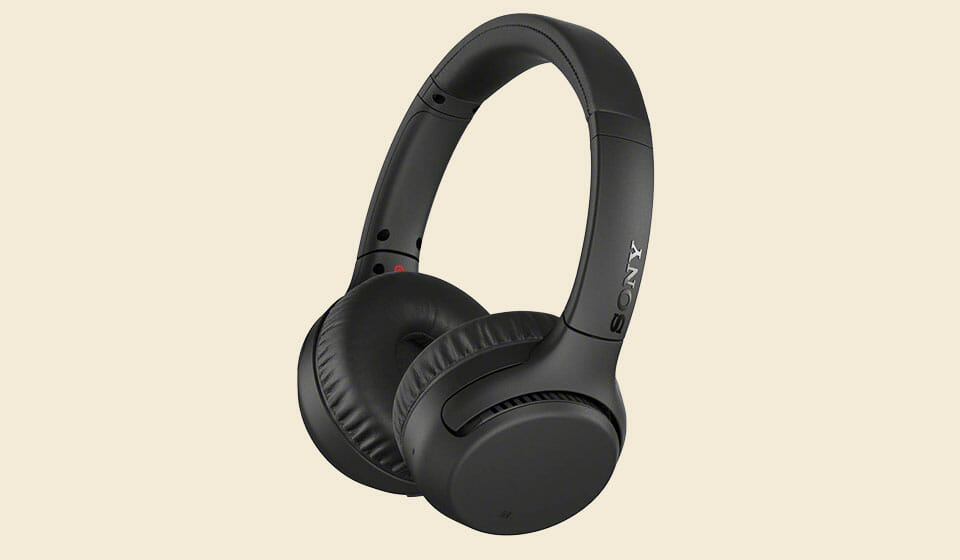 Best on-ear headphones for bass
On-ear headphones often have smaller drivers and don't generate the same bass. The WH-XB700 headphones do a good job of boosting bass frequencies with a compact, on-ear design.
Back design: Closed-back
Foldable: No
Battery life: 30 hours
Drivers: 30mm dome-shaped
Why Buy These?
If you are looking for on-ear headphones under 100 dollars, these are a compact option with powerful bass for you to enjoy the low-end.
The battery life is very impressive, and you can get 30 hours of wireless use out of the headphones. They're easy to connect to Bluetooth devices and also offer Alexa built-in for voice control.
They're pretty comfortable, too, and the ear cups swivel to the shape of your ears. The materials don't feel like elite quality, but for the price, they are acceptable.
The Bad
The on-ear design doesn't lend itself to noise cancelling or even passive isolation. Also, you might find that these feel a little bit flimsy.
In case you want a lot of power from your headphones, the 30mm drivers might leave you a little wanting.
The Sound
For the price, the sound is good, with great, balanced frequency response and fairly open soundstage. The bass boost is subtle but enjoyable for heavier music.
If you want portable on-ear headphones with deep bass, the Sony WH-XB700 are one of the best choices.
---
Honorable Mentions | 11 – 15
Skullcandy Hesh 3:  Decent wireless over-ear headphones with good bass. Since they're are an older model you can get them as low as $50 in certain colors. (check price)
Sony WF-1000XM3 (review): These are fantastic noise-cancelling true wireless earbuds. You can customize the sound with an app equalizer to give it extra oomph. (check price)
JVC HA-SZ2000: (check price) These wired closed-back headphones are deemed as one of the best bass headphones by many headphone enthusiasts. They produce powerful, vibration-inducing bass, but you need an amplifier to get to get the most out of them (considered as the #1 bass headphones by Head-fi.org community). (check price)
V-MODA Crossfade M-100: The older Crossfade model that comes with the cable. But it's equally powerful and bassy as the wireless, but they still cost around $300. (check price)
Sony MDR-XB50AP Earbuds: These cheap wired earbuds offer plenty of punch for little money. If you want basic earphones that you can depend on, these are the best choice. (check price)
---
What to Look for in Bass Headphones?
Sound quality
You want big drivers with bass-oriented tunning. Tunning plays the biggest role as there aren't big differences among drivers.
For best bass headphones look for at least 40mm drivers or bigger. Now on-ear headphones and earbuds come with smaller drivers but they can have almost the same power (but expect slightly less).
Comfort
One major feature is comfort. If they are big, heavy and bulky, it doesn't mean they have to be uncomfortable. In fact, since they are already so big, manufacturers make them extra soft and comfortable to wear.
If you plan on wearing them on long trips, at home or even for sports, you want them to fit tightly without irritating your ears, even after many hours.
Most over-ear headphones are much more comfortable than the alternatives, but at the same time, make sure the model you want is not uncomfortable.
Durability (you don't buy these every day)
Since you don't buy headphones every month you want them to last. A good pair of headphones can cost a small fortune. You don't want to spend it on a model that is likely to break in a few months.
Do you plan to carry your headphones with you?
Then you should pick foldable bass headphones that you can pack up in a case and avoid damage. Not all expensive headphones are also durable.
Do you want to use them for sports?
Then your best choice are in-ear headphones, also known as earbuds. They're easier to wear during movement and often come with sweat-resistance indicated by IPX rating.
Vote for Your Best Bass Headphones
Share with us what you think about the results.
Leave your comment in the section below and you can be sure we'll check it out.
Don't forget to subscribe to the website updates or like the website on social networks to keep updated.
Comments