Sports
The Best Wired Workout Headphones
The best wired workout headphones (with sweat-protection and secure fit) that can compare to the wireless.
Comparison: The Best Wired Workout Headphones
The best wired sports headphones are, in our opinion, Bose SoundSport in-ear wired headphones.
After checking more than 37 of the latest "sports" headphones with wires, we picked the best ones, so you don't have to.
If you hate always charging the battery or don't want to pay a premium price for wireless, you can get top-notch wired headphones that will do great for all kinds of exercise.
Here are more workout headphones:
The Best (Wired) Workout Earbuds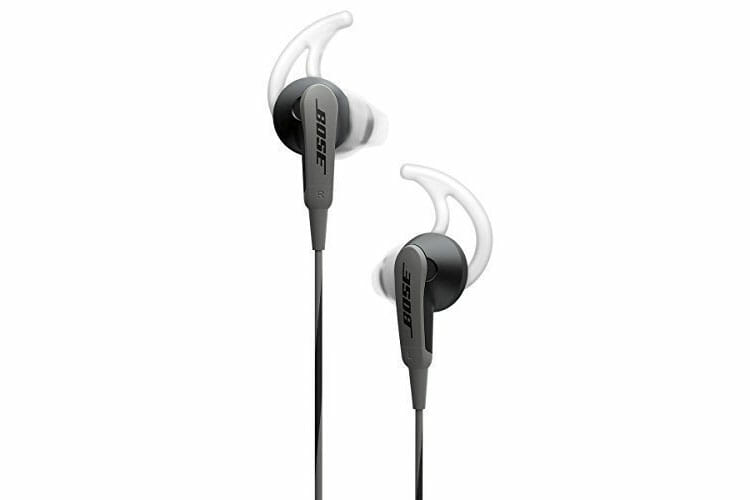 Bose SoundSport are the best wired earbuds for sports you can get right now.
Type: In-ear
Back design: Closed-back
Remote control & mic: Yes
Water protection: Sweatproof
Should You Buy These?
These are one of the most comfortable earbuds on the market among wired workout earbuds. You can barely feel them in your ears, and because they're quite small, you can even sleep with them with your head on the side.
Sound leakage helps with being aware of your environment, so this is a good thing if you're working out outside. And it's also the reason why these are one of the best-wired earbuds for running (you need awareness to stay safe).
They're also sweating and moisture resistant to survive hot and sweaty workouts, just don't dip them into the water, they aren't water-proof.
The Bad
Because of their lack of isolation, they are not suitable for loud gyms.
The Sound
While audiophiles might not like its imbalanced sound with recessed highs and mids and enhanced bass, it offers a fun and dynamic sound. The music with these has a nice beat to it while not dramatically lacking mids or highs. It has the typical Bose sound signature.
The Verdict
For a combination of great comfort and fit for sports with a slightly bassy sound, get Bose SoundSport in-ear headphones.
---
Want to check wireless earbuds for working out too?
---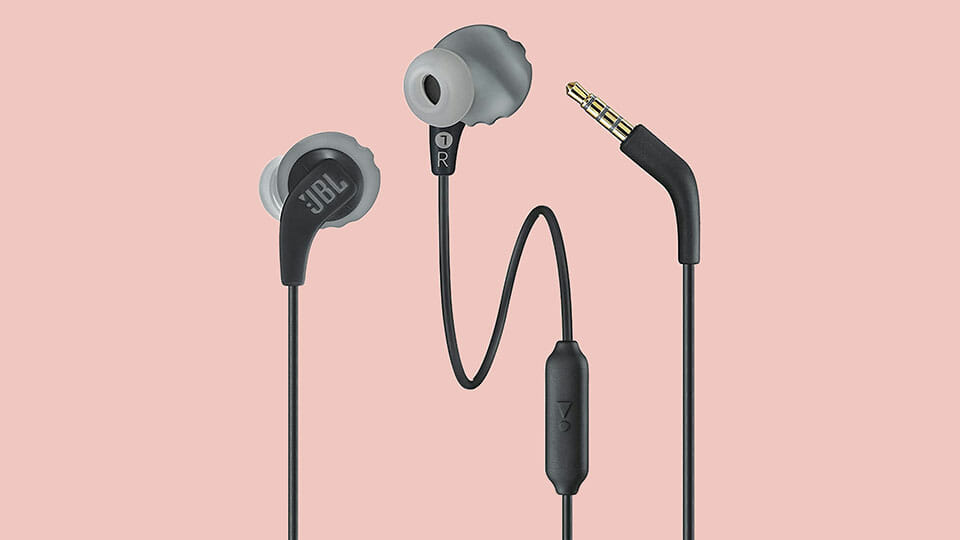 Of course you can get perfect in-ear headphones for workout under $20.
Type: In-ear
Back design: Closed-back
Remote control & mic: Yes
Water protection: Sweatproof
Should You Buy These?
Their well-thought design is letting you decide if you want to wear them normally, with the wire going straight down, or with the wire going behind your ears. The latter is much better since it makes the earbuds much more lightweight and it can also reduce microphonics.
There are magnets in the earbuds which lock them together. This prevents them from falling off your neck when you're not using them.
As it is expected from sport-oriented wired headphones, these do offer some sweat protection. It is also worth mentioning that the microphone quality is very good for a budget product such as this.
The Bad
There could be more accessories in the box, like ear fins for better stability.
The Sound
There is a noticeable bass presence, which makes the overall sound quite warm, but still enjoyable to listen to. Mids are well defined, with the highs being nice and crisp.
The Verdict
JBL Endurance RUN's are proving, that you don't have to spend much to get an excellent pair of earbuds for sport.
---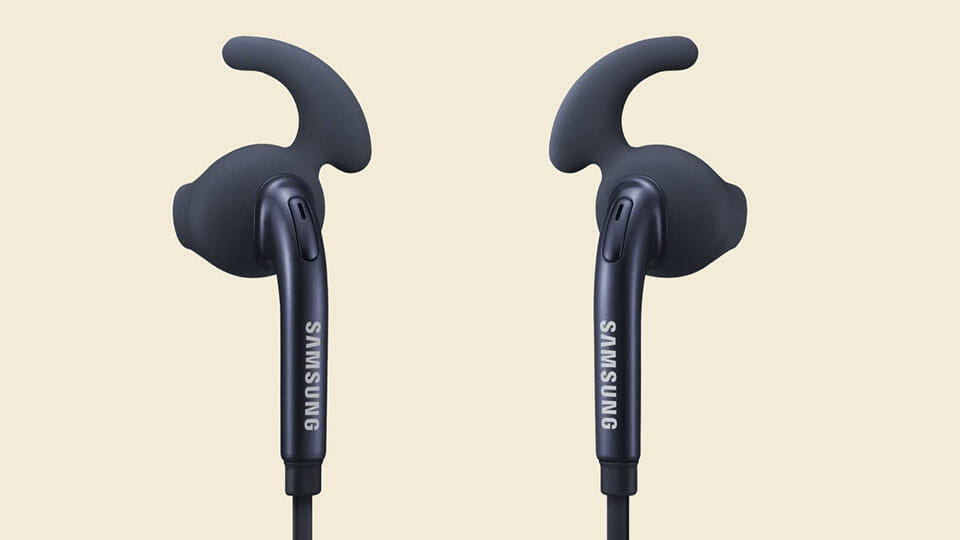 A cheap wired solution for active people on a tight budget.
Type: In-ear
Back design: Closed-back
Remote control & mic: Yes
Water protection: /
Should You Buy These?
Having similar design as the Apple Earpods and new AirPods, the Active InEar's can be tricky with finding the right fit. Samsung found the solution in the form of soft gel ear tips that are providing extra grip. You can also »dress« them in a tip with an ear fin, which adds to even greater security while working out.
With the controls on the cable, you can skip music or raise the volume. Of course, you can also answer calls. The microphone quality for the price is really great.
The build quality is good and should survive quite a bit of usage. You get a lot of additional gel tips inside the box.
The Bad
Users are reporting some quality control issues, which is sadly common in budget products.
The Sound
You need to make sure the fit is on point, otherwise, they can sound muffled. When the fit is just right, the sound quality is quite good. It is very punchy, with decently clear midrange and treble.
The Verdict
Samsung Active InEar's are cheap and simple to use earbuds, with good microphone and stability.
---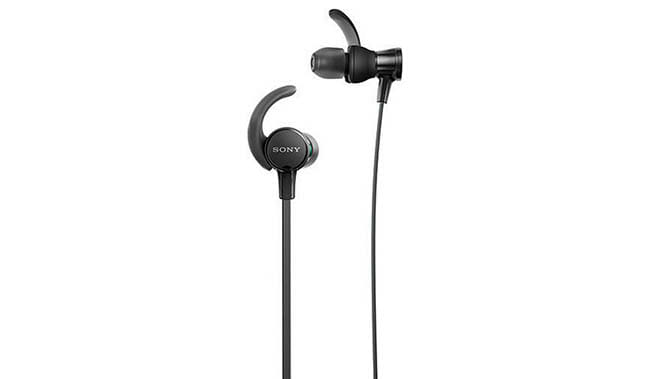 Sony MDR-XB510AS Extra Bass are perfect for everyday use in the gym or while running.
Type: In-ear
Back design: Closed-back
Remote control & mic: Yes
Water protection: Sweatproof, IPX5
Should You Buy These?
As their name already suggests, these Sony headphones are made for sports enthusiasts who also like heavy bass.
The Good
Ear wings help stabilize these earbuds on your ears during a workout. Even if you move your head a lot, these won't fall out.
They are made out of sturdy materials. Because of that, they last a long time. And with the IPX5 rating, you can use them in every condition and every weather. They are sweat and water-resistant, you can even clean them under a tap.
Moreover, playing or pausing music is possible with a single button remote. There's also a microphone. It's good quality, so you can even use it for more critical calls.
The Bad
Even though there is a remote control, you cannot adjust the volume.
The Sound
Clear mids and highs are joined by mostly deep, boomy bass. The bass fits nicely into other ranges and gives you perfect motivation in the gym. Mids are slightly warm, and highs are satisfying enough for an average listener. It's ideal for rhythmic music (like EDM and pop) which sounds marvelous.
The Verdict
If you want that extra bit of bass in wired workout earbuds, then Sony MDR-XB510AS Extra Bass can give you a little push to finish your daily workout plan.
---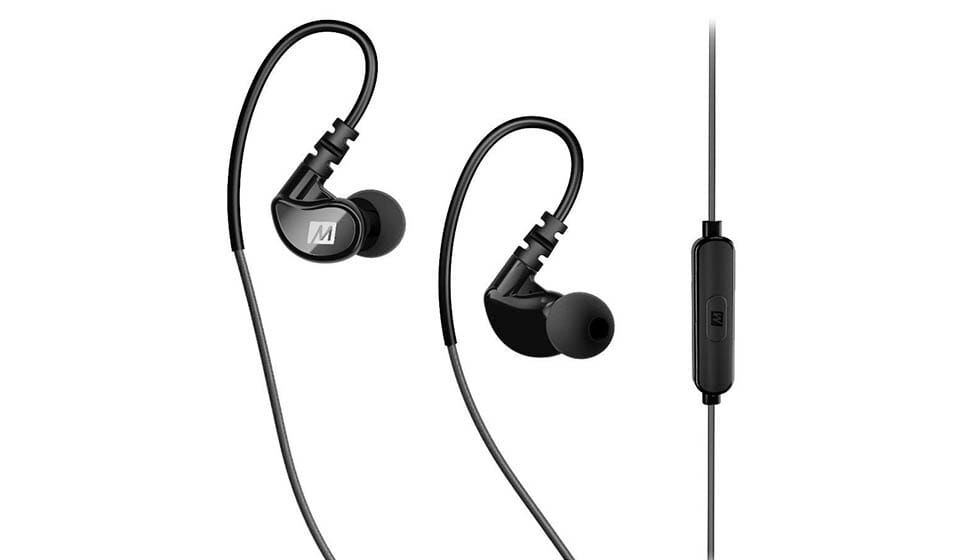 MEE Audio X1 are cheap in-ear headphones for sports, but bassy sound and solid construction make them a steal.
Type: In-ear
Back design: Closed-back
Remote control & mic: Yes
Water protection: Sweatproof, IPX5
Should You Buy These?
If you're looking for budget sports earbuds, these are the best for the money.
The Good
These are the same as the popular MEE Audio M6 but come with a mic and remote control, while still under $30.
Ergonomically rounded and smooth plastic design makes them comfortable for long workout sessions. Plus, the memory wire folds into ear hooks and provides stability and fit even for running. With the right ear tips, you can get fantastic isolation to block most ambient noise.
Moreover, the in-line remote gives you the ability to play and pause your tracks, and there's also a microphone so you can use these for calls too.
Because of the IPX5 rating (water-resistant), they can withstand any amount of sweat and even rain, perfect for inside or outside exercise. Check other durable earbuds or earbuds for swimming.
The Bad
The one-button-remote doesn't provide volume control, which is kind of a bummer.
The Sound
The sound quality is pretty good for the price. It is bass enhanced, but you need an airtight secure fit. It's perfect for all bass-heavy music which is most popular among sportspeople.
The Verdict
MEE Audio X1 are one of the best wired workout earbuds on the budget. With bassy sound quality, high comfort, fit, and stability, you'll start to understand why they are so popular.
---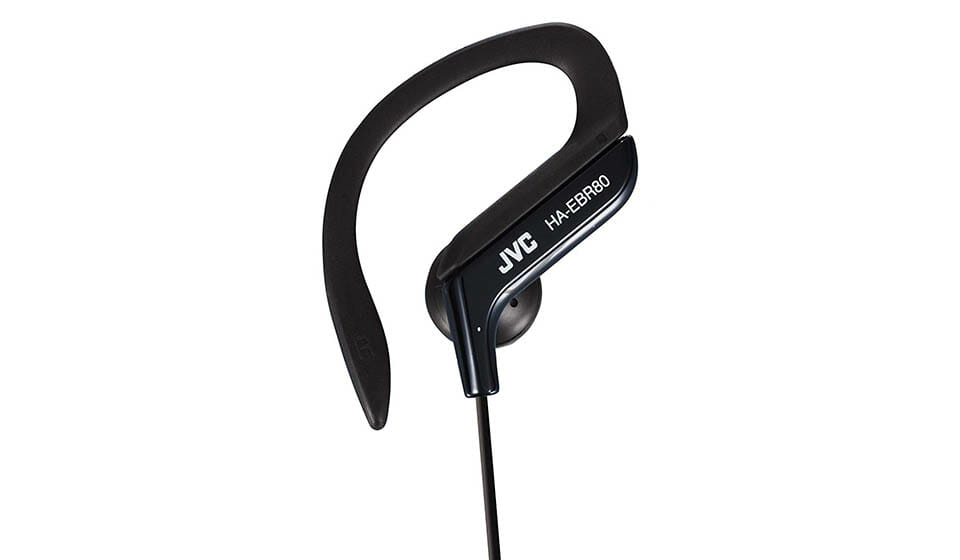 JVC HA-EBR80 are the best cheap classic earphones (earbuds) for working out.
Type: In-ear
Back design: Closed-back
Remote control & mic: Yes
Water protection: Sweatproof
Should You Buy These?
If you're searching for cheap, comfy sports earphones in a classic design, then read on.
The Good
The JVCs have a classic design. They fit well and can stay in your ears no matter what. You can use them both for running or the gym.
They rest on your ears, rather than go inside the ear canal. Yes, they lack good noise isolation because of that but it makes them better for your awareness.
Note: Looking for active noise cancelling headphones?

The adjustable ear-clips secure them on your ears perfectly. The clips are made out of soft rubber, so that makes the earbuds extremely comfortable.
Sweat and water won't ruin them. Also, you can use the 1-button-remote to manage your music and a microphone for calls.
The Bad
Remote control doesn't provide volume adjustment. You have to reach for your phone every time you want to adjust it. Also, the sound quality is really not the best in this category.
The Sound
Their sound signature is balanced. Mids are clear and well-present. Bass isn't strong, and some people might complain it lacks in the lows. Nonetheless, for budget classic earphones they sound well enough. Just don't compare them to expensive in-ears.
The Verdict
JVC HA-EBR80 bring extremely secure fit and comfort with ample situational awareness (perfect for runners or cyclists) in a cheap, classic design.
---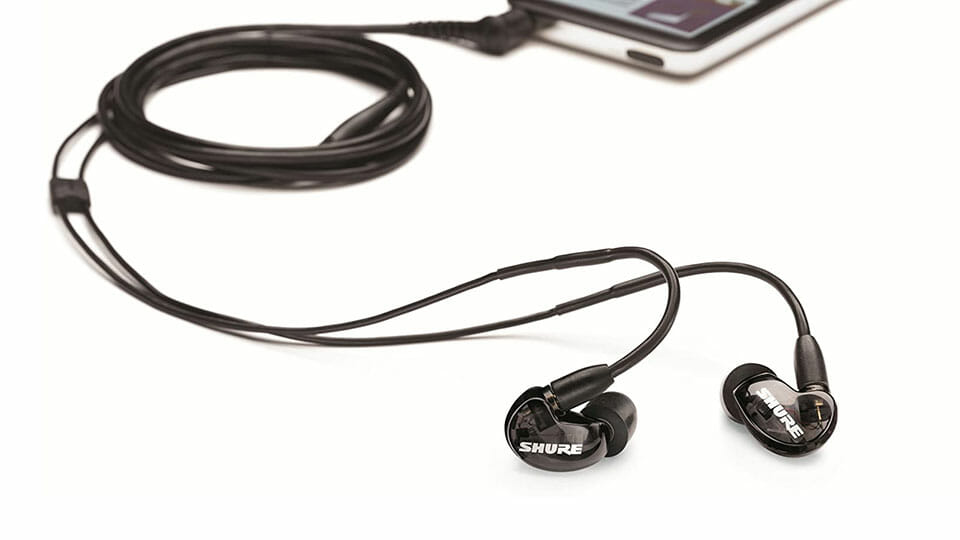 With the great sound quality, stability, and the way you need to wear them, Shure SE215's are perfect for a wired workout solution.
Type: In-ear
Back design: Closed-back
Remote control & mic: Yes
Water protection: Sweatproof
Should You Buy These?
They have many characteristics of earbuds for sport. You have to wear them with the wire going behind your ears, reducing the microphonics and the weight of the earbuds themselves.
The housing is perfectly shaped to fit in your ear, providing not only a good comfort but also great stability. Shure's are made from clear plastic, making the insides of the earphones visible.
The good thing about these earphones is that the cable can be replaced. So if you ever damage the connectors or the cable you can simply buy a new one.
The Bad
If you use them for a workout you should be cautious about their lack of sweat or water resistance.
The Sound
These use a single dynamic driver, that produces a nice, controlled low end with a good kick. The warm midrange is definitely the star of the show, presenting a lot of details, with the treble being quite smooth and rolled-off.
The Verdict
If you do a lot of light workouts and are looking for great sound quality earbuds you should check these out.
---
The Best On-Ear (Wired) Workout Headphones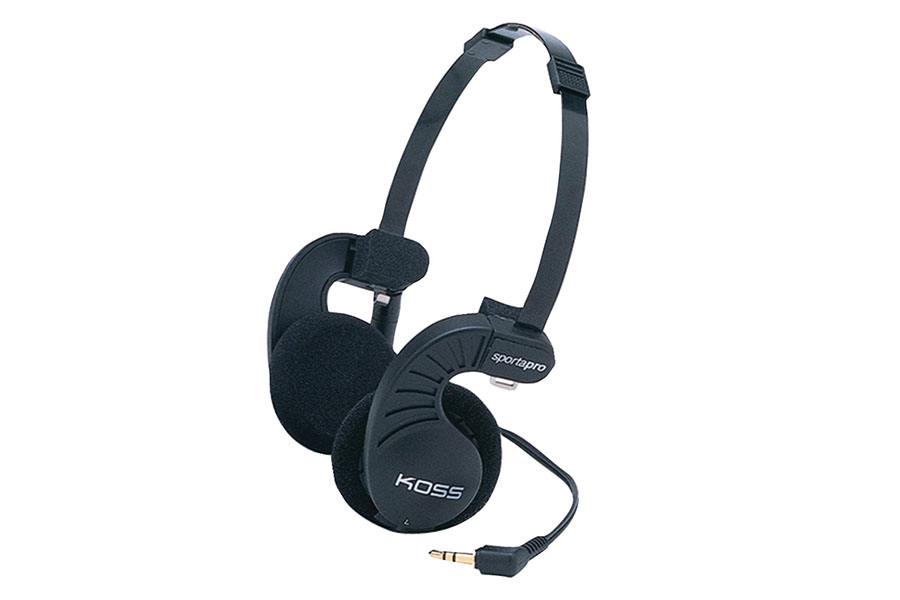 The best on-ear cheap sports headphones are Koss SportaPro, perfect for fitness.
Type: On-ear
Back design: Open-back
Remote control & mic: Yes
Water protection: /
Should You Buy These?
Keeping them on your head is easy due to their lightweight nature and a flexible headband, making them great for running or working out. The cushions are also very comfortable.
These can be worn either over the ears or behind the head, either way works, it's only a question of personal preference.
The open-back headphones have soft ear cushions that touch your ears. The background noise isn't isolated much, but they are loud enough to overpower any noisy gym. Because they let in ambient sound, they're safe for running outside.
The Bad
The durability isn't much to be desired. The same cheap design with no durability features, probably the reason why they can be so cheap.
The Sound
The sound quality of SportaPros is rather "bassy", even to the point of losing treble. Bass is deep and emphasized even at higher volumes, quite a feat for such lightweight headphones.
You can also check PortaPro model for slightly more money, but with more Hi-Fi sound quality.
The Verdict
In general, these are great value for money, lightweight, comfortable on-ear sports headphones with a bass-heavy sound. One of the best headphones for workout.
---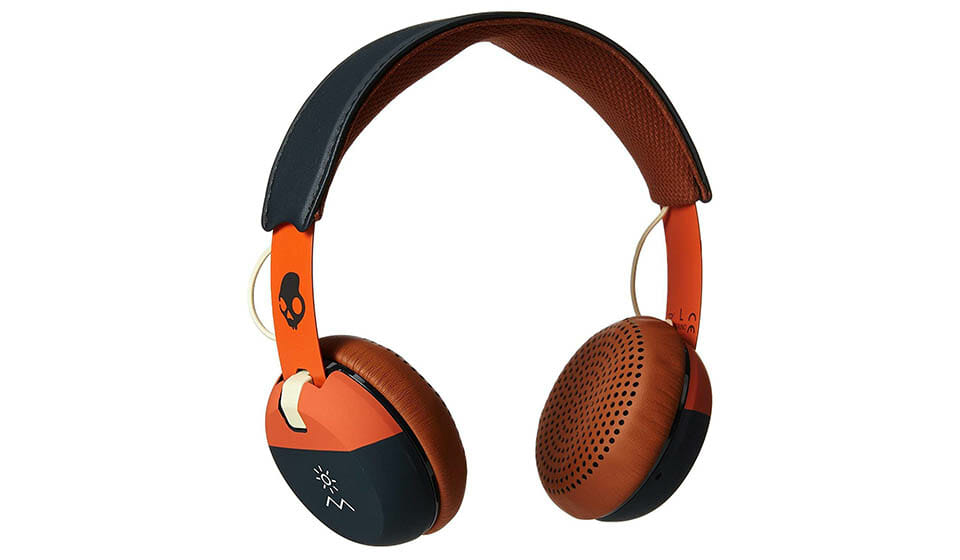 The best value for money on-ear workout headphones with wires are Skullcandy Grind.
Type: On-ear
Back design: Closed-back
Remote control & mic: Yes
Water protection: /
Should You Buy These?
They are lightweight, fit well and are comfortable to wear long enough for even the hardest working gym-goers.
They aren't made for sports use specifically, so they don't have any sweat protection, but since these are on-ear headphones, the drivers are well protected from the sweat.
The metal headband is very flexible and will survive for a long time. The plastic casing is durable enough to last a couple of years as well.
The wires with L-shaped 3.5mm are detachable which is great for when you accidentally pull on them too hard, they can be replaced easily without having to throw away the headphones.
The Bad
The microphone is also present and does the job, but compared to other in-line or in-headphone mics lacks a bit in recording quality.
The Sound
The sound quality is surprisingly good. The bass is strong enough to get you going while still hearing treble and mids with enough clarity.
The Verdict
For the best bang for your buck when buying on-ear sports headphones, get Skullcandy Grind with a good combination of comfort, fit, durability, style and sound quality all for a low price.
---
Frequently Asked Questions (FAQ)
Why Get Wired Workout Headphones?
There are many reasons why the cable still wins the wired or wireless battle today.
Always ready. There's no need to charge the battery life. Your sports headphones are regularly prepared, and you can just keep them in your sports bag for when you need them again.
Usually cheaper. Sure you can get cheap wireless headphones but most often than not wireless are more expensive. This plays a vital role if you're on a budget.
Arguably sound better. Nowadays, the Bluetooth headphones are so good it's tough to notice the difference in sound quality. But it's a fact that Bluetooth distorts and diminishes audio quality by compressing the files. Maybe in the future, we get lossless Bluetooth compression, but this isn't the case today.
Longer lasting. As you probably know, lithium-ion batteries inside wireless headphones don't have an unlimited life expectancy. In fact, with every cycle (charge and discharge) and every year of age, it loses its capacity.
It's only a matter of time when your wireless workout headphones become useless. You can read more about why lithium-ion batteries die.
The only thing wireless workout headphones are better at is convenience. You can see what the best models are here.
But not everything is sunny for headphones with a cable. There are significant reasons when wireless is better.
No wires to tangle. As you've probably experienced, tangled wires are annoying to deal with. You always have to be careful not to tug or pull on them too hard. The cable is a big weak point because it tends to break more easily than other parts.
Not as convenient. You need to have your music device with you at all times. This adds additional weight which is significant during sports. A smartphone flapping around in your pocket is annoying and increases possible damage danger.
No mic and remote. A lot of wired headphones come without a microphone or remote control. If you've become used to these features, then you might not be able to get the headphones you want. But this is a minor problem.
What Makes Good Workout Headphones?
You should look for a couple things that are crucial:
A secure fit. Without it, the headphones won't stay put during a workout and thus be useless. This is primarily a problem for bigger over-ear and on-ear headphones. The best workout headphones provide a stable fit for all sports situations.
Sweat and water resistance. Water is the arch-enemy of electronics. You should keep it away from the internal parts of headphones if you want them to last. Thankfully, many models come with certified IPX rating which tells you how much moisture exposure they can survive.
Enjoyable sound. As with all headphones, audio quality plays a part. While you might not expect sonic fidelity in the gym, you want to enjoy the music to push you harder. There are many different sound signatures to choose from and thankfully, at least as many headphones that fit the bill.
Is It Bad to Wear Headphones While Working Out?
No. The headphones are entirely harmless, and you can safely wear them for hours. Most athletes use them for motivating themselves.
Just make sure you don't abuse them. High volume can damage your hearing over time. Read more about it here.
Comments