Budget
The Best Cheap Bluetooth Headphones (Under $70)
Finding the best cheap Bluetooth headphones (under $70) is hard with all the available options. And it takes time.
But after extensive research of dozen of models, this is the end result.
Here's the list of the best wireless headphones on a budget. These offer long battery life, stable Bluetooth connection, and good sound quality.
See the list below.
Best Cheap Bluetooth Headphones
Check the best budget headphones with Bluetooth. Starting from under $70 to under $50. You can find over-ear, in-ear, and on-ear headphones.

1. AKG Y500 – best overall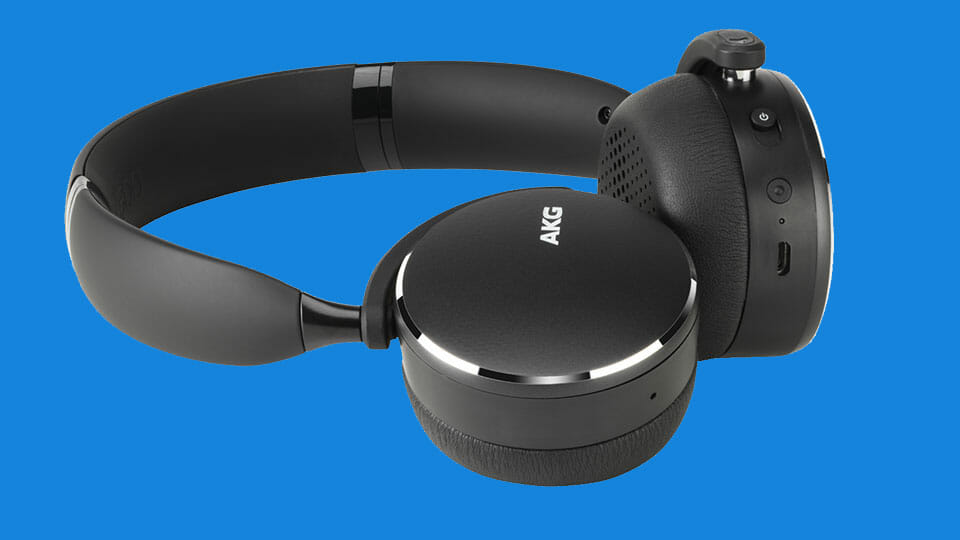 Best all-around package of clean audio quality and comfort
An attractive looking on-ear wireless headphones with awesome sound and build quality for everyday use.
Type: On-ear
Battery life: Up to 33 hours
Bluetooth: 4.2
Charging: Micro-USB
Why Buy These?
AKG has refined the looks of these to the point, where they look very classy. The aluminum cups with brushed edges give a sense of wearing something premium. Despite their on-ear design, the memory foam pads are quite comfortable.
These are great for commuters. They have the »Ambient Aware« feature, that makes you aware of your surroundings, therefore are safe to wear even on the streets.
The battery is rated at around 33 hours per charge, which is a very solid result. Plus, you can make phone calls hands-free.
The Bad
While they are quite comfortable, the clamping force may be too tight for users with glasses.
The Sound
It is hard to be disappointed with the AKG when it comes to sound. Y500's offer a very refined, detailed, and overall smooth experience without any harshness.
Build quality, sound, and design. AKG Y500's excel in all areas. These are also great for someone, who likes to travel a lot and wants a nice looking, foldable wireless headphones.
---
2. House of Marley Positive Vibration 2 – best design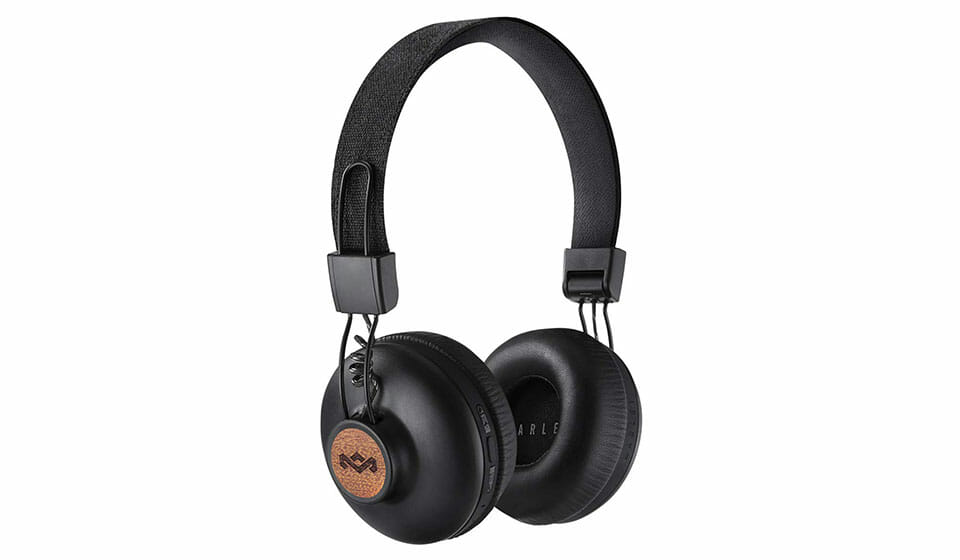 Best cheap Bluetooth headphones with a great design
Are you looking for some decent quality cans which look the part, too? The House of Marley Positive Vibration 2 look fantastic and produce deep bass response.
Type: On-ear
Battery life: Up to 12 hours
Bluetooth: 4.2
Charging: Micro-USB
Why Buy These?
Sure, headphones shouldn't be chosen on looks alone, but the House of Marley Positive Vibration 2 have a really sleek design (and from sustainable materials).
The fabric headband and ear pads make these on-ear headphones good for wearing for long stretches without discomfort.
Plus, passive noise isolation is pretty good. It blocks most ambient noise around you even though ear cushions aren't the thickest.
The Bad
Whereas other models to make our list have exceptionally long batteries, 10-12 hours is what you should expect from these. It could be a little higher in an ideal world.
The Sound
While these closed-back headphones are very powerful, with 2 large 40mm aperture drivers, the sound is not as high-fidelity as more expensive options.
However, at low price point, there aren't many better looking (and sounding) on-ears than the House of Marley Positive Vibration 2.
---
Check slightly pricier Positive Vibration XL.
---
3. TaoTronics TT-BH090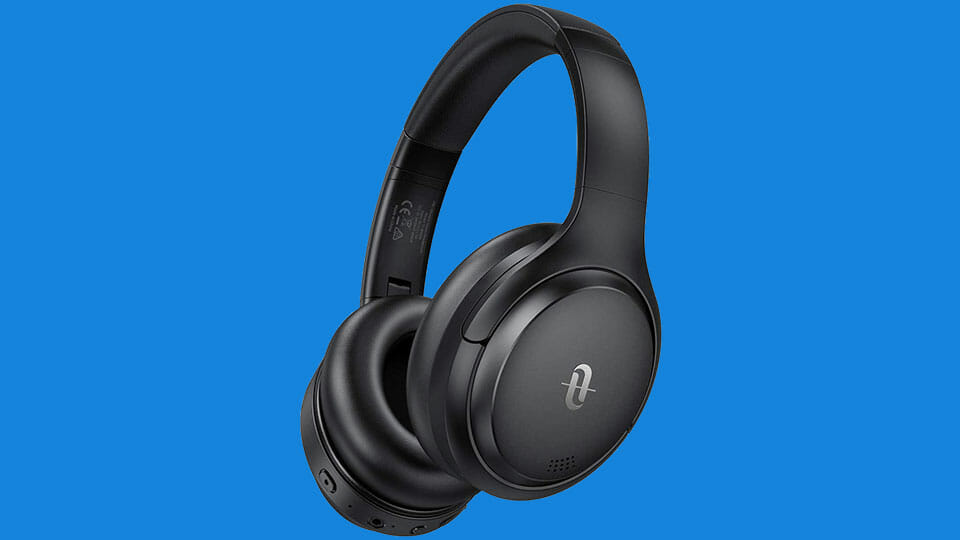 Best active noise cancelling performance in the price range.
Offering a fantastic price to performance ratio, you simply must check out the TaoTronics TT-BH090's.
Type: Over-ear
Battery life: Up to 35 hours
Bluetooth: 5.0
Charging: Micro-USB
Why Buy These?
A simple, yet modern design feels very sturdy and can be folded to take up less space. With the headphones, you're getting a hard case to keep them nice and secure.
Cushy pleather pads and a padded headband are providing a very comfortable experience. Cups can also rotate for 90° to lay them flat on your chest or on the table.
While cheap noise canceling headphones can't compare to higher-end, these work really well, with no background hiss. Not only can the ANC silence constant sounds like airplane noise, but also human speech and loud keyboard presses.
The Bad
While these headphones offer a comfortable fit for a majority of users, those with big heads might not be pleased with it.
The Sound
The bass goes deep and remains punchy, with midrange and treble being clean and overall smooth. This creates a very enjoyable sound you can listen for hours.
It seems like TaoTronics really nailed it with these wireless headphones. They offer effective noise cancelling, comfort, and great sound quality. It is somewhat rare to find something that good under $70.
---
Related cheap headphones:
Bluetooth headphones under $100
Best cheap headphones
Cheap earbuds (in-ear)
Budget noise-cancelling headphones
---
4. iTeknic IK-BH005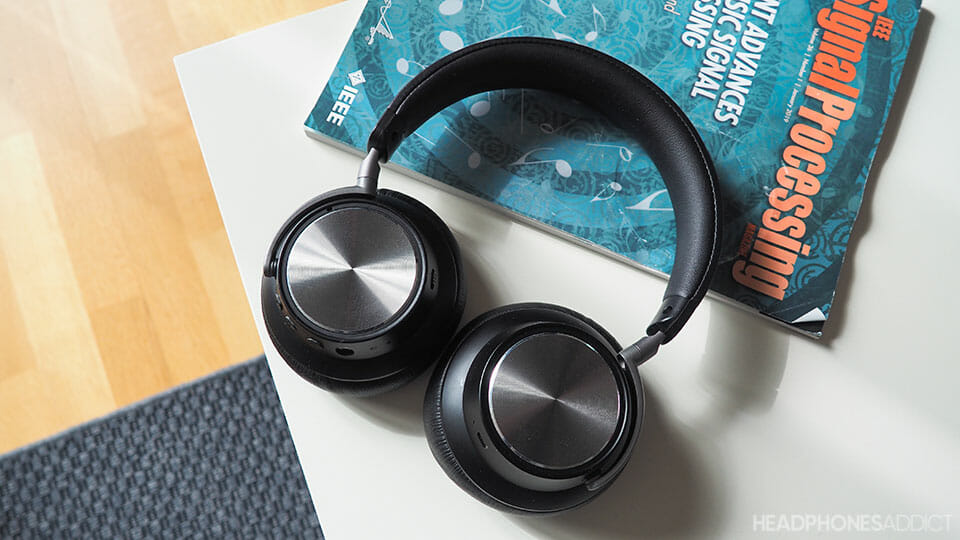 Solid wireless headphones with great comfort and noise cancellation.
These are the cheap over-ear headphones if you want to block off your surroundings and just enjoy the music.
Type: Over-ear
Battery life: Up to 30 hours
Bluetooth: 5.0
Charging: Micro-USB
Why Buy These?
Pads are terrific at providing optimal sturdiness and comfort. They're thick, filled with memory foam and surprisingly don't overheat even after hours of listening.
The noise cancellation can block at max 80% of the outside noise. It utilizes both the feedforward and feedback ANC, which greatly reduces constant noises.
The battery life depends on the extra features you're using, but in general, it should last at least 30 hours. Also worth mentioning is the construction, which consists of both plastic and metal, resulting in a quite durable design.
The Bad
The part that connects the cup with a headband can be a potential weak point.
The Sound
Better than the majority of headphones in this price range. Bass can go deep and still remain clean. The same goes for the treble and midrange. The noise cancellation does affect a sound a little, making the bass a bit more present and other frequencies slightly subdued.
With iTeknic IK-BH005 you get your money's worth. These are great all-round cans with good ANC, amazing comfort, and nice, warm sound.
---
5. Anker Soundcore Life P2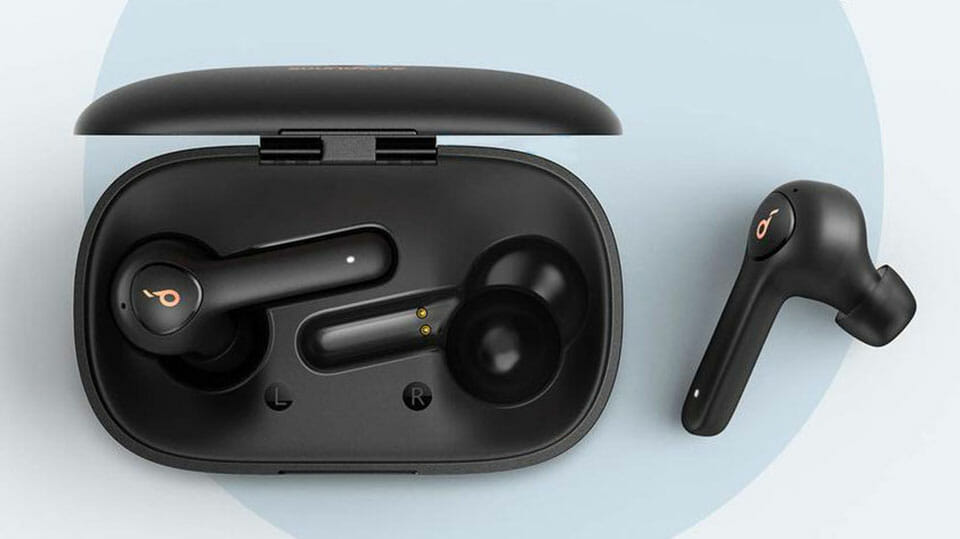 Best inexpensive Bluetooth earbuds (with AirPod-like design).
These true wireless earbuds give you a lot of premium features for a much lower price.
Type: In-ear
Battery life: Up to 7 hours, with case 40 hours
Bluetooth: 5.0
Charging: USB-C
Why Buy These?
These AirPods lookalikes offer very good durability. Their plastic housing is strong and can survive a lot of accidental falls. For extra security, you also get IPX7 water-resistance rating, which makes them fully submergible.
The battery is great at around 7 hours per charge, with the charging case adding another 33 hours (40 hours in total).
Other nice features are aptX for better audio and USB-C port for faster-charging capabilities.
The Bad
The physical button is quite stiff and sometimes even painful to use. You're better off using the phone to skip songs.
The Sound
They are leaning slightly on the bassy side but still remain fairly accurate. Everything from music, movies to podcast sound good on these.
Offering some premium features, the Anker Soundcore Life P2's are great for those with a rather small budget. They do have a problem with stiff controls, but if that's not an issue for you, you should definitely check them out.
---
6. SoundMagic TWS50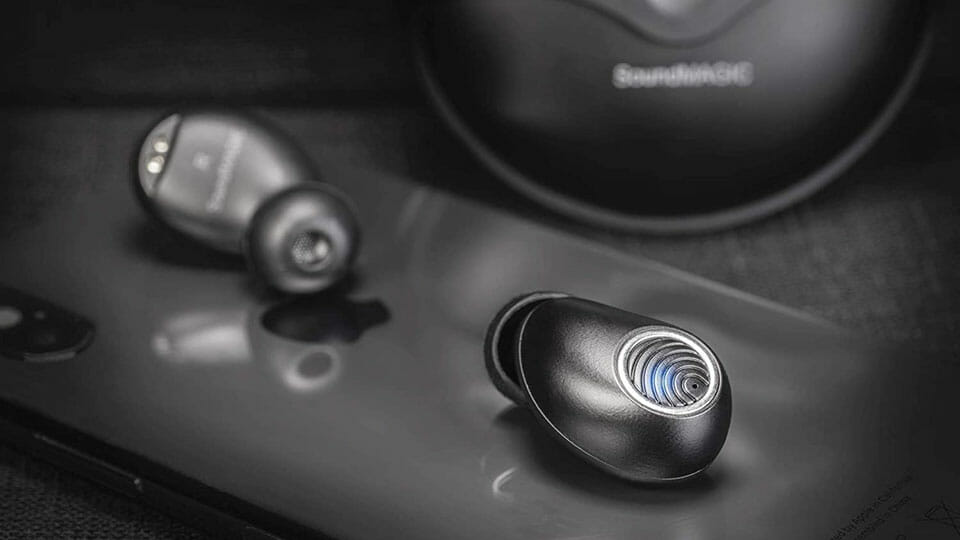 Most comfortable true wireless earbuds
Despite their small bean-shaped size, these earbuds surprise with superb comfort and enjoyable, balanced sound.
Type: In-ear
Battery life: Up to 6 hours, with case 24 hours
Bluetooth: 5.0
Charging: Micro-USB
Why Buy These?
TWS50's body is very small and light, weighing just 4 grams. Because of that, you don't even feel them in your ears, which makes them one of the most comfortable true wireless earbuds.
With the 6-hour battery per charge and an additional 24 hours from the charging case, these are on par with what the competition offers. There are small LEDs on the lid of the case showing the remaining battery.
The water protection on these is quite strong. With IPX7 you can even take them to the shower while listening to music or podcasts. Due to airtight ear tips water doesn't enter your ear canal.
The Bad
If you're an iOS user or you like to play mobile games, there is a substantial delay in the audio. Android users are not experiencing this trouble.
The Sound
Surprisingly balanced and unoffensive. Sound is warm and detailed, without being harsh is the highs. This makes for an enjoyable listening experience. These have also a very good soundstage.
At this price, SoundMagic TWS50's are hard to beat. Especially if you seek a comfortable fit and non-fatiguing audio performance.
---
7. Anker Soundcore Life Q20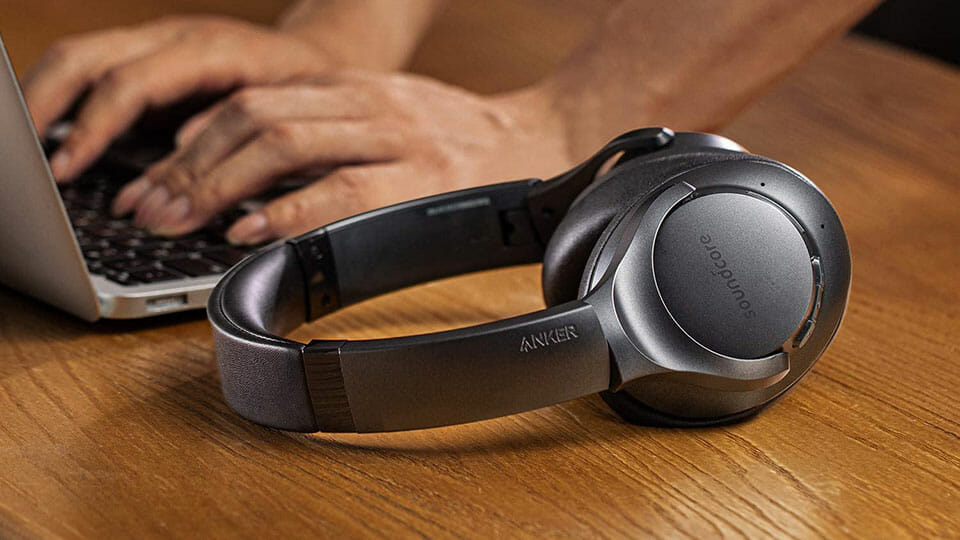 Best bass performance in cheap wireless headphones
We can see a lot of cheaper headphones having noise canceling. While some don't do a good job, Soundcore Q20 is definitely an exception.
Type: Over-ear
Battery life: Up to 40 hours (with ANC on)
Bluetooth: 5.0
Charging: USB-C
Why Buy These?
From the previous version (Soundcore Life 2) these have improved quite a bit. The first upgrade is noticeable in the ANC, which is now more effective at blocking background noise like construction works or people's speech.
You can expect up to 40 hours of battery life with ANC on with support for fast charging. You get 4 hours of music out of just a 5-minute charge.
They feature 4 microphones for better call quality and are also Hi-Res certified. Another thing worth mentioning is that the headphones can fold to save you space in the bag.
The Bad
The plastic build quality is not perfect, especially at the folding hinges.
The Sound
These are meant for the fans of a V-shaped sound signature. Bass is very present, with treble getting sometimes a bit hot. Mids on the other hand are fairly balanced. They're still very exciting headphones to listen to.
Anker Soundcore Life Q20 is a very good option for those seeking a cheap ANC capable headphones.
---
8. Marshall Major II Bluetooth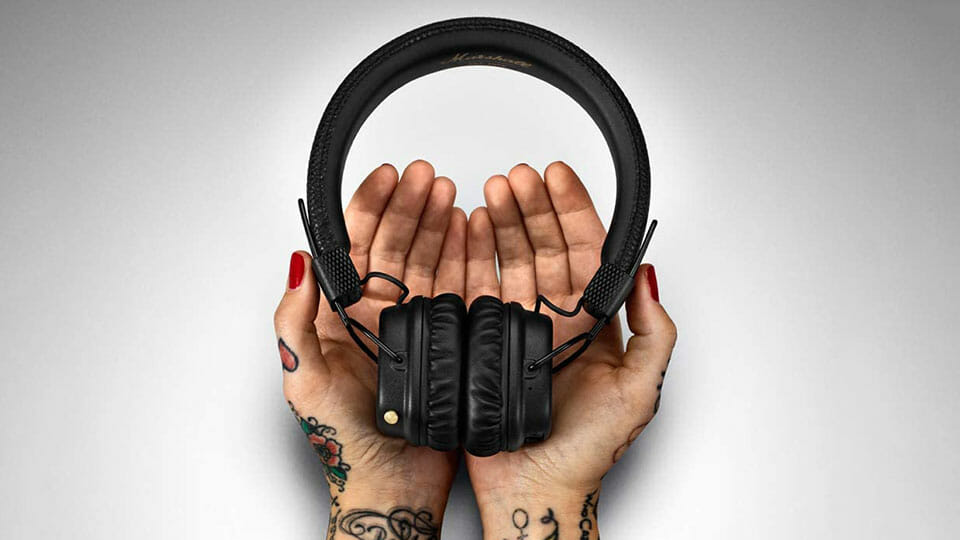 Best for rockers on the go
Despite being one of the more affordable wireless headphones in the Marshall line-up, Major II Bluetooth offers everything a normal user wants: good sound, comfort, and long-lasting battery.
Type: On-ear
Battery life: Up to 30 hours
Bluetooth: 4.0
Charging: Micro-USB
Why Buy These?
Leathery housing is very small and compact and can easily be folded for extra portability. On-ear pads are nice and soft, giving just enough pressure to keep them snuggly on your head.
There is a very cool looking gold knob for volume and remote control, that works really well. It can be pressed or moved into 4 directions, with each of them activating different features.
For such small headphones the 30 hours of battery life is quite impressive. The wireless connection remains fairly stable
The Bad
The hinge seems to be the weakest point on many of the headphones, and Major II Bluetooth is no exception.
The Sound
First of all, these can get really loud. 40mm driver can produce a very strong bass. They're by no means balanced, but still enjoyable, if rumble is what you're looking for.
Marshall Major II Bluetooth are cool looking wireless headphone, best suited for bass lovers and people, who like to crank up the volume.
---
9. Avantree Audition – best under $50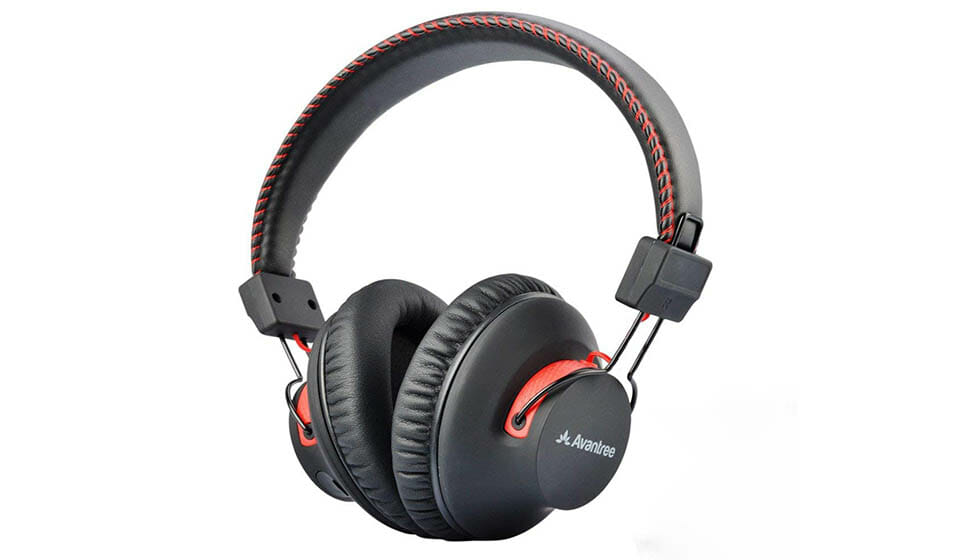 Best overall wireless headphones under $50
As you start to enter the cheaper end of the market, the quality and fidelity of the headphones on offer tends to dip, but the Avantree Audition is one of the exceptions.
Type: Over-ear
Battery life: Up to 40 hours
Bluetooth: 4.0
Charging: Micro-USB
Why Buy These?
Naturally, they don't have the clarity of speakers that cost hundreds of dollars, but the Avantree Audition far outperform their price tag.
They have a truly impressive battery life of up to 40 hours. On top of this, they're simple to connect and have a decent level of comfort.
The Bad
One big downside is the fact there is an audio delay reaching your cans from the wireless source. This means that watching TV or movies with these closed-back headphones isn't a good option.
The comfort level is good for a couple of hours, but they can start to ache in longer listening sessions.
The Sound
You won't find much better for under $50. Though not totally flawless, if you're looking for cheap Bluetooth headphones which outperform their price tag, consider the Avantree Audition cans.
---
10. Panasonic RP-HTX80B – best retro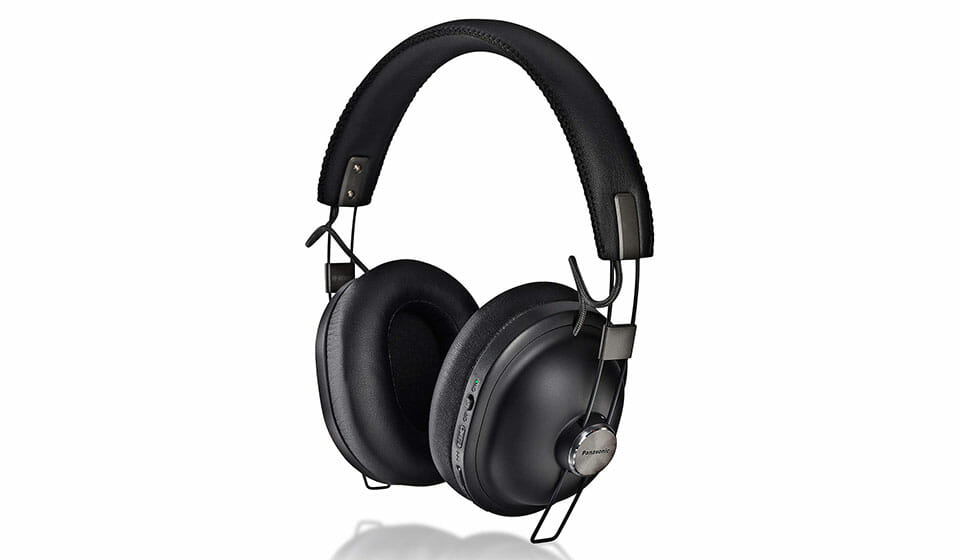 Best retro wireless headphones under $50
Panasonic is a brand you probably heard of, they manufacture a lot of electronic products including great retro headphones, the RP-HTX80B.
Type: Over-ear
Battery life: Up to 24 hours
Bluetooth: 4.0
Charging: Micro-USB
Why Buy These?
As well as coming in several colors and an excellent, retro design which looks like it is straight out of a 50's studio, this pair of headphones has excellent battery life.
It lasts up to 24 hours, which isn't the most but more than what most of you will need.
They also offer plenty of comfort through soft cushioned ear pads.
And solid durability with quality materials that hide the budget price well.
The Bad
A delay in the audio renders these pretty useless if you need them for visuals, such as watching TV at home.
Bassheads may not love these Panasonic headphones, as the lower frequencies aren't quite as emphasized but rather subdued.

The Sound
The sound is decent as long as you aren't looking for big, booming bass. These are rather flat and clear.

For comfort and a cool, retro design, it's worth checking the RP-HTX80B.
---
Honorable Mentions
A few products were close to making our list, with excellent Bluetooth technology, but were just slightly lacking in some areas.
We've listed them below, so you can check them out:
Can You Find Decent Bluetooth Headphones for a Low Price?
Sure you can, though not top-of-the-line, there are some great budget models.
But you have to know a couple of things:
The brand names aren't as recognized and known at this price point.

Usually, you get cheaper materials (more plastics) and thus lower life expectancy
The sound quality is about average at this price point. It can't compare to more expensive headphones.
You don't get the latest features and technology (EQ apps, adaptable ANC, USB-C charging, etc.)
Older Bluetooth versions mean more power consumption and less reliable wireless connectivity, though the latest version 5.0, is common.
What You're Giving up with Cheap Wireless Headphones
You can't expect:
The best Bluetooth codecs like aptX, aptX HD, LDAC, AAC since those cost license money and increase production costs.
Custom-developed smartphone apps with EQ settings and customization.
Features like wireless charging which are just becoming available in flagship models.
The highest quality materials and drivers.
And, often, you can't expect reliable customer support either since these are smaller brands.
Comments