Budget
The Best Cheap Bluetooth Headphones (Under $70)
Are you looking for top Bluetooth headphones on a budget? Can you get decent wireless headphones under $70? We explore these questions in this buyer's guide.
Comparison of Budget Bluetooth Headphones
Ideally, we would all be able to spend whatever we need to get the best headphones. However, this isn't always possible.
Luckily, there are some very reasonable Bluetooth headphones on the market at under $70.
Below, we've collected 10 of the very best options at this price point.
There is a variety sets of headphones on our list, from over-ear, on-ear and in-ear headphones (earbuds).
Related:
Bluetooth headphones under $100
Best cheap headphones (wired)
Best cheap earbuds
Top budget noise-cancelling headphones
Best Cheap Bluetooth Headphones
Our selection of best cheap Bluetooth headphones can be found below, separated into three different categories: best under $70, best under $50 and best under $30. Take a look at the ones in your budget.
Best Bluetooth Headphones under $70
1. Edifier W830BT (best overall)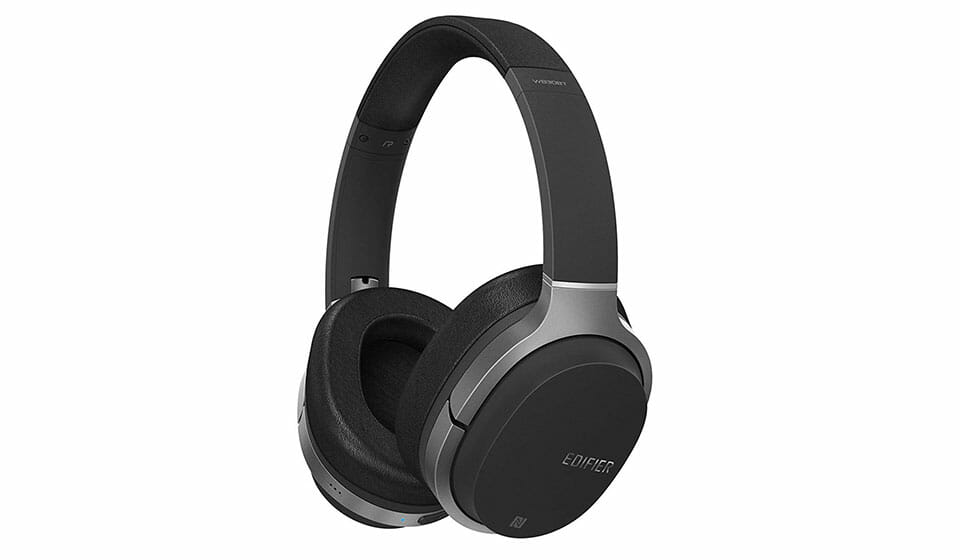 Best overall cheap Bluetooth headphones
These comfortable and foldable headphones are a good all-round option for affordable Bluetooth cans.
Type: On-ear
Battery life: Up to 80 hours
Bluetooth: 4.1
Charging: Micro-USB
Why Buy These?
These headphones have a lot of the luxurious features you'd expect from more expensive headphones.
Edifer's W830BT are folding, so they are easy to take from place to place. On top of this, the battery life is up to 80 hours, so you don't have to worry about running out of juice.
Additionally, these headphones have a reliable 4.1 Bluetooth connection which is easy to pair with any Bluetooth-enabled devices.
Comfortable cushion pads mean your ears don't get sore when listening, and if you want to listen wired, a cord to do so is included.
On top of that, a built-in mic makes these into a headset, so you can make phone calls in quiet environments.
The Bad
For affordable headphones, these have a lot of useful features, but some have complained that their range is a letdown. Don't expect to be able to listen to a device or sound source from long distances.
The Sound
As long as you don't stray too far from the source, the sound quality is great considering the price.
The fidelity isn't enough for studio use, but for casual listening, you'll be happy. These are suitable for watching videos or listening to music.

As the best wireless Bluetooth headphones for a low price, check the Edifier W830BT.
---
2. House of Marley Positive Vibration 2 (best design)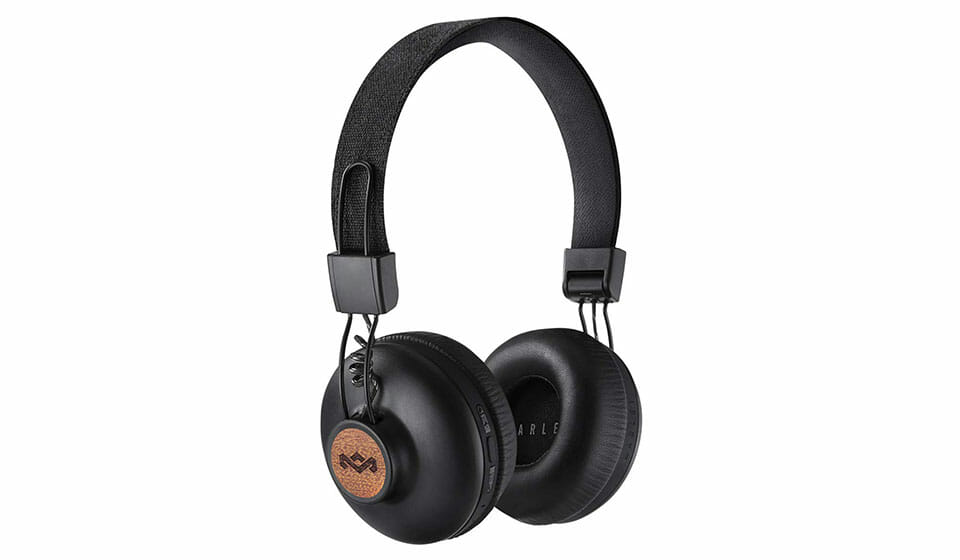 Best cheap Bluetooth headphones with a great design
Looking for some decent quality headphones which look the part, too? The House of Marley Positive Vibration 2 headphones look fantastic and produce deep bass.
Type: On-ear
Battery life: Up to 12 hours
Bluetooth: 4.2
Charging: Micro-USB
Why Buy These?
Headphones shouldn't be chosen on looks alone, but the House of Marley Positive Vibration 2 have a really sleek design (from sustainable materials).
You won't be self-conscious wearing them on public transport. The fabric headband and ear pads make these on-ear headphones good for wearing for long stretches without discomfort.
Plus, passive noise isolation is pretty good. It blocks most ambient noise around you even though ear cushions aren't the thickest.
The Bad
Whereas some of the other headphones to make our list have exceptionally long batteries, 10-12 hours is what you should expect from these. It could be a little higher in an ideal world.
The Sound
While these closed-back headphones are very powerful, with 2 large 40mm aperture drivers, the sound is not as high-fidelity as more expensive options.
At this price point, however, there aren't many better looking (and sounding) headphones than the House of Marley Positive Vibration 2 cans.
---
3. Jabra Move Wireless (best on-ear)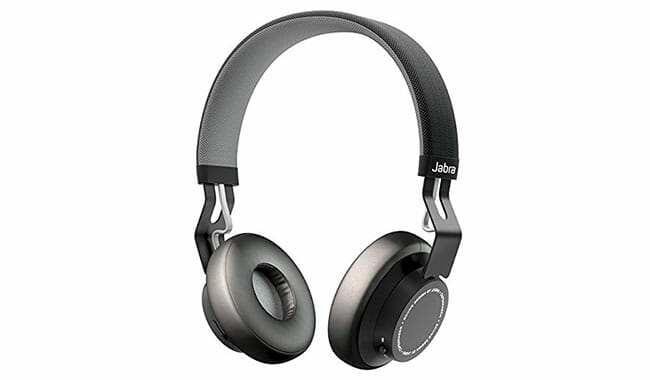 Best on-ear wireless Bluetooth headphones under $70
The Jabra Move Wireless are subtle and compact on-ear headphones which even let you take phone calls. These are some impressive, affordable headphones.
Note: Prices may change depending on colors, some are less than 70 dollars but go up to $99.
Type: On-ear
Battery life: Up to 12 hours
Bluetooth: 4.2
Charging: Micro-USB
Why Buy These?
As well as looking great, it is fair to say that Jabra's headphones are lightweight and compact.
They're often chosen by people who like to wear headphones while exercising as they aren't too big and bulky.
Additionally, wired functionality is possible with the included cord, and the battery charges in just 2 hours. You can even make and receive calls when paired with your smartphone.
The Bad
Although they are quite a comfortable option, the pads can become tatty relatively quickly compared to alternatives.
Another negative is the fact that when making calls, the microphone doesn't isolate your voice well, so people may struggle to understand you.
The Sound
In terms of how these sound, the frequency response is neutral and the quality is very good for the price.
Being more compact means they don't really isolate sound, but that may not be required.
Looking for a smaller, on-ear set of cans with a reliable sound? The Jabra Move Style Edition could be your answer.
---
4. Cowin E7 (best ANC under $60)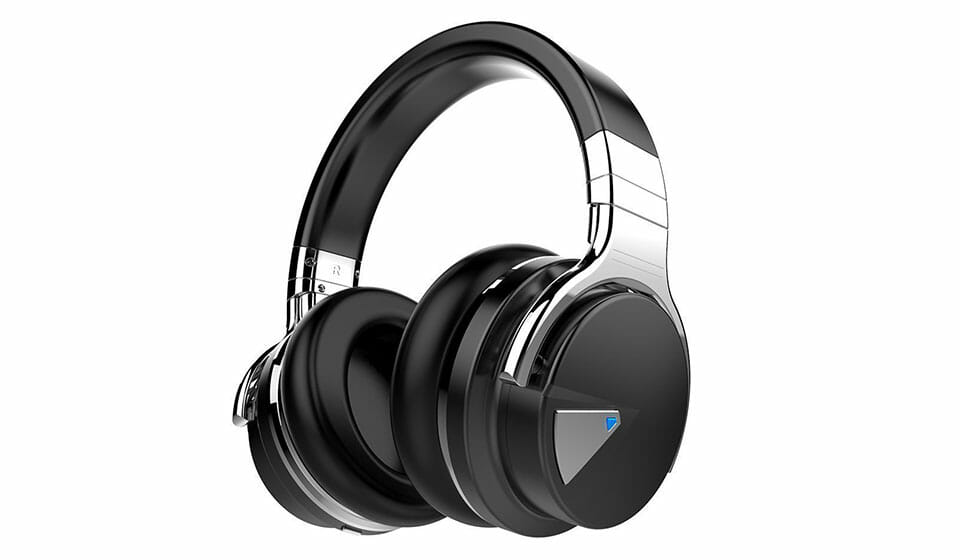 Best active noise canceling headphones under $60
Finding affordable active noise-canceling headphones is not an easy task, but the COWIN E7s do a good job of blocking out background noise for a reasonable price.
Type: Over-ear
Battery life: Up to 30 hours
Bluetooth: 4.0
Charging: Micro-USB
Why Buy These?
Many are skeptical when they realize you can get active noise-canceling technology for such an affordable price. In the "under $70" range, these headphones are hard to argue with.
Not only do they offer plenty of power with 40mm drivers, but they also have the option to take calls with an inbuilt microphone.
Cowin E7 headphones are also pretty comfortable and light considering the fact the casing and ear cups are big and bulky.
The Bad
The size is enough to put many people off, they're certainly on the large side. They can get sticky and sweaty on hot days and aren't suitable for exercise.
Noise cancellation can't compare to flagship models.
The Sound
Though not up there with the very best in terms of ANC capabilities, they're a big upgrade over simple circumaural headphones without the technology.
The sound is deep and bassy. If you like blocking out what's happening around you and hearing the low-end of a song, check out the Cowin E7 headphones.
---
Best Bluetooth Headphones under $50
5. Avantree Audition (best under $50)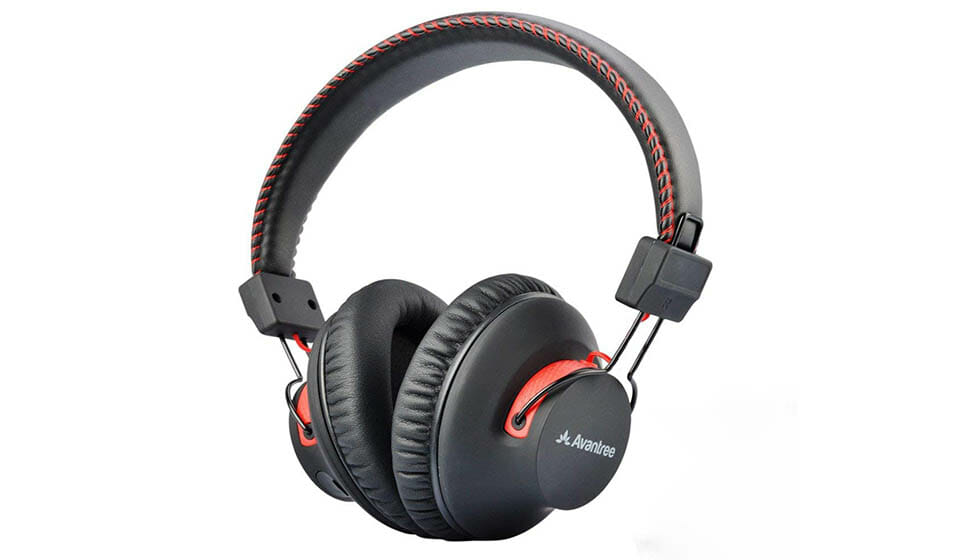 Best overall Bluetooth headphones under $50
As you start to enter the cheaper end of the market, the quality and fidelity of the headphones on offer tends to dip, but the Avantree Audition is one of the exceptions.
Type: Over-ear
Battery life: Up to 40 hours
Bluetooth: 4.0
Charging: Micro-USB
Why Buy These?
Naturally, they don't have the clarity of speakers that cost hundreds of dollars, but the Avantree Audition headphones far outperform their price tag.
They have a truly impressive battery life of up to 40 hours. On top of this, they're simple to connect and have a decent level of comfort.
The Bad
One big downside is the fact there is a audio delay reaching your cans from the wireless source. This means that watching TV or movies with these closed-back headphones isn't a good option.
The comfort level is good for a couple of hours, but they can start to ache in longer listening sessions.
The Sound
You won't find much better for under $50. Though not totally flawless, if you're looking for cheap Bluetooth headphones which outperform their price tag, consider the Avantree Audition cans.
---
6. Anker Soundcore Spirit Pro (best earbuds under $50)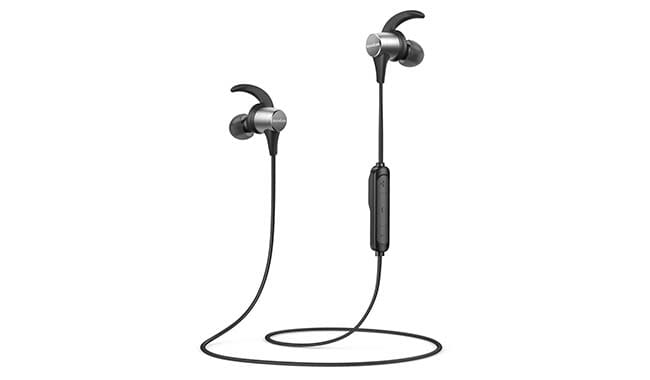 Best Bluetooth earbuds under $50
Big and bulky over-ear headphones don't work for everyone. The Anker Soundcore Spirit Pro earbuds are designed for those who need something a little more compact.
Type: In-ear
Battery life: Up to 10 hours
Bluetooth: 4.2
Charging: Micro-USB
Why Buy These?
Anker's Soundcore Spirit Pro earbuds offer something different.
They are great for gym use as they are compact and have an easy control panel on the neckband. This lets you switch to take calls or turn up or down.
Multiple ear tips allow you to customize the size. Also, a clever dual EQ lets you boost the bass during workouts for a little extra low-end punch.
The Bad
Wireless earbuds come with their drawbacks, and the sound clarity isn't as high as many of the over-ear models on this list.
On top of this, the annoying sound to tell you when you turn the volume up or down can't be switched off.
The Sound
The mode without the bass-boost is so-so, but if you're looking for a hefty bass from a set of earbuds, perfect for gym listening, consider the Anker Soundcore Spirit Pro.
---
7. Panasonic RP-HTX80B (best retro)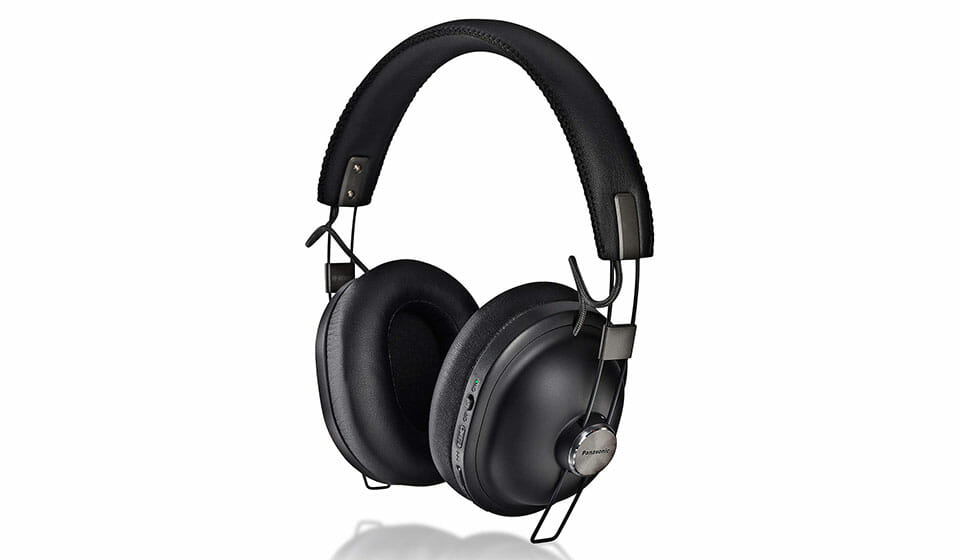 Best retro Bluetooth headphones under $50
Panasonic is a brand you probably heard of, they manufacture a lot of electronic products including great retro headphones, the RP-HTX80B.
Type: Over-ear
Battery life: Up to 24 hours
Bluetooth: 4.0
Charging: Micro-USB
Why Buy These?
As well as coming in several colors and an excellent, retro design which looks like it is straight out of a 50's studio, this pair of headphones has excellent battery life.
It lasts up to 24 hours, which isn't the most but more than what most of you will need.
They also offer plenty of comfort through soft cushioned ear pads.
And solid durability with quality materials that hide the budget price well.
The Bad
A delay in the audio renders these pretty useless if you need them for visuals, such as watching TV at home.
Bassheads may not love these Panasonic headphones, as the lower frequencies aren't quite as emphasized but rather subdued.

The Sound
The sound is decent as long as you aren't looking for big, booming bass. These are rather flat and clear.

For comfort and a cool, retro design, it's worth checking the RP-HTX80B.
---
8. Mpow H5 (best ANC under $50)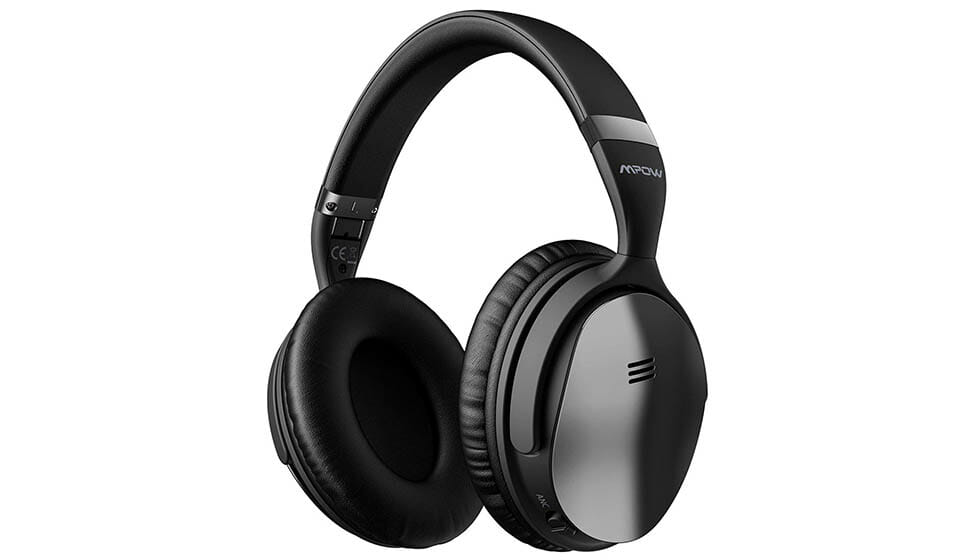 Best active noise canceling headphones under $50
The top Bluetooth headphones are getting more affordable, and including features like active noise-canceling. For these extra features, the Mpow H5 is a great option on a budget.
Type: Over-ear
Battery life: Up to 30 hours
Bluetooth: 4.1
Charging: Micro-USB
Why Buy These?
To find a reliable set of ANC headphones at such a good price is rare.
You can switch the active noise-canceling mode on or off when you need to isolate yourself, and they do a pretty good job of canceling out background noise.
There's a built-in microphone for speaking on the phone and up to 30 hours of battery life.
Also, the 40mm drivers are of pretty good quality, and they are powerful enough for casual listening.
Overall, they don't look like under $50 headphones, and that's important.
The Bad
There are a few compromises at this price point.
For instance, the Mpow H5 cans don't have the best mic quality.
Also, you may experience some interference when the ANC mode is on. For this reason noise cancellation isn't comparable to higher-priced options.

The Sound
The sound quality is surprisingly clear and balanced when you consider the price and the bass is particularly crisp.
If you are looking for affordable ANC capabilities, look no further than the Mpow H5 headphones (review) .
---
Best Bluetooth Headphones under $30
9. Iteknic Bluetooth Earbuds (best battery in earbuds)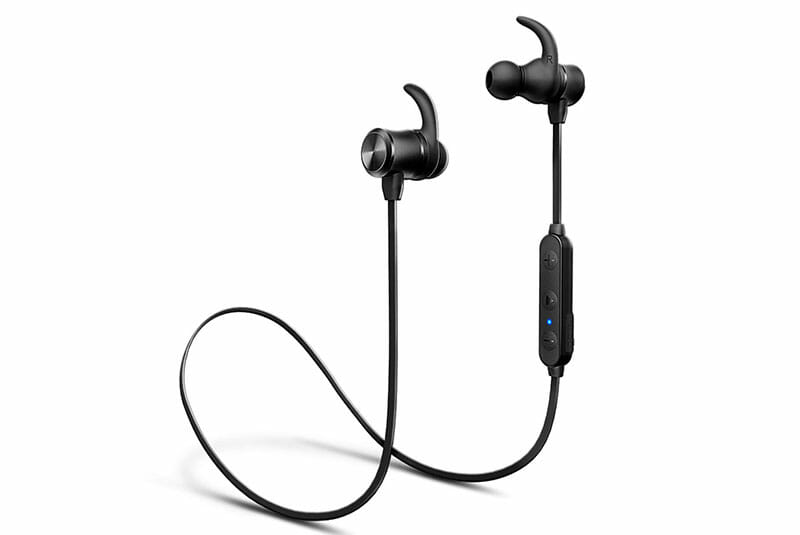 Bluetooth earbuds with longest battery life
Most earbuds at this range leave a lot to be desired when it comes to battery life, but this is not the case with the affordable but useful iTeknic Wireless earbuds (full review).
Type: In-ear
Battery life: Up to 24 hours
Bluetooth: 5.0
Charging: Micro-USB
Why Buy These?
The Iteknic earbuds are head and shoulders above other models at this price range when it comes to battery life.

Bluetooth compatibility in these earbuds is excellent and very reliable. On top of this, they are moisture-wicking and have a smart band to make them usable in the gym.
Moreover, they don't keep falling out of your ears even though the bulky casing (where the battery is) looks like a fit hazard.

Plus, they block most of the ambient sound, especially with tight ear tips (included in the package).
The Bad
Truthfully, there is not a great deal wrong with this set of wireless earphones. Except that the bulky buds don't feel the tightest during fast exercise.

The Sound
Though not ultra-high fidelity, the sound is very good for such an affordable set of earbuds, especially thanks to crisp highs and balanced mid-range.
The only real criticisms are the fact the bass is a little lacking though these aren't bass-light by any means.
For market-leading battery life of 24 hours per charge the Iteknic Bluetooth earbuds don't have any competition.

Read the full iTeknic Earbuds review.
---
10. Anker SoundBuds Slim+ (best sports)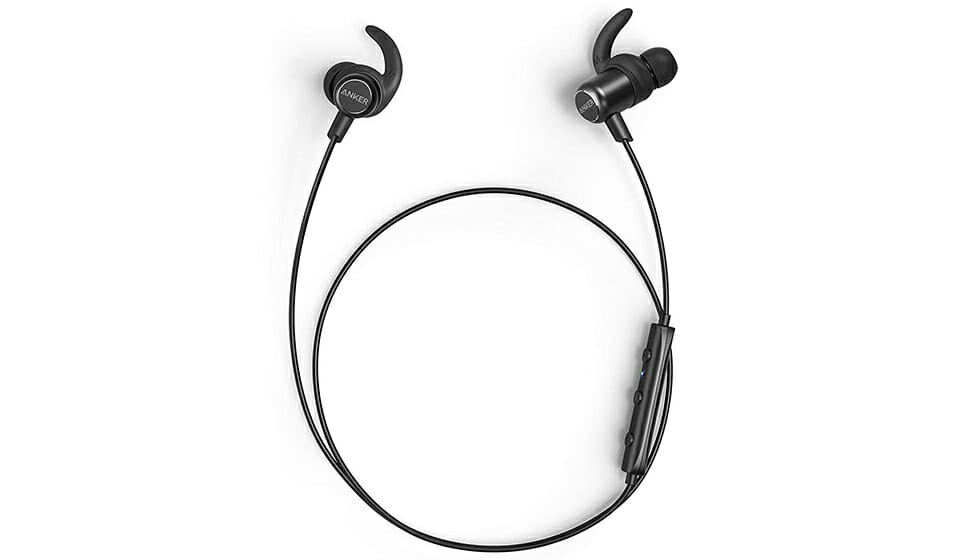 The best wireless sports earbuds under $30
One of the more prolific manufacturers. Our second model made by Anker on the list. These are among the best cheap Bluetooth earphones due to great fit for sports and gym.
Type: In-ear
Battery life: Up to 10 hours
Bluetooth: 5.0
Charging: Micro-USB
Why Buy These?
If you're looking for sporty and stable (when running and exercising) earphones, these are built with you in mind.
Water-resistant and sweat-resistant design with IPX7 rating combined with a neckband that keeps them in space means these in-ear headphones stay in place.
These are perfect earbuds for running.
The ergonomic design fits the shape of your ears and ensures they are snug and comfortable.
Plus, the in-line mic and controls help to manage music.
The Bad
You can't expect hi-fi sound from a set of wireless earbuds under $30.
They could do with a little more low-end, and better frequency response. Connectivity is a little lacking as earbuds are not the strongest in terms of Bluetooth connection.
The Sound
More than good enough for casual gym listeners who don't need loads of bass. Somewhat V-shaped with overpowering and muddled bass, average mids but clear highs.

For simple gym and exercise needs, check out the Anker SoundBuds Slim+. Their price and Bluetooth performance are unbeatable.

Read the full Anker SoundBuds Slim review.
---
Notable Mentions
A few products were close to making our list, with excellent Bluetooth technology, but were just slightly lacking in some areas.
We've listed them below so that you can check them out should you wish.
We're also looking for quality true wireless earbuds under the price point. So far budget true wireless buds fail short either on connectivity, fit, or battery life. And, we don't want to recommend a sub-par model.
Can You Find Low-Priced but Decent Bluetooth Headphones?
Though not top-of-the-line, there are some great options on a budget. The brand names may not be as reliable at this price point, and often, cheaper headphones are "hit and miss".

Usually, you'll get cheaper materials and thus lower life expectancy
Audio quality can't compare to more expensive headphones
You don't get the latest features and technology (EQ apps, adaptable ANC, USB-C charging, etc.)
Older Bluetooth versions mean more power consumption and less reliable Bluetooth connectivity
Some sacrifices are made at this price point, but the headphones certainly aren't hopeless.
How Cheap Wireless Headphones Compare to Higher-Priced Cans
Cheaper Bluetooth headphones often use older technology, cheaper materials as well as lower quality drivers. And, most importantly, don't come from a reputable brand but rather new companies trying to gram market share.
The sound quality is about average at this price point, often due to the components used to make the headphones and the fact that some of the construction may be outsourced.
It's good for an average undemanding consumer but not enough for an audiophile.
Top brands tend to be able to charge more because they consistently make great headphones. This doesn't mean that expensive headphones are any better.

A lot of the price difference has to do with marketing and branding.
Comments