Get the best Bluetooth headphones under $100 right now.
Comparison of Best Bluetooth Headphones under $100
Not everybody needs expensive flagship models or be happy with the cheapest ones. You might want something in between.
Latest technology and features for a reasonable price. This is precisely what we searched for.
And here are the best wireless headphones you can get under $100 today.
Related sub-$100 headphones:
Best headphones under $100
Best wireless earbuds under $100
Top noise cancelling headphones under $100
The Best Bluetooth Headphones under 100 Dollars
Sennheiser HD 4.40 BT – best overall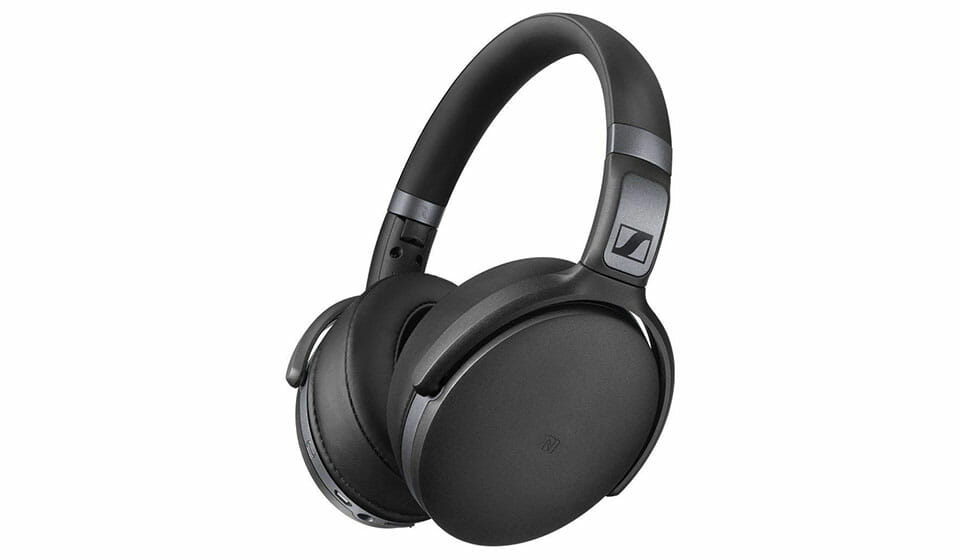 Sennheiser HD 4.40 BT are the best overall wireless headphones under $100.
Type: Over-ear
Connection: Bluetooth 4.0 and wired (3.5mm)
Battery life: Up to 25 hours
Why Buy These?
If you're looking for high-quality sound with strong bass and extreme comfort, then get these over-ears.
The first thing you notice is their sleek design. It looks modern yet timeless.
On top of that, they're made to last (as is usual for Sennheiser). Thick well-padded ear cups provide amazing comfort (full-size headphones). Even for long listening sessions.
Built-in controls on the ear pads manage music and phone calls.
Also, the battery lasts up to a solid 25 hours. You can also use them in wired mode with the 3.5mm cable.
Also, to make sure others don't bother you, the closed-back headphones block most of the ambient noise around you.
The Bad
If you're not a fan of strong, heavy bass, then you should get something else.
The Sound
The Sennheiser HD 4.40 have a bass-rich sound. It's deep and punchy. If you're a bass lover and listen to a lot of pop music, you'll surely like their sound. Fans of EDM and hip-hop will be impressed.
What makes the Sennheiser HD 4.40 BT stand out, is their overall ability to impress. They impress with their appealing design, incredible comfort, and high-quality sound.
---
Marshall Major III Bluetooth – best on-ear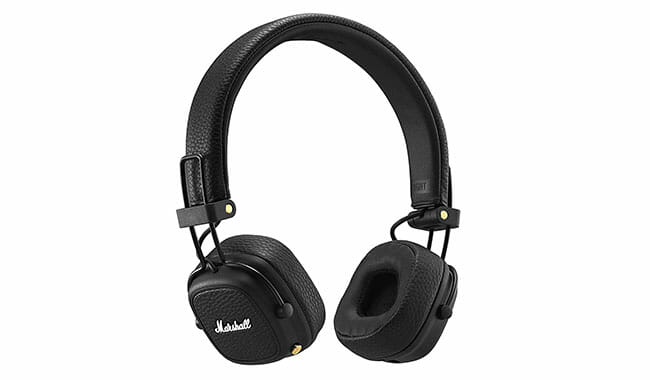 Marshall Major III Bluetooth are the best on-ear Bluetooth headphones under $100.
Type: On-ea
Connection: Bluetooth (with aptX) & wired (3.5mm)
Battery life: Up to 30 hours
Why Buy These?
If you're looking for durable on-ear headphones with Bluetooth and great sound, these are for you.
The stylish, vintage design stands out. They are made of quality materials, including metal. So they can survive most of your drops.
And, because of their tight fit, you can even go running with them. 30 hours of battery provides you enough time for daily listening or many shorter sessions.
Or, you can just plug in the cable and listen to music with wires. It's useful if you're a heavy user and want to listen to your pair of headphones all day.
The Bad
Due to the on-ear design, they're not as comfortable as over-ears. Might irritate ears after a while.
The Sound
The Majors III have boosted upper ranges. That is engaging if you're a fan of guitar riffs and solos. Bass is clear, but it doesn't come to the front.
These headphones are best for music with crunchy guitars.
Marshall Major III Bluetooth on-ears are great for guitar enthusiasts that also appreciate long battery life and good durability (and even some audiophiles).
---
RHA MA650 Wireless – best earbuds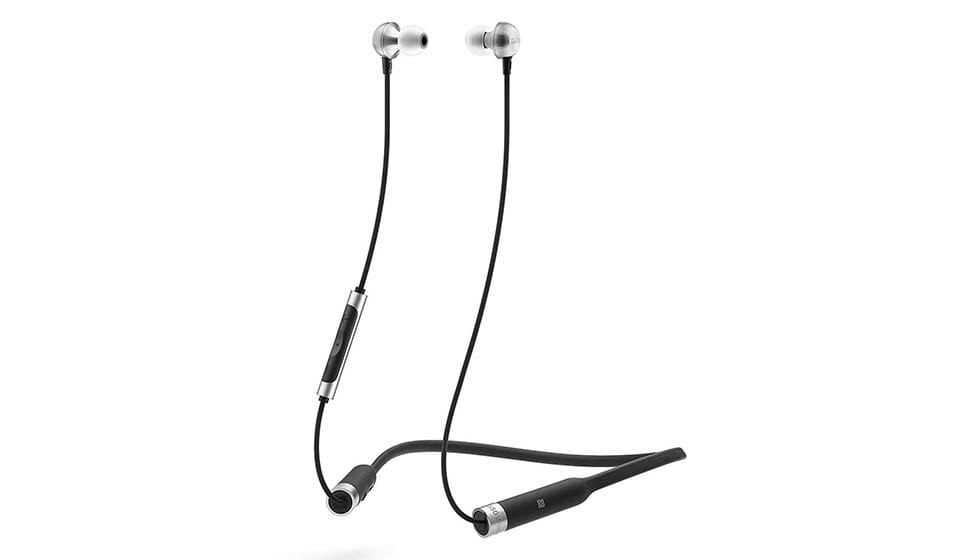 RHA MA650 Wireless are the best in-ear headphones under $100.
Type: In-ear
Connection: Bluetooth 4.1
Battery life: Up to 12 hours
See other best wireless earbuds under $100.
Why Buy These?
Do you want to get sound quality combined with sleek and durable design? Then you should check these Bluetooth earbuds.
The design is nice and "shiny" (brushed metal looks really nice). Plus, they come with many different ear tips.
The buds come with a neckband, which helps them stay in place. The neckband also vibrates when someone's calling you, or when you get a text.
Near the neckband are in-line remote controls for music and calls. Overall, they are quite sturdy and sweatproof (IPX4). You can probably use them for years.
The battery lasts up to 12 hours, which is more than most of the wireless earbuds on the market.
The Bad
While sweatproof, they're not the best for sports. You get no ear wings (might fall out) and kind of heavy (due to metal).
The Sound
Their sound signature is somewhat balanced. The quality is quite impressive. Especially since these are not the most expensive earbuds and come with Bluetooth.
You'll like the sound for all music but don't expect super strong bass.
RHA MA650 Wireless are earbuds with an eye-catching design, stunning sound, and great durability. If you're looking for Bluetooth earbuds under $100, then you should definitely try these out.
---
More: In case you're looking for wired earbuds under $100, click here.
---
Treblab X5 True Wireless Earbuds – best true wireless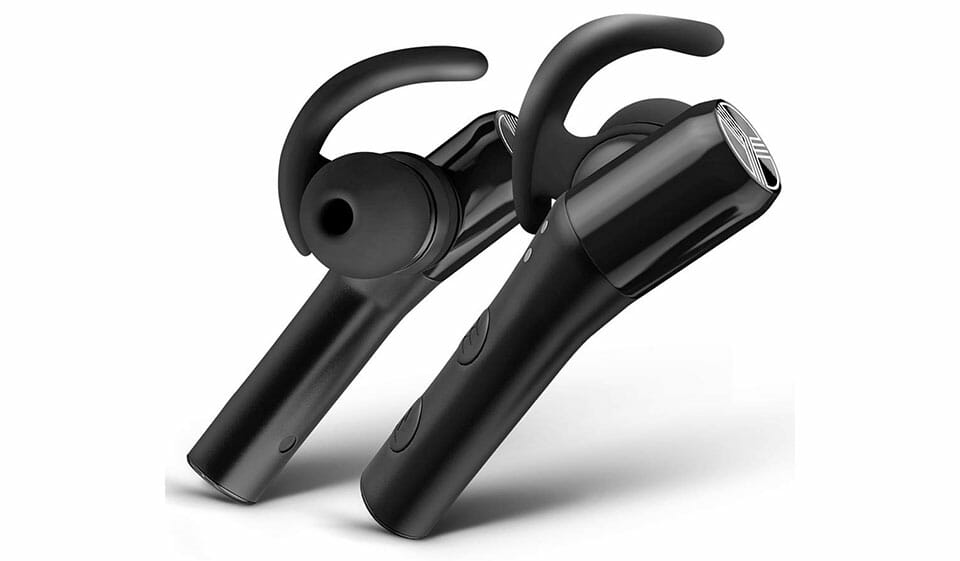 Treblab X5 are above-average true wireless headphones under $100.
Read the full Treblab X5 review.
Type: True wireless
Connection: Bluetooth 4.2
Battery life: Up to 4 hours
Why Buy These?
If you're looking for value-for-money in true wireless earphones (similar to Apple AirPods), then the Treblab X5 are a great choice.
Their design is lightweight. So, that's why they stick in ears well.
They fit without discomfort even after hours of wearing them (which is not so common with TWS buds).
Thanks to tight fit you can go running with them (and won't fall out).
They also provide impressive noise isolation that will block out most of the ambient sound. Especially if you use memory-foam eartips (included in the package).
Also, controls, which are easy to use and provide solid feedback, help you command tracks, volume, and calls.
The Bad
Their battery lasts for about 4 hours (not 6 like advertised). Then you have to charge them in the charging/carrying case.
Plus, random signal interruptions take away from experience (but don't ruin it completely).
The Sound
These true wireless earbuds produce bass-heavy audio quality. Their sound signature is clearly bass emphasized.
Bass is deep, strong, and punchy. They are perfect for popular types of music with strong lows, like hip hop, dance, and pop.
Treblab X5 offer a lot of features and technology in true wireless form with enjoyable bassy sound quality, all for less than $100. One of the best daily wireless buds right now.
---
TaoTronics ANC headphones – best noise-cancelling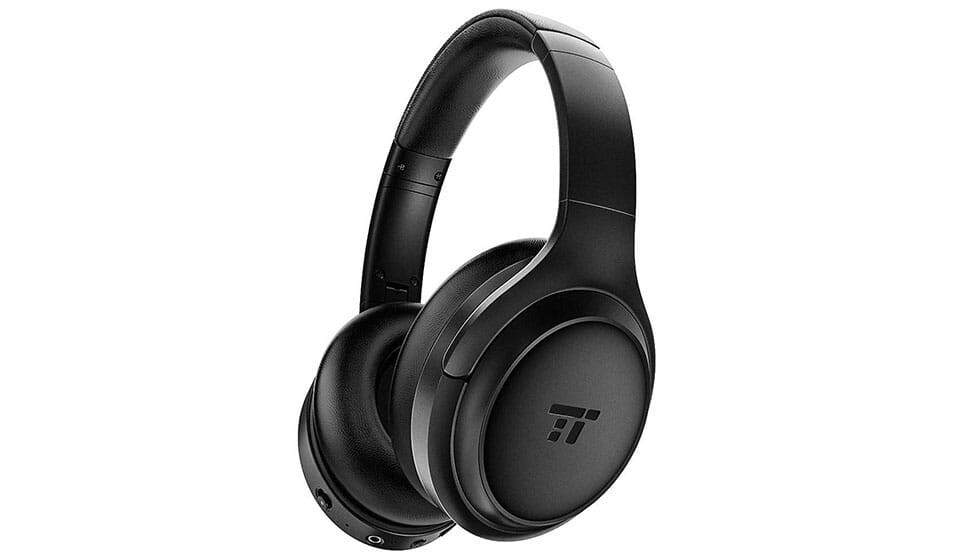 TaoTronics TT-BH60 ANC are the best noise-canceling headphones under $100.
Type: Over-ear
Connection: Bluetooth 5.0 and wired (3.5mm)
Battery life: Up to 30 hours
See more active noise cancelling headphones under $100.
Why Buy These?
If you're looking for active noise-cancelling (ANC) headphones but don't want to spend too much money, you should check these out.
These are very similar to the older but popular TT-BH22 headphones, full review here. This 2019 model is similar but with updated design and latest Bluetooth 5.0.
Their design is a mixture of pleather and lightweight plastic (that looks better than before in our opinion). That's why they are quite comfy.
Even if you wear them for a long time, your ears won't hurt, which is perfect for intercontinental flights. To maximize their comfort, the ear cups are well-padded as well.
Up to 30 hours of the battery, with quick charging) will probably get you through the week. You also get an audio cable for when you run out of battery.
The ANC technology works better than with comparable budget models, but don't expect too much. After all, these over-ear headphones are quite cheap for having active-noise cancellation.
The Bad
Some users complain about their sound quality when you turn on the ANC. There's some loss of bass and silent static noise.
The Sound
They have a V-shaped sound signature. Bass is deep and punchy. Treble is bright. Overall, their sound is average and price related. But it will still satisfy most budget users.
TaoTronics Bluetooth headphones offer quite a lot for their low price. They have decent sound, good battery life (30h), amazing comfort, and better than expect noise cancelling. These are pretty much the best you can expect under $100.
---
Cowin E7 PRO
Cowin E7 PRO are better than average ANC headphones with a following and under $100 price tag.
Type: Over-ear
Connection: Bluetooth 4.0 and wired (3.5mm)
Battery life: Up to 33 hours
Why Buy These?
If you're looking for over-ear headphones with decent noise-canceling and fantastic battery life, then Cowin E7 PRO might be perfect for you.
Their design is kind of outdated (but beauty is the eye of the beholder).
Ear cups are well-padded and provide great comfort. On the ear cups, you can find control buttons. You can manage music and take phone calls.
The built-in mic is pretty decent for calling.
Also, while big in size, they stay in their place. Some people even use them for soft jogging.
The ANC technology works okay (similar to TaoTronics). They cancel most of the ambient noise in the busy streets or on a plane.
But, their battery life is excellent. Up to 33 hours of playback with the additional wired mode is pretty sweet.
The Bad
Charging is pretty slow. Also, the headband might feel too tight for bigger heads.
The Sound
The sound they produce is somewhat balanced. It's suitable for all music genres but doesn't excel at anything.
It's good audio quality for the price but won't win any awards.
Cowin E7 PRO are great noise cancelling headphones for everyday use. With their above-average battery life and comfort, they're a popular choice of many.
---
Bluedio T3 – best budget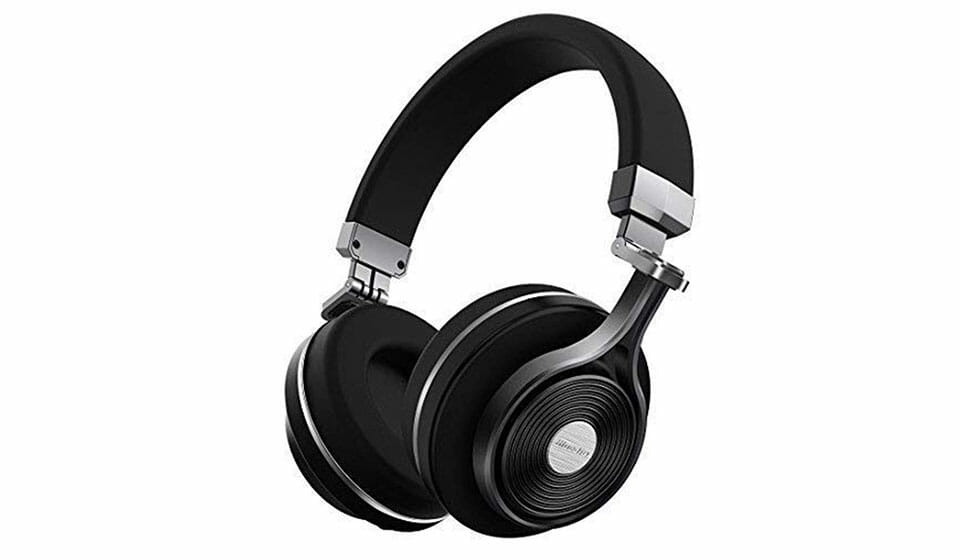 Bluedio T3 Bluetooth headphones are the best wireless can in low under $100 range.
Type: Over-ear
Connection: Bluetooth 4.1 and wired (3.5mm)
Battery life: Up to 20 hours
Why Buy These?
If you're looking for Bluetooth headphones in lower price ranges, around $50, then these are a fantastic choice.
The Bluedio T3 headphones are well built. The design gives a premium feel because of its metal finish.
They can survive and stick with you for many years (if you treat them right). Over-ear ear cups and headband are well-padded.
Also, the control buttons allow you to change tracks/volume and take calls easily.
Although they are quite cheap, they have pretty good battery life. You'll get up to 20 hours of playback time.
Plus, they fold for easier transportation.
The Bad
These over-ear headphones might feel too tight on some heads. Budget headphones that can't compare to high-end.
The Sound
Their sound is decent. They lack strong bass and don't have the clearest highs. But it comes with the price.
Overall, the audio quality is satisfying for an average user, and considering these are a budget option.
Maybe Bluedio T3 aren't the best sounding headphones, but they deliver in everything else. With above-average battery life, great durability, comfort, and Bluetooth technology, they are a top choice for many.
If you want to save some money, and don't care too much about high-quality features, then try these over-ear headphones.
---
What's the Best You Can Expect from under $100 Headphones?
The headphones under 100 dollars usually aren't the best headphone companies can offer, neither are the worse or cheapest.
They stand in the middle between the two poles, which often means they offer the best value for your money.
Considering battery life
Flagship headphones that cost hundreds of dollars come with a better battery capacity often up to 40 hours per charge.
For under $100 you should expect anything from 20-30 hours, which is pretty decent.
On the other hand, budget headphones, those under $50 usually last even less.
What about comfort?
Because most headphones today have an ergonomic design and decent materials, you can expect high comfort even if you pay less money for them.
It largely depends on the specific model and not so much on the price. In-ear headphones can be very comfy with the right eartips (we recommend memory foam).
Bluetooth functionality
Wireless Bluetooth technology used to be more expensive, but today even the cheaper headphones come with the latest versions.
Right now Bluetooth 5.0 (latest version as of writing this) can be found in price ranges, including those under $50.
You can easily expect one of the latest Bluetooth versions from headphones under $100.
Build quality
Just like with comfort, 100 dollars is still quite a bit of money. And companies cannot afford to sell badly made products, so most are well made with sturdy materials and thoughtful design.
How do they sound compared to high-end headphones?
Because what is considered high sound quality is largely subjective, it's hard to answer this.
Generally, excellent audio quality can be found in cheaper, mid-tier, and high-end headphones if you know what to look for.
The same is the case for sub-$100 headphones.
You can find great sounding headphones for under $100 if you know what you want.
Bassheads should go for bass emphasized sound, audiophiles for neutral, and if you're on the fence and just want something that sounds good for all music, go for balanced or slightly V-shaped sound.
The less colored sound, the more likely it will be suitable for all music types.
All in all, you might not get the best of the best currently available in the headphone world for less than $100, but pretty close to it.
What other feature or aspect would you like to know about? Let us know in the comments.
Why Should You Buy Bluetooth Headphones under $100?
Because from our experience, headphones priced at around $100 are right between the most expensive and cheapest headphones. They offer the best balance between value and price, thus are a popular choice of many.
You can expect high-quality materials, good sound and comfort and the latest (or one of the more recent) versions of headphone technology.
Comments