Wireless
8 Best Bluetooth Headphones under $100
Get the best Bluetooth headphones under $100 right now.
Comparison of Best Bluetooth Headphones under $100
Not everybody needs expensive flagship models or be happy with the cheapest ones. You might want something in between.
Latest technology and features for a reasonable price. This is precisely what we searched for.
And here are the best wireless headphones you can get under $100 today.
Related sub-$100 headphones:
Best headphones under $100
Best wireless earbuds under $100
Top noise cancelling headphones under $100
The Best Bluetooth Headphones under 100 Dollars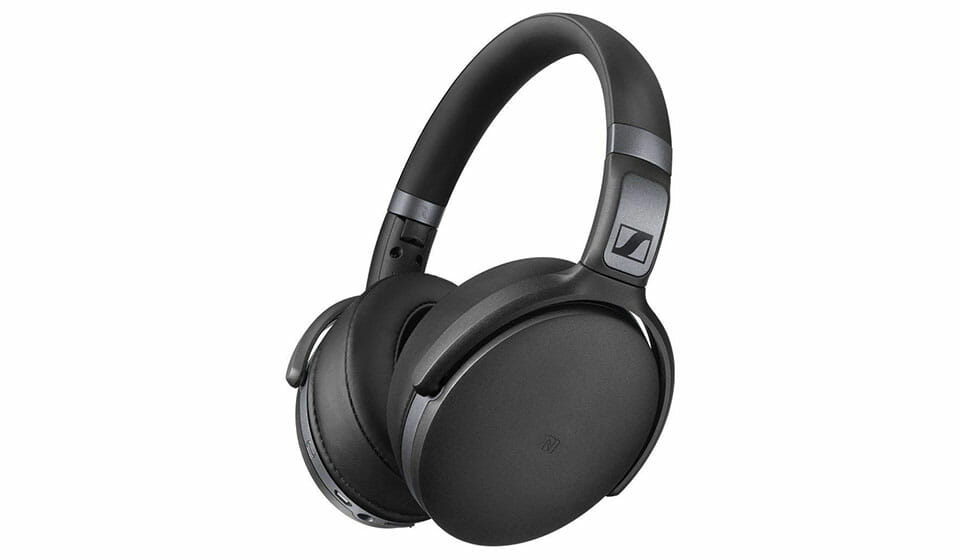 Sennheiser HD 4.40 BT are the best Bluetooth headphones under $100.
Type: Over-ear headphones
Connection: Bluetooth 4.0 and wired (3.5mm)
Battery life: Up to 25 hours
Why Buy These?
If you're looking for high sound quality with strong bass and extreme comfort, then get these over-ears.
The first thing you notice is their sleek design. It looks modern yet timeless. On top of that, they're made to last (as is usual for Sennheiser). Thick well-padded ear cups provide amazing comfort (full-size headphones). Even for long listening sessions.
Built-in controls on the ear pads manage music and phone calls. Also, the battery lasts up to a solid 25 hours. You can also use them in wired mode with the 3.5mm cable.
Also, to make sure others don't bother you, the closed-back headphones block most of the ambient noise around you.
The Bad
If you're not a fan of strong, heavy bass, then you should get something else.
The Sound
The Sennheiser HD 4.40 have a bass-rich sound. It's deep and punchy. If you're a bass lover and listen to a lot of pop music, you'll surely like their sound. Fans of EDM and hip-hop will be impressed.
What makes the Sennheiser HD 4.40 BT stand out, is their overall ability to impress. They impress with their appealing design, incredible comfort, and high sound quality.
---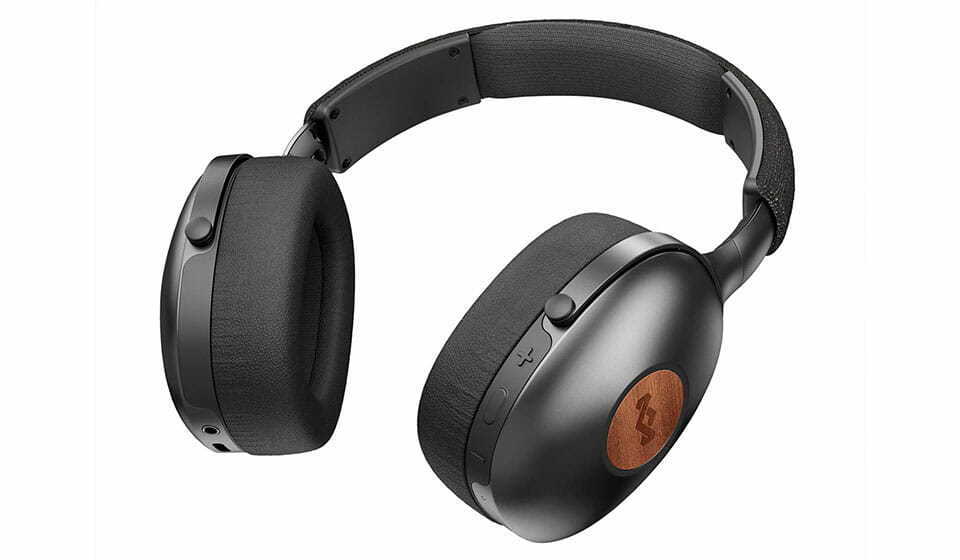 Marley's Positive Vibration XL are great portable Bluetooth headphones for the price.
Read the House of Marley Positive Vibration XL review.
Type: Over-ear
Connection: Wireless, Bluetooth 5.0 and wired (3.5mm) option
Battery life: Up to 24 hours
Why Buy These?
If you want high-quality wireless headphones with a comfortable over-ear design and excellent sound quality, then House of Marley Positive Vibration XL (that's a long name) should be on your radar.
There's not much wrong with these. The build quality is top-notch and there are even wooden emblems that give it a premium feel.
The thick pads are somewhat smaller but stay comfortable for hours.
You can fold them and pack them in a bag for easier storage. And when the 24-hour battery dies, plug the AUX cable and continue listening.
Bluetooth is superb and doesn't drop or distort the music, and you can binge on YouTube without audio delay.
Plus, you have to consider the mid-tier price of under $100, which makes these excellent value for the money.
The Bad
The earcups are slightly smaller, and the headband isn't super flexible. They might be uncomfortable for bigger ears and head sizes.
The Sound
House of Marley Positive Vibration XL have a balanced sound signature. You'll hear the vocals which stand centerpiece and make you hear the lyrics in clarity.
The treble is detailed and doesn't distort. And bass, while not super powerful, does have a punch and solid rumble. It will satisfy even more critical listeners.
The Positive Vibration XL headphones are one of the best choices under $100 right now with their smart design, reliable connection, and thoroughly enjoyable sound quality.
---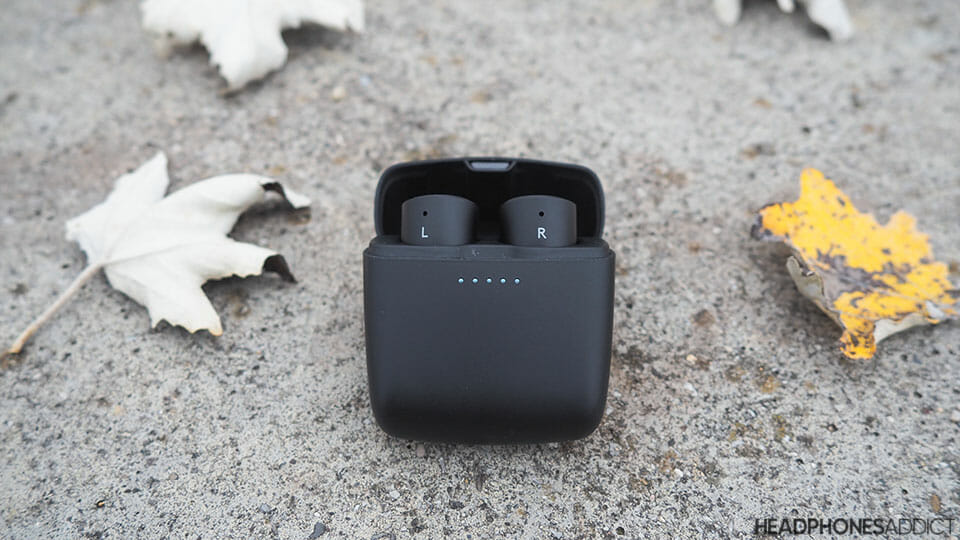 Instead of fancy features like ANC, you're getting excellent sound quality and battery. These are a fabulous pair of earbuds for audiophiles who don't like to spend a lot.
Type: In-ear headphones
Connection: Wireless, Bluetooth 5.0
Battery life: 9h, 36h with charging case
Why Buy These?
They come in a slightly unconventional design, with a bullet-shaped housing that is quite comfortable to wear. Fit is also non-problematic so that you can use them during a workout. To prevent any damage from sweat, Melomania's are offering IPX5 water-resistance.
Their charging case is slightly on a chunkier side, but there is a good reason for this: it can hold up to 36 hours of battery life. The earbuds themselves can play for around 9 hours, which is among the best true wireless earbuds.
To ensure the most optimal audio transmission, Melomania 1 supports aptX as well as AAC for iOS users.
The Bad
The physical button on top of the earbuds is frustrating to use since you're pushing the buds inside your ear canal.
The Sound
For the price, it's incredible. There is plenty of detail in all frequency ranges, especially in the midrange. Apart from natural vocals, you can also expect good imaging.
Excellent wireless earbuds under $100, with sound quality as their main strength.
See full Cambridge Audio Melomania 1 review
---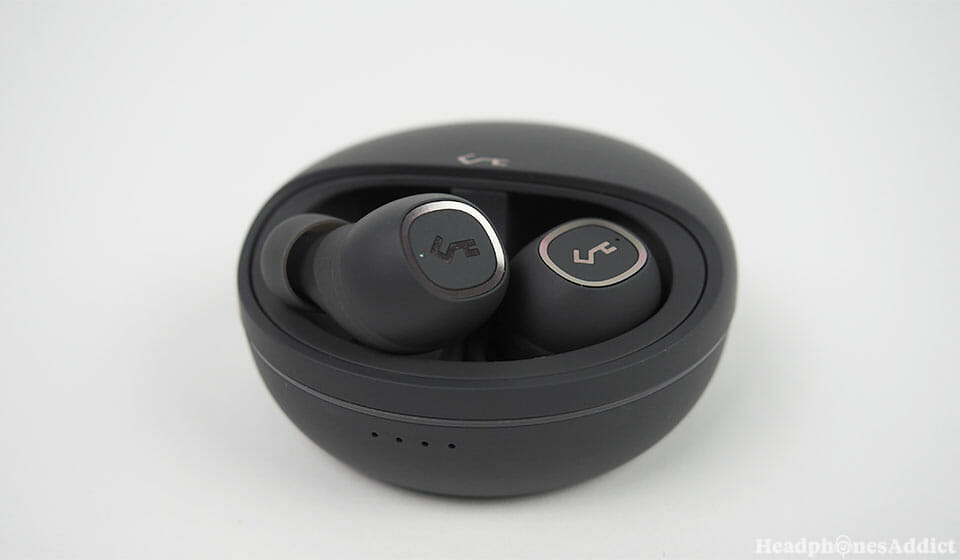 Award-winning true wireless earbuds with tons of value.
Check our full Aukey Key Series T10 review
Type: In-ear headphones
Connection: Wireless, Bluetooth 5.0
Battery life: 6h, 24h with charging case
Why Buy These?
Earbuds are stored inside a unique-looking case with a twistable lid. Buds are very comfortable to wear, with an excellent fit for all kinds of sports activities. To achieve the best stability, you need to try out different ear fins included inside the box.
There is plenty of battery if you want to use them on your outdoor runs. Earbuds can last up to 6 hours on a single charge, with 24 hours coming from the charging case. The latter supports USB-C quick charging and wireless charging.
Housing feels quite durable, made with quality plastic. There is also IPX5 onboard, meaning you don't have to worry much if you get caught by the rain.
The Bad
Touch controls can be a bit too sensitive.
No app or dedicated button to change the EQ.
The Sound
T10's are leaning toward a balanced sound signature, with just enough bass for a pleasing listening experience. However, they're not suitable for those seeking rumble. Overall clarity is good, with no sibilance insight.
An overall great package from Aukey that ticks most boxes.
Check our Aukey Key Series T10 review for more info.
---
More: In case you're looking for wired earbuds under $100, click here.
---
Smaller on-ear brother of the Elite 85h, with similarly great sound quality and impressive battery performance.
Type: On-ear
Connection: Wireless, Bluetooth 5.0
Battery life: 50h
Why Buy These?
Elite 45h comes in on-ear design, with earcups that resemble a telephone speaker. Even though they push directly on your ears, headphones are exceptionally comfortable to wear. Accompanied with nicely padded headband, you can easily wear these for quite some time.
Battery life is simply perfect for a product like this. You can expect a 50-hour battery life with a single charge. And if you feel like the battery is about to die, a simple 15-minute plug-in brings another 10 hours of playback.
Even though there is no active noise canceling as with the bigger brother, you can still connect these with a mobile app to change controls and EQ.
The Bad
A fair amount of sound leakage.
Ears can get quickly hot, especially during summertime.
The Sound
Quite fun and energetic, with plenty of punch in the bass region. Fortunately, the midrange isn't affected by that, giving you a reasonably natural performance. On the opposite side, the treble can be a bit edgy at times.
Jabra Elite 45h are a superb on-ear with great sound and comfort. They're also built very well, with a useful mobile app.
---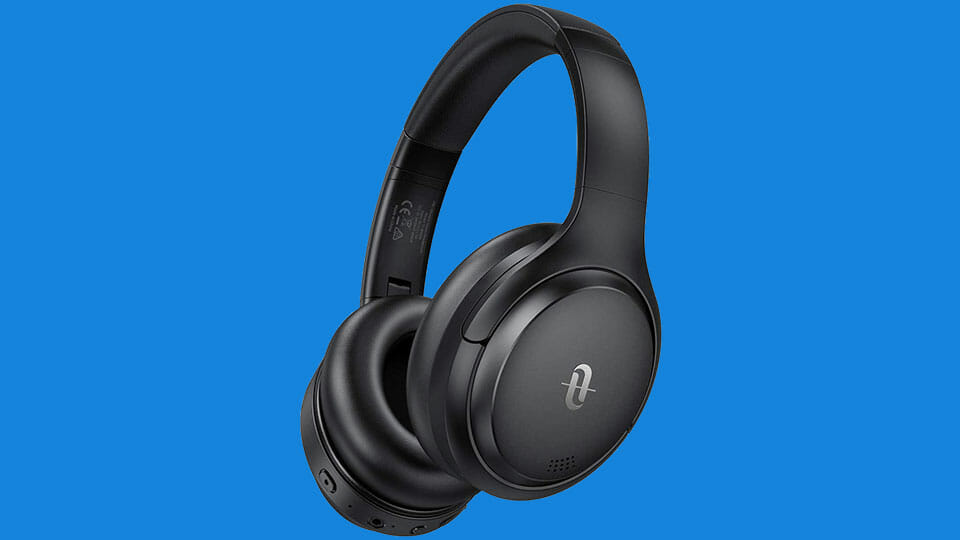 If you seek peace and quietness, maybe these wireless headphones can help you. BH090 can offer you good noise-cancelling performance with strong battery life.
Type: Over-ear
Connection: Wireless, Bluetooth 5.0
Battery life: 35h
Why Buy These?
Their design may be a bit generic and similar-looking throughout the whole TaoTronics lineup, but they're genuinely great Bluetooth headphones. They're made very well, with matte black plastic and cushy earpads that go around your ears.
Noise-cancelling effect is quite good for cans that only cost $60. They do a good job eliminating constant noises like plane engines or AC at your office. They're not as effective with people's chat, but the difference is noticeable nevertheless.
The battery life of 35 hours can last you at least a few days of use. They also support quick charging (extra 2 hours of just 5 minutes) and come with a 3.5mm connection if the power socket is out of sight.
The Bad
They might not fit people with bigger heads.
The Sound
While they're not audiophile wireless headphones, they can still produce entertaining sound quality with good punch and smooth treble.
With good ANC, enjoyable sound, and sturdy build, TaoTronics TT-BH090 will not disappoint you. For under $60, it's hard to find anything better.
---
7. Treblab Z2 – noise-cancelling alternative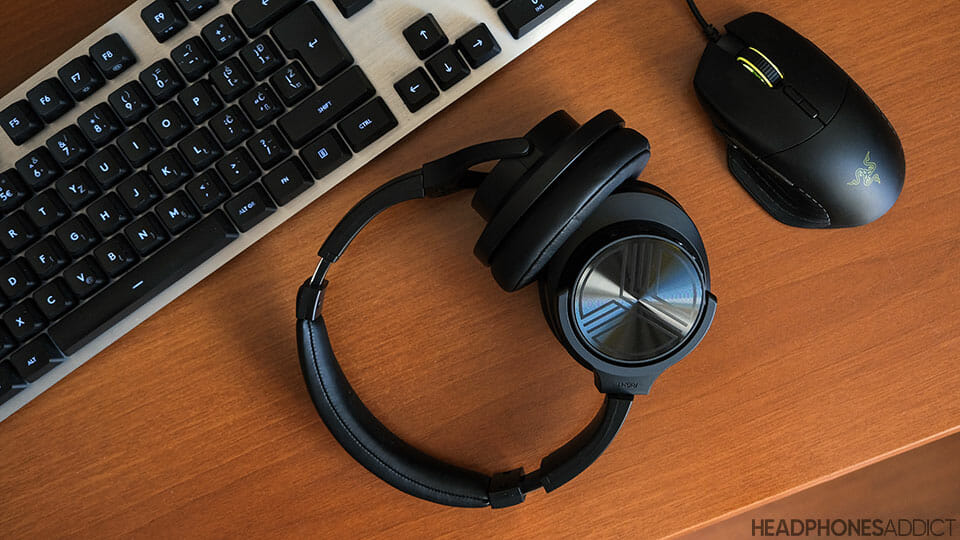 Comfortable noise-cancelling pair of headphones that feel premium but come at a low price.
Check our Treblab Z2 for more info.
Type: Over-ear
Connection: Wireless, Bluetooth 5.0
Battery life: 35h
Why Buy These?
These are full-sized Bluetooth headphones with active noise-cancellation that work reasonably well in most situations, especially if you want to take them on public transport to cancel out annoying engine noise.
These wireless headphones are built quite well, with plastic that feels soft to the touch. Earpads are decently padded, while clamp force ensures these are not falling off your head that easily.
You're looking at around 35 hours without ANC and slightly above 20 hours of battery life when the noise-cancellation is doing its job.
The Bad
Micro-USB port ruins the experience of holding a truly premium product.
The Sound
Audio output changes significantly when you turn the ANC on or off. If disabled, the sound is quite bass-heavy and warm, with lots of details being lots under a meaty low-end. On the other hand, if ANC is enabled, the overall signature gets brighter, with less bass and more focused presentation. While the latter sounds more HiFi, the rumble from before is practically gone.
Treblab Z2 are doing an excellent job delivering as much as possible for the given price. If you don't mind the changes in sound quality, they're worth the money.
Read our full Treblab Z2 review.
---
8. AKG Y500 – best under $70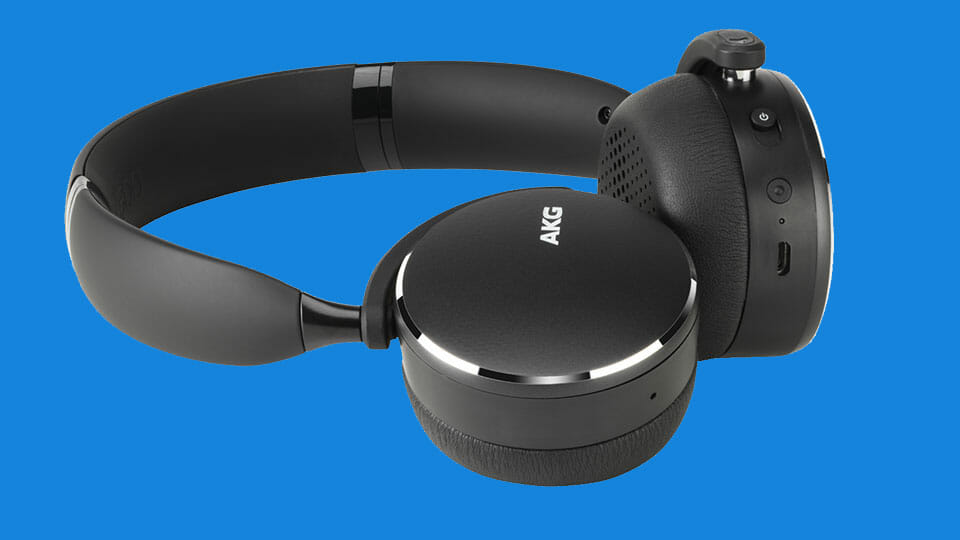 Stylish wireless headphones with on-ear design for those who want to attract some attention on the street.
Type: On-ear
Connection: Wireless, Bluetooth 4.2
Battery life: 33h
Why Buy These?
Y500 are the best headphones for everyday commute. They're made from rigid plastic and aluminum cups, with brushed edges that make them shine. Earcups can swivel so that you can lay them flat on your chest when not in use.
While they don't support noise-cancellation, they do have an "Ambient Aware" feature, making you more aware of your surroundings, therefore safer. And when you take them off your head, a proximity sensor automatically pauses the music.
A 33-hour battery should last you more than a few days of use. For connectivity, they use Bluetooth 4.2, with built-in controls on the cups for hands-free operation.
The Bad
The clamping force might be a bit too strong, causing discomfort after a while.
The Sound
Quite impressive, considering the price. It's overall smooth with plenty of detail in the midrange and treble. Vocals seem very natural and refined, truly a feast for your ears.
AKG Y500 are by far the best pick at their price range. Everything from the sound to durability is excellent. However, that clamping force might turn some people off.
---
What's the Best You Can Expect from under $100 Headphones?
The headphones under 100 dollars usually aren't the best headphones companies can offer, neither are the worse or cheapest.
They stand in the middle between the two poles, which often means they offer the best value for your money.
Considering battery life
Flagship headphones that cost hundreds of dollars come with a better battery capacity often up to 40 hours on a single charge.
For under $100 you should expect anything from 20-30 hours, which is pretty decent.
On the other hand, budget headphones, those under $50 usually last even less.
What about comfort?
Most headphones today have an ergonomic design and decent materials, you can expect high comfort even if you pay less money for them.
It largely depends on the specific model and not so much on the price. In-ear headphones can be very comfy with the right eartips (we recommend memory foam).
Bluetooth functionality
Wireless Bluetooth technology used to be more expensive, but today even the cheaper headphones come with the latest versions.
You can find Bluetooth 5.0 (latest version at the time of writing) in under $50 price range.
You can easily expect one of the latest Bluetooth versions from headphones under $100.
Build quality
Just like with comfort, 100 dollars is still quite a bit of money. And companies cannot afford to sell badly made products, so most are well made with sturdy materials and thoughtful design.
How do they sound compared to high-end headphones?
Because what is considered high sound quality is largely subjective, it's hard to answer this.
Generally, you can get excellent audio quality in cheaper, mid-tier, and high-end headphones if you know what to look for.
A pair of headphones under a $100 price range can sound great if do a bit of research.
Bassheads should go for bass emphasized sound, audiophiles for neutral, and if you're on the fence and just want something that sounds good for all music, go for balanced or slightly V-shaped sound.
The less colored sound, the more likely it will be suitable for all music types.
All in all, you might not get the best of the best currently available in the headphone world for less than $100, but pretty close to it.
What other feature or aspect would you like to know about? Let us know in the comments.
Why Should You Buy Bluetooth Headphones under $100?
Headphones priced at around $100 are right between the most expensive and cheapest headphones. They offer the best balance between value and price, thus are a popular choice of many.
You can expect high-quality materials, good sound and comfort, and the latest (or one of the more recent) versions of headphone technology.
Comments