Sports
Best Sounding Workout Headphones: High Quality
What are the top workout headphones with the best sound quality?
Comparison of Workout Headphones with Best Sound Quality
Picture
Model
Rating
Price
Battery
Sweat-proof
(IPX Rating)
Mic &
Remote
BEST OVERALL

Jaybird Vista
4.3
$$$$
($120-$200)
6h
10h in case
Yes
IPX7
Review
RUNNER-UP
Jabra Elite Active 75t
4.1
$$$$
($120-$200)
7h
20h in case
Yes
IP57
Review
BEST BASS
Beats PowerBeats Pro
4.4
$$$$
($120-$200)
11h
24h in case
Yes
IPX4
Review
BEST SOUND
Sennheiser Momentum True Wireless 2
4.2
$$$$$
($200-$300)
7h
28h in case
Yes
IPX4
Review
BEST WIRED IN-EAR
Shure SE215
4.4
$$$ ($80-$120)
/ (wired)
Yes
/
Review
BEST BOSE

Bose SoundSport Wireless
4.0
$$$$
($120-$200)
6h
Yes
/
Review
BEST OVER-EAR
Treblab Z2
4.4
$$ ($30-$80)
35h
Yes
IPX4
Review
BEST BUDGET
Aukey Series B80
3.4
$ (<$30)
8h
Yes
IPX6
Review
After considering more than 30 headphones, these are the top picks for great sound quality in workout headphones.
We considered suitability for working out; sweat-protection, durability, comfort, and fit plus, obviously, sound quality.
---
Related guides:
The best Bluetooth workout headphones in general
The most-suited headphones for running
---
Wireless Bluetooth Workout Headphones with Best Sound Quality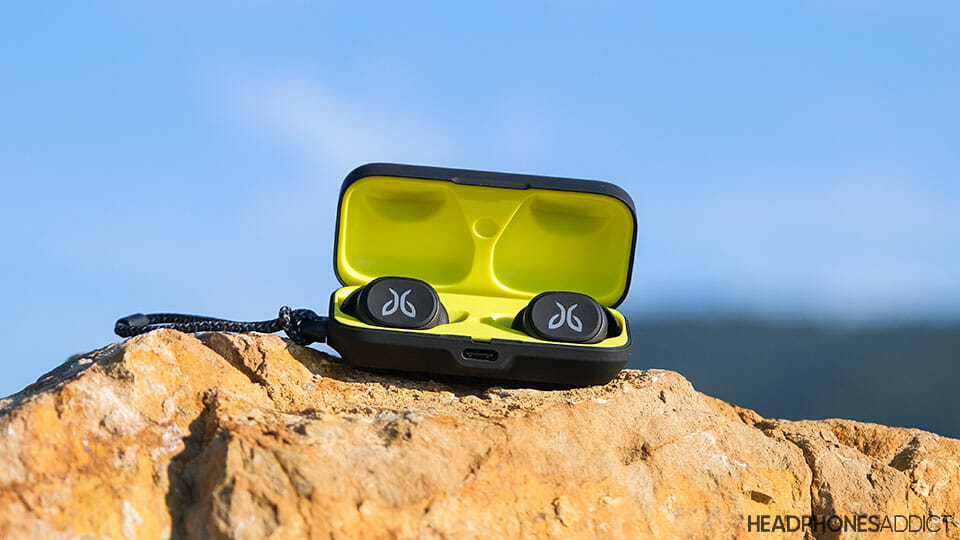 Best sounding workout headphones right now
You work out a lot and need great-sounding headphones to keep you entertained? Then look no further.
Why Buy These?
These earbuds are exceptionally durable. They come with IPX7 water-resistance, giving you the option to rinse them in water to clean them after the sweaty workout. More so, you don't have to worry about them falling on the floor. They have the MIL-STD-810G military standard to ensure high durability.
The battery is relatively decent, with 6 hours per single charge, and another 10 spare hours waiting inside the charging case. There is the option to quickly charge them, getting you an hour's worth of battery in just 5 minutes.
These earbuds are very comfortable to wear, with a secure fit. In our test, we took them for a run, and we never felt like they're about to fall out.
The Bad
The microphone could be better, much better.
The Sound
Exceptionally good once you tweak it inside the mobile app. Out of the box, it's somewhat harsh, with the forward midrange. Thankfully, you can change their sound whatever you like with the EQ. The result is a punchy, energetic sound.
Vista's are one of the best sounding earbuds out there, with extra durability for a more complete package.
Check our Jaybird Vista review.
---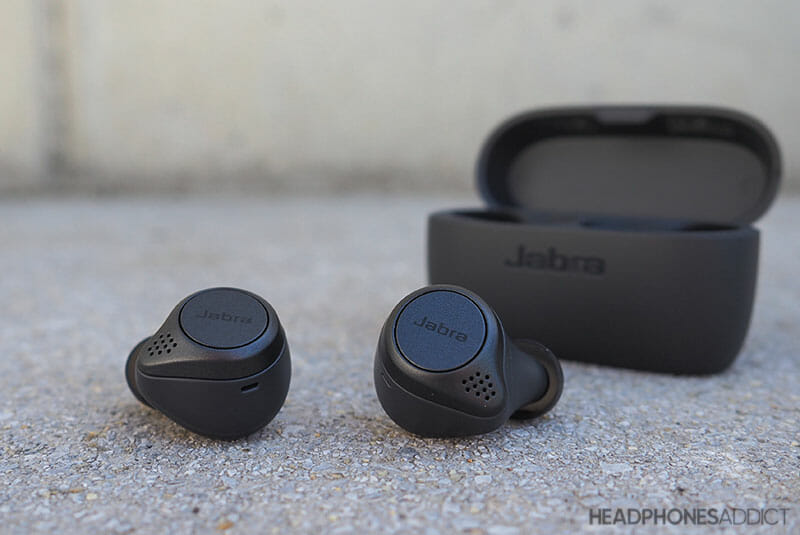 One of the best headphones for workouts right now
Ranking top spots in many of our best guides, these earbuds deserve to be on this list as well.
Why Buy These?
Compared to slightly cheaper Elite 75t, the Active model offer better water protection (IP57 rating), while also coming in more different colors.
They provide exceptional ergonomics and comfort. Housing is designed in a way that doesn't require ear fins or hooks to ensure stability during workout.
Jabra's also come with HearThrough awareness mode, which is helpful if you tend to run near a busy road or want to talk to people without taking out your earbuds.
The Bad
You can only use the right earbud for mono listening.
The soundstage is rather small.
The Sound
Out of the box, the bass is boosted, making them great for sportspeople and bassheads. However, if you want to tame them to the point of sounding more natural, you can do that inside the app's EQ. Like the Jaybird Vista, the sound can be fully customizable.
Jabra's can do it all. They're comfortable, great-sounding, and are suitable for all kinds of sports thanks to the IP57 protection.
Check our Jabra Elite Active 75t review.
---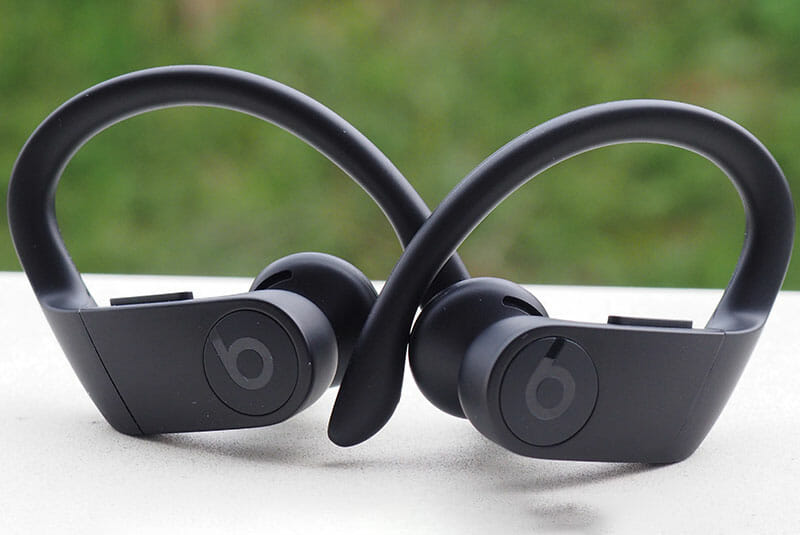 The best bass in sport-oriented truly wireless buds
When looking for bassy sound and ultimate stability during movement, PowerBeats are your best choice.
Why Buy These?
Apart from their signature sound, they also make good workout headphones. PowerBeats Pro have an ear hook design that firmly grabs your ear, not letting go during rapid head movements.
Earbuds are made from durable hard plastic, protected by IPX4 water-resistance. Although to us they aren't the most comfortable out there, many users say they can wear them for hours without any irritations.
What makes these class-leading is their battery life. Despite advertised 9 hours, we got 11 hours of battery out of these, which is fantastic. You get an additional 24 hours from the charging case.
The Bad
The large charging case feels cheaply made.
The Sound
Although Beats improved over the years when it comes to sound quality, they're still very "Beatsy". There is a distinct V-Shaped signature, with boosted bass and treble, and slightly subdued midrange. Fortunately, the low-end is much more controlled compared to older models.
These true wireless in-ears from Beats offer their improved signature sound with impressive stability and durability.
Check our Beats PowerBeats Pro review.
---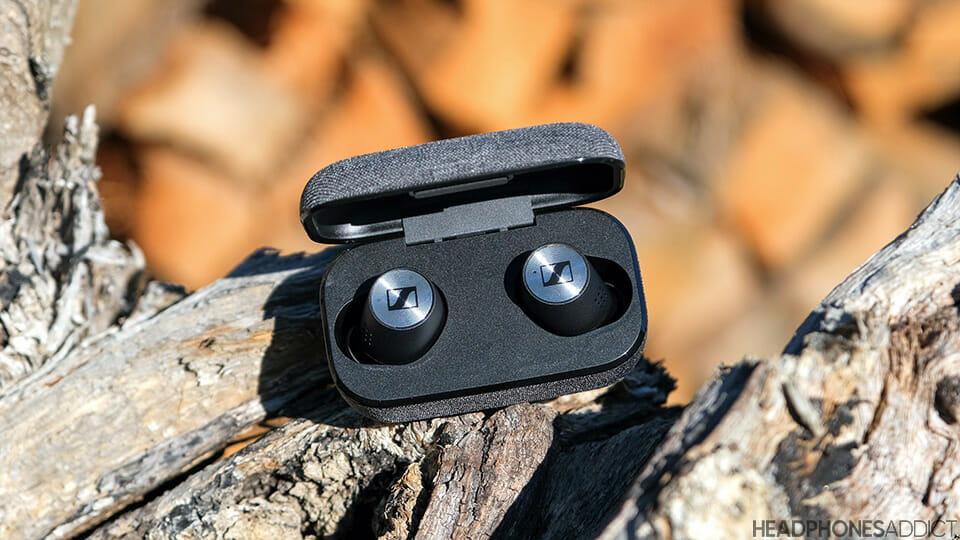 Wireless in-ear headphone with the best sound quality
Fantastically sounding buds that you can wear during workouts.
Why Buy These?
Comfort is one of the essential characteristics when picking your next workout headphones. Momentum 2 can deliver both great comfort and stable fit, despite the lack of support for ear fins or hooks.
You're also getting some premium features like active noise-cancellation LINKZ and Transparent Hearing.Buds can also connect via a companion app for changing touch controls and fine-tweaking the sound.
Battery life is pretty good for wireless buds of that size, giving you roughly 7 hours of playtime with another 28 hours packed inside the charging case. Buds can also quick charge, giving you extra 1.5 hours of playback in 10 minutes.
The Bad
No included foam tips for even better isolation and stability.
The Sound
One of the best you can get right now in terms of refinement and detail. They're a bit bassy out of the box, but they really start to shine with slight EQ, with the lush midrange, rumbling low-end, and shimmery treble.
While the price is quite steep, Sennheiser Momentum True Wireless 2 can offer you many more than just sound, making them an exceptionally well-rounded choice.
---
5. Shure SE215 – best wired in-ear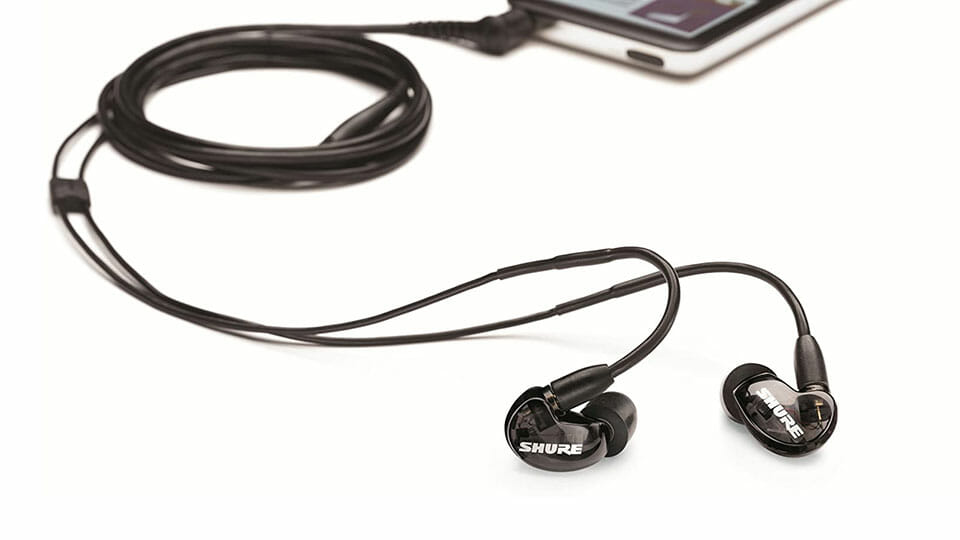 Audiophile-grade in-ear monitors
Of course, you can use in-ear monitors during your exercise. Shure SE215 are sweatproof, comfortable, and sound amazing.
Why Buy These?
These earbuds are built very well, with long-lasting durability. You can also change the cable if the original one gets damaged or prefer a fancier looking one.
Housing is very lightweight and super comfortable. Because of their design, you need to wear them with the wire going behind your ears. That is great for reducing cable noise, and weight distribution.
They don't offer ANC, but they still isolate incredibly well. Even though they don't explicitly state these are water-protected, manufacturers claim you can easily get them a bit sweaty.
The Bad
Some might not like the way you need to wear these.
The Sound
If you like smooth, inoffensive high-end, these might be perfect for you. The trebles start rolling-off relatively quickly without losing too much detail. The bass is punchy and boosted, providing a noticeably warm sound signature. Making things even better, they're great at imaging and sound staging.
Shure SE215 tick a lot of boxes. Comfort, durability, sweat-resistance, and fun sound quality. These can be a great gym partner.
---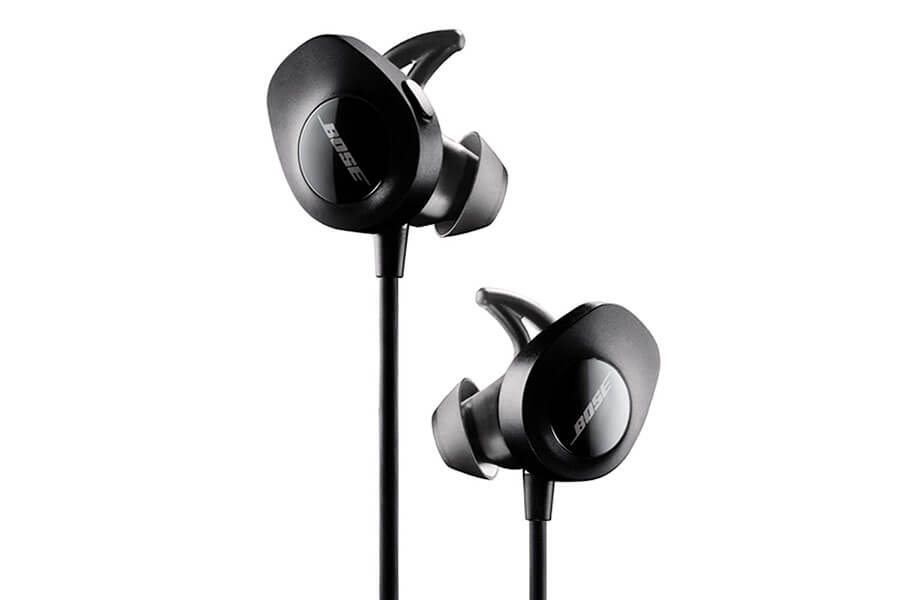 Workout wireless headphones with the best sound quality
Bose SoundSport Wireless are the best sounding workout headphones for most people.
Why Buy These?
Bose is known for its amazing comfort and SoundSport Wireless headphones are no different. These buds are so comfortable you'll soon forget you're wearing them. With secure fit (using ear hooks) they are suitable for all sports.
The semi-open design makes these wireless workout headphones great for running or sports outside but not so good for loud gyms. The battery life holds a charge for solid 6 hours. You can control the music with a built-in remote and make calls with its microphone.
These Bluetooth workout earbuds are well made and have a thought-through design that's sweat-proof. Generally, these tend to do very well in all workout situations.
The Bad
Noise isolation is less effective than with other in-ear earbuds.
The Sound
They have just the right amount of bass that gets you going harder. Add clear highs with good detail and respectable mids and volume and you get one of the best sounding workout headphones at the moment.
The right combination of clear highs, strong, fun bass, and good volume is what you'll appreciate the most. Combine that with great ergonomics and usability and you have a winner.
---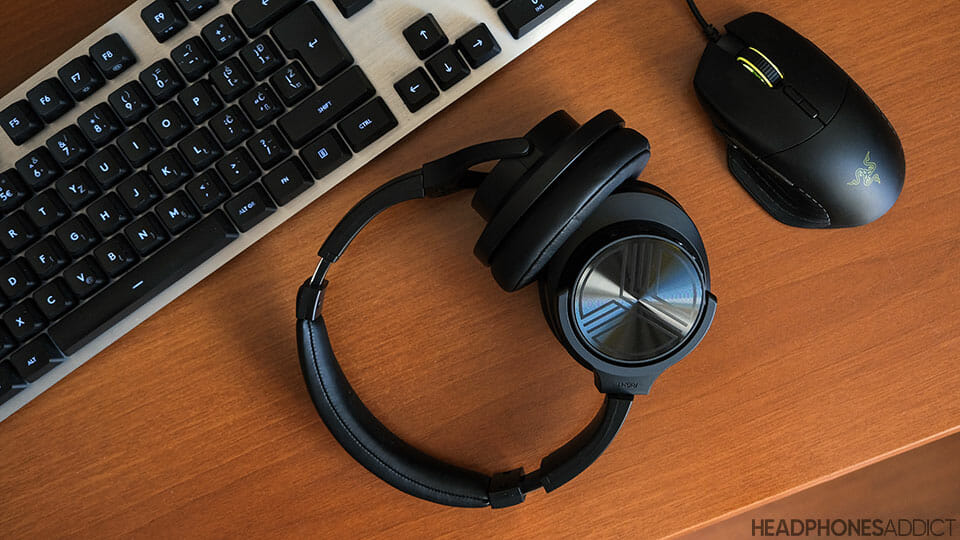 Best over-ear workout headphones with ANC
These are great to commute, as well as for working out.
Why Buy These?
Headphones are made from plastic that has a soft finish to it and feels good in the hands. They come with a chunky battery life of 35 hours, which can last you more than a couple of days.
Earcups can swivel at 100° so you can lay them flat on your chest when you stop listening. Comfort and fit are excellent, despite the gentle clamping force.
Treblab equipped these with active noise-canceling, which works great if you want to eliminate low-end hum. They're suitable for office work, commuting, and exercise, thanks to their IPX4 rating.
The Bad
Enabling noise-cancellation affects the sound significantly.
They can get a bit sweaty.
The Sound
When you disable ANC, the bass takes over the mix. It can bleed into the midrange, masking the fine detail you otherwise hear. However, turn the ANC on reveals the exceptional clarity for the price. Everything sounds sharper, with better resolution. Sadly, the bass goes to the other side of the spectrum, lacking the power to balance itself.
Treblab Z2 might have its flaws, but they're still an excellent buy if you tend to use them for working out.
---
A most affordable option for best sound
They are stylish and sound good, especially if you want to use them for sport.
Why Buy These?
Earbuds are connected with a wire, so losing them can be a difficult task. They come with a "behind the ear" design, which ensures better stability and less microphonics.
They're very lightweight, which is essential when you look for comfort. Included foam tips provide you with an even better fit, so they don't slip out during an exercise.
You can expect around 8 hours of playtime with these. While this is not amazing for today's standards, they can quickly charge via USB-C port.
The Bad
At lower volumes, there is a constant pink noise present. Thankfully, it goes away when you crank up the sound, although we don't recommend doing that.
The Sound
B80's have dual drivers inside the housing: one is the balanced armature, and another is dynamic. The combination of two is responsible for high-quality sound, with deep, punchy bass and clear treble.
If you want something that provides excellent stability during movement, you should check these. They're very inexpensive, have good sound quality, and are comfortable to wear.
Check our Aukey Series B80 review.
---
Looking only for wired sports headphones?
What's Important for Sound Quality in Wireless Bluetooth Headphones?
The only thing you need to know is that Bluetooth slightly lowers the sound quality of your music.
Before music is sent to your headphones it has to be changed into the signal. Because the wireless signal carries less data than wires it compresses the music into "smaller pieces". But when this happens you lose some audio quality.
While there are many innovations in headphone technology, Bluetooth seems to be the most popular way to transfer music in workout headphones.
Bluetooth codecs
Thankfully, lots of modern Bluetooth headphones, even those made for working out, use special codecs which improve the process of compression. Most-known are aptX, LDAC, aptxHD, AAC, and SBC.
There are more and better ones being developed all the time. This is good news for Bluetooth headphones.
So if you want to get better sound quality from your workout headphones, get ones that support aptX or other Bluetooth codecs.
Quality Bluetooth transmission is very important for sound quality in wireless Bluetooth headphones.
How to know if my music device supports Bluetooth codecs?
If you have one of the newer smartphones it probably already supports multiple Bluetooth codecs. The most common is probably Qualcomm's aptX.
In most smartphones, you can select which Bluetooth codec you prefer. You can also check your phone's specifications. You can usually find them on the manufacturer's site.
Noise isolation
Apart from efficient Bluetooth transmission, noise isolation is also important for good audio quality.
To hear the most details you always need peace and quiet. You can't really enjoy your music if it's being interrupted by the sound of heavy traffic all the time.
This is why headphones with good sound isolation are more enjoyable in non-quiet places. Basically, the only quiet place is your home, at least for most people. So if you want to use them anywhere else, passive noise isolation plays a role.
Drivers
The quality of the drivers and how they're set up is important in all headphones, including wireless ones. Unfortunately, you can't really check any stat or data to know the quality of the sound you'll get.
It all comes down to personal preference which means it's impossible to know before trying.
The best you can do is check the reviews of other people. What other people say about a particular headphone model can be of great help in making a decision.
What Makes a Particular Set of Headphones Good for Working Out?
The basic requirements for a good pair of workout headphones are pretty straightforward.
Water-resistance
Since we all sweat during exercise, sweat-resistance is very important for your Bluetooth sport headphones.
Electronics is known to be very weak against water and moisture. Things can quickly break and stop working because of a small drop of water in the right circuitry.
Thankfully, many modern headphones for sports have some kind of water-resistance level. The water-resistance is most often measured with an IPX standard, explained here.
The higher the claimed IPX rating is, the better the protection from water. Some headphones can even survive a dip in the water and heavy rain.
Physical resistance
There's a lot of badly made headphones out here. Headphones that fall to the ground once and stop working. You want to avoid these.
Since you're always moving around during exercise there's a higher chance you drop your headphones.
The best Bluetooth headphones for working out are made from durable materials and in a compact and sturdy design that doesn't break easily.
It's really hard to measure up front, but you can get a pretty good idea if you take the headphones in your hands and feel how they're made.
Comfort & fit
Comfort and fit are important with all headphones, but even more so with workout ones. Because if your ears get irritated during a workout when you need to focus on actually working out, you'll only get annoyed instead of motivated by music.
Since movement can change how the headphones fit on your head, this can change comfort in between working out. You don't want this.
Good fitness headphones need to stay put comfortably on your head or in your ears, even during fast movement or unusual positions.
Sound quality
Sound quality also plays a role since you simply won't enjoy listening to headphones if they sound bad.
In a workout environment, you probably won't be looking for sonic fidelity but good enough sound quality that is fun to you. This can mean many different things to different people.
Generally, if you like how certain headphones sound nobody can tell you they have low sound quality. On the other hand, there are a couple of standards that are important to most people.
For most users having clear highs, a strong, deep bass, and being loud enough is good audio quality.
Usability
Having wireless headphones is definitely more convenient so this might be one of your requirements for good workout headphones.
Having the ability to control music and calls with built-in buttons might be another thing you want.
There are many different types of headphones on the market today. Finding the ones best for your needs is important.
Could be interesting; The benefits of noise-canceling headphones. Check the best noise cancelling earbuds guide.
Do Expensive Headphones Always Last Longer than Cheaper Ones in the Gym?
After looking at hundreds of headphones we are willing to claim this is usually true but not always.
You can still get headphones with great build-quality and durability for an affordable or even cheap price. Though this is more of an exception than a rule.
On the other hand, there are some expensive headphones from "Premium" brands that don't offer good durability. You're mostly paying for a brand name.
Expensive workout headphones will usually last longer in the gym, but you can sometimes still save money by buying cheap headphones simply because they're so cheap.
Compare buying 5 pairs of workout earbuds for $30 to 1 pair for $150. Both cost $150. But it's very unlikely all 5 cheap pairs to die out earlier than the more expensive one. It all comes down to your personal preference.
A lot of headphones die because of moisture. Cheat the water by getting yourself a pair of swimming headphones.
Is Sound Quality in Headphones Subjective?
What is considered high sound quality is a matter of preference.
Generally, most people want a clear sound with strong bass and loud enough volume. Whether working out in the gym or outside this is the preferred audio quality for most users.
Why is it Worth Getting Workout Headphones with High Sound Quality?
Enjoyable sound quality is important because it impacts your performance in the gym or at other activity.
Benefits of using workout music are many and proven. It has an effect on your perception of pain, endurance, improves mood and overall makes you stronger, and faster. So pick your favorite music and get moving, you will get better results.
---
Disclosure: We might receive affiliate compensation if you purchase products via links on this page. This is how we purchase headphones for new reviews and keep the site adds-free. In spite of that we do our best to tell the truth about every product and don't favor any one brand or model.
Comments