Are the Treblab xFit a worthy purchase under $50 or should you avoid them?
Our Conclusion
Treblab XFit are one of the best true wireless earbuds under $50. They offer competitive battery life, wireless performance, comfortable fit, and good sound quality.
They're a perfect choice for you if you want to spend little money on decent true wireless earbuds. Now, you won't get the latest and best this type of headphones has to offer, but enough for good user experience.
Though, they do have their own problems. When you smile or move your ears even slightly, the fit becomes loose.
Overall score: 3.6 points (out of 5).
PROS & CONS
Compact
Low price
Waterproof – IPX6
Well built
Comfortable
Weird fit
No volume control
Shorter battery life
Treblab xFit offer great value for money for a budget-conscious user who wants to get good true wireless earbuds for less money.
---
Related articles:
Best Bluetooth headphones under $50
Best true wireless earbuds under $50
Best wireless Bluetooth earbuds under $50
---
Specifications
Type: in-ear headphones
Connection: Wireless – Bluetooth 5.0
Back-design: Closed-back
Headphones
Driver size: 6mm
Frequency range: 20Hz – 20,000Hz
Impedance: 16 ohm
Weight: 0.5lbs (227g) (first in ounces, then in grams with brackets)
Cable length: n/a
Microphone & Controls: Yes (built-in)
Water-protection: IPX6 waterproof (but not for submerging)
Wireless
Bluetooth: 5.0
Battery life: Around 5 hours (+25h in the charging case, 30 hours altogether)
Charging time: Around 1 hour
Active noise-cancelling: No
Charging cable: Micro-USB connects to the charging case
Bluetooth codecs: AAC, SBC
Wireless range: 33ft (10m)
Microphone
Type: Built-in microphone
Mic design: n/a
Mutable: No
What's in the Box?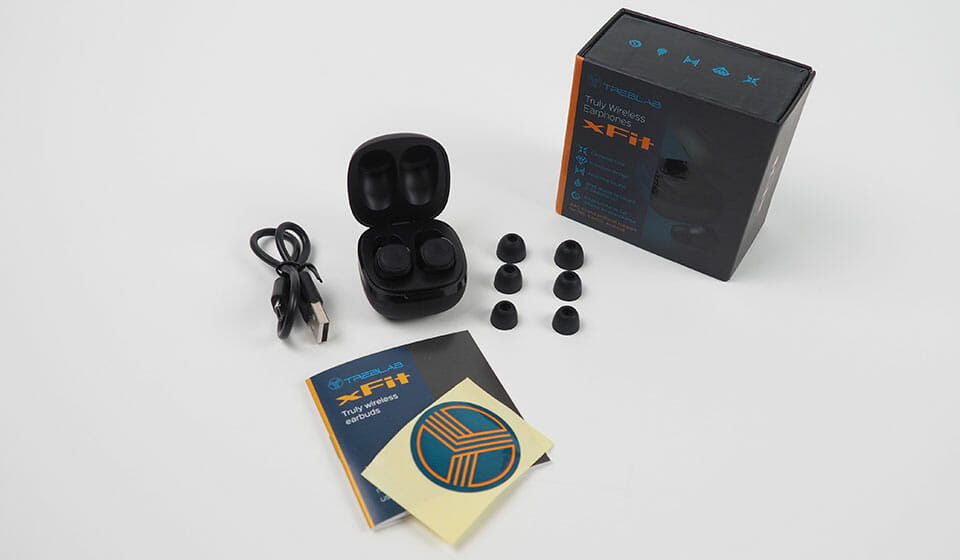 Treblab xFit TWS earbuds
Charging case
Micro-USB charging cable
3 pairs of silicone ear tips (S, M, L)
Treblab logo sticker
User manual
Comfort & Fit – 3.5/5 Almost Great
Treblab xFit are very comfortable true wireless earbuds, they fit in the ears well, and you barely feel them thanks to their lightweight design. And while stability is excellent even during movement, if you move your ears, like during eating or smiling widely, the buds lose the fit. You have to readjust them from time to time.
Thanks to an ergonomic design, they're comfortable, and you barely feel them in the ears, no complaints here.
With high water protection (IPX6), these definitely fall into the workout earbuds category. Once you put them in snugly, you can move your head around without worry.
You can run, jog or lift weights and the wireless earbuds stay in.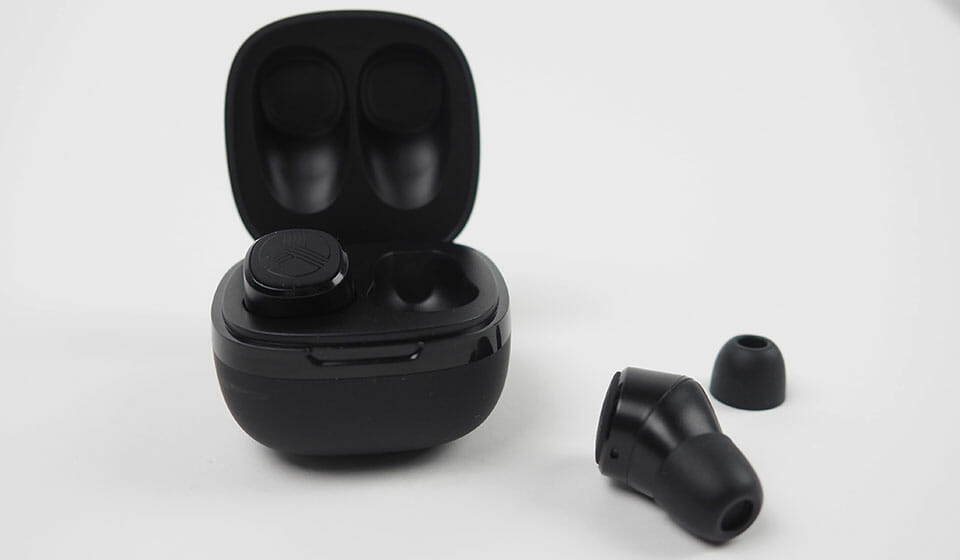 But the problem shows up when you move your jaws and ears a tiny bit too much. The earphones are very sensitive to ear movement, and you lose the airtight fit quickly.
Still, they don't fall out, but you do notice a difference in feeling and audio quality. For that reason, you feel urged to keep readjusting them often.
Nonetheless, if you listen to music during a commute or a walk and you don't move your ears, then the fit is perfectly fine.
Eartips
You get 3 sizes of regular silicone tips for decent noise isolation and comfort.
Noise Isolation – 3/5 Good
If you fit them in snugly, you get good passive noise isolation that blocks a lot of background noise. But when you move your ears, you lose the airtight fit, and with it, a great deal of isolation as well.
As is usual for in-ear headphones, noise isolation is above average (passive noise cancellation). You can focus on your music and forget about the noise of the world.
But there's one requirement. You need to maintain an airtight fit, which is harder to do with the xFit.
Like mentioned before, moving your ears too much will make them lose the noise reduction. So, talking expressively, smiling widely, or yawning breaks it.
Wind noise
Thanks to the compact design, the wind doesn't create a lot of noise.
Bluetooth – 4/5 Great
Treblab xFit have Bluetooth 5.0, which promises 33ft (10m) range and reliable performance over 1 wall. The connection is stable and without interruptions. But the 2nd wall creates problems.
Bluetooth 5.0 has a similar performance across brands and devices, and this one isn't any different.
You can expect a dependable connection in most situations.
The only time the earphones start losing the signal is when you put 2 walls between you and your music device.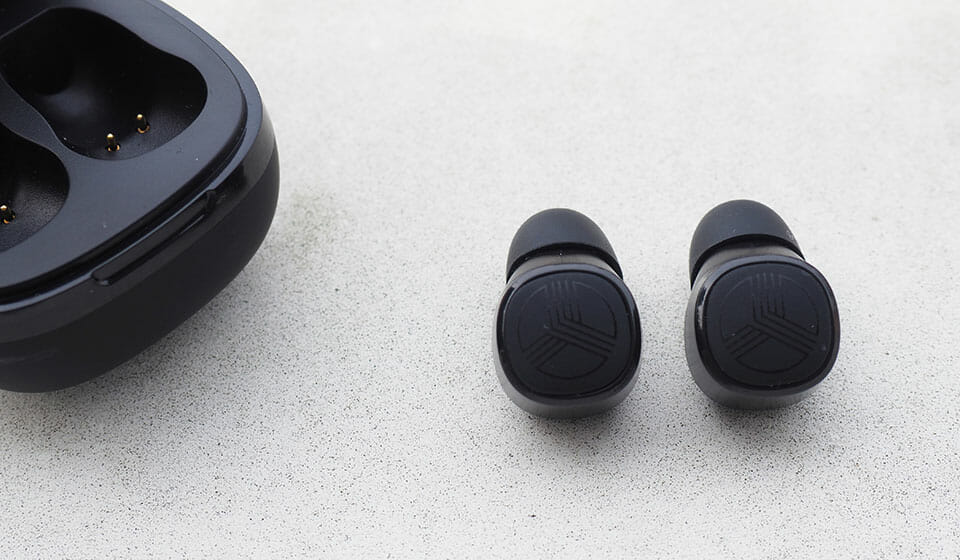 How to connect?
After the initial connection, the earbuds find your device automatically when you take them out of the charging case.
If you listen in, you can hear the voice prompt telling you when they're connected.
Additionally, the earbuds support SBC and AAC Bluetooth codec (AAC works with iOS and Android).
Battery – 3.5/5 Almost Great
You can expect around 5 hours of battery life per charge from the xFit. There are an additional 25 hours in the charging case for 30 hours altogether (approx.). You fill them up with a Micro USB charging cable.
You might think 5 hours isn't as long as the monster 9 hours+ from PowerBeats Pro. And you're right.
But you're paying a fraction of the price, so you can't expect the same performance. In the price range of under $50 4 to 5-hour, battery life is the best you can hope.
Now, officially the battery life is promoted as 4 hours at full volume. But you don't want to listen to max volume if you wish to keep your hearing.
At half volume, which is perfectly normal, you can expect around 5 hours of music.
The charging is pretty quick and takes about 1 hour. It starts from the moment you put the true wireless earbuds in the case.
There's no battery indicator on the case, but that's a more premium feature, so it's fine. You can always check the battery level on your smartphone.
Durability – 4.5/5 Almost Perfect
The build quality of Treblab xFit hides their affordable price well. You can't know these are so cheap. A nice black finish with high water resistance (IPX6 waterproof rating) looks premium.
The earbuds are well put together; the high-quality plastics with rubbery multifunction control buttons create a sleek look.
If you want to use them for working out, they're perfect for the job. With IPX6, you can expose them to a lot of water and sweat without damage.
The only thing that is likely to deteriorate soon are the painted "left" and "right" marks on each side. Due to friction, you can expect it to "disappear" over time.
Also, the charging case is one of the smallest we've seen in TWS earbuds. But compact doesn't mean cheap. It feels sturdy, and you'd be perfectly happy with it even if you paid $150.
Warranty
1-year warranty when you register the product.
Features – 3.5/5 Almost Great
The built-in microphone is good enough for phone calls in quiet places. Voice commands work the same way.
Voice control is easy to use. There's a beep that tells you when to say your command.
With controls, you can:
Play/pause
Skip/previous song
Accept/reject a phone call
Activate voice assistant
You can't control volume, which is a shame.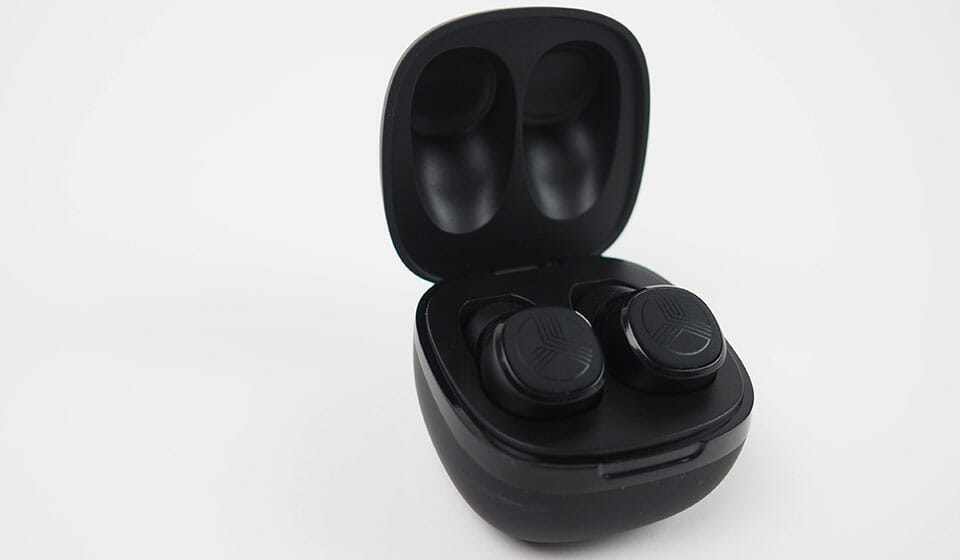 Accessories
You get only the basics.
The charging case & cable
3 pairs of silicone eartips (single flange)
Treblab logo sticker
Sound – 3.5/5 Almost Great
The xFit earbuds have a clear emphasis on deep bass. It's boosted to give more power, but the end effect muddies the frequency response. Nonetheless, the sound quality is good enough for daily use.
You can't expect an audiophile-like sound from $50 true wireless earbuds.
These are geared towards a more general audience who prefers stronger bass. A keen ear will hear it's not the most precise and detailed, though it has power.
Also, the treble is decent. There's a lack of sparkle compared to higher-end models, but that's expected with budget headphones.
When you put them in snugly, the bass has a strong deep response that's the centerpiece. When you don't want that, you can let in some air, and the lows will dissipate.
On the other hand, listening to audiobooks is perfectly fine. The voices come through clear.
Why Buy Treblab xFit?
Overall score: 3.6 points (out of 5).
If you're looking for affordable (under $50) true wireless headphones that are also suitable for working out, then the xFit earbuds are a great choice.
You can use them as a second pair of Bluetooth earbuds, they're great for a commute or listening to an audiobook during a walk. Basically, you get all the important functionality of a modern Bluetooth headset.
Though if you want better stability in all situations, with longer battery life, you'll have to pay more, check the Beats PowerBeats Pro.
Compared to similar wireless headphones:
Skullcandy Sesh (review): Have shorter battery life of just around 3 hours per charge and IP55 (IPX5) water resistance (the xFit have IPX6) but come with a typical bassy Skullcandy sound.
Aukey B60 (review): These are similarly priced but aren't true wireless (there's a cable between the sides). They have a shallower fit that's better for awareness (running, cycling, etc.) and their battery life is longer at 8h. Plus, they have a more bass-light sound.
Soundcore Liberty Neo: These have about the same battery life, also boosted bass, but better water protection rated at IPX7 (you can submerge them).
More sports headphones:
Top waterproof Bluetooth headphones
Comments