Sports
9 Best Waterproof Headphones
The best waterproof headphones are at least IPX6 or higher rated for full water protection.
Comparison of Best Waterproof Headphones
As you probably know, water and electronics don't mix, and this usually goes for headphones too. Buying a pair of headphones for wet and rainy conditions is essential.
We've even included headphones for swimming, which are totally waterproof and suitable for use when submerged in water.
---
Related:
Best waterproof Bluetooth earbuds (not for swimming)
---
Best Waterproof Headphones
1. Jabra Elite Active 75t – best true wireless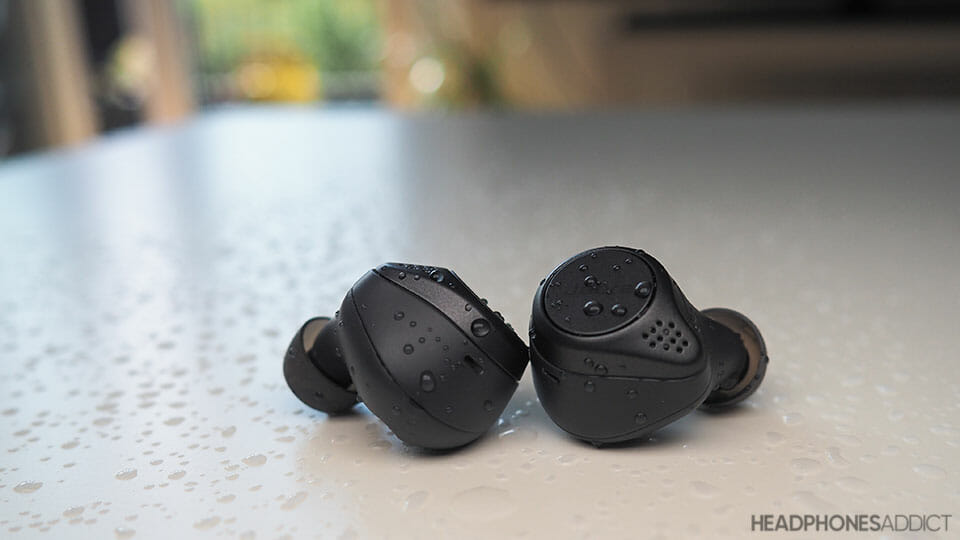 Best waterproof true wireless headphones
Jabra Elite Active 75t are the first true wireless earbuds from the brand that you can submerge (for up to 30 min in 3ft of water).
Best for: Any activity near water
Connection: Bluetooth 5.0
IPX rating: IPX7 (IP57)
Why Buy These?
Not only are these fully waterproof with IPX7 protection, but they also come with max dust/small particle defense as well (IP5X).
You can wash them in water, expose them to dust, and you don't have to worry at all. These are tough earbuds that last.
And all the water protection doesn't take away from other features.
The Jabra Elite Active 75t are very comfortable and stable with minimal readjustments even during movement.
You can customize a lot of features with the Sound+ app, and the physical controls are a breeze to use.
When you want to talk to your friends, a 4-microphone system provides clear phone calls wherever you are.
In addition, the battery life is better than ever with over 7 hours per charge and a quick charging option that gives 1 hour of music after 15 minutes.
The Bad
Slightly more expensive since they're in the premium category. Small soundstage.
The Sound
The Elite Active 75t are bassy with a clear emphasis on the lows. Thankfully, you can adjust the signature in the Sound+ app to your liking.
Thanks to the vents, the bass response is quite powerful, which is probably what most of you like. But when you want to listen to calmer music, you can tone it down.
For fully waterproof true wireless earbuds that can stand up to the water with great features, get the Jabra Elite Active 75t.
See the Jabra Elite Active 75t review.
---
2. AfterShokz Aeropex – best bone conduction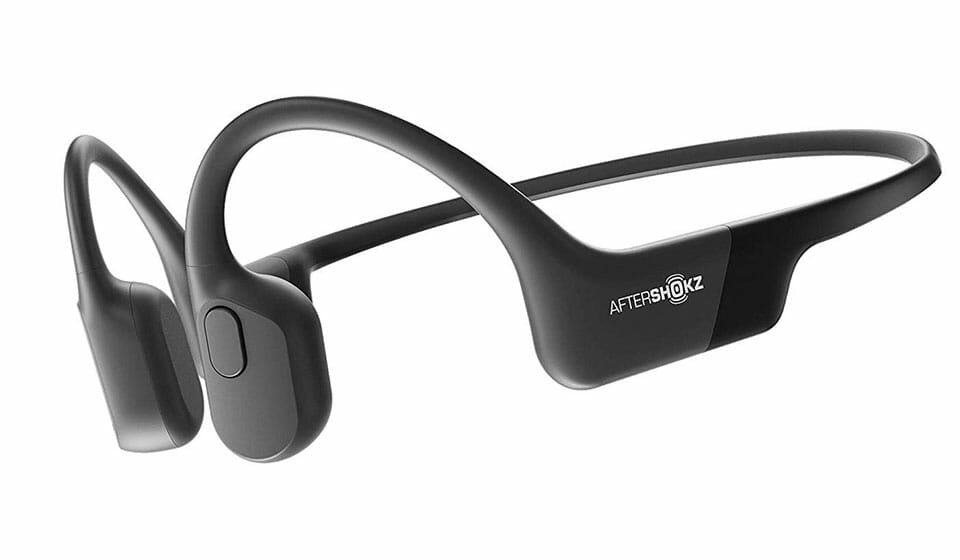 The best waterproof bone conduction headphones
Bone conduction headphones are becoming more and more popular. The clever design, combined with water resistance, gives perfect awareness of your surroundings, and the Aeropex are the best yet.
Best for: Above & near water, awareness
Connection: Bluetooth
IPX rating: IPX7 (IP67)
Why Buy These?
Bone conduction headphones vibrate through bones in the head rather than the ear canal. This means your ear canals are free for hearing what's going on around you, great for listening for potential dangers.
These include PremiumPitch 2+, which is a patented technology by the brand to help the bass to penetrate the mix and sound better.
They're lightweight at just 26g and have a titanium headband, which manages to be both durable and comfy.
The Bad
The design means that you can feel vibrations on your head. Not everyone enjoys this feeling, and it takes some getting used to.
The sound quality may also be a little bit lower than with traditional headphones.
The Sound
The audio quality is the best in bone conduction headphones yet and almost universally highly reviewed.
Compared to traditional headphones, they lack bass, but for the best possible bone conduction sound, there's no better than the AfterShokz Aeropex.
---
3. Swimbuds Sport – best earbuds for swimming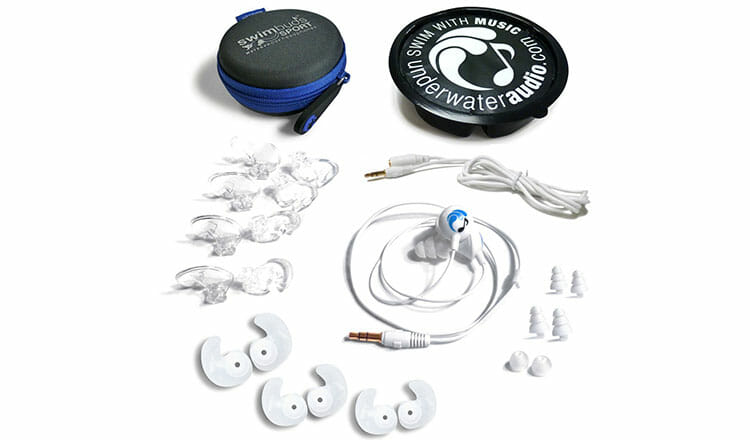 The Swimbuds Sport are your best option if you are looking for fully submersible swimming earbuds.
Best for: Swimming
Connection: Wired 3.5mm
IPX rating: IPX8
Why Buy These?
If you need headphones for underwater use, an IPX8 rating can give you exactly this functionality. Swimbuds Sport are perfect for swimming for hours on end.
They come with a waterproof casing and a short cord to attach to an MP3 player at the back of your head (the usual way to wear them). The eartips are designed to give you a watertight seal, and there are 11 pairs of tips included to help you find the ideal option for your ears.
The AUX plug is gold-plated, so it's resistant to water corrosion.
The Bad
Naturally, you'll have to buy a waterproof iPod or MP3 player to use these headphones while swimming.
Also, the sound quality is never going to be quite as high as with regular headphones.
The Sound
Though the sound can't quite compete with elite models, and the frequency response isn't perfect, this model has plenty of volume and better clarity than most waterproof earbuds.
Underwater audio is difficult to master, but the very best option right now is the Swimbuds Sport.
---
4. Jaybird X4 – best equalization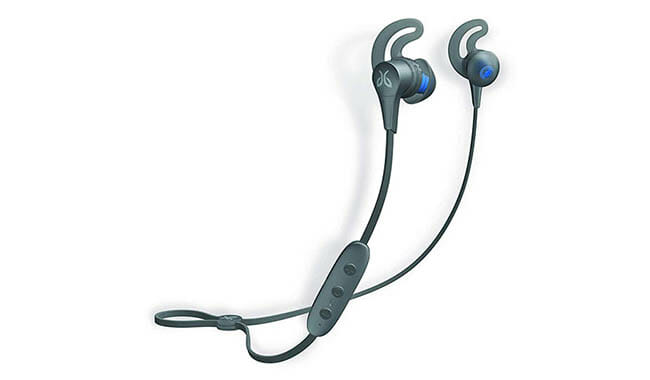 Best equalization in waterproof headphones
If you're an audiophile, or just want to hear your music in the best possible clarity, the exceptionally customizable Jaybird X4 headphones could be right up your street.
Best for: Above & near water
Connection: Bluetooth
IPX rating: IPX7
Why Buy These?
These wireless earbuds are noise-isolating and waterproof, and a big upgrade on the brand's other headphones, the "Tarah."
The 8-hour battery life is fantastic, and the fit is snug, the Comply Ultra tips are made to fit perfectly in your ears and the memory foam molds to your ear canal.
You can use the app, which is designed to accompany this to control EQ and alter the sound to your personal preference.
The Bad
The X4's aren't as well-built and durable as some of the other options on this list. Some people have reported theirs breaking, but there is a warranty which can give you some protection.
The charging cable is proprietary and specific to this brand of earphones, which means another cable to carry around in your rucksack.
The Sound
Through an excellent frequency response, powerful drivers, and a crisp and clear audio response, these offer exceptional sound. The equalization is a bonus and allows you to customize the music to your preference. You can choose pre-made signatures or make your own.
If the sound is your number one priority, check out the Jaybird X4 earbuds.
Read the full Jaybird X4 review.
---
5. Aukey B60 – best value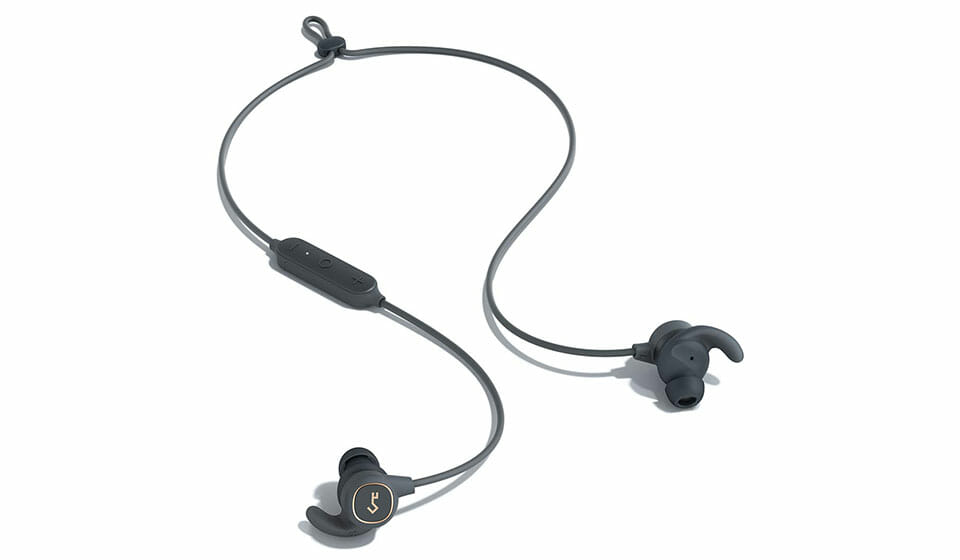 Best value waterproof earbuds
The Aukey B60 headphones offer impressive features for well under $100, and IPX6 resistance.
Best for: Above & near water
Connection: Bluetooth
IPX rating: IPX6
Why Buy These?
The Aukey B60 are a great option for exercising near water or in the rain. IPX6 water resistance is perfect for rainfall or sweat.
They don't fit too deeply in the ear, which allows you to hear more of your surroundings. This can be ideal for outdoor use when you need to hear others.
There are two different sets of ear tips included for you to choose which are most suitable for you.
The battery life is respectable at 8 hours, and a quick-charge (USB-C) can give an hour of juice with just a 10-minute charge.
The Bad
A shallower fit may not be ideal for security within the ear, especially if you're doing vigorous exercise. They can also be uncomfortable on some ears.
The Sound
The drivers are powerful, the frequency response is quite good, and the sound doesn't have any distortion. These aren't up there with the very elite models, and the bass may be a little lacking due to the shallow fit. But it's suitable for average listeners.
For good sound at excellent value for money, the Aukey B60 earphones fit the bill.
Get more info in the Aukey B60 review.
---
6. HydroActive headphones by Underwater Audio – great earbuds for swimming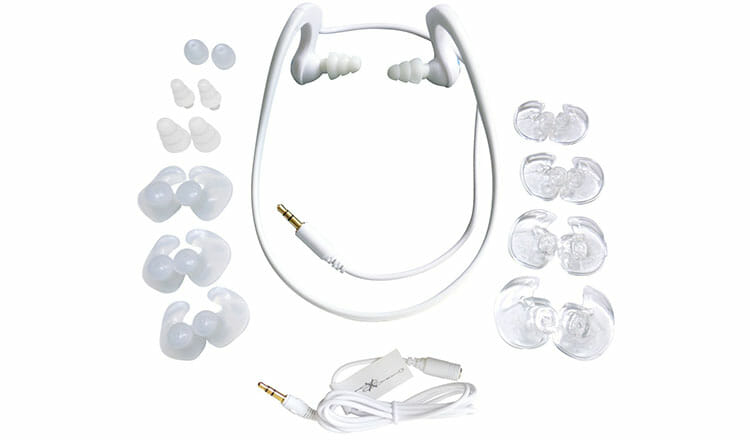 Great waterproof headphones for swimming
For underwater use, the HydroActive headphones by Underwater Audio can be a good option, with powerful sound and relatively clear audio.
Best for: Swimming
Connection: Wired 3.5mm
IPX rating: IPX8
Why Buy These?
This design of neckband headphones may be unusual for underwater use, but they work perfectly.
The HydroActive earphones come in 4 different types and ship with 11 different eartips to match up to your ears. They come in a carrying case to keep everything together.
There's a short cord that is waterproof and can be used with a goggle strap in which your waterproof MP3 player goes inside. There is an extension cable, too.
The Bad
The sound isn't as high fidelity as some of the other options on this list. It can be a little bit muffled underwater, but this is one of the issues that you are likely to come across when buying any underwater headphones.
The Sound
Though not perfect, the sound has enough clarity and plenty of power to make sure you can hear your tunes underwater.
For a secure pair of swimming headphones that stay put through your exercise, we recommend the HydroActive by Underwater Audio.
---
7. H2O Surge S+, affordable wired earbuds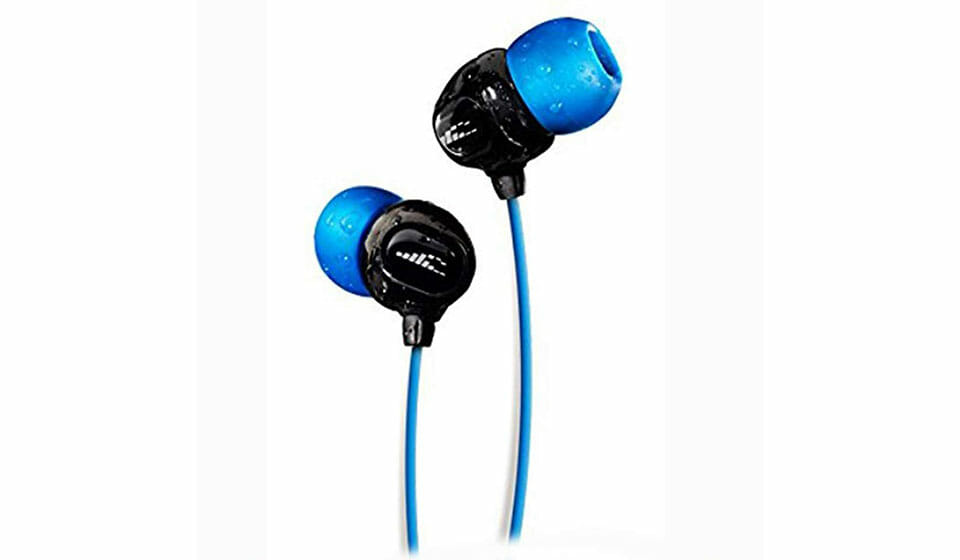 The best affordable wired earbuds for underwater use
Underwater headphones tend to be pretty expensive. One exception is the H20 Surge S+ earbuds, which do a good job on a budget.
Best for: Swimming
Connection: Wired 3.5mm
IPX rating: IPX8
Why Buy These?
In spite of being more affordable, there's no compromise on water resistance, as these have an IPX8 rating just like the very best underwater headphones.
They connect with a 3.5mm cord and are pretty well made when you consider the price. There are 8 different pairs of ear tips in triple-flanged and normal designs to allow you to choose the best option for a watertight fit.
Generally, the Surge earphones fit quite tightly, which is very good for staying in during your swim.
The Bad
The short cord doesn't come with any form of extension, so you need to keep your waterproof MP3 player close, strapped to the googles.
The secure fit does a good job of staying in place but can be uncomfortable over long periods of time.
The Sound
Once again, ultra hi-fi and amazing frequency response aren't the order of the day. However, these have plenty of power and a good enough sound for enjoying your music underwater while swimming or enjoying watersports.
For an affordable option which can go underwater, look no further than the H2O Surge S+.
---
8. Underwater Audio iPod Shuffle + Swimbuds Flip – best MP3 combo for swimming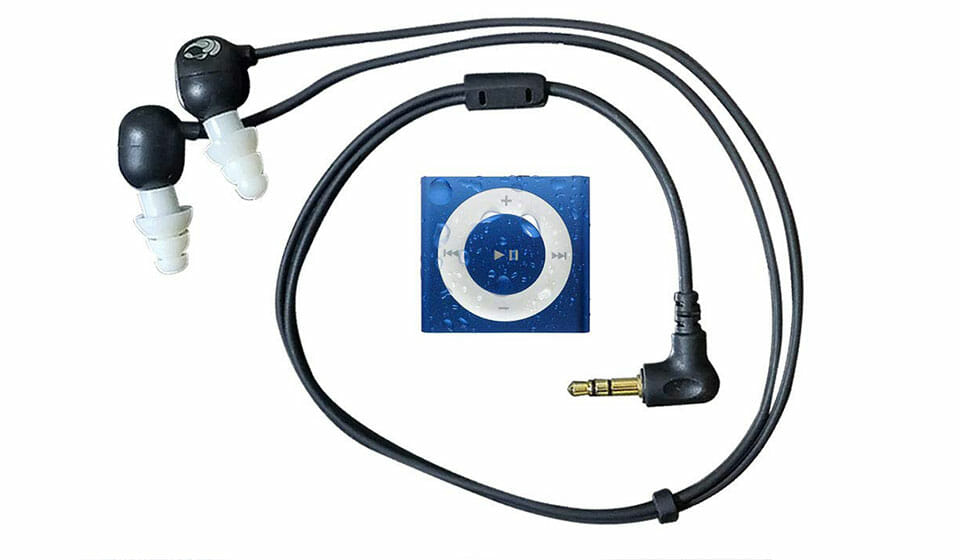 Best combo of MP3 and waterproof earbuds
When you buy waterproof headphones, you need to combine them with a waterproof device such as MP3 player. This can be your all-in-one solution.
Best for: Swimming
Connection: Wired 3.5mm
IPX rating: IPX8
Why Buy These?
The small iPod shuffle has 2GB of memory, which isn't amazing but is enough to load many songs onto to listen while you're swimming. It can clip straight onto your goggles.
10 different earbud tips help you to get the perfect fit, and a FitGoo gel helps you get a watertight fit around the earbuds for more clarity and security.
The Bad
The iPod shuffle's memory is a little on the low side, and the sound quality doesn't quite compete with the models which are designed for use out of the water.
The price is also a little high.
The Sound
Plenty of power is on offer, and the sound is made clearer by the watertight fit. Not totally high fidelity, but good enough.
If you want a bundle including all you need, the Underwater Audio iPod Shuffle + Swimbuds Flip is your top solution.
---
9. SYRYN MP3 + Swimbuds Flip – best value MP3 combo for swimming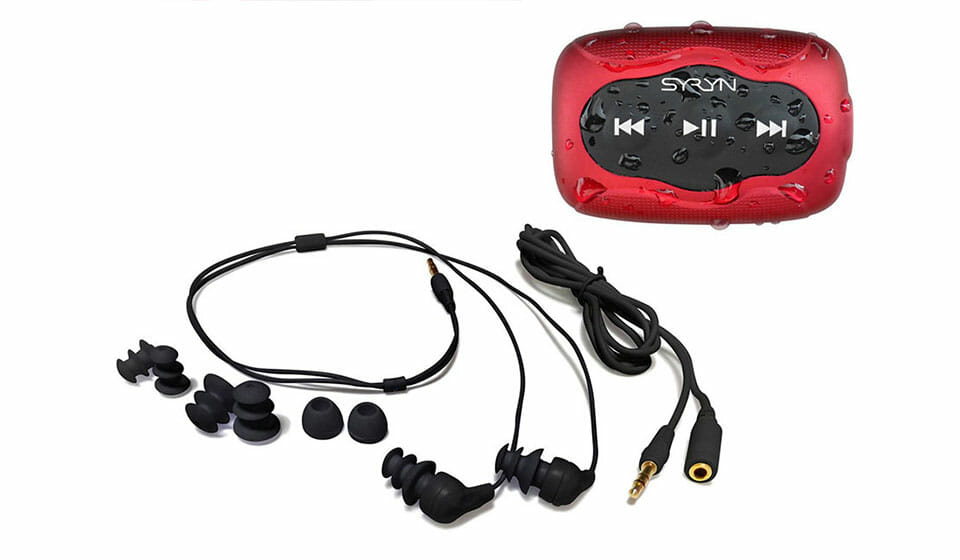 Best waterproof headphones & MP3 for swimming and affordable price
This is similar to the bundle above but available for cheaper. The headphones are exactly the same as in the iPod Shuffle combo, but the cheaper waterproof MP3 brings down the price.
Best for: Swimming
Connection: Wired 3.5mm
IPX rating: IPX8
Why Buy These?
This is a similar package but costs a lot less money than the iPod.
The waterproof earphones in the package are the same, along with FitGoo gel and 10 different eartips in 4 different designs.
The only difference is the MP3 player. Instead of a branded iPod, you get a SYRYN Waterproof MP3 Player. And, it actually has a bigger capacity than the iPod (8GB instead of 2GB).
The Bad
As discussed, the sound quality doesn't quite stack up with the very best models. Also, the SYRYN Waterproof MP3 Player may have compatibility issues and can't be used with iTunes, so you'll need to use their software to get your tracks onto the player.
The Sound
The sound is clear and powerful enough, without pulling up any trees. Once again, this is greatly helped by the FitGoo gel, which can help isolate the audio.
For an affordable bundle to get you listening to your music while swimming, consider the SYRN MP3 + Swimbuds Flip.
---
Key Features of Waterproof Headphones
Waterproof headphones are protected against the water with hydrophobic (water-repelling) coating and watertight design. But not all are equal, and there are different levels of water safety.
How Waterproof are They?
International Ingress Protection standards, also known as IPX ratings, are a measurement of this. Basically, IPX ratings are a universal system to show how waterproof they are.

There are tests that headphones go through to get an IPX rating. Based on the results of a test, they can be advertised as waterproof or water-resistant.
IPX ratings run from 1-9. Swimming headphones need a high IPX rating. Like IPX7 or IPX8 which can be submerged to different levels.
Water-resistant vs- waterproof?
Water-resistant headphones have lower IPX rating, 5 and under. While IPX5 is safe to wash under tap water, we advise against it for lower certifications.
Waterproof earphones that can be exposed to a lot of water, and even water pressure are IPX6 or higher.
How do Waterproof Headphones Work?
Waterproof headphones work by providing a casing around the headphones and electronics, to ensure the important components are not exposed to water. This extra protection is also how waterproof speakers work.
Often the product is sprayed with a thin, see-through layer of water repellent substance.
They can also use a "cork" design. This means that the earbud itself fits snugly in the ear, and the malleable materials around create a watertight area covering the driver itself.
Wired vs Wireless
Wired waterproof headphones are usually designed for swimming or serious activity. But they can get in the way, and if you are a runner or use headphones in the gym, you might find wires irritating.
That's why most active people get wireless workout headphones.
When it comes to water resistance, though, wires present another issue. The AUX plug needs to be resistant to corrosion. Usually, it's plated by a non-corrosive metal like gold.
Wireless waterproof earbuds are another option, though aren't suitable for swimming because Bluetooth doesn't work in water.
Water is too dense for Bluetooth signal to get through. That's why you won't find any wireless swimming headphones.
Also Consider Battery life
This feature is only relevant if you go for wireless headphones. You need to know they can last for the entire period you plan to use them. Going for a long swim or for a run and having your sport headphones run out of juice early is very frustrating.
Stability
Whether you are looking for headphones for walking outside or using in rainy conditions, or you need submersible earbuds, you need stability. There's no point in wearing headphones that constantly fall out of your ears, even if they sound great.
Most waterproof headphones come in the form of earbuds (in-ear headphones). Look out for models that have either winged or hooked designs. These help the earbuds sit snugly and stable in the ear for a comfortable fit.
Swimming earbuds also need to be stable in water. If they fall out while you are swimming, this can be really disruptive. Always wear a swimming cap over because it helps.
Types of Waterproof Headphones
You can use waterproof headphones in many different ways. If you're a swimmer, you need headphones to take completely underwater. Alternatively, you might need an option that doesn't get damaged by water.
All of the headphones we've listed in this guide are earbuds. They sit in the ears more securely. For underwater use, this design is essential for preventing water from getting in the mechanism.
The types of headphones which are waterproof include:
Wireless waterproof in-ear headphones. You can use these for water activity or your everyday life. However, you can't use them under water and aren't suitable for swimming.
Wired waterproof headphones. The wired option combined with a waterproof MP3 is the go-to swimming solution. They reliably work in and under water.
Wireless and MP3 combo. A solution for both worlds. You can use the MP3 for swimming and when you don't swim you can set up the wireless connection and use them as regular waterproof Bluetooth headphones.
Why are There No Waterproof Over-Ear Headphones?
Due to their large size, over-ear and on-ear headphones are hard to fully waterproof. For this reason, you can find sweatproof or water-resistant headphones, but you can't expose them to the same levels of water. And you definitely can't submerge or swim with them.
The large drivers in the ear cups are prone to corrosion and malfunction if exposed to water.
How to Choose Waterproof Headphones
As there are many different types of waterproof headphones with many different features, you need to choose the best for your needs. It will boil down to personal preference, and making sure the headphones are suitable for the activities you want to do.
To Swim or Not to Swim
As we've already discussed, some headphones are suitable for swimming, whereas others aren't.
If you plan to go swimming with your waterproof headphones, the IPX waterproof rating needs to be 7 or above. You should go for headphones which have been specifically designed to be submerged.
You might think that buying swimming headphones is ideal for all situations. Of course, if they can survive being underwater, they can also survive a little bit of rain.
However, submersible headphones are probably not the best for casual users or workout headphones. The sound quality is often not as good when they're built for underwater audio, and extra features will be left out.
You won't find Bluetooth headphones for using underwater, so if you want wireless functionality, you shouldn't try swimming with them.
How Will You Use Your Headphones?
The headphones for the gym may not be the best for casual walking outside.
If you plan to use your headphones for long periods on a wireless setting, make sure you get options with strong battery life.
If you are looking for exercise headphones, make sure they are stable. You will need something that can stay within your ear during workouts rather than fall out every few seconds. Look for hooks and wings to keep them in place throughout.
Personal Preference
It shouldn't all be about function when making your choice. Remember to prioritize the features you want. If you're looking for boosted bass frequencies, there is an option for you. If you find most earbuds uncomfortable, look for an option designed with comfort in mind.
---
Related guides:
Comments