When in the gym, enjoy music in comfort with the best wireless workout headphones.
Comparison of Top Wireless Workout Headphones
There is a huge amount of choice on the market today if you are looking for wireless headphones.
But only some are designed for workouts and sweat, with features and sound to match…
…and the right price.
In this buyer's guide, we've collected the best wireless workout headphones (all Bluetooth) for use in the gym.
Also, we've set out to answer the questions you may have when looking for workout headphones.
Related:
Best workout headphones (including wired)
Key Features of Wireless Workout Headphones
Certain features set aside the very top options for workout headphones.
Before you try and make your decision, it is helpful to understand all the options as well as the styles of wireless workout headphones.
What are the Best Kinds of Wireless Headphones to Wear for a Workout?
There are several different varieties of wireless headphones, and undeniably, some are better for workouts.
Earbuds or in-ear headphones are the best for working out.
Sports headphones tend to be in the form of earbuds rather than big, bulky on-ear or over-ear models.
Of course, this is down to personal preference, and some people prefer large designs. However, most find that smaller wireless earphones are the most comfortable.
Smaller earbuds:
get less sweat build-up
don't get in the way when you are working out
are lightweight
keep in the ears well during movement
True wireless earbuds have also grown in popularity.
Standard wireless in-ear earbuds have some form of wires keeping the two earpieces together. True wireless earbuds don't have this. They are two individual earpieces, usually kept in a case. The Apple Airpods design is an example of true wireless.
Most Important Features for the Gym
When buying a pair of headphones for a workout, there are features you should prioritize.
These are not the same features you would want for headphones for use around the house or on public transport, for instance.
Stability
First and foremost, when you are looking for workout headphones, you need to choose a stable option (lightweight).
Headphones continually falling out when you are trying to listen to music or a podcast is infuriating.
Ear hooks and ear wings can be an excellent way for headphones to stay put within your ear.
These mold around the outside or inside of the ear in order to stay in place. Both wireless and true wireless buds come with some form of extra hooks or wings to keep them stable.
Having multiple tips available in different sizes can help you get the correct fit for your ears.
Battery life
You should be on the lookout for battery life that suits your needs. The longer, the better.
If you go for long workouts, then you'll hate a battery that dies halfway through. Distance runners or tour cyclists, for instance, should look for long battery life.
Right now (2019), wireless workout headphones have from 6 to 10 hours of battery life per charge.
From 3 to 7 hours for true wireless earbuds.
Other helpful features include fast-charging.
Some headphones let you charge for 10-20 minutes and run for an hour or two, which is enough for a good workout.
Bluetooth
Wireless headphones work by using a Bluetooth signal from your music device (your smartphone).
There are different generations and types of Bluetooth. The key is that it needs to be reliable, and you can usually tell this from customer reviews.
Bluetooth versions 4.0 and higher are common today, Bluetooth 5.0 is the best (found in some newer headphones).
Bluetooth can experience interference or trouble with connecting to devices. Reliable and quality Bluetooth connection is vital for ensuring this doesn't happen.
Plus, Bluetooth 5.0 is more energy-efficient and slightly improves the range and speed of data transmission.
Noise cancellation
Noise-cancelling capabilities, whether active or passive, can be very useful for listening in a loud gym.
If you need to have your wits about you, being able to hear some external noise is helpful.
Don't know the difference between active cancellation and passive isolation?
Water Protection (durability)

Look for IPX or other mentions of water-protection.

What's their IPX rating? (higher is better)
How well can the headphones survive through sweaty workouts or rain (if working out outside).
Look for IPX4 or higher (IPX4 equals sweatproof).
For fully waterproof headphones, get IPX7 headphones.
Other features
If you're reading this, you've probably already decided to get wireless headphones, which is the right choice.
But if you're still on the fence, here's some pros and cons about wireless vs. wired.
There are other features to consider, not least, the audio quality.
Sound quality should always be a consideration when buying headphones. You want something that sounds as good as possible, and true to your music source (or with boosted bass if that's your preference).
Other features include comfort (nobody wants to wear uncomfortable headphones for long periods).
You need headphones which are built to last if you are going to be wearing them for long spells in the gym or outdoors. They should be able to take a bit of a beating.
How to Choose Wireless Workout Headphones
Due to the fact, there are a number of different features to workout headphones. Choosing isn't as simple as saying, "these are definitely the best."
There is a choice to be made by every individual. That's why we've put together a list of the top options, along with nominations of what these headphones are best for.
Consider Where You'll Be Working Out
A workout can take place indoors or outdoors.
It can take place somewhere quiet and serene or extremely busy and loud.
The location of your workout is vital. For instance, if you plan to work out in a gym, you might need to account for the ambient noise level. Noise isolation and noise-cancelling over-ear headphones become a more attractive option.
If you plan to head outdoors for your exercise, think about the climate.
It's always helpful to have headphones with an IPX rating for water resistance as you will be sweating when working out. However, if you're outdoors, you may need to consider rain and the elements too.
IP rating tells two things. The first number shows protection against dust. The second number tells protection against water.
Example: IP55 these are well protected against dust, mud, and water (but not fully waterproof).
Don't Ignore Personal Preference
Never buy headphones just because they're recommended for a purpose, without thinking about what you like.
For instance, many people know they don't like the feel of over-ear headphones, and go for in-ear headphones instead.
You may prefer true wireless earphones, or you might like the feeling of earbuds hooking around your ears.
If you've got a preference with one particular style, make your headphone choice based on this.
Comfort is Paramount
You need to find headphones you're going to be happy to wear for long workout sessions.
If they're not comfy, your motivation to work out is going to tail off. Nobody wants to put themselves through unneeded pain.
If you have an unusual ear shape or size, you might find that comfort is not as easy to come by.
We've made a specific guide on the most comfortable earbuds which may help you find an appropriate option.
Most earbud designs have multiple ear tips. This can allow you to choose which size best suits your ear.
Always take the time to do this, as it can lead to far better comfort. If your earbuds allow it, get a pair of memory-foam eartips as these conform to the shape of an ear canal.
Do You Want Wireless Functionality?
Consider the devices that you'll be using your headphones with.
If you plan to simply use the sound from your phone, and nothing else, then most Bluetooth connections will be okay with modern smartphones.
When working out, your needs may be more advanced. If you're listening while working out at home, you may want to connect your television or other wireless devices.
Some headphones allow you to have multiple devices connected at once (Multipoint), whereas some others are restricted to one.
Best Wireless Workout Headphones
1. Jabra Elite Active 65t (best true wireless)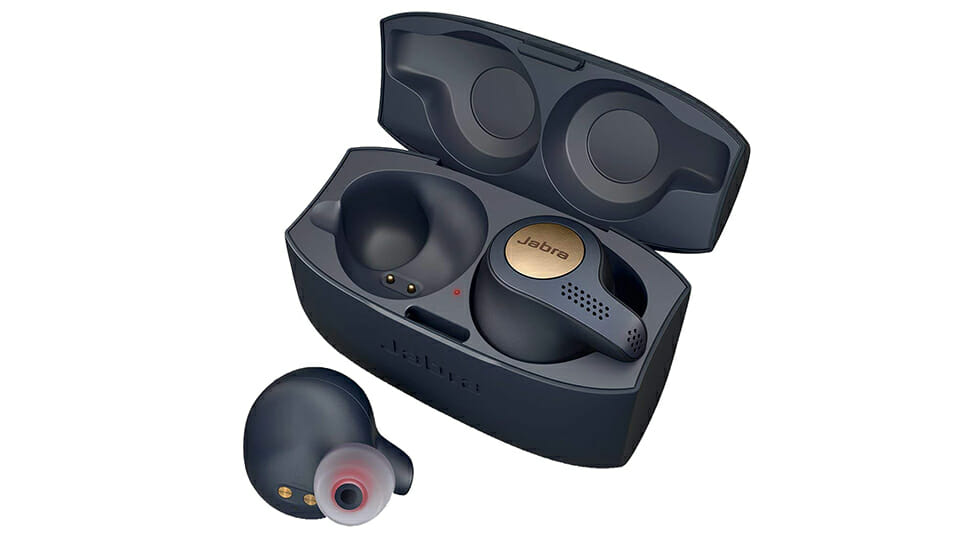 The best true wireless workout headphones
True wireless earbuds stay out of the way while working out, making these a popular choice for lifting weights or using the fitness machines.
Battery life: Up to 5 hours (10 hours spare batteries included)
Water-protection: IP56 (IPX6 – waterproof)
Type: True wireless headphones
Why Buy These?
It's easy to see why in-ear true wireless headphones are so popular. When you are working out, even strenuously, wires won't get in the way.
The stability within the ears is one of the reasons that the Jabra 65t headphones are great as a true wireless option. They don't tend to fall out, and multiple tips are designed to conform to the shape of your ear, so they stay perfectly in place.
5-hours of battery life is respectable, but the case also includes 10 more hours split between two spare batteries.
These headphones are also compatible with Amazon Alexa, so you can give voice commands while working out.
Overall, these are fantastic for all types of gym activity due to a great fit, water-resistance, and quality sound.
The Bad
The included microphone for calls and voice control could be better. A bit on the pricier side.
The Sound
The sound of these is among the best we've heard from true wireless models. For clarity and convenience, with true wireless functionality, you might want to look into the Jabra Elite Active 65t.
---
2. Jaybird X4 (best sound)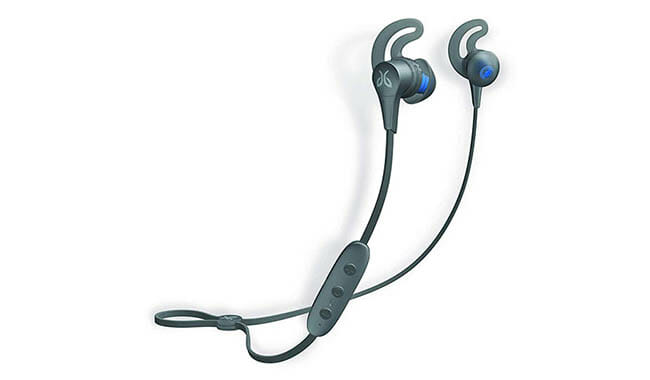 The best sounding wireless workout headphones
Sound should never be ignored when buying gym headphones, and for options in sound signatures, these are ideal with app equalization.
Battery life: Up to 8 hours
Water-protection: IPX7 (waterproof)
Type: In-ear
Why Buy These?
These in-ear headphones have good noise isolation and great sound, which you can control and customize by using their custom EQ app.
You can choose from many sound presets or create your own (heavy bass, balanced included).
8-hours of battery life is certainly respectable, and the charging takes around 2-hours, though the charging adapter is proprietary.
Comply Ultra memory-foam tips are specifically made to fit your ear canals. They shape to your ears with the help of warmth.
Plus, these are waterproof, with IPX7 protection, this means both sweat and rain will have no impact and makes the Jaybirds suitable for wearing outdoors.
The Bad
Though the sound is excellent, the build quality of the X4s has come in for a little criticism. We explain this in more detail in our Jaybird X4 review.
Also, the charging cable is proprietary, which is one more cable to carry.
The Sound
Clear and powerful bass is twinned with crisp high end, making the very best sound quality on this list. You can customize every aspect of it, and thus Jaybird X4's are the best sounding option for a gym-goer.
Read the full Jaybird X4 review.
---
3. Aukey Key Series T10 (best affordable TWS)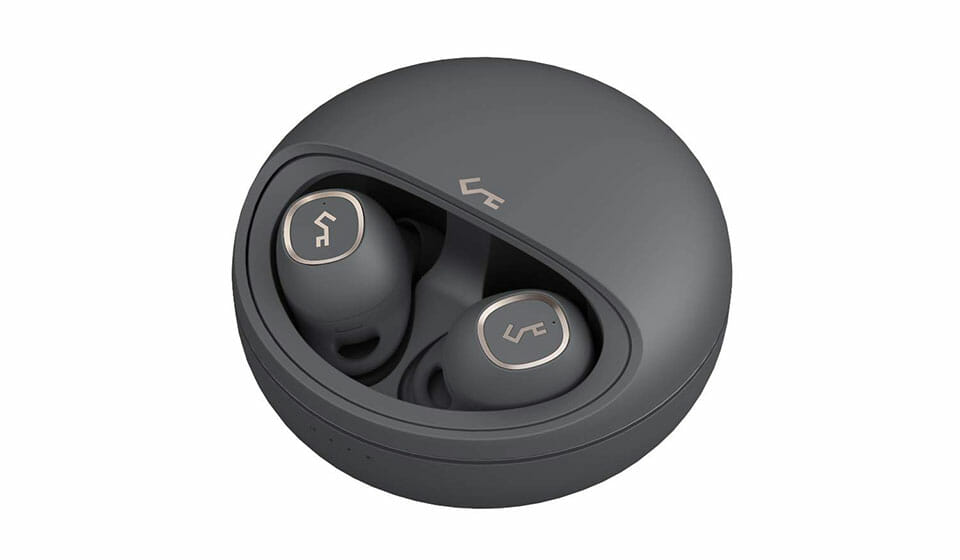 The best affordable true wireless headphones for workouts
True wireless headphones are a popular solution for workouts, but usually they come at a cost. Luckily, these affordable true wireless cans are not overly expensive.
Battery life: Up to 7 hours (charging case can increase this to 24 hours)
Water-protection: IPX5
Type: True wireless
Why Buy These?
These true wireless in-ear headphones offer a lot for their price.
As well as USB-C charging, the case is used when you're on the go. It can extend the battery life to 24 hours, which is comparable to more expensive true wireless earbuds.
You can use Siri or other voice commands, plus the microphone lets you make and receive phone calls.
Also, easy adjustments of volume and other controls can be made by tapping the earbuds themselves.
With 3 sets of stability wings and tips, they keep in ears even during fast exercise.
For around $100 they're the best you can get for working out in true wireless headphones.
The Bad
Some have reported that Bluetooth is not the most reliable in these headphones. Also, if you're not used to the controls, these can be awkward.
The Sound
Though you can find better fidelity out there, great bass response at a good price means it's worth considering the Aukey T10.
---
4. Plantronics BackBeat FIT 500 (best on-ear)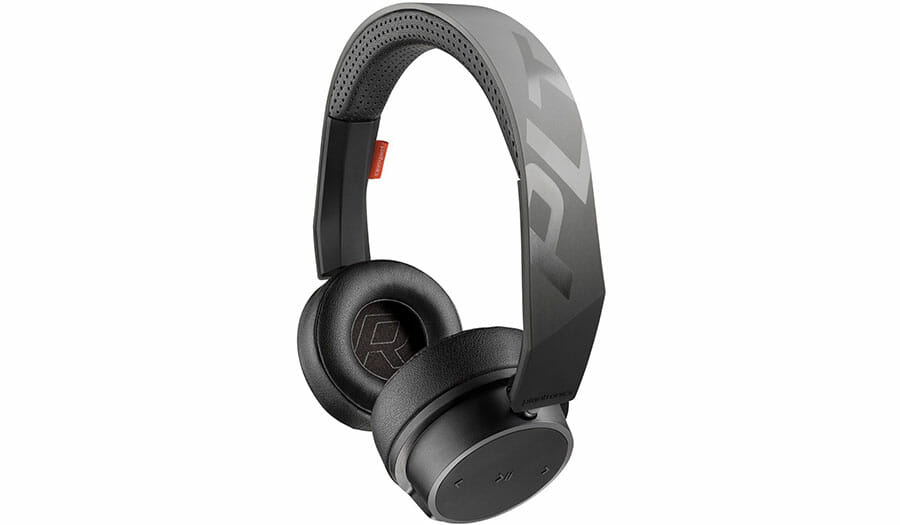 Best on-ear wireless headphones for workouts
Some people will always prefer the feel of on-ear headphones. This is a quality pair of on-ear headphones built with working out in mind.
Battery life: Up to 18 hours
Water-protection: Sweat resistant with P2i nano-coating
Type: On-ear
Why Buy These?
These are some very comfortable headphones, with memory foam on both the earcups and the headband, which goes over the top of the head.
A P2i nano-coating is designed to help these resist sweat and rainwater. These cans also let you take calls and use Siri, Google Now or Cortana voice controls.
The battery life is another standout feature. Up to 18 hours of battery life makes them a brilliant choice for those who need to use headphones for longer.
For lifting weights in a gym, comfortable and wireless on-ear headphones are the go-to choice of many.
The Bad
Bluetooth capabilities on the Plantronics BackBeat FIT 500 can sometimes forget connections to devices, meaning you have to pair again.
The Sound
Though not spectacular, the sound is well-balanced and has good clarity. The bass creates a powerful punch without overpowering other ranges. But you can find "stronger" bass headphones.
For a keen gym-goer who wants on-ear headphones, the Plantronics BackBeat FIT 500 are a great choice.
---
5. Aukey Key Series B80 (best under $100)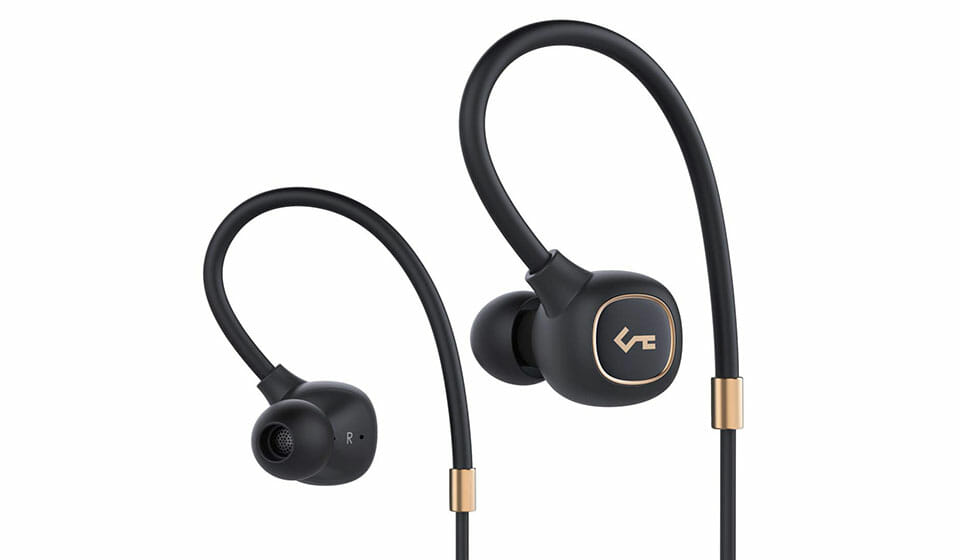 Best wireless workout headphones under $100
$100 is a reasonable budget for a set of exercise headphones. And the Aukey Key Series B80 show the best you can get for this kind of money.
Battery life: Up to 8 hours
Water-protection: IPX6 (waterproof)
Type: In-ear (ear hooks)
Why Buy These?
The B80 headphones are good value, and they're built with sports and workouts in mind.
Ear hooks combined with memory-foam eartips, mean they stay pretty stable throughout workouts, even if you are being quite vigorous.
These are perfect for all gym activity, as well as running and guided training.
Though they aren't noise-cancelling headphones, they do have a decent capacity for blocking out ambient noise. This may be a good thing for the gym, but not great for road running or street cycling. Here are some tips on choosing running headphones.
The battery life is decent, with 8-hours available. A quick 10-minute charge (via USB-C) is also an option which can provide 2-hours of listening.
An IPX6 rating for water resistance is more than good enough for being sweatproof and fine for most rainy conditions, too.
The Bad
They have an annoying white noise which is audible at low volumes.
The Sound
For the under $100 price point, the sound clarity is pretty respectable. Dual-drivers means that there is a little extra power boost.
For drowning out the gym sounds and replacing it with enjoyable, balanced sound, the Aukey Key Series B80 win the day.
Read the full Aukey Key Series B80 review.
---
6. AfterShokz Aeropex (best bone conduction)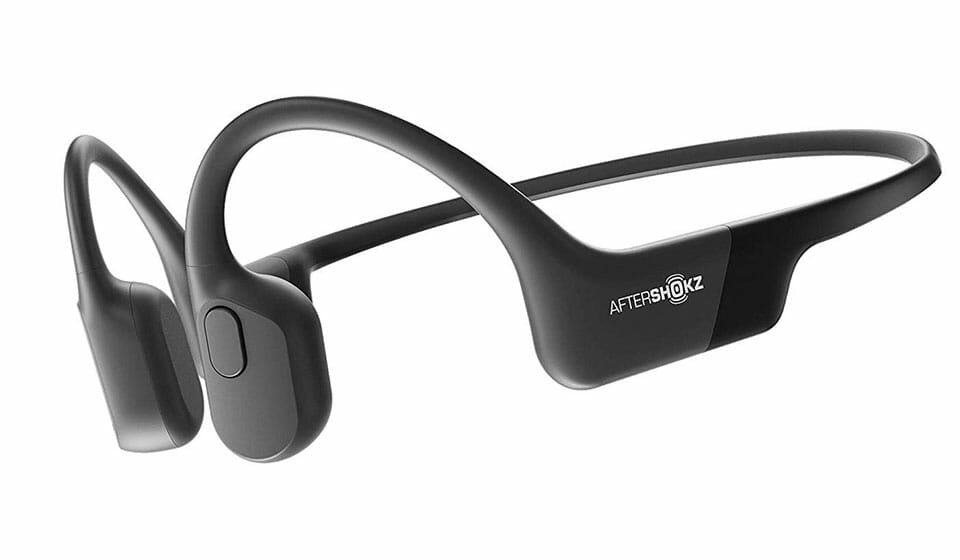 Best bone conduction wireless workout headphones
You can be free of wires, and free of earbuds with bone conduction headphones. This is a new technology that doesn't require earbuds or headphones.
Battery life: Up to 8 hours
Water-protection: IP67 waterproof
Type: Bone conducting
Why Buy These?
AfterShokz Aeropex are suitable for working out when you need to hear your surroundings.
Runners or cyclists need to hear traffic, and these headphones offer perfect awareness.
Bone conduction isn't just a novelty, as it exists for a while now with many happy users.
Up to 8 hours of battery life is good even for long workouts. Also, they're waterproof, meaning rain and sweat won't affect them.
The AfterShokz Aeropex are extremely comfortable and stay stable in the ears. Plus, the wireless is extremely reliable, making them great workout companions.
The Bad
Some people struggle with bone conduction headphones, there's definitely a different feel as they vibrate on your head.
Bass is a bit weak with bone conduction headphones.
The Sound
The Aeropex have upgraded sound compared to the previous Air model.
There's a noticeable bass boost, and the sound is the best we've heard from bone conduction headphones.
Though to get strong lows, you have to use the included earplugs.
To stay fully alert during your workouts, consider the AfterShokz Aeropex.
---
7. Sony XB950N1 (best over-ear)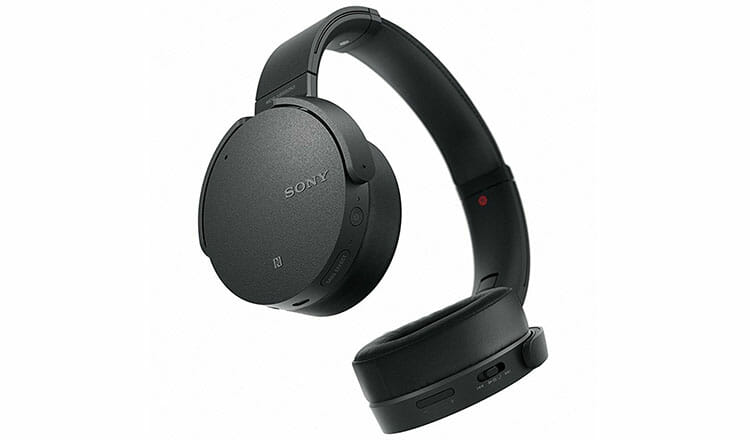 The best over-ear wireless headphones for workouts
Most workout headphones tips and guides will tell you to opt for in-ear headphones, but not everyone likes the feel of these. Also, noise-cancelling is not often as effective. While XB950N1 aren't dedicated sports headphones, they're a good option for those who like over-ears.
Battery life: Up to 22 hours
Water-protection: None
Type: Over-ear
Why Buy These?
One of the main reasons you might want to opt for these headphones is the noise cancelling capabilities. They have active noise-cancelling, and do a brilliant job of reducing background noise in the gym.
Sony is a quality brand, and the durability on offer with these cans is pretty good. Also, a specific headphones app from the brand allows you to control the EQ.
The bass frequencies on the Sony XB950N1 have been boosted for extra punch, which many people like (bassheads) when exercising.
Plus, up to 22 hours of battery life is another big positive these headphones can offer.
The Bad
There are some downsides. The design is tight-fitting but might still come off in exercise that involves lots of movement.
They're good for weight-lifting, not so good for running or HIIT (high intensity interval training).
Not officially sweatproof headphones.
The Sound
Bass boosted as their model name suggests. These are the older model but have deeper bass, which is why you should get these and not the updated version.
An excellent pick for bassheads.
Between the noise cancelling and the extra bass, these are great for the gym (weight lifters).
If you want pumping low-end in large over-ear headphones, consider the Sony XB950N1.
---
Best Affordable Wireless Workout Headphones
Here are the top workout headphones with Bluetooth under $80 and lower.
8. Plantronics BackBeat FIT 350 (best value)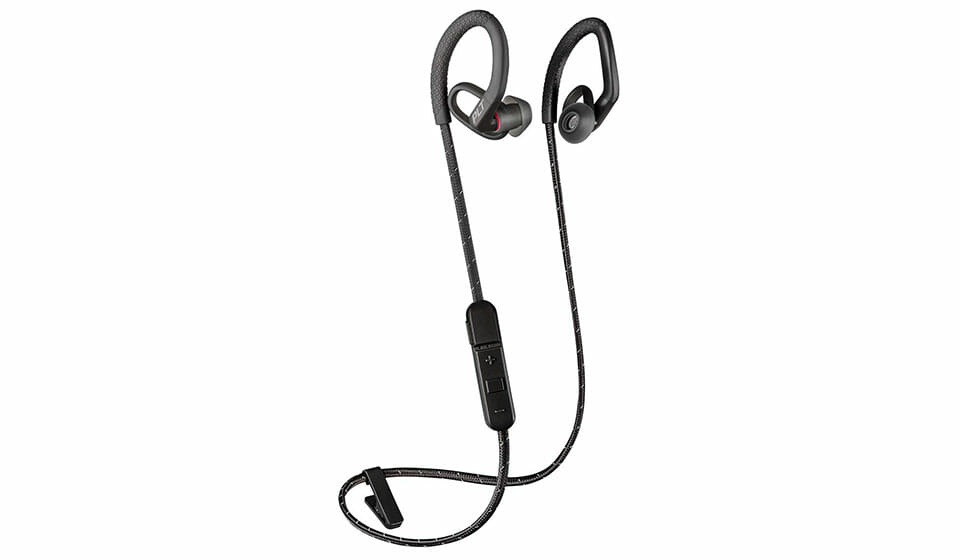 Best value workout headphones under $80
One of the best choices when choosing wireless workout earbuds are the BackBeat FIT 350. With a great fit for sports and fun sound you're getting a lot for your money.
Battery life: Up to 6 hours
Water-protection: IPX5
Type: In-ear
Why Buy These?
For affordable, in-ear headphones designed to block out sound, these are a fantastic value.
The Plantronics allow you to listen for up to 6 hours. You can also use a 15-minute charge option to provide you with an hour of listening time, good for a gym visit.
Ear hooks help them to stay in place, and keep things stable throughout your workout. There's even a clip on the neckband to keep the earbuds on you even if they fall out of ears.
IPX5 protection is suitable for most rainy conditions and also for resisting your sweat.
Plus, they're comfy and work out of the box with in-line microphone and controls.
The Bad
The Bluetooth connection is sometimes patchy.
Also, if the cable rubs along your skin (quite possible while doing exercise), you may hear cable noise.
The Sound
The bass is slightly boosted, and these headphones block out a lot of background noise. The frequency response is great for the price point.
You'll like these if you prefer balanced or slightly V-shaped sound (with emphasized bass and highs).
If you want fantastic fit, sweatproof and clear sound on a budget, go for the Plantronics BackBeat FIT 350.
Read the Plantronics BackBeat FIT 350 review.
---
9. Aukey Key Series B60 (best under $60)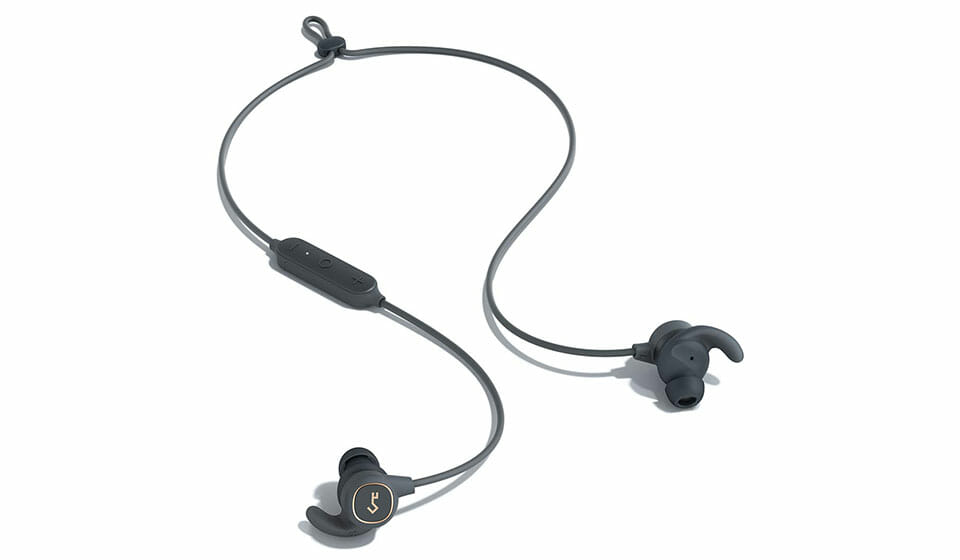 The best wireless workout headphones under $60
Aukey is a brand which makes some very good affordable choices, and the B60 headphones are no exception.
Battery life: Up to 8 hours
Water-protection: IPX6
Type: In-ear
Why Buy These?
The difference between the B80 headphones already mentioned is not huge, meaning the B60 model is incredibly good for the price.
Quite a shallow fit means you will hear a lot of external noise, good for running or working out outdoors, not so great for a noisy gym.
10-minute quick charging (USB-C) is good for those of you who are often in a hurry and can provide enough juice for a trip to the gym.
IPX6 certification ensures the wireless workout earphones won't get damaged by rain or sweat.
Unique ear tips (2 sizes) are included to keep the Aukeys in place, which makes them suitable for all types of working out.
The Bad
Though there are multiple sizes of eartips included, the fit is a bit shallower and doesn't sit as nicely as some competing models. Getting a comfortable fit could be a challenge for people with peculiar ears.
The Sound
The sound of these earbuds outperforms what you would expect for the price. For clear sound and well-rounded frequency response under $60, go for the Aukey Key Series B60.
Read the full Aukey Key Series B60 review.
---
10. Anker SoundBuds Slim+ (best cheap option)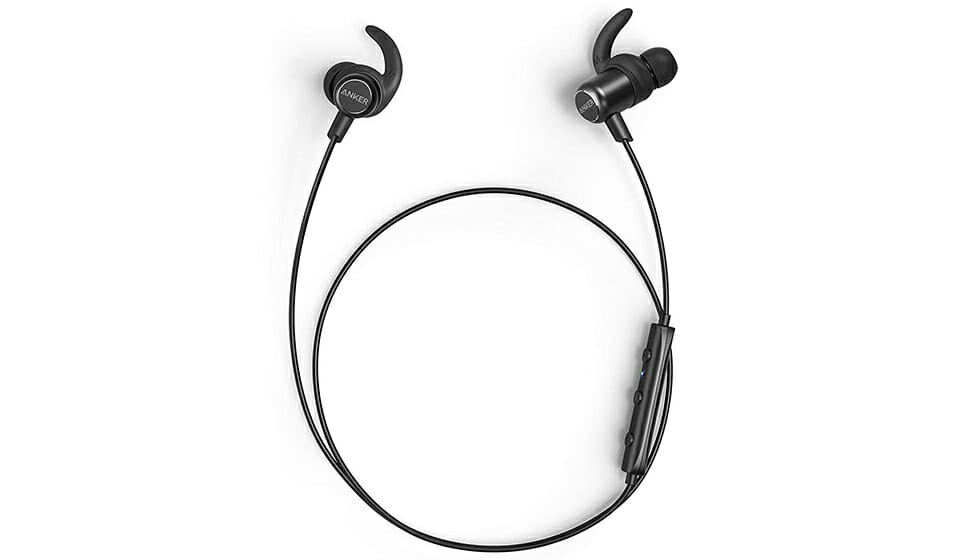 Best cheap wireless workout headphones
This level of affordability, combined with pretty impressive features and functionality, makes the Anker SoundBuds Slim+ a good set of headphones for the money.
Battery life: Up to 10 hours
Water-protection: IPX7 (waterproof)
Type: In-ear
Why Buy These?
As you can see from the features listed above, in terms of water resistance and battery life, these affordable headphones outperform many pricier models.
Anker SoundBuds Slim+ have ear wings which help the earbuds stay in place. They're good headphones for running, and have an ergonomic design, keeping them in the ear pretty reliably with stability.
An in-line mic and controls mean you can change volume and receive calls while working out.
Basically, they come with all the features more expensive models have, plus above-average battery life. What's not to like.
The Bad
All headphones this affordable have some downsides. The Bluetooth connection isn't the strongest. Also, while the sound is respectable, more bass would be better.
The Sound
It's certainly a good sound considering these cost under $30. Some would prefer a little more bass, and better frequency response, but that's too much to expect from cheap wireless earbuds.
For casual, normal users, they sound good enough to justify the price.
For the best dirt-cheap option of wireless gym headphones, get the Anker SoundBuds Slim+.
Read the full Anker SoundBuds Slim+ review.
---
11. iTeknic BH001 Wireless Earbuds (longest battery)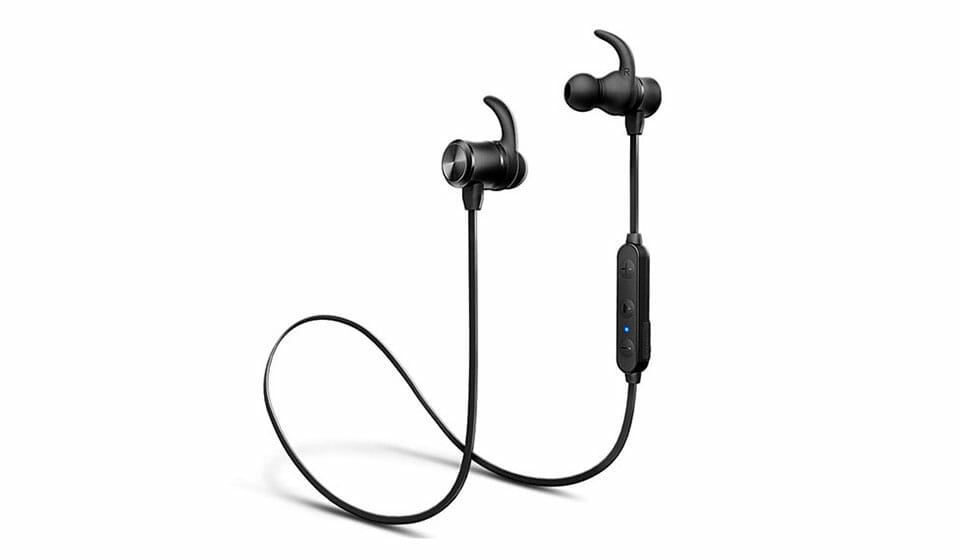 Longest battery wireless workout headphones
These aren't very well known yet but come with an unbelievably long battery life (up to 24 hours). That's unheard of among wireless in-ear headphones.
Battery life: Up to 24 hours
Water-protection: IPX7
Type: In-ear
Why Buy These?
For such a cheap set of headphones to trump all the competition when it comes to battery life is very impressive (we tested it in the review).
These don't have unbelievable sound, but they stay reliably in your ears.
The earbud casing is bigger but doesn't affect the fit too much. Though they're more likely to fall out during exercise, it's not a constant problem.
Moreover, they have IPX7 water resistance and block water, perfect for sweaty sessions.
The Bluetooth compatibility is reliable, and they stay connected during most workouts.
Also, tight ear tips do a good job of blocking out external noise, perfect for a noisy gym.
The Bad
There's not much to fault at this price. Obviously, ultra Hi-Fi sound isn't available for such a cheap price, but these exceed expectations. The only thing that's worth mentioning is that they're a bit heavier and bigger, which makes them easier to lose the airtight fit.
The Sound
It can't be compared to higher-end headphones, but it's close enough. Sound quality can easily compare to other under $30 Bluetooth earbuds.
For reliable, long-lasting and cheap wirelesses headphones for the gym, get the iTeknic BH001.
Check the full iTeknic BH001 review to find out more.
---
Honorable Mentions
Some headphones which we like, but don't quite make the list, include:
BlueAnt Pump Zone – Great over-ear headphones, but on the expensive side and a little hard to get hold of.
Bose SoundLink II – These are popular wireless over-ear headphones, but aren't really suitable for heavy sport use (no sweat resistance).
Bose SoundSport Pulse – Older model but with heart-rate monitor and Bose sound.
Also, if you are happy to go with wired workout headphones, and don't need wireless capabilities, here are some further options.
Comments