Budget
The Best Bluetooth Headphones under $50
Get the latest and best Bluetooth headphones under 50 dollars (that are affordable but worth getting).
Comparison: The Best Bluetooth Headphones under $50
Introducing the best wireless headphones under 50 bucks that are worth your money.
While $50 isn't a lot of money, it's enough to get good quality (and great value for money).
If you want a daily pair of headphones for casual use, then these are for you. You can choose from over-ear, on-ear, and in-ear models. We even found a nice noise cancelling model that falls under the price tag.
In case you don't care about Bluetooth but want wired cans that costs under $50 go here.
What You Need to Know
Most popular brands offer similar headphones but often for more money. Lesser-known brands want to gain market share, so they often offer their headphones for less. You get more for the same money.
The features are rather basic since $50 isn't much. You can't expect the latest Bluetooth version or crystally clear microphone calls. As long as you don't expect premium quality, you'll be surprised how much value you can get at this price point.
Some of the models here are older that used to cost more money. And since they aren't the latest model the manufacturers lower their price. This is when you get fantastic value for money.
Best Wireless Headphones under 50 Dollars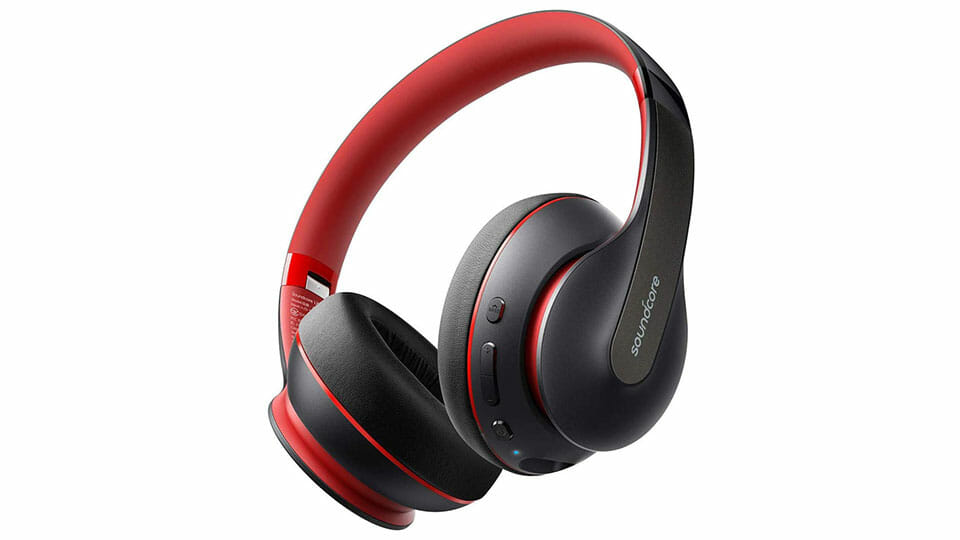 Anker Soundcore Life Q10 are the best over-ear wireless headphones under $50 and here's why.
Type: Over-ear
Back design: Closed-back
Noise-canceling: No
Connection: Bluetooth 5.0
Should You Buy These?
If you like bass in your music, Soundcore Life Q10 can provide a ton of it.
The Good
These are very stylish looking headphones that can be folded for easy storage. Memory foam earpads are soft and provide excellent comfort.
Anker got these Hi-Res certified. It means that the sound is clear and detailed.
The battery lasts for an impressive 60 hours. They can also be fast-charged, which adds an additional 5 hours of listening after 5 minutes of charging.
The Bad
The bass-oriented sound might not appeal to everyone.
The Sound
Soundcore Life Q10's are perfect for bass-craving people. 40mm drivers can dig very deep into the frequency spectrum and provide a head-shaking rumble. They're also fairly clean in the treble and midrange.
The Verdict
Anker Soundcore Life Q10's are truly meant for electronic, rap, hip hop, and chart listeners. They're extremely fun to listen to, loud, and most importantly, affordable.
---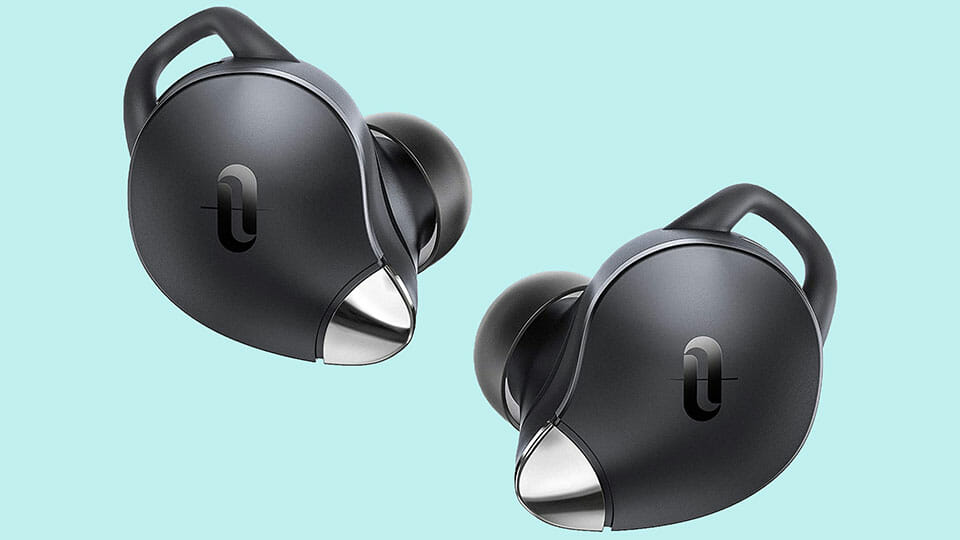 TaoTronics SoundLiberty 79 are best wireless earbuds under 50 dollars.
Type: In-ear
Back design: Closed-back
Noise-canceling: No
Connection: Bluetooth 5.0
Should You Buy These?
If you're seeking great-looking true wireless earbuds with good sound quality and features from pricier models, then look no further.
The Good
SoundLiberty 79's are well-built earbuds, with a stylish chrome finish. They fit nicely into the ears and remain comfortable for hours.
Since they're IPX8 water protected you can easily dunk them in the water or bring them to the gym. You can skip music or answer phone calls using touch controls.
You get 8 hours of battery life per charge, with an additional 22 hours from the charging case. The latter is quite small and can easily fit in your pocket.
The Bad
Touch controls sometimes don't register the correct gesture, which can be annoying.
The Sound
These are very balanced sounding earbuds with a slight emphasis on the bass to make them just a little bit more punchy.
The Verdict
TaoTronics SoundLiberty 79's are a very comfortable Bluetooth earbuds, that offer a great fit for gym-goers and good sound quality for the price.
---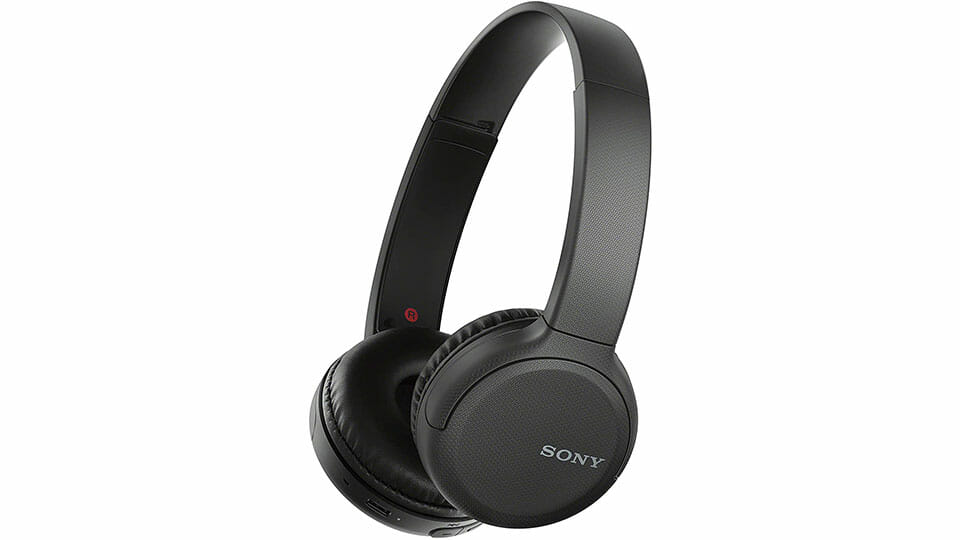 Sony WH-CH510 are the best wireless on-ear headphones under $50.
Type: On-ear
Back design: Closed-back
Noise-canceling: No
Connection: Bluetooth 5.0
Should You Buy These?
These are very lightweight headphones with great battery life and USB-C fast charging.
The Good
As said before, the plastic body makes them very lightweight. Earcups can swivel for 90°, so you can lay them flat on your neck or table when you're not using them.
Despite their on-ear design they don't put too much pressure on your ears and remain comfortable.
In this price range, microphone quality is sometimes questionable, but in the case of these Sony's, the microphone is surprisingly good for calls.
Also, battery life is impressive with up to 35 hours of music listening. They also charge extremely fast via USB-C port. A 10-minute charge brings an additional 90 minutes of battery.
The Bad
All-plastic construction feels quite fragile.
No padding on the headband isn't ideal for bald people.
The Sound
Clear and balanced throughout the whole frequency range, with good stereo separation. They also don't leak much noise so people around can't hear what you're listening to.
The Verdict
With Sony WH-CH510 you get a very simple package of light headphones, that offer great battery life and balanced sound.
---
More under $50 headphones:
Best Bluetooth earbuds under $50 (wireless in-ear only)
Best earbuds under $50 (wired vs wireless)
---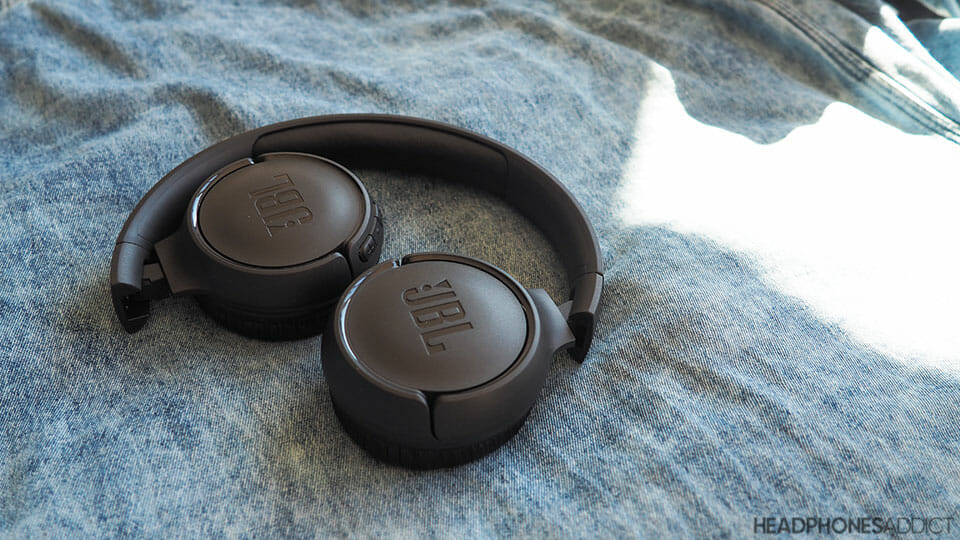 For frequent commuters you can't go wrong with JBL Tune 500BT.
Type: On-ear
Back design: Closed-back
Noise-canceling: No
Connection: Bluetooth 4.1
Should You Buy These?
If you want a decent pair of headphones that's portable and generally offer a good user experience, check the JBL Tune 500BT.
The Good
Thanks to the foldable design, you can pack them up in a rucksack pocket and take on your adventures.
The battery life is over 16 hours (we got 18h in our test), which is plenty of music, even for all-day users.
And, the ergonomics are excellent with swiveling cups, extendable headband, and soft earpads. You can wear them for hours in comfort.
The Bad
There's no AUX input for wired use, and the earpads feel a bit cheap. No sweat protection either.
The Sound
The Tune 500BT have the typical JBL sound quality with boosted bass. These aren't made for purists but those that enjoy deeper bass and good rhythm.
You can use them for watching videos as there's no noticeable audio delay. They're great for all types of casual use.
The Verdict
Get the JBL Tune 500BT if you're looking for decent headphones that offer more than their price suggests. You'll get reliable Bluetooth on-ear headphones with good sound and design for daily use.
---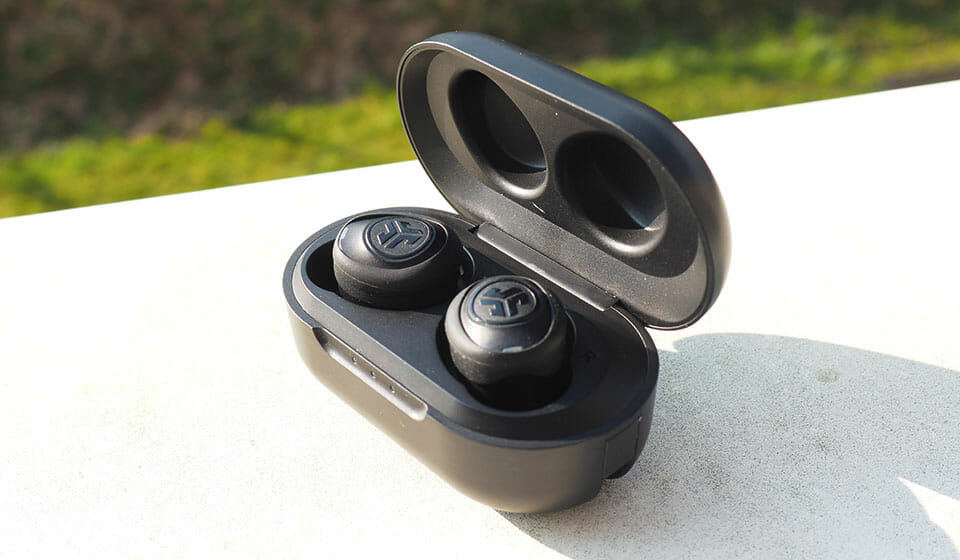 Jlab Audio Jbuds Air are truly the toughest buds under $50.
Type: In-ear
Back design: Closed-back
Noise-canceling: No
Connection: Bluetooth 5.0
Should You Buy These?
If you want something with a decent sound that is suitable for sport.
The Good
Rubberized housing of the Jbuds Air is providing excellent stability. These are also IP55 water-resistant and therefore more than suitable for sports.
When you find the right tips these can also provide above-average noise isolation. Wind noise is also not an issue since they don't protrude that much.
5.5-hour battery life per charge is good enough for a decent workout, with 15 hours more from the charging case.
The Bad
Using physical controls can get frustrating. They are also some connectivity issues.
The Sound
You can choose from 3 EQ presets, but overall they're leaning towards the V-shape sound signature. They can also get uncomfortably loud, but this depends on the chosen preset.
The Verdict
If you're looking for wireless earbuds and you also like to do sports, then you may consider Jlab Audio Jbuds Air. They are durable, offer a secure fit, and a decent sound.
---
SoundPeats TrueBuds a certainly the best AirPods alternative under $50.
Type: Semi in-ear
Back design: Closed-back
Noise-canceling: No
Connection: Bluetooth 5.0
Should You Buy These?
Want to have something similar to the AirPods, but don't want to pay the premium price? TrueBuds may be the answer.
The Good
TrueBuds charging case offers a much better battery life compared to the competition. You're looking at 3.5 hours of battery per charge, with an additional 70 hours from the case. The latter may also serve as a power bank to charge your smartphone.
Full touch controls on the earbuds work really well and are easy to get used to. They also offer a fairly decent microphone for phone calls.
Semi in-ear design is great for those, who like to be aware of their surroundings. You can also take them out for a run since they're IPX5 water-resistant.
The Bad
While charging case offers an impressive battery life and power bank capabilities, it is also very big and not pocketable.
The Sound
Despite their semi in-ear design, these offer a detailed, punchy bass with overall bright, airy sound.
The Verdict
SoundPeats TrueBuds's are a great option for those, who are seeking for AirPods's alternative. And with the airy and detailed sound, these are a fresh air in the budget market full of bass-heavy earbuds.
---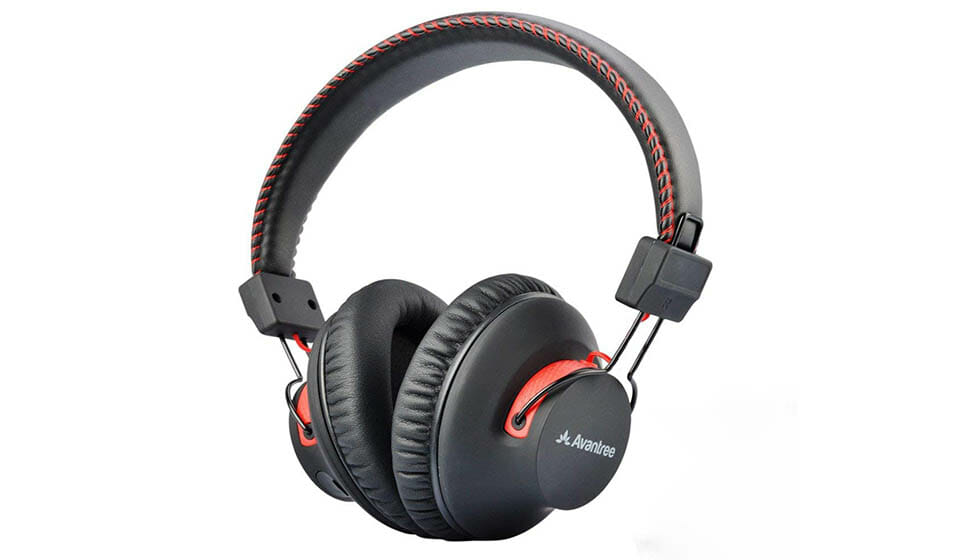 Our previous pick for the best overall wireless headphone is still a great choice for under $50.
Type: Over-ear
Back design: Closed-back
Noise-canceling: No
Connection:  Wireless, Bluetooth
Should You Buy These?
If you're looking for fantastic battery life and exciting sound quality in over-ear headphones, then get these.
The Good
Lightness and soft ear pads make these extremely comfortable. They are built to last. Although these are made out of plastic, only the headband is metal, so they don't break easily.
The closed-back headphones work with any Bluetooth-enable device. The connection is solid (with NFC support). The fact that you can connect 2 devices at the same time makes them even better.
Their battery life is impressive. 40 hours plus an additional cord for wired option gives you a lot of music. You also get a built-in microphone and control buttons for easy music control.
The Bad
The leather ear cups can get hot after some time. The built-in mic and control buttons don't work in wired mode.
The Sound
The audio quality is what makes them even better. It is somewhat balanced, with deep bass, precise treble, and clear mid tones. While these are not made for extreme bassheads but are likely to be worshiped by rock and hip-hop lovers.
The Verdict
Having strong connection, wired option and extreme battery life are surely Avantree Audition advantages. Great comfort and durability, mixed with high-quality sound, put them above many other Bluetooth headphones under $50.
---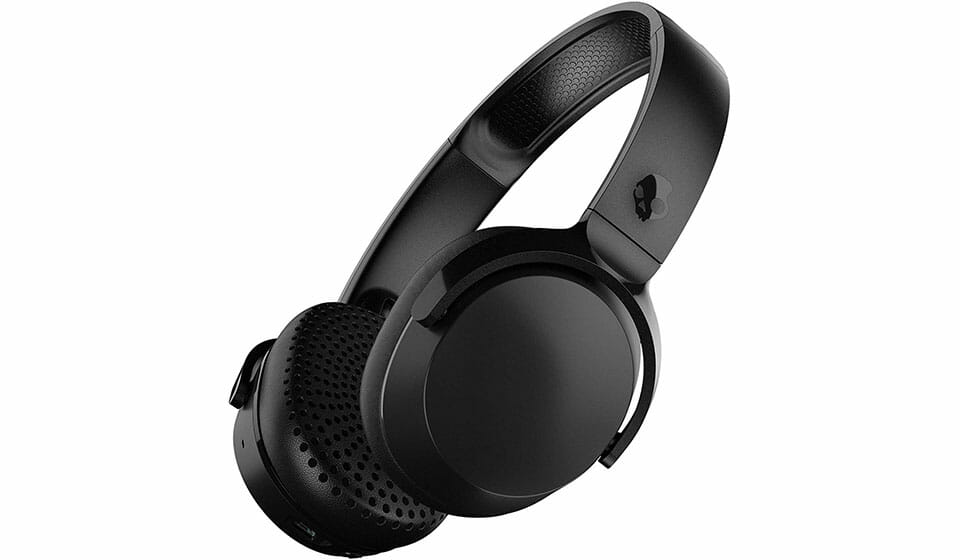 Skullcandy Riff are perfect for a basshead on the budget.
Type: On-ear
Back design: Closed-back
Noise-canceling: No
Connection: Bluetooth 4.1
Should You Buy These?
A very appealing option for those seeking disco-like experience on their heads.
The Good
Simple, but still very unique on-ear design, that can fold up for extra portability. They come in many different colors and are comfortable to wear.
With buttons on the earcups, you can control everything from volume to smart assistant. This way you can answer calls and even send messages without touching your smartphone.
Riff sports 12-hour battery life with a fast-charge feature. A quick 10-minute rapid charge can give you another 2 hours of listening.
The Bad
Plastic build might not be very durable.
The Sound
From Skullcandy, you can expect a big, bassy sound, and Riff's are no exception. They can truly make you dance while you're listening to them.
The Verdict
Skullcandy Riff's are a great buy for those, who crave lots of bass in their music. With comfortable and unique design these are a very compelling gift for youngsters.
---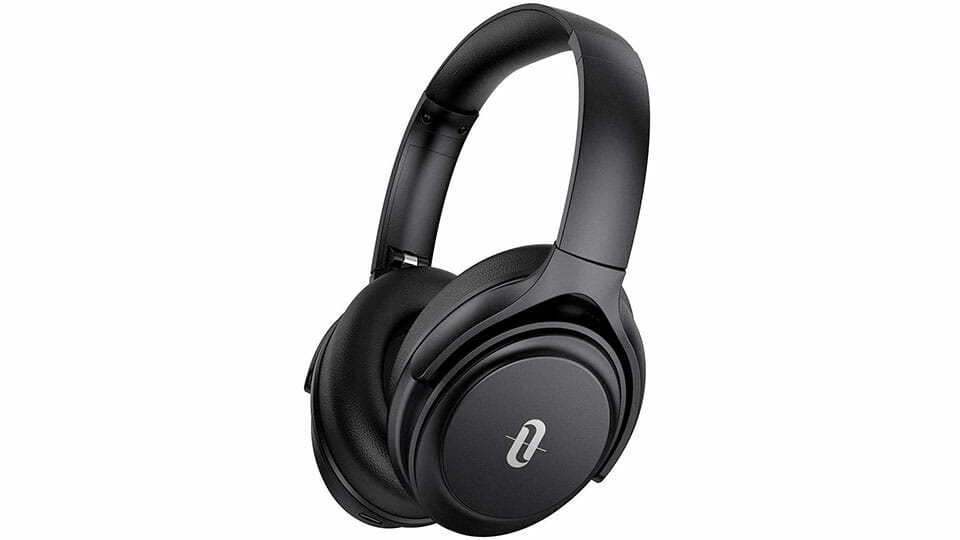 TaoTronics TT-BH085 are the best choice for those seeking ANC under $50.
Type: Over-ear
Back design: Closed-back
Noise-canceling: Yes
Connection: Bluetooth 5.0
Should You Buy These?
These TaoTronics offer an affordable introduction to active noise-canceling and aptX.
The Good
These over-ears are built really well. A mix of metal and plastic is making them sturdy and durable, while comfort is provided by memory foam pads.
You get a full 40 hours of battery life when the ANC feature is off. Even when ANC is turned on the battery lasts for around 25 hours, which is really good. If you somehow end up with a dead battery you can still drive them via 3.5mm headphone jack.
TT-BH085's are offering the latest CVC-8.0 noise suppression for phone calls that provides clear audio.
The Bad
While the bass is punchy it does lack a sub-bass extension, which makes certain music genres sound dull.
The Sound
Overall punchy with decent clarity all across the board. Turning ANC on makes higher frequencies a bit muted.
The Verdict
If you're looking for a budget ANC headphones that also support aptX and are built well, you should seriously consider TaoTronics TT-BH085.
---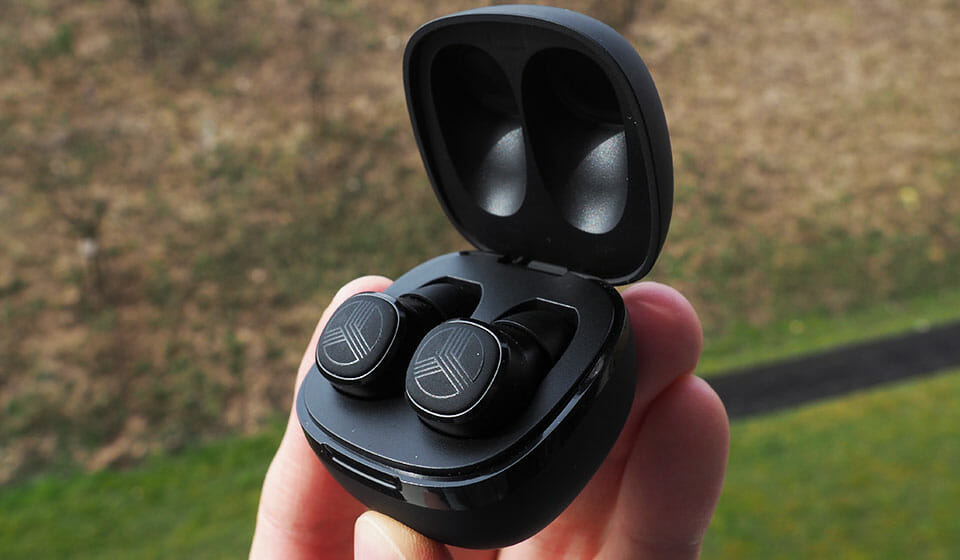 Treblab xFit are a very decent, budget pair of wireless earbuds.
Type: In-ear
Back design: Closed-back
Noise-canceling: No
Connection: Bluetooth 5.0
Should You Buy These?
Good battery, comfort, sound, and connection. When it comes to budget true wireless earbuds, these are hard to beat.
The Good
These are very lightweight and comfortable earbuds. Consequently, you don't even know you're wearing them. Because of their secure fit, you can also take them for a run or to the gym.
Working-out with these is not a problem since they're IPX6 water protected. The housing of the earbuds is made from hard plastic and therefore durable.
5 hours of the battery life may not be class-leading, but definitely on par with the competition. They provide an additional 25 hours of battery from the charging case.
The Bad
When you smile or move your ears the fit of the earbuds becomes loose.
The Sound
For a casual listener, these are good enough. They provide a strong, deep bass, with a decent treble performance.
The Verdict
If you need a pair of wireless earbuds for casual music listening or working out, then these might suit your needs.
---
Honorable mentions
They look premium, have above average build quality, and offer ANC. Not to mention 18-hour battery life and a basshead oriented sound signature. All of this is making them one of the best ANC headphones under $50. Read the full review. 
Skullcandy Sesh's are meant to rumble your head with tons of bass. They're also quite comfortable, easy to use and IP55 water protected. Read the full review.
---
You can find more cheap headphones for various prices:
Even cheaper, top headphones under $20
Frequently Asked Questions (FAQ)
Why Choose Wireless Bluetooth vs. Wired Headphones?
Wireless headphones aren't always better than wired. It really depends on your needs.
Here are the advantages of wireless Bluetooth headphones:
But they come with some disadvantages:
Usually have a higher price (wired headphones are cheaper)
Needs battery charging which is a hassle
Battery capacity deteriorates over time (no limit with wired headphones)
Sound quality can be worse (due to data transmission limits with Bluetooth)
It's up to your needs what you should pick. You can check the best headphones under $50 (wired included).
Can Bluetooth Headphones Also Work as Wired Headphones?
Most Bluetooth headphones can work as wired as well. This is a standard feature in low-end and high-end Bluetooth headphones. Just in case that's important for you, check for 3.5mm input before buying.
But the smaller in-ear monitors (Bluetooth earbuds) only work wirelessly. Putting in a 3.5mm circuitry would make them too big and bulky.
Comments