Best Guides
The Best Noise Cancelling Headphones under $100
The best noise cancellation headphones $100 can get you today.
Comparison: Best ANC Headphones under 100$
You can stop your search for the best noise cancelling headphones under 100 dollars now. We've scoured all the available resources to come up with this list.
You may have been perusing the internet, getting sucked into the vortex of YouTube and forgetting what you were looking for. Your search is over.
We also don't like to spend ridiculous amounts of money on headphones, so we made this guide. Here's the best quality your money can buy – and it's not always about the fancy brand names.
Related:
Top noise-cancelling earbuds (in-ear headphones)
Best noise cancelling headphones (more expensive)
Leading noise isolating headphones
Best Noise Cancelling Headphones under $100
best overall: TaoTronics TT-BH060 ANC Headphones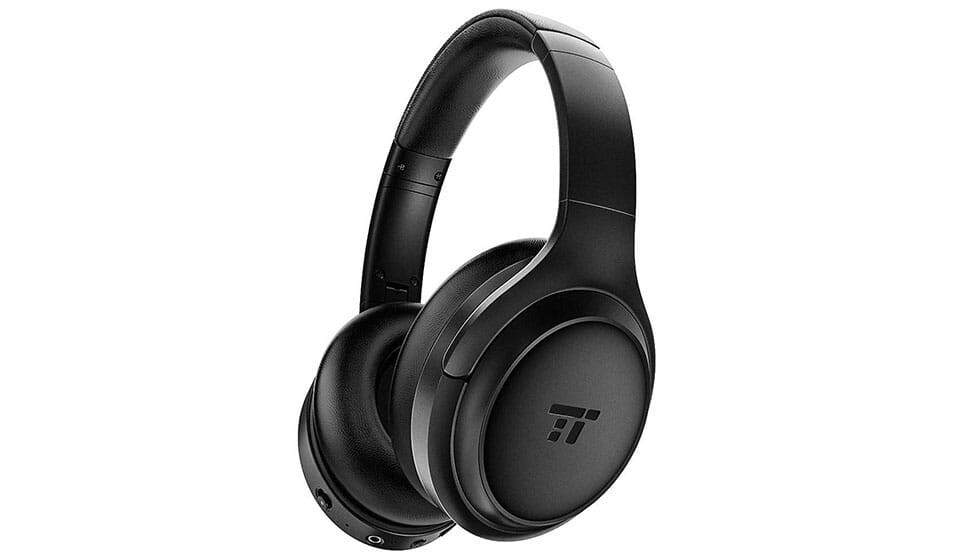 The best all-rounder of the bunch, these headphones excel at being good enough in every department.
Battery life: up to 30 hours
Type: closed-back
Connection: Bluetooth and 3.5mm
See more wireless headphones under $100.
Why Should You Buy These?
These wireless headphones are targeted at people who have an eye on how much they are spending and don't always have to be wearing the latest fashion.
The quality of the build is pretty decent considering the amount of plastic used. If you're looking for the best active noise-cancelling headphones value for your money, these are the ones. The price is a major factor when considering these over-ear headphones. You probably know they won't be as good as Bose or Sony, but they get the job done.
The battery deserves a mention with 30 hours on a single charge. It will last you an international flight and hopefully, make the flight a little less painful. Also, the built-in mic works for phone calls in normal conditions (but not noisy places).

The Bad
With a cheaper price comes that plastic we were talking about, their design manages to make the plastic look sleek but deep down you still know it is plastic and it has that plasticky feel.
The Sound
The bass manages to get that foot tapping but can override the general overall sound, this makes it perfect for bass-heavy music. You may be disappointed to know that the high end does suffer a little and is not what you might expect when buying these Bluetooth headphones.
These are the go-to headphones for decent in all departments but not excelling in just one. If you're looking for a friendly on the pocket and decent overall pair of headphones, the TaoTronics TT-BH060 is for you.
---
runner-up: Avantree ANC031 Headphones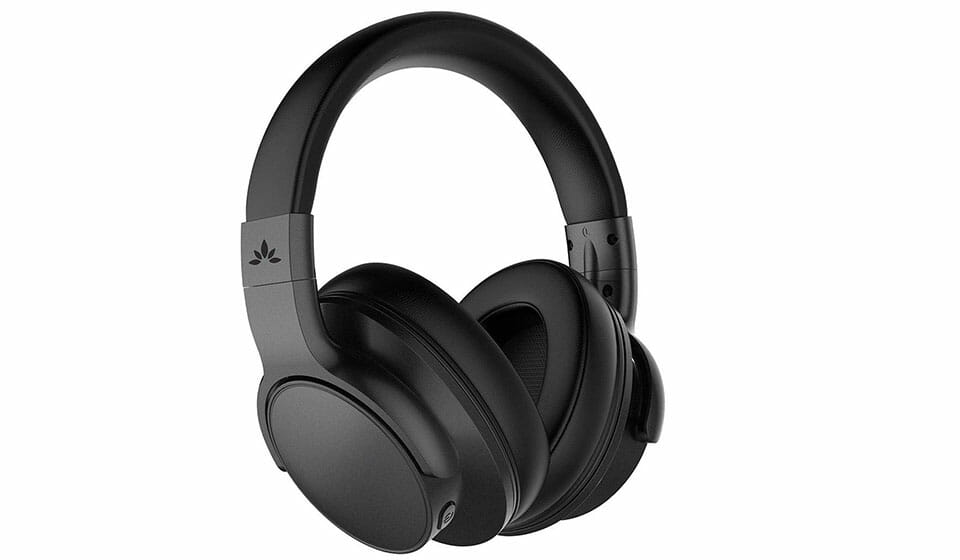 The sexiest and the most stylish ANC over-ear headphones under 100 dollars.
Battery life: up to 28 hours
Type: closed-back
Connection: Bluetooth and 3.5mm
Why Should You Buy These?
If you're super stylish and want to keep that fashionable look going all the way from your shoes to your wireless headphones, these are the ones for you.
They are nice and comfortable while still having that super slick look. Another handy feature is the mute function for the built-in mic, so when you want to mute your voice, you can do it with a press of a button.

The battery is not quite as good as others, but they manage to get a reported 28-hours use per charge. Another thing that must be mentioned is that if you're using these Bluetooth headphones for gaming they do have the FastStream low latency codec.
The Bad
The ANC is good enough for the price range but struggles to compete with the bigger brands. These over-ear headphones are super comfy, but with that comes the cost of a heavier weight. They also make you feel a little hot if you wear them for too long.
The Sound
An honorable mention when it comes to the sound is that the bass reduces when the ANC cancelling is turned on. It does, however, lack a little in the mid-range and treble. The active noise cancelling does a decent job and is perfect for those long haul flights when you want to cut out the background noise of the aircraft.
If you're stylish but budget conscious, the Avantree ANC031 is for you.
---
best wired: Audio-Technica ATH-ANC7B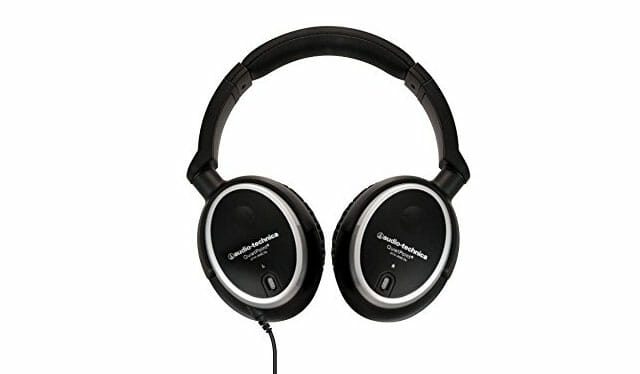 These may be a little older but they are the best wired noise-canceling headphones you can buy for under $100.
Battery life: up to 40 hours – AAA battery (no Bluetooth)
Type: closed-back
Connection: Bluetooth and 3.5mm
Why Should You Buy These?
If you're not a fan of the wireless options out there this is the best out of the wired headphones out there, the Audio-Technica ATH-ANC7B is for you.
They manage to cancel out a decent amount of ambient noise. They are the ones to buy if you're quite rough with the way you handle your headphones as they are more durable than the others on this list.
The amount of passive noise isolation when the ANC is turned off is comparable to other over-ear headphones out there. They do an excellent job at reducing background noise in both modes.
You power them up with regular AAA battery that can be easily replaced and bought in most supermarkets.
The Bad
They have a few issues with the on/off button with a slight hissing noise being made when touching the button. This is something to consider when buying these wireless noise-canceling headphones.
The Sound
This is the area that the Audio-Technica ATH-ANC7B excels the most, having a detailed midrange, impressive bass, and extendable treble. They offer a well-balanced sound that will suit all of your needs.
If you're looking for solid audio quality in wired headphones, get the Audio-Technica ATH-ANC7B.
---
best bass: Cowin E7 PRO
These are the best bass noise-cancelling headphones under $100. Bass in the face!
Battery life: up to 30 hours
Type: closed-back
Connection: Bluetooth and 3.5mm
Why Should You Buy These?
If connection distance from your music device to headphones is a factor, then the Cowin E7 PRO are the ones for you.
We suggest using these wireless headphones when running or at the gym as they are a bit more breathable than other models in this list. They are also lightweight which also helps when you're on that last stretch of running, and any extra weight annoys you.
The case provided with the Bluetooth headphones is sturdy and will shield them from any drops or splashes. Don't go chucking it in the ocean or off a building though.
Also, active noise-cancelling is effective enough to reduce a considerable amount of ambient noise.
The Bad
The reported battery capacity is said to be 30 hours but actual battery life with the ANC turned on is about 23 hours. The ear cups are perfectly rounded, and the headband extendibility is limited. If you have a slightly larger head or long ears, these over-ear headphones are not the ones for you.
The Sound
The bass is the main stand-out feature of these closed-back headphones. The 45mm drivers installed manage to deliver a much stronger sound than most headphones out there.
If you're into music with lots of bass and for Bluetooth headphones with active noise cancellation, the Cowin E7 PRO is an option to consider.
---
best cheap: Mpow H5 headphones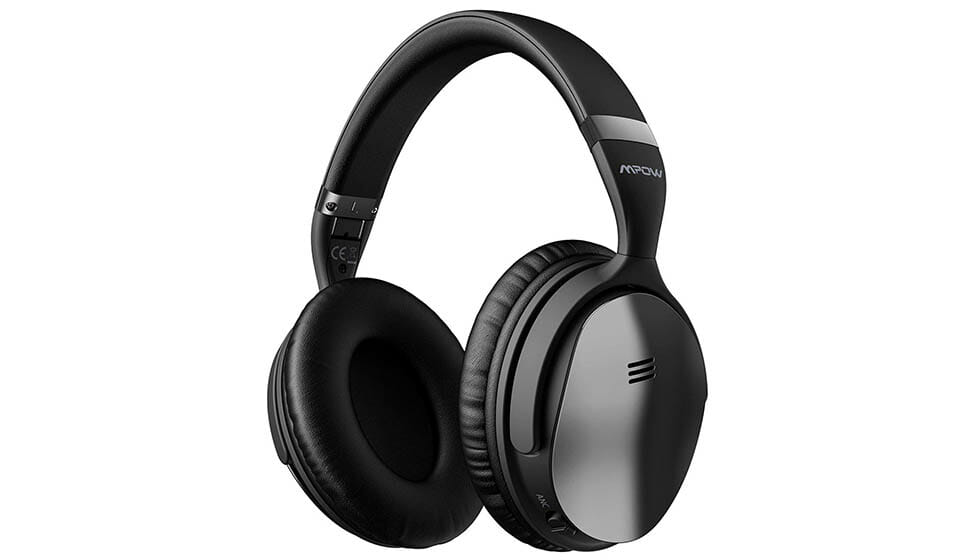 If you're looking for ANC headphones under 50 dollars, these are the ones for you.
Battery life: up to 30 hours
Type: closed-back
Connection: Bluetooth and 3.5mm
See more cheap noise-canceling headphones.
Why Should You Buy These?
There's no arguing that the price range of these wireless headphones is a major drawcard. And not many people can believe that you can get ANC for under 50 dollars.
You may expect us to waffle on about the price being so low, but one major drawcard for these Bluetooth headphones is the ease of connectivity with any device. If you're continuously switching between devices, the Mpow H5 makes this really easy to do.
A surprising advantage is that they are really compact. They also weigh only 8 ounces (225g) which makes portability a dream.
The Bad
As you would expect the ANC is not as good as the more expensive models but exceed expectations at under 50 dollars. The comfort factor is something to consider as the earcups are on the smaller size.
The Sound
Another area that the Mpow H5 outperforms expectations is sound quality. The sound could be compared to mid-end cans with quality bass and clarity. A slight loss in high tones can be expected when the ANC is turned on
If you're looking for ANC headphones under 50 dollars, the Mpow H5 is calling your name.
---
What Does a Noise Cancelling Headset Do?
An ANC headset has a tiny microphone in the actual headset that measures ambient sound (aeroplane engine noise, aircon noise etc.). They produce a sound that cancels out those noises.
Is it Okay to Sleep with Noise Cancelling Headphones?
The short answer is yes. If you also have a snoring significant other, you can also use the headphones to make the sound of snoring less annoying (but aren't comfy). We suggest that you combine ANC with playing white noise (ocean sounds, nature sounds etc.). This will definitely help you get some sleep.
Can Noise Cancelling Headphones Damage Your Hearing?
No, they can actually protect your hearing from plane noise that can eventually damage your hearing. However, if you're blasting super loud music through your headphones, then the answer is yes. Read more about safety here.

---
Disclosure: We might receive affiliate compensation if you purchase products via links on this page. In spite of that, we do our best to tell the truth about every product and don't favor any one brand or model.
Comments