The 20 Best Headphone Brands (According to You) + New 2020 Poll
What is the best headphone brand according to the popular vote?
Find out what headphone brands were picked as the best in 2019 according to you (our readers).
Plus vote for your favorite brand in the new annual headphone poll. Find the links to the vote and best headphone brands below.
---
Go to:
---
Quick Results of 2019 Vote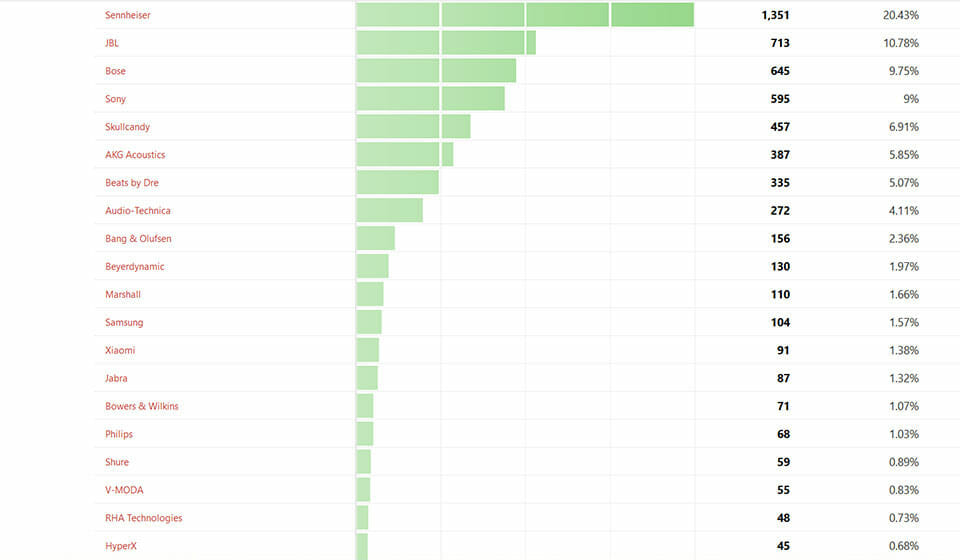 2020 What's the Best Headphone Brand Poll
Did you ever wonder what the best headphone brands (according to the popular vote) are?
We did, and because we couldn't find a good source or poll done by others, we created one ourselves.
We listed all the well known and even some less known headphone brands for you to vote for. Keep in mind these are not all the headphone brands since there are many more, but we made our best effort to put in the more popular brands (still quite a long list). If you think we forgot to include any, please let us know in the comments or contact us directly.
The Best Headphone Brands Poll
There are 61 headphone brands to choose from, in random order.
It's an annual poll. 1 vote per person. If you only want to see results scroll to the bottom and click "see the results." Thanks for voting.

---
How do I vote?
Select your favorite brand by clicking on the circle before the name.
Scroll to the bottom of the poll list.
Click on the "Vote" button.
Done!
Do you want us to add "What's the worst headphone brand poll"? Let us know in the comments.
---
The 20 Best Headphone Brands
(as voted by you in 2020)
We held a poll for a whole year and here are the results.
Over 6600 votes. Randomized order of answers, so each brand has equal chances.
Here are the top 10 best headphone brands. From 1-10.
#1 Sennheiser

Same position as last year.
According to your vote last year Sennheiser is the best headphone brand. This German company founded in 1945 with headquarters in Wedemark offers a wide range of audio products.
You can find affordable headphones that offer great value for money, consumer wireless headphones but also the most expensive headphones ever created; the Sennheiser Orpheus (priced at $55.000).
Additionally, they offer different kinds of headphones for all tastes and price points. Compared to other companies their products usually come with a slightly higher price and relatively balanced sound quality.
#2 JBL

Same position as last year.
JBL was an American company founded in 1946. It got acquired by Harman International Industries which was bought by Samsung. Technically, it's in Korean hands today.
While it's not a big maker of headphones, they do offer some very competitive wireless headphones. At the same time, they dominate the Bluetooth speaker market and are one of the biggest players.
They offer products for all prices. From very low, budget oriented products ($10-$20) to more expensive products for a couple of hundred dollars.
 #3 Bose

Same position as last year.
Bose Corporation is probably the best known American audio company. It was founded in 1964 and has its headquarters in Framingham, Massachusetts. They are the best at making active noise cancelling headphones (great at removing background noise).
Their noise canceling technology is the best-in-class as demonstrated by their popular QuietComfort headphones. They don't offer as many different models as some of the bigger companies but are well-known and liked by many.
Because most models are ANC and Bluetooth headphones they cost more. The price range of their products is higher than average, so you have to be willing to pay a bit more if you want Bose.
#4 Sony

Up one position from last year. From #5 to #4.

Sony Corporation is probably the biggest company voted into this list (according to revenue). They are the best known Japanese company, headquartered in Konan, Minato, Tokyo. It was founded in 1946.
They create a lot of different products, from video games, consumer electronics (including headphones), movies, to offering financial services. Sony is known for many great headphones and achieved global popularity. They are the ones who introduced portable cassette players, Sony Walkman, to the masses.
You can find affordable and more expensive, premium headphones from Sony. And overall, they usually offer well-made products with good user experience and sound quality.
#5 Skullcandy

Down one position from last year. From #4 to #5.
Skullcandy is one of the youngest players on the market. It was established in 2003 in Utah, United States. Its headquarters are in Park City, Utah. While they are new to making headphones they have created some great products.
They are best known for making cheap, affordable headphones with lots of bass and volume (can get loud). It makes them popular with younger generations.
Additionally, they are very competitively priced (cheaper than average). You can get a pair of headphones for under $20, and most of their products cost less than a $100. This makes it easy to understand how they've become so popular in such a short time.
#6 AKG Acoustics

Up 6 positions from last year. From #12 to #6.
AKG Acoustics was established in 1947 in Vienna, Austria. Today it's part of Harman International which is owned by Samsung Electronics.
Their open over-ear headphones are popular with professionals who need natural sound and high-comfort. Most of their models are best-suited for studio work or audiophile listening. They're also quite successful with some consumer products that include Bluetooth and active noise cancelling.
Also, you should expect to pay anywhere from $50 for their cheapest models, up to $300 for their high-end.
#7 Beats by Dre

Same position as last year.
A well-known brand now in Apple's hands offers popular wired and wireless headphones with emphasized bass. They specialize in bass-heavy cans that provide a lot of boom.
Their price range is in the higher brackets, and their headphones easily reach over $200. Also, many consider them a fashion statement due to their sleek and unmistakable design.
#8 Audio-Technica


Down 2 positions from last year. From #6 to #8.
Audio-Technica is a well-known Japanese company founded in 1962. Their headquarters are in Machida, Tokyo. They offer a wide range of headphones (over-ear, on-ear, and in-ear) as well as other audio equipment like microphones and turntables.
One of their most popular models is Audio-Technica ATH-M50X which are professional monitor headphones with great sound for under $200. They're most known for over-ear open-back headphones that have substantially better soundstage from the competition.
Generally, you can get Audio-Technica headphones for as low as $10 though most of their models range in $30-$300 range. Here's Audio-Technica ATH-M40x review. Additionally, they also make reference headphones like the ADX5000 with superb sound quality for experts.
#9 Bang & Olufsen

Down one position from last year. From #8 to #9.
Bang & Olufsen makes high-end headphones as well as Bluetooth speakers, wireless speaker systems, and other sound systems. Their headphones are premium, high-quality that look nice and sound well.
For a higher price of course. Most of their headphone selection costs from $200 to $400 and you can go much higher for their speaker systems. This is an audiophile brand that's known for producing cutting-edge products for years.
#10 Beyerdynamic

Down one position from last year. From #9 to #10.
Beyerdynamic is a small German company established in 1924. It has been family owned since its inception. The headquarters are currently in Heilbronn which is a small town in the south.
Nonetheless, they are most known for professional high-end headphones with great audio quality. The most popular model being DT 770 PRO which are great over-ear headphones.
Generally, the price range is above average starting at $50 for their in-ear headphones followed by more expensive headphones up to around $1000 (T1 model).
The Top Headphone Brands from #10-20
The rest from 10-20 (according to your vote in 2020).
#11 Marshall
#12 Samsung
#13 Xiaomi
#14 Jabra
#15 Bowers & Wilkins
#16 Philips
#17 Shure
#18 V-MODA
#19 RHA Technologies
#20 HyperX
---
Do you think our readers got it right? What headphone brand do you think is the best right now? Share your opinion in the comments below.
Thanks for checking out our poll.