Sports
The 8 Best Waterproof iPod/MP3 Players for Swimming in 2020
What are the best iPods/MP3s for swimming? Instantly compare the top choices.
Comparison of Top Waterproof iPod & MP3 Swimming Sets
Rating
Price
Memory
Type
Water Protection


i

Rated depth as specified by the manufacturer. We did not test it.
For safety reasons don't use under 10ft (3m).


Apple iPod Shuffle
by Underwater Audio
best overall
4.5
$$$$$
($200-$300)
2GB
iPod
+earbuds
Up to 30ft (10m)
More info
Waterfi iPod Shuffle
iPod alternative
3.5
$$$$
($120-$200)
2GB
iPod
+earbuds
Up to 10ft (3m)
(MP3 - 210ft-64m)
More info
AfterShokz Xtrainerz
best bone conduction
4.4
$$$$
($120-$200)
4GB
bone conduction
Up to 10ft (3m)
More info
Tayogo Bone Conduction MP3
cheap bone conduction
4.1
$$
($30-$80)
8GB
bone conduction
Up to 10ft (3m)
More info
FX-Sport VRX
best on-ear
4.7
$$$$
($120-$200)
8GB
on-ear MP3

With silicone skin:
200ft-60m

More info
Sony Walkman
NW-WS623
with Bluetooth
3.7
$$$$
($120-$200)

4GB/8GB
MP3
in-ear
headset
Up to 6.5ft (2m)
More info

SYRYN Waterproof MP3
best cheap MP3 player
4.1
$$
($30-$80)
8GB
MP3
+earbuds
Up to 10ft (3m)
More info
SEWOBYE
Waterproof MP3
cheap MP3 alternative
4.0
$$
($30-$80)
8GB
MP3
+earbuds
Up to 10ft (3m)
More info
Below you can find the best waterproof iPods and MP3s that are designed for swimming, even underwater.
All the options in this guide are fully waterproof with minimum IPX7 water protection. It means you can confidently take them under water for hours on end without damage.
They're the best options right now.
Related:
Click here for waterproof Bluetooth headphones.
What are the best swimming headphones?
Key Features of Waterproof MP3 Players
Full water protecton – the MP3 player needs to have at least an IPX7 (or higher) waterproof rating to comfortably use it in water. Water is a big enemy of electronics, and keeping it away from the vital parts is a must. Most MP3s are waterproofed by an invisible layer of water deflecting material that keeps water away from the insides.
Lower ratings don't provide enough protection against water pressure when under water. That's why water-resistant headphones aren't good enough for swimming. You need fully waterproof ones. More info about waterproofing.
Stable fit in water – if the headphones you wear in the water keep falling out you'll be more annoyed than anything else. Picking the right ear tips that keep water out of the ear canal, usually, triple-flange tips is crucial for good user experience. Make sure to use a swimming cap to help with stability.
On the other hand, you can always get bone conduction headphones that transmit sound through bone vibration or on-ear headphones that sit next to your ears (see examples of both below).
Music quality and performance – To get one thing straight, you'll never get a super high sound quality in water due to physics, so give up on the idea. But you can expect the audio you will enjoy and have fun with. Also, you might need more than 2 GB of storage for your songs, so an iPod might not be enough (unfortunately they don't make bigger iPods).
How are waterproof MP3 players different from other MP3s?
With the Apple iPod Shuffle, the only difference is the additional upgrade of the water protection. The MP3 itself comes with the same file storage, music quality, and performance. The same is true for other waterproof music players.
They work the same way but can also survive a prolonged dip in the water.
Best Waterproof iPods
1. Apple iPod Shuffle by Underwater Audio (best overall)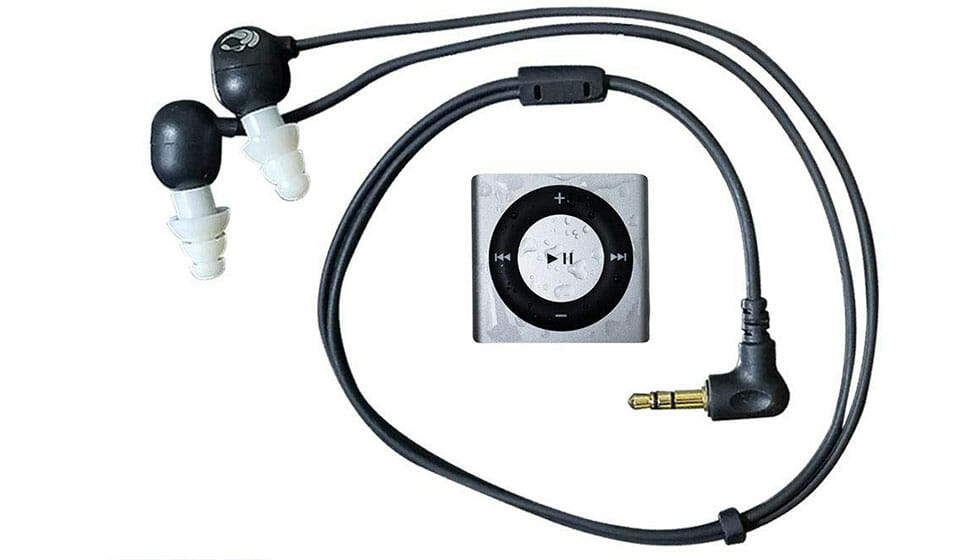 For swimming, this is the best waterproof iPod on the market right now.
Whether you're making laps in a pool with fresh water or enjoying underwater activity in a salty sea, the Apple iPod Shuffle waterproofed by UnderwaterAudio is your best choice.
PROS
Works like a charm for swimming
Water protection up to 200ft underwater
Very durable and easy to use
500+ songs in a compact design
Nice selection of accessories (ear tips, cord extensions, bag…)
CONS
Might have some difficulties keeping earbuds in
Quick review
Durability & Water Protection
The whole clip-on casing of the Shuffle is made waterproof up to 200ft in depth. This is serious protection from water, and it's very unlikely you'll ever need to go deeper. Getting good waterproof earbuds makes this iPod also great for diving, meaning more fun for you.
Durability for above water use is great, as you'd expect from Apple iPod. It's small and sturdy and doesn't differ from the standard non-waterproof edition. You can easily use it for sports or just everyday listening.
The whole set has 2 years of warranty and UnderwaterAudio has great customer service if you're ever in need of getting it replaced or fixed.
If you take good care of it, it will serve you for years. Make sure to rinse it with a cloth and let it dry after use. This is especially important if you use it in salty water. Many people report using it for years without any problems. This is still Apple quality after all.
Fit
Together with standard, non-waterproof Apple earbuds, you get additional in-ear earphones explicitly made for in water use. They come with a nice selection of swimming ear tips and a short cord with an extension., just in case you need it. This way you can wear it in many different ways.
Earbuds are 100% waterproof, and you don't have to worry about getting them wet. The only problem water makes is that it slightly changes the sound if you don't have the best fit. But for most people, this is not going to be a big issue.
In case you're one of those people who just can't seem to keep the earbuds in, you can try different waterproof headphones like these Swimbuds.
You can also wear a swim cap to stabilize the fit better.
Features
It features 2GB of space which isn't much compared to today's MP3s but is enough for over 500 songs and considering this is Apple Shuffle (no screen) you'll probably never want more songs than that.
The battery has about 15 hours of playtime and is charged by regular USB cable.
Sound
The sound quality is pretty good, especially considering this is an MP3 set for swimming purposes. It sounds the same as the regular iPod Shuffle. The clean, detailed, and balanced sound you can enjoy on the go.
To be completely frank, you're probably not going to focus on sound quality while swimming or diving and if you are, then get different headphones. Find best workout headphones here.
The sound can be a bit muffled sometimes, depending on your fit and the earbuds you're using. This means the sound isn't perfect, but it's the best you're going to get out of any waterproof music player available.
If you're looking for, small, durable, waterproof MP3 player you can go swimming with, get iPod Shuffle by UnderwaterAudio and never again suffer the silence even if you're 20ft under surface.
---
2. Waterfi Waterproof iPod Shuffle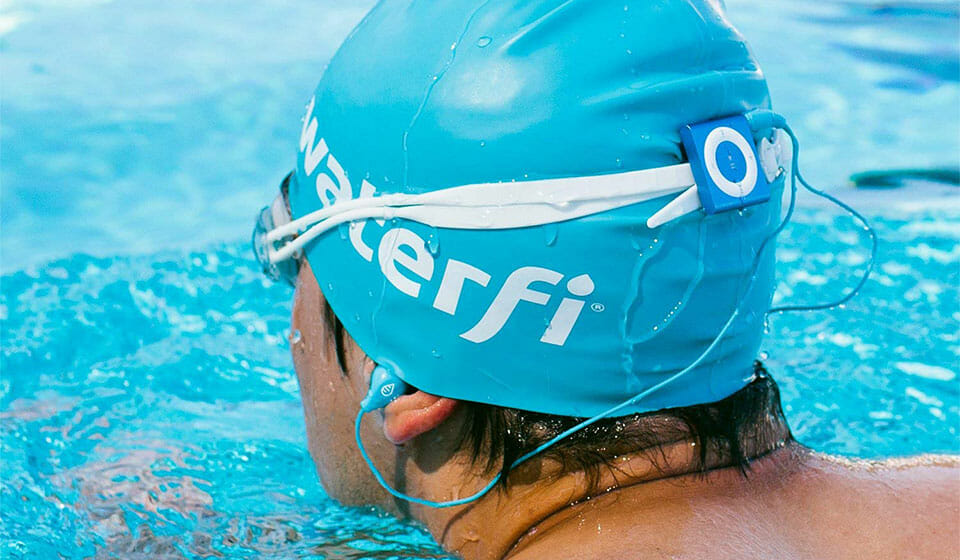 Waterproof iPod Shuffle alternative.
This is another very popular iPod Shuffle set very similar to the one made by Underwater Audio.
Waterfi iPod set is slightly harder to get and comes with fewer accessories; otherwise, it's at least as good.
PROS
Water protected for 210ft depth
Small, compact, reliable iPod shuffle
Very durable, yet simple design
Apple quality
CONS
Slightly more expensive than alternatives
Earbuds might lose the fit underwater
Quick review
Durability & Water Protection
Wearing this iPod, you can go up to 210ft underwater, which is even more than the UnderwaterAudio model. Not that you will actually need to use these at 200ft+ depths, but it's good to know the limit. The problem is the headphones, which are IPX7 rated, but this means you can only go about 10ft underwater with them.
It looks and feels like the standard 4th generation Apple iPod Shuffle, small, sturdy and simple to use.
It can be conveniently strapped on to your goggle strap or wetsuit and because it's so small and light it won't bother you.
Fit
The wires are slightly longer at 11 inches which might be a nuisance since the cord flaps around a lot underwater. But for some people, the cord is still too short, causing frustration during swimming.
Additionally, you get different sized ear tips and original, non-waterproofed Apple earphones. The waterproof earphones might have a bad fit for some people, in this case, you should look into Swimbuds Sport, which are the best headphones for swimming on the market right now.
The combination of waterproof iPod Shuffle and Swimbuds™ Sport is the most reliable option, though a bit pricey.
Features
This waterproof shuffle comes with a battery life that lasts up to 15 hours and can store at least 500 songs/podcasts in 2GB of onboard storage.
The small, durable, and tested iPod Shuffle offers a lot of flexibility and ease of use. You'll learn what buttons to press to control volume or skip songs in a heartbeat.
Music can be put on the iPod via iTunes or various other software which is compatible with it.
Sound
Sound quality isn't any different from the standard iPod, after all, it's the same product, just made waterproof. This doesn't mean sound quality is bad it's among the best you can get for swimming.
The set is quite pricey for such a small MP3 player, but when it comes to underwater performance, you will have a hard time finding better. Apple is known for producing top-notch products and to really have no worries about using it underwater you get a 2 years waterproof guarantee by Waterfi.
If you want a durable and reliable iPod for swimming, Waterfi version is one of the best and with proper maintenance, it will last you for years.
---
Best Waterproof MP3 Players
3. AfterShokz Xtrainerz (best bone bonduction)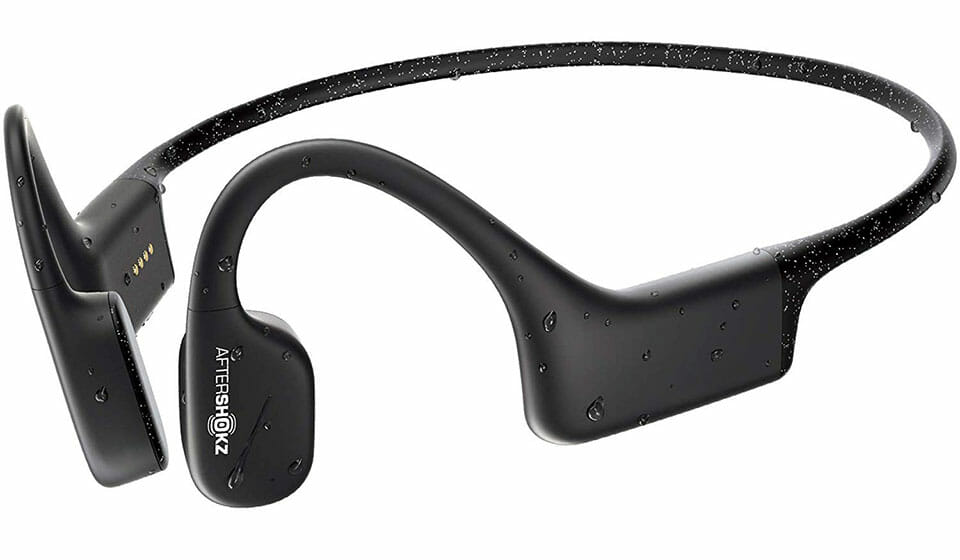 Best waterproof MP3 player with bone conduction
This clever design offers bone conduction headphones that don't require earbuds and special tips but instead transmit the sound through bones.
Water protection: IP68
Memory size: 4 GB
Headphone type: Bone conduction
Why Buy These?
AfterShokz makes a lot of the best bone conduction headphones, and the Xtrainerz are designed specifically for swimmers.
It can hold about 1,200 songs in total and run for 8 hours of continuous play. This is more than enough for most swimmers.
The bone conduction technology is smart and sends the vibrations through your cheekbones rather than straight into the ear, which helps with fit under and in water.
The IP68 rating allows you to use these up to 2 meters deep. Also, a swim cap is included. They're pretty sturdy, but this swim cap keeps the headband in place.
The Bad
The water can get in the way of the vibrations and cause imperfections with the sound. They're also pretty expensive due to the design and technology.
The Sound
The sound is more than sufficient for most people. They're not overly bassy, but most swimmers are used not to get punchy low end.
For the most hassle-free experience when swimming with headphones, consider the AfterShokz Xtrainerz.
---
4. Tayogo Bone Conduction MP3 Player (cheap bone conduction)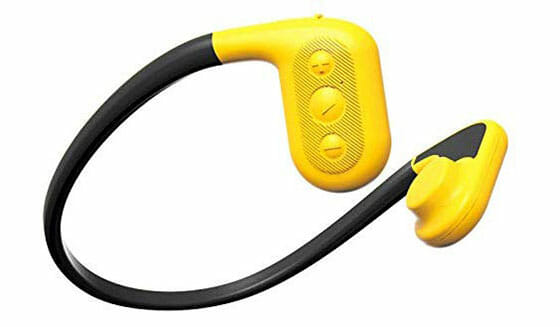 Cheap bone conduction MP3 player for swimming
This is a more affordable bone conduction alternative with a high storage capacity and pretty good sound that works for swimming.
Water protection: IPX8
Memory size: 8 GB
Headphone type: Bone conduction
Why Buy These?
A more affordable option than the AfterShokz, this MP3 also has bone conduction headphones and inbuilt 8GB of storage. The storage capacity can hold over 2,000 songs. And, you can also listen to FM radio if you want.
The headphones have a 6-hour battery life, perfect for most swimming sessions. As well as being suitable for use underwater (IPX 8 allows them to be fully submerged) they are great for running and other exercises.
Neckband design is combined with ear hooks to keep them secure while you swim.
The Bad
The bass is a little bit lacking due to technology.
Also, the sound isn't as good as with AfterShokz.
The Sound
It's clear enough to listen to music or audiobooks, and the water doesn't interfere during a swim.
They're not the bassiest headphones, but this is often the way with this technology.
For a lot of storage and a great set of underwater headphones with an MP3, consider the Tayogo Bone Conduction MP3 Player.
---
5. FX-Sport VRX (best on-ear)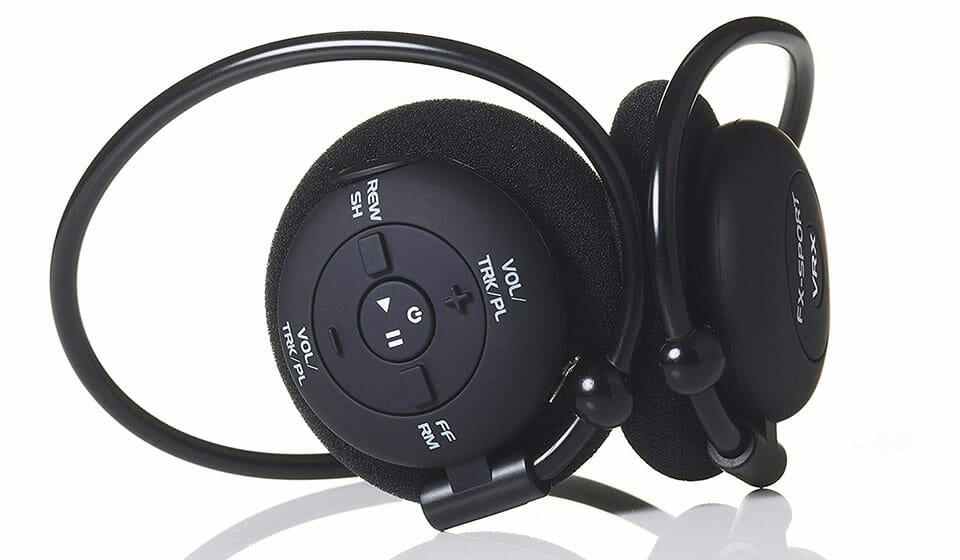 Best on-ear MP3 player with pre-loaded workouts
A nice touch for those who want to use their MP3 player as a workout companion, there are a number already loaded onto this one.
Water protection: Unspecified
Memory size: 8 GB
Headphone type: On-ear
Why Buy These?
FX-Sport VRX headphones are designed with the active lifestyle in mind. They have pre-loaded workouts for running and modes that can help you test your athletic abilities. Training modes and workouts can be very helpful when you can't afford a personal trainer or have difficulties sticking to your plan.
Five hours of battery life will last you most swimming sessions and a trip to the outdoors. The 8 GB of storage means around 2,000 songs can be stored.
The on-ear design isn't usually ideal for rigorous workouts, but the tight-fitting ear hook design keeps the headphones secure.
The Bad
These headphones are water-resistant and sweatproof, but you need to buy a specific silicone bag to use them in the water for swimming.
The Sound
The sound is pretty good outside the box. They have an extra amplifier, and the EQ settings allow you to control bass and treble.
But for in-water use, the silicone bag takes away from the audio quality, though you can still enjoy it.
If you don't mind buying the waterproof case or aren't spending too long underwater, the FX-Sport VRX are a reliable option.
---
6. Sony NW-WS623 (Walkman with Bluetooth)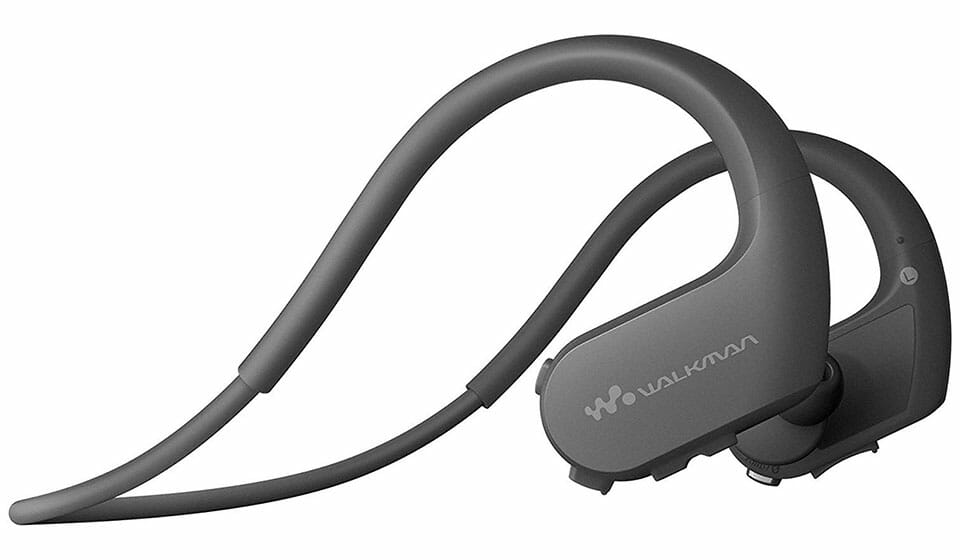 Sony Walkman design with Bluetooth and inbuilt storage
For the ability to listen wirelessly via devices and through internal storage, plus saltwater and freshwater waterproof capability, these are a good choice.
Water protection: IPX8 (IP68)
Memory size: 4 or 16 GB
Headphone type: in-ear
Why Buy These?
The Sony Walkman brand has changed a lot since its popularity in the 80s and 90s. This headset is suitable for use underwater, and the IPX8 rating means it can be submerged over 6 feet. It even works in saltwater.
With inbuilt storage in the form of a 4GB or 16GB MP3 player, you can also listen to music using Bluetooth (but won't work in water).
The headband design with earbuds attached helps them to stay in place. The band hooks around the ears for comfort and stability while swimming.
12 hours of battery life is great for swimmers of all kinds. Plus, three minutes of charge can give a 60 minute listening time, perfect for a short dip.
The Bad
Sony NW-WS623 headphones aren't the most comfortable. Extended use can make your ears ache. The ear tips are also on the large side.
The Sound
The frequency response is good, and the sound clarity is suitable for all kinds of music and listening to podcasts or other audio. Though, listening via the inbuilt storage gives better audio clarity.
For reliable waterproof capabilities in salt and freshwater, plus the option to use Bluetooth when not swimming, the Sony NW-WS623 are the best choice.
---
7. SYRYN by Underwater Audio (best cheap MP3 player)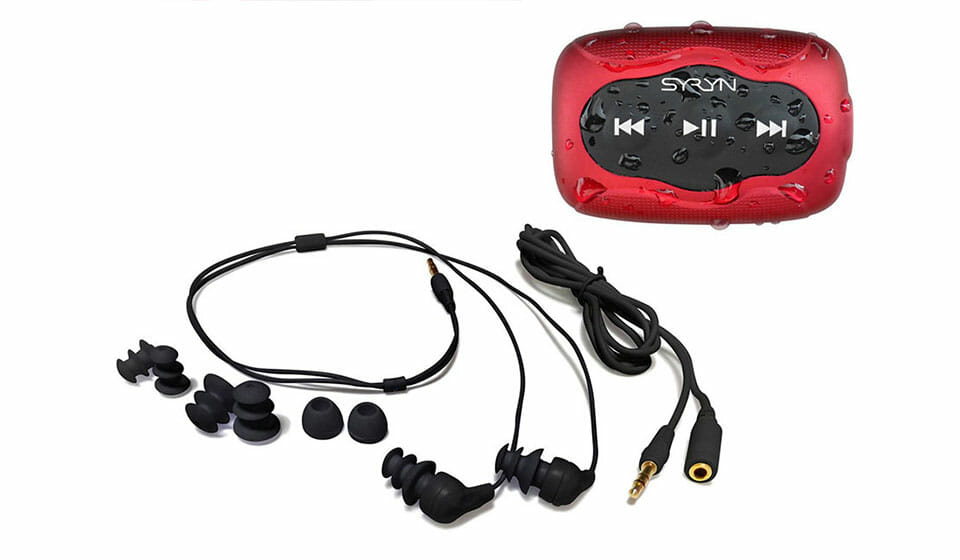 The best cheap waterproof MP3 player for swimming
Often sold bundled with Swimbuds, the SYRN is a cheap and simple solution for swimmers to take music underwater.
Water protection: IPX8
Memory size: 8 GB
Headphone type: in-ear
Why Buy These?
With an IPX8 rating, this MP3 is excellent for using underwater. It is usually sold with Swimbuds (earphones) which do a fairly good job of recreating the sound of your favorite tracks.
The SYRN MP3 works with USB, and you can just drag and drop your songs or other audio files. It works on Mac or Windows exactly the same.
8GB of memory is fairly generous, and enough for 2,000 songs. There is a shuffle mode included, so you don't get bored with the songs at the start of the playlist.
The Bad
While the main controls are pretty simple, advanced modes like shuffle aren't easy to figure out straight away.
A swimming cap is required to hold the ear buds in.
The Sound
Paired with the swimbuds, the sound is basic but good enough for listening casually.
For simple, durable and affordable underwater listening, we recommend the SYRN by Underwater Audio.
---
8. SEWOBYE Waterproof MP3 Player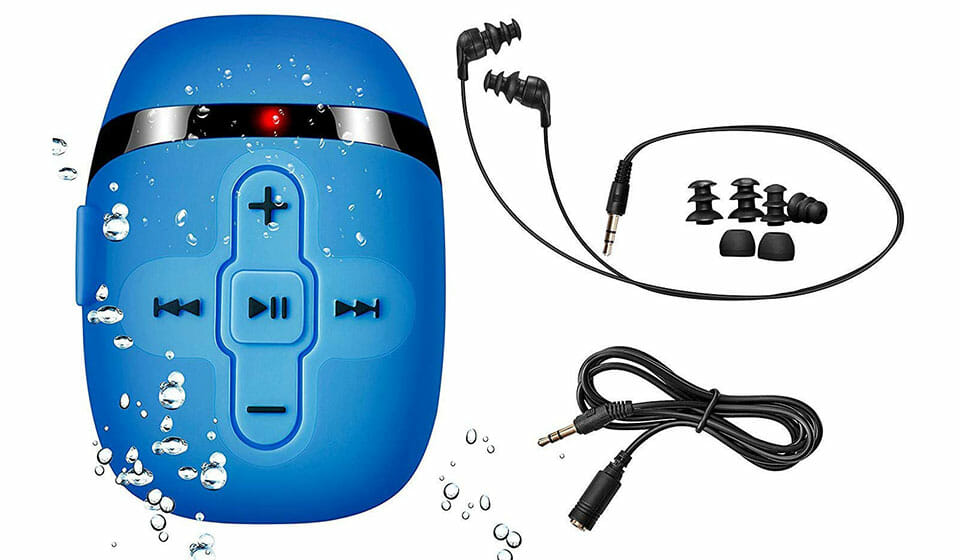 Alternative waterproof MP3 player under $60
An affordable solution with headphones and a convenient design for swimmers.
Water protection: IPX8
Memory size: 8 GB
Headphone type: in-ear
Why Buy These?
The main selling point is the fact that the SEWOBYE has been designed with swimmers in mind. It's a generic brand that copies others and does it for less money.
This is a lightweight MP3 player, and the clip attaches it to goggles when swimming. The control buttons are simple to use, with ridges that make it possible to control with wet fingers.
They come with waterproof headphones (IPX8 rating) with a short cord that's perfect for swimming use.
An 8GB memory is respectable, and the 16-hour battery is a real bonus. This is far longer than many competing models.
The Bad
The included earbuds aren't the best. Think about replacing these with better waterproof headphones, check here.
The Sound
The included earbuds sound about average, imagine your Apple earbuds that everybody had in the past.
It's decent for music and fine for podcasts or audiobooks. High fidelity audio is really not the aim, but the MP3 makes up for it.
For an MP3 player that's easy to control even underwater and comes with the latest technology, consider the SEWOBYE waterproof music player.
---
Honorable Mentions
Diver DB-10 – discontinued but used to be an excellent cheap MP3 player, if you can still get it.
---
Why are Waterproof iPods & MP3s Best for Swimming?
If you want to listen to your favorite music during swimming, the best and most reliable solution is a waterproof MP3 player, like a waterproof iPod Shuffle, and waterproof in-ear headphones.
This technology is very basic but works best underwater. See why you can't use Bluetooth headphones underwater below.
The main reasons why you should get an iPod or MP3 headset for swimming are:
Proven technology that works
Wired, smaller design is easier to make waterproof even for deeper water
Small design is easier to keep on during swimming (imagine swimming with over-ear headphones…)
Waterproofing small earbuds and music players is cheaper than bigger headphones or your phone.
What should you avoid in waterproof MP3 players?
Because waterproofed MP3s aren't the cheapest make sure to pick a reliable brand that has been in the business for a while. There are brands like UnderwaterAudio, Waterfi… that are specialized for making waterproof gear.
You can always have more confidence in a proven product with positive user feedback than going with a brand new company.
Also, avoid products with over-promised features. Some manufacturers market their products as waterproof and suitable for swimming but aren't actually designed for it. Go with a proven product even though you might have to pay a bit more.
How Deep Can I Go with Waterproof MP3 Players on This List?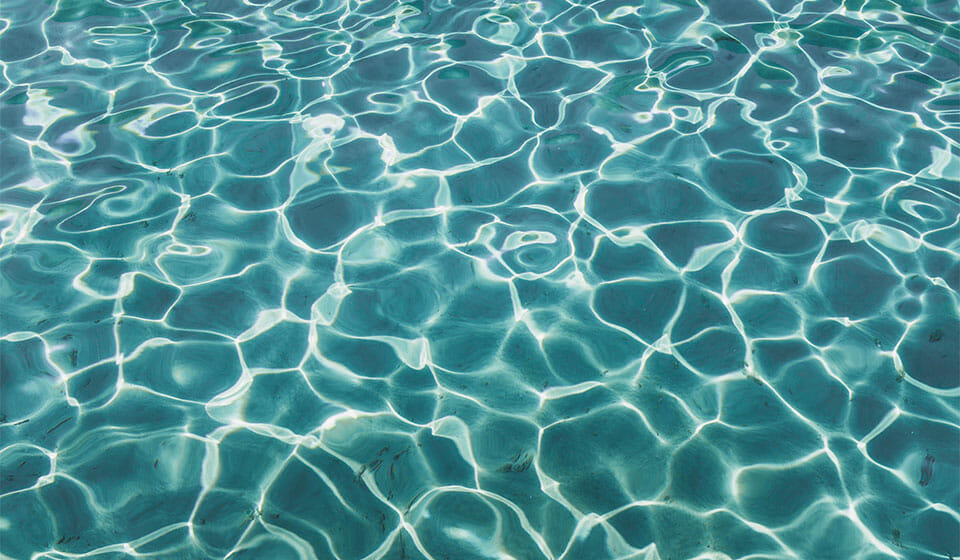 All of the iPod/MP3 sets on this list are perfectly safe to use for swimming in pools, and some are protected from the water up to great depths.
In fact, our top iPod Shuffle is rated to be completely waterproof up to 200ft in depth which is useful even for diving purposes. Read the reviews for each model to find out more about it.
Keep in mind to clean your waterproof iPod with fresh water after using it in the sea. Salty water is a bit more aggressive with electronics than freshwater.
What are the Best Waterproof Headphones for Swimming?
There are many waterproof earbuds suitable for swimming, but when it comes to the absolute best, Swimbuds are the way to go.
When you buy your own waterproof MP3 player you'll probably get additional headphones with it, but those usually aren't the best.
It's not uncommon to have a lot of problems keeping them in ears, especially during fast, underwater movement, like doing flip turns. Unless you're using a swimming cap or have some other way to stick the headphones in your ears, you'll likely experience frequent issues.
"Keep in mind that wearing a swim cap can really help with stability even when using Swimbuds."
Another option is to get a bone conduction MP3 player that doesn't require in-ear headphones like AfterShokz Xtrainerz.
Get more info in our guide on the best headphones for swimming.
Why are Bluetooth Headphones Bad for Swimming?
Bluetooth headphones don't work underwater because the signal doesn't transmit the same way underwater. This makes wireless Bluetooth headphones useless for swimming because the connection won't work.
The moment your headphones touch the water, you will experience signal interference. This means you'll eventually lose the Bluetooth connection and headphones will stop working.
As of right now, we still don't have cheap, good, wireless technology that could be used for underwater sound streaming.
Nonetheless, for above water sports like kayaking and board paddling, you can still use waterproof wireless headphones.
More:
---
Disclosure: We might receive affiliate compensation if you purchase products via links on this page. In spite of that, we do our best, to tell the truth about every product and don't favor any one brand or model.
Comments