Only have 30 bucks for a pair of headphones? Here are the best cans under $30.
Comparison – The Best Headphones under $30
Are you looking for cheap headphones and don't want to spend more than $30? You've come to the right place.
Below you can find the best headphones under $30 that are available today. While it might not seem like a lot of money, you can actually get a decent pair of headphones.
You'll find over-ear, on-ear, in-ear and even solid open-back headphones. All of the picks are one of the best at this price range. We looked at sound quality, durability, comfort, and overall performance and features.
Headphone guides for other budgets:
The best cheap headphones
The best earbuds under $30
The Best Headphones Under 30 Dollars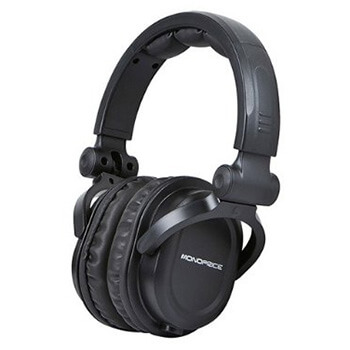 Monoprice 8323 are the best over-ear headphones under $30. With amazing value, they're a no-brainer.
Price:
Should You Buy These?
Are you searching for headphones that can give you excellent sound and excellent noise isolation? Then read on.
The Good
These can easily be worn for a long time, because of their fantastic comfort. They also block pretty much all noise around you which makes them great for private listening.
The foldable design helps take less space and makes them portable as well. But what makes them stand out in this category is the audio quality.
The Bad
Monoprice 8323 are cheap headphones, so don't expect the best build quality. Also, if you have larger ears, they can get uncomfortable to wear. Because they are over-ear and closed-back using them for a long time can make your ears warm up.
The Sound
Surprisingly good sound, for under $30. You get plenty of bass, but it doesn't prevail the mids or the highs. The mids are slightly forward, making the vocals stand out. The highs can get a little sibilant. But all in all, they are great to listen to a variety of music genres, from jazz to hip-hop.
The Verdict
Monoprice 8323 closed-back headphones are not perfect, but you can expect fantastic sound quality for all music genres that won't leave you disappointed. Top pick for less than $30.
---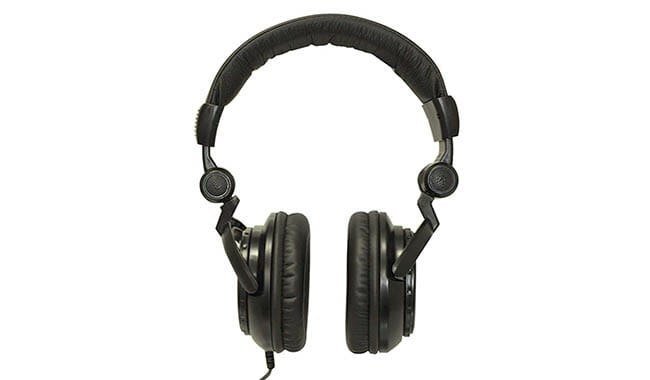 Tascam TH-02 are without the doubt the best basshead headphones under $30.
Price:
Should You Buy These?
Do you want over-ear headphones that are noise isolating and put the bass in front? Then make sure you check out the Tascam TH-02.
The Good
Due to noise isolating design, you can use them without fearing someone around you might complain about your loud music. Their low leakage is the best in this price range.
Also, they can be folded into a smaller format, so you can pack them and take them with you. The cable is thick, so if you treat them well and not pull too hard, they can last a long time.
The Bad
They are not the best in comfort, because of their cheap build quality. Keep them safe to prolong their life. Extended listening sessions can get uncomfortable while using these.
The Sound
What makes them stand out in this category, is definitely their sound. Bass is warm and punchy, giving bass guitar and kick drums their voice. Although they lack detail and brightness on vocals and some instruments, these two elements can still get to the front of the mix.
With that said, these are the best to use while listening to heavy metal, hip-hop or rap music with plenty of bass. You can find other bass headphones here.
The Verdict
The best over-ear headphones for a basshead under $30. You can use them to listen to your strong bass music or to practice playing your (bass) guitar, and no one will ever say you are being too loud.
---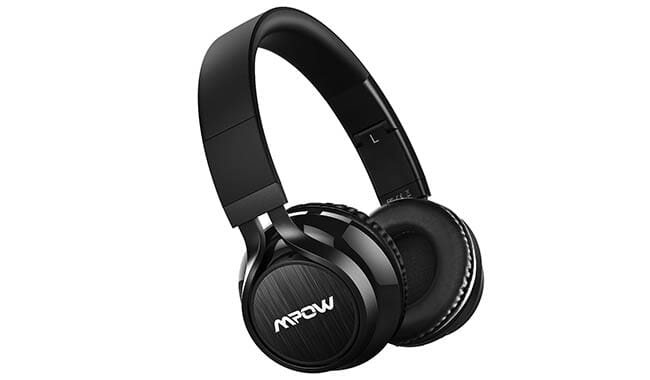 Mpow Thor are budget Bluetooth headphones, comfortable for everyday use and capable of producing good audio quality.
Price:
Should You Buy These?
If you're searching for wireless headphones that you can use even in the gym, these are the one to look at.
The Good
Mpow Thor are comfortable, because of their soft memory foam earpads. They are lightweight, so there is very little pressure on your head and ears. The headband is extendable so you can find the most comfortable way to wear them.
You can use them as Bluetooth headphones or as wired ones. They have 8-hour battery life, charging lasts 2-3 hours. What makes them even better, is their built-in mic you can use for phone calls. You can fold them into a smaller size and take them wherever you want.
The Bad
Built-in microphone works only in Bluetooth mode. Although they are lightweight, if you're wearing them for too long, they can make your ears sore.
The Sound
They give a decent sound, compared to their price. Their sound is clear while listening to music or making calls. All ranges are somewhat balanced, so if you like more of a bass-heavy sound, you will be a little disappointed. They also provide quite good noise isolation.
The Verdict
What makes Mpow Thor headphones stand out, is their ability to pack many wireless features, work reliably, and produce solid sound, all for under $30. It's quite a feat for such low price.
---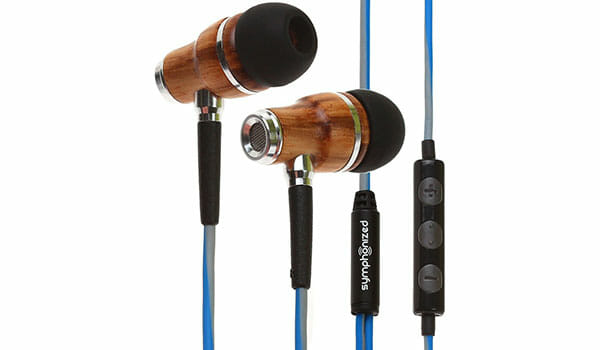 Symphonized NRG 3.0 are the best in-ear headphones under $30. With a reliable performance and the pleasant sound, they're a top pick among many.
Price:
Should You Buy These?
If you're looking for a pair of earbuds that is enjoyable to wear, comfortable, and sounds nice, then make sure to read below.
Find more budget earbuds.
The Good
The first thing you notice is the wooden design, which looks cool and provides lightness. Wearing these with ear tips in the right size (you get different sizes in the package) can not only make them super comfortable but also gives excellent noise isolation.
What makes these differ from other in the guide is also having an in-line microphone you can use to make calls. You can easily use these in the gym, but they are best at everyday use.
The Bad
The earbuds are not water- or sweatproof, so be careful while using them in the gym. Noisy environments make calls difficult.
The Sound
They produce slightly warmer tones, rich in details. Highs are well defined, mids are smooth, and the bass nicely colors all together. Their audio quality can satisfy all music genres, from classical to more modern.
The Verdict
Wood makes Symphonized NRG 3.0 in-ear earphones pleasant for everyday use, it refines and warms their sound and makes their design impossible to dislike.
---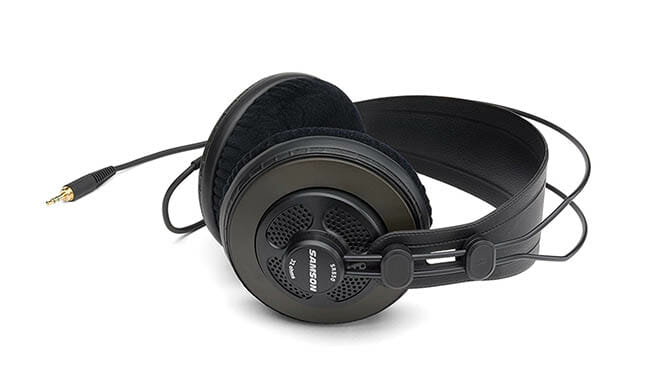 Samson SR850 are the best budget over-ear, open-back headphones, that will charm you with their ability to produce sound, worth much more than their price.
Note: Sometimes the price increases but you can get them for around $30.
Price:
Should You Buy These?
If you want new open-back headphones, that are comfortable to use and provide a wider soundstage, check these out.
The Good
These Samson headphones have nice and durable design. Vinyl headband provides good stability and comfort. This self-adjusting headband is also very convenient because you don't have to adjust the size every time you put them on. Their sound is amazing.
The Bad
Because they are open-back headphones, most people around you will hear what you are listening to, especially if you're using high volume. Their over-ear structure can make your ears get a little hot from prolonged use, although being open-back helps a little.
The Sound
The sound they provide is very natural, wide and open. Mids and highs are well balanced and detailed. Bass is present and light, but it's not a complete deal breaker for bassheads. Their sound will satisfy budget audiophiles. They are great for listening to all kinds of music.
The Verdict
Samson SR850 are a great addition to your every day, whether you're using them to play computer games, listen to your music or professionally working in a studio. They produce fantastic, open sound that more than deserves their price.
---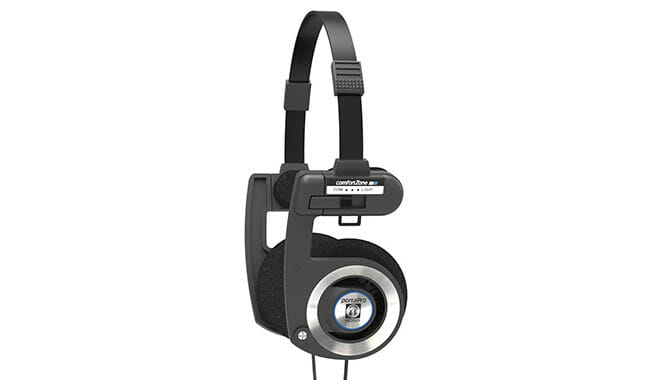 Koss Porta Pro are on-ear headphones, with a design that hasn't changed since 1984 and sound quality, that's better than most in this price range.
Price:
Should You Buy These?
If you're looking for retro design, excellent audio quality, and high comfort, you have to check these ''oldies-goldies'' out.
The Good
Koss Porta Pro's design is comfortable, lightweight and therefore cozy to wear for a long time. Earpads don't go over the ears but instead, rest on them. Their durability is decent with some care.
The headband extends well, so they are pleasant to wear, regardless of your head size. The cable length is just right to be able to move around.
The Bad
They are not suitable for any kind of physical activity, because their ear cups do not clamp too tight and they can fall off your head. The headphones don't provide any kind of sound isolation, because of their open-back design. That causes sound leakage too.
The Sound
Soundstage they produce is open and detailed. They tend to get very loud. Bass is strong, but not overbearing. Mids and highs are reasonably neutral, with mids being a little punchier. They are suitable for listening to any kind of music, from classical to R'n'B. It all sounds just as good as it would on much more expensive headphones.
The Verdict
What makes the Koss Porta Pro headphones stand out is their old, retro design, but don't let that fool you. The sound they give is modern and satisfactory, there's undoubtedly nothing ''retro'' about it.
---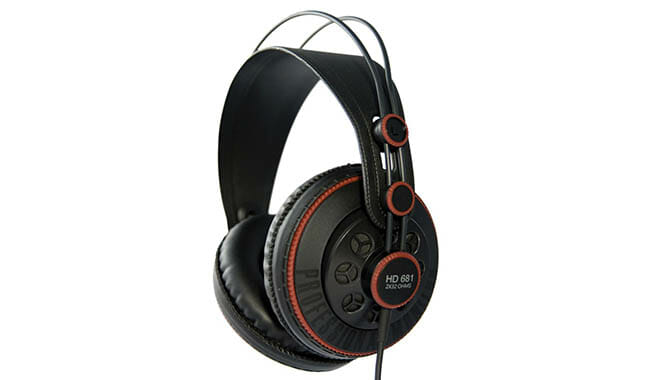 These semi-open, over-ear headphones are breathtakingly good at producing excellent sound. They can make a new audiophile fall in love with their music.
Price:
Should You Buy These?
If you're looking for audiophile audio quality, lightweight design and impressive comfort, Superlux HD 681 are the one to get.
The Good
Large ear cups and adjusting headband are making these headphones extremely comfortable, even if you use them for a longer period of time. Their durability is quite impressive too and having a thicker detachable cable, you can easily replace, makes them even longer-lasting.
Sound, they are producing, will satisfy even more serious listeners.
The Bad
The design is made out of plastic, which can look a little cheap. These headphones are not meant to be used for sports. Noisy surroundings could bother you, the same as your music could bother people around you (not the best noise isolation).
The Sound
They offer a slightly warmer, but somewhat balanced sound. Bass is powerful and balanced with mids. Highs are bright, but all ranges mix together well. This is usually useful for calmer music, like classical or country, but these headphones don't disappoint even in other genres. If you are an audiophile, the balanced sound won't leave you indifferent.
The Verdict
The Superlux HD 681 are one of the best audiophile headphones on a budget. For less than $30 you get cans comparable to more expensive headphones on the market. Especially, when it comes to audio quality, you cannot miss if you get these.
---
Frequently Asked Questions (FAQ)
What Can You Expect from $30 Headphones?
Around $30 is the low point at which you can still get a solid pair of headphones that will be comfortable and enjoyable to listen to.
Of course, you can get earbuds for less. Here you can find earbuds under $20 and earbuds around $10.
But if you're looking for over-ear and on-ear headphones, we advise against spending even less as the quality won't be up to par.
Also, you can't expect noise cancelling headphones as you won't find any. You have to pay more.
The durability of sub-$30 headphones is limiting.
Mostly you can expect plastic casings with minimal metal parts. It's hard to get waterproof or sweat-resistant headphones for this price because it costs money to protect against moisture.
You should take better care for them with the understanding that these are budget headphones. Or get the most durable earbuds.
Wireless Bluetooth technology that works is hard to get.
You can find wireless Bluetooth headphones under 30 dollars, but they have only basic functionality and average audio quality. Just the fact that wireless is a feature eats up most of the price you're paying.
Maybe in the future manufacturers will create more affordable wireless headphones as they're becoming more popular by the day. We'll keep you updated.
You can expect good sound quality.
As always, the sound is one of the critical aspects of any audio equipment. If the drivers are set up correctly, you can get a pleasing sound quality that far supersedes its price.
Maximum audio quality for your money is exactly what you get from these headphones. They are clear, have powerful bass and wide soundstage, but you won't find everything in one pair.
A comfortable fit is part of the package.
Thankfully, most headphones today, as long as they are big enough and use soft materials, offer excellent comfort for many hours. Cheap, plastic design in these headphones is lightweight and helps with that. Plus, soft cushions are not so expensive nowadays.
You can reasonably expect to get comfortable headphones for under $30. Additionally, here are the most comfortable headphones today.
---
Thank you for checking our guide. Please leave a comment and let us know what you think. If you believe we missed on an amazing pair of headphones that cost less than 30 dollars, please let us know.
---
Disclosure: We might receive affiliate compensation if you purchase products via links on this page. This is how we purchase headphones for new reviews and keep the site adds-free. In spite of that we do our best to tell the truth about every product and don't favor any one brand or model.
Comments