What are the best headphones with ear hooks that provide a fantastic fit? Get the answer here.
Comparison of Best Ear Hook Headphones
Ear hook headphones are popular sports headphones. If you do a lot of physical activity using your headphones, then you know how important it is to keep them in place.
The annoyance of earbuds falling out during exercise is frustrating. In-ear headphones change sound just by moving inside your ear canal. It's not a pleasant experience.
Headphones in this design hook around the back of the ear. A wire or rigid hook, usually plastic or silicone, adds stability while you move.
Hook design is good for using in the gym, running, cycling, and other activity.
But some hook headphones are simply uncomfortable.
Nonetheless, we've made a list of the best ear hook headphones here.
Related:
Key Features of Ear Hook Headphones
If you've decided that the hook design is for you, how do you know which ear hook earbuds are best?
And what are the key features of ear hook headphones?
Stability
This should be the number one priority if you are looking for headphones or earbuds to use when exercising.
Nobody wants earbuds that fall out, the whole point of this design is to combat this.
There are a few ways that stability can be provided.
Ear hooks vs. ear wings
Though hooks are popular many people opt for ear wings which are different. These adapt to the inner shape of your ear rather than hooking around the outside.
However, you can still wear the earbuds with ear wings behind-the-ear/ear hook style. They are compatible.
Wearing earbuds the ear hook style (behind-the-ear) can be used for wired and wireless in-ear headphones without hooks like the Jaybird X4.
Occasionally, you may see on-ear headphones with ear hooks, but the design isn't suited for over-ear headphones.
Comfort
Every pair of headphones should be comfortable by design.
However, the hook design is easy to get wrong. There are examples of hook headphones which make good sports headphones in terms of staying put but aren't comfortable.
The problem is ear hook rubbing against the skin of the ear which gets irritated over time. It can be uncomfortable or plain painful.
Ear hook headphones are normally made of plastic or silicone, with a rigid or semi-rigid area hooking around the ear. Some have cushioned designs to help with comfort.
Sound
Of course, the sound is still important with the hook design.
Earbuds are of no use if they stay put but sound so bad you won't want to listen to them.
Whichever headphones you are looking into, pay attention to the audio fidelity.
Volume is important too, and a good quality driver will go a long way to providing this.
Wireless or Wired?
If you are looking for wireless ear hook headphones, pay attention to the Bluetooth version.
Most modern sports headphones today are wireless, more specifically, Bluetooth.
Wireless connection offers more freedom and gets rid of wires which often get in the way during exercise.
That doesn't mean wired headphones can't be a good option.
If you plan on using your ear hook earbuds for activity in which wires won't be in the way, then wired headphones are the cheaper and more practical option (no battery charging).
Activities like cycling, treadmill running or using some other exercise machine that doesn't require complicated movement are the perfect opportunities for wired buds.
How to Choose Ear Hook Headphones
Choosing ear hooks is not easy because not all options are comfortable or well-made. Some can end up hurting your ears.
So, read the reviews of others who tried them, our reviews are a good start, and you'll soon know what to expect from a specific model.
Consider all of the features discussed above, but there are a few additional considerations when choosing good ear hook headphones for you.
Set Your Budget
Though wireless earbuds will be more expensive than wired, there are affordable options for wireless ear hook headphones.
Set your budget and compare what you can get for this price. We've reviewed affordable options for ear hook headphones below.
Consider the Fit
Ear hook headphones should be designed to fit your ear. If you've ever worn in-ear monitors as a musician, you'll know roughly how this style feels. They wrap around the ear.
There are a few types of ear hooks:
Soft silicone hooks are flexible and softest on the ears
Memory-wire hooks can be molded into different shapes and angles which gives you different fit options but might not feel as stable
Hard plastic hooks aren't flexible and often rub against your ears the wrong way, but offer great durability
Most are flexible and have some give. However, if you are opting for rigid plastic earpieces, ensure they fit your ears; otherwise, they can be uncomfortable.
Unfortunately, you can't learn that from reading reviews. You can only try them and see for yourself. Thankfully, most vendors offer friendly return-policies if you're not happy.
How will You Use Them?
Good ear hook headphones are suitable for sports as well as casual listening.
There are many options for different uses.
If you aren't doing strenuous activity, an ear hook may not be needed. We advise ear hooks only for serious exercise and movement. Otherwise, you have more choices.
Alternatively, sports headphones or true wireless earbuds with ear wings may provide plenty of stability with superior comfort for your needs.
Best Ear Hook Headphones
1. Beats PowerBeats Pro (best bass)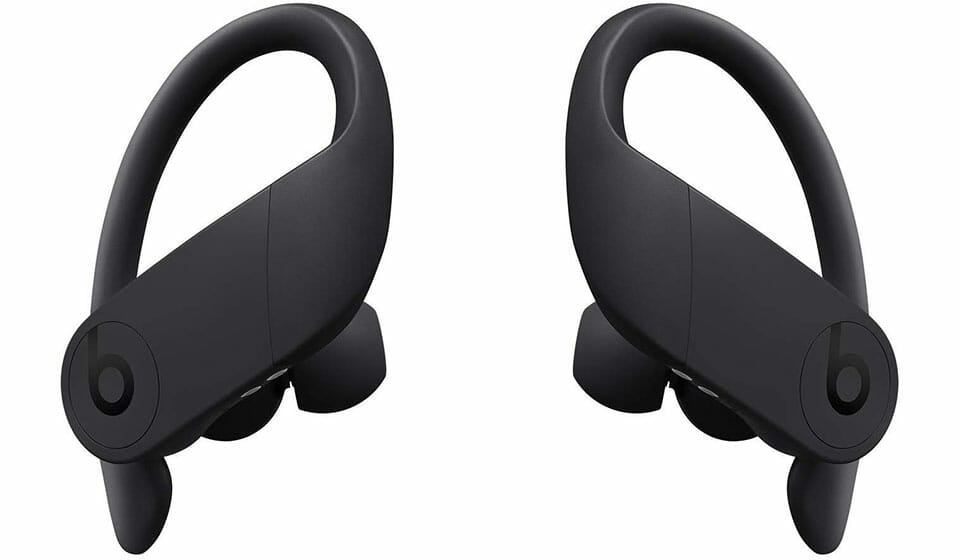 The best bassy ear hook headphones
There wouldn't be a lot of people who'd argue that these are the best true wireless headphones with ear hooks today.
Read the full Beats PowerBeats Pro review.
Connection: Wireless Bluetooth
Battery life: Up to 9 hours (24h in the case)
Bluetooth: 5.0
Charging: Lightning to USB
Why Buy These?
There isn't a lot of competition for the best and latest ear hook earbuds with a true wireless design.
Beats PowerBeats Pro take the crown with their superbly stable fit, long battery life and super fast charging (5min = 1.5h of music).
To make them survive the harsh sports environment, they have IPX4 water protection (effectively sweatproof).
Plus, they come with nice features like automatic pause/play when taken off/put back on.
To give voice commands or hold phone calls, you get built-in microphones on both sides.
The Bad
Pricey compared to alternatives. A little uncomfortable after 30 minutes for people with smaller ears. Massive charging case.
The Sound
The audio quality of these Beats by Dre headphones doesn't dissappint. Bass still reigns supreme but this time it's more detailed and controlled. Together with boosted highs, they produce a fun V-shaped sound.
Beats PowerBeats Pro might be pricey but come with the latest technology and unbeatable fit, a perfect choice for a demanding user.
---
2. Aukey Key Series B80 (best sound)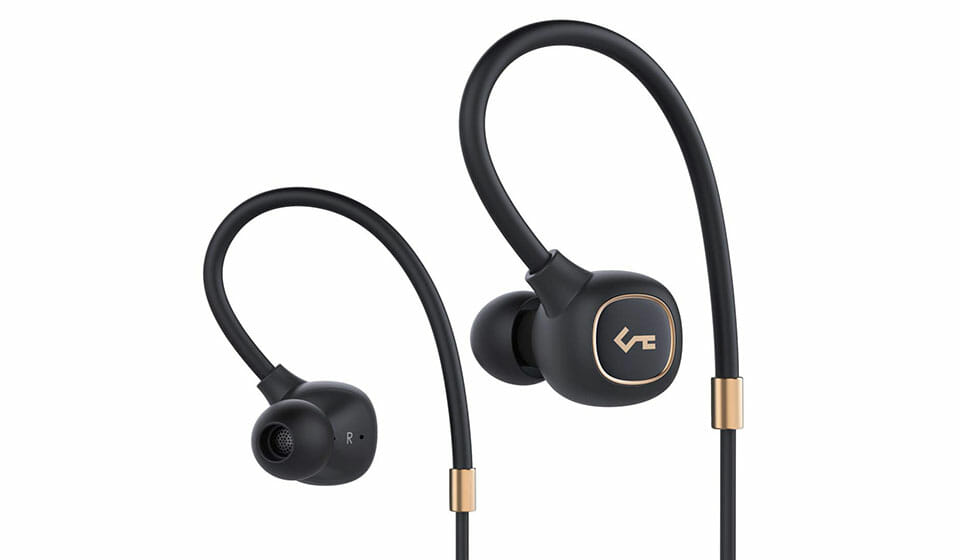 The best sounding ear hook headphones
Finding ear hook headphones which are stable, comfortable and sound great is tough. The Aukey B80 earbuds do a great job.
Read the full Aukey B80 review.
Connection: Wireless Bluetooth
Battery life: Up to 8 hours
Bluetooth: 5.0
Charging: USB-C
Why Buy These?
The Aukey B80 headphones are a great option for staying stable. The comfortable memory-foam tips fit nicely in your ear and can mold to your ear's shape.
The package comes with 3 foam eartips as well as 3 silicone pairs. This allows you to choose different options for big or small ears.
8 hours of battery is decent. Plus, if you are in a hurry and out of juice, a quick-charge can give you up to 2 hours of music in just 10 minutes.
IPX6 water-resistance is suitable for sweat and rainfall, making these wireless in-ear earbuds suitable for activity in all conditions.
An in-line microphone allows you to make and receive calls. It is also compatible with voice-controlled devices. Use your Alexa or Siri with the Aukey headphones.
The Bad
Silent white noise at lower volumes takes away from listening to music (not audible at half or higher).
The Sound
Excellent frequency response in mini drivers giving a clear sound that more than justifies the price. If only they didn't come with the white noise issue.
Aukey Key Series B80 are the best sounding ear hook headphones that are durable, water-protected and come with the latest USB-C charging.
---
3. Plantronics BackBeat FIT 350 (best value)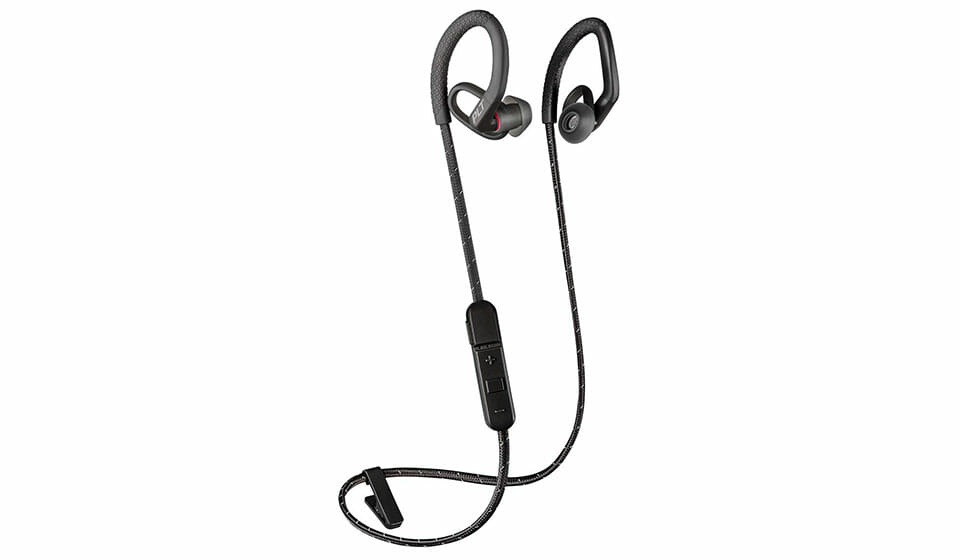 The best value ear hook headphones
Whenever you buy a pair of headphones there is a balance to be struck between price and features. For ear hook headphones, the Plantronics BackBeat FIT 350 are the top choice for value.
Read the full Plantronics BackBeat FIT 350 review.
Connection: Wireless Bluetooth
Battery life: Up to 6 hours
Bluetooth: 4.1
Charging: Micro USB
Why Buy These?
These headphones fit the bill in terms of the stability that they can offer. Secure-fit ear hooks are made of soft silicone that's soft on the skin and hold up well even during fast movement.
These are also clip-on headphones. A clip can attach to your shirt in case they fall off or control the cable at the back of your head.
Designed to be ultra-lightweight, the BackBeat FIT can be very comfortable even when listening for long periods of time.
They have specific patent-pending eartips designed for comfort, which also do a good job at passive noise isolation.
Up to six hours of battery life isn't great but not bad either. It should last for a couple of workouts or runs.
Also, a 15-minute charge can give a full hour of listening.
The Bad
Occasional Bluetooth connection interruption is annoying but not a deal-breaker.
The Sound
These are not quite up there with the very best options among sports headphones but quite close. For the price you pay you get enjoyable, slightly bass emphasized sound that's perfect for exercising.
Nonetheless, for headphones with an ear hook under $70, these are one of the best.
If you want lightweight and comfortable in-ear buds with fantastic stability, good sound quality, and sweat-protection then check the Plantronics BackBeat FIT 350.
---
4. AfterShokz Aeropex (best bone conduction)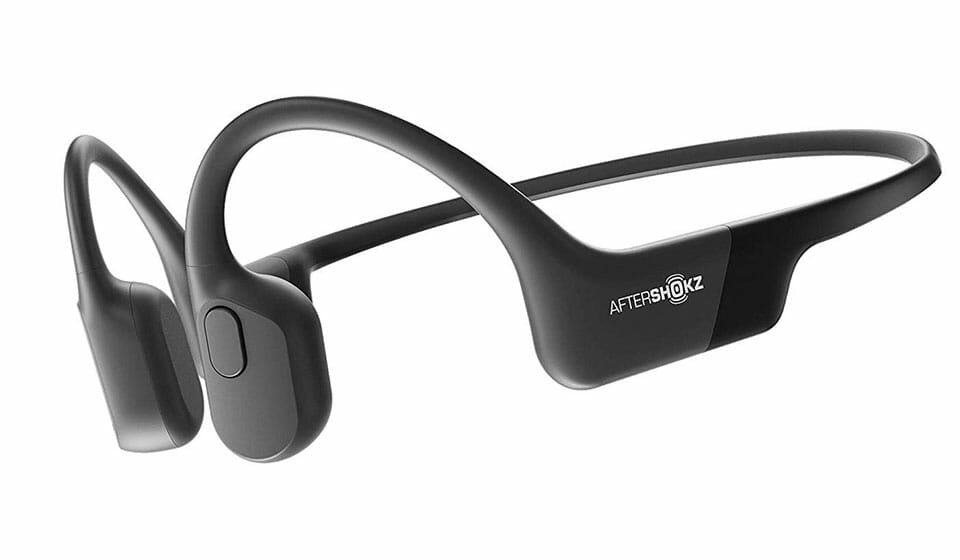 The best bone conduction ear hook headphones
Bone conduction headphones are a relatively new option. As they don't cover your ear lobes, you can still hear what's going on around you while listening to music.
Full AfterShokz Aeropex review.
Connection: Wireless Bluetooth
Battery life: Up to 8 hours
Bluetooth: 5.0
Charging: Proprietary magnetic cable
Why Buy These?
Bone conduction headphones give you perfect awareness of your surroundings as the sound vibrates through your bones instead of eardrums.
AfterShokz Aeropex have quality, rubbery ear hooks and stay in place while you exercise. They're designed for a full-on active lifestyle and offer plenty of stability thanks to the hooks.
Waterproof and dustproof design (IP67) protects them from water and small particles like sand and dust. So, you can confidently use them in places other headphones would die in.
The AfterShokz Aeropex are the better model from the brand's previous version, the AfterShokz Air. Compared to these they have a longer battery and are 30% lighter.
The Bad
You might not like the feel of the vibrations on your head. It can take some getting used to. They also don't quite compete with traditional, regular headphones in sound.
The Sound
The sound is definitely the best you can get from bone conduction technology.
The bass has been improved from the Air model, but it isn't completely perfect. There are also multiple sound presets to choose from.
If you want to keep your hearing unaffected but still want decent audio quality, look no further than the AfterShokz Aeropex.
---
Most Affordable Ear Hook Headphones
5. SENSO Bluetooth Headphones (best cheap option)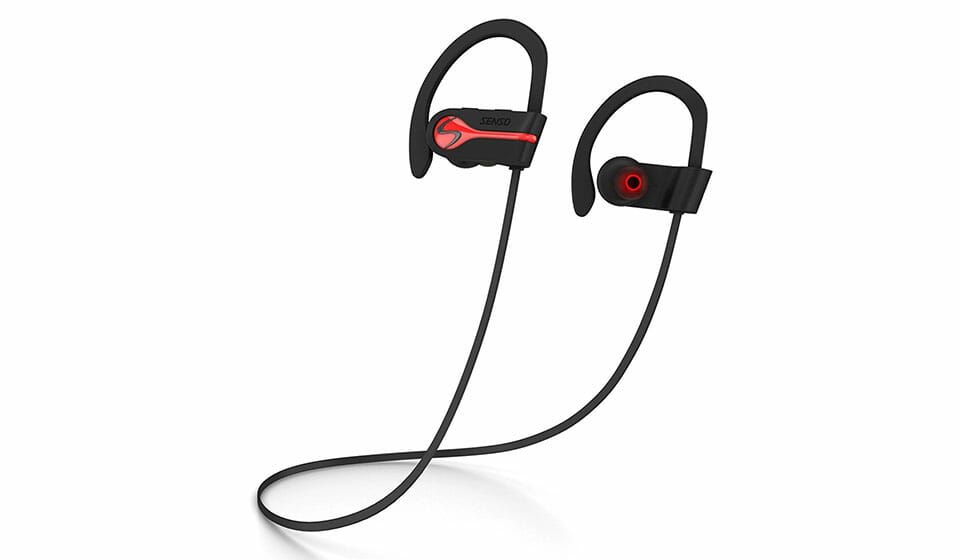 Best cheap ear hook headphones
If you're looking for a cheap option with ear hooks, the SENSO Bluetooth headphones may be a good option.
Read the full Senso headphones review.
Connection: Wireless Bluetooth
Battery life: Up to 8 hours
Bluetooth: 4.1
Charging: Micro USB
Why Buy These?
SENSO makes cheap yet decent-quality set of headphones. They offer plenty of features you would expect at a higher price tag.
IPX7 water-resistance rating makes these suitable for activity in all conditions.
This is combined with an 8-hour battery life, which is better than with many more expensive alternatives.
Designed to fit snugly around the ear, the SENSO ear hook earbuds have gel flex silicone earbuds to help with comfort.
And, the price is unbeatable at under $20. That's why these are so popular.
The Bad
Bluetooth can dip in and out with these headphones, especially if further away from your device. They're not quite as clear and crisp as some other headphones at their price.
The Sound
A good sound considering the price tag. Strong bass with decent mids and mostly clear treble.
Most casual listeners will be happy with it, but these aren't for critical listening. Plus, they get really loud.
If you need cheap ear hook earbuds, consider the SENSO Bluetooth headphones which offer lots of features and technology for a really low price.
---
6. MEE Audio X1 (cheap alternative)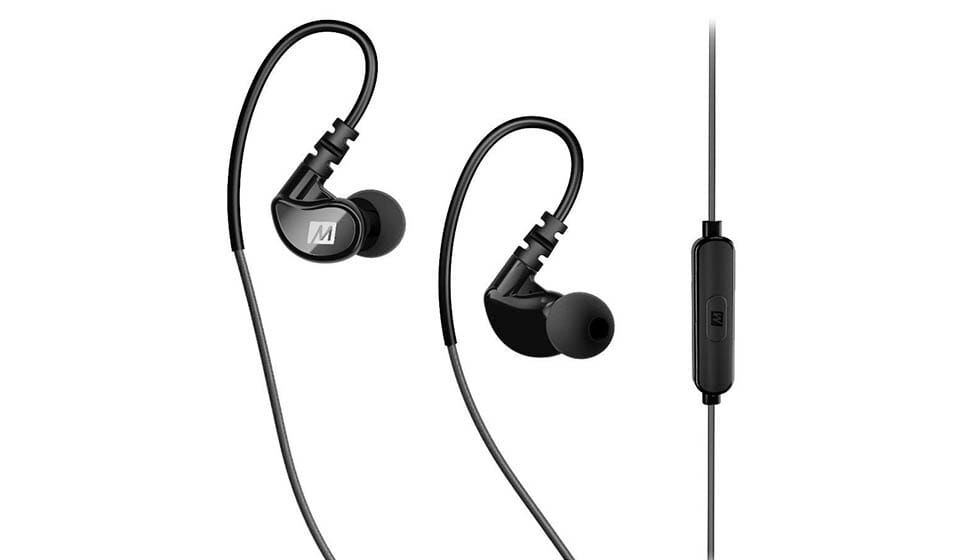 Alternative cheap ear hook headphones with wires
Another cheap option with decent quality is the MEE Audio X1. These are a wired design and available for under $20.
Connection: Wired, 3.5mm
Why Buy These?
The MEE Audio X1 are a cheap wired alternative which is an update from a very similar model, the MEE Audio M6B.
Designed as sports headphones, the X1s are suitable for the gym and running use.
They have a noise-isolating design to block out the external noise.
The ear hooks keep these securely around your ear, and there are also built-in microphone and remote controls (to make and receive calls).
With IPX5 water-resistance these are suitable for sweat and rain.
There are 6 sets of tips included, which provide a good fit no matter what size of your ears.
The Bad
For the price, the features of the MEE Audio X1 headphones are pretty much the best you can expect.
But the wired design isn't suitable for all activities as they can get in the way.
The Sound
With enhanced bass, these will keep you going with rhythm for hours but won't make good for critical listening at home.
They are the best at bassy music, which happens to be the preference for most people in a sports setting.
For strong bassy sound, sweatproof design, and a comfortable ear hook fit under $20, you can't go wrong with the MEE Audio X1.
---
Honorable Mentions
Beats PowerBeats Wireless – An older model for Beats fans who like bass but don't want to pay for PowerBeats Pro.
Comments