Over-Ear
10 Most Comfortable Headphones – Soft Cans for Happy Ears
Most comfortable headphones for whole-day listening.
Comparison Table: 10 Most Comfortable Headphones
Badge
Rating
Price
Design
Closed-back/
Open-back


i

Closed-back has better noise isolation. Open-back has better soundstage but worse noise isolation

Weight
Replaceable pads

Bowers & Wilkins PX7
comfiest
overall
4.2
$$$$$$
($300-$500)
Over-ear
Closed-back
10.9 Oz
(310g)
Sony WH1000XM3
best
noise-cancelling
4.6
$$$$$$
($300-$500)
Over-ear
Closed-back
8.99 Oz
(254g)
Audio-Technica ATH-M50xBT
best bass
4.6
$$$$
($120-$200)

Over-ear
Closed-back
10.9 Oz
(310g)
HIFIMAN HE-400I
best
planar-magnetic
4.3
$$$$
($120-$200)

Over-ear
Open-back
(Open-air)
13.05 Oz
(370g)
Sennheiser HD 599
best open-back
4.4
$$$$
($120-$200)

Over-ear
Open-back
26.08 Oz
(739g)
V-MODA XS
best bass
on-ear
4.1
$$$$
($120-$200)

On-ear
Closed-back
6.87 Oz
(195g)
Audio Technica ATH-AD900X
best value
open back
4.3
$$$$
($120-$200)

Over-ear
Open-back
21.12 Oz
(598.7g)
Beats Solo Pro
best on-ear
4.5
$$$$$
($200-$300)
On-ear
Closed-back
9.42 Oz
(267g)

Shure Aocnic 50
best sound quality
over-ear
4.2
$$$$$$
($300-$500)
On-ear
Closed-back
11.8 Oz
(335g)

Status Audio BT One
best budget
4.3
$$$
(<$100)
On-ear
Closed-back
5.46 Oz
(115g)
Note: Also check the most comfortable in-ear headphones here. In-ear monitors that fit into your ear canal.
Most Comfortable Over-Ear Headphones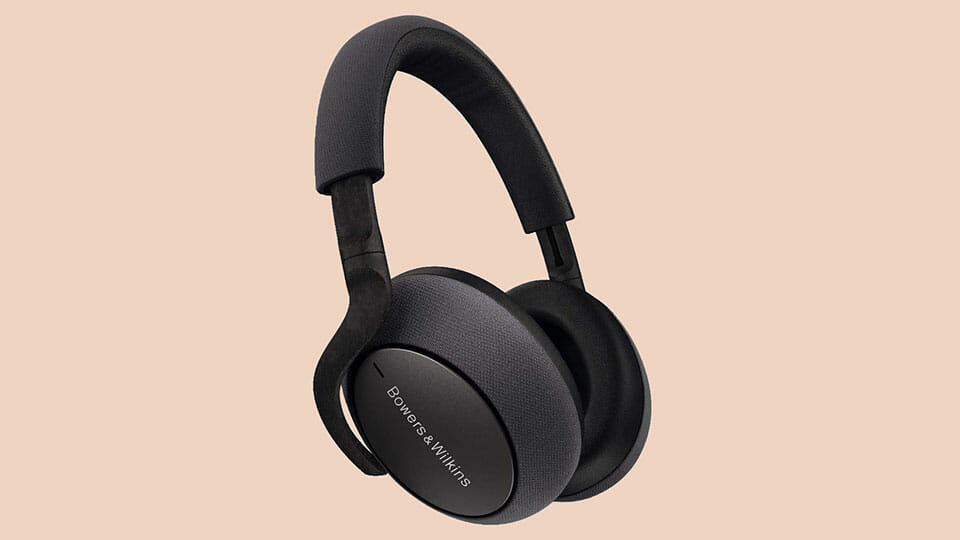 Upgrading from an already amazing PX model, the PX7 improves on the overall construction and looks. And they're also one of the most comfortable headphones right now.
The metal arms are now replaced with a carbon fiber composite, that looks very unique and durable. There is still a lot of fabric stitching along with the band and on the metal cups. The pads are now much cushier, providing better fit and comfort.
30 hours of playtime is a standard nowadays. They can also be fast-charged (15-minute charge gives you around 6 hours of battery).
These are also noise cancelling, which is on par with the competition.
The company has a long history of making great audio equipment. So there is no surprise these headphones sound fantastic. However, they are tuned to please the general public. Therefore the bass is boosted, but the overall sound is still crystal clear, packed with tons of details.
Despite the carbon fiber material, these are still on the heavier side. Apart from that, you should definitely check them out. Price is a little bit high, but so is the quality of the product.
---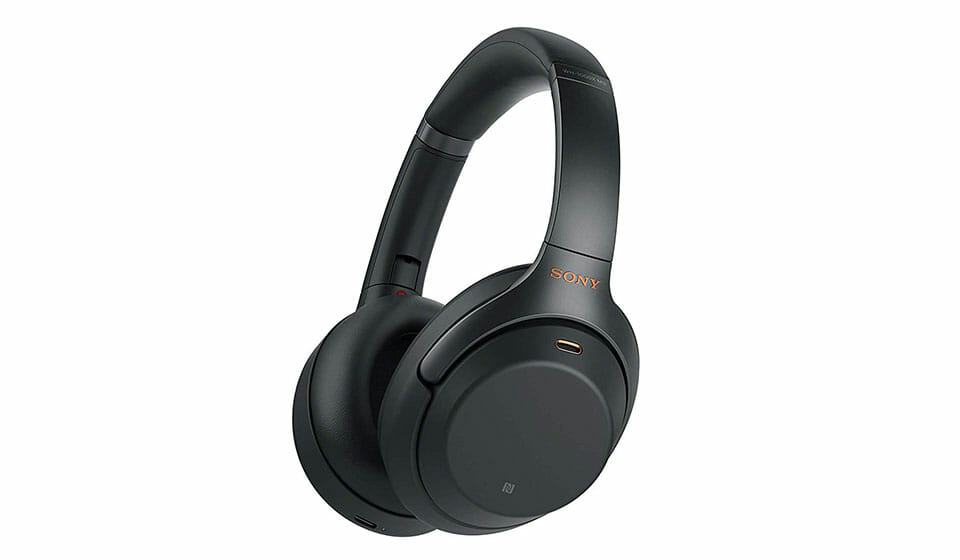 WH1000XM3's are one of the best headphones for Active Noise Cancelation in a compact, travel-friendly design.
Despite the plastic body, these feel sturdy and can survive quite a bit of abuse. They are relatively light and very comfortable. They also fold and come with a hard carrying case, which makes them super portable.
These are one of the best noise cancelling headphones. If you travel a lot and don't like the airplane noise, or just want to isolate the human voices in the cafeteria, these can block all of it.
They offer 30 hours of battery life and can also be hooked up with a 3.5mm jack. But even if your headphone runs out of juice, the 10-minute charge results in 5 hours of playtime.
The sound of these is quite smooth and extremely easy to listen to. They are fun and punchy, while still enjoyable even for more demanding audiophiles. They support LDAC, which is one of the best Bluetooth audio codecs.
There is one problem when it comes to touch controls. Users are experiencing »ghost touches« in cold weather.
Overall, Sony WH1000XM3's are one of the most comfortable headphones and one of the safest buys right now.
---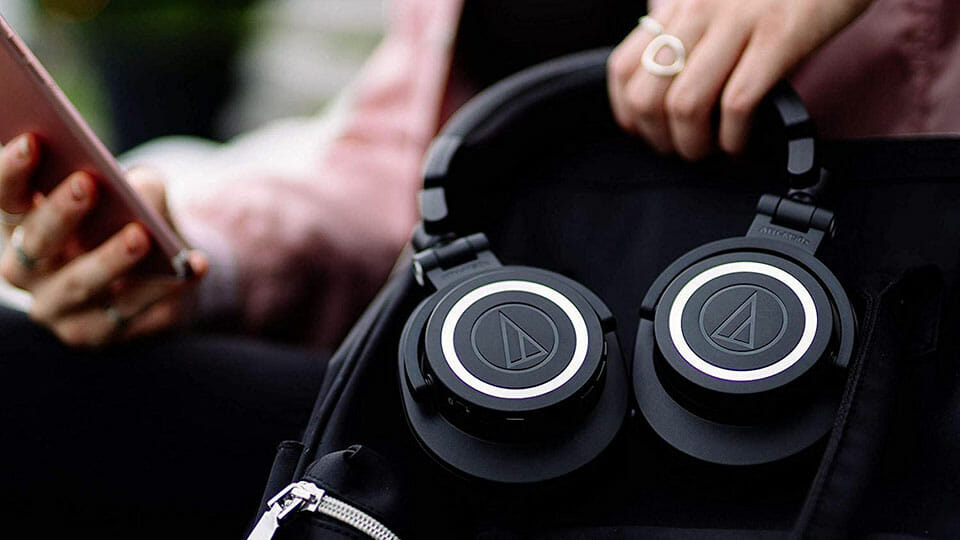 You probably already heard about Audio-Technica (a Japanese company) and ATH-M50x is one of their top models. Not without a reason, they are super comfortable and bass-rich headphones. The ATH-M50xBT is their wireless version.
If you like good bass and a fun, dynamic sound, then you'll love these. For an audiophile entry-level price, you're getting very comfortable headphones with great sound quality. These aren't exactly hardcore basshead but slightly bass-heavy and far from neutral. Fun and engaging would be a good evaluation. Still, a lot of people use them as studio headphones as well.
Battery life measures at 40 hours, the built-quality is great and they are a proven design by thousands of customers. Blocking external noise is also great as they have a closed-back design.
The wireless version is a little bit heavier than the wired M50x, therefore they are slightly more noticeable when you wear them.
If you like bass and good comfort in an over-ear closed-back headphone, then Audio-Technica ATH-M50xBT's are for you.
---

HIFIMAN HE400i are oversized open-back planar-magnetic headphones for all the "big heads" out there.
To say these are big would be an understatement. They are massive. But big ear cups have their benefits.
HIFIMAN HE400i are as comfortable as any big over-ear headphones can be. You can wear them for hours without discomfort. But you'll only be able to wear them comfortably when not moving.
Since they're so big and quite heavy you won't be able to "move around" or even less, do any sports activity with them. These are meant to be enjoyed at home relaxing on a nice sofa.
The sound quality is superb as well. A balanced sound signature with rich treble and bass, lots of details, and neutral tones. These aren't basshead headphones though.
Built quality is good with quality materials and no weak points.
There's one more thing to mention. These are open-back headphones and have basically no sound isolation. People around you will hear what you're listening to and you will hear your environment. Keep that in mind when deciding.
In the end, HIFIMAN HE400i are one of the most comfortable planar-magnetic headphones on the market, they sound good and deliver great home-listening experience.
---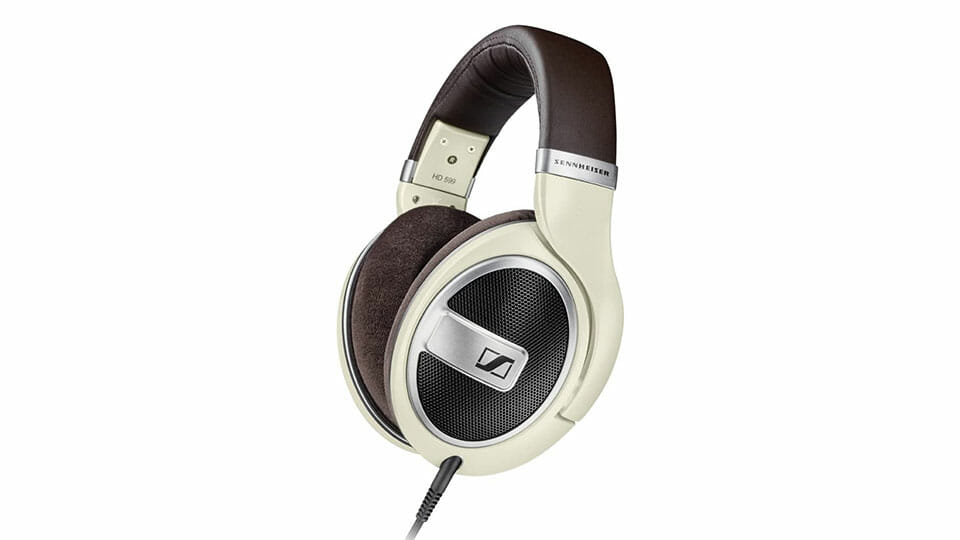 Sennheiser updated their famous HD598 with the HD599 model. It's easy to miss since they are almost the same.
And if you want to have one of the most popular Sennheiser series, HD599 are the right choice because comfort has improved.
The older model had air padded headband cushion which wasn't the best. But with this new model, they improved the headband cushion to provide superb comfort.
The over-ear velour ear pads are super comfortable and replaceable as well. Built quality is solid too, as you'd expect from Sennheiser. Due to their open-back design noise isolation isn't very good, they leak sound so these are meant to be used at home. Or at least in peace where isn't a lot of ambient noise.
The sound quality is great. Balanced sound signature with even slightly improved detail reproduction compared to HD598, though if you're not an audiophile you might not notice a difference. All of the ranges come out beautifully and will make any audiophile happy for all types of music.
For one of the best home listening over-ear headphones, Sennheiser HD 599 are a great pick.
---
V-Moda XS – best bass on-ear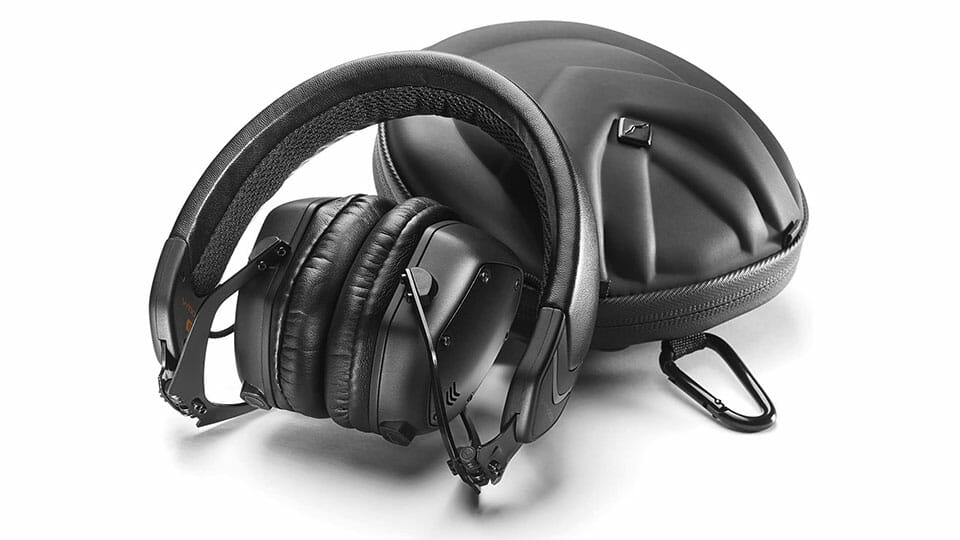 The most comfortable headphones for bassheads.
V-MODA's smaller XS model is a superb on-ear pair of headphones. Their bigger M-100 brothers are well known for their bass-rich and fun sound and these are no different.
If you want comfortable on-ears that also have strong and rich bass that produces fun sound signature these are the best choice. Popular music like pop, hip-hop, and dance sound great on these.
While on-ear headphones generally aren't as comfy as over-ear or in-ear these fare well. The ear cushions are very soft and you can wear them for hours without discomfort. Though don't expect to wear them comfortably for the whole day, most people will get discomfort from any on-ear headphones at that time.
The built-quality is very good with sturdy plastics and metal structure. The cables are detachable and you can fold the headphones to take them with you. While not noise-canceling headphones, the noise isolation is good as they are closed-back and provide a good fit.
V-MODA XS also look quite stylish in our opinion. They have a distinct look that will get you noticed.
If you want comfortable on-ear headphones with noise isolation and fun, bass-rich sound, V-MODA XS are your top pick.
---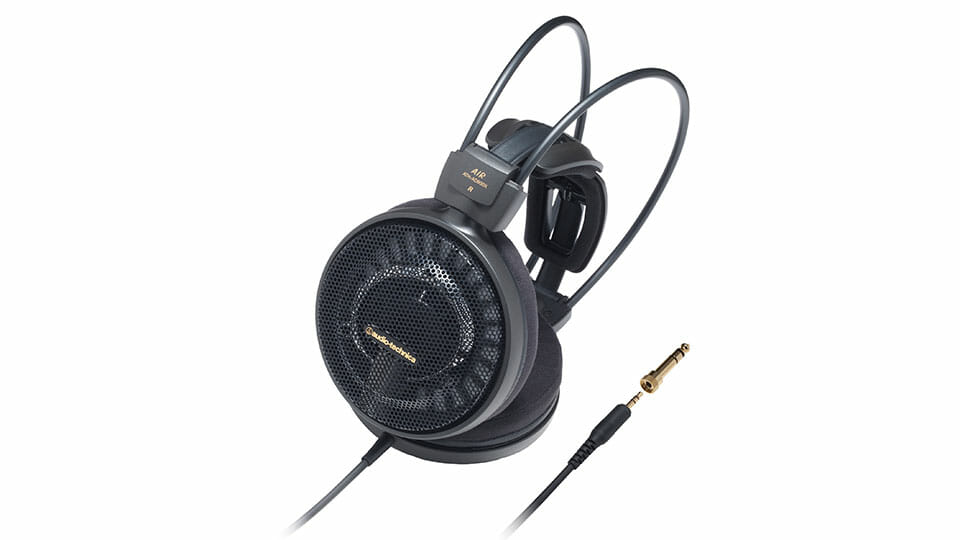 ATH-AD900X are another headphones from Audio-Technica but these are open-back. Meaning they have a more neutral, balanced sound signature and low noise isolation but better soundstage.
For home listening these are superb. These are quite comfortable headphones since they were made for long listening sessions. Big and soft earpads give a plush feeling to your ears and the headband is barely noticeable.
Apart from their amazing comfort, sound quality is their other main selling point.
The open-back or in this case open-air design produces great soundstage which gives an open feeling to the sound. The ranges are neutral and natural sounding to satisfy even the more demanding audiophile.
With great comfort and sound quality, durability doesn't disappoint either. Quality materials and proven design make them a great wired headphone.
Just keep in mind that open-back means almost non-existent noise isolation and you'll love these.
If you want audiophile over-ear, open-back headphones with great comfort then Audio-Technica ATH-AD900X is one of the best picks right now.
---
Most Comfortable On-Ear Headphones
The design itself is attractive and feels premium. Despite the on-ear cups, these are very comfortable headphones. They're however a little bit less comfy if you wear glasses.
Featuring Apple's H1 chip, these noise cancelling headphones offer an amazing iOS and macOS experience.
There is a feature called Transparency, which lets you hear the surroundings. The Bluetooth headphones also offer active noise cancelling. And it works really well. With ANC turned on, you should get around 22 hours of battery life. When turned off, the battery life jumps to an impressive 40 hours.
Even though their name suggests otherwise, their sound quality is very clean and balanced. Of course, you're still getting that nice low-end thump, but it's not overblown. The end result is a very entertaining music experience, best fitted for the general public.
They might not be a good pick for users with big heads. Also, you get the Lightning connector instead of USB-C.
Beats Solo Pro's are a step in the right direction. Giving you many of the premium features, like Active Noise Cancellation and Transparency, and premium looks. And most importantly, a more balanced sound.
---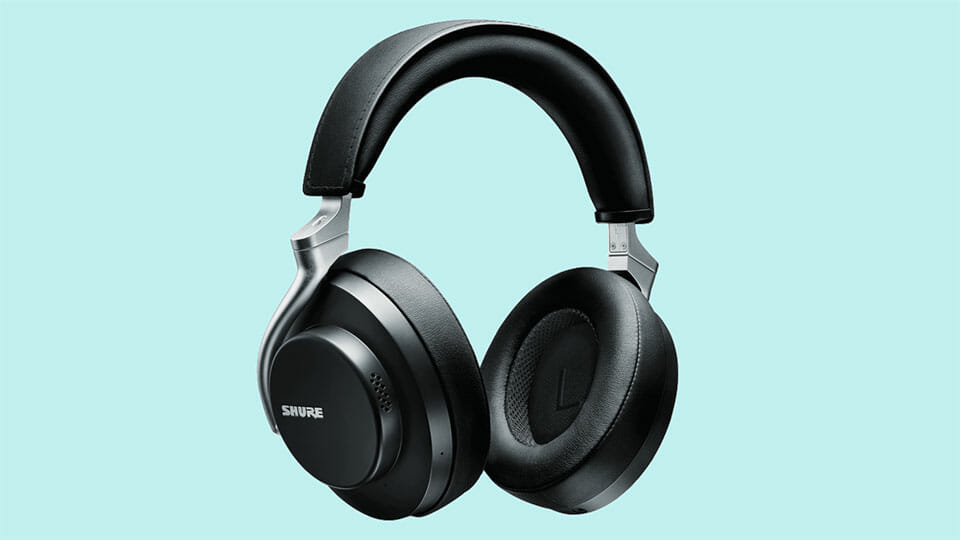 These wireless headphones come from a well-known company in the audio industry. Aonic 50 is yet another Shure's product that doesn't disappoint.
Luxurious looking Bluetooth headphones are built from quality materials, such as stitched leather and metal frame. This results in sturdy construction, while pillowy ear pads provide amazing comfort.
You get both Environment mode feature and active noise cancellation. The latter is really good at canceling the outside noise, rivaling the best in class Sony and Bose headphones. You're able to choose from many audio codecs, such as aptX HD, aptX Low Latency, AAC, and LDAC.
The battery is rated at 20 hours, which is not the best. Fortunately, there is a 3.5mm cable included in the box if you run out of juice.
Soundwise, the pair of headphones is very close to neutral. Everything in the mix sounds natural and not at all exaggerated. These remain faithful to the original recording and are a perfect pick for an audiophile.
The only downside is the call quality. Your voice can sound quite distant and slightly muffled.
There is a lot to like about Shure Aonic 50 noise cancelling headphones. They are a worthy pick even for the most demanding users.
---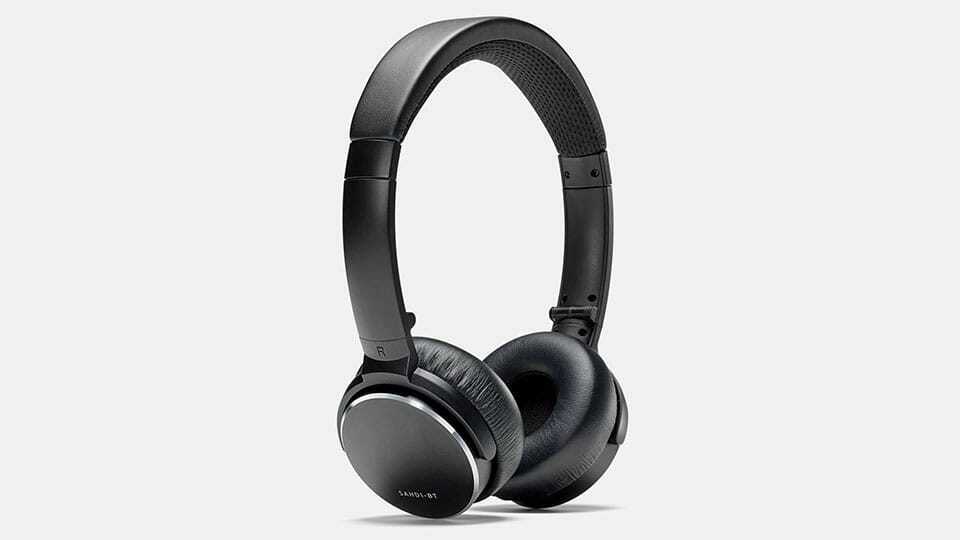 Another on-ear pick on our list rivals the Beats Solo Pro in the overall performance. You don't get the fancy features like noise cancellation, but for the price, these Bluetooth headphones are a superb choice.
They are very small and lightweight. Even though the headphone rests on your ears, they provide good comfort for longer listening sessions. The metals cups with the brushed edges are also a nice touch.
The battery life of 30 hours is really good for a headphone that small, offering a QuickCharge feature for a fast refill.
It is worth mentioning the great microphone quality, that is coming out of these. Many of the competition doesn't do as well as the BT One does.
They sound much bigger then they look. It is impressive how much clarity, detail, and power you can get from a pair of small on-ears. Overall the sound is still smooth enough so that you don't experience any fatigue. They do however lose a little bit of clarity when you crank the volume up.
The plastic edges of the headband are a little bit sharp and cheap feeling.
In the past 6 months, the price of this pair of headphones dropped significantly, which makes it a steal.
---
How Can I Know What Comfortable Headphones Are?
Because we're different and that goes for head size and shape as well there's no other way to know unless you try them. Now you probably already know if you have a big head and have difficulties finding comfortable headphones you'll probably be looking for bigger frames.
Theoretically, you could visit your local tech store and try a lot of different sets, but that's not realistic since we all have busy lives. You will just have to make a decision and the best is an educated decision.
This is why we made a list of the most comfortable headphones according to our own research where we used not only ours but other people's experiences as well. These are the models most people claim to be very comfortable for them so they're more likely to be more comfortable for everyone else as well. It's not a specific rule but more of general guidance.
Which Type of Headphones is The Most Comfortable?
Generally, the design plays a big role and in our opinion, this is the most comfortable design:
Over-ear: These have the biggest ear cups and are sometimes heavy but they make up to it with lots of cushioning and big frames that fit even the biggest and unusual head sizes. You can wear them for hours on end without any discomfort. Many high-end over-ear headphones offer the option of changing the earpads which can even improve comfort. These are the standard and most comfortable overall headphone design.
In-ear: Or earbuds, as they're also known, are the smallest headphones and that's their advantage. Due to the small size and weight, they're easy to put in ears and forget about. The in-ear model's comfort can be adjusted with changing the ear tips. Since there are many sizes and shapes of ear tips as well as different materials (foam) you can really adjust the fit. For most people foam eartips offer the best comfort as well as tight fit.
Check the most comfortable in-ear headphones/earphones here.
On-ear: These are the smaller brothers of over-ear headphones. The ear cups and ear pads are smaller to fit on-the-ears instead of over-the-ears, hence the name. While most on-ear headphones can be very comfortable for hours if they have quality cushioning they do get slightly uncomfortable after many hours. For all-day-wearing, over-ear or in-ear might be a more comfortable choice. This is not a fact for all on-ear headphones but more of a general rule. Keep that in mind when buying a pair of headphones.
Comments