Sports
The Best Headphones for Cycling in 2020
Listen to music or podcasts while riding a bike with the best headphones suitable for cycling.
Comparison of Best Cycling Headphones
Many cyclists can't imagine going out on their bikes without entertainment.
Headphones give you the option to listen to music or podcasts while cycling.
But not every pair of headphones is good for driving a bike.
Some don't fit well under a helmet, and some create too much wind noise.
We present the best headphones for cycling in this guide.
We also address questions you may have about the safety, and what makes good workout headphones for a cyclist.
Related:
Top waterproof wireless headphones
Key Features of Headphones for Cycling
The key features go far beyond just sound. There is a lot to look out for when buying cycling headphones.
You need to consider both your listening comfort and your safety. We've selected the following features as vital for cyclists.
Safety
Safety is paramount, especially for road cyclists.
Don't take any chances of not being able to hear traffic.
Keep the volume low enough, so you can still hear the oncoming cars. It's dangerous to do otherwise.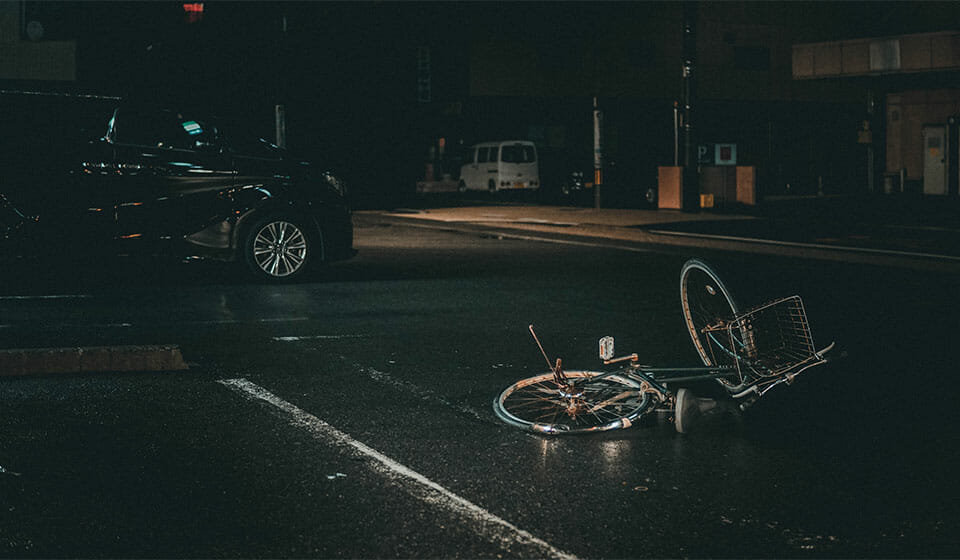 Active noise-canceling headphones are impressive, but shouldn't be used at the expense of having your wits about you when cycling with headphones.
Most wireless earbuds and true wireless earbuds don't totally block out sound, so you should still be able to hear some traffic.
For great peace of mind, though, bone conduction headphones allow you to keep your ears uncovered as the sound is able to vibrate via your cheekbones. This is an excellent solution for cyclists.
Is it even legal to wear headphones when riding a bike?
Stability
Cycling can be quite strenuous and fast. Whenever there is a lot of movement, we recommend specific sports headphones.
This means headphones which are designed to stay in place even while you're active.
You should be looking mainly at in-ear headphones, as they aren't overly bulky.
On-ear and over-ear headphones are generally a no-go (plus won't fit under a helmet).
An in-ear design with wings or ear hooks that stays in the ears is important for uninterrupted listening.
Durability
Replacing headphones every few months because they've broken is a pain.
A durable set of headphones is essential if you are using them for something active.
You might sweat a lot or get caught by a shower.
Therefore water-resistant headphones are a must (look for high IPX rating).

They can potentially get scraped or thrown around a bit.
If you cycle a lot, and on challenging terrains, think about getting some durable earbuds or headphones.
Wired vs. Wireless
Choosing wired headphones can save you the hassle of charging but can tangle when moving.
Some cyclists don't mind wires, especially if you're cycling on a stationary bike (when movement is more uniform).
Even so, wireless headphones have come a long way in recent years and have a lot to offer to active people, including cyclists.
Key features of wireless Bluetooth headphones:
Not getting in the way since there are no wires, perfect freedom
You can keep your music device (smartphone) in a bag instead of attached
Often sweatproof or even waterproof
All have convenient controls and microphone for phone calls
You need to charge them regularly
Obviously, the lack of cable is the main plus point, and so is the fact that you don't have to have your music device attached.
You can keep it in your backpack if you like. Also, you can use voice control on some of the headphones we've reviewed for even easier control.
Battery and Bluetooth
If you are going down the wireless route, think carefully about the battery life.
You don't want the battery to die in the middle of a tour, especially if you like to cycle long distances.
Nonetheless, the Bluetooth connection is reliable enough to make sure the sound is constant with no interruptions.
How to Choose Headphones for Cycling
Choosing the right headphones for cycling is a case of matching up your own unique needs to the type of headphones on offer.
While some features such as good sound quality and stability are essential, different cyclists may prioritize different functions.
How do Cycling Headphones Differ?
One of the key differences when finding headphones for cycling is that the priority may shift from sound to stability.
Having a decent quality of sound is important but useless if you are wearing true wireless earbuds and they keep falling out.
Cycling headphones don't tend to come in over-ear or on-ear models, and they need to be able to fit under helmets.
Depending on how your bike helmet fits, make sure you can comfortably fit under a pair of earbuds.
Normally, you will be looking for in-ear headphones/ear buds.
They don't get in the way as much, and there is less chance of getting them sweaty. Earbuds are also less bulky and therefore more comfortable for sports.
Consider Where (and How) You Will be Cycling
Being able to hear is always important for cyclists. However, in some areas, it may be even more vital.
If you often cycle around busy traffic, bone conduction headphones could be useful.
If you are more of a leisurely cyclist, you might be able to pay a little less attention to the high tech functions some headphones have.
For instance, if you cycle on a static bike or just slowly around local villages, then wired workout headphones may be fine.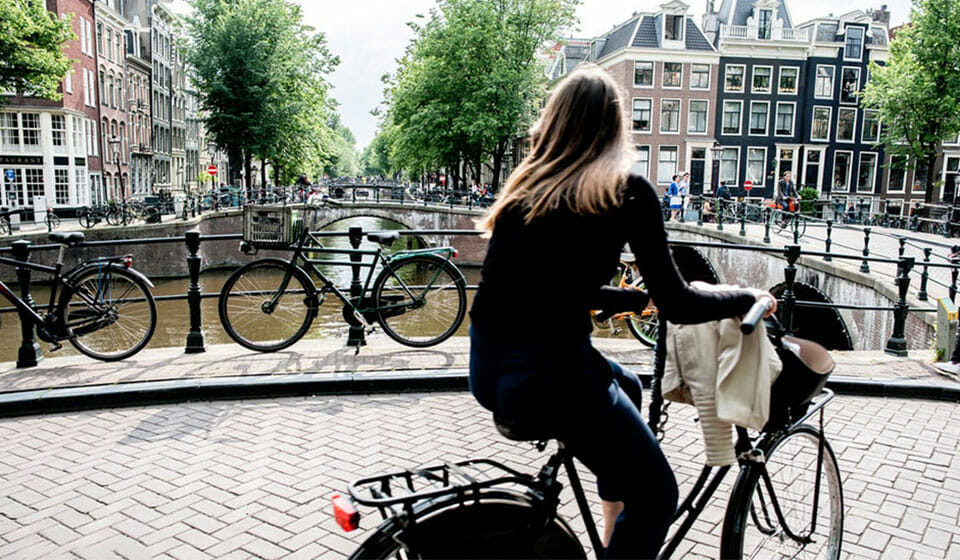 If you cycle for long periods of time and need headphones you can rely on for constant music while cycling, go for Bluetooth headphones with longer battery life.
If you are a tour cyclist, you might be on the go for long periods of time, and your headphones should be able to keep going as long as you can.
As you can see, knowing how to choose headphones for cycling is a case of establishing which features you think will be important for you.
Use these features as a guide when looking at the headphones below. We've selected 8 models of top cycling headphones.
Best Headphones for Cycling
1. Jabra Elite Active 75t (best true wireless)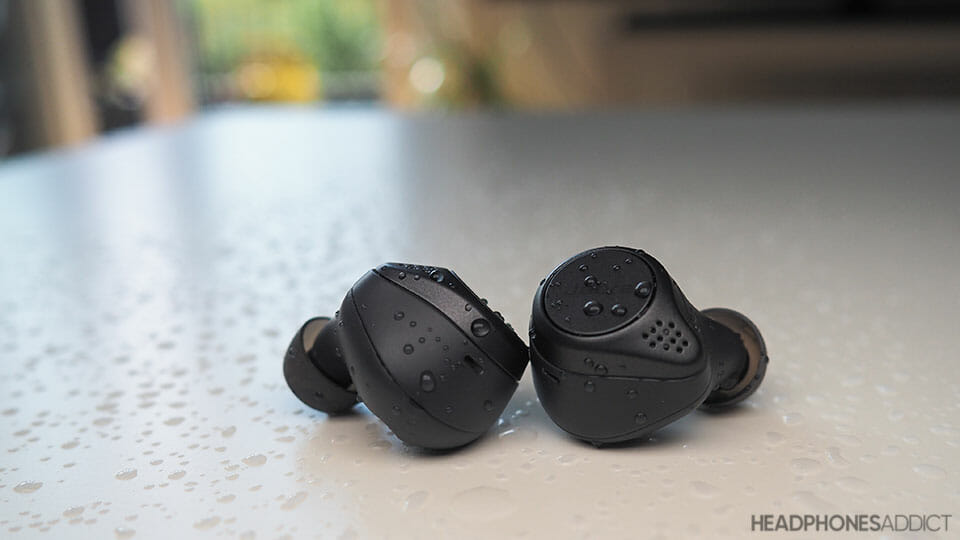 The best headphones for most cyclists
Jabra Elite Active 75t true wireless earbuds are the top choice for avid cyclists.
See the Jabra Elite Active 75t review.
Connection: Wireless Bluetooth
Battery life: Over 7 hours (20h in the case)
Bluetooth: 5.0
Charging: Charging case & USB-C
Why Buy These?
There are no dedicated cycling headphones, but you can find great options if you know what to look for.
You need good comfort and awareness. The latter is especially important if you ride on busy roads.
Great awareness is the reason why the Jabra Elite Active 75t make the top of the list. With the HearThrough mode, the 4-microphone system picks up the surrounding noise and diverts it to you.
You'll hear an approaching car before you see it.
Together with the safety, you get a stable fit that stays comfortable for hours.
And the physical controls are easier to use than touch controls, especially if you're wearing cycling gloves. The microphone also works for hands-free phone calls or giving a command to your favorite voice assistant.
With a 7-hour battery life and full water and dust protection, you don't have to worry about durability.
And, when you just want to use your cycling machine, you can block most of the ambient noise.
The Bad
If you wear a bike helmet that goes over your ears, the buds might be in the way. You may accidentally press the controls. Some wind noise is present and picked up by the mics.
The Sound
Jabra Elite Active 75t have bass-boosted sound, but it can be equalized in the Jabra Sound+ app. It works well for all types of music, though modern, bassy genres work best. Get more info in the review.
Read the full Jabra Elite Active 75t review.
---
2. Beats PowerBeats Pro (best bass)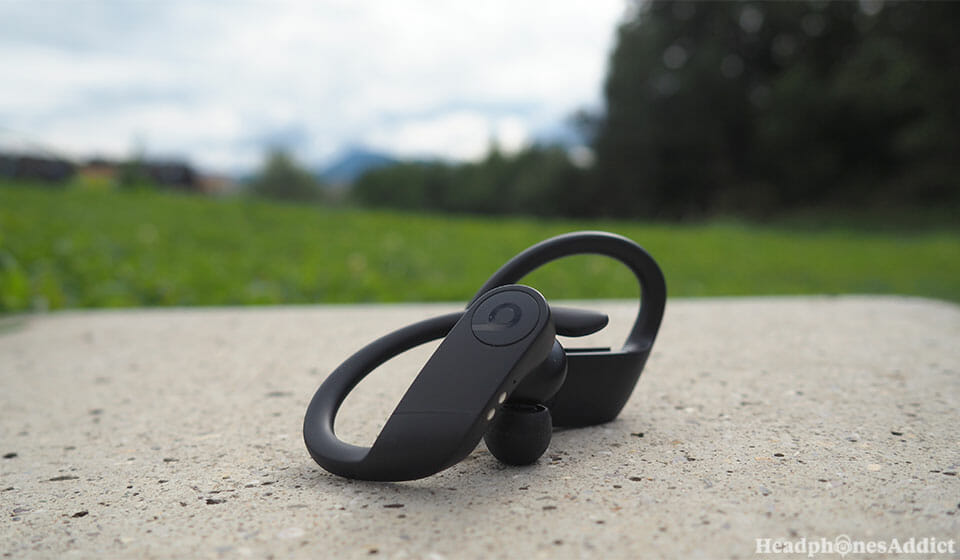 Best bass headphones for cycling
For a fully free wireless experience with powerful bass, the PowerBeats Pro are a no brainer for every cyclist.
Check the full Beats PowerBeats Pro review.
Connection: Wireless Bluetooth
Battery life: Up to 9 hours (24h with the case)
Bluetooth: 5.0
Charging: Lightning to USB
Why Buy These?
Even though they have ear hooks they should fit nicely under a helmet for most people.
They're lightweight and completely cord-free which makes it impossible to entangle. The fit is highly secure and doesn't require adjustments.
To protect them against weather, they have IPX4 rain and sweat protection.
And, since you're a busy person, you can make phone calls or give voice commands from your bike with built-in mics in each side.
You also don't have to worry about running out of juice. With quick-charging capability you will get around 9h per charge (24h with the case), and charging takes less than 1 hour.
The Bad
Earbuds might irritate the ears of smaller people. They're quite pricey. Some wind noise is present due to larger design.
The Sound
PowerBeats Pro are perfect for all bass lovers who want deeper and stronger lows in their music. The true wireless buds have emphasis on bass and treble which results in a fun V-shaped signature.
Read the full Beats PowerBeats Pro review.
---
3. Jaybird X4 (best sound)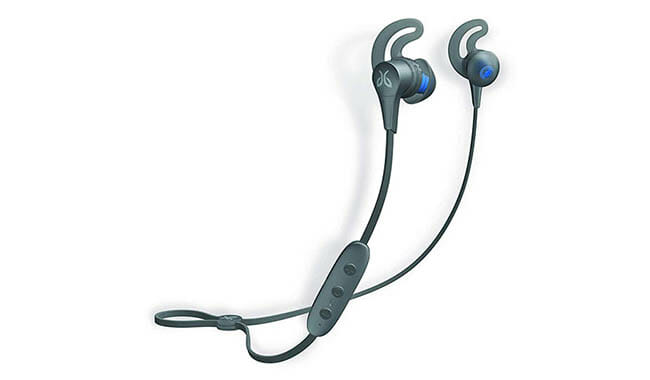 Best sounding headphones for cycling
These headphones are sleek, small, and convenient for cyclists. They also have adjustable (with EQ app) high-quality sound for listening to music.
Check the full Jaybird X4 review.
Connection: Wireless Bluetooth
Battery life: Up to 8 hours
Bluetooth: Unspecified
Charging: Micro-USB
Why Buy These?
These headphones have a lot of good tech features. For instance, you can customize the sound by Jaybird's equalization app.
The app comes with many different sound presets, and you can make your own too.
The battery life is good, with 8 hours available from a 2-hour charge. This is pretty standard for many of the top wireless headphones.
Comfort is also great, and the memory-foam tips are built with "Comply Ultra" technology. They're designed to conform to your unique ear canal.
IPX7 waterproof protection makes these some of the best waterproof headphones for cycling. This means you can run even in the pouring rain, and sweat won't impact these headphones either.
Plus, the in-ear fit offers good noise isolation.
The Bad
No headphones are perfect. The excellent sound quality of these is offset somewhat by the fact that the build quality isn't the best, as explained in our X4 review.
The Sound
The sound fidelity is the biggest plus point with these earbuds. For punchy lows and crisp mids and highs, consider the Jaybird X4.
Read the full Jaybird X4 review.
---
4. AfterShokz Aeropex (best bone conduction)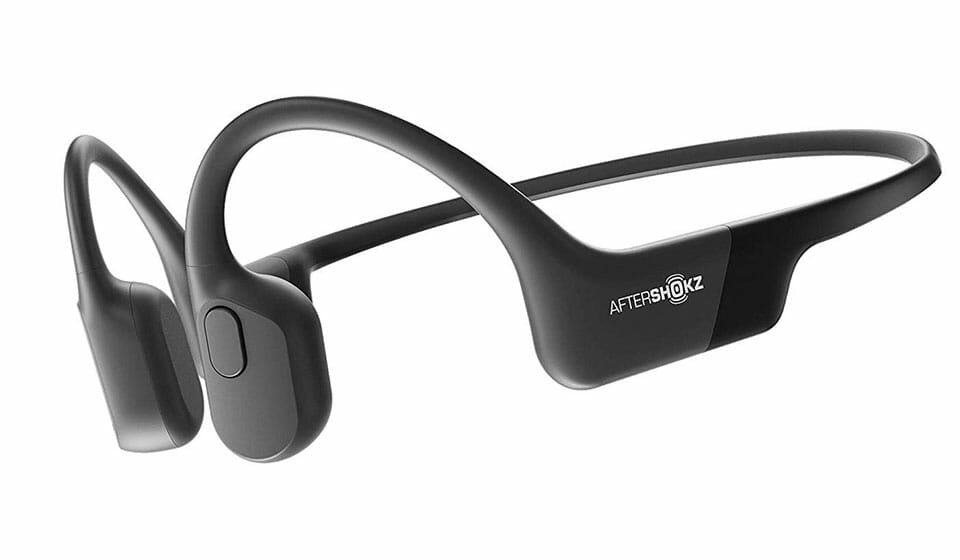 The best bone conduction headphones for cyclists
It's a vital requirement to hear your surroundings when cycling. The AfterShokz Aeropex bone conduction headphones leave your ears free while still providing clear sound.
Check the AfterShokz Aeropex review.
Connection: Wireless Bluetooth
Battery life: Up to 8 hours
Bluetooth: 5.0
Charging: Proprietary cable with magnet
Why Buy These?
Bone conduction technology has been invented to allow more knowledge of your surroundings. The sound vibrates through facial bones, leaving ears free.
This is great for cyclists who can hear what is on the road while wearing headphones.
8 hours of battery life is pretty good for all kinds of cycling tours, even if you go on longer journeys.
The Bluetooth is highly reliable, so you can keep your device tucked away in your bag.
The Bad
The feel of the vibrations on your face takes some getting used to, and it isn't the best for everyone. Also, the technology of bone conduction struggles to replicate bass.
The Sound
A bass boost has been included to try and tackle some of the bass problems of previous models (Aftershokz Air).
The sound clarity is respectable, and the frequency response is great, for bone conduction.
They are currently the best bone conduction headphones for sound.
To keep your wits on the road, consider the clever technology in the AfterShokz Aeropex.
Read the full AfterShokz Aeropex review.
---
5. Aukey Key Series B80 (great value)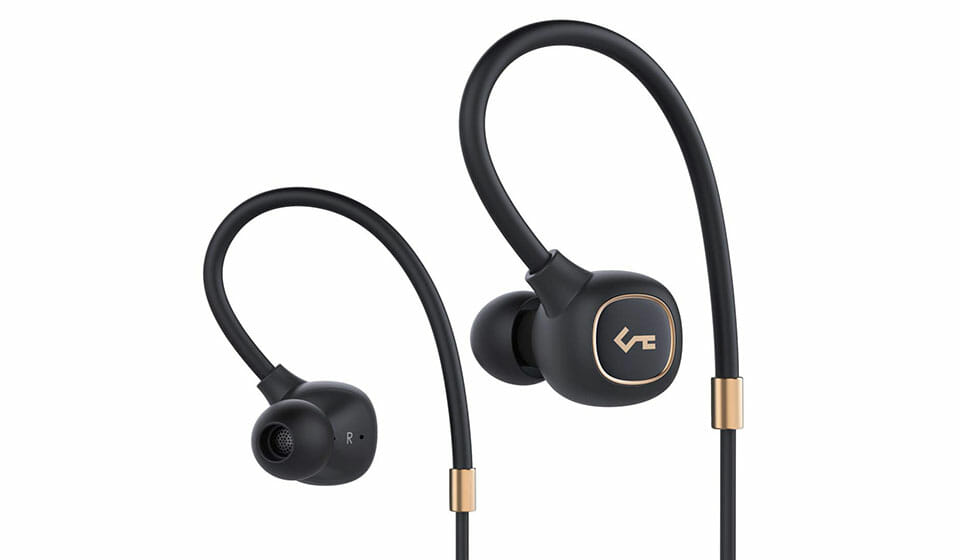 Great value headphones for cyclists
Some headphones and earbuds outperform the price point they're selling for, and this is a great example of a good value set of wireless earbuds.
Check the full Aukey Key Series B80 review.
Connection: Wireless Bluetooth
Battery life: Up to 8 hours
Bluetooth: 5.0
Charging: USB-C
Why Buy These?
The Aukey B80 is a good set of wireless sports headphones, with features to match.
The ear hook design means they curve around the back and stay put. They're pretty stable and comfortable (with memory-foam tips), meaning a viable option for cyclists.
Moreover, most of the ambient noise is blocked, so you have to be careful when riding on the streets.
IPX6 water resistance is suitable for sweat and most weather conditions. Your earbuds should stay safe even throughout adverse weather.
8 hours of battery is more than enough for most, and a 10-minute quick charge is useful if you're in a hurry, giving 2 hours of listening time.
Plus, USB-C charging means one less cable to own.
The Bad
Constant white noise at lower volumes takes away from the listening experience.
The Sound
A dual-driver system gives a nice punch to the sound, with ear hooks and foam eartips, make the Aukey Key Series B80 one of the best all-around earphones under $100.
Read the full Aukey Key Series B80 review.
---
6. Plantronics BackBeat FIT 350 (best value)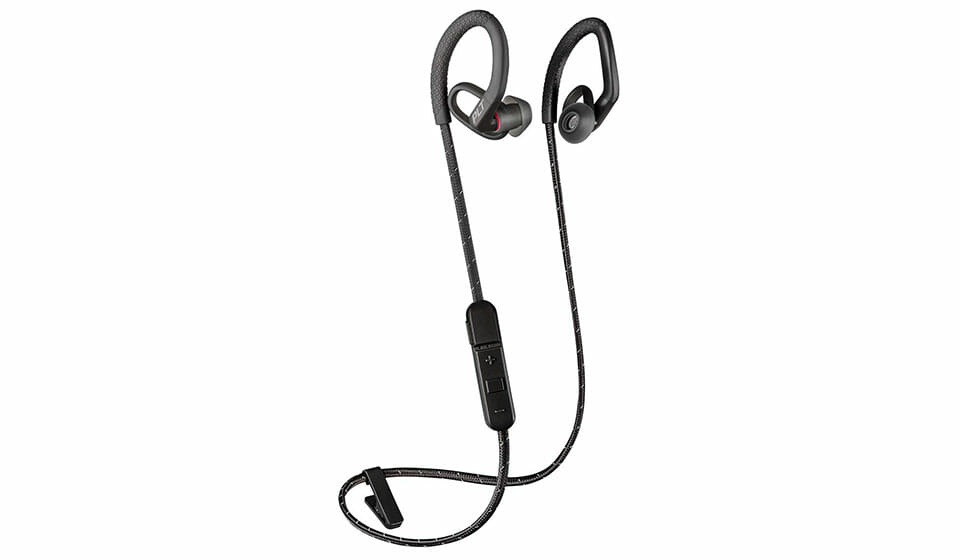 The best value earbuds for cycling
Not only good value, but the best value we've found for cycling headphones, the Plantronics BackBeat FIT 350 headphones.
Check the full Plantronics BackBeat FIT 350 review.
Connection: Wireless Bluetooth
Battery life: Up to 6 hours
Bluetooth: 5.0
Charging: Micro-USB
Why Buy These?
The earbuds are designed to block out sound, something you need to be careful of.
But for indoor cycling that's great. At lower volumes, they don't block out all traffic so you should still be able to hear threats.
You can listen for 6 hours on a single charge, and a 15-minute quick-charge gives a full hour, suitable for short journeys on the bike.
The fit is super stable. Having ear loops to stay in place, plus a cable clip means you can fix these onto your shirt just in case they fall out.
The Bad
Occasionally, spotty Bluetooth connection.
Cable noise if the cable rubs against skin.
The Sound
The sound is better than expected considering the price tag, and quite impressive for any headphones under $100.
It's slightly bass emphasized while keeping the highs clear and distortion-free. It's fun audio suitable for working out.
Get the Plantronics BackBeat FIT 350 wireless earbuds that have a great fit, sweatproof design and enjoyable sound.
Read the full Plantronics BackBeat FIT 350 review.
---
Most Affordable Headphones for Cycling
Here are the top picks under $60.
7. Jlab Audio Jbuds Air (best under $50)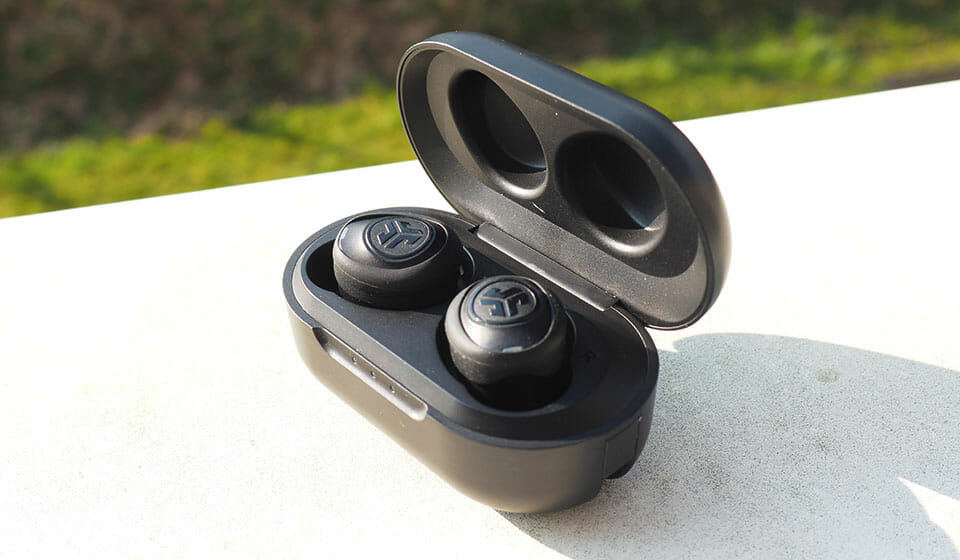 Best true wireless earbuds for cycling under $50
True wireless earbuds are an excellent choice for cycling because there are no wires to get in the way.
Keeping the cycling helmet on with a strap and then getting the wires somewhere in between can be complicated. The Jlab Jbuds Air don't have any of these problems.
Connection: Wireless Bluetooth
Battery life: Up to 6 hours
Bluetooth: 5.0
Charging: Micro-USB
Why Buy These?
Like mentioned before, the design is much more convenient to wear under a cycling helmet. The earphones don't stick out of the ears too much, so it's easier to fit them.
Another benefit of a shallower design is less wind noise. While some is still present, it's less than with comparable wireless headphones.
Hearing your music instead of the wind noise at faster speeds is important.
Now, you get almost 6 hours of playtime per charge. The charging case is small enough to fit into a smaller pocket. And, if you get caught in the rain, it's no problem thanks to water protection – IPX5.
Plus, you only pay $50 and can control music and make calls with onboard buttons and microphone.
The Bad
They might be uncomfortable for smaller ears. Their noise isolation is quite good, which can impair safety.
The Sound
The audio quality is the most average aspect of the Jbuds Air. You get the sound you can expect from cheap earbuds. It's good for the price and for listening during activity, but you won't win any award. Read more in the review.
Read the Jlab Audio Jbuds Air review.
---
8. Bose SoundSport Wired (best wired)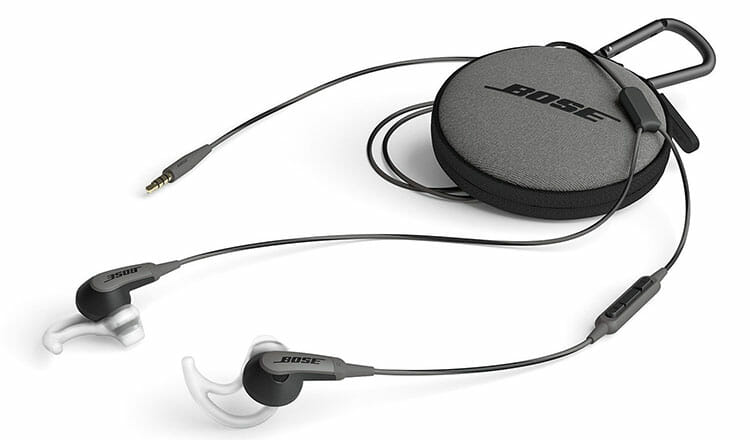 The best wired in-ear headphones for cycling
Some cyclists are perfectly happy with wired earbuds. You can pay less and get, usually, better audio quality and reliability.
Connection: Wired (3.5mm)
Why Buy These?
Bose is one of the biggest names in the world of headphones, whether you're looking for sports headphones or noise-canceling headphones for home listening.
The SoundSport design has the brand's StayHear tips, which are designed to stay securely in your ear, pain-free.
There are three sizes to choose from, and they do a good job of comfortably staying put.
An inbuilt mic allows you to make calls, and there are also inline controls for volume.
Though not IPX rated, the SoundSport headphones are designed to be sweat-resistant and rainproof.
The Bad
A 3.5mm connection is good for a lot of devices, but Apple recently switched to using their lightning connection. This means that modern Apple devices may not work without an adapter.
The wire is liable to get in the way, as is always the case with wired earbuds for cycling or sports.
The Sound
Typical Bose sound that's enjoyed by many happy customers. While not the best you can get for the price, they sound better than average wired earphones.
If you don't mind wires, and want very respectable audio fidelity under $50, consider the Bose SoundSport headphones.
---
9. iTeknic Bluetooth Earbuds (best battery)

Best affordable cycling headphones with a monster battery life (24h)
If you cycle for long periods of time, such as cycling tours, you need a battery that can match your needs.
The iTeknic earbuds have an extraordinary battery life to keep you going as long as you do (for 1 whole day).
Check the full iTeknic BH001 review.
Connection: Wireless Bluetooth
Battery life: Up to 24 hours
Bluetooth: 5.0
Charging: Micro-USB
Why Buy These?
24-hour battery life is three times as long as any other options on this list. It is an impressive feature, and if you spend long stretches on the bike, this can be valuable.
The headphones come with different sizes of internal ear hooks, so you can choose the ones which best fit your ears. There's also an inbuilt mic for making and receiving calls.
Plus, they're affordable and fit reasonably well, even though the buds are bigger.
The Bad
For such affordable earbuds, you aren't going to get audio fidelity which matches the best options on the market. The sound is decent, but not amazing.
On top of this, Slightly bigger earbuds might be harder to fit under a helmet (depends on your model).
The Sound
Though not groundbreaking, the sound is good for a set of affordable earbuds with 10mm drivers producing plenty of volume.
If you're looking for a long-lasting battery first and foremost, for a cheap price, the iTeknic BH001 Bluetooth earbuds should be your first choice.
Read the full iTeknic BH001 review.
---
How do you like our guide?
Did we miss something, let us know in the comments or give feedback by clicking on the smiley at the bottom right.
Comments