One of the solid ANC headphones under $50 worth considering.
Mpow H5 Review: Our Conclusion

Overall score: 3.2 out of 5 points.
Mpow H5 are one of the cheapest active noise canceling headphones that cost under $50 but actually perform fine. While you won't get headphones that are great at anything, they offer a cheap solution for those who want active noise cancellation and reliable performance for the lowest price.
They're well-built and look more expensive than they really are. And, while ANC is somewhat basic, Bluetooth works without problems.
As for sound, it's okay for an average user. More on that under the sound below.
PROS & CONS
Quality build and materials
Reliable Bluetooth
Low price
Very basic noise cancellation
Shallow ear cushions
If you want noise cancelling headphones with superb build-quality and dirt-cheap price, then check out the Mpow H5.
---
You can find Mpow H5 in:
Best Budget Over-Ear Headphones under $50
Best Cheap Bluetooth Headphones
Best Noise Cancelling Headphones under $100
Best Budget Noise Cancelling Headphones
Best Bluetooth Headphones under $50
---
Specifications
Type: Over-ear headphones
Connection: Wireless Bluetooth & 3.5mm
Back-design: Closed-back
Headphones
Driver size: 40mm
Frequency range: 20Hz – 20,000Hz
Impedance: n/a
Weight: 0.5lbs (230g)
Cable length: 3.9ft (120cm)
Microphone & Controls: Yes (built-in)
Water-protection: None
Wireless
Bluetooth: 4.1
Battery life: About 8-9 hours with ANC on, up to 30h ANC off.
Charging time: 2h-3h to full charge
Active noise-cancelling: Yes
Charging cable: Micro USB
Bluetooth codecs: SBC
Wireless range: 33ft (10m)
Microphone
Type: Built-in microphone
Mic design: n/a
Mutable: No
What's in the Box?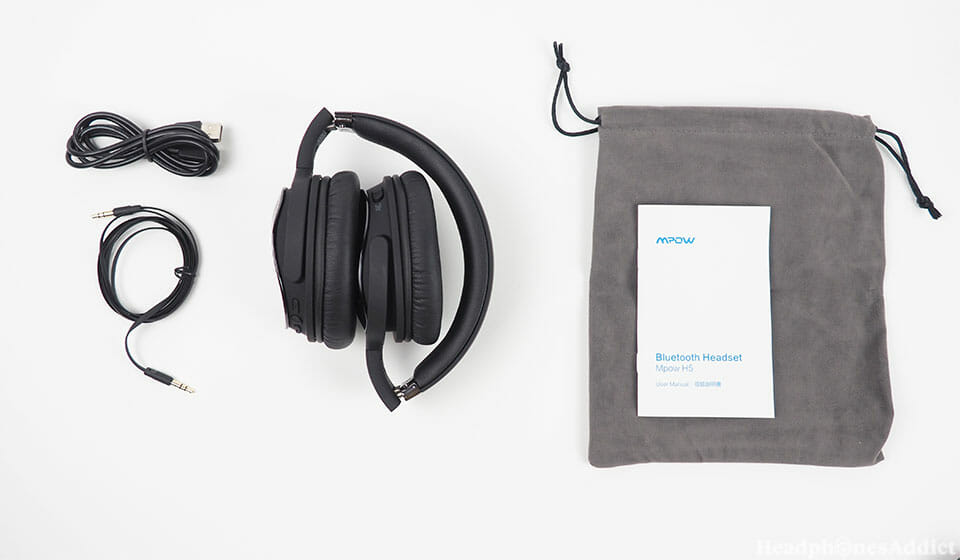 Mpow H5 noise cancelling headphones
Micro-USB charging cable
5mm AUX cable
Soft, carrying bag
User manual
Comfort & Fit – 3/5 Good
Mpow H5 are on the smaller side of over-ear headphones but will fit most adults. The ear cups might brush against your ears but generally aren't uncomfortable. Though you can get comfier ANC headphones for slightly more money.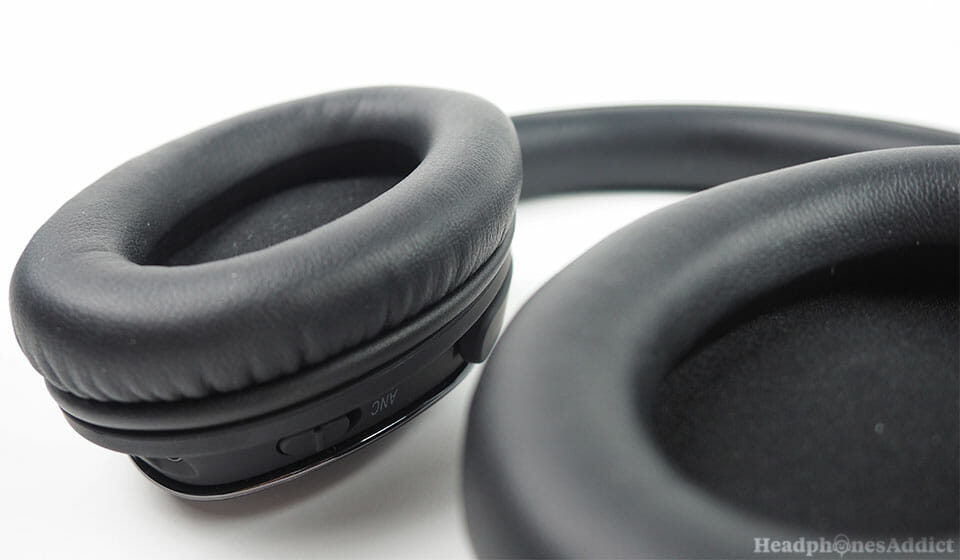 For the price that you pay, under $50, there's not much you can ask. The wireless headphones look more expensive then what their price suggests.
The adjustable headband is flexible and extends to a good degree. So they fit adult heads with ease. Plus, there are R and L icons on the inside of the headband for easier orientation.
On the other hand, the cup cushions are quite thin. They're filled with regular foam and covered by faux leather. We've seen better, but it's fine for the fact that you're wearing cheap headphones.
Also, the clamping force isn't too strong, but the cans keep on the head well even during faster head movement. Rocking your head to your jam is fine.
Noise Cancelling – 2/5 Meh
Mpow H5 have basic active noise cancelling. It's noticeable from the moment you turn it on, but other ANC headphones are more effective and cost a similar price. It's more of a bonus than the main feature.
While we don't fly for the sole purpose of testing noise cancellation we do have capable speakers that recreate the air cabin noise.
Testing Mpow H5 together with other cheap ANC headphones made it obvious these aren't the best. Their noise cancelling is mediocre at best.
Right now, if you want better ANC for the same price, get the iTeknic BH002 (used to be more expensive but recently got cheaper).
The Mpow's seem to let through more higher-pitched white noise than the alternatives.
Also, with ANC on, the battery life is around 8-9 hours instead of the marketed 30 hours.
And, when no music is playing, you can hear a tiny static sound, which is the ANC doing it's thing. It becomes inaudible when you play music.
Noise Isolation – 2.5/5 Average
They have about average passive noise isolation. Closed-back design and foam earpads help, but in the end, it can't really compare to more expensive headphones. H5s are a budget option after all.
Without any music, the closed-back headphones block some background noise but it's rather average. Which isn't that great for ANC headphones.
Nonetheless, if you aren't too demanding about that and just need a pair of cans for some casual listening than these will more than do.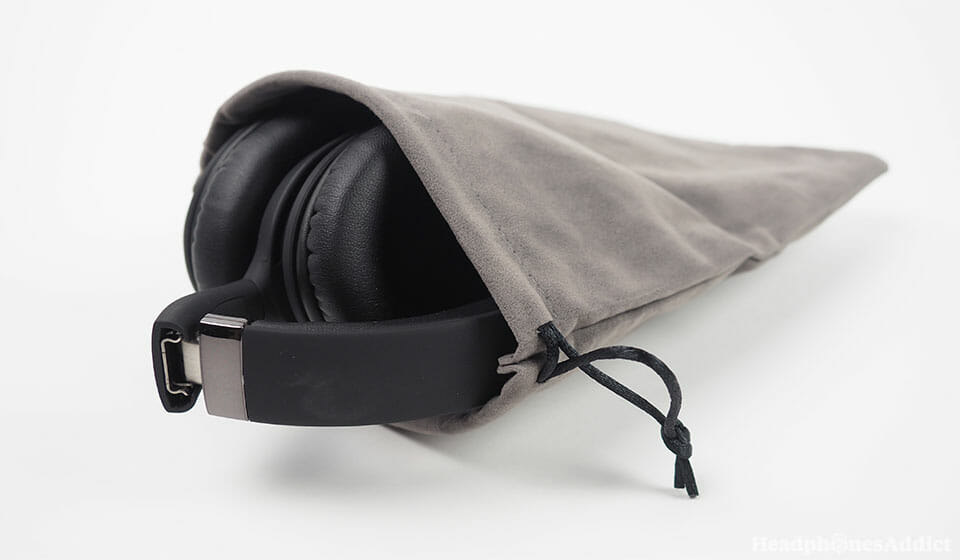 Bluetooth – 3.5/5 Almost Great
The H5 headphones come with an older Bluetooth 4.1 but generally work well. You can expect reliable performance at an average distance.
You can expect around 30ft (10m) of range without any obstacles. If you're closer to your music device, you can put in a wall and the connection stays stable.
The moment you increase range or put between 2 walls, the Bluetooth dies.
Connecting it as easy as pressing and holding the power button for the red and blue lights to start blinking.
Is there a video delay?
There's minimal video delay that most people won't notice. It's perfectly fine for YouTube watching.
Battery – 3/5 Good
While Mpow claims the H5s last up to 30 hours per charge, if you use ANC and Bluetooth, you get closer to 8-9 hours. It's a reliable battery performance but can't compare to the better headphones.
You charge them with a regular micro-USB cable that you get in the box.
And, if the rechargeable battery dies on you, you can use the AUX cable to listen to music with a wire. But ANC doesn't work because it needs power.
Moreover, charging takes a bit over 2 but under 3 hours (from 0% to 100%).
When the battery life reaches around 10%, there is a voice prompt telling you "battery low." It happens a couple of times before the headphones shut down.
Durability – 4/5 Great
Build quality of the Mpow H5 is one of their strongest points. The materials and looks are better than what the price suggests. They are sturdy and look good.
To start with the headband, it has a metal core and hinges, which give it strength and flexibility. It's covered by plastic on top and cushion at the bottom.
The ear cups are plastic, and the outer plates have a nice glossy finish.
Also, the built-in control buttons offer solid feedback and create a "clickable" noise, so you always know when you've pressed them.
Thanks to the flexibility of the headband, these will fit larger heads too, as long as the earcups fit too.
Features 2.5/5 Average
You get the basic features you can expect from wireless Bluetooth headphones. Built-in microphone (which isn't that good), controls, and LED indicators.
To start with the bad first, the microphone is rather bad compared to other built-in mics. The other person will know you're not speaking on your phone.
Your voice is muffled and isn't the clearest. It is true the microphone features CVC 6.0 which is supposed to help but don't expect to hold phone calls anywhere else than in perfect conditions.
Now, the controls are well made and easy to use. You know exactly what button you're pressing without looking. It's good design.
In addition, there is an LED indicator for noise cancellation on the right cup that shines green when active. In wireless mode, an LED on the left cup blinks blue every 3 seconds (to remind you Bluetooth works).
Accessories
Together with the necessities of the charging cable and 3.5mm audio cable, you also get a soft, fabric carrying bag. It doesn't offer the same protection as a hard carrying case, but it's better than nothing.
Sound – 3/5 Good
Close to a balanced signature with a slight emphasis on bass. The clarity and richness is good for a cheap pair of headphones but can't really compare to higher-end.
You probably don't expect Hi-Fi sound quality from the H5s. You shouldn't.
The 40mm drivers are decent at sound reproduction for an average user.
It's slightly bass emphasized, which is what most people prefer even though the lows aren't super powerful. A keen ear will hear extra punchiness, so these Mpow headphones work for popular music.
An audiophile will notice the sound is muffled and lacks clarity.
Nonetheless, for the price you pay, you can be happy. You won't reach sonic nirvana, but the headphones work for audiobooks, videos, and music. That's the most you can expect in this category.
Also, when you turn on the ANC, the sound becomes more bright and losses a bit of that punch. It's common for cheap ANC headphones.
These are engineered for the tastes of the general audience. Considering that, they've done a good job.
Why Buy Mpow H5?
While not being the best at anything, they offer a lot of technology for a cheap price.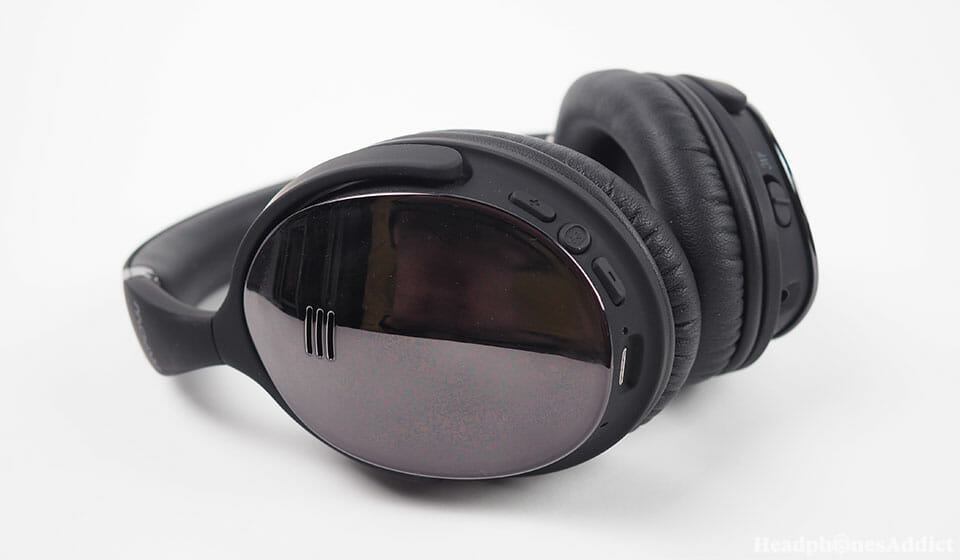 There's nothing majorly wrong with them. Their biggest fault might be that they are average.
And average wireless headphones that you can rely on, cancel some ambient noise and wear for hours comfortably is not that easy to find.
In case you're looking for good noise-cancelling headphones under $50, then the Mpow H5 are one of the better choices.
Related:
Check another great pair of ANC headphones under $50: iTeknic BH002
Comments