Use the best noise cancelling headphones and enjoy your music in peace.
It's difficult to find the best noise cancelling headphones for your needs with all the options.
All brands claim their noise-canceling headphones are the best.
But often that's not the case.
That's why we created this guide to help you with your buying decision.
Remove the unwanted ambient noise in comfort, style, and while enjoying great sound quality.
Below you'll find the best noise-cancelling headphones you can get today that will protect you from background noise on a plane, in the office, or anywhere else.
Related:
Want noise cancelling earbuds? Click here.
Here you can find the alternative, best noise isolating headphones.
Best Noise Cancelling Headphones
1. Sony WH-1000XM3 (best overall)
The best noise cancelling headphones overall
Sony WH-1000XM3 are the cutting edge ANC cans everybody is trying to beat.
Battery life: 30 hours
Back design: Closed back
Connection: Bluetooth 4.2
Foldable: Yes
Why Buy These?
These are modern, smart headphones. The ANC is one of the best in the industry. You can block out a lot of the external noise. It even adjusts automatically based on your activity and noise levels in the area.
The touch controls are easy to use, and you get even a Quick Attention mode. When you cover your right ear cup, it turns down the volume briefly. You can use this to have a quick conversation.
The battery life is great, with 30 hours of playtime. These over-ear headphones are also Alexa enabled, so you have a voice assistant in your ear.
The Bad
If you want to listen with wires, you can, but the wires don't fit in the case. It's a design flaw.
The microphone for calls is good, but not amazing for the money.
The Sound
You can enjoy high fidelity audio. They're versatile, with equalizing, which makes them perfect for all kinds of music. They don't taint with too much bass. Instead, a crisp high end and a warm bass make the Sony WH-1000XM3 a brilliant pair of noise cancellation headphones.
---
2. Bose 700 Noise Cancelling Headphones (runner-up)
Bose noise cancelling headphones with customizable cancellation
Bose are pioneers in noise-canceling technology. Their modern wireless headphones are high fidelity and have voice control capabilities.
Battery life: 20 hours
Back design: Closed back
Connection: Bluetooth 5.0
Foldable: No
Why Buy These?
Bose continues to innovate. The Bose noise cancelling headphones 700 can be used with AR technology (augmented reality) for a new and exciting listening experience.
You can also use your voice to control Alexa or Google Assistant; both are built-in the Bose 700 headphones.
11 different settings for the active noise cancellation (ANC) means you can choose how much ambient sound can be let in. The four-microphone system is highly effective when the over-ear headphones pick up ambience to cancel out.
They are exceptionally comfortable, too, so you can wear them on intercontinental plane flights or long working hours in the office. Plus, the closed-back design passively isolates from external noise.
The Bad
The cost is a bit off-putting for some. They cost more than the competition. Also, there is no EQ control, even on the Bose app.
The Sound
The audio is crystal clear, the frequency response is full and detailed across bass, mids, and highs. Bose headphones 700 are going to keep demanding users happy.
For cutting edge technology with a wonderful sound, the Bose 700 is a great option.
---
3. Sony WF-1000XM3 (best earbuds)
Best noise cancelling earbuds (see guide)
If you've been waiting for solid noise cancellation earbuds, these true wireless earphones from Sony are the winning option.
Check the review of Sony WF-1000XM3.
Battery life: 24 hours in case (5 h per charge)
Back design: Closed back
Connection: Bluetooth 4.2
Why Buy These?
These earbuds use the HD processor QN1e for the noise cancellation technology (the same as in WH-1000XM3). This is cutting edge in terms of noise cancelling in earbuds.
Bluetooth transmits clear and high-quality audio thanks to 24bit audio processing.
The earbuds use USB-C charging and come with a one-year warranty.
The Bad
Slightly bulkier design to pack in all the technology.
The Sound
They're a fantastic set of true wireless earbuds, even ignoring the noise cancellation. You can hear all the frequencies clearly, and the bass is pretty strong for earbuds, too. Plus you can equalize the sound to your liking with an app.
For active noise cancelling in true wireless earbuds, the Sony WF-1000XM3 are the best on the market.
---
4. Bose QuietComfort 35 II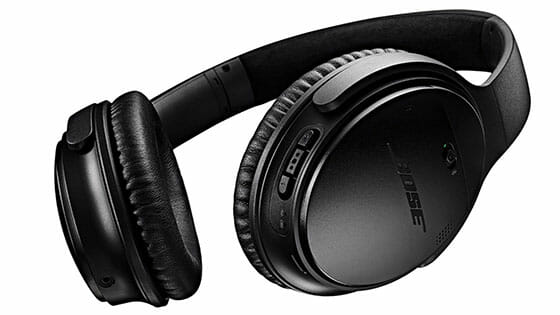 Comfortable Bose noise cancelling headphones
If you are looking for Bose quality, plus exceptional comfort, but don't want to pay a hefty bill for 700, the QuietComfort 35 II are a great option.
Battery life: 20 hours
Back design: Closed back
Connection: Bluetooth 5.0
Foldable: No
Why Buy These?
If comfort is high up on your priorities, the beautiful padded ear cups are great for long periods of listening.
They connect with the Bose app and can be used for revolutionary AR listening, something Bose are championing. They're also Alexa enabled for voice control of your music or phone.
As you would expect from Bose, they're very high quality and well-built headphones. Plus, 20 hours of battery life is plenty for most.
The Bad
Even with the Bose app, you can't control the EQ.
The Sound
You get a signature, crisp Bose audio with these headphones. Though the bass frequencies aren't boosted, they're great for listening to pop, rock, and all sorts of other genres.
The Bose QuietComfort 35 II provide exactly what they promise; quiet comfort for a lower price (compared to what it used to be).
---
5. Jabra Elite 85H
Great noise cancellation headphones for clear phone calls
If you want best noise-cancelling headphones for making phone calls with clarity, these could be an option.
Battery life: 36 hours
Back design: Closed back
Connection: Bluetooth 5.0
Foldable: No
Why Buy These?
In total, the Jabra Elite 85H incorporate 8 different microphones. 6 of these mics give a clear sound when making voice calls.
A fantastic 36 hours of battery life is better than competitors. There is also a fast-charge option that gives you 5 hours of listening from a 15-minute charge.
The 85H headphones are also water-resistant, fine for exercising or walking in the rain. You don't need to worry about moisture. For fully waterproof headphones go here.
SmartSound Audio uses the 8 microphones to test the environment and compensate and cancel out unwanted audio.
The Bad
The ANC is good but struggles to block out some of the lower frequencies.
Also, the charging cable is annoyingly short.
The Sound
Though not quite up there with the elite models on the market, the Jabra 85H has a good bass response and a well-rounded sound. You can also control the EQ through the app to adapt to your favorite music.
For easy and clear calls as well as excellent audio, the Jabra 85H are among the best choices.
---
6. Skullcandy Crusher ANC (best bass)
Best noise cancelling headphones for bass
Skullcandy makes decent budget headphones, but their range has increased with higher-end models like this one, the Crusher ANC. It's a great pair of ANC bass headphones.
Battery life: 24 hours
Back design: Closed back
Connection: Bluetooth 5.0
Foldable: Yes
Why Buy These?
Skullcandy describes these over-ear headphones as the most immersive ever made by them.
These have personalized profiles that you can set up via the app and listen with the EQ and other settings you like best. The active noise cancellation (ANC) is very good, and the Sensory Bass function gives a real boost in the low end. You can really feel the bass vibrations.
They come with a carry case and even have a 10-minute quick charge for 4 hours of playback.
The Bad
The earcups can be a little bit uncomfortable if you have a larger head. Massive bass might be too much for some.
The Sound
The exceptional bass makes the Crusher ANC wireless headphones a fantastic option for those who love bassy genres. Heavy metal, dance music, and electronic music sound brilliant with these. You can literally feel the vibrations.
For bassheads who want active noise cancellation, Skullcandy Crusher ANC are the best choice.
---
7. Beats Solo Pro (best bass on-ears)
Best on-ear headphones for bass
It seems to be part of the Beats manifesto that they have to provide amazing bass, and they manage it with the Pros, even in on-ear headphones.
Battery life: 22 hours
Back design: Closed back
Connection: Bluetooth 5.0
Foldable: Yes
Why Buy These?
As they fold up nicely and have a compact, on-ear design, these headphones are great for people wanting something more compact.
These use Beats Pure ANC to adapt to the surroundings. There is also a Transparency mode that allows you to hear your surroundings.
A 10-minute charge provides 3 hours of playback. In total, 22 hours of playback is achieved with ANC and 40 with ANC turned off.
These wireless headphones are stylish, but they have plenty of substance too.
The Bad
The active noise cancellation won't be as good as with over-ear headphones. On-ear headphones tend to let in more noise.
The Sound
For on-ear headphones, the bass response will really blow you away. They give a high-fidelity and rounded sound in the mids and highs, too, but the bass is the real selling point.
For booing low-end on-ears, the Beats Solo Pro are a good option.
---
8. Bang & Olufsen Beoplay H9i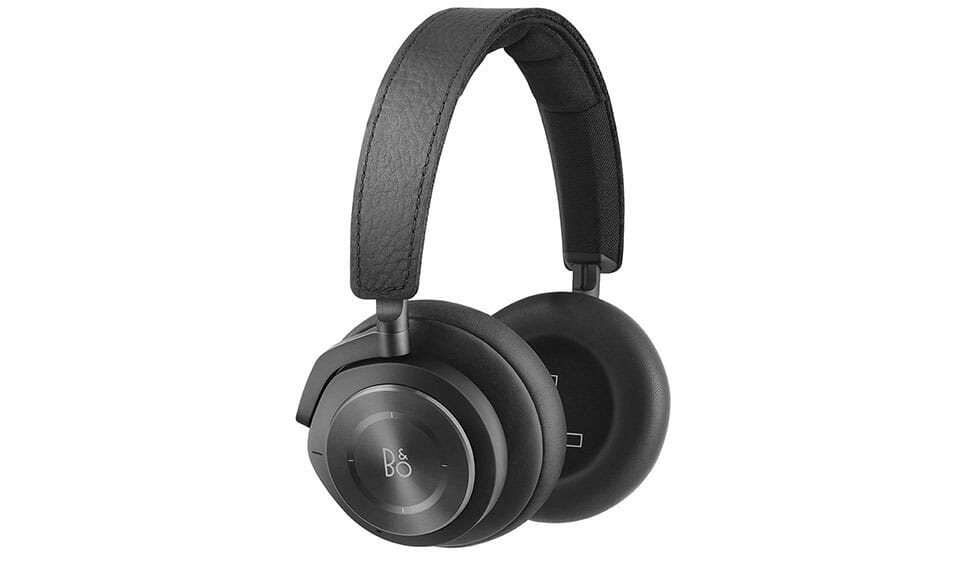 High-end noise cancelling headphones with transparency mode
Bang & Olufsen are known for their exceptional speakers and hi-fi systems, but they have some high-end headphones, too, including the H9i.
Battery life: 18 hours
Back design: Closed back
Connection: Bluetooth 4.2
Foldable: No
Why Buy These?
As well as powerful drivers and quality audio, these over-ear headphones have good control functions.
You get inbuilt touch controls on the ear cups, and a proximity sensor, that pauses the music when the headphones are taken off. Put them back on, and the music resumes.
Previous B&O headphones have struggled with bass, but it's better in the Beoplay H9i.
The great microphones (two of them) make them good for voice calls, too.
The Bad
They can crackle at high volumes and distort. A headphone amp can help with this.
The Sound
As long as they're not cranked, the sound is high-fidelity and clear. The ported bass means more low-end frequencies. You can also change the settings with the B&O app.
Overall, for great clarity and easy controls, the Bang & Olufsen Beoplay H9i are a great option.
---
9. Bowers & Wilkins PX7 (best sound)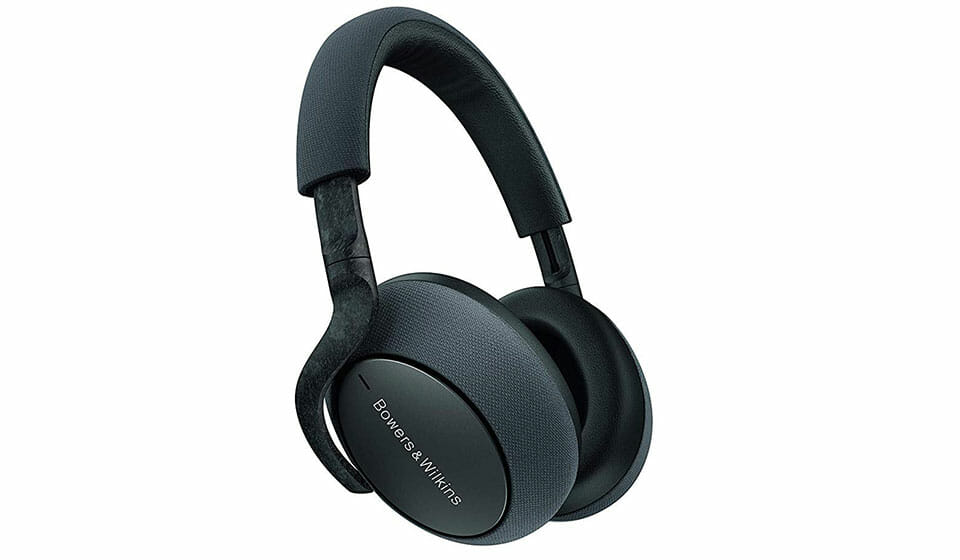 Best noise-cancelling headphones for sound
The Bowers & Wilkins PX7 are an option to make the audiophiles drool. If you are looking for an uncompromising sound, the PX7 could be for you.
Battery life: 30 hours
Back design: Closed back
Connection: Bluetooth 5.0
Foldable: No
Why Buy These?
Power and clarity make these the best noise-cancelling headphones for audiophiles. The 43mm drivers are designed by the Bower & Wilkins team, who have made award-winning speakers and headphones.
Like a lot of modern headphones, they are adaptive. If you take an ear cup off, they will pause to let you hear.
This pair of headphones is lightweight but still durable. The carbon fiber composite material means they are rugged and should last a long time.
The Bad
They can apply a bit of pressure on your ears. Over time the PX7 can cause some fatigue and discomfort.
The Sound
The high-quality drivers provide a rounded sound, great for everything from drum and bass to classical.
For amazing clarity from your ANC cans, consider the Bowers & Wilkins PX7.
---
10. Edifier W860NB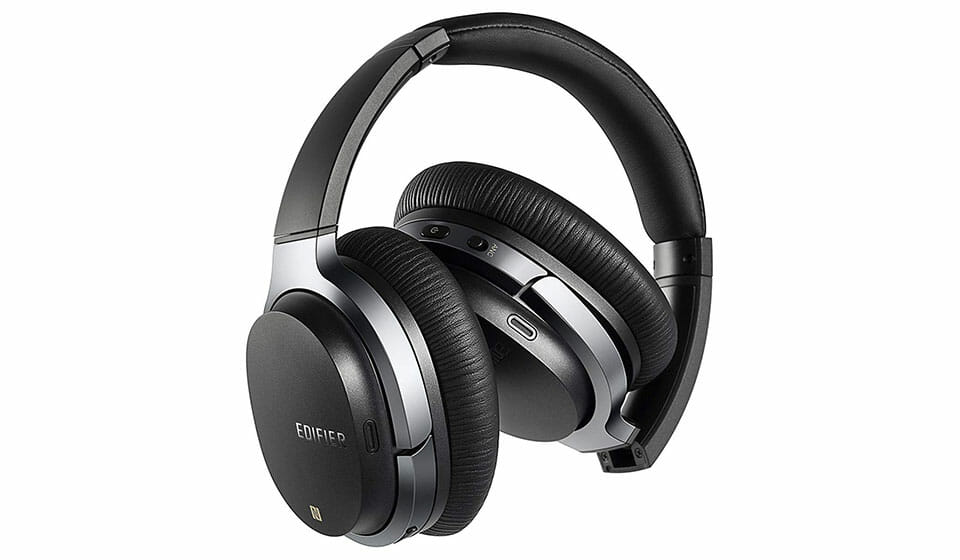 Great sounding noise cancellation headphones under $200
Edifier shows that you can get a good quality pair of headphones with excellent noise cancellation for a lower fee.
Battery life: 25 hours
Back design: Closed back
Connection: Bluetooth 4.1
Foldable: Yes
Why Buy These?
For the money, you get a lot of features with these foldable headphones. They're portable and pretty comfortable, too. The padded ear cups are great for long-term use.
The ANC isn't the best on the market, but it is still reliable and cancels out noises like fans and air conditioners with ease.
The controls are intuitive and simple. Touch controls on the earcups let you make changes to volume and other playback features as well as take calls.
The Bad
They can't be described as elite headphones judging on the sound, though they're good for the money.
The Sound
While not high-end, the sound is very good considering the price. There is plenty of power and bass, making this a good choice for listening to bassy or heavy music.
For an under-$200 pick, you might want to consider the Edifier W860NB.
---
11. AKG N60NC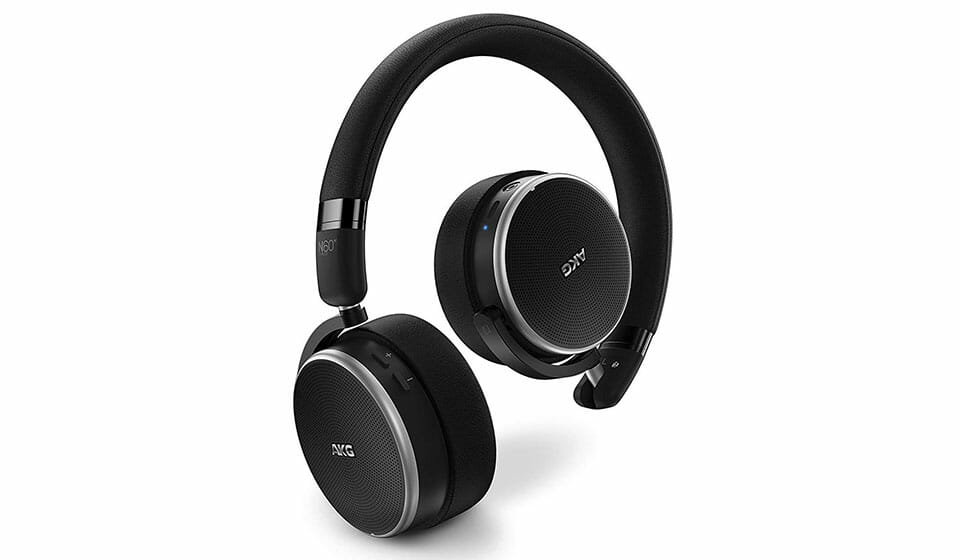 Good value on-ear noise-cancelling headphones
AKG is a brand with a long history of headphones, microphones, and audio gear. They offer some great budget headphones, including the N60NC.
Battery life: 30 hours/15 with Bluetooth on
Back design: Closed back
Connection: Bluetooth 4.0
Foldable: Yes
Why Buy These?
If you want something compact and foldable but also still good quality, these could be a very good budget pick. AKG rarely releases headphones that aren't high quality.
Also, AptX technology keeps the quality of the audio high in Bluetooth mode.
These headphones fold up into a compact size and have a carry pouch. You can put these in your bag and take them with you.
The Bad
The battery life is advertised as 30 hours. If you have the Bluetooth and ANC both turned on, it's more like 15 hours.
The active noise cancelling is decent, but some external noise can leak in.
The Sound
For the price, the sound is very respectable. AKG quality usually shines through. If you spend more, you can get higher fidelity, but for the price, it's hard to argue with the AKG N60NC.
---
In this guide we covered the best ANC models that tend to have higher prices. But if you are looking for the best cheap noise cancelling headphones (under $100), click here.
---
Honorable Mentions
12. Beyerdynamic Lagoon ANC: (check price) These have a great sound and are customizable, but the fidelity is not as good as with alternatives.
13. Sennheiser Momentum 3: (check price) These are high-end ANC headphones that sound great, and sit comfortably on the ears. They struggle to cancel out some high frequencies, though.
14. TaoTronics TT-BH060: (check price) These have plenty of power and a low cost, but the cheap model lacks in audio fidelity compared to pricier options.
15. Sennheiser HD 4.5 BTNC: (check price) This pair of headphones offers good sound and active noise cancellation under $100. However, they are a little bit smaller and can be uncomfortable for long periods of use.
16. Plantronics BackBeat Pro 2: (check price) Plantronics are compact and portable, with great bass, but the ANC could be better, and the controls are a little clunky at times.
17. Apple AirPods Pro: (check price) The latest ANC true wireless earbuds from Apple come with good sound in-ear design.
What is Noise Cancelling
Noise cancellation technology removes low-frequency noises while still allows talking, birds chirping, or other sudden sounds. It uses a set of microphones and electronics that create a 180-degree phase-opposite sound of noise and sends it to your ears. Before you can hear it, both sounds cancel out.
Noise cancellation is effective at lower frequencies, like the humming of a plane engine. This makes them the first choice for travelers as they need to hear what is going on around them while enjoying the illusion of a more peaceful environment.
You can read more about what you can expect from noise-cancelling headphones below.
More: Is active noise cancellation better than passive noise isolation?
How Does Noise Cancelling Work?
Noise-cancelling headphones use microphones to record ambient noise. Then the noise signal is sent to dedicated electronics, which creates 180-degree opposite sound waves. The drivers send the new signal to your ears and before both reach the goal they cancel each other.
Are Noise Cancelling Headphones Worth It?
Recently headphones with noise cancelling have become very popular, but many people don't realize the disadvantages of noise cancellation.
Advantages
Cancellation of lower and some middle-frequency noises
Noise cancellation works well enough to give you the illusion of a quieter environment, which makes listening to music much more enjoyable.
At the same time, you can use the ANC headphones just for removing the noise without any music. Perfect for when you need to rest your head.
Disadvantages
Higher cost
Noise cancelling headphones tend to cost more, especially the higher-end ones. All the technology, microphones, and more sophisticated design cost money.
To get decent ANC headphones, you'll have to pay money for which you would get regular headphones with better comfort, better build quality, and especially better sound.
Lower sound quality
Noise-canceling technology produces the counter frequencies to negate noise, but because it's not 100% accurate, you often hear a hissing noise when it's turned on.
Not to mention some of the frequencies in the original music recording will also get cancelled out, distorting the overall sound quality.
It is an accepted fact among audiophiles that noise cancellation technology lowers the sound quality, even in the most expensive cans.
ANC needs power
ANC (active noise cancelling) technology needs power. Did you forget to charge the battery? No ANC for you.
Sensitive to wind
One of the known problems of ANC is strong winds. When strong winds are blowing and making sounds, your microphones pick it up and make a whole mess of the sound.
This is why ANC headphones are not recommended for outside and are extremely frustrating in that situation.
"Pressure" on ears
Some, especially cheap noise cancellation headphones, can make you feel like your ears are under pressure. It's an uncomfortable feeling. But thankfully, modern high-end models have fixed this issue.
Comments