Are you looking for top quality over-ear headphones, but don't want to spend a huge amount of money? Here, we're reviewing the best options under $100.
Comparison: Best Over-Ear Headphones under $100
Over-ear headphones are popular among musicians. They're good for studio use including recording, mixing and producing.
Most bedroom producers will be starting out with some good over-ear cans which don't cost a fortune.
And, you don't have to be a musician to enjoy over-ear headphones. They're a great way to enjoy your music in peace and block out ambient noise.
Keep in mind, $100 isn't a budget which is likely to get you the very best in audio fidelity, but it's plenty to get a starter to an intermediate pair of headphones.
There are different options in terms of wired or wireless, noise-cancelling or non-noise-cancelling. We've explored the best options in each category below.
Related:
The best headphones under $100
Best wireless headphones under $100
Best earbuds under $100
The best active noise-cancelling headphones under $100
Best Over-Ear Headphones under $100
1. Sennheiser HD280 (best wired)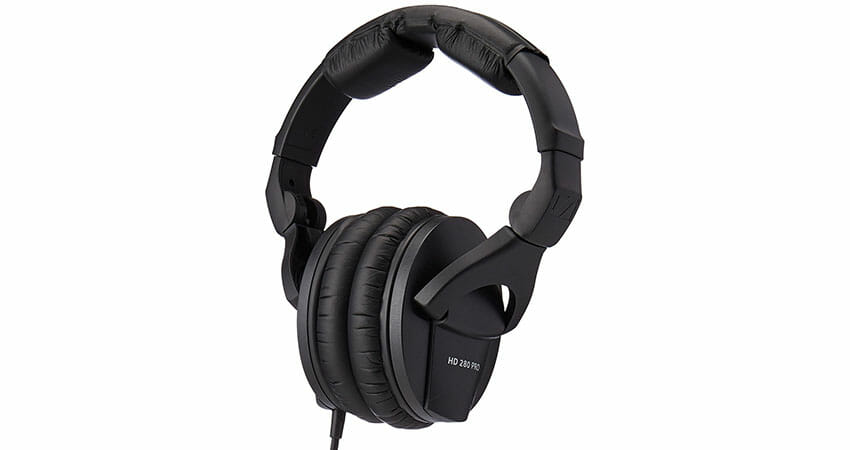 Best wired over-ear headphones under $100
These are popular and well-made headphones made by a brand with a big reputation. The HD280s are even suitable for studio use.
The full Sennheiser HD 280 review.
Back design: Closed-back
Connection: Wired 3.5mm/6.3mm
Foldable: Yes (folding earcups)
Why Buy These?
The Sennheiser HD280 is a very simple set of closed-back headphones, which makes them pretty versatile. They're good for casual listeners and great for studio reference.
These cans are great for space-saving as the folding earcups mean they can be compacted to put in a bag. You can even buy them with their own case.
A wired design provides reliable sound, and the wire is replaceable so when the cord eventually breaks you can simply replace it.
The Bad
Though the HD280s have comfortable padding around the ears, they aren't quite as comfortable as some other headphones on long listening sessions. They grip quite tightly around the head, especially if you happen to have a larger head!
The Sound
With an impressive frequency response and balanced sound, these cans are quite popular as studio headphones.
The bass isn't boosted like with many modern headphones, but if you want accurate reproduction of mids and highs, these are it.

The Sennheiser HD280 offer everything a quality pair of headphones needs, great audio, durability, solid comforts, and a competitive price.

The full Sennheiser HD 280 review.
---
2. Sennheiser HD 4.40 (best wireless)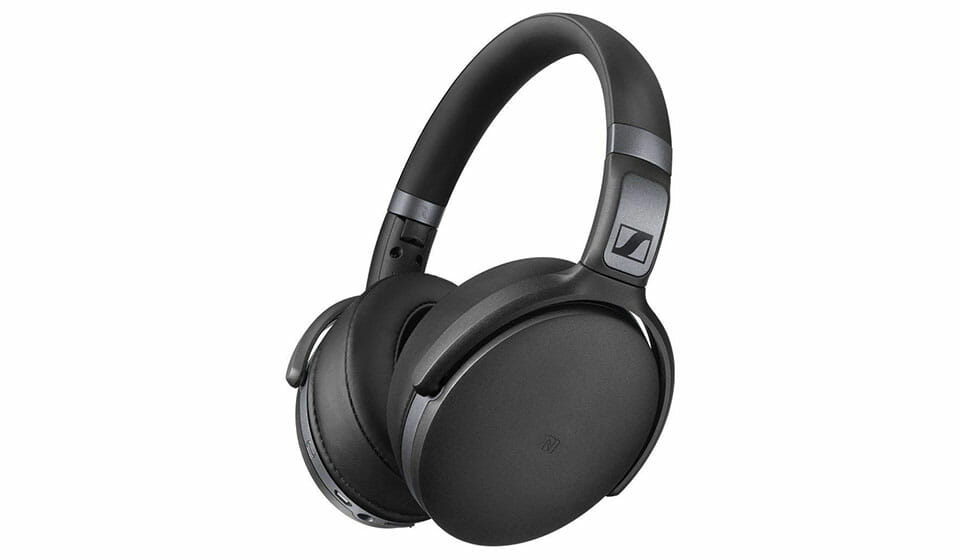 Best wireless over-ear headphones under $100
Wireless functionality is high on a lot of peoples' wishlist, and the Sennheiser HD4.40 headphones offer great sound quality as well as wireless functionality.
Back design: Closed-back
Connection: Wireless (Bluetooth 4.0, 3.5mm)
Foldable: Yes
Why Buy These?
If you are in the market for portable wireless headphones which are reliable and functional, these could be the answer.
25-hour battery life is impressive, and you can listen with a cable if you wish (if your battery is dead).
Sennheiser has built these with functionality in mind. You can use the controls mounted in the earcups for controlling volume and even making calls with a built-in mic.
The Bad
As with the other Sennheiser models on our list, many people with larger heads have struggled in terms of comfort. The headband can be a little too small and make a tight fit for big heads.
Some people have also spoken about the inconvenience of the inbuilt controls not being usable when you are in the wired mode.
The Sound
As we've come to expect from the Sennheiser HD range, the sound reproduction is of a high standard.
If you are looking for more of a meaty bass range, you can pair up the Sennheiser EQ app and get more bass.
The Sennheiser HD 4.40 could easily sell for more, and since you can get them under 100 dollars (comparable wireless over-ears cost more), it makes them a steal.
---
3. Anker Soundcore Vortex (wireless alternative)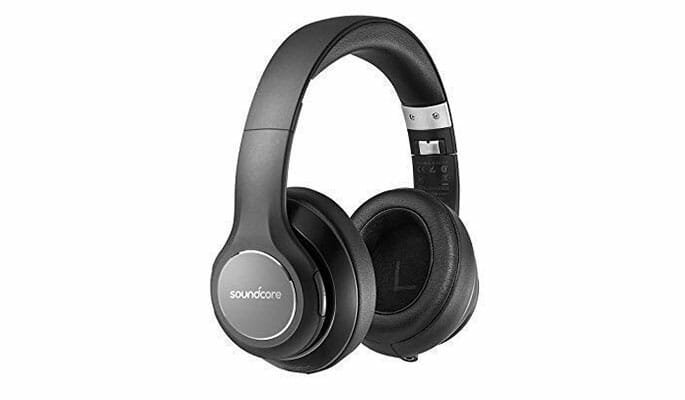 Best wireless alternative under $100
For wireless headphones which give the Sennheiser HD 4.40 model a run for their money, the Anker Soundcore Vortex are a more affordable alternative with similar features.
Back design: Closed-back
Connection: Wireless (Bluetooth 4.1)
Foldable: Yes
Why Buy These?
Anker's range of headphones is pretty impressive if you're on a budget. You get a lot for your money, and the Soundcore Vortex are an example of this.
20-hour battery life means long listening sessions, and these wireless headphones are comfortable, too. You can easily wear them for hours and not feel discomfort, the memory foam band is good quality, as are the ear pads.
They're foldable, and even come with a carrying case, perfect for slinging in a bag and taking on your travels.
The Bad
Having said that the battery life is a big positive, we should mention that 20 hours is dependent on using these headphones at 60% volume. If you're cranking your music, they'll die quicker.
The Sound
Can these compete with the very best on the market? Not quite, but for under $70, you'll struggle to find audio quality that's as balanced as this.
Compared to other cans in the price range, these are superior to most.
The Anker Soundcore Vortex are one of the best affordable wireless headphones right now.

---
4. Audio-Technica ATH-M40x (wired alternative)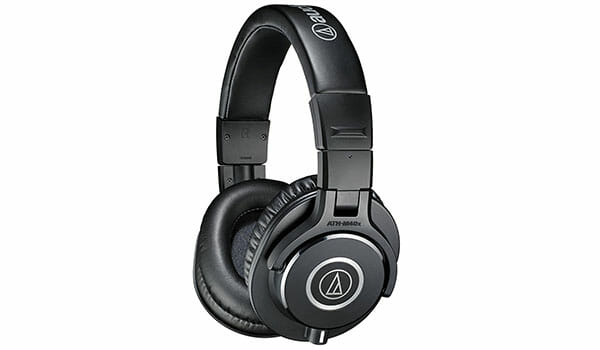 Alternative wired over-ear headphones under $100
A real competitor for the Sennheiser HD 280 headphones, the Audio-Technica ATHM40x are powerful, portable and sound great, all for under $100.
The full Audio-Technica ATH-M40x review.
Back design: Closed-back
Connection: Wired 3.5mm/6.3mm
Foldable: Yes
Why Buy These?
Arguably one of the biggest selling points for these headphones is the fact they have impressive drivers made with earth magnets and copper. This provides a lot of power and a flat frequency response.
The headband and ear pads give an extra level of comfort, which is arguably better than the Sennheiser options on this list.
Having a closed-back tends to be good for sound isolation, but the Audio-Technica ATH-M40x cans seem to perform better than most when it comes to passive noise isolation.
Plus, detachable cable makes it easy to replace it with a newer one if need be.
The Bad
An included cable is very long, 10ft (3m) in fact. This is not suitable for taking on journeys or listening on-the-go. It's worth buying a smaller cord.
While they are, in theory, pretty portable, these cans are bulkier than some of the competitors.
The Sound
These cans are part of Audio-Technica range with a reputation for sound quality at great prices.
The frequency response is flat and the drivers provide plenty of power, making the ATH-M40x a great option for all music genres.
Get the Audio-Technica ATH-M40x if you value overall music performance in a professional and proven design.
The full Audio-Technica ATH-M40x review.
---
5. TaoTronics ANC Headphones (best noise cancelling)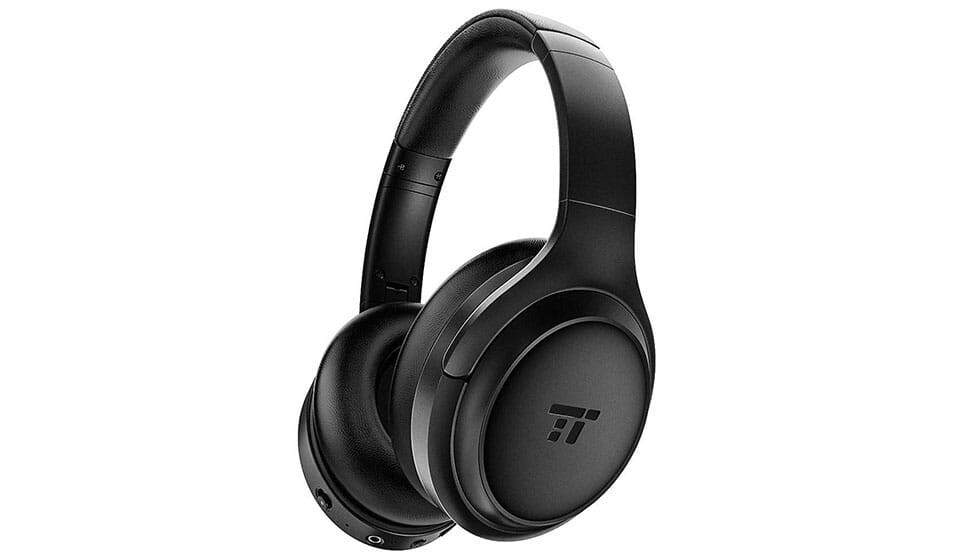 Best active noise-cancelling headphones under $100
Finding active noise-canceling headphones at this price point isn't easy, but the TaoTronics ANC headphones prove there are some options under $100.
The full TaoTronics ANC headphones review.
Back design: Closed-back
Connection: Wireless (Bluetooth 5.0)
Foldable: Yes
Why Buy These?
For those who want reliable battery life and active noise cancellation, these wireless headphones can be a real savior under $100. The battery lasts up to 30 hours.
Impressively, five minutes of charge can give you up to two hours of listening, great for people in a hurry.
The Bluetooth is 5.0 and the connection is very reliable over short distances. ANC capability is good for blocking out the world, making these cans popular for exercise and wearing on public transport.
Cleverly folding down to a compact size also makes for a fantastically portable set of headphones.
The Bad
Many have criticized the range of the Bluetooth, if you stray 20 or 30 feet from the audio source then it may cut out.
As you may expect from a budget set of cans, these aren't exceptionally balanced and may not be a good option for production use.
The Sound
Quality without being exceptional, the sound is good for casual listeners, but some audiophiles may find it a tiny bit lacking. It's bass emphasized but when you turn on the ANC is "eats up" the lows a bit.

For active noise canceling on a budget, it's hard to beat the TaoTronics ANC headphones.
The full TaoTronics ANC headphones review.
---
6. iTeknic ANC Headphones IK-BH002 (comfortable noise cancelling)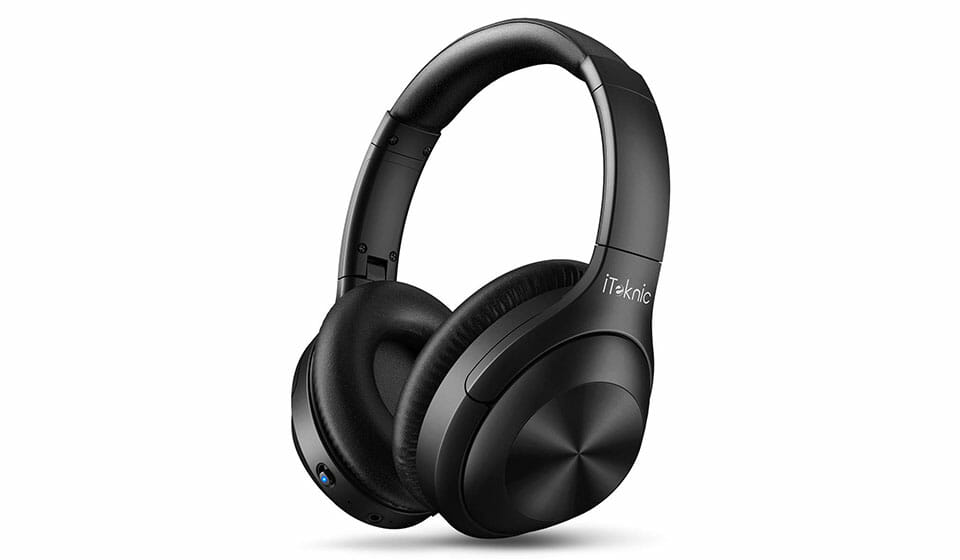 Most comfortable ANC headphones under $100
If you are looking for noise-cancelling on a budget, you probably want comfort for long listening experience too. And, the iTeknic ANC Bluetooth headphones are the answer.

Read the full iTeknic IK-BH002 headphones review.
Back design: Closed-back
Connection: Wireless (Bluetooth 5.0)
Foldable: Yes
Why Buy These?
While their active noise cancellation is about average, they make it up with comfort and low price.

You can wear these out-and-about for many hours, with minimal ambient noise getting in and impacting your listening pleasure.
Thanks to plush foam ear cushions, they feel soft and comfy, perfect for those long plane flights.
Plus, they're built-well and offer reliable Bluetooth performance.
The Bad
Music-only mode promises 30-hours of battery life, but if you are using noise-cancelling, this battery dies twice as quickly, leaving 15-hours.
They rotate, but don't totally fold up, which isn't ideal for those who want the most portable over-ear headphones.
The Sound
While the sound quality and noise-canceling aren't up there with the very elite products, they're great for the casual listener. Slightly bass boosted with good treble clarity.

All in all, the iTeknic ANC headphones are one of the best under $100 due to their comfort and reliable performance.
Read the full iTeknic IK-BH002 headphones review.
---
7. AKG K240 (best for mixing)

Best over-ear headphones under $100 for mixing and producing
Are you looking to become a star producer or engineer? If you don't want to spend a lot getting professional, flat-response headphones under $100, look no further than the AKG K240.
Back design: Semi-open
Connection: Wired 3.5mm
Foldable: No
Related: The best headphones for mixing
Why Buy These
Reliable headphones which don't break the bank, and provide balanced audio reproduction, are hard to come by.
AKG is a brand you are likely to see in studios all over the world, and the K240s are a popular, affordable headphone.
The semi-open back gives a huge advantage over many other options at the price range. It provides a brilliant soundstage, perfect for balanced mixing.
Additionally, the rugged and reliable design is built to last, with a replaceable cable should yours ever break. The headband is durable, but also comfortable, and it can self-adjust to your needs.
The Bad
These are more simple and basic headphones without a lot of the frills of the other options. No Bluetooth or noise-cancelling. If you need these features, you should look at some different cans.
The Sound
A balanced and professional sound quality is where these headphones really impress.
Powerful enough, with an exceptional, flat frequency response. The AKG K240s are the best sound for mixing under $70 bar none.

For professional over-ear headphones under $100, check the AKG K240.
---
What are Over-Ear Headphones?
Over-ear headphones cover the whole of your ear as opposed to going inside the ear or just sitting on the ear. They provide a full, immersive sound and can block out noise better than other designs.
Also known as circumaural or full size headphones. They're the go-to design for needs that require a comfortable fit (like gaming, home-listening, studio work, etc).
Which are Better, Over-Ear or On-Ear Headphones?
On-ear headphones are usually made to be compact and portable. They require fewer materials than over-ear. For this reason, they are often cheaper.

There are many downsides to on-ear, which may make over-ear a better choice. On-ear headphones, for instance, don't block external sounds anywhere near as well.

Over-ear models can include active or passive noise-cancelling, which doesn't work as well on on-ear design.

On-ear tend to have smaller, less-powerful drivers than over-ear, so aren't as loud and clear.

Also, over-ear headphones are often more comfortable as they have better padding and don't sit awkwardly on your ear, instead, they cover the whole of your ear.
Of course, it does vary slightly depending on your needs. On-ear can be good for saving space, but the sound quality is unlikely to rival most of the best over-ear headphones.
Note: Don't forget there are more types of headphones, like open and closed-back headphones that impact sound.
Comments