Clarity and exceptional fidelity are among the best features to look for when mixing. Find what headphones are best for the job.
Comparison of Mixing Headphones
A good pair of headphones is totally subjective based on what you are using it for.
If you don't have great headphones fit for mixing music, you won't be producing to a professional standard. You may be missing a lot of details.
Our list of headphones is designed to suit different budgets, too. While there is an element of 'you get what you pay for, some budget options are still pretty great, as we will explore.
Related:
Best Headphones for Mixing
1. Sennheiser HD 650 (best overall)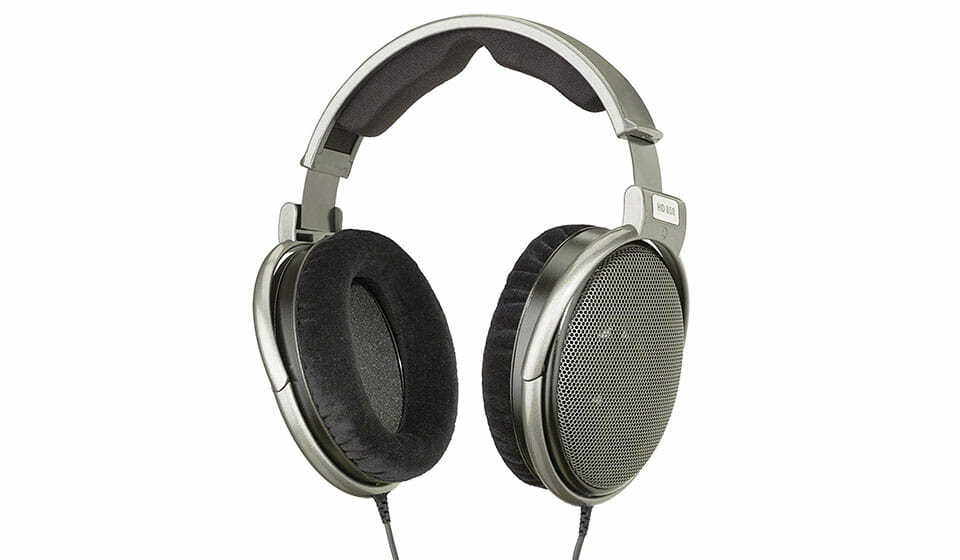 Best open-back headphones for mixing
These over-ear headphones are amazingly clear, and provide an industry-standard for those who are serious about their producing.
Type: Over-ear
Back design: Open-back
Connection: Wired 3.5mm/6.3mm
Foldable: No
Why Buy These?
These headphones are best suited to people who really take mixing seriously. They are HD by name and HD by nature, as the high fidelity and flat response make them perfect for working on professional mixes.
The elements are selected by hand and optimized to prevent harmonic distortion, which is as low as 0.05%.
Also, the frequency response is ideal for mixing any type of music, and there is no need to worry about an unbalanced sound. The spatial sound that comes with a good set of open-back headphones is another bonus.
The Sennheiser HD 650 have a sibling product, the HD 800. These have even better audio, but they are far more expensive, and for most, the HD 650s are more suitable.
Comfort is taken care of with big velour ear pads.
The Bad
This set of headphones could be improved with replaceable cords as a backup should anything go wrong. The included cable is also long and can become tangled.
The Sound
Clear and distortion-free audio quality. A market leader in the price range chosen as the option by many music professionals. These are great for serious musicians and producers.
If you are looking for professional cans, the Sennheiser HD 650 are a fantastic option.
---
2. Beyerdynamic DT 880 PRO (best under $200)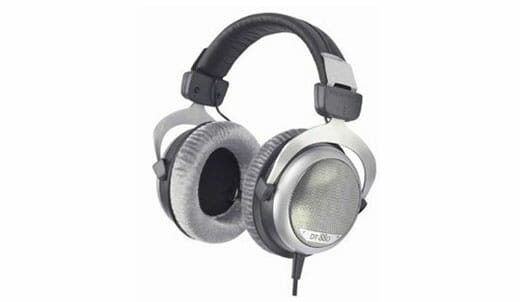 Best open-back headphones under $200
Beyerdynamic manufactures a solid range, and for a great soundstage on a relatively reasonable budget, the DT 880 Pro model is a very viable choice.
Type: Over-ear
Back design: Open-back
Connection: Wired 3.5mm/6.3mm
Foldable: No
Why Buy These?
The Beyerdynamic DT 880 Pro headphones have a lot of professional features. As well as 250-ohm impedance making them suitable for studio mixing, they are comfortable with a soft headband and sturdy ear cups. The parts are also all replaceable.
The headphones are clear with flat frequency response, the clarity in the mid-range is excellent, and many people swear by using these to mix vocals.
They come with a standard 3.5mm coil, but there is also a 6.3mm adapter included.
The Bad
Some people have criticized these for having a little too much "brightness" in the high end. The coiled cable is also excellent but could be detachable to improve life expectancy.
The Sound
Great soundstage with minimal distortion make them perfect for mixing and mastering. Their flat sound signature makes them popular among audiophiles as well.
The excellent spatial soundstage has made the Beyerdynamic DT 880 Pro headphones popular. Especially among those who want a professional level of sound reproduction but don't want to spend a huge amount of money.
---
3. Audio-Technica ATH-M50X (best closed-back)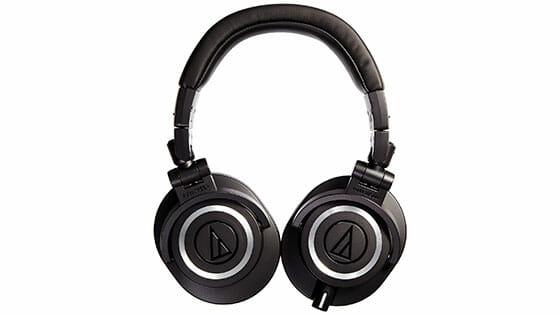 Best closed-back headphones for mixing
Though closed-back headphones aren't as advisable for mixing, they are great for blocking out other sounds. Sometimes, this is necessary. If you need to isolate the sound, the Audio-Technica ATH-M50X could be worth exploring.
Type: Over-ear
Back design: Closed-back
Connection: Wired 3.5mm/6.3mm
Foldable: Yes
Why Buy These?
These over-ear headphones have been designed to be very versatile. They are used for a variety of different audio purposes and some DJs, as well as producers, use the Audio-Technica ATH-M50X. They're reasonably priced, and do a very good job of blocking out ambient noise.
Swiveling, folding ear cups make these good for portability. This is great for those who want to do mixing on-the-go.
Some studio monitor headphones struggle to give a decent spatial soundstage, being closed-back especially. While this is somewhat of a compromise, the Audio-Technica ATH-M50X do an excellent job.
The Bad
It's true the soundstage, and spatial quality of these monitor headphones is decent for a closed-back option, it doesn't compete with open-back alternatives.
The Sound
Balanced signature with punchy but controlled bass makes them a great fit for mixing. Though the limited spatial response is a disadvantage.
If you are going to have to opt for something with a closed-back, but want portability and a decent, powerful sound with accurate audio reproduction, it's worth considering the Audio-Technica ATH-M50X.
---
4. Philips Fidelio X2HR (alt under $200)

A great alternative under $200
The Philips Fidelio X2HR headphones from the productive electronics brand are a very well-made pair of headphones. Considering the price point, these are a good alternative to some of the options already mentioned.
Type: Over-ear
Back design: Open-back
Connection: Wired 3.5mm/6.3mm
Foldable: No
Why Buy These?
The impressive 50mm driver and the remarkable acoustics make this a viable option, and a competitor for many of the best studio headphones for mixing. The open-back is great for spatial sound and ambiance, and the meshed design has been engineered for precisely this purpose.
Moreover, the audio frequency response is of exceptional quality, with a somewhat flat response, which is as good as you get for this price.
The Philips Fidelio X2HR headphones are also comfortable, with a leather, adjustable headband, and memory foam pads on the ears.
The Bad
Some people have described these as being a little on the heavy side, and they are quite bulky. The bass frequencies are also slightly boosted, which needs to be accounted for when mixing and referencing.
The Sound
It's rather flat sounding across the range but with some boost to the lows. It won't satisfy purists, but many professionals swear by them.
Though they can be accused of being a little on the bassy-side, if you are looking for a great acoustic soundstage and a lot of comfort, you should take a look at the Philips Fidelio X2HR headphones.
---
5. AKG K702 (best around $200)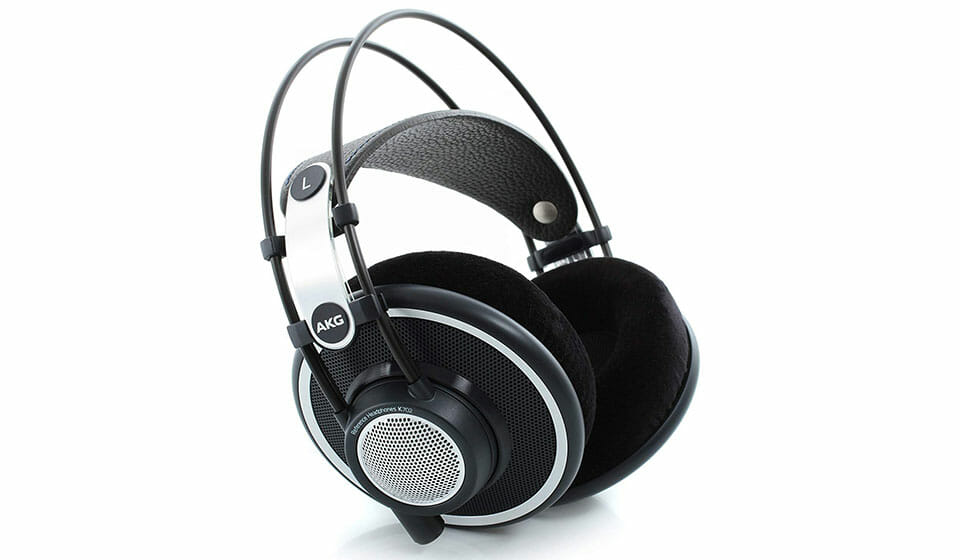 Best alternative around $200
Here are the first of two over-ear headphones on our list made by AKG. The excellent Austrian design and manufacture make this a good, sturdy alternative to the other products on this list.
Type: Over-ear
Back design: Open-back
Connection: Wired 3.5mm/6.3mm
Foldable: No
Why Buy These?
AKG is continuing to push the boundaries. The two-layer diaphragm is a patented design they have included for an improved high-frequency range. This gives a lot of clarity in the high-end.
It goes to nearly 40 kHz, which is overkill as humans can't hear this high! However, the technology does give this a wide and flat frequency response.
It comes with detachable cables fitting both 3.5mm and 6.3mm connections. The ear pads are both comfortable and replaceable for when they become worn and tatty.
The headphones have been met with criticism from bass heads! They don't boost the bass frequencies, which may not be the best for listening to hardcore trance, but it is perfect to make these some of the best headphones for mixing and mastering.
The Bad
The only significant criticisms of these headphones we have are the fact that the pads on the ears may need replacing relatively frequently. They're comfortable but could be more durable. The same can be said for the coiled cable, which could be better quality.
The Sound
It's perfect for high-end mixing in a busy studio. Flat and accurate, just what you need for quality production.
High fidelity mixing headphones are hard to come by. For clear headphones with a very neutral sound and great frequency response, consider the AKG K702.
---
6. AKG K240 Studio (best under $100)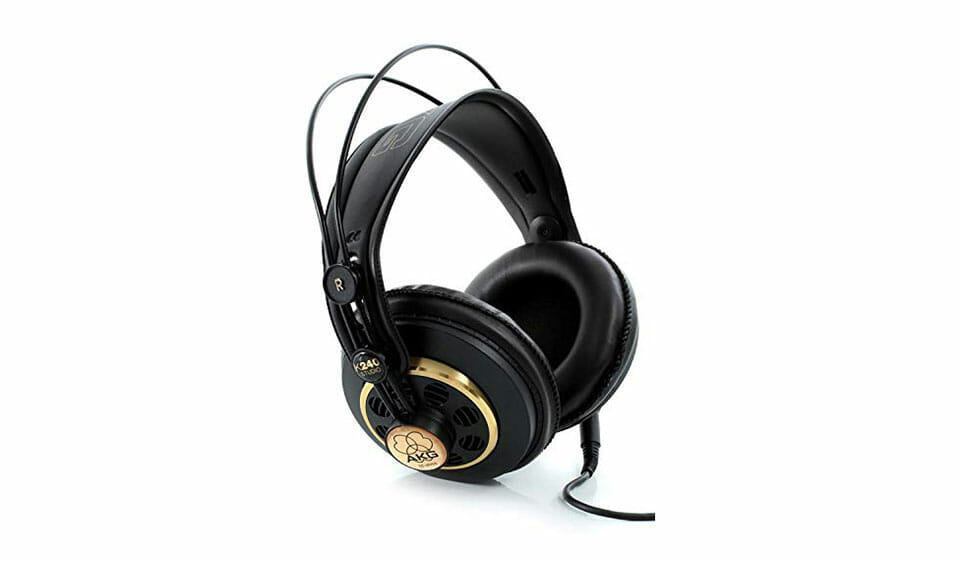 Best headphones for mixing under $100
If you are looking for a pair of cans which do a professional job on a budget then the AKG K240 Studio headphones are impressive. They come in at under $100, which is very affordable for such high quality.
Type: Over-ear
Back design: Semi-open
Connection: Wired 3.5mm/6.3mm
Foldable: No
Why Buy These?
Sometimes when you see such a big drop in price, you can feel this drop in terms of quality, too. In spite of the price, the AKG K240 headphones have a relatively professional reproduction of sound.
The XXL transducers, combined with the AKG varimotion diaphragm give these headphones an accurate response, and they are the choice of many bedroom producers who are on a budget.
An adjustable headband and ear pads are designed to flex to the shape of your head and make these very comfortable, even for those long sessions mixing audio.
The Bad
The cord that comes with these is technically a mini-XLR to 3.5mm connector. It is not the highest quality, and many have had to replace theirs pretty early on. Though the sound is professional enough, and a big upgrade on many consumer headphones, it is not going to be quite as high as some of the more elite, expensive options.
The Sound
The soundstage is clear and has great acoustics due to the semi-open back of these headphones, and the frequency response for the price is exceptional. For a set of mixing headphones under $100, consider the AKG K240s.
---
7. Superlux HD 668B (best cheap)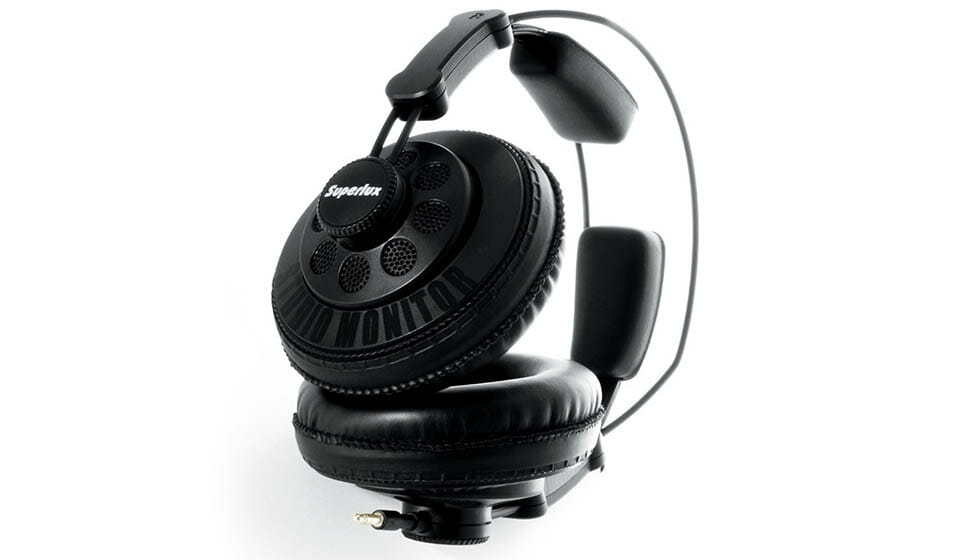 Best cheap headphones for mixing
Not everyone is in a position to splash the cash on audio equipment. The Superlux HD 668B is one example of how affordable headphones can still do a decent job.
Type: Over-ear
Back design: Semi-open
Connection: Wired 3.5mm/6.3mm
Foldable: No
Why Buy These?
These circumaural headphones are great for those who are looking to get a decent option at a budget price point. The Superlux HD 668B headphones are overall one of the best headphones under $50. Truthfully, they vastly outperform their price point.
The frequency response is decent and designed to be flat. Though it isn't quite as neutral as some of the other options such as the AKGs, these headphones do an excellent job for the price.
The Bad
As you would expect under $50, these are not ultra-high fidelity. The higher frequencies can go missing in the mix a little, and the construction could be more rugged to last through the years.
The Sound
The sound doesn't perform like other cheap options. If you paid far more for them, you probably wouldn't be disappointed by the great soundstage and very respectable, natural sound.
To save some money, get the Superlux HD 668B as entry-level mixing headphones.
Why Are These the Best Headphones for Mixing and Mastering?
In our selection of headphones,we picked the best models with features you need for mixing and mastering like professionals.
For production, you should be looking for headphones which don't taint the mix.
So, forget about noise cancelling or Bluetooth headphones.
A boost in any frequency will alter the way you mix, and this means that when someone listens on different or better headphones, the mix won't be as balanced. You may overcompensate for missing frequencies, for instance.
Other features which can be very helpful include comfort. You will probably need to wear cans for hours at a time. Memory foam or other comfortable material around the ears will help with this.
Naturally, if you are spending a lot on the headphones, you will want something durable, which means they will last and give value for money. Treated well, the best headphones can last many years.
You may also want additional features. Some find replaceable cords useful, and if you are traveling around a lot, you might also want to look out for folding headphones to take out in a bag.
Should You Choose Open or Closed Back Headphones for Mixing?
Open-back headphones tend to have a much better sound stage and give a nicer acoustic sound rather than being tight and pressuring your eardrums.
Closed-backs are more designed to cancel out the external sounds, while this can be very useful for listening in crowded, busy places, they don't do the best job of reproducing the sound naturally.
Generally, we advise open-back headphones for mixing.
They give more of a balanced sound which not many of the closed-back options do. It is useful to be able to have noise-isolating capabilities, but this isn't the top priority for mixing (but for monitoring/recording).
How are Mixing Headphones Different from Recording Headphones?
Often, people use closed-back headphones for recording (monitoring). This isolates the sound which is coming from elsewhere (such as other instruments in the room) and gives the audio engineer full control over what audio signal they are sending to the headphones.
Closed-back headphones are also less likely to "bleed" audio through to the microphone. It can mean you are recording things like backing tracks from the headphones on what would otherwise be a clean vocal track.
Comments