Gaming
The Best PS5 Wireless Headsets – Read This Before Buying
Stop getting limited by cables and upgrade your gaming with the best wireless headsets for PS5.
Rating
Price (approx.)
Battery
Surround
Sound

i

Virtual surround sound support.

ChatMix
support

i

Built-in controls for ChatMix.


SteelSeries Arctis Pro Wireless
best overall
4.2
$350
20h per charge
(swappable)
+ wired
More info
Astro A50 Wireless Gen.4
runner up
4.4
Under $300
15h per charge
More info
LucidSound LS41
under $200
4.1
Under $200
20h per charge
+ wired
More info
Playstation Platinum
best dedicated for PS4
4.4
Under $150
12h
+ wired
More info
SteelSteries Arctis 1
best value
4.5
Under $100
24h per charge
+ wired
More info
HyperX Cloud Flight
best battery
4.3
Under $150
30h per charge
(LED off)
+ wired
More info
Turtle Beach Stealth 700 Gen. 2
3.9
Under $150
20h per charge
More info

PlayStation Gold Wireless Headset (new 2018 model)
best budget
4.4
Under $100
7h per charge
+ wired
More info
Imagine quickly getting a drink during a game without having to take off your headset.
And you can chat with your friends while taking a toilet break (if that's your thing). It's like you never have to leave the game world.
Unfortunately, wired headsets limit you to the location of your console. If you want to grab a quick snack, you have to take it off and miss the fun.
Plus, you probably often pull on the cable which is annoying. It doesn't have to be this way.
Get the best wireless PS5 headsets that let you roam around freely without disconnecting from the game audio. Check the top models below whether you're looking for the best overall or a solid budget pick.
The Best PS5 Wireless Headsets List
Still the best PS5 wireless headsets if you don't mind paying the premium price.
Is it for you?
If you're looking for the best premium headset for PS5 with all the blows and whistles and you are willing to pay the premium, this is it.
What's the cost?
At the moment of writing this, it is $329.99. It's quite a lot, even for a premium model.
What's the battery life?
With 2 detachable and rechargeable batteries, it's up to 20 hours.
Does it have surround?
Yes. DTS Headphone:X v2.0.
Does it support ChatMix?
Yes. (including computer)
Are they compatible with PS5?
Yes, but you need to perform a firmware update which will add "PS5 input mode" to the transmitter box.
Can you use it as wired only?
Yes, there's an AUX (3.5mm) input if you need it.
Do you want all the blows and whistles a modern gaming headset can offer right now? Look no further, the new SteelSeries Arctis Pro does all the things that you'd want.
It has a proven design from wired Arctis models that offer comfort, durability, and great microphone accuracy. Plus, you get the latest wireless technology with surround sound and ChatMix support for PlayStation 4 (including Pro). The addition of Bluetooth makes it easy to connect to your smartphone or tablet which adds to their value.
Power is not a problem either. The 2 batteries offer great playtime especially since you can just keep swapping and recharging them indefinitely. You'll basically never run out of power and if you do, you can always use it in wired mode only.
The headset comes with a transmitter base station that supports all the technology. You can connect it with 3.5mm, USB, or optical cable. This gives you lots of options and great compatibility across platforms.
The sound quality doesn't disappoint either. It has good clarity but it's a bit lighter on the bass. If that's not the sound quality you like, don't despair. It comes with SteelSeries Engine 3 support. You can get them very loud and bassy with simple settings change.
All in all, you get all the things you'd ever want from the best PS5 headset. As long as you are willing to pay its hefty premium. Check the SteelSeries Arctis Pro Wireless on the link below.
---
Runner-up pick for one of the best PS5 headsets.
Is it for you?
These will offer a whole package: good sound, comfy earpads, and plenty of features.
What's the cost?
At $299 MSRP, we are looking at a premium pricing.
What's the battery life?
15 hours per charge, and they also recharge really quickly.
Does it have surround?
Yes. It does offer Dolby Surround, but they do not support Dolby Atmos like other cheaper models.
Does it support ChatMix?
Yes.
Are they compatible with PS5?
Yes, but you need an HDMI adapter for mixing. You can buy one from Astro's official website for $40. All current (and registered) owners of their products will receive a $15 discount for their purchase.
Can you use it as wired only?
No. A50's will work only via the base station's WiFi connection (cheaper A40 is wired).
When it comes to design, nothing has changed from the previous versions. You still get a robust, durable set, that offers a comfortable design even after hours of gameplay.
A50 comes with a smaller base station, with a more precise locking mechanism for charging compared to the previous version.
Headsets are tuned with Astro Audio V2, which makes a difference in overall audio quality. There is also a gyro inside, which gives a special feature.
When you put A50's away, they turn off to save power. And when you pick them up, they turn back on automatically.
Astro also made the right decision going back to the 2,4GHz WiFi band since it offers better connection coverage compared to the previously used 5GHz band.
The only real problem is the lack of other connectivity choices like Bluetooth or 3.5mm audio jack, which makes A50's base station dependant. Price is also a little bit high for what you get.
Make sure to get the right PlayStation and not Xbox One version (they're different).
Overall, the A50 Wireless Gen. 4 is an excellent PS5 headset, even at $299.
---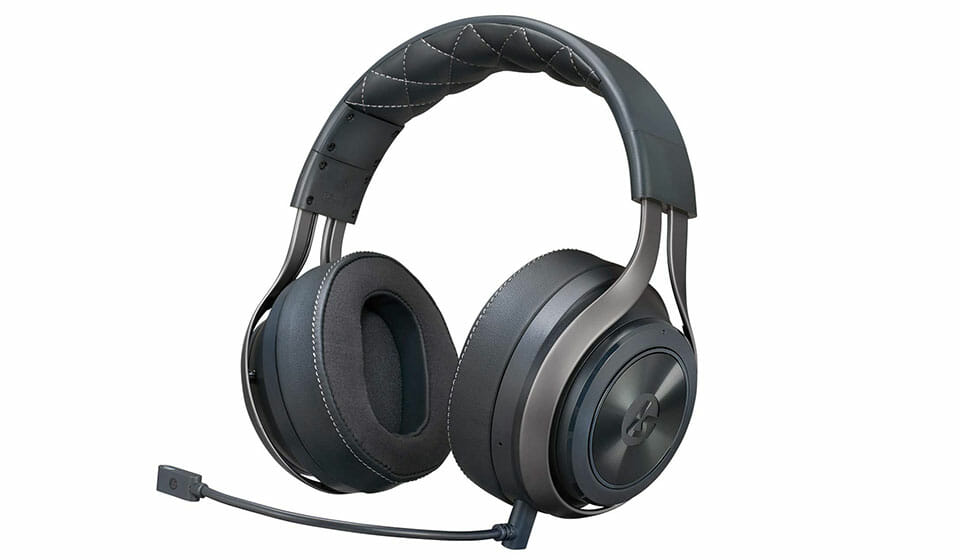 Under $200 alternative with many qualities, such as great mic and ear cushions.
Is it for you?
These sound good and are incredibly comfortable, but they also work on a wide variety of platforms (PC, Xbox, Mac).
What's the cost?
LucidSound wants $200 for these, which sounds reasonable.
What's the battery life?
The battery lasts around 20 hours per charge.
Does it have surround?
Yes. It supports DTS Surround X, which will mimic the 7.1 surround audio systems.
Does it support ChatMix?
Yes.
Are they compatible with PS5?
Yes.
Can you use it as wired only?
Yes, it supports 3.5mm AUX input.
These don't look like a typical gaming headphone. LS41 have closed-back metal cups and leather stitching on the pads and headband that make for an understated look.
Plush pads are made from memory foam and cooling gel, which will prevent skin from getting too hot and sweaty.
50mm driver has no problem outputting some serious punch when needed. Stereo quality, as well as DTS Surround X, sounds really good, with the stereo mode being overall a bit crispier in comparison.
LucidSound LS41 has two microphones: integrated and detachable. The latter comes in the box. Voice quality from the detachable mic sounds fairly clean and will satisfy most users.
If you're often switching between different platforms and you like to have only one headset, this will do the trick. They work on all platforms from PS5, Xbox One, Switch, PC, and on mobile.
---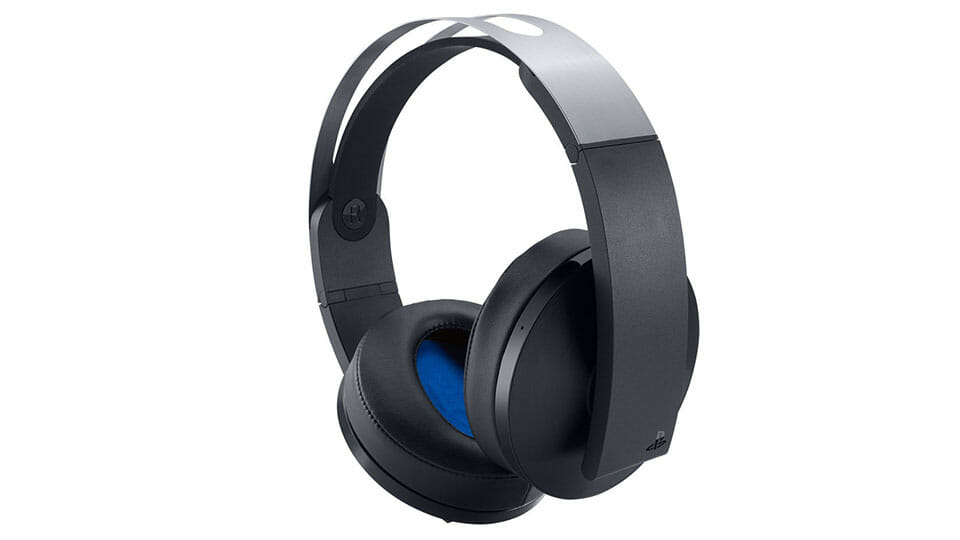 Best dedicated headset for full Playstation experience (until the newest Pulse 3D Wireless arrives).
Is this for you?
If you're looking for headphones with one of the best PS5 gaming experience, then Playstation Platinum is what you want.
What's the cost?
Currently, they're sold for around $150.
What's the battery life?
They should last for around 12 hours.
Does it have surround?
Yes. They support 7.1 surround sound, but the 3D Audio feature works much better.
Does it support ChatMix?
Yes.
Are they compatible with PS5?
Yes.
Can you use it as wired only?
Yes, it has a 3.5mm audio jack, so they'll work on any platform (in stereo mode).
The elegant and minimalistic housing of the Playstation Platinum is filled with buttons and other controls, that makes switching through audio features and changing the volume a breeze.
Over-ear earpads are nice and cushy, offering an amazingly comfortable experience.
Sound is transmitted via USB dongle, but you can also plug them via a 3.5mm jack. In general, the sound quality is nicely balanced and clear, with punchy bass. In the companion app, you can also choose sound profiles created by game developers.
They do offer a 7.1 surround sound option, but it isn't all that good. The 3D Audio surround, however, sounds much better, but it is limited to only a few games that support it.
Sony Platinum is made explicitly for PlayStation console, with fantastic sound quality, and 3D Audio support.
---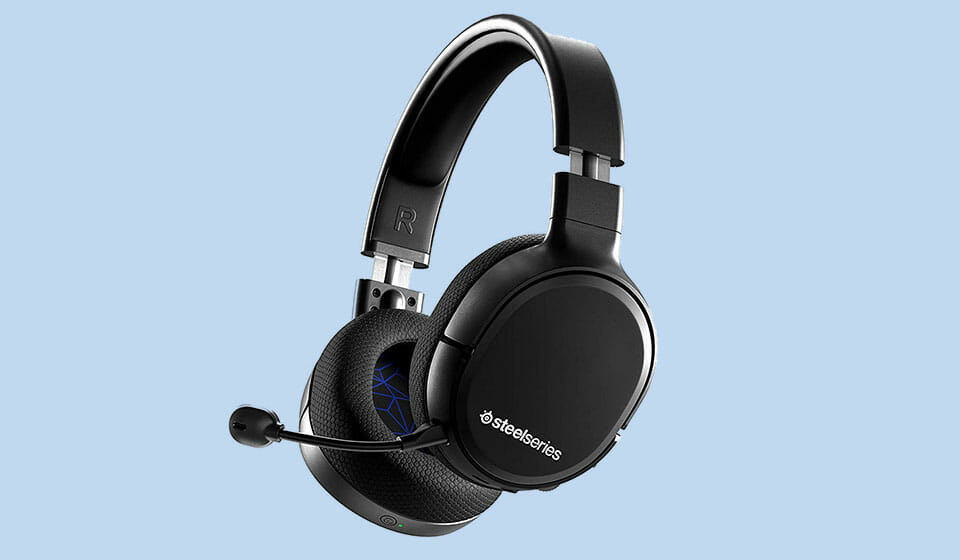 The best gaming headset for PS5 if you're looking for something versitile.
Is it for you?
These are great in terms of connection versatility (USB connection and 3.5mm jack) and overall sound quality. They work on other platforms like computers, Xbox One, Mac.
What's the cost?
Around $100, which is quite a bargain.
What's the battery life?
SteelSeries Arctis 1 boasts an impressive 24-hour battery.
Does it have surround?
No.
Does it support ChatMix?
No.
Are they compatible with PS5?
Yes.
Can you use it as wired only?
Yes, 3.5mm input.
Compared to bigger siblings, Arctis 1's housing is primarily made from plastic. There is some stainless steel in the headband to provide extra durability.
Users with big ears might not find SteelSeries Arctis 1 very comfortable because of relatively shallow pads. But overall, comfort is reasonably decent.
Sound is being transmitted via a USB-C dongle. It will also work with smartphones that have USB-C ports, which is excellent. There is an included USB-A adapter in the box. If the battery suddenly starts dying, there is also an option for a 3.5mm connection.
Speaking of the battery, is it truly impressive. The 24-hour playtime is something that you don't see every day, especially in this price range.
It's not often you see a good PS5 headset at this price point. SteelSeries Arctis 1 offers a lot a versatility, good sound, and a great battery.
---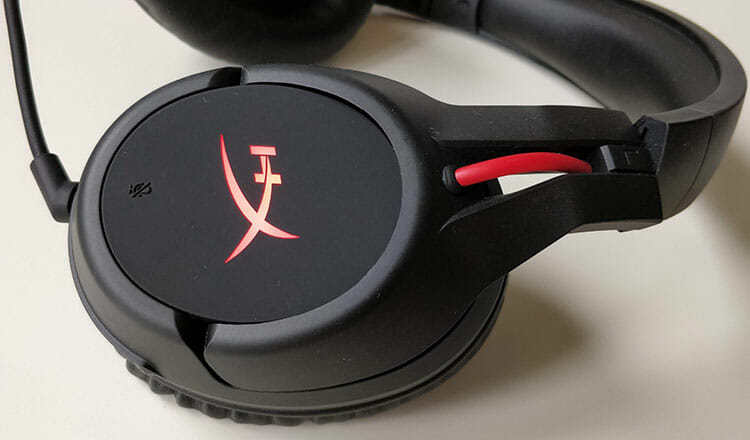 The best gaming PS5 headset with the longest battery duration.
Check the full HyperX Cloud Flight review.
Is it for you?
If you want a comfortable closed-back headset from a reputable company that just works and feels right, get Cloud Flight. It supports PlayStation 4 (+Pro, PS5), PC, Mac, and Xbox One.
What's the cost?
As of writing this, it's $159.99. It's a mid-range model, neither cheap nor expensive.
What's the battery life?
It has a great battery that gives up to 30 hours of playtime with LED lights turned off. About half the time with LED turned on. The wired mode doesn't require any power at all.
P.S. To turn the LEDs off, when the set is turned on, press the power button to change the setting. 2 times to turn off completely.
Does it have surround?
No. Stereo mode only which is fine since a lot of games don't support surround audio.
Does it support ChatMix?
No. There are only 2 buttons built-in. Volume (wheel up and down) and power button.
If you hate charging your battery all the time then Cloud Flight is for you. With a best-in-class battery of up to 30 hours per charge, you get more juice than with competitive PS5 headsets. Keep in mind to turn off the LED lights to almost double the battery. Unfortunately, there's no way to permanently turn it off.
It works out of the box, "plug and play" and you won't have to fiddle with settings. The audio quality is good as long as you don't compare it to high-end wired models. This is a stereo headset after all. If you're picky about sound, get a more expensive alternative.
For clear chatting with teammates, you get a detachable boom microphone. It's also a noise-cancelling microphone. Your voice will get through nice and clear.
It does feel a bit "plasticky" but actually holds together well. It's quality, flexible plastic that doesn't break easily. Another great thing about it is its comfort. The earpads fit snugly but once warmed they become incredibly comfortable.
Read the full HyperX Cloud review.
If you want a reliable PS5 wire-free headset with a fantastic battery and comfortable experience, check the HyperX Cloud Flight.
---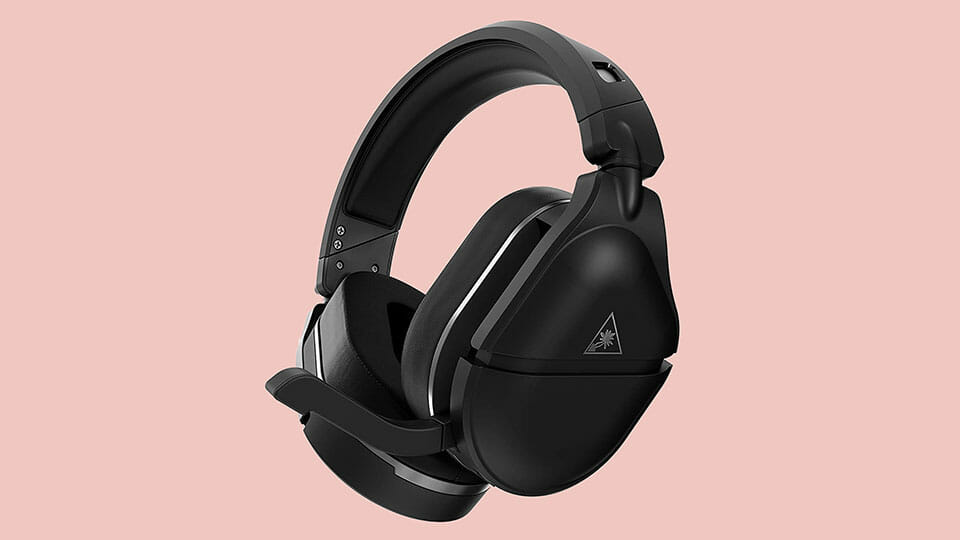 One of the best new cordless headsets from Turtle Beach, made especially for Playstation 5.
Is it for you?
If you're looking for an extremely comfortable console headset with great sound.
What's the cost?
You can get them for around $150. That is quite fair for what you're getting.
What's the battery life?
You're getting 20 hours of playtime, which is double the capacity compared to the first generation.
Does it have surround?
Sadly, there is no option for virtual surround sound.
Does it support ChatMix?
No.
Can you use them as wired only?
Sadly, no. Besides a 2.4GHz connection with an included mini-USB transmitter, you can also connect them via Bluetooth to your smartphone.
Turtle Beach made these headsets incredibly comfortable. Thick memory foam earpads grab around your ears and remain cool thanks to the cooling gel underneath the pleather cover. There is even a solution for users with glasses in the form of a ProSpecs Glasses Relief System.
Turtle Beach headphones' unique feature is the Superhuman Hearing feature, which amplifies small details in the game, like the opponent's footsteps.
50mm Nanoclear drivers output a deep, punchy bass with good sub-extension. There is equally great clarity in high frequencies to balance-out the response, making for an enjoyable gaming experience. These are also great for music, which is not very common among headsets.
Turtle Beach Stealth 700 Gen. 2 are a fantastic new headset and a perfect pair for your new PS5 gaming console.
---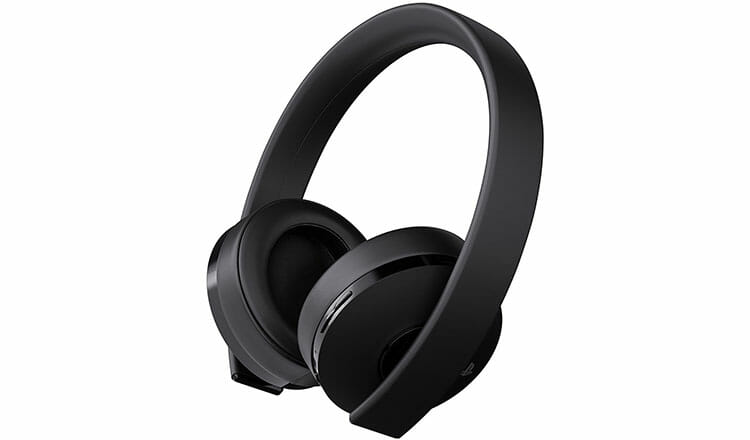 Great value-for-money dedicated Playstation 4 (also works on Playstation 5) headset.
Is it for you?
If you want a dedicated PlayStation4 headset with all the features for an affordable price, this is the best choice. Great for people new to console gaming.
What's the cost?
Right now, when writing this, it's $98.99. We expect them to always be under $100 which makes it one of the cheaper headsets for PS5.
What's the battery life?
On one charge you'll get up to 7 hours. Additionally, you can use it with wires when the battery dies.
Does it have surround?
Yes. 7.1 virtual surround sound for all PlayStation 5 games. It doesn't improve the sound quality much but it's there.
Does it support ChatMix?
Yes. You can control the volume of game sound and chat sound via the built-in button on the ear cups.
PlayStation Gold has been a popular headset among players thanks to the affordability and generally reliable performance on PlayStation. This updated and better-looking design (in our opinion) hasn't changed a lot. You can check the Platinum headset if you want a premium option but it's more expensive.
Supposedly, it was designed to work with PlayStation VR but it might still be a bit uncomfortable for bigger heads. The earpads are faux leather and fit nicely on the ears. The Playstation headset seems to be well built and doesn't feel too "plasticky".
For chatting you get the same built-in microphone which does a good job but isn't as clear as boom mics from competitors. The sound quality hasn't changed much. It's enjoyable with a good amount of bass but nothing spectacular. This is an affordable option after all.
Connecting it is super easy and all the things work out of the box because it's made for PlayStation4.
If you want a hassle-free wire-free headset with full features that work out of the box, all for a good price, check the PlayStation Gold. It's the best choice for under $100.
---
Honorable Mentions
Sennheiser GSP 370 – The best PS5 headsets from Sennheiser with the best audio and sound image. However, they come with a hefty price tag.
---
What is ChatMix?
ChatMix is the option of controlling the balance between game and chat volume.
When your friends in chat are too loud and you want to silence them, you simply adjust the volume down. Most dedicated Playstation headsets have a built-in control for adjusting the volume.
What does it mean if a PS5 headset has ChatMix support?
It means you can control the volume of the game and chat with built-in controls. Only dedicated PlayStation headphones have that. Non-dedicated headsets for computers don't have this feature.
Why Get a Wireless PS5 Headset?
There are many good and bad reasons for getting a wireless PS5 headset.
Free from wires
You probably already wished you had a wireless gaming headset. When you have to go to the toilet but are just having a lot of fun with your friends, you have to explain to them that you have to take a leak and won't be "available" for a couple of moments.
Or maybe you want to grab a quick drink or a snack just a short distance away, but you have to take it off and miss the chat.
This might not seem like a major problem but it's annoying. Especially once you get your first cordless headset and get used to it. You fall in love with freedom.
Suddenly all wired headphones seem to lack something. That's the ability to freely walk around the home and still hear everything that's going on in the virtual world. It's convenient and nobody can deny this.
Better comfort
While wired gaming headsets have an equally comfortable design as wireless ones, one thing is true. The wires are always in the way. Even just sitting on your chair in front of the screen and having to tug and pull and constantly readjust the wires is annoying.
The cord is the annoying part of headphones and removing it makes for a better user experience.
10 Most Comfortable Headphones
Less opportunity to damage cables
You might be careful but lots of people often damage the wires accidentally. It's the part of the headphones that you always have to handle, plug in, and out.
With a wire-free headset, this problem doesn't exist as there are no wires and the whole product is one sturdy item. If you're clumsy this might be important for you.
Possible Weakness
You have to charge the battery
Because the headset has to get power from somewhere it uses a battery. You need to charge it and you only get a couple of hours out of it. Thankfully, the technology has advanced enough to make the battery last over 10 hours for most cordless gaming headsets but the limitation is there.
If you like having super long gaming sessions, then wireless PS5 headsets might not be for you. Also, if you are a competitive gamer, having your battery die in the middle of a game might be a deal-breaker.
Keep in mind, most cordless Playstation 5 headphones also work as a wired headset with a regular 3.5mm AUX cable.
Sound quality might be worse
Because cordless technology demands audio compression it loses some quality. This is a known fact. And if you are an audiophile you might notice the difference.
Does virtual surround sound make a big difference?
In most cases the difference is minimal and a lot of games don't even support it. We recommend you focus on other features.
Thankfully, the newest headsets offer a wide range of customizations and sound presets to satisfy all tastes. For most gamers, the difference won't be a problem. But it's more likely to find great sounding gaming headphones with wires.
Higher cost…
Cordless headsets are more expensive than wired alternatives. Most wireless gaming headphones cost more money. The price difference might be a couple of tens of dollars or $100-$200.
You can get a cheap wired headset for around $30 but you won't find a cordless one for the same price. Nonetheless, you get what you pay for. More features and technology costs more money.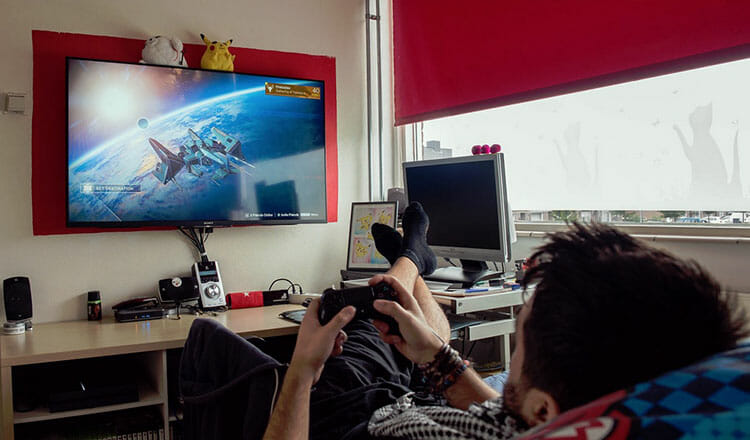 Is It Hard to Sync a Wireless PS5 Headset?
It's actually very simple. Most PS5 wireless headphones come with a USB adapter or base station which you plug into the PlayStation. You just sync a headset to your Playstation 5.
Some others might need additional settings to change. That won't take you more than a couple of minutes and only for the first time. You can keep the adapter connected and then just turn it on when you want to use it.
Can you connect it to multiple devices?
Because most gaming headsets don't have Bluetooth but a radio transmission technology, you can't connect them to multiple devices. You are limited to one connection since you only have one adapter.
The Difference between Headsets for Gaming vs. Streaming
Since you probably want to use a dedicated and higher-end microphone for streaming it doesn't really matter which gaming headset you pick. As long as you are comfortable wearing it, it should be fine.
Maybe the looks become more important if you want a cool looking headset but nowadays any look can be good if you can sell it. You can find some ridiculous looking streamers out there that have quite a following. You can go with flashy RGB colors or something more subdued in darker scents. Pick what best suits your style.
Some streamers also walk around with the camera in-between matches. For this, you do need a wireless setup or a super long 3.5mm extension. Though, that's really inconvenient.
If you play very little but stream a lot, is it worth getting a gamer-oriented headset?
Yes, they're still the better pick if you want comfort, quality sound, and a good microphone. Most non-gaming headsets are usually really cheaply made or specialized for some other function.
A gaming headset is a perfect fit for a combination of streaming and occasional gaming.
Comments