The NBA players love listening to music and they're not hiding their favored headphones. Find out which headphones your favorite All-Stars use.
You might ask; "How do you know the best NBA players?"
Well, we don't claim we know much about basketball. But we made a list of the most-voted-for All-Star players and checked what headphones they're listening to.
Keep in mind, some NBA players have sponsorship contracts for specific brands. So, they might get paid money to be seen wearing "insert-any-brand" headphones.
Nonetheless, most guys just want to enjoy music before a game starts. And, they're using headphones they like the most. You need something to ease the stress before the NBA finals.
Now, let's take a look at the NBA players' favorite picks.
Top 10 Headphones That NBA Players Use
Beats Studio3 Wireless
Used by: LeBron James, James Harden, Anthony Davis, Jimmy Butler, Trae Young
LeBron James, the King, and the 2020 NBA champion often listens to Beats Studio 3 Wireless before a game. He uses unique models that look cooler but have the same hardware as Studio3 Wireless you can buy.
The same wireless headphones are quite popular among other players as well. James Harden and Anthony Davis use the same Beats headphones before games.
Beats Studio 3 Wireless are over-ear Bluetooth headphones with strong, powerful bass that "amps up" any genre you throw at them. They're a popular choice for bass lovers that want extra beat in their music.
You can choose different colors with a sleek matte finish. You get adaptive active noise cancelling and up to 22 hours of battery life per charge. Fast fuel gives 3 hours of playtime for a 10-minute charge.
With Apple's W1 chip, they work seamlessly with all Apple devices. For around $350, these are the premium Beats choice liked by many NBA players and one of the best headphones for basketball.
---
JBL LIVE 650BTNC
Used by: Giannis Antetokounmpo, Stephen Curry, Jayson Tatum, Kemba Walker
NBA basketball stars swear by these headphones because of their excellent comfort and cool looks. While they're still plasticky with little metal, small details make them stand out, especially the headband, dressed in durable fabric.
Stephen Curry also likes to wear them off the court because they offer good active noise-cancelling performance. Headphones come with Ambient Aware and TalkThru features for listening to your surroundings.
Battery life is pretty great, too, giving you a total of 30 hours of playtime. Earpads from faux leather are comfy and don't cause any discomfort whatsoever. They can also fold to save up space in your bag.
As with many JBL headphones, these also have an exciting, energetic sound. Distinctly V-shaped signature gives punchy low-end and sparkly highs, making them great for more popular genres.
For the price, the JBL's offer many useful features and even an app to customize the sound. It's why many other NBA basketball players wear them as well.
---
Beats PowerBeats Pro
Used by: Pascal Siakam, LeBron James, James Harden, and others.
Music was always a part of Pascal Siakam's life. He was even in a choir when young, and although he didn't like it very much, he started to appreciate music more.
He chooses PowerBeats Pro sports earbuds for his daily drivers because they suit his music preferences. Beats are known for their bass, and you can't enjoy rap, trap, and pop with heavy low-end punch. Pro's are overall punchy and energetic, making them an excellent pick for any music genre.
Of course, the earbuds are fantastic for any kind of sports since they come with an ear hook design. Ear hooks grab your ears like glue, offering you superb stability.
Earbuds are made from hard plastic that can resist an accidental drop. And, we all know basketball gets sweaty, which makes IPX4 protection essential. They're not water-resistant, but at least sweat can't harm them.
These are still one of the best true wireless earbuds for long battery life, offering you around 11 hours of runtime, with another 24 hours inside the charging case.
Read more about Beats PowerBeats Pro in this review.
---
Bose Noise Cancelling Headphones 700
Used by: Luka Dončić
One of the best young NBA players in the league enjoys Bose's top tier wireless headphones. He even has custom painted ones with a Slovenian flag and his jersey number on the sides.
Bose made these look minimalistic and modern, a perfect combination for commuting from home to the court. The earcups go around your ears, so you get great comfort and fit.
The modern design also comes with modern features: touch controls, ambient mode, and active noise cancellation. The latter works really well, blocking a lot of ambient noise.
You can also tweak the intensity of the noise cancellation with a total of 11 levels. Regarding battery life, they last around 20 hours and fast charge when it gets low.
Bose is targeting a balanced sound signature with a somewhat neutral but still fun tuning. Bass is slightly elevated, providing you with a full, slightly warm sound.
---
Apple AirPods 2
Used by: Damian Lillard
Even though you mostly see Damian Lillard wearing JBL headphones, he uses Apple AirPods in his private time. He thinks big headphones are no longer cool, which is why he opts for a more pocketable option.
And who wouldn't? They're iconic true wireless earbuds that start it all. They have a straightforward yet elegant design, ensuring they stand out when you wear them.
Apart from playing music, they also have a few intelligent features. One of them is automatic pause/play when you take one earbud out of your ear and a touch-sensitive exterior to perform basic commands and summon Siri.
If you take many phone calls, you will be pleased with AirPods microphones, making your voice sound clean and natural. Battery life is also quite decent, giving you roughly 5 hours of playtime.
While there isn't much low-end, you can still hear the bass kick, but it's not very upfront. Emphasis on higher notes makes them suitable for vocal-oriented genres and podcasts.
Read more about Apple Airpods 2 in our review.
---
Master & Dynamic MW65
Used by: Kevin Durant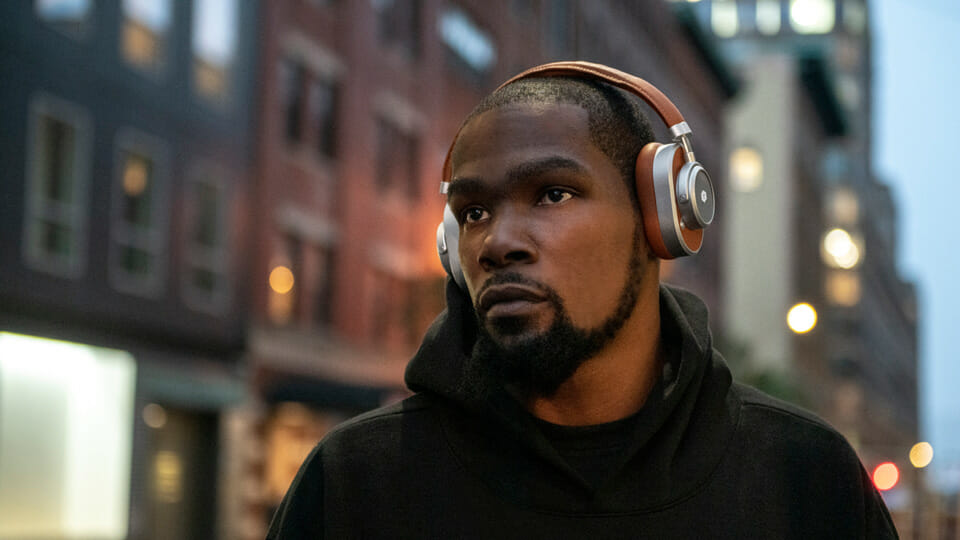 Luxurious wireless headphones from a luxury brand. Kevin Durant definitely likes to commute with style.
The build is all about premium materials. Soft lambskin earpads feel amazing on the skin and provide hours of uninterrupted listening. Stitched leather continues on the headband, while the frame is made of anodized aluminum.
MW65 also come with active noise-cancellation. If you need to dampen the outside world, these will definitely do the trick.
Battery life is measured at around 21 hours per charge, and you also get a hefty boost when fast charging: 15 minutes add you another 12 hours of runtime.
These offer a superb balance between the low and high end of the frequency spectrum. Nothing is too exaggerated, giving you a very faithful representation of the music. If you are an Android user, make sure you have them on aptX since it improves the sound quality.
---
Skullcandy Crusher Wireless
Used by: Kyrie Irving
If you like your bass strong, then you have to get the Skullcandy Crusher Wireless. Kyrie Irving likes to pack them everywhere he goes.
Headphones opt for a matte finish, with big physical controls on the earcups and a folding mechanism for portability.
The overall construction and earpads feel a bit plasticky, but soft and comfortable nevertheless. There is a carrying pouch inside the box, which is waterproof.
Since these wireless headphones don't come with any premium feature that would drain the battery, they last up to an impressive 40 hours per single charge. If you keep the bass quantity to a minimum, you can make them last even longer.
Of course, the bass is the star of the show here. There is even a dedicated slider under the earcup where you adjust the low-end quantity. If you like subwoofers, these are great. They can rumble your head like nothing else. If you're interested in other bassy headphones, we have collected the best of them in this guide.
---
HyperX Cloud Alpha
Used by: Joel Embiid
Every once a while, you want to chill and enjoy videogames after playing basketball. Having a great pair of gaming headphones is essential. Joel Embiid uses HyperX Cloud Alpha headset, which is a tremendous value-for-money headset with excellent sound quality.
Cloud Alpha are well made, with an aluminum frame, hard plastic cups, and braided cable for extra durability.
The cable is detachable and features inline controls for volume and muting the mic. The microphone is clear and high quality, with minimal distortion.
You can't have a good gaming experience without great comfort and noise isolation. Cloud Alpha gives you both, providing you with incredibly soft pleather earpads.
The sound is surprisingly accurate to the original audio, considering these are gaming headset. While some might want a bit more bass to amplify the in-game effects, this tuning works for music as well. No wonder why they found a place in our "best gaming headsets" guide.
---
Muzik One Connect
Used by: Paul George
Despite being newcomers in the headphone market, they're already loved by some of the best basketball players in the NBA. Paul George even has a custom-painted pair.
One Connect wireless headphones borrow a little bit from both the Beats and Bang & Olufsen. What you end up with is a sleek-looking headphone that might attract some looks, especially if you pair them with punchy colors.
There is a surprising amount of accessories that come with these headphones. You get an extra cable for a 3.5mm connection, spare earpads, one carrying pouch, an additional hard case, and a carabiner to hook them on your backpack.
Comfort is excellent thanks to the brilliant idea of including on-ear and over-ear earpads.
You can also customize controls on the earcup, making them either change the volume, call smart assistant, and even change your smart bulb's light.
The sound is nicely balanced and punchy, as it should be. Everything sounds crystal clear, which is surprising for affordable headphones like these.
---
Bose QuietComfort 35 II
Used by: Klay Thompson, Luka Dončić

You can't listen to your favorite songs without awesome-sounding headphones. Klay Thompson chooses Bose QC 35 II because of their comfort and ability to shut down annoying people. The latter is possible thanks to the excellent active noise cancellation feature. While you're at it, maybe check some other fantastic noise cancelling headphones.
Slightly older now, but still a fantastic buy. Just a few years ago, everybody wanted these wireless headphones. They're lightweight and feel premium to the touch.
These are still rocking a Micro-USB port for charging, version 4.2 of Bluetooth connectivity, and come with a 3.5mm audio jack. That's useful if you prefer a wired approach or the battery dies. The latter usually happens after 20 hours of non-stop usage.
Klay has a very diverse music taste, from reggae to rock, and classical genre. The QC 35 II headphones' sound signature helps a lot since they have a very neutral output, with a slight bump in the lower bass. That sound quality makes them great for many genres.
Comments