Review in progress…
The headphone amplifier that makes you hear music like you have a 7.1 sound system with you at all times.
One of the biggest revelations at CES 2019 was the Creative's headphone amplifier. It's called Super X-Fi, needs a USB-C (or Micro-USB) connection and once powered on, it expands the tiny soundstage of headphones into surround sound proportions.
It works like magic.
Now, it's not completely new. Creative has been working on this technology for some time, but they've finally released a market-oriented product with it.
It's a small, wired headphone amplifier that you can use with a smartphone to power up higher-end headphones (up to 600 ohm) and expand the soundstage with a press of a button.
Without further ado, it's quite impressive (but not without faults). Read more about it below.
Super X-Fi is hard to get at the moment but we'll update the link here once available so you can check it yourself.
PROS & CONS

Magically expands the soundstage
Simple setup
Works out of the box
Small (finger size)
Requires an extra dongle for iPhone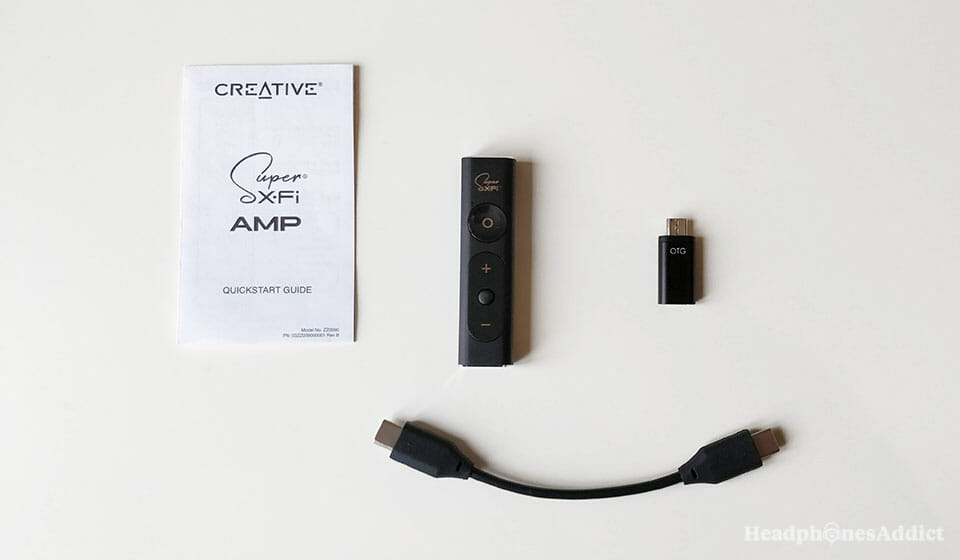 What's in the Box?
Creative Super X-Fi amplifier
USB-C to USB-C cable
USB-C to Micro-USB adapter
Quick start guide
User manual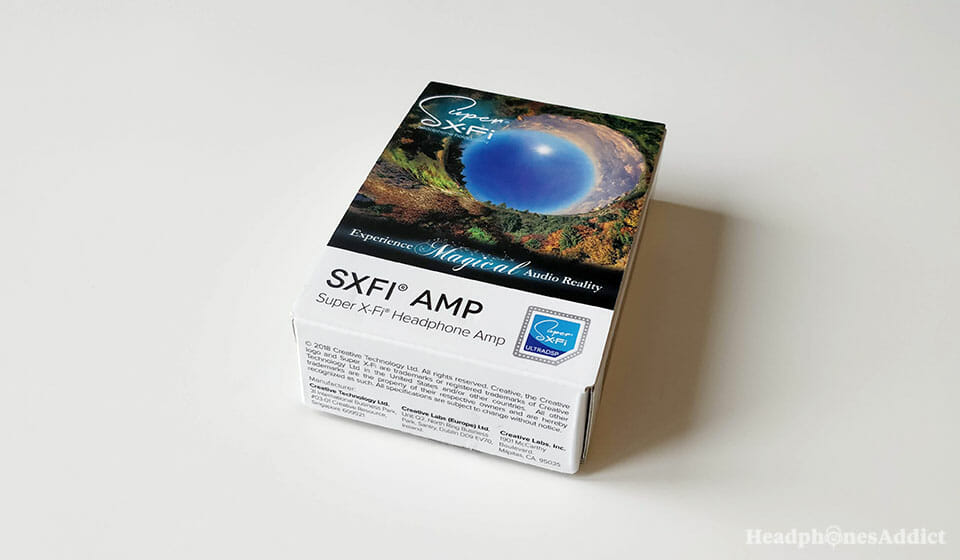 Setup
Basically, there are 4 steps (all of them described in the quick start guide).
Download and register the SXFI app
Personalize your profile (in the app)
Select your headphones (or check unknown)
Plug the amp into your smartphone to get "Configuration Done!" message
Where can I download the SXFI app?
The easiest is to go to Google Play store or App Store and search for the application, search "SFXI app." Download and install it.
Now, since the amp is relatively new, you might have some problems finding the app in the store (some countries aren't supported yet).
In fact, at the moment of writing this, the only countries supported are Singapore and USA. If you're somewhere else, you'll have to wait until the amp is shipped in your country as well.
How to personalize your profile on the Super X-Fi?
Once you have the app installed, you need to create your personal profile by registering with an email. Then you get to personalize it by taking photos of your ears and face shape.
The AI in the app will determine the best settings for your ears and head shape, so the holographic audio effect works for you.
After that, you can tell the SXFI app what headphones you're using.
How to select the headphones?
In the settings menu of the app, you can choose from different headphone brands and models (press on "headphone selection"), though not many are supported at the moment.
You'll probably have to select "Unknown Headphone" or "Unknown In-Ear" if you're using in-ear headphones.
Creative will expand the selection with time, so more headphones are available.
Nonetheless, the amplifier should work even with unknown headphones.
How to save the settings to SXFI amp?
Once you're done changing setting in the SXFI app, you can then plug the amplifier in your smartphone, and the amp automatically uploads and saves the settings.
You'll get the "Configuration Done!" message when finished. That's it. You're done with the setup.
Now the only thing you have to do is play some music and turn it on. Enjoy magical soundstage.
Help! My Super X-Fi amp doesn't power on when connected to my smartphone?
While the SXFI amp should work out of the box for most smartphones, some need additional setup.
The problem seems to be something called "OTG."
Some smartphones don't have it enabled automatically. What you can do is go to Android's top menu where you control Wi-Fi, Bluetooth, Mobile Data and so on.
Find were to edit/add new icons and add "OTG."
Once in the menu, enable "OTG" before plugging in the Super X-Fi amplifier.
Also, make sure the battery is powered up since some phones turn off the function on low battery.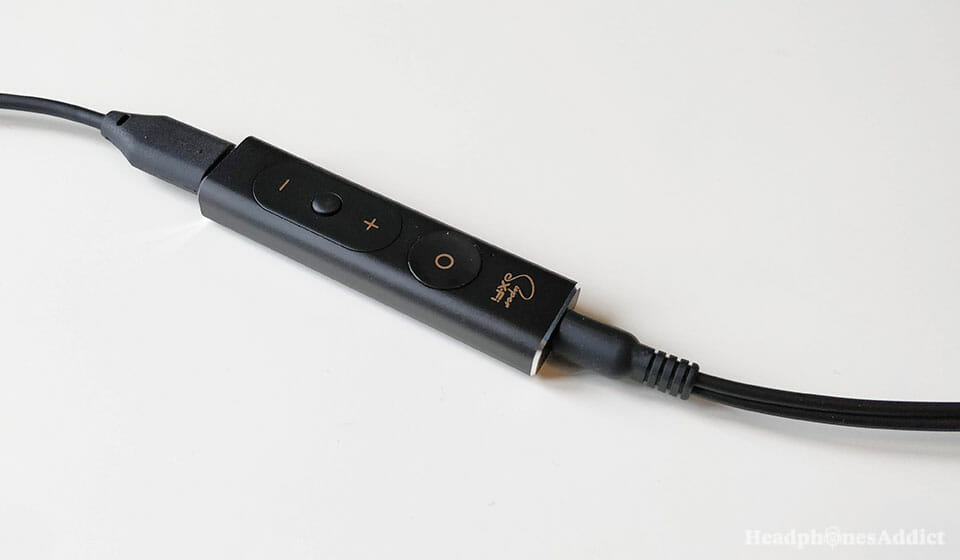 Durability
The headphone amplifier is the size of a finger. It's relatively small which is a good thing.
It's easier to take with you if need be. Basically, it functions as a short cable extension with a button.
Moreover, the casing is made of aluminium, and it has 2 buttons. One is the power on/off switch that controls the holographic effect, and the other with "+" and "-" to control volume and play/pause in the middle.
It looks unassuming yet stylish. While it doesn't have any IPX rating of sweat-protection, this is probably because most people don't use amps while running or working out. The added weight would make listening more difficult.
Overall, it feels well built with a black finish and shiny ends on both sides.
Accessories
You don't need a lot of accessories with the amplifier, so you don't get them.
The only thing you get is a USB-C cable to connect the amp to your Android phone, and a USB-C to Micro-USB adapter in case you have an older model.
Maybe a carrying bag would be nice but isn't a huge disappointment.
Sound
Now to the important part. How does it actually change the sound?
Well, it's magic.
Nah, just kidding. Actually, we don't know much about the exact process of how the software does that, but the important part is that it works.
Imagine you are sitting at home and have a 7.1 sound system in place. That means a center speaker, 2 front speakers, 2 side speakers, 2 back speakers and a sub-woofer for the lows. That's 8 speakers creating a perfect surround sound experience.
You turn on your favorite music and enjoy it from all angles and directions. You can hear the surround sound and fully immerse in it.
Now, what if you could recreate this with any headphones with a press of a button?
Sound impossible?
Probably.
I'd say that's not possible before hearing it myself.
But, it works. The difference is staggering, and you can't miss it.
Headphones with horrible, center-of-the-head oriented soundstage suddenly expand and become real 3D sound capable headphones.
You can try that with 3D audio Youtube videos and hear the difference. First, listen to video without the amp and try to guess the direction (make sure to use bad headphones for maximum effect).
Then turn on the amp and test if it's any easier. You'll be surprised.
As for music, it comes alive when walking on the street or relaxing on the couch.
You get the feeling you're packing the whole surround sound system in your cans, be it over-ear, on-ear, or in-ear headphones.
The vocals separate from instruments, the instrument sounds come from different directions, it adds layers and expands the space that's hard to believe.
Honestly, it's quite amazing what software can do that.
You no longer have to spend significant amounts of money for better headphones with bigger soundstage to get a better idea of how music would sound live or with a high-end speaker system.
Just plug in the SXFI amp and play some music. So simple but rewarding.
Can I listen to high-end headphones with it?
The Super X-Fi amplifier can power up headphones up to 600 ohms so you can listen to your best headphones with ease.
Most smartphones aren't powerful enough to drive higher-end headphones, so an amplifier is needed to get enough volume and sound quality.
With the SXFI amp, you don't have to worry about it as it has enough power on its own. It has a built-in DAC (digital-to-analog converter) and amplification, so you can use it as is without the SFXI technology.
Though, it does slightly increase phone battery consumption it isn't a large change.
---
In the end, there's not much you can read about that will recreate the experience in real life. You have to hear it in real life to really understand what we're talking about here.
Because it's first of its kind and testing new waters, you might be skeptical which is fair. But don't hesitate to try it yourself if you have the chance.
Super X-Fi is a fantastic technology that's a perfect add-on for any audiophile and music enthusiast that wants to extract the most out of any pair of headphones.
Comments