Best Guides
The 10 Best Noise Isolating Headphones in 2020
Get the best passive noise isolating headphones on the market right now.
(Note: These are not noise cancelling but noise isolating. Read about the difference below.) For best noise cancelling headphones? Click here.
Comparison: Best Noise Isolating Headphones
Searching for top noise isolating headphones?

You've come to the right place.

Above you can find 8 headphones (over-ear, on-ear, in-ear/earbuds) that have the best passive noise isolation.

So you'll never again have to suffer the noise of your neighbor's kids or experience nerve-wracking plane flights.

Get these and don't let others hear what you're listening to by leaking sound.

Check the comparison table above to compare all noise isolating headphones.

You can also check out the best bass earbuds or if you're more of a sports type, best Bluetooth headphones for running.

Passive Noise Isolation vs Active Noise Canceling – What's the Difference?
There is quite a difference between noise isolation and noise cancellation that most people are probably not aware of.

Passive noise isolation isolates all outside sound, generally 25 dB – 30 dB, so if you want to lower all outside noise and just focus on your music, this is the best option.

Active noise canceling works slightly differently, it uses a microphone to record all low frequency noise, like the humming of a plane or helicopter engine (active noise canceling was first developed for helicopter pilots) and then sends the opposite sound to your ears through headphones to "cancel" it. This is a greatly simplified explanation. In the end, it usually cancels around 15 dB of noise.

Noise canceling headphones won't cancel people talking next to you, or loud music, they are mostly used for canceling annoying background noise and not the "annoying people".

Noise canceling is great if you want to remove the background noise, but still want to hear what people are saying. So this is useful if you're on a plane and want to know when the dinner is going to be served, but find the jet engines too loud.

Additionally with lower quality, noise canceling headphones, the sound can be distorted which is one of the bad effects of this technology.

Generally, headphones with sound isolation have better sound quality, but this isn't an exact rule.
What are the Advantages of Sound Isolating Headphones?
By reducing the amount of ambient noise that enters the ears, you can enjoy music at a lower volume, which is much safer for your hearing in the long run.

It's been proven that listening to loud music can damage the ears and result in hearing loss.

The passive noise isolation is especially useful for listening to classical music that can be easily overpowered by outside sounds. Without distorting noise, you can hear every detail that you weren't able before, making music richer and more enjoyable.

Sound isolation comes very handy when you don't want to be bothered by outside world, like with gaming headphones for example.
How Much Can Ambient Sound Be Reduced With Noise Isolating Headphones?
On average good noise isolating headphones will lower the sound for about 30 dB, considering you have a good, tight fit which is crucial for passive isolation.

30 dB of sound reduction doesn't mean you won't hear anything; it will just dampen the loudness of external noises.

A running car 30ft away will produce around 60-80 dB of noise, if you put on the headphones, you'll generally halve the noise.

Whispering is around 15-20 dB which means you won't be able to hear it.

A normal conversation produces around 60 dB of noise, with just headphones on you'd still be able to hear it, but if you listen to the music you'll have a very hard time noticing it.

You have to consider the volume of your music as well, the louder your songs, the louder the outside noise has to be for you to hear it.
What Manufacturers Aren't Telling You About Noise Isolation in dB
Please take the dB noise isolation with a grain of salt. This is not an exact measurement of noise isolation as it's really important at what frequency you measure. Some frequencies are easier to isolate than others and the manufacturers just pick the best one.

So if headphones are supposed to isolate 35 dB of noise, this means they can isolate from 0 to 35 dB, depending on what frequency. It doesn't mean they isolate 35 dB on all frequencies.
Best Noise Isolating Headphones (over-ear, on-ear)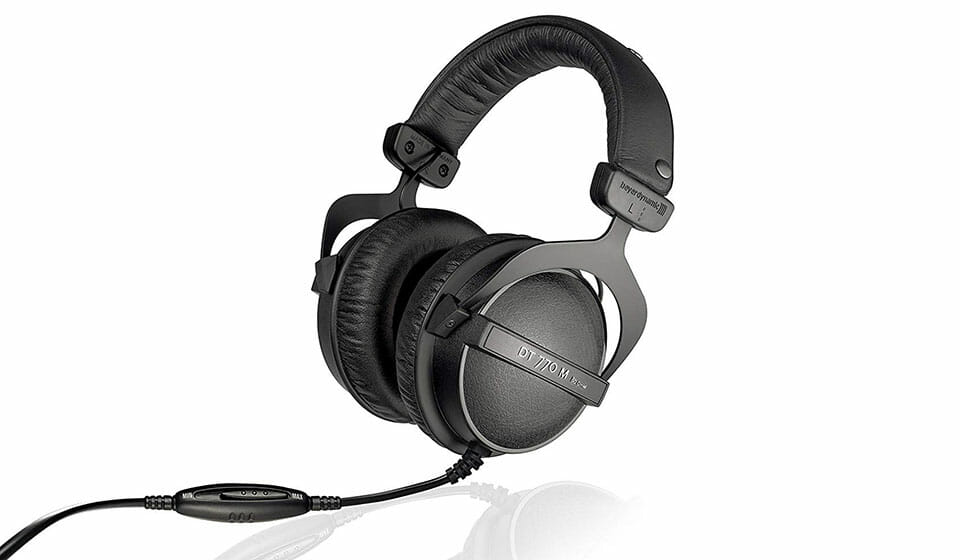 Beyerdynamic DT 770 M (80 Ohm) are the best all-round noise isolating headphones right now.

Better headphones than these are going to cost you at least 2x the price ($300-$400+).

PROS
Great sound isolation, up to 35 dBA
Big, soft earpads for maximum comfort (can easily wear for hours)
"Made like a tank", awesome durability with replaceable parts
Great value for money
Great soundstage for closed-back design
Rich and accurate sound with fun bass, suitable for all music genres
CONS
All other aspects are subordinate to noise isolation
Need an amp to listen loudly with smartphones, tablets, etc
Make sure to pick the right Ohm model.
If you want to use these with your smartphone, laptop or an MP3 player, get 32 Ohm version as these devices usually don't have enough power to run higher Ohm models properly.

We recommend the 80 Ohm version as these are the most versatile overall.

The amount of value you get out of DT 770 M is amazing, you can do an in-dept research about these and you'll soon realize these are the best all-round noise isolating over-ear headphones right now.

Noise Isolation

These are meant for studio use so sound isolation plays a big part. Because they are closed-back they grip pretty tightly around your ears and isolate a lot of noise.

Listening to music with these on middle volume will completely remove all outside noise. Don't be surprised when you don't hear the doorbell ringing or your spouse talking to you.

The sound is isolated up to 35dBA which makes these headphones one of the top circumaural models at noise isolation.

Comfort

Comfort also deserves top marks. With soft-skin earpads and leather padded headband, you can wear these for hours without any irritation. They are big and slightly heavier, but that doesn't affect the overall comfort.

While the DT 770 M version come with soft-skin earpads and not velour ones like the DT 770 PRO, the comfort doesn't suffer. You can replace the soft-skin earpads with velour ones but keep in mind this will affect sound isolation.

The reason earpads are replaceable is when your old pads get so worn out while headphones still work, you can easily buy a new pair and get great sound attenuation again. This ensures a long life for your headphones.

Durability

Build quality is superb. Made out of quality, thick plastics that you can feel won't break easily. The metal headband is coated in leader, making it nice and soft, even after hours of wearing them.

Comparing the durability with other headphones, these are as good as headphones get and you really don't have to worry about how you treat them.

Sound

The sound is where Beyerdynamic DT 770 M headphones really shine. These are as good as closed-back headphones get.

The sound is very accurate and it doesn't have any particular "flavor" meaning they are quite flat, while still having enough bass to make music fun. Just don't expect for bassheads to be overjoyed, overpowering bass is not present.

The soundstage is very good for closed-back headphones and creates a good sense of where the sound is coming from. At the same time, any quality open-back headphones (leaking sound) will obviously be better at this.

These are a perfect balance for everyone's taste as you can listen to all music genres, from classical to rock and to more modern dubstep or hip hop, and enjoy it.

Do they have any disadvantages?

No major issues, except audiophile purists, might find too much bass and too little mids, since they are comparing their experience with headphones many times the price. Also, extreme bassheads will want more bass even when DT 770 M is already quite "bassy".

Since they are 80 Ohm consumer electronics like smartphones won't be able to run them on high volume, you need an amp for that.

In the end, Beyerdynamic DT 770 M are an amazing piece of German engineering with a combination of great sound isolation, durability, comfort and sound quality that is suitable for all genres of music.

Truly an absolute top pick for sound isolating, over-ear headphones in this price range.
---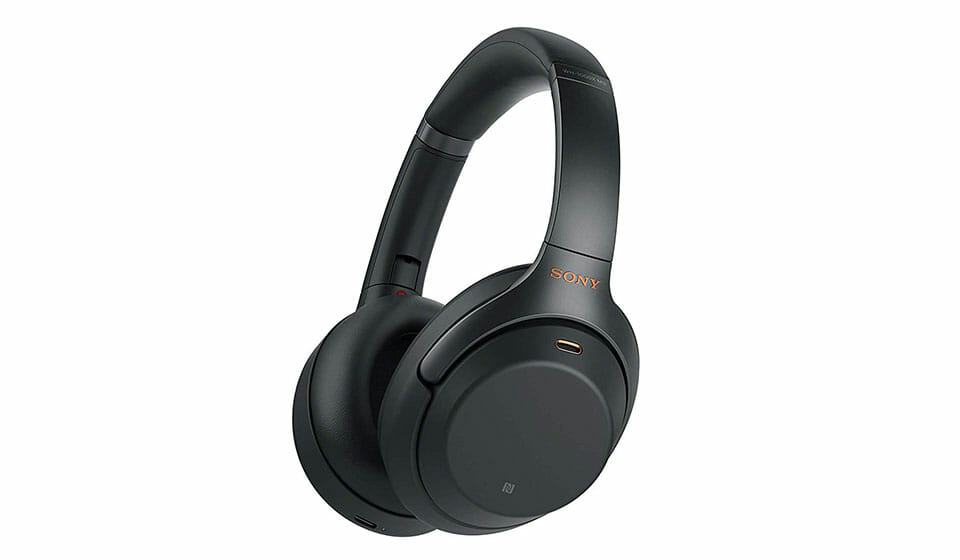 The WH-1000XM3 are the best ANC headphones with great noise isolation.

Sony is a brand that really needs no introduction. The electronics powerhouse has made an excellent pair of headphones with the WH-1000XM3. They offer an elite option for those who want active noise cancelling and rich features.

PROS
Active noise-cancelling technology
Inbuilt voice assistant technology
Easy to control via the touch controls on the headphones
Long battery (30 hours) and quick charge function
CONS
Soundstage could be clearer and more ambient
Noise Isolation

These headphones give a snug fit around the ears and do a decent job of isolating the sound from ambient noise. The closed-back casing does an excellent job of keeping the sound enclosed, though this can sacrifice the soundstage a little.

The isolation is combined with active noise cancelling. Multiple microphones pick up outside noise and cancel it with the sound from your headphones. It blocks out ambient noise and leaves your audio clear, perfect for listening in busy situations. Sony describes their noise isolation as "industry-leading" (and they aren't lying).

Comfort

We agree that comfort is one of the strongest points. WH-1000XM3 have a low-profile and smaller design, they aren't overly heavy. This means they're suitable for long listening.

The pressure on the ears is low, and the padding is impressive and soft. They're quite flexible headphones. Also, they are slightly adjustable and will alter to the size of your head and angle to the ears.

Durability

Though the weight is lower, they're durable, too. The WH-1000XM3 design is flexible and foldable. They also come with a carry case that makes it easier to transport them.

The cord is detachable. If you get to the stage where your cord is breaking, you can just replace it, no need to replace the whole set of headphones.

Sound

4 Hz to 40,000 Hz is the frequency response. This is exceptional. We can't hear the noises at these extremities, but it shows what a balanced and true representation of songs it gives.

The HD noise canceling processor Qn1 works along with powerful drivers. It blocks out the external noise and allows you to listen with clarity.

Some Sony headphones have a bass boost, but this is not in place with the WH-1000XM3. It gives an accurate representation of the sound, but not big and booming bass. If you're looking for a huge low-end, these may not be for you.

The cable is high quality and gold plated to avoid interference or crackle when it comes into contact with your skin.

It's fair to say that these headphones could be used in a recording studio, they're reliable, and even audiophiles appreciate the true sound.

If you're looking for a long battery, audiophile sound quality and top-of-the-line noise cancelling, it's worth looking at the WH-1000XM3.
---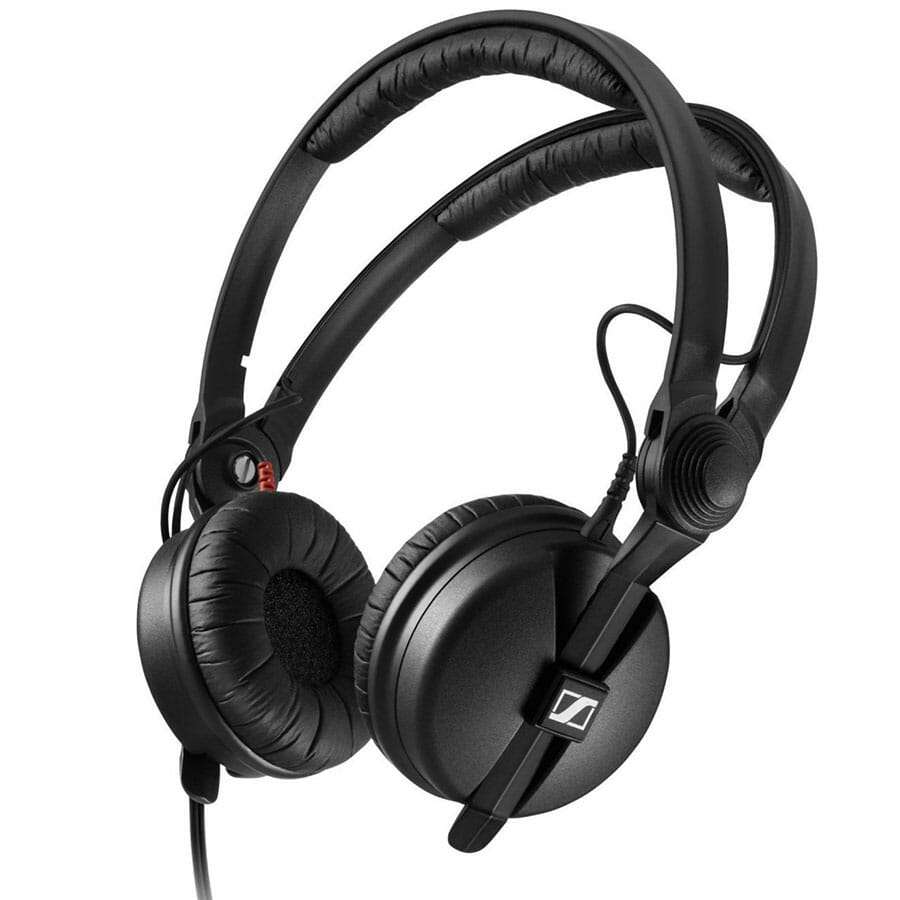 The best noise isolating on-ear headphones.

The old HD25-1 IIs have been renamed to Sennheiser HD25 Professional DJ Headphones. They're basically the same with just a small upgrade of inner drivers and new package purchase options.


HD25 headphones have been the Sennheiser flagship portables for quite some time and have the status of a classic.

The model has basically been the same for 20 years. But why change it if it's not broken.


They've been used by professional DJs for many years now and one of the most important things DJ headphones need is good noise isolation.

PROS
30 dB of noise isolation on-ear design
Comfortable (for on-ear headphones), especially with velour earpads
Highly durable and made to last
Clear, balanced sound that's fun to listen to (not for bassheads)
Classic, recognizable design
CONS

Noise Isolation

These are used as a DJ and studio headphones because they have one of the best noise isolating on-ear designs. While IEMs (in-ear monitors) and closed-back over-ear headphones will still isolate more noise, when it comes to on-ear (supra-aural) headphones, these beat the competition.

With up to 30 dB of noise isolation and portable design you can easily use these on loud public transport when you want to have some "yourself time".

Comfort

Overall Sennheiser HD25 are surprisingly light considering how durable they are. At the same time their lightweight nature offers better comfort.

Generally, on-ear headphones aren't known as the most comfortable designs, especially after many hours of use, but these do quite well.
Want to swim with music? See top waterproof iPods for swimming.
Comfort is good, but you will feel some irritation after a few straight hours of wearing them, like with most on-ear models.

If you're looking for comfort, get over-ear headphones.

You can replace the vinyl earpads with velour ones to slightly improve the comfort but keep in mind velour earpads have a slightly worse noise isolation.

Durability

Build quality is very good as with most Sennheiser products, made out of mostly plastic, having L-plug and looking rather rugged, these will easily stand the test of time. At the same time, you won't win any beauty contests as they look quite rudimentary, but for those who know headphones they are a classic.

Unfortunately, they aren't folding or collapsible, but only have slightly rotating joints so it's a bit harder getting them into a small backpack.

Sound

Sound quality doesn't disappoint even considering these are a more expensive model. They are easy to drive, meaning you will able to get them really loud even with just your smartphone.

They have a balanced sound without any range being too emphasized or lacking. This is great for listening to all genres of music.

Bass is punchy and clear, but not deep like with Audio-Technica ATH-M50X so these aren't going to be much fun for bassheads, while having just the right amount of bass for most people.

Medium ranges are where these excel, very rich and detailed, but this isn't always a good thing, because if you listen to bad recordings, you'll notice it.

Treble is clear and precise but can get a big aggressive at higher volumes. After all, these are studio headphones.

The thing most lacking is soundstage, you just won't get the feeling of spacious sound like with Beyerdynamic DT 770 M for example.

Nonetheless, these sound great and are a lot of fun to listen to everywhere you go.

If you're looking for high quality, on-ear portable headphones that will last you for years and offer a balanced, fun sound for all genres, Sennheiser HD25 are your best choice.
---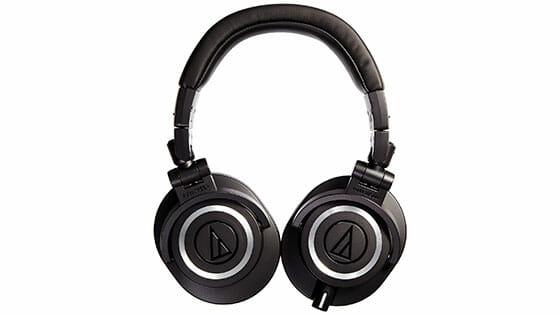 The best noise isolating bass headphones.

The reason why these weren't chosen as the best noise-isolating over-ear headphones is because of their bass-heavy sound that can become too much very quickly.

But if you like bass, these are for you…

ATH-M50X are one of the best rated over-ear headphones on Amazon.com and are hugely popular. This comes to no surprise as you get a great pair of headphones that's even slightly better than its predecessor ATH-M50.

PROS
36 dB of noise isolation, among the best of over-ear designs
Well-built, quality materials
Very comfortable even for people with big heads
Fold-able design, detachable cord
Bass heavy sound signature (could be a con)
CONS
Overpowering bass, not audiophile headphones
Uncomfortable for people with glasses
Noise Isolation

With up to 36 dB of noise isolation, these closed-back headphones are hard to beat in this regard. When you want some peace and quiet, put these on and enjoy your favorite music without interruptions. Tune out your loud neighbors or the noise from a busy street nearby.

You will have a hard time finding better isolating headphones for the price, especially considering the comfort and sound quality you get out of these.

Comfort

Comfort is very good, as with most big over-ear designs. With padded headband and earpads that you can replace for velour ones like that, you're getting top comfort that can be compared to any headphones.

They have one problem; stay clear of these if you wear glasses, as they tend to be very uncomfortable.

Durability

ATH-M50X are made out of durable plastics and metal, offering top-grade survivability in today's harsh world. The build-quality standard is the same as with the older model and these will last you for years as well.

Foldable design makes them semi-portable even considering their big size.

With detachable cables, which are a weak spot of many headphones, you have another reason to believe Audio-Technica ATH-M50X walk the talk durability-wise. (only fit Audio-Technica cables)

Sound

Sound quality is great, rather balanced on lower volumes, but really rich in bass. Meaning these really aren't most suitable for any actual studio work like it's advertised but are great fun for listening.

At higher volumes, and especially bass rich music, you'll hear the boomy, thump of deep bass and low mids. The bass is so strong it overpowers other ranges so you're only going to like it if you don't mind that.

Middle ranges are rich, clear and detailed, but get slightly overpowered by bass. High pitch is also clear and balanced but gets overshadowed by lower tunes (bass).

These definitely aren't the most balanced headphones but offer a lot of fun for bassheads who don't mind bass-heavy sound signature. They aren't bass cannons but certainly aren't balanced either.
As one of the most popular headphones on the market, Audio-Technica ATH-M560x are a great choice for the bass-loving person who wants a proven, noise isolating pair of headphones. (that don't disappoint in durability and comfort either)

Top choice for basshead noise isolating headphones, period.
---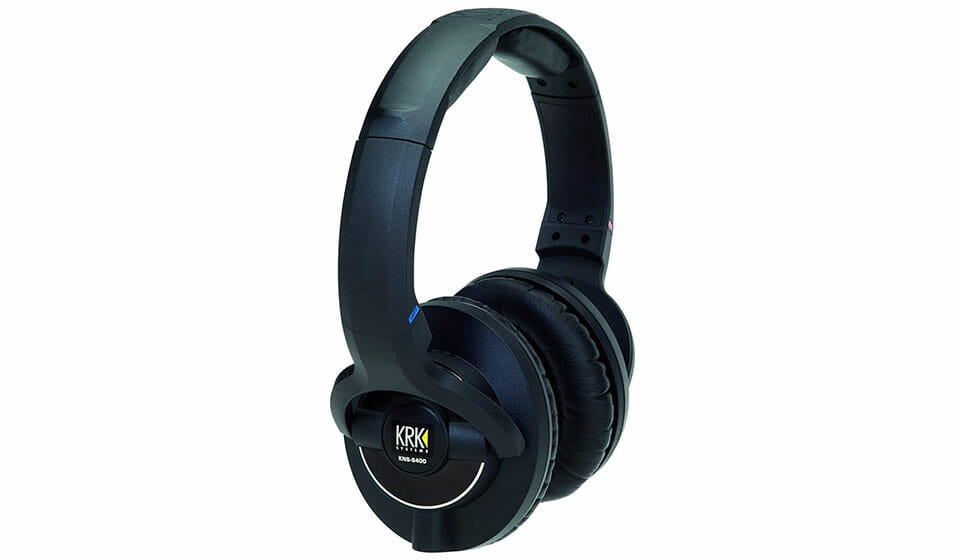 KRK KNS-8400 are a bit less know and popular headphones than others on this list, but not any worse, in fact for real audiophile headphones, it's quite the opposite.

PROS
Good passive noise isolation up to 30 dBA
Lightweight and durable design
Very comfortable with memory foam earpads
Detachable cables & earpads
Audiophile, crisp, detailed and flat sound signature
CONS
Not the best sound for modern music listening (little bass)
Weak soundstage
Noise Isolation

When it comes to the sound isolation they do a good job, isolating up to 30 dB of noise isn't bad at all, but Beyerdynamic DT 770 M are better in this regard. Since studio, monitoring headphones have a need for good passive noise isolation, KRK KNS-8400 do a great job too.

It's much easier to focus on your music when background noise isn't bothering you and since these are studio headphones special attention has been paid to making them good at noise isolation.

Comfort

Super comfy, would be the words to describe these.

Because they're mostly plastic, this makes them very light and comfortable. Big, soft earpads with memory foam help with this too, of course.

Enjoying your music with KRK KNS-8400 for long hours won't irritate your ears.

Durability

Build quality is very good; it shows these are premium headphones even though at a lower premium end. Made out of high quality and durable plastics you can be sure these headphones will serve you for many years.

Detachable cables and earpads give you more options to customize your experience, improve comfort or durability with better parts.

Sound

These are real monitoring headphones so you'll be able to hear every little detail or lack thereof.

Overall, the sound is balanced, flat, perfect for real audiophiles who don't care much for strong bass, but value clarity and detail.

The flat and accurate sound is perfect for monitoring headphones, but a little less suitable for dynamic music listening.

Highs and mids are as crisp and clear as you'd expect from professional studio equipment. You'll simply hear more music with these.

The only bad thing about sound is the soundstage. Compared to Beyerdynamic DT 770 M these are worse and just don't recreate positional sound very well. Then again, for soundstage, you'd probably be buying open-back headphones.

If you're looking for audiophile grade noise isolating headphones with awesome comfort and durable design, get KRK KNS-8400, you won't be disappointed.
---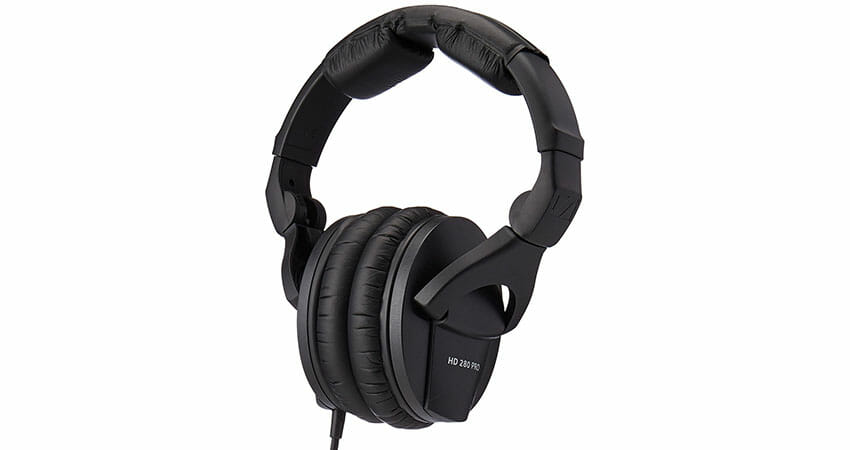 The best value-for-money noise isolating headphones.

The most affordable noise isolating over-ear closed-back headphones that are great for an entry level audiophile headphones.

While at around $100 still aren't dirt cheap, when you compare them to other top quality noise isolating headphones on this list, these are the most affordable.

PROS
Good noise isolation up to 32 dB
Reasonably comfortable
Detachable cords, earpads and headband padding
Very affordable price
Good value for money
Rather flat, but fun sound, great for modern music, games, movies etc.
CONS
The quality of materials slightly lower
Sound might not be to the taste of everybody
Noise Isolation

The tight-fitting earpads offer very good noise isolation, up to 32 dB which is comparable to much more expensive headphones.

Isolating the outside world has never been so easy, put them on, close your eyes and forget where you are. Sound isolation is important with gaming headsets too, click the last link to get the best models.

Comfort

Plastic makes these very light and comfortable. While the earpad quality is not up par the more expensive models on this list, it's good enough to wear for very long without much irritation. After 1-2 hours you might feel a bit tingly around your ears, but no major irritation should occur.

They feel a bit less premium on the head because they are not really premium, still, they compare favorably to average headphones on the market.

Durability

Since these are entry-level headphones they are made mostly from plastics and it shows in their durability. While still good and with proper maintenance should last you very long, they just can't compare to "tank-like" build quality of Beyerdynamic DT 770 M.
The good thing is you can replace the earpads, headband padding, and cords in case they break or deteriorate.

Because of foldable design, you can easily pack them up and take them with you on a trip.

Sound

Sound-wise these are rather flat and analytical, meant for studio work, but still with more bass and "color" than KRK KNS-8400s.

The sound is fun with a nice bass that isn't too overpowering or boomy, like with Audio-Technica ATH-M50x, so if you're a basshead, definitely check them out.

Treble is clear and not too aggressive, mids are slightly recessed, but not too bad, while bass is punchy and tight making every music sound lively. The only thing lacking is soundstage, like many other closed-back headphones. You just won't get the spacious sound you'd get from some other better headphones (Beyerdynamic DT770 M).

Overall with Sennheiser HD 280 PRO you're getting a great pair of noise isolating headphones that are very comfortable and offer a fun sound quality for entry level audiophiles.
---
Best Noise Isolating Earbuds (In-ear Monitors)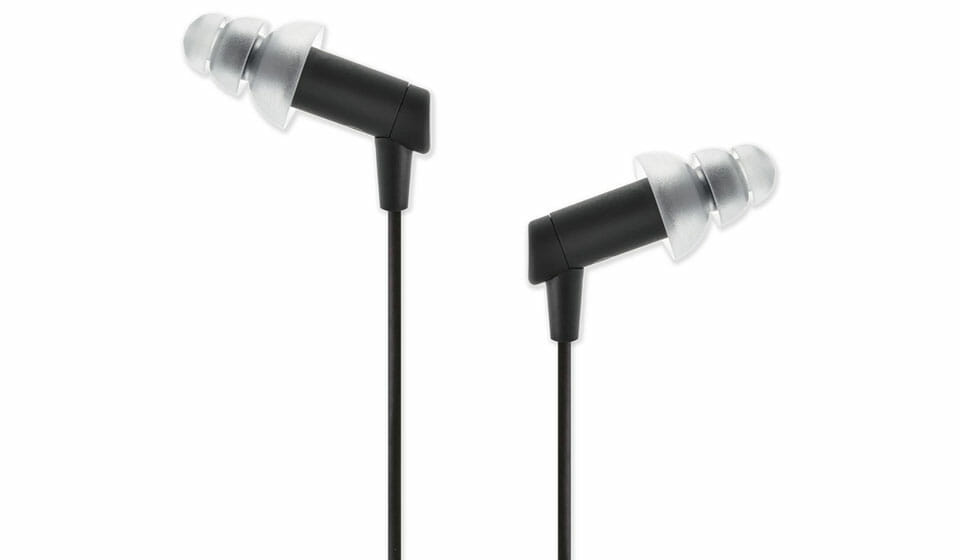 Etymotic Research HF5 are the best noise isolating in-ear monitors on the market right now.

PROS
Best noise isolation for in-ear design (35 dB – 42 dB)
Nice selection of ear tips
Good value for money even at $100+
The most accurate sound quality (Etymotic standard)
CONS
Lacks bass
Uninspiring design and durability
Noise Isolation

In fact, they have highest rated noise isolation at 35 dB to 42 dB of noise isolation, depending on what ear tips you use.

This is the kind of isolation that can be compared to earbuds for $300-$400+.

They are so good, if a "bomb goes off" in the room next to you, you probably won't notice.

The type of ear tips you use is crucially important for isolation. The foam ones are supposed to be the best, but many find they get better results with triple flange ear tips.

It doesn't really matter, as you get all of these tips to try out for yourself in the original package.

Comfort

When it comes to comfort with in-ear monitors, it mostly depends on what ear tips you use. While the best noise isolating ear tips aren't the most comfortable, they aren't too bad.

After a few hours of use you can have slightly irritated ear canals, but not to the point of pain or real irritation.

The earbuds themselves are very light due to their plastic construction and fit well in all sizes of ears.

Durability

Durability isn't the best, but there is nothing particularly wrong with it. These IEMs are very low profile, minimalist and only available in black plastic.

They have pretty good strain relief while the wires are basic rubber protected.

By taking decent care of them, they should serve you long enough.

Sound

Where Etymotic Research HF5 in-ear monitors really excel is the sound quality.

These are considered one of the most accurate and detailed earbuds on the market right now.

Having crazy accurate and detailed sound you probably never heard before.

What you will immediately notice is a great lack of bass, just like with other Etymotic earbuds you won't get many lows from these either.

While accuracy is great for classical music and other genres with little bass, other more modern pop and rock tunes will clearly show the lack of low tones.

Whether you'll like Etymotic Research HF5 or not really depends on your music taste. In case you like more bass, check out Shure SE215 below for a more suitable pair of noise isolating earbuds.

If you can appreciate the Etymotic sound and are looking for superb, noise isolating earbuds you can get no better than Etymotic Research HF5 in-ear monitors, period.
---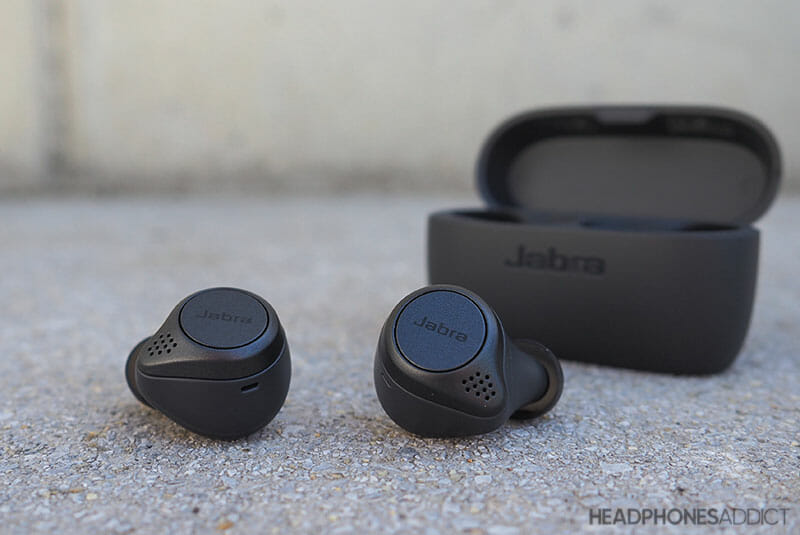 The Jabra Elite Active 75t are great workout headphones with high passive noise isolation. Due to pushing the eartips deeper into ears, they block noise more than average TWS buds.

PROS
IP57 fully waterproof
Great for workouts and running
Really comfortable for in-ear earbuds
Quality 4-microphone system
Physical controls that work well
App support
CONS
Tiny soundstage
Premium price range
Noise Isolation

Because the eartips are pushed deeper into your ears, noise isolation is better than with many other in-ear headphones.

Though you only get 3 silicone eartips, if you replace them with memory foams, you get even an even better result.

Comfort

The design is ergonomic and easy on the ears. You can wear these for hours without pain.

You only need to readjust them every once in a while. If you smile or talk loudly by moving your ears, the seal is lost.

Durability

With IP57, the Elite Active 75t are fully waterproof and dust resistant. You can dip them in water or use them in dusty environments without problems.

The buds are plastic but have that premium, softer surface.

Sound

The sound is heavily bass emphasized, but you can equalize it inside the Jabra Sound+ app.

As a result, you can make these sound great for all music genres. Though you still get the usually small soundstage common in in-ear headphones. Read more about it in the review.

If you want dependable, true wireless earbuds with above-average noise isolation, check the Jabra Elite Active 75t.

Check the full Elite Active 75t review.
---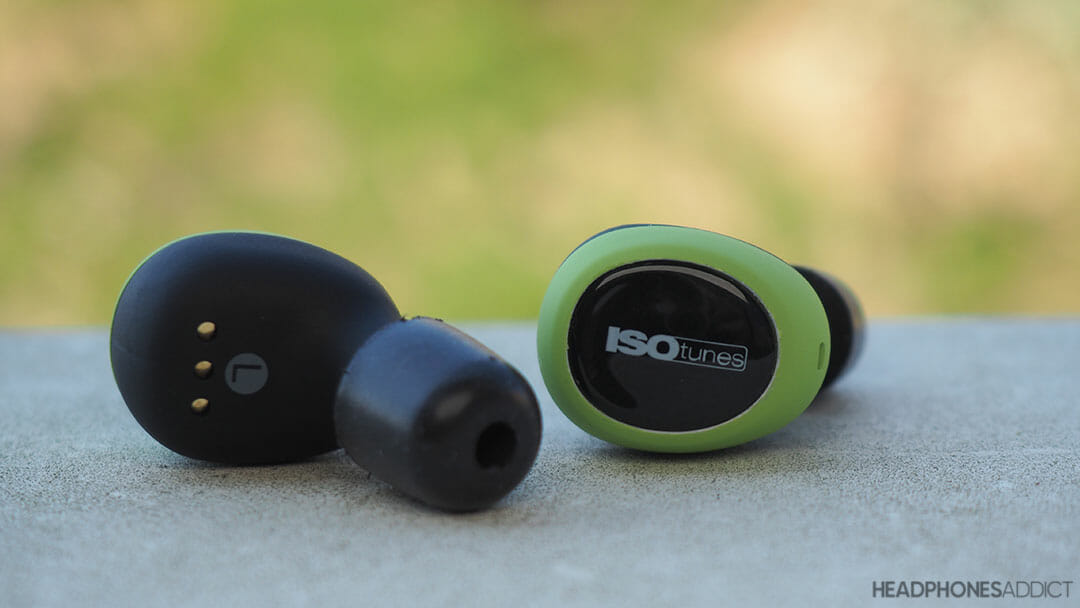 ISOtunes Free are the latest true wireless headphones that meet the OSHA and NIOSH requirements. These can be used as hearing protection for a safe work environment with a certified 22 NRR (American National Standards Institute certified Noise Reduction Rating).

And you can use them at home, when mowing the lawn, using power tools or any other hearing hazard.

They're tough (IP45) and come with Bluetooth 5.0 and almost 8 hours of battery life. Sound quality is also better than with older ISOtunes headphones.

The audio is slightly punchier, and aptX codec supports better transmission and lower video delay.

PROS
Fantastic passive noise isolation (22 NRR)
OSHA & NIOSH compliant
Memory-foam eartips
True wireless design that's unobtrusive
Good sound for most users (with aptX)
Compact charging case with 15h bonus battery life (7.5h in the earbuds)
CONS
Audible white noise at lower volumes
Big eartips can irritate the ear canal over time
Get the ISOtunes Free if you're looking for hearing protection with certified hearing protection that's suitable for different types of work environments.

Read the full ISOtunes Free review.
---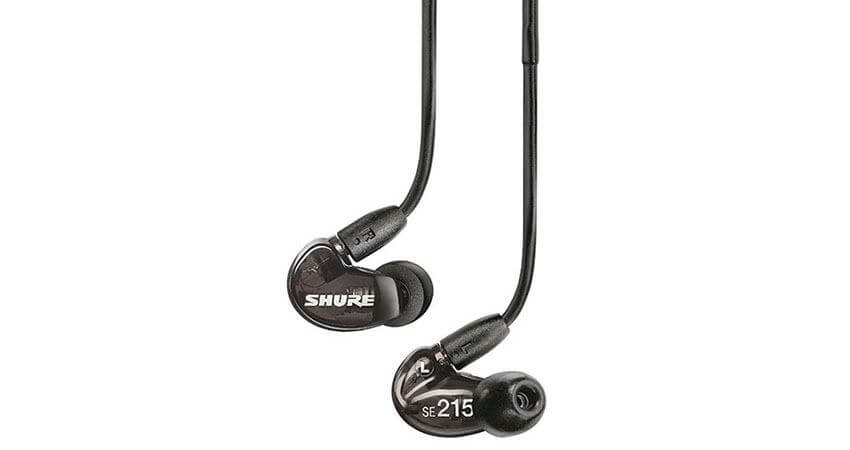 Shure SE215 are a well-known, quality piece of music equipment that is hard to beat. They are one of the most popular and well-reviewed in-ear monitors on the market right now.

PROS
Great sound isolation with tight-fitting ear tips
Comfortable once you get a hang of it
Durable, well-built, detachable cables
Good value for money at $100
High sound quality with slightly emphasized bass, great for all genres
CONS
You need to get used to their unusual design
Noise Isolation

Their noise isolation is superb, maybe not as good as Etymotic Research HF5, but still much better than your regular earbuds.

You can really improve the isolation with triple flange tips for Shure you can get on Amazon and with the combination of Olives you're getting a great isolating seal.

In case you're willing to spend a bit more money, check Shure SE425 model which has awesome noise isolation too.

Comfort

Their slightly unusual design might need some getting used to, but once you learn how to get a comfortable and tight fit, you'll quickly learn to appreciate everything it brings, because with noise isolation you get good comfort as well.

Comfort greatly depends on ear tips you use and once you find the right ones and get the hang of putting them on, they are very comfortable. You can wear them for hours without irritation, but know this is only true if you really try all the ear tips.

The design demands behind-the-neck fit so keep that in mind when buying.

Durability

Made out of plastics that you can get in different colors and with detachable, memory wires coated in regular rubber they look weaker than they actually are.

In reality, these are one of the more durable IEMs that will survive a lot more than what you can imagine in your regular use. (some people even dropped them in water and they survived)

In case the wires give out you can easily replace them with new ones or if you want to add the functionality of microphone and in-line remote for smartphones, attaching the new cables is super easy.

Sound

When it comes to sound it has good, clear mid-range and treble with bass slightly emphasized. Altogether it has a rather balanced sound with just enough bass to make music fun, but these are definitely not extreme basshead material.

It's a nice combination that is easy to listen to for all music types.
Shure SE215 are a proven, quality pair of noise isolating earbuds, with a slightly emphasized bass sound, that sit in your ears nicely and have great durability, you would be stupid to pick any other earbuds in this category.
Honorable Mentions
Sennheiser Momentum True Wireless (check price) – Effective noise isolation and great sound quality in true wireless design. Get memory-foam eartips for best results.
---
Do you exercise? Check top workout headphone models here.
What Are Your Favorite Noise Isolating Headphones?
Please let us know what you think about the reviewed models, share your experience and recommend some new models that could be a great choice when looking for passive sound isolation.

Don't forget to like and subscribe to the website for future updates.
Comments