Gaming
What's The Best Wireless Xbox One Headset?
The best wireless headsets for Xbox One you can get today.
Model
Rating
Battery
Price
Surround
Sound
Microphone
Connection

Astro A50 Wireless Gen.4
best overall


4.0
15h per charge
Under $300
Dolby Atmos
Boom mic
Uni-directional
Noise-cancelling
Wireless station
More info
SteelSeries Arctis 9X
runner-up


3.6
20h per charge
Under $200
Windows Sonic
Boom mic
Retractable
Bi-directional
Noise-cancelling
Direct connect
More info
LucidSound LS41
most versatile


3.9
20h per charge
Under $200
DTS Surround X
Boom mic
Dual mic system
Noise-cancelling
Direct connect
+ Wired
More info
HyperX CloudX Flight
best battery


4.3
30h per charge
Under $150
None
Boom mic
Detachable
Noise-cancelling
USB adapter
More info
Plantronics RIG 800LX


3.9
24h per charge
Under $150
Dolby Atmos
Boom Mic
Uni-directional
Noise-cancelling
Flip-to-mute
Wireless station
More info
Razer Nari Ultimate


3.8
20h per charge
(Hypersense off)
Under $200
Windows Sonic
Retractable
Boom mic
Uni-directional
Noise-cancelling
Direct connect
More info
Turtle Beach Stealth 600
best value



4.4
15h per charge
Under $100
Windows Sonic
Boom mic
Omni-directional
Flip-to-mute
Direct connect
More info
Do you want to play games free from wires, so you can always get your favorite drink from the fridge while chatting with your friends?
You need a quality headset. But what's the best wireless Xbox one headset with so many choices?
It's hard to find a truly wireless gaming headset dedicated for Xbox One. Due to Microsoft not supporting direct USB audio, you can't use cordless PC headsets.
Many don't support direct connection or lack the support for some important features.
Thus, for the best gaming experience, get one of the best wireless headsets for the Xbox One below.
Note: these don't need you to connect the controller to the headset.
You Need to Know
All the headsets here are wireless without the need to connect to a controller with a cable. You can connect any wired headset to the controller and get some freedom. You still have to carry the controller with you.
Most dedicated wireless headsets work for either Xbox One or PlayStation but not both. For some reason, probably internal corporate politics, manufacturers can't make one model for all consoles.
All headsets also work with a PC. If you want compatibility for both platforms, it isn't a problem.
Virtual surround sound on Xbox works with all headsets. Even if your headset doesn't have built-in surround sound, you can get Windows Sonic or Dolby Atmos as an option.
You don't need surround sound for good soundstage. Contrary to what companies want you to believe, the positional accuracy and audio immersion aren't much better with virtual 5.1 software.
The Best Wireless Headsets for Xbox One
1. Astro A50 Wireless Gen. 4 – best overall
The Astro A50 Gen. 4 is the best wireless Xbox One headset (for most people).
The Good
This premium wireless gaming headset offers excellent comfort and robust design, that just never gets old. Astro A50 Gen. 4 is communicating via a base station, which also serves as a charging station. There you'll find a handful of connectors: optical, USB, and AUX.
The Xbox version of the headset also supports the Dolby Atmos virtual surround sound, more specifically a free 2-year subscription for it.
40mm neodymium drivers deliver a balanced sound that is tuned with Astro Audio V2.
You can control the sound and microphone volume on the headset itself. For more customization of the sound, you can use Astro Command Center software.
The Bad
Some people report quality control issues, which is not acceptable for a headset, that costs $299 MSRP.
Astro A50 Gen. 4 is a fantastic premium wireless headset that sounds really good and is so comfortable that you'll forget you're wearing it.
---
2. SteelSeries Arctis 9X – runner-up

Microsoft and SteelSeries have worked together to make the ultimate Xbox wireless gaming headset.
The Good
SteelSeries Arctis 9X is a beautifully made headset. A mixture of durable steel and gentle woven fabric makes for truly premium user experience.
They use the same connection as Xbox wireless controller, so no dongle required. If you want to take them out for a walk, they also support Bluetooth. And since the battery lasts for 20 hours, you shouldn't worry about them dying too quickly.
40mm drivers are tuned for accuracy so that you'll hear every little detail around you. For 3D sound immersion Arctis 9X is using Windows Sonic Spatial Audio.
The Bad
Some users are experiencing slight connection issues.
You get an accurate sound and quality microphone in an understated but beautiful housing. SteelSeries Arctis 9X is worth a consideration for any major Xbox gamer.
---
3. LucidSound LS41 – most versatile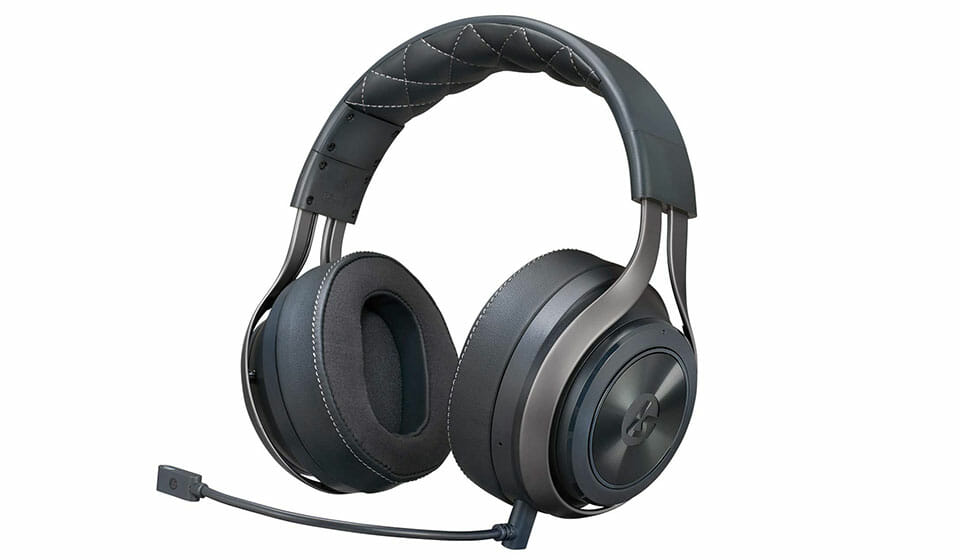 You like to game on different platforms and want only one headset for all of them? LucidSound LS41 might be perfect for you.
The Good
For the price of around $200, LucidSound LS41 brings a lot to the table. First, there is solid build quality. The cooling gel inside the leather pads makes your ears less sweaty, whereas the memory foam ensures excellent comfort.
Inside the metal cups, there is a 50mm driver that can deliver a very detailed and punchy sound. For a more spacious presentation, LucidSound LS41 supports DTS Surround X.
Also, the included detachable microphone does not disappoint with clear voice quality, as well as the battery, which will last at least 20 hours per charge.
The Bad
Users with big heads may experience a slight clamping force, which can cause discomfort.
LucidSound LS41 is an excellent option for cross-platform use since they work on Xbox, PS4, PC, Switch, and even Mobile.
---
4. HyperX CloudX Flight – best battery life
You don't have to worry about the battery. HyperX CloudX Flight lasts up to 30 hours on a single charge.
The Good
HyperX has chosen quality plastics to build the CloudX Flight. Steel sliders for durability and high-quality foam for long gaming sessions without discomfort. Earcups can also rotate for 90°and can be placed flat on your neck.
50mm dynamic drivers are producing clear sound all across the frequency response.
They are fully designed for Xbox chat-mix integration. All the necessary volume controls are on the earcups, so you don't have to deal with system settings.
HyperX CloudX Flight is class-leading when it comes to battery life since they'll last 30 hours per charge. A wireless range of 65 ft is also something worth mentioning.
The Bad
The microphone might catch the sound coming from the headset at higher volumes.
There is a reason why these are so popular among gamers. For an affordable price around $160, HyperX CloudX Flight is an all-around great wireless gaming headset with impressive battery life.
---
5. Plantronics RIG 800LX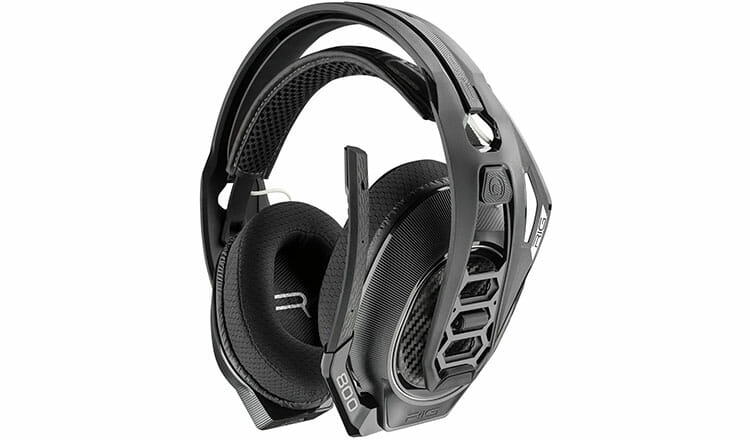 If you want a great pair of wireless gaming headphones with a reliable microphone for gaming on your Xbox One console, get Plantronics RIG 800LX.
The Good
Of course, it has great comfort. With suspended headband and plush earpads, you can play games for hours without feeling the heat or discomfort. That's true even if you wear glasses.
Furthermore, you get an amazing 24-hour battery life per full charge. The noise-cancelling microphone has a flip-to-mute feature and delivers clear voice audio for chatting with your friends.
With built-in controls, you can control the volume, and game/chat volume.
Also, it comes with 4 audio presets. You can change from flat to bass-heavy sound to find your preference. Additionally, you get Dolby Atmos 3D sound, which compares to surround sound experience.
The Bad
All-plastic construction feels a bit fragile.
Plantronics RIG 800LX gaming headset has all the necessary features and gets the comfort, reliability, and sound done right. It could cost more money and still be a good value for money.
---
6. Razer Nari Ultimate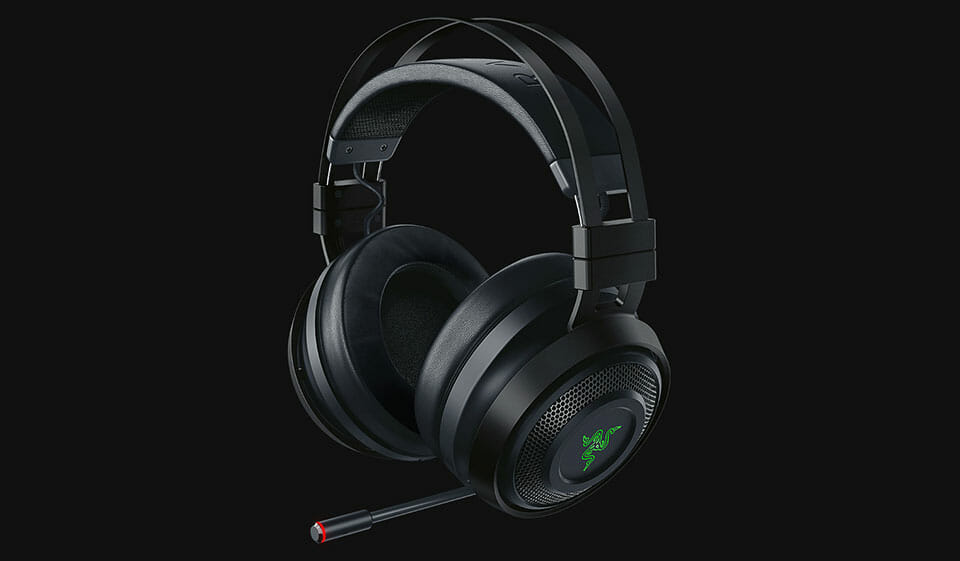 Razer's wireless headset with haptic feedback for perfect gaming immersion.
The Good
Nari Ultimate headphones are thanks to the aluminum construction very lightweight and superbly comfortable. There is also a cooling gel inside the pads, which reduces heat build-up.
Thumping sound is accompanied by Razer's Hypersense technology for additional lifelike haptic feedback. You don't only hear the explosions, but also feel them. There is also a THX Spatial 7.1 surround sound feature.
The integrated microphone is fine-tuned, so that game and chat volume don't overpower each other.
The Bad
Haptics and RGB Chroma features are cool, but they use a lot of battery.
No other gaming headset gives you the same level of immersion as Razer Nari Ultimate. The haptic feedback gives games a new dimension.

---
7. Turtle Beach Stealth 600 – best value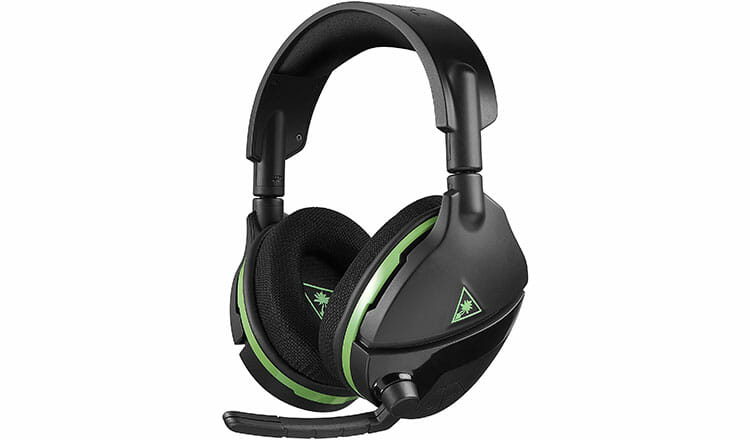 The Stealth 600 is the top cheapest wireless headset for Xbox One.
The Good
It has good comfort. It's designed for people with glasses so you can wear them without being blind. The microphone is of good quality and has a fold-to-mute function. The battery lasts for up to 15 hours on a full charge.
You get direct wireless connectivity with Xbox One without any adapters. It works out of the box. The addition of special features like "Superhuman Hearing" is just a bonus.
Moreover, the audio quality doesn't disappoint either. There are a couple of presets that change the audio signature to your liking. For directional audio, you get Windows Sonic surround sound.
The Bad
Some users are experiencing connectivity issues.
For the price, Turtle Beach Stealth 600 for Xbox One is the best-value wireless headset right now.
---
Related:
Top wireless headsets for PlayStation
Best wireless gaming headsets (in general)
Guide on wired gaming headphones
---
How to Pick the Best Wireless Xbox One Headset?
Fully Wireless Compatibility with Xbox
There are many wireless gaming headsets out there. But the problem is figuring out which is compatible with Xbox One Directly (without having to connect to the controller). Compatibility isn't so common as they have to follow Microsoft specifications.
Seamless cordless compatibility with the Xbox One is the main feature you should look for. Often a self-proclaimed "cordless" headset for Xbox One still requires you to connect the controller to the headset with wires.
The best wireless Xbox One headsets are either dedicated and can connect to Xbox directly or come with their own base station.
Connection Stability

The stability of the connection is vital for enjoyable sound. You probably hate it when the chat starts breaking up, or the audio lags behind the game.
The truth is, wireless technology is not as stable as a wired connection. It's why connectivity issues are quite common.
Reliable wireless connectivity for hours of gaming with minimal disruptions is crucial for a good gaming experience.
Comfort
Comfort is always important. You probably don't want to admit how much time you're spending in front of your TV. Those gaming sessions can get really long sometimes. We get it.
You need soft cushioning on the headband and big ear cups with thick padding. It's great if it's designed for people with glasses and isn't too heavy. These are all things important for comfort, so you can wear the headset for long hours without noticing.
See what are the most comfortable in-ear headphones?
Sound
Nowadays, there are a lot of options when it comes to sound. Most gaming headsets offer multiple sound presets. While audiophiles might not rave on the sound quality, most people like having more options.
Look for headsets with good sound and equalization.
Virtual surround sound or 3D sound might be important too. If you want an immersive experience or hear the steps of your enemies, surround sound can help you. Often, it requires special software to work properly.
Build Quality
Durability is the last but not the least important feature. How long a headset lasts is always an important factor. Especially since a lot of them cost quite a bit of money. You want your investment to last.
Look for quality materials, like durable plastics or metal headband. Earpads are often protected by synthetic leather or cloth fabric for better breathability.

What Surround Sound is the Best for Xbox One?
Virtual surround sound programmatically recreates the sound effects of a real 5.1 home theater system. You can determine the direction a sound is coming from much better. It creates a more life-like and natural audio experience that can suck you into games even more.
Generally, there is no best surround software for Xbox One. They're all kind of the same.
Should you get Windows Sonic or Dolby Atmos?
While there aren't huge differences between the two, they're slightly different. Though one is not necessarily better than the other. You can get more info about the comparison here.
Why Don't PC Wireless Headsets Work on Xbox One?
Xbox One doesn't support standard USB audio. This makes standard cordless PC headsets incompatible with Xbox One.
There are rumors the Xbox Series X console will finally support sound and chat over USB. But we'll know for sure when it's released.
Usually, you have to connect the headset to the Xbox One controller with wires. It means they aren't truly wireless, and a lot of the features don't work. It's the result of Microsoft corporate politics. It would be nice if they added support in Xbox Series X
Can you connect standard Bluetooth headphones on Xbox One console?
No. Xbox One doesn't support Bluetooth. You can only use dedicated headsets.
Why You Should Get the Best Wireless Xbox One Headset
Reasons to get yourself a wireless headset if you:
Get annoyed by tugging on wires often
Like the freedom of wire-free devices
Want to go to the toilet while chatting with friends
Want to grab a snack without missing the action
Like talking with friends and walking around your home at the same time
Reasons not to get a wireless gaming headset if you:
Hate charging batteries
Need crazy long battery life since you game for 15 hours+
Like saving money and being frugal (wired headsets are much cheaper)
Think wired headsets have better sound quality
Are you interested in related headphones?
Comments