Gaming
8 Best Wireless Gaming Headsets Right Now
Get your freedom with one of the top wireless gaming headsets.
Comparison Table: 8 Best Wireless Gaming Headsets
Rating
Price
Battery

i

Battery life on full charge.

Compatible

SteelSeries Siberia 800
3.6
$$$$
($120-$200)
20h
PC & Mac
PS3 & PS4
Xbox 360
(X800)
Xbox One
Review

SteelSeries Arctis 7
3.9
$$$
($80-$120)
24h
PC & Mac
PS3 & PS4
Xbox 360
Xbox One
Smartphones
Review
ASTRO Gaming A50
3.6
$$$$$
($200-$300)
12h
PC & Mac
PS3 & PS4
Xbox 360
Xbox One
Review
Razer ManO'War Wireless
3.3
$$$
($80-$120)
14h+
PC & Mac
(stereo)
PS4
(adapter)
Xbox One
Review
Skullcandy PLYR1
3.8
$$$$
($120-$200)
12h
PC & Mac
PS3 & PS4
Xbox 360
Xbox One
Review
Ear Force Stealth 450
3.9
$$
($30-$80)
15h
PC & Mac
Review
Corsair VOID Wireless


3.8
$$
($30-$80)
16h
PC
(stereo)
Mac & PS4
Review
Logitech G533 Wireless
best under $100
4.2
$$
($30-$80)
15h
PC & Mac
Review
What is the best gaming headset on the market right now?
Compare the top 8 wireless gaming models in the table above.
Additionally, learn what you need to know before getting wireless gaming headphones so you're not disappointed.
Once you pick your favorite gaming headset, read the in-depth reviews at the end.
Note: every gaming headset is reviewed in the following categories:
Compatibility
Microphone
Battery
Design
Comfort
Sound
Make sure to choose the right compatibility for your needs, not every wireless gaming headset works with all platforms.
What Should Everyone Know About Wireless Gaming Headsets?
Before deciding to get a wireless gaming headset you have to know how it compares to wired headsets.
Freedom baby! The obvious benefit of no wires is freedom and comfort since you're not bound by the long wires connected to your gaming machine.
Being able to change the position on your couch while playing your favorite game or being able to quickly visit the bathroom without having to put down your headphones is liberating.
It happens too often you forget you're wearing headphones and accidentally pull the cables and damage them. Headphone cables are annoying.
On the other hand, wireless headphones have some disadvantages.
You need to keep charging them. Since playing sessions can be long for hours you'll most likely need to recharge your headphones every few days which can become a nuisance if nothing else.
If it just happens that you want to play your favorite game with your friends, but can't use the headphones because they're empty and you forgot to charge them, this is a problem. Not to mention the battery will eventually die or become less effective, emptying faster than usual.
Thankfully you can still use most wireless headsets for gaming in wired more.
Is there any lag? The common misconception is that wireless headphones will have some form of "laggy" sound delivery. While Bluetooth and other wireless technologies might not be as fast as cable, the difference is so small you can't notice it.
Modern wireless technology is almost as fast as cable and there is no difference in speed the sound gets transferred. Wireless gaming headsets are as fast as wired when it comes to this aspect.
Why is it more expensive? Because a wireless headset includes the battery and additional circuitry for the wire-free technology, it also costs a bit more money.
You can get a good, wired gaming headset for less than $100, but a wireless model will cost you a bit more.
Sound quality is usually lower; though wireless gaming headsets aren't much worse from wired headsets because they use fast technology and not Bluetooth.
It's true that Bluetooth doesn't allow for the fast transfer of quality sound over the air, this is why most gaming headsets use different tech altogether.
On the other hand, comparing wireless gaming headsets to high-end audiophile headphones is hard, because the latter will simply have better sound quality every time.
Wireless technology isn't very good for music, but it is perfectly fine for gaming purposes.
As long as you're willing to pay more money for wireless technology and don't need the best of the best sound quality, a wireless headset for gaming is a great option.
PROS
Wire-free experience
Convenience
CONS
Need battery charging
Lower sound quality
More expensive
Best Gaming Headsets Reviewed
SteelSeries Siberia 800 is the best wireless gaming headset on the market right now.
Note: Previously named SteelSeries H Wireless but has been renamed to Siberia 800, the headset is exactly the same.
The combination of comfort, compatibility, great battery life and good sound quality make it an all-around gaming headset no other model beats.
If you're willing to pay the higher price and want the best of the best of wireless headsets for gaming, get yourself SteelSeries Siberia 800.
You won't be disappointed.
PROS
Compatible with all popular gaming platforms
Great battery life, up to 20h, plus 2nd battery included
A microphone that does the job
Good comfort with memory foam ear pads
Minimal sound leakage, good sound isolation
Great sound quality, 7.1 surround sound widens the soundstage
CONS
Pricey
Tight clamping force at first
Note: SteelSeries H Wireless are exactly the same headphones as Siberia 800.
Compatibility (Microphone)
It is compatible with all major gaming platforms, PC, Mac, Xbox 360, PlayStation 3, PlayStation 4 and Xbox One with the adapter. You can also get a slightly more expensive Xbox One version, Siberia X800.
Xbox One will work for sound without an adapter, but you won't be able to use the microphone.
Changing from device to device is very easy, once you make a profile for each platform you just press the button on the ear cup and you'll be connected.
The microphone is omnidirectional, it picks up sounds all around you. This isn't perfect for gaming but does the job nonetheless.
Just make sure to lower sensitivity if the mic picks up too much background noise.
Battery
The battery life is really great. On one charge you get up to 20 hours of playtime, which is more than most other wireless gaming headsets.
But you're also getting another battery. So if it happens you run out of juice in the middle of a game, it takes just a few seconds to replace it and you're good to go.
This is a great feature as you're never really out of battery life.
The connection has about 30ft of range and, unlike Bluetooth, works pretty well over walls as well, but after 30ft+ of range, it starts to lose signal.
This is more or less standard with any wireless headset.
Design
SteelSeries Siberia 800 have well-made headphones. The main material is plastics, but durable, high-quality type that doesn't break easily.
The connection station is nice and sleek. No fancy curves, just a nice black box that won't ruin your room design.
They're slightly on the heavier side, probably because of the battery and wireless circuitry, but this doesn't affect comfort.
Sound leakage is minimal, it has a closed-back design that doesn't leak sound so you can easily use these near other people.
Sound isolation is equally good, if you increase the volume to about half you won't be able to hear any sounds from outside. This is a pretty important feature for a gaming headset.
You don't want everybody to hear what you're listening to.
Comfort
Big, memory foam earpads provide great comfort even for long playing sessions.
The only problem, in the beginning, is tight clamping force that is uncomfortable for a few days. Once the headband relaxes a little, they become much more comfortable.
Sound
The headset has virtual 7.1 Surround Sound support which helps with positional accuracy and immersive gameplay.
It's not as good as with high-end wired gaming headphones but isn't bad either.
For a closed-back, wireless headset it really has great soundstage. You'll be able to hear your enemies before seeing them and single player games will sound more real than before.
The sound quality is pretty high and you can easily enjoy them for music as well.
Don't expect audiophile standards of detail and balance, but considering this is a wireless gaming headset, you get better than average sound out of them.
The highs and mids are clear and easy to distinguish, the bass is not too strong, but has some extension when needed. Generally, they're rather balanced headphones that don't have emphasized bass.
If you like more bass, get some other model, but understand that strong bass usually overpowers other ranges and makes positional accuracy and details harder to hear, which you don't want for gaming. See top bass headphones here.
All in all, SteelSeries Siberia 800 headset is a great combination of compatibility, comfort, great battery life and high sound quality that more than justifies its premium price.
---
Astro A50 is one of the most popular wireless gaming headsets and for a good reason.
With A50 you get everything you need from a wireless gaming headset, if not for some minor problems it would be a real contender as the top pick in the category.
This is the new, updated version which isn't much different from the predecessor. Slight design change and compatibility with Xbox One and PlayStation 4 are probably the biggest differences.
PROS
Good compatibility with MixAmp Pro bundle
Very comfortable
Good durability
Good gaming sound quality
CONS
Pricey
Could use better battery (though can be used during charging)
Too bass heavy (good if you're a basshead)
Compatibility (Microphone)
Because Astro A50 comes in a bundle with MixAmp Pro it works with most gaming platforms.
Just keep in mind the Xbox One bundle is slightly different from PS4 version. If you have both consoles and want to use the headset on both, then get the Xbox One version which will work with PS4 as well as PC and Mac or older versions of Xbox.
Generally, the A50 wireless gaming headset is compatible with all platforms and supports virtual 7.1 Surround Sound and chat through a microphone.
The microphone is a uni-directional model that is perfect for gaming. Because of its design, it will pick up only your voice and no background noise.
You probably already know how annoying it is when your friend plays in a loud environment and you have to listen to all the noise during the game.
Battery
The battery is decent at about 8-10 hours of play time, even though it's advertised to provide 12 hours.
This is far less than the SteelSeries Siberia 800 reviewed above, not to mention you only get one battery so you can't change it with the fully charged battery in between gaming. What you can do is connect it with a charging cable and use it that way.
For the same price as the SteelSeries Siberia 800, we'd expect a better battery life or at least a second battery.
If you're a hardcore gamer that plays more than 8 hours on one go, Astro A50 isn't for you as it won't last long enough. If you're a serious gamer, but you never play over 8 hours straight this headset is perfect.
The wireless connection uses 5.8 GHz technology for audio transmission and works up to about 30ft without disconnects or distortion. It is comparable to other top-notch wireless gaming headsets.
Design
While the headset is made out of mostly plastic, it's built well and doesn't show any weak points.
For home gaming use it's more than durable and with decent care, it's going to serve you for a long time.
The headphones are closed design, but because of their cloth ear pads don't offer the best sound isolation.
You'll still be able to hear some background noise and people around you will hear your headphone sound. The sound leakage isn't as bad as with most open-back headphones so these should be fine for most cases.
Interested in the best noise cancelling headphones?
Comfort
The cloth/velour ear pads offer great comfort. The headband can be extended to fit any head size, though for some people with bigger heads more extension would be more comfortable.
They are very comfortable headphones and can easily compare to other, high-end gaming headsets.
Sound
The soundstage with virtual 7.1 Surround Sound is pretty good. It won't win any rewards but does the job better than most closed-back headsets for gaming.
Without the virtual surround sound, positional accuracy is just about average so use it with 7.1 activated.
For games like CS: GO and Battlefield the virtual surround comes very handy and makes the whole experience more immersive while giving you the advantage over your enemies.
The bass is quite emphasized which is good for immersive gameplay, but not for listening to the music. It's overpowering to the point of making other ranges non-existent.
If you're a basshead you're going to like the sound, but for a more balanced sound signature, look at SteelSeries Siberia 800.
For a wireless gaming headset you can't expect more from Astro A50, just use different headphones for music.
A combination of everything you need for one of the best wireless gaming experiences, Astro A50 headset is a great choice.
---
This is Razer's latest wireless gaming headset and it's the best they've ever created.
The so-called Razer ManO'War is a great wireless gaming headset that does most things right and for a better price than the competition too.
PROS
Great value for money for a premium product
Lightweight, plastic but sturdy design
Retractable, uni-directional microphone
Very comfortable for long gaming sessions
Great battery life, up to 20h (with lights off)
Digital 7.1 surround sound improves soundstage
Good gaming sound, typical Razer signature
CONS
Not compatible with Xbox, smartphones or tablets
Sound quality lacking compared to audiophile headphones
Compatibility (Microphone)
The way you connect to the headphones is via a wireless 2.4GHz USB adapter which you can carry inside the ear cups.
The connection range is pretty good at up to 46ft (14m), though it depends on how many obstacles are in between so it really varies, but isn't a deal breaker.
The headset is compatible with PC, Mac, and PS4…
…but you'll have to forget about Razer Surround and controlling the headset with buttons on ear cups when connected to PlayStation 4 because they don't work. Keep this in mind if you intend to use the headset with PS4 only.
Because it uses USB adapter to connect it's not compatible with Xbox or mobile devices like smartphone and tablets, this is a shame if you own any of those. For Xbox, you can get an additional adapter to make it work in stereo mode.
Using the headset is as simple as "plug in and play", but you'll still be prompted to install Razer software on PC and Mac for full features, though you don't need it for the headset to work.
The uni-directional microphone is retractable which is very nice for when you don't need to use it, just "hide" it inside the ear cup. The microphone sound quality is good, as you'd expect from a premium gaming headset.
There is no static and your gaming buddies will hear you clearly even during the loudest action.
There is also a nice feature of a LED light at the end of the mic which changes color if you mute the microphone, this way you can always know if others can hear you.
Battery
The battery life is very good at 14 hours with the Chroma lights turned on, but if you turn them off the headset will work up to 20 hours of playing. This is great battery capacity that will satisfy even the most hardcore gamers.
If other wireless headsets keep dying on you when you least need it, get ManO'War, it's going to last you longer.
The only annoying thing is, for reasons of saving battery, the headset turns off automatically after a couple of minutes of inactivity.
This is annoying at least, but not really a deal breaker. It probably saves you a lot of playing time in the long run.
Design
The whole headset is made out of plastics, but it's the high-quality plastics which makes the headset feel sturdy and capable of withstanding quite a lot of abuse.
The headphones are quite big and seem heavy, but they're actually quite light, at least, lighter than you'd expect from the size.
When walking around the room with your headset on you can control the microphone and headphones with controls on the ear cups. They're easily accessible and intuitive and you'll soon learn all of their functions.
You can control the volume of the microphone, the volume of the speakers (sound) and you can mute/unmute either separately.
Do your workout? See top headphones for working out.
Of course, this wouldn't be Razer if it didn't have the 16.8 million light color options on the sides of the headphones. You can decide from many different lighting options, though we find the whole feature pretty useless, especially considering it "consumes" a couple hours of battery power.
Comfort
Comfort is very good, the big plush pleather ear cups are big enough to accommodate all ear sizes. The headband will also fit the biggest heads so the headset is very comfortable for even the biggest heads.
With its lightweight design and generous cushioning, it's very comfortable to wear for hours on end.
Having a late night gaming session? No problem, Razer ManO'War will keep your ears comfy.
Since the headset is so big its clamping force is not very strong for kids since they have smaller heads, this means it's quite easy to lose the proper fit with a bit of moving. Nevertheless, you'll mostly be sitting down while playing so this isn't a big issue.
Sound
The sound quality is typical Razer, strong bass with good mids and highs.
Compared to other gaming headphones, the sound is good, but you will still notice they don't sound as good as audiophile headphones dedicated for music listening, but these don't belong in that category.
Gaming experience is immersive and involved. The soundstage, once the digital 7.1 surround software is active, improves and gives you a better sense where sounds are coming from.
This is very important in First-Person-Shooters like CS:GO and Battlefield and the performance of ManO'War is similar to other premium digital 7.1 surround sound headphones.
As long as you're not an audiophile and expect these to use for music, you'll be more than satisfied with the sound quality.
Sound isolation is good, you can easily use them in the same room where someone is sleeping, you won't wake them up.
Razer ManO'War cost less than many popular alternatives when it comes to wireless gaming headsets but still provide great user experience, while lacking no major features.
This is why this gaming headset is great value for money if you're willing to spend a bit more.
For those looking at premium wireless gaming headsets and a good price, Razer ManO'War offers the best combination of everything you can expect from the latest models on the market.
---
Best value for money wireless gaming headset in our opinion!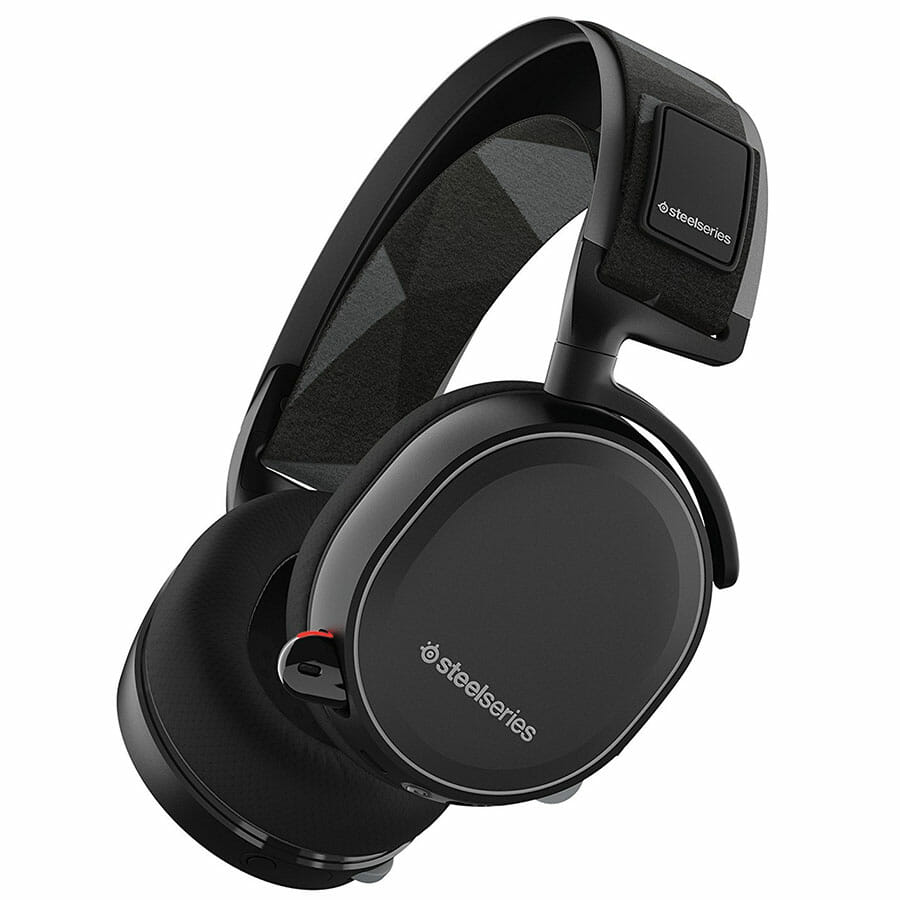 It seems SteelSeries still makes the best wireless gaming headsets.
Their new Arctis 7 model offers a lag-free wireless premium gaming experience at a very reasonable price.
A robust frame and comfortable features compliment the overall quality sound and electronic performance, making the Arctis 7 a great choice for a wireless headset. Considering the price, we think you can't get more for your money.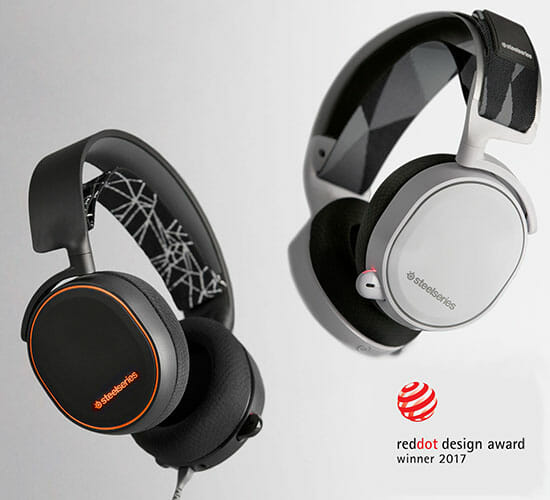 SteelSeries Arctis series won the Red Dot Design Award in 2017. This tells a lot about the quality of this wireless gaming headset.
PROS
Comfortable and adjustable headband design
Controls built into the headset
Retractable microphone
Clear sounding microphone
CONS
Earcups are rather shallow
What's in the Box?
SteelSeries Arctis 7 wireless headset
USB wireless adapter
Analog audio cables for mobile & console use
Micro USB charging cable
User manual
Compatibility (Microphone)
Besides allowing lag-free wireless audio transmission via the included 2.4 GHz USB transceiver, the Arctis 7 features both USB and analog audio cables.
Wireless transmission range is good for about 40 feet (12m).
The Arctis 7 is compatible with PC, Mac, Xbox One, PlayStation, mobile devices, and VR devices, but you'll only get analog audio with Xbox One and mobile devices.
The 7.1 virtual surround sound feature is only available for Windows users.
Additional software is available for game/chat balance and other audio customization features on PC and Mac.
SteelSeries uses ClearCast bi-directional mic technology to provide good background noise rejection and quality audio transmission.
The retractable boom microphone quickly tucks out of the way when not needed or when traveling.
Check out the top Bluetooth earbuds on the market right now.
Battery
The built-in rechargeable battery will last up to 24-hours on a single charge via the micro USB cable.
While the rechargeable battery cannot be quickly swapped out, you can still use the headset while it is charging for uninterrupted gaming.
There are two USB ports on the headset, one for charging and one for audio. This may cause a little confusion until you get used to it.
Design
SteelSeries wins some good style points with the sleek design of the Arctis 7 wireless gaming headset.
This is not a bulky, oversized headset, and the quality in construction materials is evident.
Controls are located on the earcups for volume up/down and mic mute, and the red illumination on the boom mic turns off when it is muted.
The lightweight steel alloy headband is very durable and more stylish than the typical thick padded plastic headbands found on other headsets.
There are several analog cables provided so that you can connect to various devices.
A 2-year warranty is provided for EU residents, and a 1-year warranty is provided for all other purchasers.
Comfort
The ski goggle-like headband support is very effective at keeping the steel headband from resting directly on your head, reducing pressure points.
The "AirWeave" fabric definitely feels plush and more breathable than vinyl or leather trimmed headsets.
Clamping pressure is average, so users with a larger head size may feel some slight pinching around the ears, but it isn't too bad.
The shallow padding around the earcups can allow the plastic driver covers inside the earcup to press against the ears ever so slightly.
The Arctis 7 is trimmed with a comfortable and breathable earcup fabric that is suitable for long gaming sessions.
Sound
S1 40mm speaker drivers are included with the SteelSeries Arctis 7 wireless headset and they work really well for gaming.
The optional SteelSeries Engine 3 software allows you to save audio presets and other custom sound settings.
While the Arctis 7 is certainly not an audiophile-quality set of headphones, it does provide a reasonably wide soundstage with decent dynamic range.
It should be noted that excessive bass and volume can tend to overload the audio engine in certain genres of music.
Voices are very clear and overall frequency balance is respectable.
The great thing about the adjustable headband strap is that you can make it tighter to enhance the bass and seal of the earcups around your ears if needed.
The SteelSeries Arctis 7 lag-free wireless headset is a winner when it comes to style, build quality, and general comfort. With clear microphone sound, good overall sound quality, and a robust contemporary design, this headset provides the best value for your money right now.

---
The Logitech G533 Wireless DTS 7.1 gaming headset provides a great mix of quality features, comfort, and value.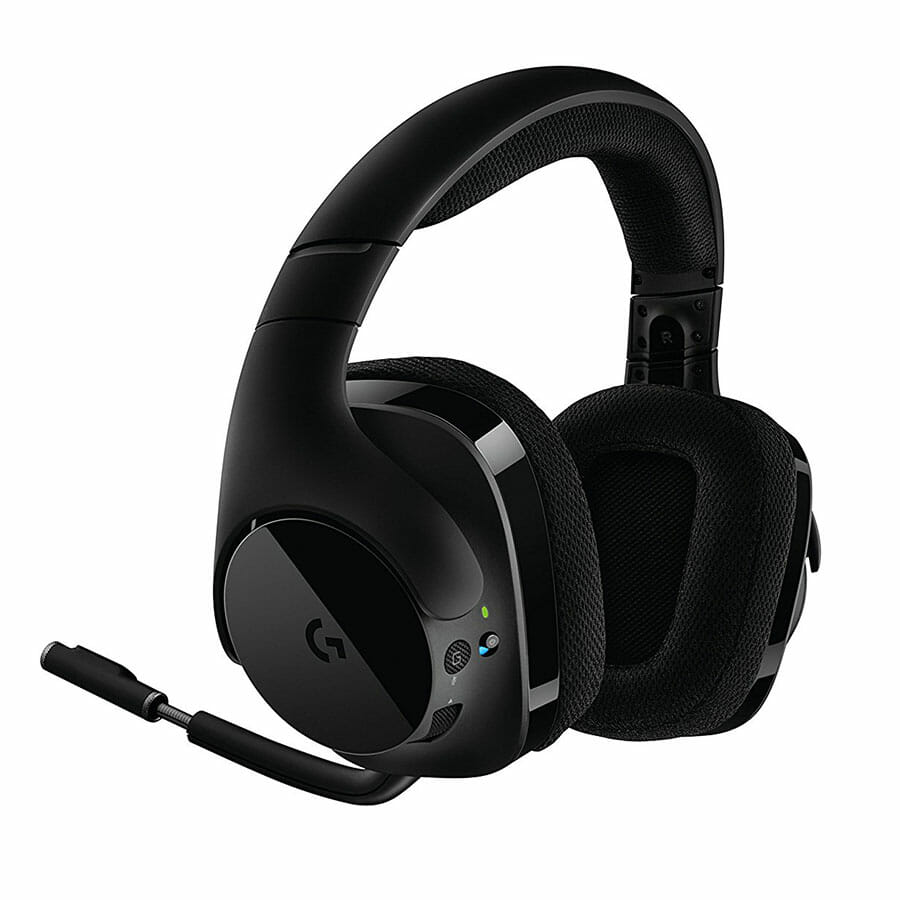 We think this is the best wireless gaming headset under $100 right now.
Professional-grade wireless connectivity and customizable audio features allow for a good gaming experience without a premium price tag for a headset.
PROS
Comfortable design
15-hour battery life
Great wireless connectivity & performance
Boom mic with integrated pop filter
Programmable multi-function button
CONS
Only compatible with PC (Windows 7.1+)
What's in the Box?
Logitech G533 Wireless DTS 7.1 headset
USB wireless adapter
USB charging cable
User documentation
Compatibility (Microphone)
The wireless USB adapter for the Logitech G533 headset is only compatible with PCs running Windows 7.1 or greater.
There is no analog audio connectivity option.
The wireless connectivity with the USB adapter works great, even in high-density 2.4 GHz band environments.
The average wireless audio range is about 50 feet (15m).
The compact noise-cancelling boom mic includes an integrated pop filter to help with some of the close-mic plosives (breathing sound) that can be a problem with headset mics.
Muting the microphone can be accomplished by either lifting the boom up and out of the way or by pressing the mute button on the side of the headset.
The best wireless headphones for kids.
Battery
With a 15-hour battery life, you can use the Logitech G533 wireless headset for all of your long gaming sessions.
If you are running low on power, you can easily recharge the battery with the included USB cable while still using the headset.
The battery is also replaceable if you ever need to swap it out.
Design
This gaming headset is slightly more compact and sleek than some other Logitech gaming headsets.
The black plastic casing is reasonably attractive, with a bit of high-gloss trim to accent the earcups.
Audio controls are included on the earcups, with an additional multi-function button that can be programmed for user-defined controls.
The optional Logitech Gaming Software works great for enhancing the EQ settings, engaging the DTS 7.1 surround sound mode, and monitoring the battery life.
You can also fine-tune the sound of your own voice volume in the headset with the software and on-set controls.
Some users have reported some quality control issues when receiving new headsets, so be sure to test all the functions in your headset when you get it.
If you do find any issues with the headset quality, the manufacturer provides a 2-year warranty.
Comfort
The headband and weight distribution of the Logitech G533 wireless headset is well balanced to provide a comfortable fit without being too tight or clamping too hard.
Soft earpads and the gentle headband pressure makes this a great headset if you wear glasses.
The breathable sports-mesh earcup padding is not super plush, but it is comfortable, plus it has the added benefit of being removed for cleaning.
While they don't feel heavy during extended wearing, the G533 can get a little warm after long gaming sessions.
Sound
Logitech isn't known for producing audiophile quality headphones, so the G533 isn't going to blow you away, but it's pretty good for a modestly priced headset. Regular users will be happy with the sound quality.
ProG drivers deliver an extra-wide soundstage with simulated DTS Headphone:X 7.1 surround sound audio, which is great for rich gaming environments, especially for 1st person games.
Both stereo and surround sound listening modes deliver a well-balanced sound that is clear and focused, especially for vocals.
The bass can be perceived as a little weak initially, but it is easily fixable and customized with the Logitech Gaming Software.
If your gaming is done primarily on a PC, then the Logitech G533 Wireless DTS 7.1 gaming headset is an excellent choice for long gaming or listening sessions that can benefit from a wide soundstage and simulated surround sound.
---
Skullcandy PLYR1 is one of the best wireless headsets for gaming though not perfect.
Industrially designed headphones with good sound quality that offer Surround Sound for PC and consoles is hard to find these days. That's exactly what Skullcandy PLYR1 offer.

PROS
Nice looking design
Great compatibility with all popular gaming platforms
Good wireless connection
Good sound for a wireless gaming headset
CONS
Poor build quality in the category
Small design, uncomfortable for people with bigger heads/ears
Compatibility (Microphone)
The gaming headset is compatible with all major gaming platforms; PC, Mac, PS3, PS4, Xbox 360 and Xbox One.
Just keep in mind you'll have to connect the headset to your Xbox One controller if you'll want to chat, but Surround Sound works wirelessly.
The microphone is quite sensitive and can pick up unwanted noise if you have it too close to your mouth, but because you can adjust it, it works pretty nice overall.
With some tweaking and testing the microphone works well without voice distortions or the annoying background noise recording. Your voice will be clear and easy to understand.
To mute it, you just flip it up and it automatically mutes, pretty nice.
Battery
The battery life is around 10-12 hours depending on how loud you use the headphones. Higher volume uses more juice.
10 hours of battery life is pretty decent and beats even the popular Astro A50 headset in this department.
It uses 2.4 GHz wireless connection that works better than your regular Bluetooth. While Bluetooth usually works up to around 30ft you can use Skullcandy PLYR1 10-20ft further away from the station without losing connection.
Of course this also depends on how thick the walls are in between, but generally, the connection works much better than Bluetooth.
Design
Probably the biggest problem of Skullcandy PLYR1 is its poor build quality.
Once you feel the headset in your hands you'll know this isn't the most durable pair of headphones. It feels "plasticky" in the worst sense of the word.
While plastic is very common with headsets, this one feels cheap and not something you'd expect from a $100+ gaming headset.
For the price, it could have better durability, so if you buy it, make sure to keep good care of it as cracking is common with this headset.
Noise isolation with Skullcandy PLYR1 is decent. The headphones don't leak as much sound as open-back models, but also don't offer the best noise isolation. It's about average which isn't a bad thing.
You'll be able to hear people talking to you without having to take off your headphones.
Comfort
Because of their plastic design, this headset is very light and is generally comfortable, but…
…people with bigger heads and ears will have some complaints.
It seems like this headset is more suitable for kids as the headband extension and ear cup size aren't big enough for adults with above average head size.
If you know you have a big head try to get a different gaming headset that will fit you better.
For the rest of people, memory foam ear pads offer great comfort and we can easily say this is a comfortable headset.
Just keep in mind it's a smaller design.
Sound
With virtual 7.1 Surround Sound compatible with either a PC or consoles, you're sure to get better gaming experience.
The Surround Sound widens the soundstage and makes positional cues much more prominent and detailed. You'll hear your enemies before seeing them which is a nice advantage to have in FPSs like Call of Duty and Battlefield.
Overall the sound is pretty good for watching TV, movies and playing games, while audiophiles won't be satisfied with music it plays.
After all, this is a wireless gaming headset and can't really compare to audiophile headphones.
The bass can be quite strong but can be adjusted with the equalizing presets so you can change it to your liking.
If you're looking for a wireless headset for TV, movies and gaming that doesn't cost over $200, Skullcandy PLYR1 is a great choice, as long as you don't have a big head.
---
Force Stealth 450 is one of the best cordless gaming headsets at its price.
The Turtle Beach Ear Force Stealth 450 is the newer, updated version of the Z300 PC gaming headset.
The changes are minimal, probably the biggest one is a slightly improved design with better earpad cushions and detachable microphone. On the other hand, the Ear Force Stealth 450 doesn't support Bluetooth devices like the old version did.
PROS
Can be used as wired headphones (with 3.5mm)
Great battery life at 12-15 hours per charge
Good, sturdy build quality
7.1 Surround Sound works nicely for games
Decent sound quality, good for the price
CONS
Snug fit, smaller ear cups, not good for people with big heads
Compatibility (Microphone)
This headset is USB compatible for PC and Mac but unfortunately doesn't support 7.1 Surround Sound for consoles. You can connect it via a 3.5mm plug, but without Surround Sound drivers and microphone support, it won't work properly.
It's best for use with PC and Mac and if you're looking for a good console gaming headset, pick something else from the list.
Additionally, you can use the headset in a wired mode via a 3.5mm plug, but only for the sound.
The microphone is detachable, which is a nice option to have when you don't use it. You can also mute it with a button in case you don't want to detach it every time.
Recording sound is good enough for gaming. It's not the best you can get in a gaming headset but does the job well. Your voice will get through clean without any additional hiss.
Battery
The headset uses a rechargeable battery that on a full charge gives up to 15 hours of play time. This is pretty good and can be compared to the premium $300 gaming headsets.
In reality, you can be sure of getting about 12 hours out of them.
12 hours is still plenty of juice for even the most hardcore gamers out there.
The charging is done with a standard micro USB cable.
The technology used for wireless connection is Turtle Beach's, supposedly intelligent, channel-hopping technology. In reality, it's very similar to other gaming headsets.
You can only use it with a USB adapter. The wireless connection works in a range of 30-50ft, depending on how many walls are in between.
Design
The design looks nice like most Turtle Beach headsets. It's made out of quality plastics and it inspires confidence in build quality.
With proper care, this headset should works for years without problems.
Sound isolation is decent. Don't expect complete silence or extreme sound leakage, but something in between. Generally, noise isolation is good enough as most of the time these headphones won't be used in noisy environments, but in the comfort of your own home.
Do you like swimming? Check best iPods for swimming.
Comfort
The ear cups are slightly smaller which might be uncomfortable for people with big ears.
Initially, the fit is very snug, even to the point of discomfort, but after some use, this usually fixes itself as the headband and ear pads accustom to your head size.
This isn't the most comfortable gaming headset on the planet, but it's still passable as good comfort.
Sound
Sound quality is pretty good too.
With the 7.1 Surround Sound drivers installed on your PC or Mac, the soundstage widens and gives an improved gaming experience.
Positional accuracy becomes better and you can figure out the position of your enemy just by listening. It's not as good as some higher-end gaming headphones, but for the price, it's very good.
The level of detail and clarity is something you'd expect from a $100+ gaming headset.
As for the music, the headphones lack a bit of everything so these can't really compare to audiophile headphones. On the other hand, if you have some cheap headphones now, these will be an improvement.
If you're a basshead, this headset isn't for you as it doesn't have a very strong bass.
Overall, Turtle Beach Ear Force Stealth 450 headset offers a very good battery life, good build design, easy setup and decent sound quality which make it one of the best gaming headsets for the price.
---
One of the more "gamer-looking" wireless gaming headsets that don't disappoint.
This is the upgrade of the popular wireless gaming headset Corsair H2100. The new Corsair VOID Wireless improves the experience overall.
The new gaming headset improves in some aspect but also costs a bit more money. Compared to other wireless gaming headsets, it's still very affordable.
Keep in mind that you can get wired Corsair VOID headset for less money, but it also has fewer features, so we are only reviewing the wireless model.
While the new headphones keep all of the features of the original, the new model is more comfortable and offers more technology like light battery indicator and better battery life.
PROS
Reliable wireless connectivity
Super comfortable, lightweight and soft
Good build quality
Good, reliable microphone
Affordable, good value for money
Good battery (up to 16 hours)
Good 7.1 surround sound that's good for gaming
CONS
Only fully compatible with PC
Just average sound quality for music
Compatibility (Microphone)
This is one of the best headsets for gaming but unfortunately, it's only fully compatible with PC (Windows Vista, Windows 7, Windows 8, Windows 10).
It uses USB adapter to connect and micro USB to charge.
To get full functionality of this wireless gaming headset you need to install software that Corsair only provides for PC.
The headset does work in stereo, but you lose the ability to get 7.1 Surround Sound or use built-in controls, which limits the user experience.
It does work on PS4 and Mac as stereo but lacks full functions, this is why we recommend some other headset if you play on PS4 or Mac.
Since this gaming headset doesn't work with consoles, many of you will have to pick another model that offers better compatibility. But if you play games on PC only, Corsair Void Wireless is a great choice.
The microphone has been improved. It is uni-directional and noise canceling and does the job as you'd expect. No problems or distortion like with the previous model.
They've also added small lights at the end of the mic which change colors if you mute it, so you always know when others can hear you.
Battery
The battery gives up to 16 hours of playtime, compared to the Astro A50 that costs 3 times more and has lower battery life, this is pretty good.
Additionally, you get your battery status communicated by changing lights at the end of the mic boom, so you always know when you need to charge the headset.
16 hours is going to be enough for most gamers, but in case you run out, just plug it with the USB cable and keep playing. This is useful only for the hardcore gamers who play longer than 16 hours per session.
To connect the headphones you simply put the USB adapter in your PC and you're ready to go. The connection is fast without any interference and works up to 40ft (12m) give or take depending on obstacles, this is more than enough for any PC gamer.
Design
Build quality is very high. The plastics used are top quality and can compare to the most durable headsets out there.
The plastic design also helps with flexibility and lightweight. Corsair VOID Wireless has a well thought-through design that answers all needs of a gamer.
The ear cups also have built-in LED lights with 16.8 million different colors to make you look flashy, just keep in mind lights eat up the battery.
Overall, durability is great and this gaming headset is going to last you a long time.
The headset also offers decent sound isolation, slightly better than average because of its closed-back design. Isolation comes in handy when you want to enjoy the game's world in peace.
But if you listen to the headphones loud enough with your microphone settings to max sensitivity you'll be leaking some sound through, keep that in mind so you don't annoy others.
Ear cups have built-in control where you can mute the microphone, control the volume and EQ presets, together with the power off button.
Comfort
Comfort is top notch. While the shape of the ear cups is unconventional it does its job well.
The cushioning is made out of soft microfiber memory foam which feels very comfy even after hours of gameplay. Your ears won't sweat or irritate.
Soon you'll get used to wearing the headset and forget all about it.
The ear cups and headband are large enough to fit even the biggest heads and ears, unlike Skullcandy PLYR1.
Corsair VOID Wireless can compare to the best gaming headsets on the market when it comes to comfort and comfort is probably the most important aspect of gaming headphones.
Sound
Sound wise you get Dolby 7.1 Surround Sound (with 50mm drivers) which is very useful in fast FPS games.
Soundstage gets wider once you activate it. You'll be pleasantly surprised if you haven't experienced virtual 7.1 Surround Sound before. You're getting much better positional cues about the enemy positions than with regular headphones.
On the other hand, soundstage isn't as good as with high-end audiophile headphones, but those are in a completely different category.
The headphones are good for gaming or watching movies, but not great and we wouldn't recommend them for music either.
Compared to audiophile headphones, the sound quality is somewhat lacking. The bass is present but doesn't go very deep, mids and highs lack clarity and detail.
Music doesn't sound very good with them but is just okay if you're not a demanding user.
They are very average for music but we guess this is ok for the price you pay. If you're an average user you'll be happy with them.
As long as you're only using them for gaming, you'll be more than satisfied.
The overall value for money is still high and makes these one of the best gaming headphones without wires.
If you want super comfortable wireless PC gaming headset with quality 7.1 positional sound for a relatively low price, Corsair VOID Wireless is a great choice for you.
---
Are you looking for top exercise headphones, click here.
Are you a fan of classic Apple-like earbuds? Check these out.
What is Your Favorite Wireless Headset for Gaming?
Vote for your favorite model on the list.
Do you use a great gaming headset that's not yet on the list? Share it with us and tell us why it's so good.
To keep updated on the latest best headset models for gaming, subscribe or like the website.
Keep in mind, your comments are always welcome.
---
Disclosure: We might receive affiliate compensation if you purchase products via links on this page. This is how we purchase headphones for new reviews and keep the site adds-free. In spite of that we do our best to tell the truth about every product and don't favor any one brand or model.
Comments