Gaming
Best Gaming Earbuds in 2020
Get the best gaming earbuds that will upgrade your portable gaming.
Comparison: Best Gaming Earbuds
What are the best gaming earbuds?
You need small, portable in-ear headphones that will improve your gaming experience with your friends.
Take a look at the best models below. These are the best earbuds for your mobile gaming needs.
Related gaming guides:
Best over-ear headphones for gaming
Wireless headphones for games (with mic)
Best Earbuds for Gaming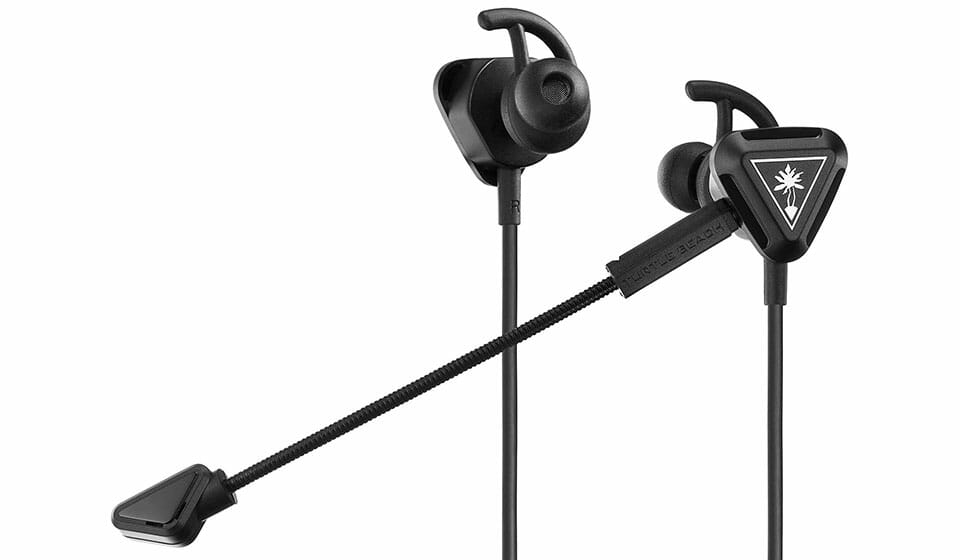 Turtle Beach Battle Buds are the best gaming earbuds for most players out there.
If you're looking for immense comfort and detachable boom mic, then the Turtle Beach earbuds are a perfect match for you.
Connection: 3.5mm (3-pin)
Microphone: Detachable boom & in-line (noise-cancelling)
Mute button Controls: Yes
Why Buy These?
First thing, they are affordable. And their features are way above their price range.
Secondly, the comfort they provide is pretty amazing. You can have hour-long gaming sessions and never complain about ear pain. Now, these aren't as comfy as over-ear headphones but close enough.
Thirdly, there's a boom microphone you can detach and mute. It's perfect for playing games with your friends, they won't even know you're playing with in-ear earphones.
On top of that, there's also a secondary in-line microphone for when it's inconvenient to use the boom mic. Both work extremely well and options are always welcome.
Also, the sound isolation earbuds block most of the ambient noise.
The Bad
The mic might be over-sensitive for louder places (picks up noises).
The Sound
These can be a little too sharp in the highs for music. But what doesn't work for music, is much more helpful in games. Sparkly treble provides good detail, making your enemies easier to find.
Turtle Beach Battle Buds are perfect for portable or mobile gaming. Their low price and gamer-friendly features make them one of the best gaming earbuds for gamers.
---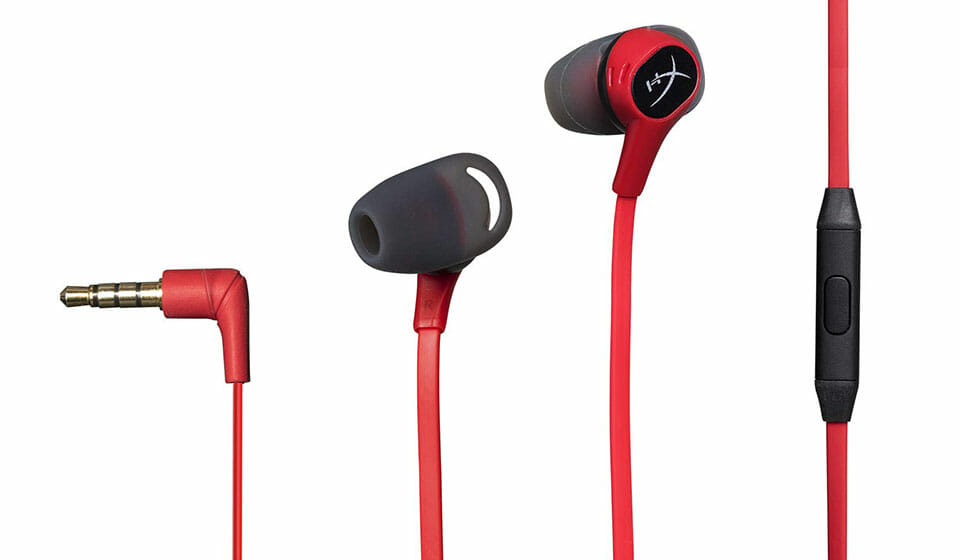 HyperX Cloud Earbuds have a very high-quality in-line microphone for a gaming earbud.
If you want the best sound quality in-line microphone in a pair of gaming earbuds, then Hyper Cloud is the way to go.
Connection: 3.5mm (3-pin)
Microphone: In-line (noise-cancelling)
Mute button Controls: No
Why Buy These?
These HyperX earbuds are targeted at mobile gamers that need highly comfortable to wear earphones that they can use for hours on end. So, the eartips are super soft (you can choose from 3 sizes) and they fit really well no matter your ear shape.
Moreover, the cable is tangle-free and has a 90-degree angled connector (3.5mm). You can go anywhere with these earbuds (with a carrying case) as they're small and portable.
Plus they cost under $40 and have emphasized bass, which is what most people prefer.
The Bad
There's no boom mic, only in-line and there's no mute button. The sound quality is good for gaming, but you can get better for the price elsewhere.
The Sound
These are tuned nicely to perform best for mobile gaming. Everything from footsteps to gunshots is heard very clearly. Add to that a big soundstage, and you have an impressive all-rounder.
HyperX Cloud Earbuds are one of the best gaming earbuds for a mobile player who wants something reliable, comfortable, and portable.
---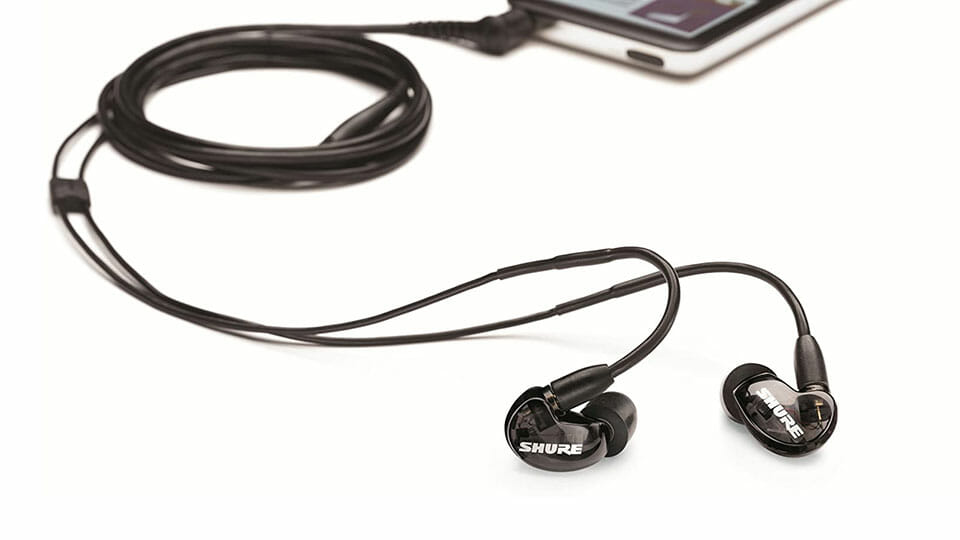 Best audiophile earphones that are also great for gaming
Who says audiophile earbuds aren't great for gaming? Their excellent imaging and accurate soundstage are among the most important things if you want to have an advantage over your opponents.
Connection: 3.5mm (4-pin if bought with remote control cable, otherwise 3-pin)
Microphone: In-line
Mute button Controls: No
Why Buy These?
They're made from hard, durable plastic that can withstand years of abuse. Their housing is fully transparent but can get them in different colors if you want to.
Because you have to wear them with the cable behind your ears, they feel more lightweight, comfortable, and secure. That also reduces microphones. With the usage of memory foam tips, you can also achieve good noise isolation.
If the cable ever gets damaged, you can replace it with a new one.
The Bad
It takes some to learn how to insert them into your ears properly.
The Sound
The overall smooth sound signature starts with a punchy low-end and a warm, lush midrange. The high-end takes a back seat here, beginning to roll-off very quickly. Detail retrieval is excellent, which helps with in-game effects and locating your opponents.
Shure SE215 might be an earbud for audio purists, but this can also make them one of the best earbuds for gaming. Sometimes it's more important to hear all those subtle noises rather than feeling the bass from nearby explosions.
---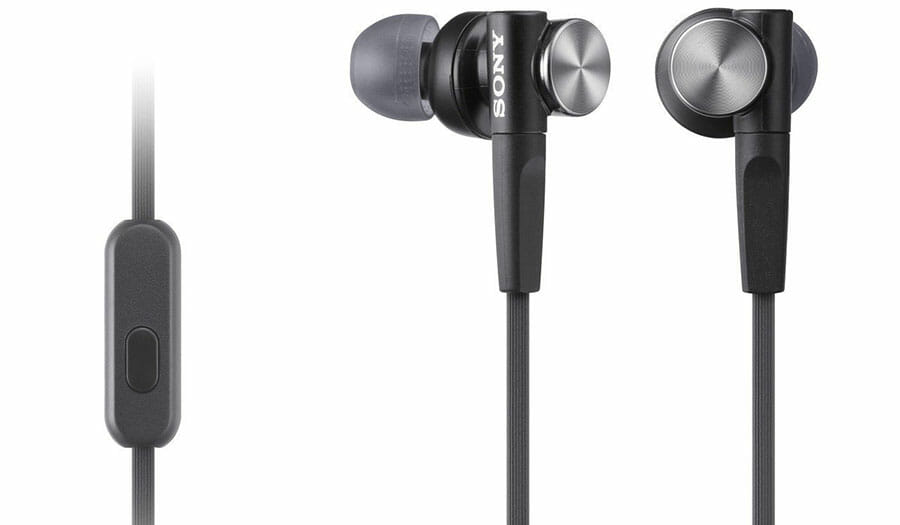 Although Sony MDR-XB50AP are not primarily a gaming headset, they're still highly suitable.
If you're looking for bass earbuds that can do both – be good for playing games and listening to music, then these Sony earbuds are your top choice.
Connection: 3.5mm (3-pin)
Microphone: In-line
Mute button Controls: No
Note: You can get better in-ear headphones for more money, but for an average mobile gamer these are the best choice.
Why Buy These?
The earbuds are designed to be comfortable, due to lightweight and ergonomic features and pretty durable thanks to quality plastics and silicone.
If you take good care of them, they will last for years.
What makes them great for gaming is their in-line microphone that's pretty decent.
Now, you can't expect to hold a conference call in a loud environment, but you can play with your buddies on Discord for a couple of hours without issues.
Plus, the sound these earbuds produce is rich with deep bass, which is great if you're listening to bass-heavy music.
The Bad
There is no mute or noise cancellation option for the microphone.
Sony MDR-XB50AP may not be what comes to your mind first when you think about a gaming headset. But their features are more than suitable for games and they come at an affordable price.
---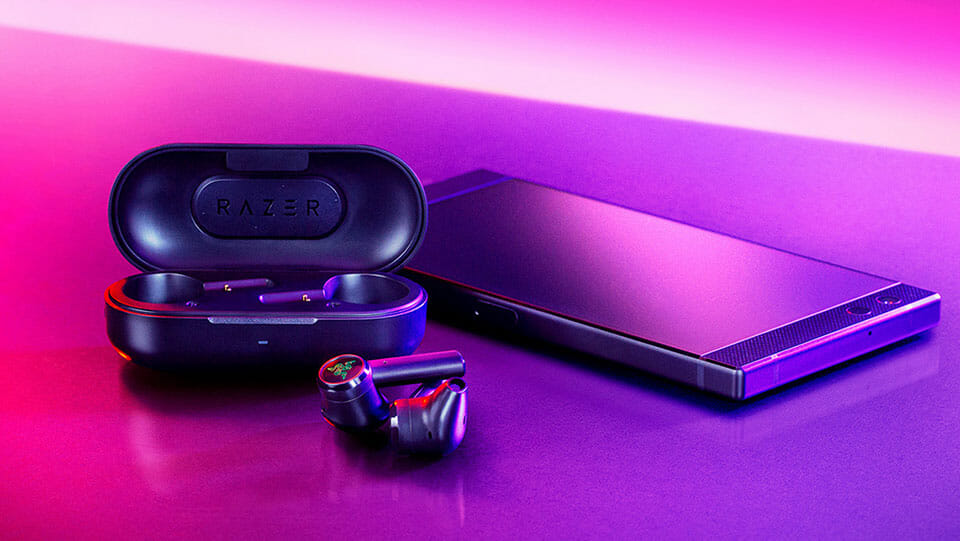 Best wireless gaming option from a respected brand
Razer's answer to mobile gamers who want to go truly wireless, but are waiting for a low latency solution.
Connection: Bluetooth Wireless
Microphone: Built-in
Mute button Controls: No
Why Buy These?
Hammerhead's are a bit on a larger side, measuring just slightly more than Apple Airpods. Still, they're comfortable to wear and have an IPX4 rating, if your gaming gets too intense.
The main selling point of these earbuds is low latency audio. Sounds from your games are heard instantaneously without lag, keeping you immersed in the game.
You can expect around 4 hours on a single charge, and an additional 12 hours from the sleek charging case.
The Bad
There should be more options for personalized EQ.
No noise cancellation for the microphone.
The Sound
Bass on these is slightly reduced, whereas the frequencies where the dialog happens are more pronounced. That amplifies the vocal clarity, making these earbuds great for movies and podcasts. You can boost the low-end inside the app, but that makes it a bit muddy.
Razer Hammerhead True Wireless earbuds are perfectly fine for games and movies. They offer good built, decent battery life, vocal clarity, and low latency audio.
---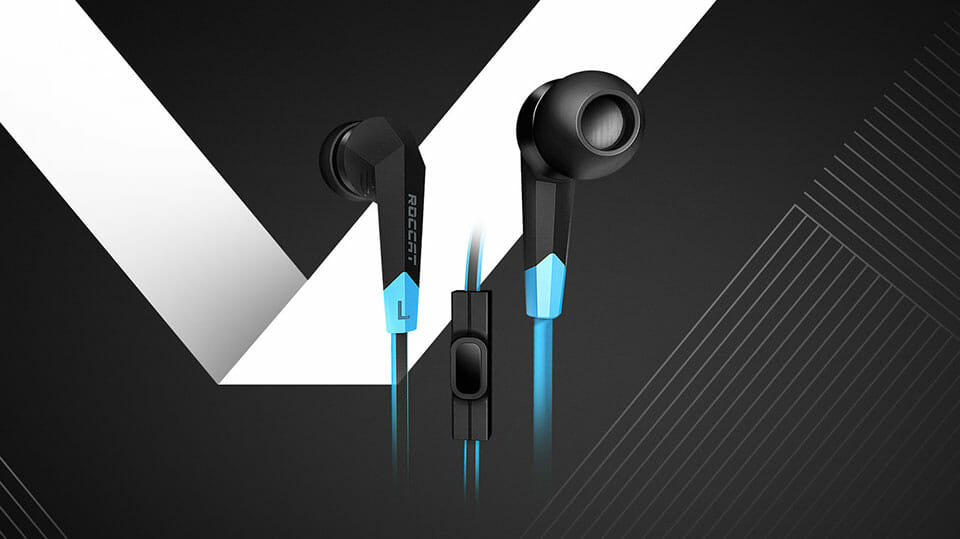 Best earbuds if you want something lightweight and comfortable
Roccat is another company that makes excellent gaming peripherals. With their gaming earbuds, they nailed the build, convenience, and audio quality. And all of that for an affordable price.
Connection: 3.5mm (4-pin)
Microphone: In-line (noise-canceling)
Mute button Controls: No
Why Buy These?
SYVA's come in a rubberized housing, which appears very durable. To prevent the earbuds from getting tangled, they equipped them with a flat cable.
The earphones are very lightweight and comfortable, even during long gaming sessions. Inside the box, you get 3 sizes of silicone ear tips, but you can also try some aftermarket ones to find the best fit (like memory foam tips).
Built-in remote control with a microphone works amazingly for the price.
The Bad
There is no 3.5mm splitter included for those who have one port for audio and another for the microphone.
The Sound
The bass, although not very powerful, has a good punch when needed. The midrange is smooth with natural-sounding vocals, and the treble remains very clean and sharp. SYVA can perform much better than you might expect.
Roccat SYVA is a fantastic pair of gaming earbuds with many qualities that a gamer can appreciate. At the current price of $27, these are hard to beat, with some used pairs being even cheaper. It deserves a recommendation.
---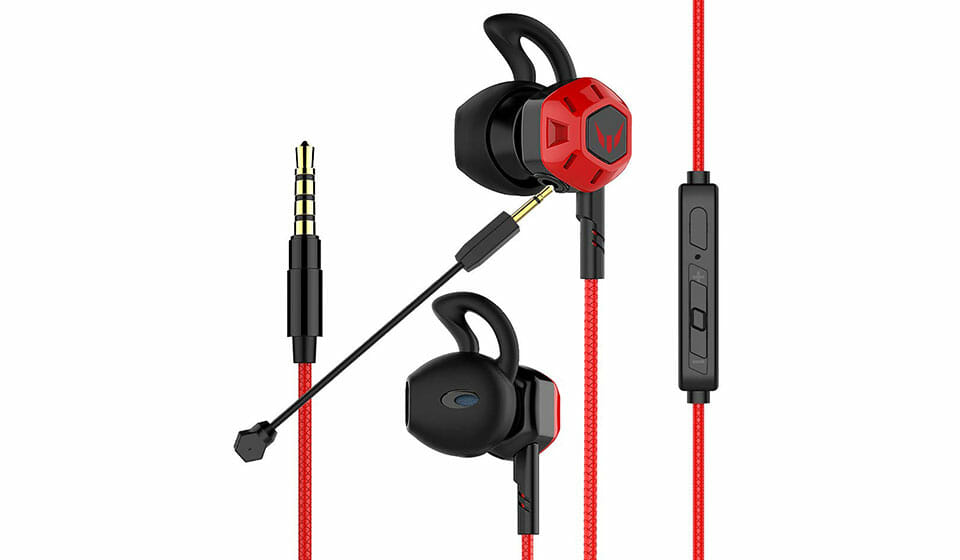 Wohzoek G100X are the best gaming earbuds in the budget category
If you are looking to save money, but still want a detachable boom microphone, check these out.
Connection: 3.5mm (3-pin)
Microphone: Detachable boom & in-line (noise-cancelling)
Mute button: No
Why Buy These?
While the G100X gaming earbud cost under $20, it comes with 2 microphones (in-line and boom).
The detachable mic and a secondary in-line mic both work well in most situations. But don't expect perfect voice quality in loud environments.
You can play games on the go without any distractions. Their lightweight design makes them suitable even for long gaming sessions.
The Bad
There is no mute button for the microphones. Also, the cord is a little short. Especially if you're using them on your PC.
The Sound
Because they basically rest on your ears, you can't expect a very boomy bass, which can actually be a good thing. This makes for an overall clear sound, with a crisp treble.
Wohzoek G100X's two mics and high comfort are not what you would expect at this price range. So if you're short on budget, give these earbuds a chance.
---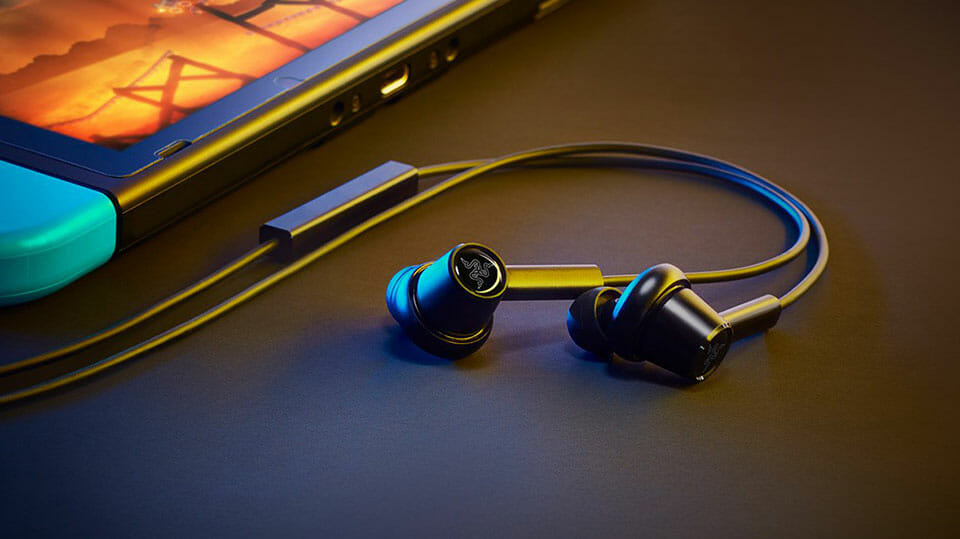 Best gaming earbuds if you're looking for a durable build
Some users often drop their headphones or earphones on the floor. While some might break easily, the Hammerhead Duo are build like a tank.
Connection: 3.5mm (4-pin)
Microphone: In-line
Mute button Controls: No
Why Buy These?
For under $60, you're getting quite a few premium-feeling features: aluminum housing and a tangle-free braided cable that can survive being run over by a heavy gaming chair.
With the earbuds, you get 3 pairs of silicone tips to find the best fit. Because the earbud's nozzle is angled, there are no pressure points to cause discomfort.
There is a built-in remote control to skip track and answer calls, talk to your teammates via a microphone, and quickly access smart virtual assistant.
The Bad
No included 3.5mm splitter for desktop users.
No noise cancellation for the microphone.
The Sound
Hammerhead Duo offers a dual driver system, with the dynamic driver handling the bass, while the balanced armature handles the rest of the frequency response. The result is a well-balanced sound, with fairly accurate bass. The soundstage on these is also above-average for a pair of earbuds.
Razer Hammerhead Duo Wired are not only built well, but they excel with their audio quality too.
---
What about wireless gaming earbuds?
These are no dedicated gaming earbuds with Bluetooth. But you can use any wireless pair of earbuds with a built-in mic for playing as well. As long as your device supports Bluetooth.
Just bare in mind that when buying a wireless pair of earbuds you will want to think about different factors like the battery life and the internal drivers. These are often things that where quality is sacrificed, as by having no wires the manufacturers have to pack all the technology into the small earphone housing.
That
Are Razer earbuds good?
While Razer makes undoubtedly popular gaming earbuds and headphones, they don't offer the best value for money. Generally, they cost more money and come with average features and performance.
We often hear this question. And as you can see we didn't include any Razer earbuds on our list.
The reason is that we think you can get better if you choose from the competition.
Their Razer Hammerhead Pro are prone to problems, but we have yet to test the Hammerhead Duo.
What are Gaming Earbuds?
Gaming earbuds are in-ear headphones that are designed for portable gaming (smartphone, Nintendo, PlayStation Vita, other mobile devices, etc.) and often come with a detachable mic for the best quality chat.
Do you need gaming earbuds?
You might ask, "why get earbuds for gaming?"
If you're often playing games on your iPhone, Android phone, or portable console and want to chat with your friends, then in-ear earphones are the way to go.
Bigger gaming headsets are not lightweight enough and can feel cumbersome, thus unfit for portable gaming.
Their smaller size makes them perfect for transportation and easy storage.
How are gaming earbuds different from regular buds?
Most regular earbuds don't come with a high-quality microphone and especially not boom mics.
Being able to talk with your buddies clearly and without distortion is vital for a good gaming experience.
Most in-line microphones won't cut it.
When it comes to sound quality, there isn't any major difference since there are no gaming earbuds with virtual surround sound.
Gaming earbuds are overall better suited for playing on the go as they provide better sound and voice quality than most in-ear alternatives.
What to Look for in Gaming Earbuds
A quality microphone – it's critical for you to have a clear and distortion-free microphone otherwise you can't chat with friends comfortably be it in-game or on Discord. Boom microphones are best for the job.
Great comfort – you'll probably want to play games longer than 15 minutes. You want your ear gaming buds to come with a variety of silicone ear tips (foam even better) which are comfortable to wear.
Sound quality – games aren't fun without enjoyable audio quality. There are many different sound signatures, you can pick deep bass, balanced, and flat sounds. In the end, there's no best sound for gaming (it's up to you what you like).
Build quality – sturdy materials and proven track record from the brand help with longevity. You don't want to spend your money on a product that breaks after a couple of months. Get quality earphones to save money in the long run.
Compatibility – most gaming earphones are wired with a 3.5mm connector. Make sure your gaming console supports that.
Sound isolation – when effective, it removes ambient noise, so you can focus on playing (don't confuse with active noise canceling, it's a different thing)
Comments