Gaming
Best Gaming Earbuds in 2020
Get the best gaming earbuds that will upgrade your portable gaming.
Comparison: Best Gaming Earbuds
What are the best gaming earbuds?
You need small, portable in-ear headphones that will improve your gaming experience with your friends.
Take a look at the best models below. Thesse are the best for playing on your smartphone or Nintendo.
Related gaming guides:
Best over-ear headphones for gaming
Best Earbuds for Gaming
Turtle Beach Battle Buds (best overall)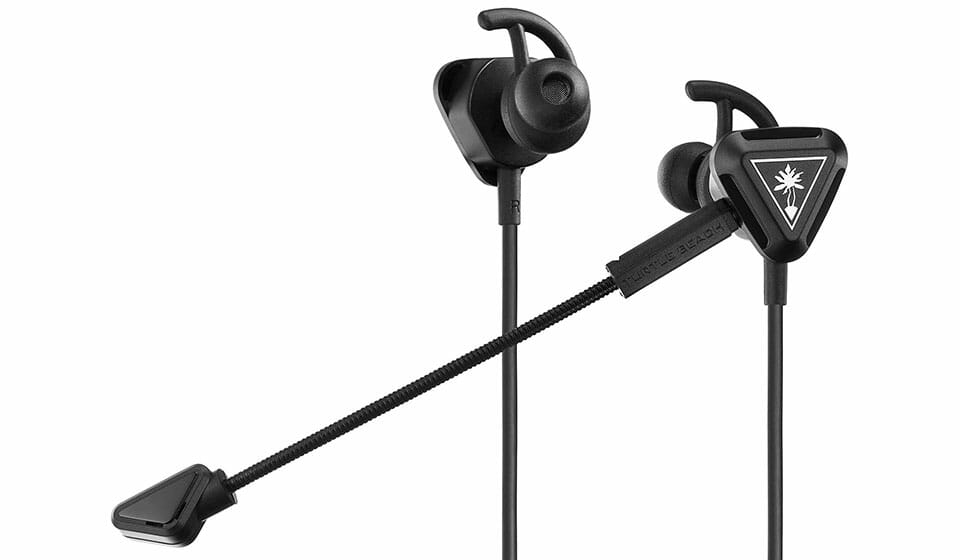 Turtle Beach Battle Buds are the best earbuds for most gamers out there.
Connection: 3.5mm (3-pin)
Microphone: Detachable boom & in-line (noise cancelling)
Mute button Controls: Yes
If you're looking for immense comfort and detachable boom mic, then the Turtle Beach earbuds are a perfect match for you.
Why Buy These?
First thing, they are affordable. And their features are way above their price range.
Secondly, the comfort they provide is pretty amazing. You can have hour long gaming sessions and never complain about ear pain. Now, these aren't as comfy as over-ear headphones but close enough.
Thirdly, there's a boom microphone you can detach and mute. It's perfect for playing games with your friends, they won't even know you're playing with in-ear earphones.
On top of that, there's also a secondary in-line microphone for when it's inconvenient to use the boom mic. Both work extremely well and options are always welcome.
Also, the sound isolation earbuds block most of the ambient noise.
The Bad
The mic might be over sensitive for louder places (picks up noises).
Turtle Beach Battle Buds are perfect for mobile and portable gaming. Their low price and gamer-friendly features make them one of the best earbuds for gamers.
---
HyperX Cloud Earbuds (best in-line mic)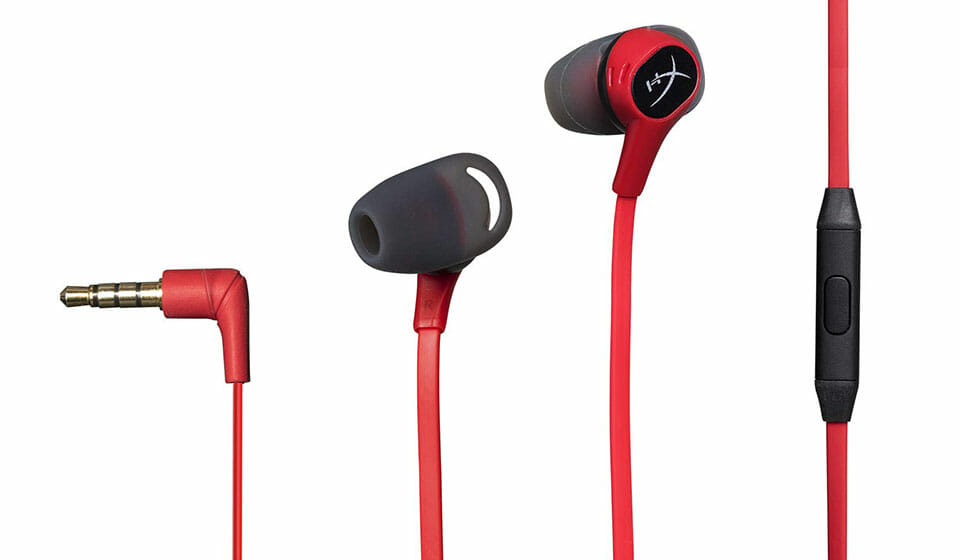 HyperX Cloud earphones have the best in-line microphone among gaming earbuds.
Connection: 3.5mm (3-pin)
Microphone: In-line (noise cancelling)
Mute button Controls: No
If you want the best sound quality in-line microphone in a pair of gaming earbuds, then Hyper Cloud is the way to go.
Why Buy These?
These HyperX earbuds are targeted at mobile gamers that need highly comfortable to wear earphones that they can use for hours on end.
So, the eartips are super soft (you can choose from 3 sizes) and they fit really well no matter your ear shape.
Moreover, the cable is tangle free and has a 90-degree angled connector (3.5mm).
You can go anywhere with these earbuds (with a carrying case) as they're small and portable.
Plus they cost under $40 and have emphasized bass, which is what most people prefer.
The Bad
There's no boom mic, only in-line and there's no mute button. The sound quality is good for gaming, but you can get better for the price elsewhere.
HyperX Cloud earbuds are perfect for a mobile gamer who wants something reliable, comfortable, and portable.
---
Sony MDR-XB50AP (best non-gaming)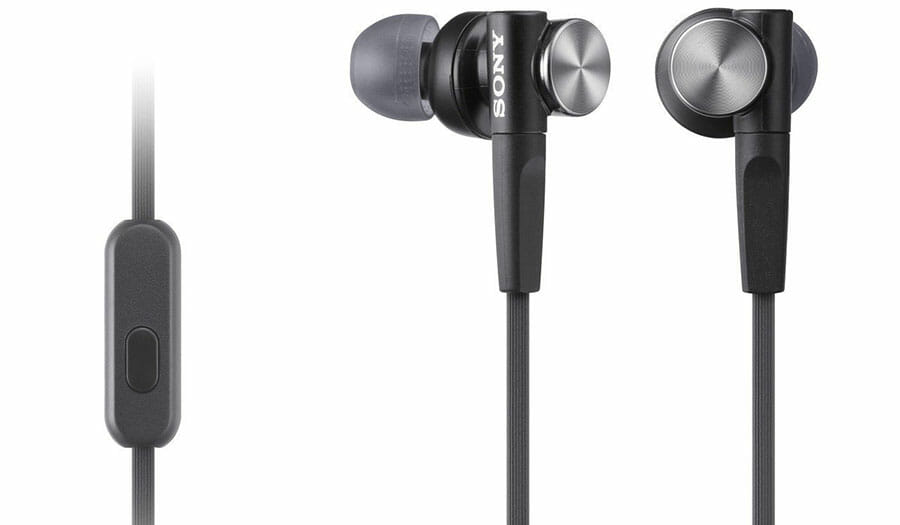 Although Sony MDR-XB50AP are not primarily a gaming headset, they're still highly suitable.
Connection: 3.5mm (3-pin)
Microphone: In-line
Mute button Controls: No
If you're looking for bass earbuds that can do both – be good for playing games and listening to music, then these Sony earbuds are your top choice.
Note: You can get better in-ear headphones for more money, but for an average mobile gamer these are the best choice.
Why Buy These?
The earbuds are designed to be comfortable, due to lightweight and ergonomic features and pretty durable thanks to quality plastics and silicone.
If you take good care of them, they will last for years.
What makes them great for gaming is their in-line microphone that's pretty decent.
Now, you can't expect to hold a conference call in a loud environment, but you can play with your buddies on Discord for a couple hours without issues.
Plus, the sound these earbuds produce is rich with deep bass, which is great if you're listening to bass-heavy music.
The Bad
There is no mute option for the microphone.
Sony MDR-XB50AP may not be what comes to your mind first when you think about a gaming headset. But their features are more than suitable for games and they come at an affordable price.
---
Wohzoek G100X (best cheap)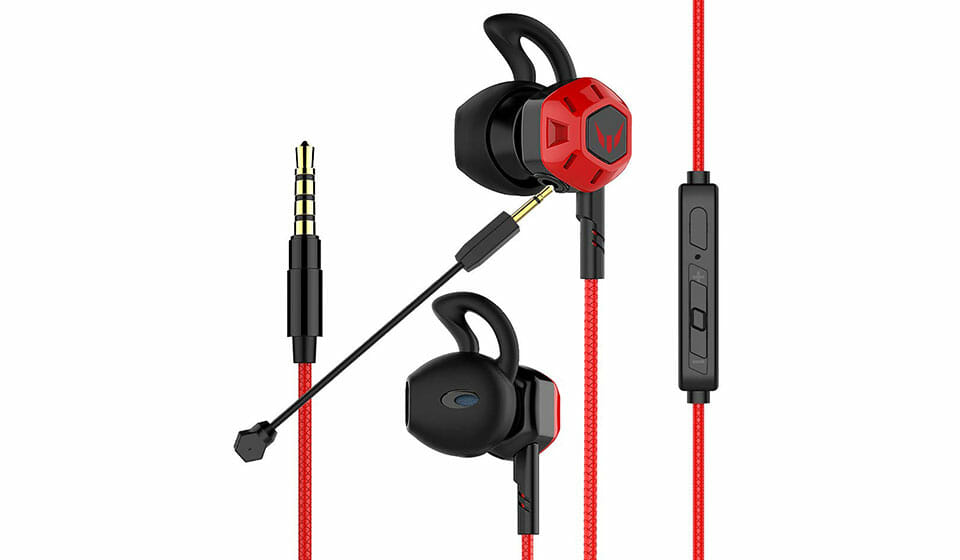 Wohzoek G100X are the best budget gaming earbuds.
Connection: 3.5mm (3-pin)
Microphone: Detachable boom & in-line (noise cancelling)
Mute button: No
If you are looking to save money, but still want a detachable boom microphone, check these out.
Why Buy These?
While the G100X pair of gaming earbuds cost under $20, they come with 2 microphones (in-line and boom).
The detachable mic and a secondary in-line mic both work well in most situations. But don't expect perfect voice quality in loud environments.
You can play games on the go without any distractions. Their lightweight design makes them suitable even for long gaming sessions.
The Bad
There is no mute button for the microphones. Also, the cord is a little short. Especially if you're using them on your PC.
Wohzoek G100X's two mics and high comfort are not what you would expect at this price range. So if you're short on budget, give these earbuds a chance.
---
What about wireless gaming earbuds?
These are no dedicated gaming earbuds with Bluetooth. But you can use any wireless pair of earbuds with a built-in mic for playing as well. As long as your device supports Bluetooth.
Just bare in mind that when buying a wireless pair of earbuds you will want to think about different factors like the battery life and the internal drivers. These are often things that where quality is sacrificed, as by having no wires the manufacturers have to pack all the technology into the small earphone housing.
That
Are Razer earbuds good?
While Razer makes undoubtedly popular gaming earbuds and headphones, they don't offer the best value for money. Generally, they cost more money and come with average features and performance.
We often hear this question. And as you can see we didn't include any Razer earbuds on our list.
The reason is that we think you can get better if you choose from the competition.
Their Razer Hammerhead Pro are prone to problems, but we have yet to test the Hammerhead Duo.
What are Gaming Earbuds?
Gaming earbuds are in-ear headphones that are designed for portable gaming (smartphone, Nintendo, PlayStation Vita, other mobile devices, etc.) and often come with a detachable mic for the best quality chat.
Do you need gaming earbuds?
You might ask, "why get earbuds for gaming?"
If you're often playing games on your iPhone, Android phone or portable console and want to chat with your friends, then in-ear earphones are the way to go.
Bigger gaming headsets are not lightweight enough and can feel cumbersome, thus unfit for portable gaming.
Their smaller size makes them perfect for transportation and easy storage.
How are gaming earbuds different from regular buds?
Most regular earbuds don't come with a high-quality microphone and especially not boom mics.
Being able to talk with your buddies clearly and without distortion is vital for a good gaming experience.
Most in-line microphones won't cut it.
When it comes to sound quality, there isn't any major difference since there are no gaming earbuds with virtual surround sound.
Gaming earbuds are overall better suited for playing on the go as they provide better sound and voice quality than most in-ear alternatives.
What to Look for in Gaming Earbuds
A quality microphone – it's critical for you to have a clear and distortion-free microphone otherwise you can't chat with friends comfortably be it in-game or on Discord. Boom microphones are best for the job.
Great comfort – you'll probably want to play games longer than 15 minutes. You want your ear gaming buds to come with a variety of silicone ear tips (foam even better) which are comfortable to wear.
Sound quality – games aren't fun without enjoyable audio quality. There are many different sound signatures, you can pick deep bass, balanced, and flat sounds. In the end, there's no best sound for gaming (it's up to you what you like).
Build quality – sturdy materials and proven track record from the brand help with longevity. You don't want to spend your money on a product that breaks after a couple of months. Get quality earphones to save money in the long run.
Compatibility – most gaming earphones are wired with 3.5mm connector. Make sure your gaming console supports that.
Sound isolation – when effective, it removes ambient noise, so you can focus on playing (don't confuse with active noise canceling, it's a different thing)
---
We hope you like our guide.
If you found some other dedicated gaming earbuds that we could test and include on our list, please let us know (in the comments or by contacting us).
Comments