The cutest headphones you can imagine.
Cat ear headphones are a fashion statement, functional headphones, and look rather cute.
But it's hard to find the best ones since there are different choices and many from lesser-known companies.
So, what are the best cat ear headphones you can get today?
Here are the top choices based on sound quality, durability, price, technology, and looks.
Best Cat Ear Headphones
1. Brookstone Wireless Cat Ear Headphones (best overall)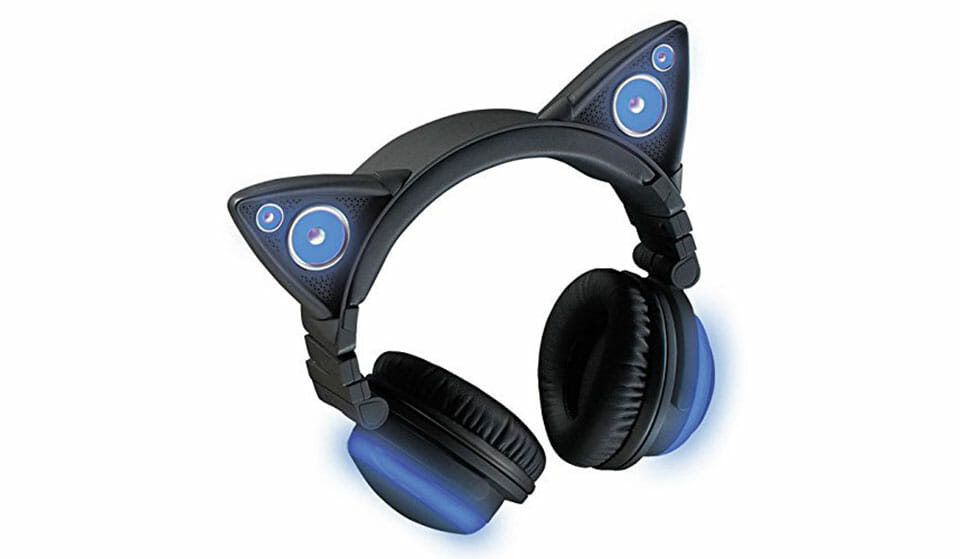 The best cat ear headphones
These wireless cat ear headphones are adorable. If you are looking for something with both headphones and external speakers, the Brookstones are worth exploring.
LED lights: Yes – changing color
Connection: Wireless Bluetooth
Foldable: No
Why Buy These?
The extra speakers are a really great idea. You can switch between listening privately to broadcasting through the speakers. The speakers are the cat ear part of the design.
They are cute looking, as you would expect from cat headphones. The color-changing lights are in the ear section too.
Brookstone cat ear headphones have good noise reduction. Though there's no noise cancelling, they do a good job of blocking out ambient sound.
These are the same brand of cat ear headphones that Ariana Grande wore.
You can get Ariana's which cost more money but are more exclusive.
The Bad
The battery life could be better. 5 hours of battery life is not perfect, and many competing models offer more. Maybe the lights are sapping the battery. So, if you turn off the LED light you get better playing time.
Also, the sound quality is good, but for headphones so expensive, it isn't the best value.
The Sound
It's a typical bassy sound, with pretty good fidelity and a clear low end. Though nobody would call these audiophile headphones.
If you want one of the most popular headphones in its category, with a very cool design, then consider the Brookstone wireless cat ear headphones.
---
2. Brookstone Wired Cat Ear Headphones (best wired)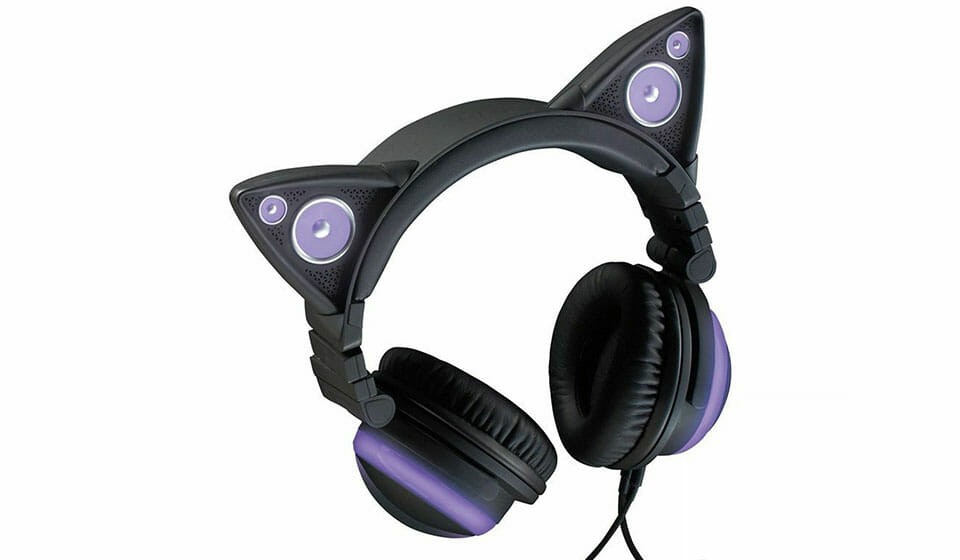 The best wired cat ear headphones
These are very similar to the Brookstone wireless model, but a lot cheaper as they are wired (3,5mm).
LED lights: Yes – color changing
Connection: 3.5mm wired
Foldable: No
Why Buy These?
You can save money by purchasing these instead of wireless ones. That is, if you don't mind the cable, you get many of the same features. Plus, you can use them as a gaming headset (with boom mic).
They also have external speakers to complement the headphones. You can change the color easily, and it's controlled separately from the speaker.
You can use inline controls for the volume, and there is also a detachable microphone. The cute headphones are popular among gamers and streamers for their unique look (and mic).
The Bad
Naturally, not being wireless is a little bit limiting. It's also fair to say they're not elite headphones in terms of clarity.
The speakers on top are more for novelty. They don't sound great at all.
All the extras make the Brookstones a little bit heavy, too.
The Sound
You won't find these in any recording studios. That said, they have a decent enough fidelity and are acceptable for gaming, with powerful 40mm drivers. For an average user you'll enjoy your music. If you're more demanding, you'll have to look at another model with the ears.
If you don't mind the wired connection, consider the Brookstone wired cat ear headphones.
---
3. Mindkoo Unicat (best value)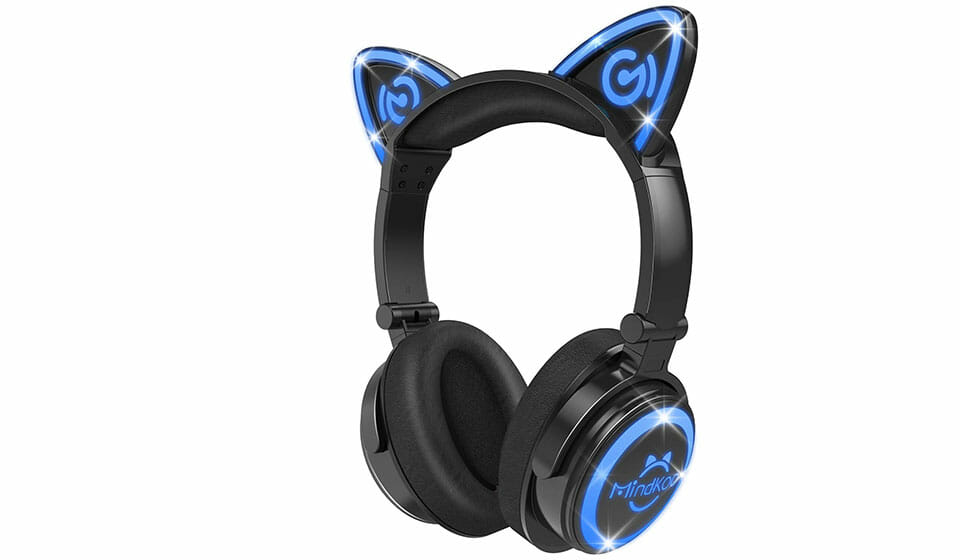 The best value cat ear headphones
These cat ear headphones look great. They also have some impressive features, considering the price point.
LED lights: Yes
Connection: Wireless Bluetooth
Foldable: Yes
Why Buy These?
Some cat ear headphones neglect vital features as they're seen as a novelty item. The Unicat headphones may not win many awards for sound clarity, but they're good enough for most people.
Flashing LED lights add to the fun of these headphones. They look great.
The wireless connectivity is fairly reliable. Battery life of up to 10 hours is also respectable, and you can use the headphones wired if you want. The design is also foldable for convenience.
The Bad
You may find these a little large for children's heads. It may have been better to offer multiple sizes.
The plastic design could also be stronger in an ideal world, though this isn't a deal-breaker for most people.
The Sound
The value of these headphones is their cute design and Bluetooth performance, with the sound as an addition. Not for demanding users, but it has plenty of clarity for gaming and casual listening.
For cat ear headphones that perform above their price, consider the Mindkoo Unicat.
---
4. Riwbox Kids Headphones (best for kids)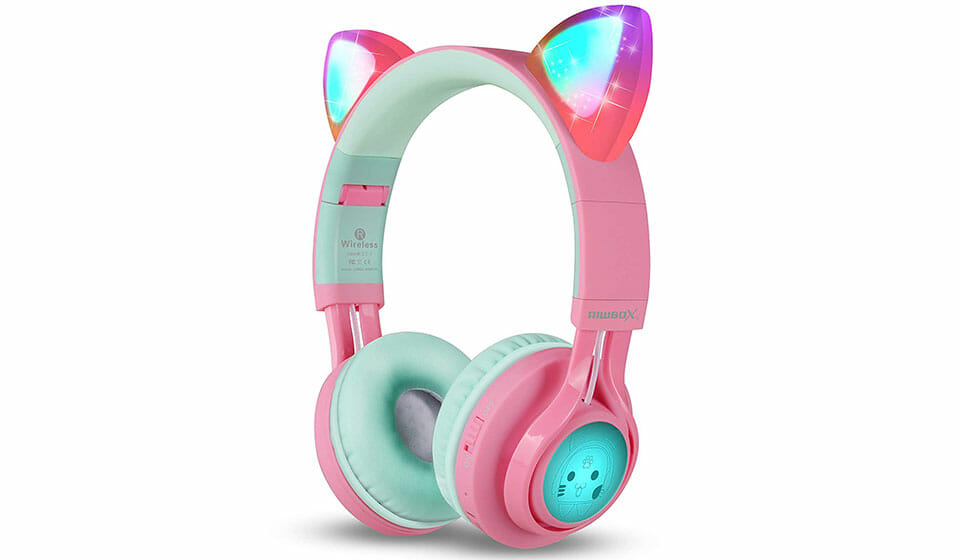 The best wireless cat ear headphones for kids
Choosing the best option for children is hard. The Riwbox are great, they fit perfectly on smaller heads and even limit the volume.
LED light: Yes – color changing
Connection: Wireless Bluetooth
Foldable: Yes
Why Buy These?
Riwbox headphones give another great design. The lights can flash along with the music, perfect for entertaining the youngsters. You can turn this off if you need to.
You can't use the volume at over 85 decibels. This protects the sensitive hearing of children. It's a great safety feature that's a must for kids.
They are wireless but work wired, too.
The Bad
The wireless capabilities are a bit limited. You might struggle when the device is more than a couple of feet away.
Also, the battery can drain quickly due to the lights.
The Sound
Audio clarity in these headphones is passable. Most kids are happy just to hear their game or favorite show, so that's not really a concern. Safe listening is a priority above sonic fidelity, which makes sense given the category
The Riwbox Kids Headphones are a good set of safety-conscious cans for kids.
---
5. Lux Accessories Cat Ear Headphones (best wire frame)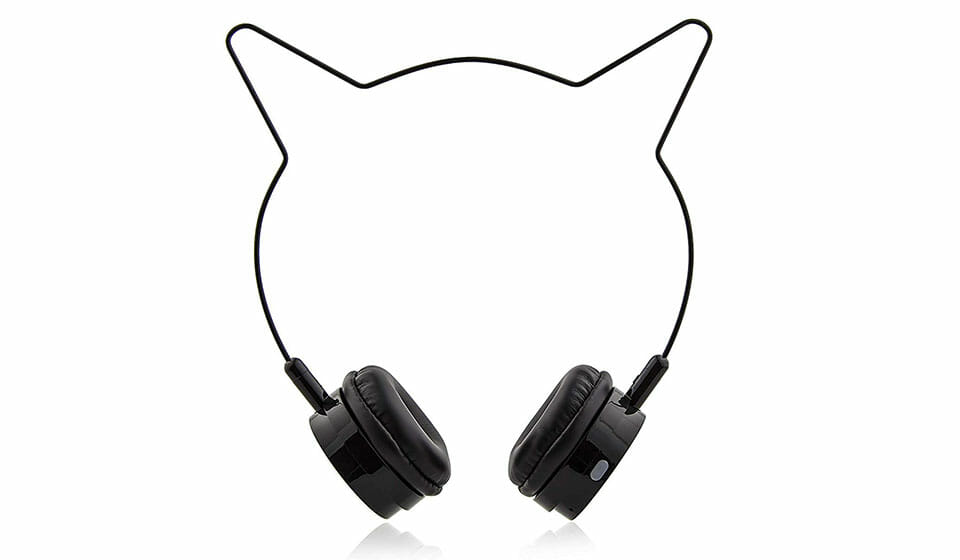 The best wireframe cat ear headphones
A cute and more subtle design. These wire frame headphones look slightly different and affordable.
LED lights: No
Connection: Wireless Bluetooth
Foldable: No
Why Buy These?
The design of these headphones is not as over-the-top as of the other cat ear cans on this list. A wireframe gives an outline of the cat ear design.
You can use these over-ear headphones in wireless mode, with a Bluetooth 5.0 connection.
An inbuilt microphone makes these good for chatting and gaming. The price tag is attractive, too.
The Bad
If you aren't careful, the wire frame can bend when you are storing them. No cushion on the headband.
Flashing LEDs aren't included in the design as these headphones have a more basic look.
Audio clarity is okay, especially for the price, but the microphone and battery aren't great. You might struggle to speak to people through these cans.
The Sound
The sound is very much what you should be expecting for the price. It's maybe even a little clearer than the cheap price suggests. Though not ultra high fidelity, and lacking a bit in frequency response and power, they're decent enough for casual listening.
For a subtle but cute cat look, you can try out the Lux Accessories Cat Ear Headphones.
---
6. Censi Cat Ear Headphones (great value)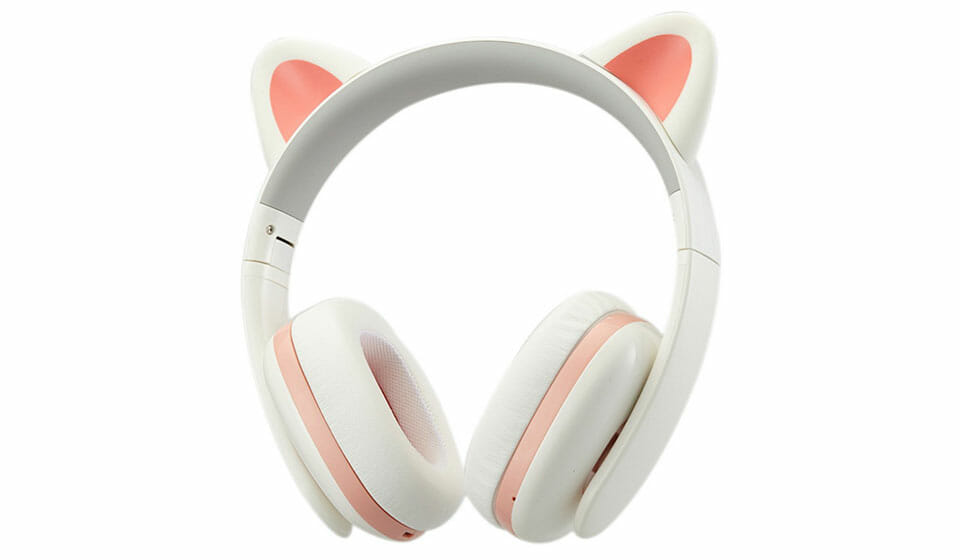 Great value cat ear headphones
Censi's cat ear headphones offer features you might be surprised by, including noise isolation and boosted bass frequencies.
LED lights: No
Connection: Wireless Bluetooth
Foldable: Yes
Why Buy These?
Censi's headphones have features other cat ear headphones don't. They are pretty good at noise reduction due to the design of the ear cups.
Also, these have a soft leather design. They're comfy to wear and adjustable to fit your head perfectly.
The cat ears are actually removable so you can take them off if you don't feel like a fashion statement.
10 hours of battery life is also pretty impressive.
The Bad
They are IPX4 water-resistant, so suitable for use in the rain or sweaty workouts. Censi's headphones are a little heavy too, especially for kids.
The Sound
The frequency response is excellent for cat ear headphones. You can use these for listening to music of all kinds, and there is a little boost to the bass.
For good audio clarity at a reasonable price, and noise isolation, the Censi Cat Ear Headphones are a good choice.
---
7. iClever Cat Ear Kids Headphones (best cheap kids model)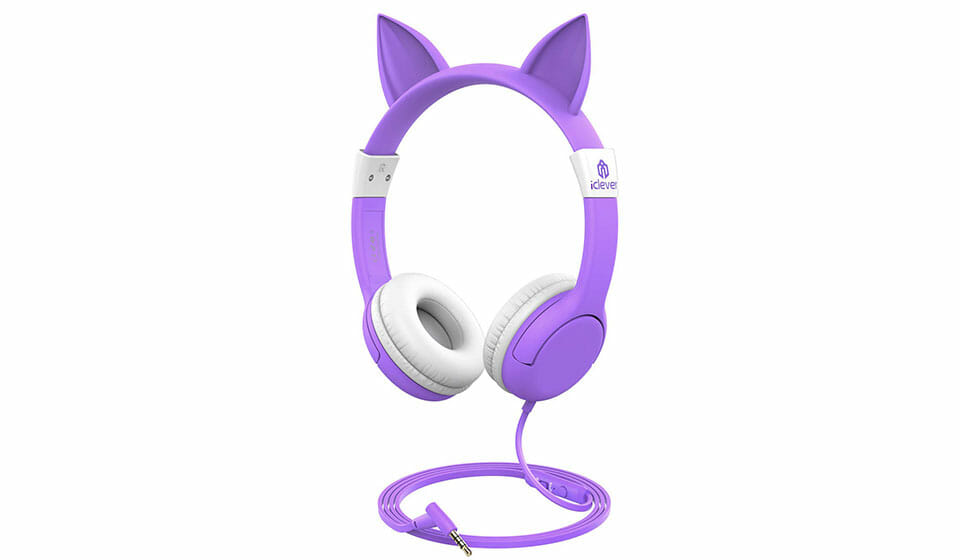 The best cheap cat ear headphones for kids
It's tough to find decent cat ear headphones under $20, but these can be an affordable option for your children.
LED light: No
Connection: 3.5mm wired
Foldable: No
Why Buy These?
Though affordable, some decent features are on offer. The audio is limited to 94 dB. So, they're safe for younger kids to listen.
The ear cups have plush foam padding so you won't complain of discomfort. They're also adjustable as kids grow.
A sharing port lets you connect another pair of headphones. This is great for listening with friends.
Also, the cat ears are removable when your kids don't want to wear them. And, you can choose from multiple color options, colors for boys too.
The Bad
Obviously, at this price, supreme audio isn't on offer. There are no wireless capabilities, either.
A lot of users report the ear sections popping off sometimes, which can be an annoyance.
The Sound
It's okay for listening to music, especially for kids. Not the best frequency response, but it is good that the volume is capped.
For a cheap and fun option, you know will work for your kid's ears, take a look at the iClever Cat Ear Kids Headphones.
---
How are Cat Ear Headphones Different?
The only difference is the design. It's cutesy and often comes with colorful lights.
They are more of a fashion statement than pure audio equipment. Though you won't find Hi-Fi ear cat headphones, they can have solid sound quality.
Why Did Ariana Grande Wear Cat Ears?
We can only assume the real reason because she never answered the question directly. But do you even have to ask?
Just look at the pictures. She looks incredibly cute wearing the cat ears.
Who Created Cat Ear Headphones?
The Ariana grande wireless cat ear headphones were originally designed by an artist named Wenqing "Yuumei" Yan.
---
More guides:
Comments