Best Guides
The Best PS4 Wireless Headset Right Now – Instantly Upgrade Your PS4 Gaming
Upgrade your gaming with the best wireless headset for PS4.
Comparison – Best Wireless PS4 Headset
Rating
Price
Battery
Surround
Sound

i

Virtual surround sound support.

ChatMix
support

i

Built-in controls for ChatMix.


best overall
SteelSeries Arctis Pro Wireless -PS4



3.9
$$$$$$ ($300-$500)
20h
(swappable)
+wired
More info
best under $100
PlayStation Gold Wireless(2018)



3.9
$$$ ($80-$120)
7h
+wired
More info
best non-dedicated
SteelSeries Arctis 7



3.8
$$$$ ($120-$200)
15h
+wired
More info
best battery
HyperX Cloud Flight



4.1
$$$$ ($120-$200)
30h
(LEDs off)
+wired
More info

best budget
Turtle Beach Stealth 600



4.0
$$$ ($80-$120)
15h
no wired mode
More info
Are you tired of getting entangled in the wires?
Get rid of them with one of the best wireless PS4 headsets on the market right now. Improve your gaming experience by taking advantage of the latest wireless gaming headsets made for PlayStation4 (+ Pro). Find the model that best suits you below.
The Best PS4 Headsets – Reviews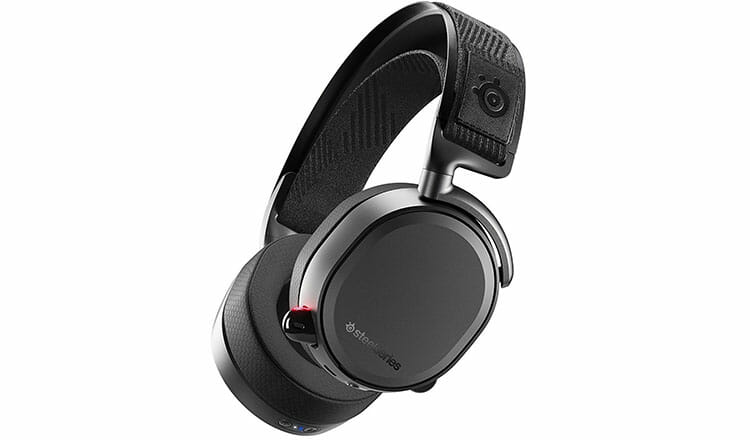 The top wireless headset for PS4.
Is it for you?
If you're looking for the best premium headset for a PS4 with all blows and whistles and you are willing to pay the price, this is it.
What's the price? At the moment of writing this, it is $329.99. It's a hefty price even for a premium gaming headset.
What's the battery life? With 2 detachable and rechargeable batteries, it's up to 20 hours.
Does it have surround sound on PS4? Yes. DTS Headphone:X v2.0 surround sound. (including PC)
Does it support ChatMix on PS4? Yes. (including PC)
Can you use it as wired only? Yes.
Do you want all the blows and whistles a modern gaming headset can offer right now? Look no further, the new SteelSeries Arctis Pro Wireless does everything you'd want.
It has a proven design from wired Arctis models that offer comfort, durability, and a great microphone. Plus, you get the latest wireless technology with surround sound and ChatMix support for PlayStation 4 (including Pro). The addition of Bluetooth makes it easy to connect to your smartphone or tablet which makes it even more useful.
Power is not a problem either. The 2 batteries offer great playtime especially since you can just keep swapping and recharging them indefinitely. You'll basically never run out of power and if you do, you can always use it in wired mode only.
The headset comes with a transmitter base station that supports all the technology. You can connect it with 3.5mm, USB, or optical cable. This gives you lots of options and great compatibility across platforms.
The audio quality doesn't disappoint either. It has good clarity but it's a bit lighter on the bass. If that's not your sound signature, don't despair. It comes with SteelSeries Engine 3 support. You can get them very loud and bassy with simple settings change.
All in all, you get everything you'd ever want from a gaming PS4 headset. As long as you are willing to pay its hefty price. Check the SteelSeries Arctis Pro Wireless on the link below.
---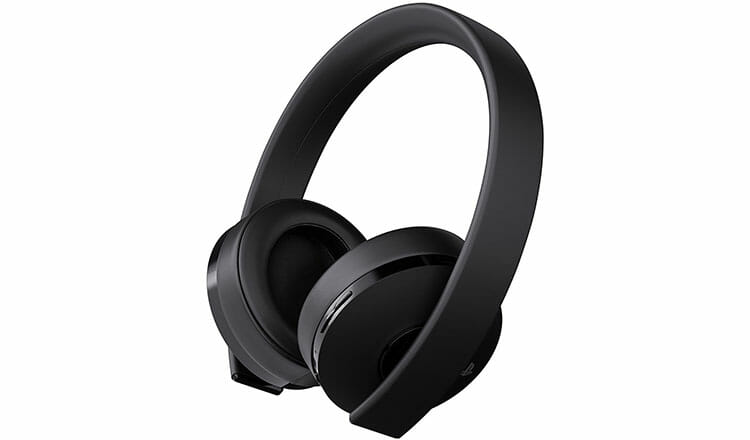 Great value-for-money dedicated PS4 wireless gaming headset.
Is it for you?
If you want a dedicated PlayStation4 wireless headset with all the features for an affordable price, this is the best choice. Great for people new to PlayStation gaming.
What's the price?
Right now, when writing this, it's $98.99. We expect the price to always be under $100 which makes it one of the cheaper wireless headsets for PS4.
What's the battery life? On one charge you'll get up to 7 hours. Additionally, you can use it as a wired headset when the battery dies.
Does it have surround sound on PS4? Yes. 7.1 virtual surround sound for all PlayStation4 games. Doesn't improve the sound much but it's there.
Does it support ChatMix on PS4? Yes. You can control the volume of game sound and chat sound via the built-in button on the ear cups.
PlayStation Gold Wireless Headset has been popular for quite some time for affordability and generally reliable performance on a PS4. This updated and better looking (in our opinion) headset hasn't changed a lot. You can check the Platinum model if you want a more premium headset but it's more expensive. LINK
Supposedly, it was designed for use with PlayStation VR but it might still be a bit uncomfortable for bigger heads. The earpads are faux leather and fit nicely on the ears. The PS4 headset seems to be well built and doesn't feel too "plasticky".
For chatting you get the same built-in microphone which does a good job but isn't as clear as boom mics from competitors. The sound quality hasn't changed much. It's enjoyable with a good amount of bass but nothing spectacular. This is an affordable headset after all.
Connecting it is super easy and everything works out of the box because it's made for PlayStation4.
If you want a hassle-free wireless headset with full features that work out of the box, all for a good price, check the PlayStation Gold Wireless Headset (2018). It's the best choice under $100.
---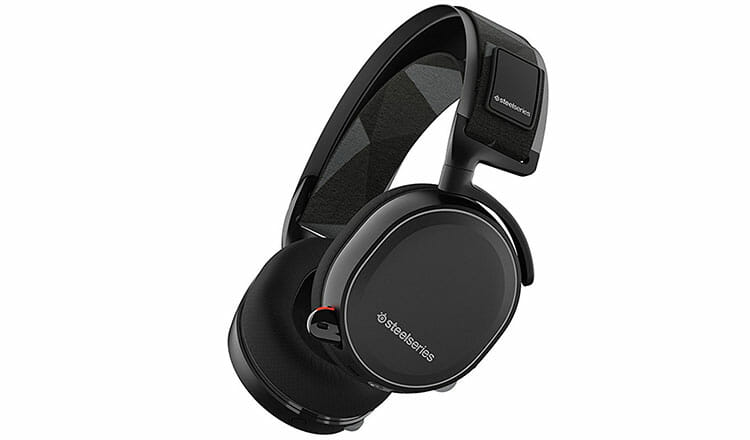 The best non-dedicated wireless stereo headset for PS4.
Is it for you?
This is a great wireless gaming headset for PS4, Xbox One (connected to a controller) and PC/Mac in a comfortable and reliable package but not a dedicated PlayStation headset.
What's the price? As of writing this, it's $145.99.
What's the battery life? On a full charge, you get at least up to 15 hours if not more (battery life depends on how you use it). If you run out, you can use them as a wired headset via a 3.5mm plug.
Does it have surround sound on PS4? No. It supports surround sound only on PC. On PlayStation4 you get stereo mode.
Does it support ChatMix on PS4? No. It works only on PC.
If you're gaming on all platforms and want something that is good on PS4 and PC (plus Xbox One and Mac if need be) then SteelSeries Arctis 7 is the best wireless gaming headset right now.
With a more serious and classy look than most gaming headsets, the Arctis 7 aims to satisfy more serious gamers. If flashy RGB lights are not your thing, definitely check these out.
This well-built gaming headset comes with many preset options for customizing the sound to your liking. You need to do it on a computer but after it's set, it stays on the console.
The wireless connection is set via a USB adapter. Connected to a PS4 it supports only the stereo mode but that's standard for most gaming headsets (surround sound only on PC). Its setup is as easy as "Plug n Play". The good thing is it lasts for around 15+ hours without charging. This is plenty of game time on one charge.
It is featuring a retractable boom microphone that is one of the better ones on the market. Your voice will come through clearly and with little noise or distortion. There's also a small red light at the end of it telling you if it's muted or not.
Add to this great comfort that can compare to the best gaming headphones on the market and you'll start to see the appeal of this popular wireless console headset.
Sound quality is great for gaming too. There's lots of detail and good sound separation for more competitive gaming. Additionally, you can amp up the bass to your liking, via a PC. Overall, the audio quality justifies the price and is one of the better options among PS4 gaming headsets.
If you can pass on a virtual surround sound (which doesn't make a huge difference) and built-in ChatMix control then this PS4 headset is the best choice right now.
For the best practical wireless headset for PS4 and PC or Xbox/Mac, get SteelSeries Arctis 7 wireless headset.
---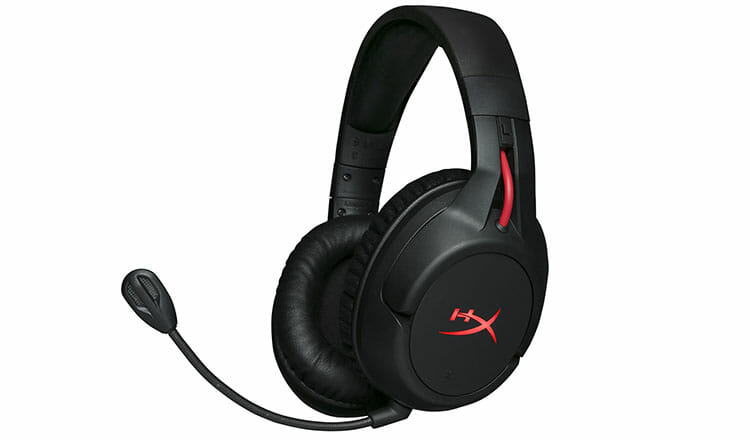 A wireless gaming headset for PS4 with best battery (stereo).
Check the full HyperX Cloud Flight review.
Is it for you?
If you want a comfortable wireless headset from a reputable company that just works and feels right, get HypperX Cloud Flight. It supports PS4 (PS4 Pro), PC, and Mac.
What's the price? As of writing this, it's $159.99. It's a mid-price wireless headset, neither cheap nor expensive.
What's the battery life? It has a great battery that gives up to 30 hours of playtime with LED lights turned off. About half the time with LED turned on. The wired mode doesn't require any power at all.
P.S. To turn the LEDs off, when the headset is turned on, press the power button to change the setting. 2 times to turn off completely.
Does it have surround sound on PS4? No. Stereo mode only which is fine since a lot of games don't support surround sound.
Does it support ChatMix on PS4? No. There are only 2 buttons built-in. Volume (wheel up and down) and power button.
If you hate charging your battery all the time then HyperX Cloud Flight is for you. With a best-in-class battery of up to 30 hours per charge, you get more juice than with competitive headsets. Keep in mind to turn off the LED lights to almost double the battery. Unfortunately, there's no way to permanently turn it off.
It works out of the box, "plug and play" and you won't have to fiddle with settings. The sound is good as long as you don't compare it to high-end wired models. This is a wireless stereo headset after all. If you're picky about sound, get a more expensive headset.
For clear chatting with friends, you get a detachable boom microphone. It's also a noise-cancelling microphone. Your voice will get through nice and clear.
It does feel a bit "plasticky" but actually holds together well. It's quality, flexible plastic that doesn't break easily. Another great thing about it is its comfort. The headset is quite snug but once warmed it fits on the head very comfortably. Read the full Cloud Flight review.
If you want a reliable PS4 wireless headset with great battery life and comfort, check the HyperX Cloud Flight.
---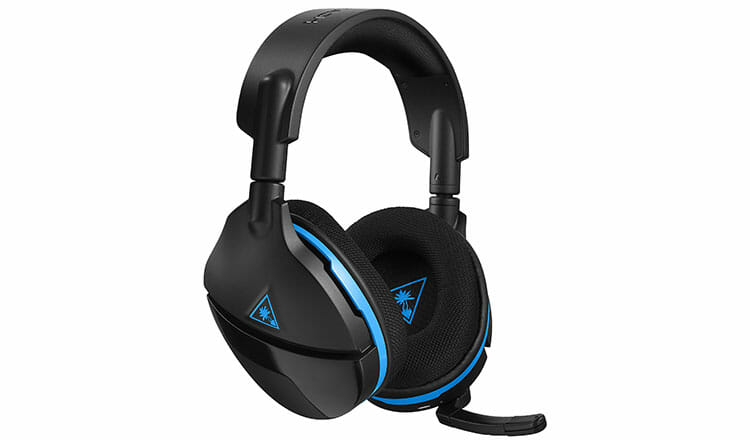 The best cheap wireless PS4 headset.
Is it for you?
A dedicated PS4 headset that's wireless, has a good sound and a cheap price (great value for money). Almost $90 might not be cheap but you won't find many cheaper PS4 wireless headsets out there.
What's the price? As of writing this, it's $86.99. Almost a $100 but that's actually cheap for a wireless gaming headset that's dedicated for PS4.
What's the battery life? You get up to 15 hours on a full charge. Unfortunately, it doesn't have a 3.5mm plug.
Does it have surround sound on PS4? Yes. Virtual surround sound out of the box since it's a dedicated headset.
Does it support ChatMix on PS4? No. There's a separate volume button, one for headphones and one for microphone control but for adjusting chat volume you'll have to use the settings.
This is the cheapest PS4 wireless headset from Turtle Beach. But it's actually the best one in our opinion. While it might not have all the features of more expensive models it does a couple things better.
The first one is durability. While Turtle Beach isn't exactly known for great build-quality this headset actually fares quite well. There seems to be a lot more quality issues with their Stealth 700 and Elite 800 headsets. It still feels a bit "plasticky" but generally there are fewer reports of breaking.
Another one is the comfort, especially comfort for people with glasses. This headset was made with this in mind and most people wearing glasses will find it comfortable. The earpads are big and plush and offer just the right amount of pressure.
The virtual surround sound is a bonus, especially with a price like this. It's cheaper than most wireless PS headsets. You can adjust the audio with the added software. Yes, you can boost the bass if you want. Overall, it sounds similar to an average gaming headset which is good considering this one is wireless.
For great value-for-money PlayStation4 wireless headset with the surround sound and great comfort, check the Turtle Beach Stealth 600.
---
What is ChatMix?
It's the option of controlling the balance between game and chat volume.
When your friends in chat are too loud you want to make them more silent you adjust the chat volume down. Most dedicated PS4 headsets have a built-in control for adjusting the volume.
What does it mean if a PS4 headset has ChatMix support? It means you can control the volume of the game and chat audio with built-in controls. Only dedicated PlayStation headphones have that. Non-dedicated headsets, as in, PC headsets don't have this option.
What Wireless PS4 Headset to Avoid?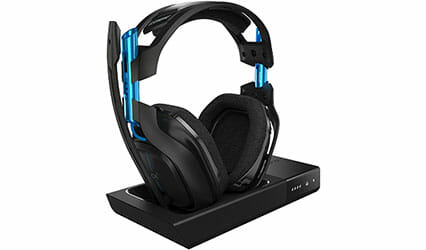 Astro A50. Why? Lots of build-quality issues. A lot of people report regular signal interruptions, muffled sound, distorted mic, and just general durability issues. Astro is a well-known company making premium headsets but we can't recommend the A50. There seem to be too many problems with it. If you're willing to pay a premium price for a gamble, go for it. Otherwise, pick something else.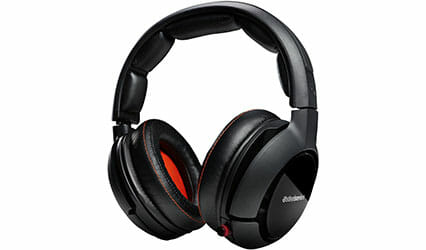 SteelSeries Siberia P800 is a console model of a very popular "800" model. The problem with P800 is that it needs to be wired with the PS4 controller for chat. Which means it's not really wireless.
Why get a wireless PS4 headset?
There are many reasons why getting a wireless PS4 headset is good and bad. Below we'll talk about the reasons for and against it.
Free from wires.
You probably already wished you had a wireless gaming headset. When you have to go to the toilet but are just having a lot of fun with your friends, you have to explain to them that you have to take a leak and won't be "available" for a couple moments.
Or maybe you want to grab a quick drink or a snack just a short distance away, but you have to take off your headset and miss the chat.
This might not seem like a major problem but it's annoying. Especially once you get your first wireless headset and get used to it. You fall in love with the freedom. Suddenly all wired headsets seem to lack something. That's the ability to freely walk around the home and still hear everything that's going on in the virtual world. It's convenient and nobody can deny this.
Better comfort…
While wired gaming headsets are equally comfortable as wireless ones, one thing is true. The wires are always in the way. Even just sitting on your chair in front of the screen and having to tug and pull and constantly readjust the wires is annoying. It takes away from the comfort of wearing a gaming headset.
The cord is the annoying part of headphones and removing it makes for a better user experience.
Less opportunity for damage…
Your experience might be different but for lots of people damaging the wires happens quickly. It's one part of the headphones that you always have to handle and move around, plug in and out. The reason they get damaged so often is not a secret. The wires are the weak part.
With a wireless headset, this problem doesn't exist as there are no wires and the whole product is one sturdy item. If you're clumsy this might be important for you.
The bad or not so convenient things are:
Have to charge the battery.
Because the headset has to get power from somewhere it uses a battery. You need to charge it and you only get a couple hours out of it. Thankfully, the technology has advanced enough to make the battery last over 10 hours for most cordless gaming headsets but the limitation is there.
If you like having super long gaming marathons, then a wireless PS4 headset might not be for you. Also, if you are into competitive gaming having your headset battery die in the middle of a game might be a deal breaker.
Keep in mind, most cordless PS4 headphones also work in wired mode with a regular 3.5mm AUX cable.
Sound quality might be worse…
Because the wireless technology demands the audio be compressed it loses some quality. This is a known fact. And if you are an audiophile you might notice the difference.
Does virtual surround sound makes a big difference? In most cases the difference is minimal and a lot of games don't even support it. We recommend you instead focus on other features.
Thankfully, the newest wireless headsets offer a wide range of customizations and sound presets to satisfy almost all tastes. For most gamers, the difference won't be a problem. But it's more likely to find a great sounding gaming headset with wires than without them.
Higher price…
Since wireless PS4 headsets are more premium than their wired alternatives so is their price. Most wireless gaming headphones cost more money. The price difference might only be a couple tens of dollars but the price ranges do differ.
You can get a really cheap wired headset for around $30 but you won't find a wireless one for the same price. Nonetheless, you get what you pay for. More features and technology costs more money.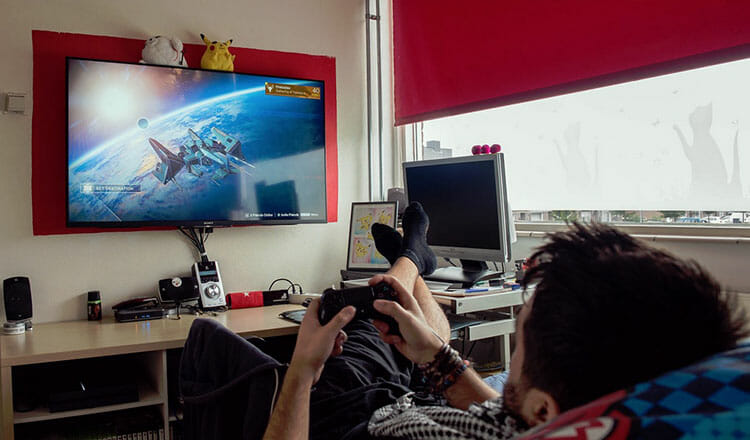 Is It Hard to Sync a Wireless PS4 Headset?
It's actually very simple. Most PS4 wireless headphones come with a USB adapter or base station which you just plug into the PlayStation. You just synced most wireless headsets to your PS4.
Some others might need additional settings change. That won't take you more than a couple minutes and only for the first time. You can keep the headset adapter connected and then just turn on the headset itself when you want to use it.
Can you connect it to multiple devices?
Because most gaming headsets don't use Bluetooth but a different kind of wireless technology you can't connect them to multiple devices. You are limited to one connection since you only have one adapter.
The Difference between Headsets for Gaming vs. Streaming
Since you probably want to use a dedicated and higher-end microphone for streaming it doesn't really matter which gaming headset you pick. As long as you are comfortable wearing it, it should be fine.
Maybe the looks become more important if you want a cool looking headset but nowadays any look can be good if you can sell it. You can find some ridiculous looking streamers out there that have quite a following. You can go with flashy RGB headsets or something more subdued in darker colors. Pick what best suits your style.
Some streamers also walk around with the camera in between games. For this, you do need a wireless headset or a super long 3.5mm extension. Though, that's really inconvenient.
If you game very little but stream a lot, is it worth getting a gamer-oriented headset?
Gamer oriented headsets are still the better option if you want comfort, quality sound, and a good microphone. Most non-gaming headsets are usually really cheaply made or specialized for some other function.
A gaming headset is a perfect fit for a combination of streaming and occasional gaming.
---
How we do reviews? Read the about us.
---
Disclosure: We might receive affiliate compensation if you purchase products via links on this page. This is how we purchase headphones for new reviews and keep the site adds-free. In spite of that we do our best to tell the truth about every product and don't favor any one brand or model.
Comments