The best headphones for a healthy night of sleep.
Comparison: Best Headphones For Sleeping
Different people have different needs. Some of you can fall asleep instantaneously, whereas the other group struggles to close their eyes. You can achieve that much easier if you're sleeping in a quiet environment. However, sometimes you simply can't escape the noise.
You've probably been in a situation when a person in the same room next snores. While many people do that quietly, some have a thunderous snore, which can keep you up throughout the whole night. To break the endless cycle of unslept nights counting sheep, you can choose to get headphones for sleeping.
These headphones primarily help block out noise that prevents you from clearing your thoughts and falling asleep. They do that by either playing white noise, relaxing sounds of nature, or using active noise cancellation to eliminate the noise entirely.
They usually can't play music, although that isn't the rule, as you can see in our guide. People have different needs, and maybe you prefer to travel into a land of dreams by listening to music, a podcast, or a ASMR recording.
What Types Of Headphones Are The Best For Sleeping?
While most headphones have a bulky construction, some are small enough to fit comfortably even when you take them to bed. As long as they don't hit the pillow or create pressure on your ear lobes, they're perfectly fine to use during sleep.
However, it does depend on the design of which ones are more practical. The latter is more important to those who are side sleepers.
Over-ear headphones
As mentioned, full-sized headphones can be incredibly bulky. And despite their overall comfort, they can be a terrible pick to bring in bed. However, if you frequently sleep only on your back (you move very little during sleep), they might work.
As long as you find the right ones that don't hit the pillow, it should be fine. With over-ear headphones, you can achieve the best sound quality if you plan to listen to music and let that calmly drift you into slumber.
Also, bigger wireless headphones usually have the best noise cancellation. However, not many people go to sleep and wake up in the same position. Therefore, it's very likely big headphones will come off your head during sleep and wake you up.
On-ear headphones
Like over-ears, these too bring a fuller sound and better isolation but can become uncomfortable if you move too much.
Some other types of on-ears come with ear hooks. That kind of ear hook design eliminates the headband frame's pressure and makes the experience more comfortable, although still not great if you're a side sleeper.
In-ear headphones
One of the better options you like to have some level of maneuverability. Of course, the best ones are wireless since you don't have to worry about waking up with a tangled wire.
Noise cancelling earbuds are usually quite effective with eliminating low-frequency noise and should easily block snoring. You can also rely solely on passive isolation, which is above-average on in-ear headphones.
However, the main problem still stands. You probably have to buy earbuds specifically made for sleeping if you want the best comfort. Many in-ears, especially wireless, tend to stick out a lot, which isn't ideal for sleeping in all positions.
Headband Headphones and Eye Masks
By far, the best solution for those seeking ultimate comfort during sleep. Many people prefer to sleep in complete darkness due to light pollution or because it bothers them. It's actually healthier for our body to sleep in a pitch-black room, so choosing a face mask has many advantages.
Manufacturers combined the face mask and tiny headphone speakers to make the perfect sleep headphones that doesn't irritate when in bed. The same thing applies to the headband style, only that they don't cover the eyes.
These headphones are entirely washable since they're made from fabric that can eventually get dirty. Of course, you need first to take out the speakers.
The biggest problem with that headband headphones is the overall sound quality, which is about on-par with cheap earbuds. It can also be challenging to wear them during the summer when you already feel too hot.
More similar guides:
Best noise isolating headphones
Best noise cancelling headphones
---
10 Best Headphones For Sleeping
The latest sleeping true wireless earbuds from Bose with 40 different masking sounds to help you fall asleep.
Why Buy These?
Sleepbuds II are premium true wireless earbuds with a comfortable, attractive design. Their housing sits flush into your ears, without protruding at all. Proprietary StayHear silicone ear gels help them stay in their place, regardless of how often you change your sleeping position.
Instead of implementing active noise cancellation, Bose decided to rather opt for noise-masking technology. Inside the companion app, you can toggle between 40 different sounds of water, nature scenes, and other relaxing tunes.
You can also set an alarm clock to wake you up in the morning calmly. Despite their size, Sleepbuds II can last up to 10 hours on a single charge, with another 30 hours waiting in the charging case.
It's worth mentioning that Bose Sleepbuds II don't support music playback, despite supporting wireless Bluetooth techonology. That means you can't listen to music during the day and sleep with them during the night.
The Bad
Can't entirely mask loud snoring.
Expensive.
The Verdict
These are the best headphone for sleeping when it comes to comfort and extra features. Although they're a bit pricey for what they do.
---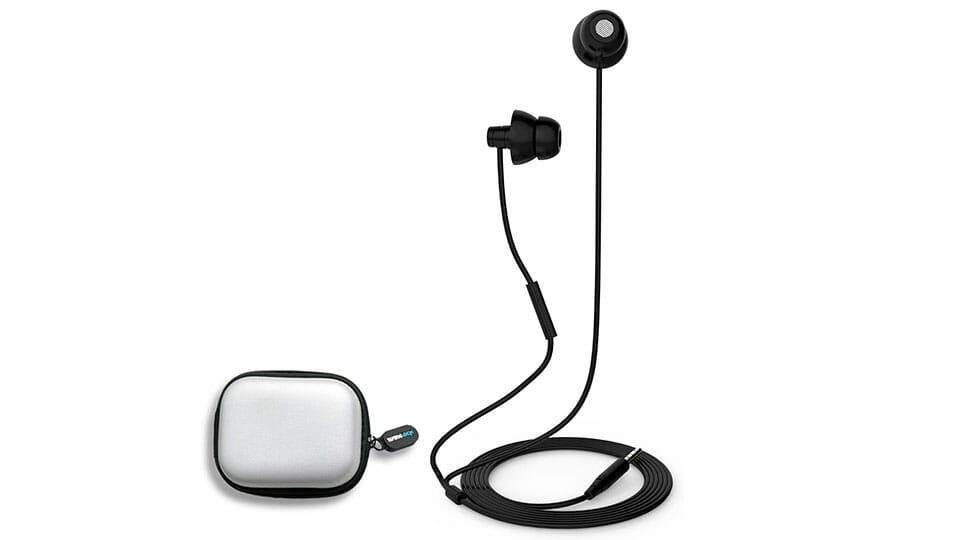 By far, the best-wired headphones for sleeping with excellent isolation and flush fit.
Why Buy These?
Wired in-ear headphones from MAXROCK are quite durable, despite their budget-friendly price. The housing is made from plastic and comes with double-flanged ear tips.
The latter go deeper into the ear canal, ensuring above-average passive isolation, which is vital for blocking unwanted external noise. For extra durability and portability, earbuds come with a small carrying case that closes with a zipper.
There is no app, but since Unique earbuds come with a 3.5mm jack, you can simply plug them into your device of choice and decide which tunes are the most soothing. There is an inline remote for skipping and pausing tracks.
The Bad
Cables can get in a way if you frequently change position during sleep.
The Sound
Small 5mm drivers can produce a reasonably balanced sound without exaggerating any frequency. They're clean throughout the midrange and treble but lack a little bit of bass. You can still use them to commute or work out, although they don't offer any liquid protection.
The Verdict
Wired in-ear sleep headphones from MAXROCK that offer all the necessary things for a night of healthy sleep.
---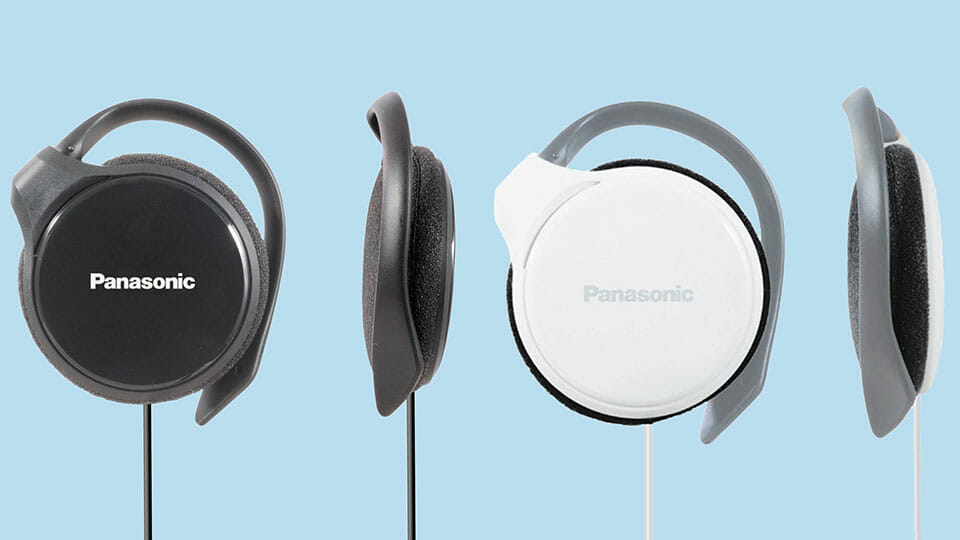 If you don't twist too much during sleep, these on-ear headphones might be an excellent pick.
Why Buy These?
These are unique looking headphones that don't have a headband to stick to your head. Instead, they come with ear hooks that only grab your ear lobes. Thankfully, that kind of approach is quite comfortable, with nicely padded earcups.
These are considered one of the most comfortable headphones for sleeping with on-ear design because of the slim form factor. Especially since the back of the earcup doesn't hit the pillow when you lay down.
Of course, you don't get an app with these. Therefore, you can freely decide which sounds are the best at helping you fall asleep. Thankfully, there are many sounds available on platforms like YouTube.
The Bad
Bothersome for restless sleepers.
Cable noise.
The Sound
Excellent clarity for a pair of headphones that sell for only $13. Thanks to 30mm drivers, you also get decent bass. The rest of the spectrum remains very clear, regardless of what you're playing. Because they rest gently on your ears, the sound is also quite airy and spacious.
The Verdict
Not the most fancy-looking, but a great sleeping headphones nevertheless.
---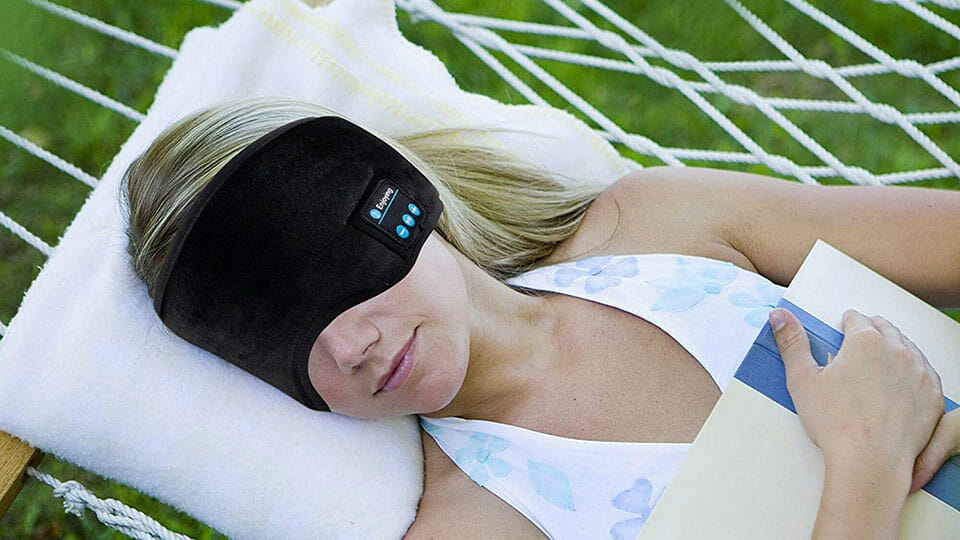 Joseche gives you the best from both worlds: sleeping masks and Bluetooth headphones.
Why Buy These?
While it is much better for our body to sleep in complete darkness, some people don't have the luxury of making the room completely dark. Instead, they need the help of a sleeping mask. However, Joseche made a mask that can also play music.
If you like pitch-black darkness but also have trouble with ambient noise, these wireless sleep headphones are a perfect solution. Eye mask headphones have built-in speakers that connect to your phone via Bluetooth. It's fully compatible with all smartphones.
The battery lasts up to 9 hours, which makes them suitable for long airplane rides. When the fabric gets dirty or smelly, you can simply put it in the washer. You get simple controls on the outside of the device.
The Bad
It can get uncomfortable if you sleep on your left side because of the control box.
The Sound
The sound quality is pretty decent for headband headphones. The volume gets plenty loud if you need that extra power to drown out the snoring partner.
The Verdict
If sleeping masks are your thing, this is the best you can get.
---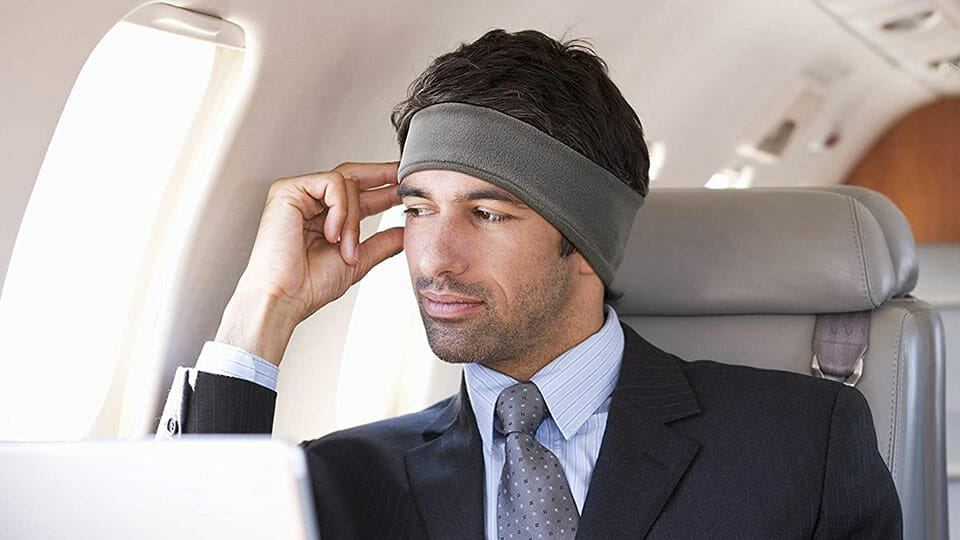 A sleep headband variant of headphones that is comfortable to wear and can keep your ears warm.
Why Buy These?
If you aren't a fan of normal headphones, maybe headband headphones is what you're looking for. It's incredibly comfortable and can keep your ear warm, especially in the upcoming winter months.
The headband is made out of a breathable, hypoallergenic mesh lining that feels nicely soft and doesn't get uncomfortable during sleep. Speakers inside are well-padded, which is why it doesn't irritate your ears, even if you're side sleeping.
For speakers to work, you need to plug them via a 3.5mm audio jack. You can wire the cable in whatever direction you want to prevent tangling. The cable is long enough to keep your phone away from you. The headband is machine washable, just remove two headphone speakers and put it in the washer.
The Bad
Poor-quality construction with memory wire.
The Sound
Of course, you can't expect impressive sound quality out of a sleeping headband. Its audio performance is decent for listening to audiobooks and relaxing music.
The Verdict
A popular product on Amazon with great comfort and practical design. Also, the price is reasonable for the quality you're getting.
---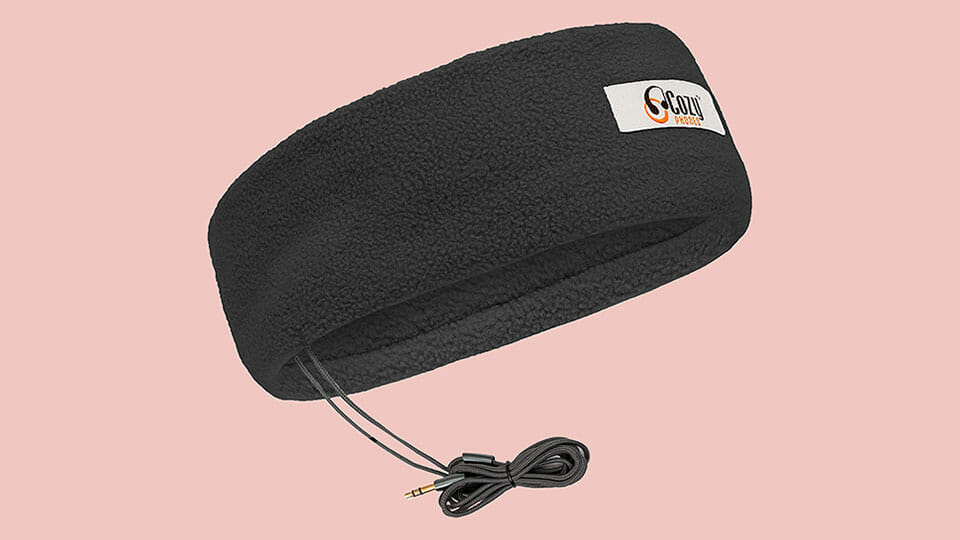 Another excellent budget option for headband lovers who want to cover their ears but not their eyes.
Why Buy These?
As the name suggests, CozyPhones are very comfortable sleeping headphones made of fleece, which feels gentle on your skin. Because the speakers inside are so small and thin, you can easily sleep on your sides without noticing any irritation.
Speakers are connected via 3.5mm cable and are completely removable. That is useful since fabric headband can get smelly over time. After that, you simply place them back in their pockets, and you're good to go.
The cable is braided and more durable than the competition, despite the headband's low price. CozyPhones fabric headphones are great for sleeping, traveling, meditation, and even battling insomnia.
The Bad
Speakers can't get really loud.
The Sound
You can't expect sonic fidelity out of these sleep headphones, but they do a reasonable job of reproducing your music. However, they are best for more simple listening like audiobooks and podcasts.
The Verdict
CozyPhones Sleep Headphones are a cheap solution for your noisy roommate and cold ears. The headband headphones remain comfortable all night long and are worthy of your consideration.
---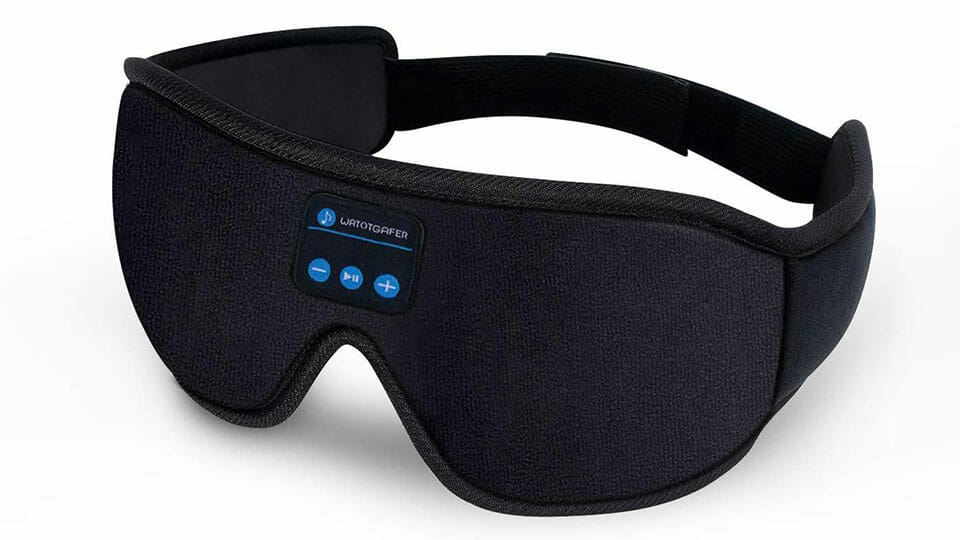 Specially designed sleep mask headphones with 3D padding to better fit on your face.
Why Buy These?
This isn't a typical sleeping mask that simply covers your eyes. WATOTGAFER designed it to perfectly contour a human's face with small dips for the eyes and padding for your nose. Because of that, you don't feel any pressure on your eyes during a nap, making it perfect for side sleepers too.
These sleep headphones can also connect wirelessly, with more than 10 hours of battery life. They connect via Bluetooth 5.0, which means you don't have to keep your smartphone too close to you.
Above your nose, you get an array of essential controls to skip and pause tracks. You can also answer calls with a built-in microphone. Buttons are intentionally in the center of the mask, ensuring you don't accidentally press them when you sleep.
The Bad
They could be more comfortable to wear.
The Sound
They aren't going to impress anybody with their sound, although they do get loud enough to drown out ambient noise. If you only want to play some white noise or listen to audiobooks, these should be perfectly fine.
The Verdict
Eye mask sleeping headphones with cool design, durable fabric, and long battery life.
---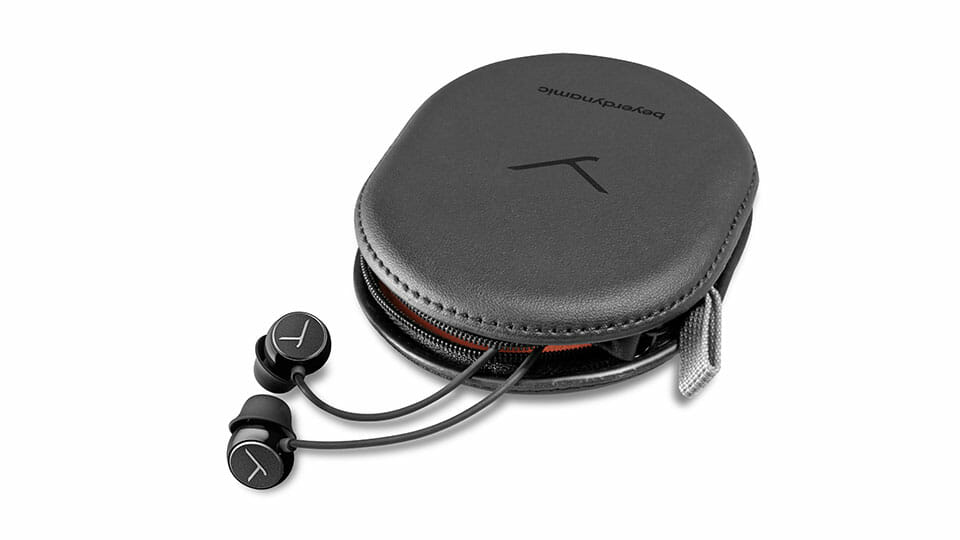 Not specifically designed to carry in bed, but an excellent option for those who seek good sound quality in bed.
Why Buy These?
Not everyone wants to only listen to sounds of nature and white noise but likes to plug in some relaxing music. Soul BYRD are in-ear headphones that should fit right in.
They have a small, non-protruding housing, that doesn't bother you during sleep. They're so flush you can even wear them under a motorcycle helmet. By choosing between 5 different ear tips, you can achieve the most optimal fit and comfort.
BYRD's have a 3.5mm connector and inline remote with a built-in microphone. On the whole, build quality is pretty great, with earbuds having an aluminum faceplate with a shiny Beyerdynamics logo. Cables are also tangle resistant, which is handy when you use them for sleeping.
The Bad
Mediocre microphone quality if you plan to use them outside your bedroom.
The Sound
Quite excellent for a sub-$100 earbuds. They can offer a nicely balanced sound quality with great detail and clean rendition throughout the midrange. There is also a decent presence of bass but not to the point of pleasing bassheads.
The Verdict
Beyerdynamic Soul BYRD are the best headphones for sleeping and listening to music, with excellent sound quality.
---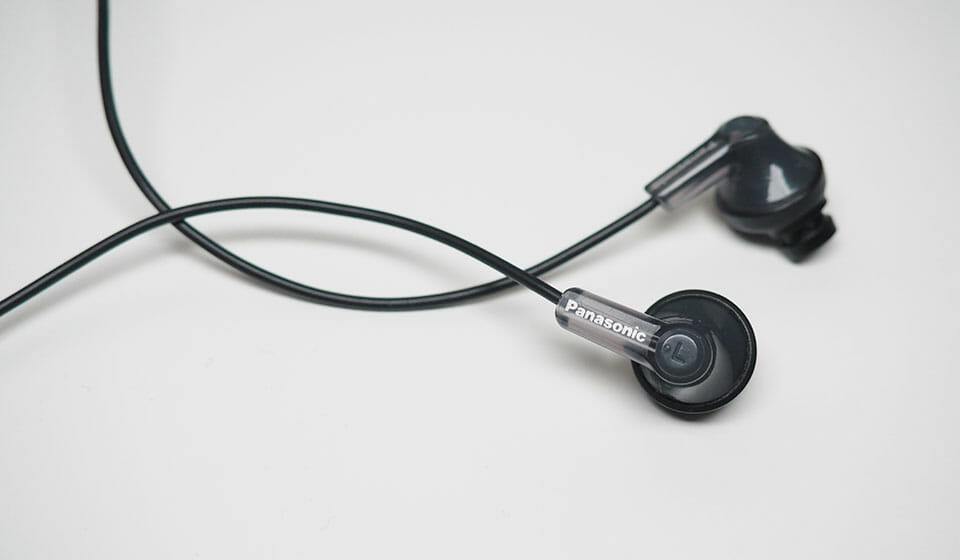 One of the best-selling silicone earbuds in the world come at an affordable price.
Why Buy These?
The most important thing about these is their durability. Even after a couple of years, they still work like new. Due to their ergonomic design, they're also very comfortable, even if you plan to use them in bed.
Of course, the best thing about ErgoFit RP-HJE120 is their price. They cost around $10, which makes them dirt-cheap and easily replaceable if something breaks. And since you will be using them in bed, the chance of that happening is much greater.
In-ear headphones are usually pretty at noise blocking, and these Panasonic's are no different. You can further improve them by replacing their tips with foam ones.
The Bad
Cable noise is quite audible, although it isn't bothersome in bed.
The Sound
Very enjoyable, especially in their price range. The bass is slightly more present than the rest of the spectrum, but it's not overpowering. The midrange and the highs remain nicely clean.
The Verdict
The cheapest and most popular earbud headphones that you can also use in bed. As long as you don't sleep on your side, they should do a great job making you fall asleep.
---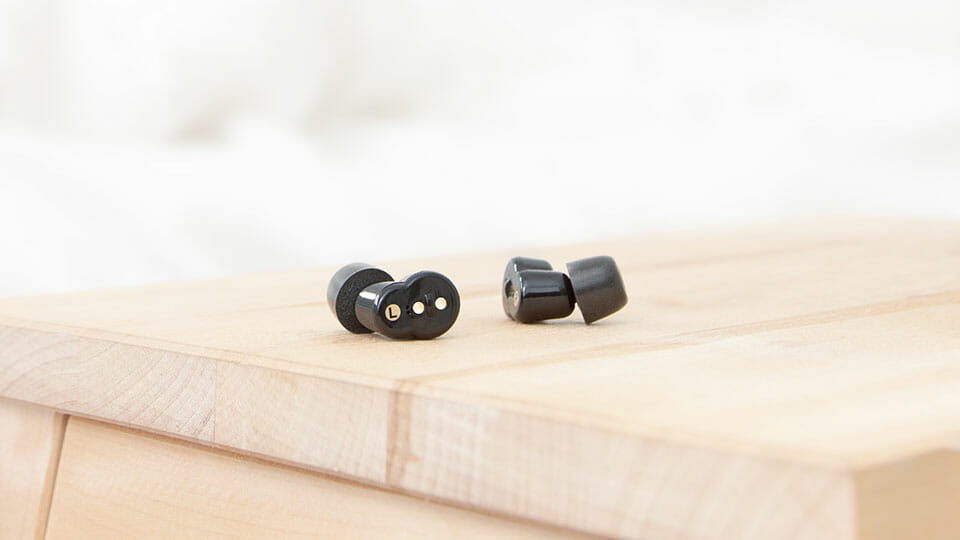 These tiny earbuds for sleeping don't require wireless Bluetooth to work, yet they still offer active noise cancellation.
Why Buy These?
Similarly to Bose Sleepbuds II, these also can't play your favorite tunes while falling asleep. They also can't play ambient sounds like running water or chirping birds. Instead, QuietOn Sleep purely focus on eliminating as much external noise as possible.
And they do the latter impressively well. Since you don't have to worry about noisy traffic and cafeteria rumble in your bedroom, earbuds primarily eliminate low-end frequencies associated with snoring. Of course, they could also help you make your office sound more bearable if it's too crowdy.
With Talk mode, you can disable ANC's effect and talk to another person without taking earbuds out. The battery life is quite impressive, with up to 20 hours of continuous use. Comfort is also excellent, primarily if you use them with foam tips.
The Bad
If you're side sleeper, the pillow will push sleep earbuds deeper in the ear canal, causing discomfort.
Expensive.
The Verdict
QuietOn Sleep are the smallest active noise cancelling headphones on the market, with impressive battery life and superb comfort.
---
How To Pick The Best Headphones For Sleeping?
What Type Of Isolation Should You Pick?
Passive Isolation
It's better than nothing and definitely the cheapest to get. Isolation differs between headphones and earbuds, so you might want to pick the ones with thick leather earpads or, in IEM case, deeper fit (something like double-flanged ear tips).
It does only dampen the ambient noise to a certain extend. However, in most cases, that is all that you need. If the noise around you isn't that loud, or a person next to you doesn't snore that much, relying on passive isolation should be more than enough.
Active noise cancelling
A much more sophisticated way of blocking the outside rumble that is keeping you awake. Rather than just lowering the volume of the noise around you, ANC fully eliminates specific frequencies.
Snoring, construction work, home appliances, all of these sounds are associated with lower frequency regions, which are quickly cancelled out by the noise-cancelling technology.
However, you have to be careful not to buy the cheapest headphones or earbuds. Cheap ANC circuitry can produce a faint hum in the background, which can be similarly distracting as the ambient noise itself.
Risks Of Using Headphones For Sleeping
While it doesn't happen very often, wired headphones can tangle around your neck. However, that is very unlikely. You have to be very restless and frequently turning around to make a fatal loop.
The second one is much more plausible. Using in-ear headphones during sleep can create an earwax build up. The warm environment inside your ears is an ideal place for bacteria to grow. If you don't properly clean your earbuds and ears before going to bed, you might get some unpleasant infection.
Are Headphones For Sleeping Safe For Kids?
Sure, if your kids have problems getting asleep due to excessive noise, sleeping headphones can benefit them. However, you have to limit the maximum volume somehow to protect their hearing.
You could also try simple earplugs to see if noise reduction is sufficient to improve their sleeping quality.
Comments