Best Guides
The Best Budget Gaming Headset (6 under $60)
The very best cheap headsets built for gaming, in the range under $60 you should consider today.
Getting an excellent budget gaming headset is enough to enjoy your games. While you might not get the fanciest design and features, you can comfortably play games alone or with friends. And, these gaming headsets are so good you'll soon forget they were so cheap.
Comparison: Best Budget Gaming Headsets
Rating
Price
Connection
Compatibility
Surround
Sound
(virtual)

SteelSeries Arctis 3
best overall
4.0
under $60
3.5mm
+ dual 3.5mm
PC & Mac
PlayStation
Xbox One
Nintendo Switch/3DS
VR & mobile
Yes
(only PC & Mac)
More info
HyperX Stinger
best under $50
3.7
under $50
3.5mm
+ dual 3.5mm
PC & Mac
PlayStation
Xbox One
Nintendo Switch/3DS
VR & mobile
No
More info
Logitech G430
best surround sound
3.7
under $50
3.5mm
+USB adapter
PlayStation
Xbox One
PC & Mac
Nintendo Switch/3DS
VR & mobile
Yes
(only PC & Mac)
More info
Onikuma K6
best under $30
4.0
under $30
3.5mm
+ dual 3.5mm
PlayStation
Xbox One
PC & Mac
Nintendo Switch/3DS
VR & mobile
No
More info
Mpow EG3
under $30 alt
4.1
under $30
USB only
PC & Mac
PlayStation
No
More info
Sades Spirit Wolf
best dirt-cheap
4.0
under $30
USB only
PC & Mac
PlayStation
Yes
(only PC & Mac)
More info
Here is a list of the top 6 headphones that are specifically built for gaming and are relatively cheap for the quality they provide.
Who doesn't like cheap quality above the price you pay. We sure do, so we made this buyer's guide.
Here's all the necessary information you need to make the correct decision about the gaming headset within your budget.
Related:

Best gaming headphones
The best wireless gaming headset
Best gaming earbuds
Best Cheap Gaming Headsets
1. SteelSeries Arctis 3 (best overall)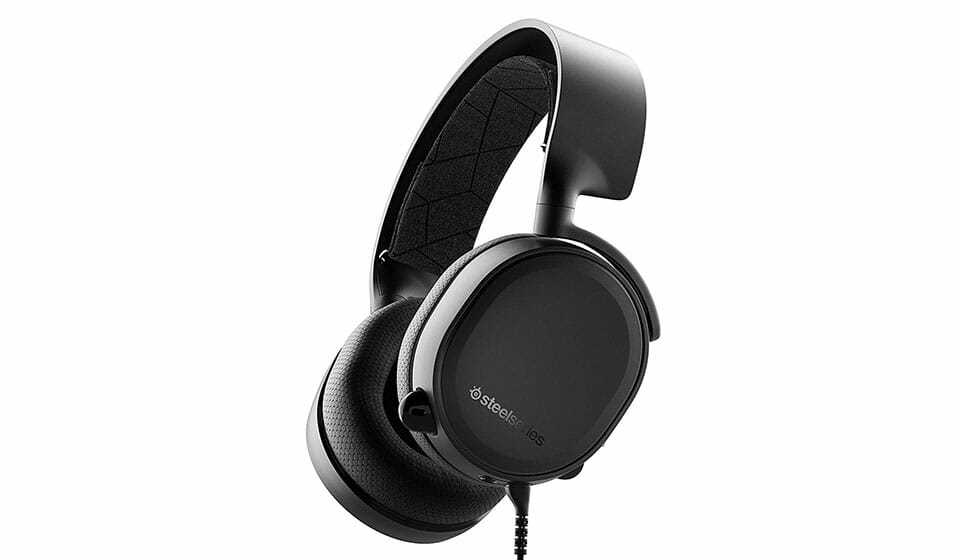 The best budget gaming headset right now.
Highly sophisticated and sturdy look copied from higher-end SteelSeries models (some cost almost $300 – Arctis Pro).
Compatibility: PS4, PS4 Pro/Slim, Xbox One, PC, Nintendo Switch/3DS, Mac, VR, and mobile devices
Surround sound: Yes
Connection: 3.5mm only
Why Buy These?
Comfortable, very lightweight, and effortless to wear for hours on end.
It creates an immersive experience with every game as you forget you're wearing headphones.
Also, it allows more advanced audio options with PC. You can customize the feel with the virtual surround sound and equalization options with the SteelSeries Engine 3 (only for PC & Mac).
The software creates an improved soundstage for each game (links a preset to a game) which not so common with gaming headsets at this price.
Plus, the extendable mic is one of the best on the market. Clear and distortion-free.
The Bad
Due to the lack of a USB connector, you have to download the software from the SteelSeries official website, and it tends to get a bit complicated.
The soft black matte color also scratches very easily, which allows it to get rough quickly.
The Sound
It has high-quality audio, and it delivers a crystal clear sound and performs well with various games from different genres. The surround sound also creates a more immersive experience when used with the software.
You'll enjoy them playing PlayerUnknown's Battlegrounds or listening to music.
SteelSeries Arctis 3 is a really exceptional headset that delivers both comfort and quality sound. It's our first pick for a budget gaming headset. It should be your first choice.

---
2. HyperX Stinger (best under $50)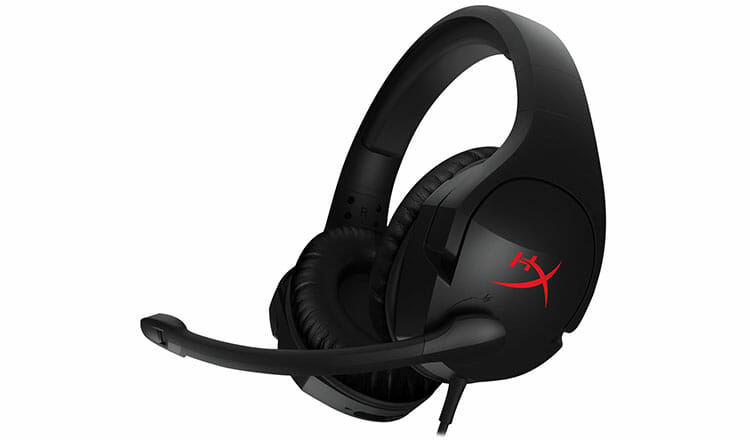 The HyperX Stinger is a cheap wired headset with a jet-black color and simple design.
Compatibility: PC, Xbox One, PS4, mobile devices, and Wii U
Surround Sound: No
Connection: 3.5mm stereo plug and a PC extension cable with a 3.5mm dual stereo and mic cable
Why Buy These?
The overall look is minimalist but user-friendly, which is expected for below $50 gaming headset.
The HyperX Stinger is a comfortable and lightweight headset which weighs 275 grams and is suitable for marathon gaming.
It doesn't compress the head in any way even when wearing glasses, and it also doesn't slide off in cases of erratic movement.
Sure the ear cushions aren't made out of memory foam, but some cheaper foam which isn't as fancy but still soft.
It provides good audio sound with quite a lot of details and excellent bass, but can't really compare to more expensive models.
The noise-canceling microphone (uni-directional) mutes when folded up and otherwise records clear and distortion-free voice.
The Bad
If you are a gamer who craves virtual surround sound, you might have to look elsewhere as the HyperX Stinger doesn't provide this. Build quality is okay.
The Sound
The audio quality is excellent with well-balanced stereo sound and an easily adjustable volume slider. The bass is clear but not overpowering and possesses sufficient clarity of sound.
The HyperX Stinger is a decent gaming headset which should be on your list if you are looking for a budget gaming headset from a reputable brand.

---
3. Logitech G430 (best surround sound)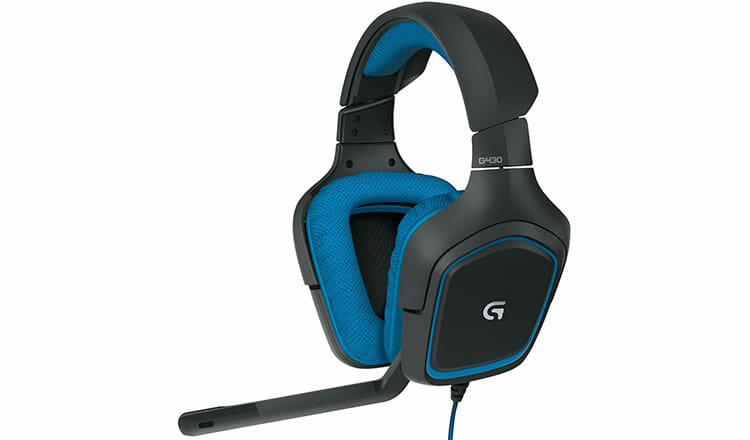 Logitech G430 is a wired headset with on-cable controls and a smart and attractive design which provides a sense of elegance and simplicity.
Compatibility: PC, Mac, Xbox One, PS4, and mobile devices
Surround sound: Yes
Connection: 3.5mm audio and microphone jack with a USB adapter
Why Buy These?
Logitech G430 uses a sport blue and black for its unique physical outlook.
It's a comfortable and lightweight headset with rotating ear cups and soft-touch comfort ear pads which slip off and can be washed for hygiene purposes.
It also has a noise-cancelling foldable microphone which reduces surrounding noise. The presence of on-cable sound control also increases its effectiveness as it allows for easy audio control.
Virtual surround sound allows for an excellent gaming experience as it enables you to hear what you can't see.
It also offers the standard audio and microphone jack in addition to a USB adapter which allows for easy connecting and prevents toying around with third-party software.
The Bad
The ear cups are large and comfortable but do not retain sounds as well. And, coupled with the fact that the surround sound has a bit of an echo, which changes the sound (not in a good way).
The Sound
It allows for adjustable bass and treble and also delivers an excellent cinematic gaming experience. It has a 360 sound field which helps you hear what you can't see, such as approaching enemy planes.
Solid surround-sound performance for a budget price.
Logitech G430 is for gamers who place a premium on surround sound. Having a lifelike gaming experience at a low price, it's an excellent choice.
---
4. Onikuma K6 (best under $30)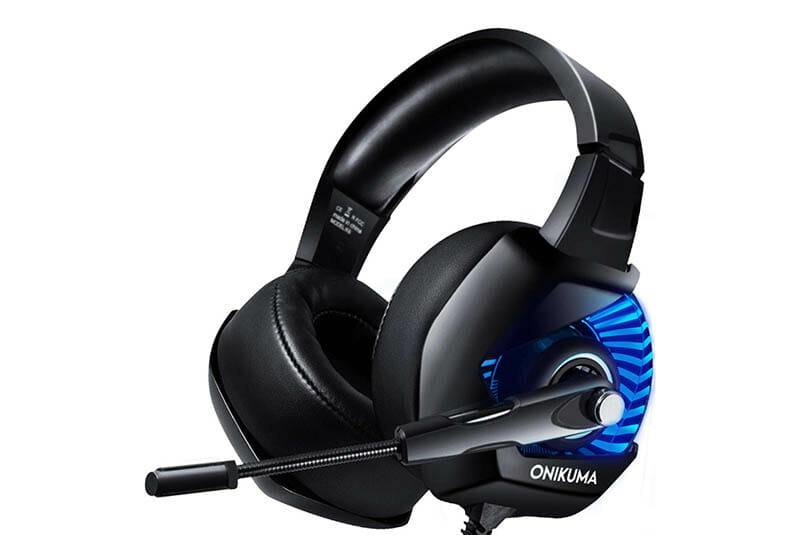 This is a great headset from an unknown brand that delivers a lot of value for money.
Compatibility: PS4 (Pro/Slim), Xbox One, PC, Mac, Nintendo Switch/3DS, Mac, and mobile devices
Surround sound: No
Connection: 3.5mm adapter (4-pin to double 3-pin)
Why Buy These?
The massive the ear pads provide extra comfort, and they also have a faux leather cover for added protection. While not memory foam, it's soft and thick, so you won't feel any discomfort (even after many hours).
It is quite effective at blocking background noise as it has a closed-back design, and it offers extra privacy by ensuring sounds don't leak out.
Also, its unidirectional microphone works well for an in-game chat or talking with your friends. You can mute it with an in-line control module.
The bad
It is a little heavy and unsuitable for young players due to the size of the ear cups, and it also gets warm after a while.
The sound
It delivers energetic bass and delivers enjoyable sound across the range (for a cheap headset).
There's no surround sound, only stereo mode which is fine for most gamers.
Onikuma K6 is a great choice as you get more than you expect. It's a perfectly decent gaming headset that only costs around 30 bucks.

---
5. Mpow EG3 (under $30 alternative)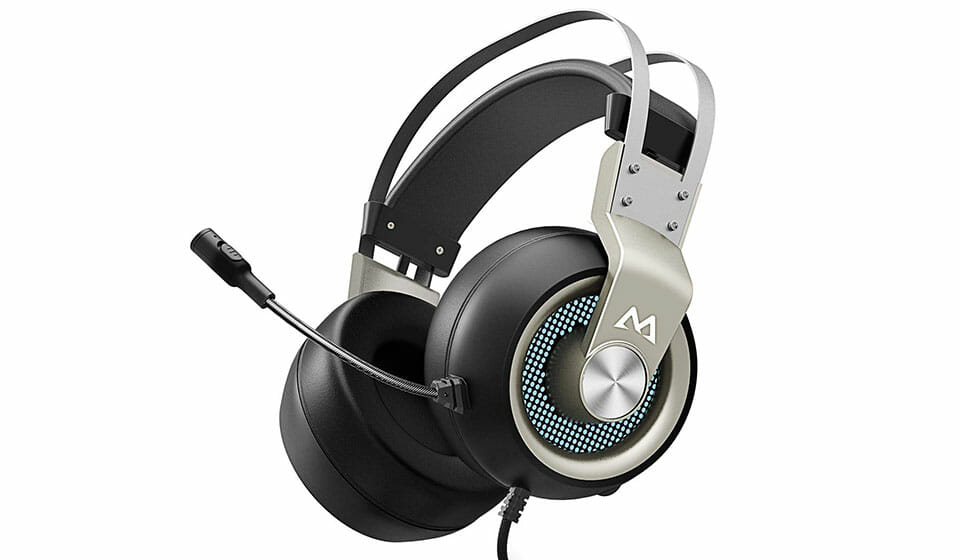 This is a sturdy looking wired stereo headset with LED lights for a cheap price.
Compatibility: PC (Windows 7, 8, 8.1, and 10), PlayStation console, and any device with USB audio support
Surround sound: No
Connection: USB with a cable of 7.2ft
Why Buy These?
It offers various range of personalized settings that allows you to program different sound profiles for different games depending on your needs.
The software also allows you to change microphone settings, such as voice change or echo, to your desire. There's a button that mutes the mic at the microphone tip.
It provides pretty good soundstage which enables you to hear your enemies, even before you see them.
Its LED light also adds a luscious feel to your gaming experience, and the noise cancelling microphone (uni-directional) is extremely flexible.
All in all, it's an excellent headset for gaming on the cheap.
The Bad
It cannot be used on Xbox or any device without a USB which greatly limits its use. Marketed as surround sound but it doesn't actually have it.
The headphones also tend to fit loosely and aren't suitable for kids or young gamers.
The Sound
The audio quality is about average, and the bass isn't too strong. Due to loose fit the lows aren't as deep and thunderous, it's a bit subdued.
The presence of the software also enables more advanced audio settings for games.
Mpow EG3 delivers beyond expectation, and if your budget is below $30, we would definitely recommend it.
Check the full Mpow EG3 review.
---
6. Sades Spirit Wolf (best dirt-cheap)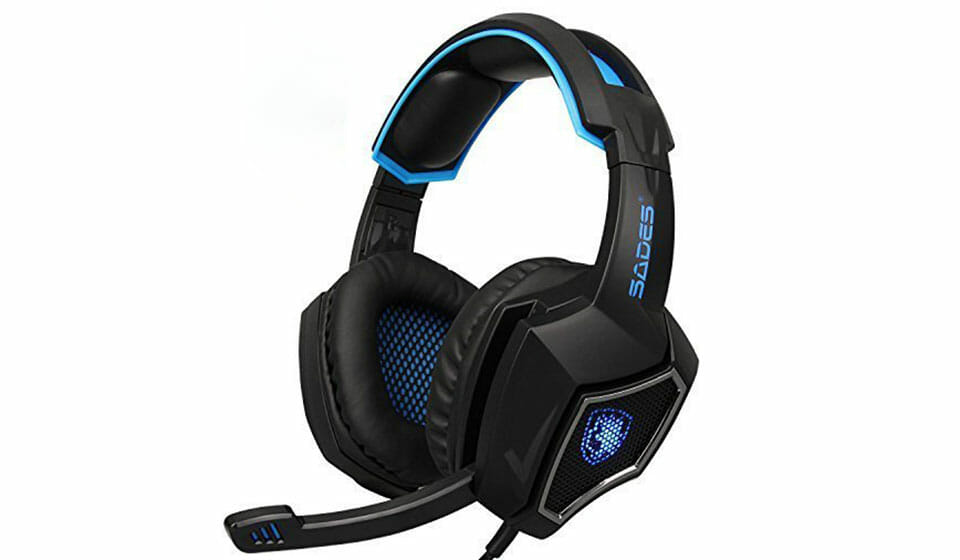 Spirit Wolf is the bare-bones gaming headset with a USB connection and a comfy fit.
Compatibility: PC & Mac, PlayStation
Surround sound: Yes
Connection: USB cable with a length of 2m
Why Buy These?
At slightly above $20 you can't ask for more. This dirt-cheap gaming headset offers impressive value for money.
The foldable microphone audio quality is good and very clear, so you can comfortably chat with your buddies.
The software included comes with virtual surround sound.
While a bit plasticky, it's still sturdy and comfortable with thick ear cushions. It fits different head sizes comfortably.
For those of you who like flashy things, it also has breathing LED lights, which add to the attractive look.
The Bad
It's solely USB compatible. The controls module is a bit clumsy. No surround, only stereo sound on PS4.
The Sound
It has a coherent and balanced sound that's satisfying for the price. The bass is good but not overpowering. The sound can be adjusted for different games with the use of the software to create a more lifelike experience.
Sades Spirit Wolf is a very comfortable gaming headset that works quite well and delivers lots of value for a low price. It's an impressive deal for its price.
---
Honorable Mentions
The Turtle Beach Recon 70 – great console gaming headset under $40 but a bit cheaply made
What to Expect from a Budget Gaming Headset?
Most cheap gaming headsets aren't wireless as they are more expensive. So, expect to get a wired gaming headset. Which is good since you don't have to worry about battery life.
Also, cheap gaming headsets rarely offer surround sound gaming. Though, some do come with virtual surround on PC and Mac.
The sound quality of most budget headsets is average with nothing extraordinary in terms of bass or treble.
However, in terms of comfort, a lot of cheap gaming headsets come in a lightweight design that's comfy for hours and looks good.
Also, the microphone is usually of solid quality, so you can chat with friends on Discord with confidence (just get your settings right).
Keep note, noise cancelling mics are not active cancelling but just a uni-directional design (it's a marketing gimmick). So, they're cheap and effective.
Why a Wireless Headset Costs More?
Any wireless headset costs more than wired because of higher material and production costs.
The increase in production cost can be attributed to several factors like wireless technology, which requires more extensive testing.
It also requires additional material (batteries) and software.
The price range of wireless headsets depends on the brand and the specifications. They can be as low as $100 or as high as $300 depending on your budget and needs.
But right now, you can't get a reliable wireless gaming headset for $50 or so (maybe in the future).
Comments